In this post you will find out how I made $5 377 from food blogging and what I'm doing to grow my traffic and income even further. I hope you will get as much value from these, as I have from other bloggers' income reports! Find all the income reports here.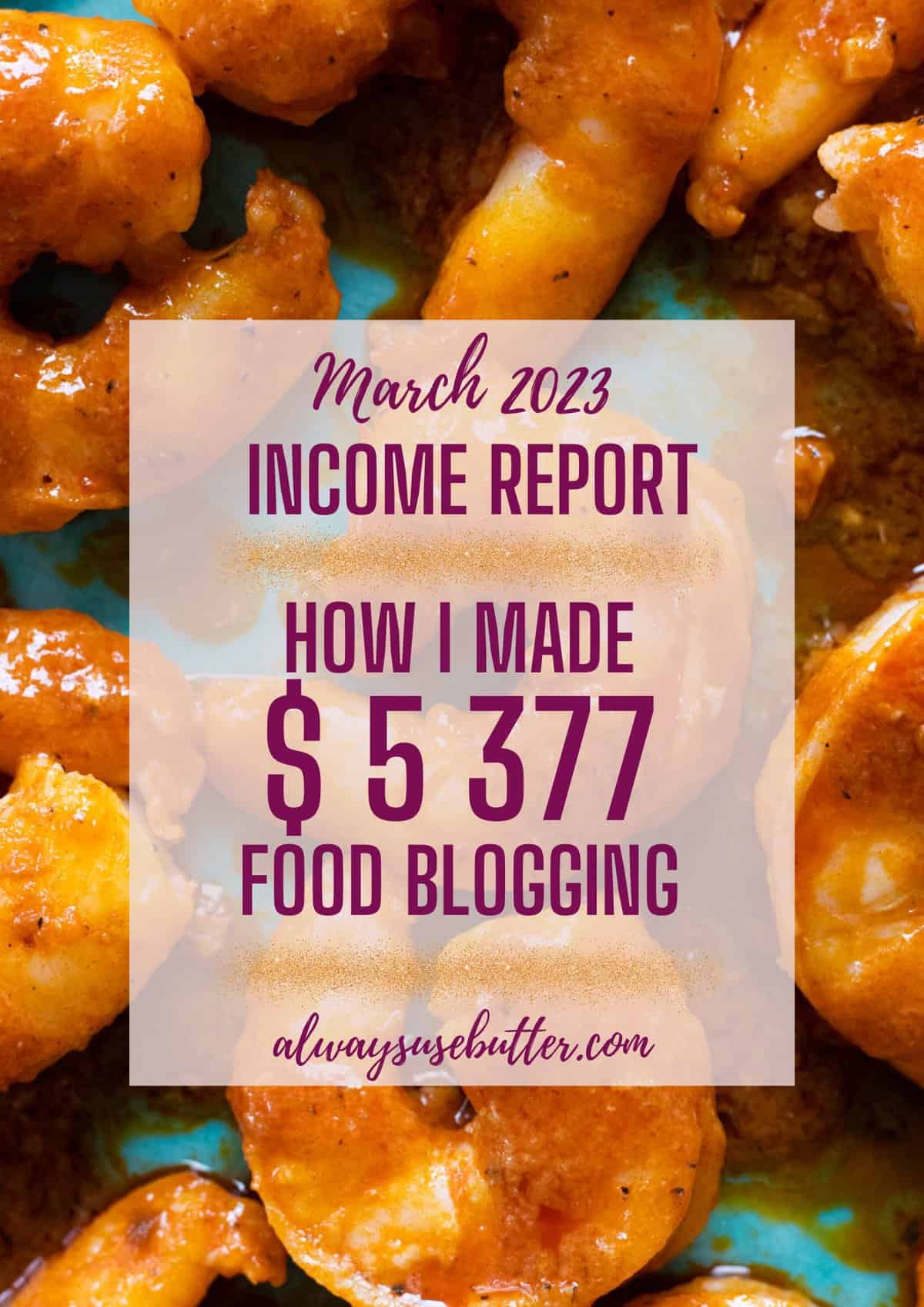 Jump to:
Why do I share my income reports?
I decided to start sharing my income reports for four reasons:
Keep myself accountable! What better way to make sure I reach my goals, than to share them with you?
Give back! I've found so much value from other bloggers' income reports over the years, it's time I started sharing what's working for me as well!
De-mystify blogging! Food blogging is a marathon, not a sprint - and entirely possible to succeed with.
I love sharing my journey! And I hope you enjoy following along.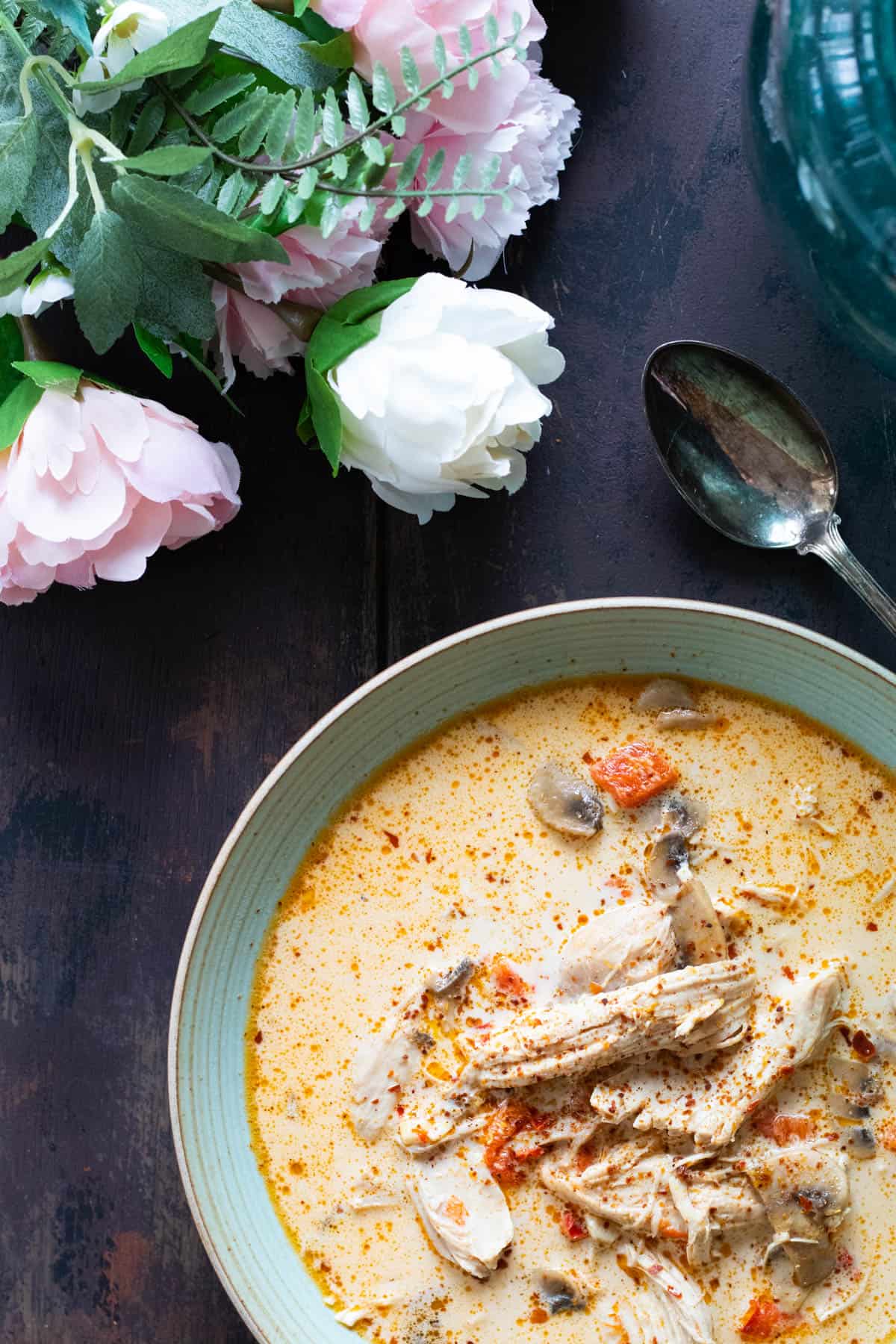 March 2023 Recap
March was a fun month! It started out with the Tastemakers Conference where I got to hang out with all my blogging friends for a few days, eat amazing food (including a 3 star Michelin dinner!) and just soak up inspiration, and ended with BUYING A HOUSE.
Yep, it's as wild as it sounds. I have been wanting to buy a house for years, and now finally had enough saved up for a downpayment. New house comes with a better kitchen, a dining area next to the kitchen that I will turn into a studio, and a separate room for an office. Not to mention a guest room and a nice yard! Can't wait for July when I get to move in!
And as if that wasn't enough - traffic was great this month as well. I was expecting a dip, which is usually the case for me this time of year, but instead my traffic ended up at an all-time high.
Publishing to MSN was one reason my traffic grew. I had one slideshow get over 600 000 views on MSN (!) which translated to two days with ~3000 extra page views to my site. Actually, most days I see at least a few hundred extra page views thanks to MSN.
The page views on MSN also translate into actual money paid for MSN ads - but I don't know yet how much this will end up being.
Here's what I did specifically this month:
Published 4 new recipes:
Other things I did:
Updated 6 recipes
Published 2 new air fryer resourcs
Published 1 new MSN slide show per day
Created reels for new & updated posts
March 2023 Traffic
| | | | |
| --- | --- | --- | --- |
| | March 2023 | March 2022 | Growth |
| Page views | 266 013 | 114 534 | 132% |
| Sessions | 222 721 | 98 742 | 126% |
| Users | 181 949 | 79 817 | 128% |
This growth is insane and far above what I was expecting. I've also started to grow the number of page views per session, which means more $$$ for each visitor.
Traffic Sources
Organic search: 76%
Direct: 13%
Referral: 9%
Socials: 3%
Demographics
My US traffic is on a steady climb, likely thanks to MSN traffic, and this is great for RPMs.
US: 55%
UK: 21%
Canada: 7%
Australia: 4%
Other: 13%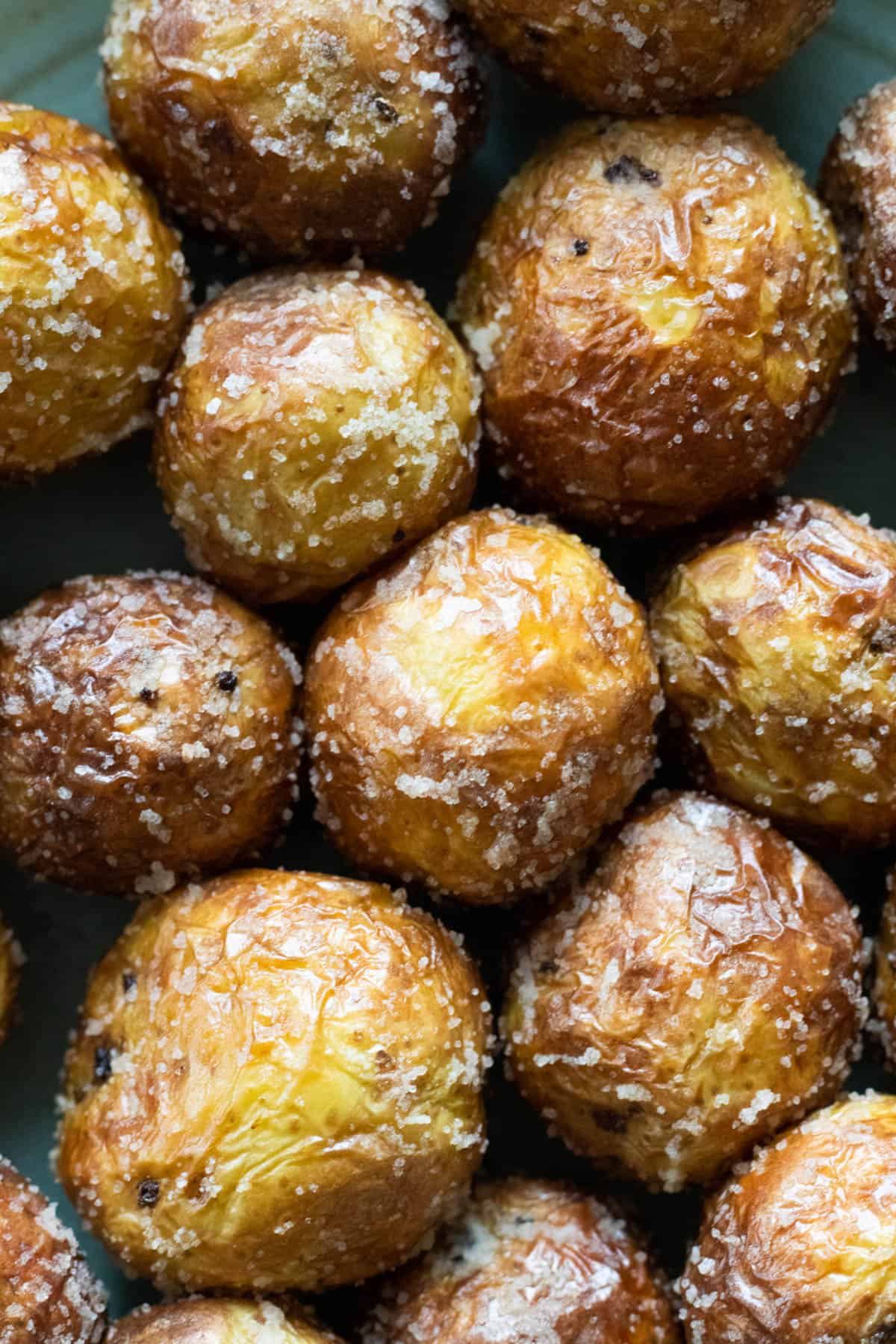 March 2023 P&L
Let's see what this traffic brought me in terms of monetary results!
March 2023 Income
I make almost all my income from AdThrive through display ads on my website.
| | | | |
| --- | --- | --- | --- |
| | March 2023 | March 2022 | Growth |
| RPM | $23.99 | $21.91 | 9% |
| Page RPM | $20.08 | $19.12 | 5% |
| Total Ad Income | $5 338 | $2 100 | 154% |
RPM is what I make per 1000 sessions, Page RPM is what I make per 1000 page views.
I also make a very small income from affiliate programs*:
Amazon: $39.46
Total income: $5 377
March 2023 Expenses
I run my own business full time and divide my time between food blogging and business consulting. Here I only include the expenses that are directly related to my food blog - other shared expenses like cell phone costs, company car, new computer, etc. are not included here.
(This section contains Affiliate links. Affiliate links are marked with *.)
Groceries: $668
Nerdpress: $379 (these guys are my lifesavers!!)
The Insiders Mastermind:* $395 (this is how I can publish to MSN!)
Keysearch: $14
RankIQ*: $29 (RankIQ has really helped me grow my traffic!)
Lightroom & Premiere Pro: $45
Feast Plug-in*: $8
Big Scoots hosting*: $48
ConvertKit: $28
Canva* (for making collages & printables): $10
Akismet (site security): $7.50
Jetpack: $2.50
Tickets for Tastemakers 2024: $479
Total expenses: $2 576
September 2022 Profit
| | |
| --- | --- |
| Income: | $5 377 |
| Expenses: | -$2 576 |
| Profit: | = $2 802 |
The profit above does not take into account taxes.
While it's not enough for me to live on quite yet, it does pay for my very expensive horse riding hobby - and helped me buy a house!
Goals and Plans for April
Coming out of a Q1 that was much better than expected, I am pumped to see what Q2 holds!
April Goals
Pageviews: 270 000
Total income: $6 000
April Action Plan
Post at least 5 new recipes
Do a content audit to see if any recipes were impacted by the latest core update, and plan updates accordingly
Update 8 recipes or more
Get my new VA for web stories started and see what results this will bring
Keep creating MSN slide shows: 1 new per day, plus republishing of 1 old
Plan the details for the European Food Blogger Retreat which will be held in Stockholm, Sweden August 25-27. Sign up here to snag your spot!
KEEP BEING SMART! Spend my time where I make the traffic & the money. This means more time on MSN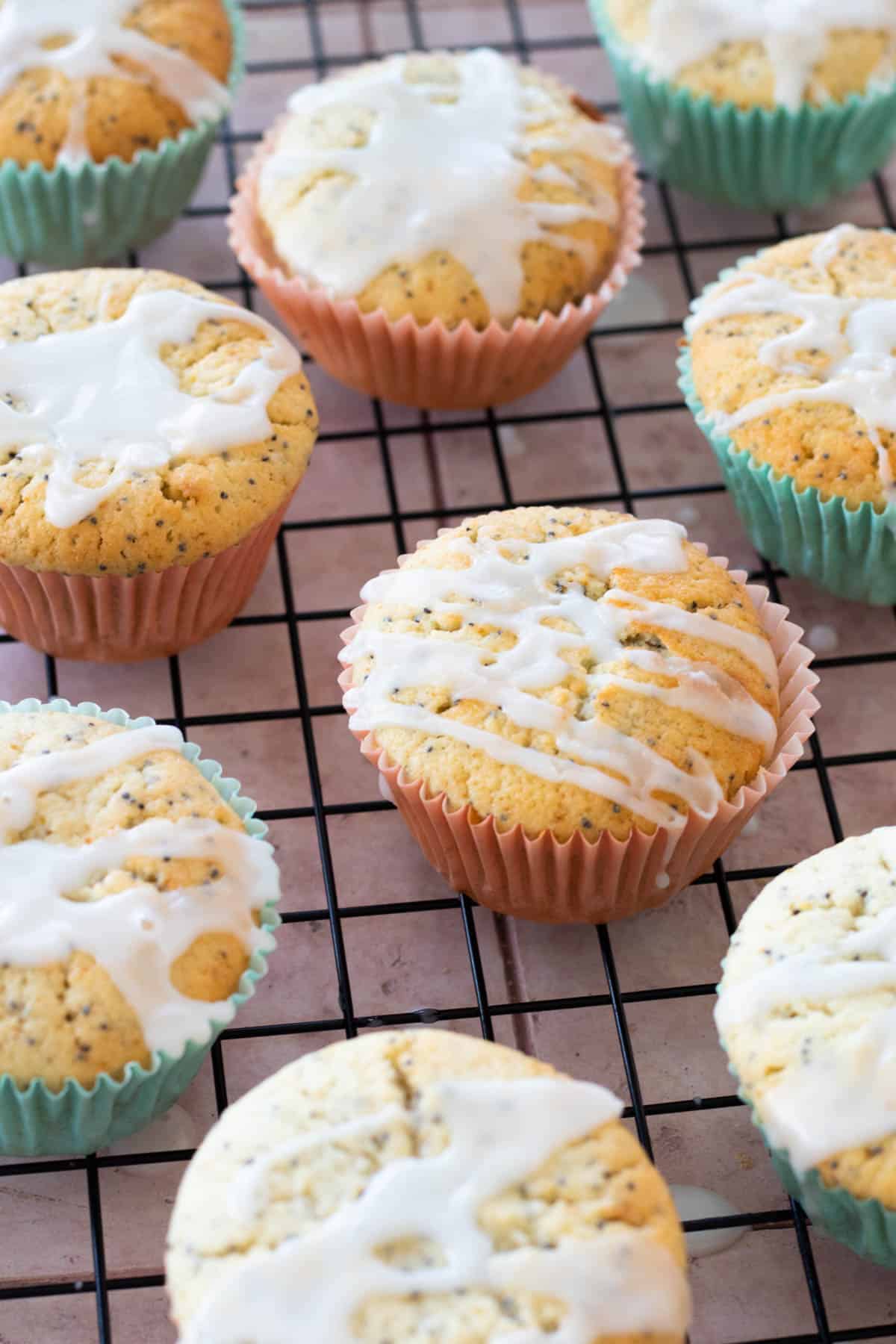 I hope you got some value out of this income report. If you did - please leave a comment below and let me know what was most valuable to you! And if you have any questions, please reach out through commenting or by sending an e-mail to emmeline@alwaysusebutter.com
All the best luck for Q2!
Emmeline