This post may contain affiliate links, which are always marked with *. Please read my disclosure for more information.
This Walnut Pesto is definitely the best pesto I've ever tried - it's loaded with walnuts, sun-dried tomatoes, basil and parmesan cheese and perfect to pair with pasta or bread. It comes together in just a few minutes and once you've tried it you'll never want to use storebought pesto again.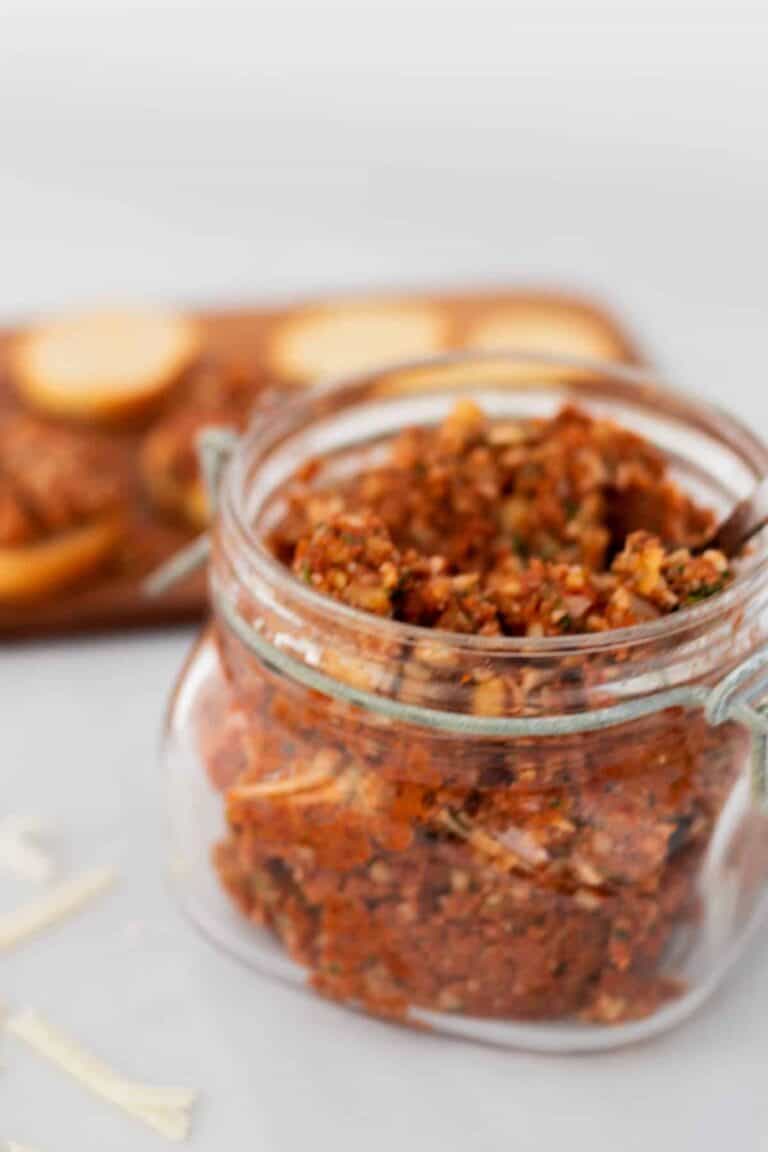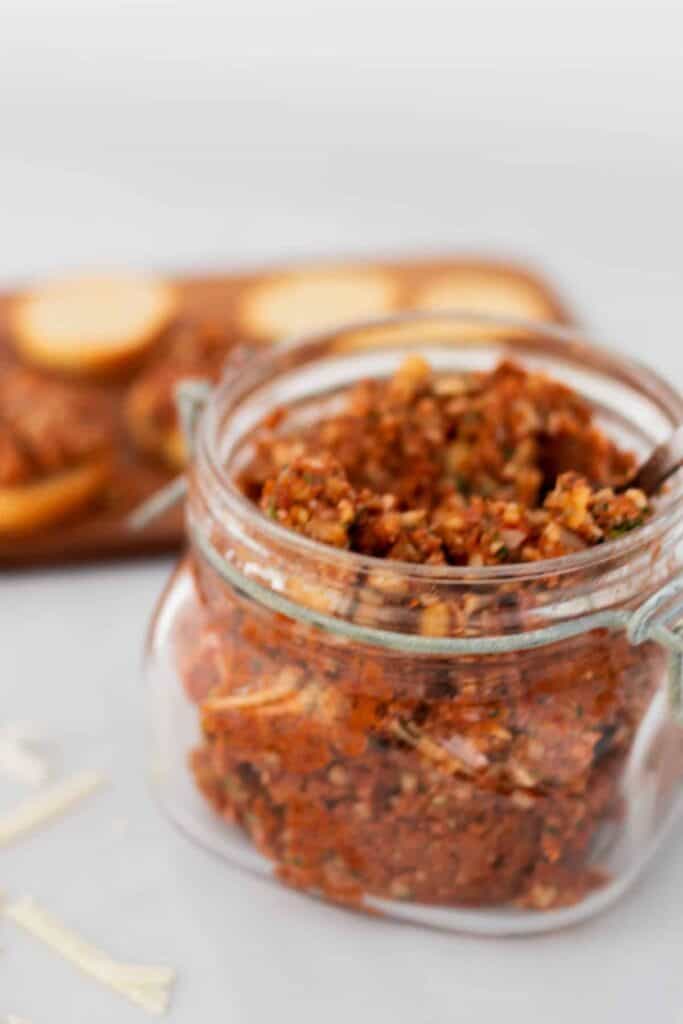 What is Pesto Made From?
Pesto is generally made by mixing together some kind of nut, some kind of herb, some kind of cheese and then some olive oil until you reach the consistency you like. Traditionally made with a mortar and pestle, most people nowadays use a food processor for it.
For maximum flavor go ahead and use the mortar and pestle though - it really does make a difference.
Red vs Green Pesto
The classic green pesto most of us relate to the word "Pesto" is traditionally made with pine nuts, parmesan cheese, basil, garlic and, of course, olive oil. Sometimes pecorino is used in place of parmesan cheese, and sometimes both. Either way, this makes a delicious type of pesto, especially when made in the traditional mortar and pestle way.
I, however, always find myself gravitating toward the red version.
Red Pesto can be made in all kinds of ways, but almost always do they include sun-dried tomatoes. Sun-dried tomatoes are such a big favorite of mine - providing such delicious sweetness as well as a slight acidity that gives the pesto a more complex flavor profile.
Feel free to try your hands at your own versions! Grab whatever nuts, herbs and hard cheese you love and mix it up with some olive oil and maybe add some garlic, some sun-dried tomatos, some roasted bell peppers or egg plant... and just whatever else you think would make for a tasty pesto. Mix it, taste it, and adjust to suit your own tastebuds.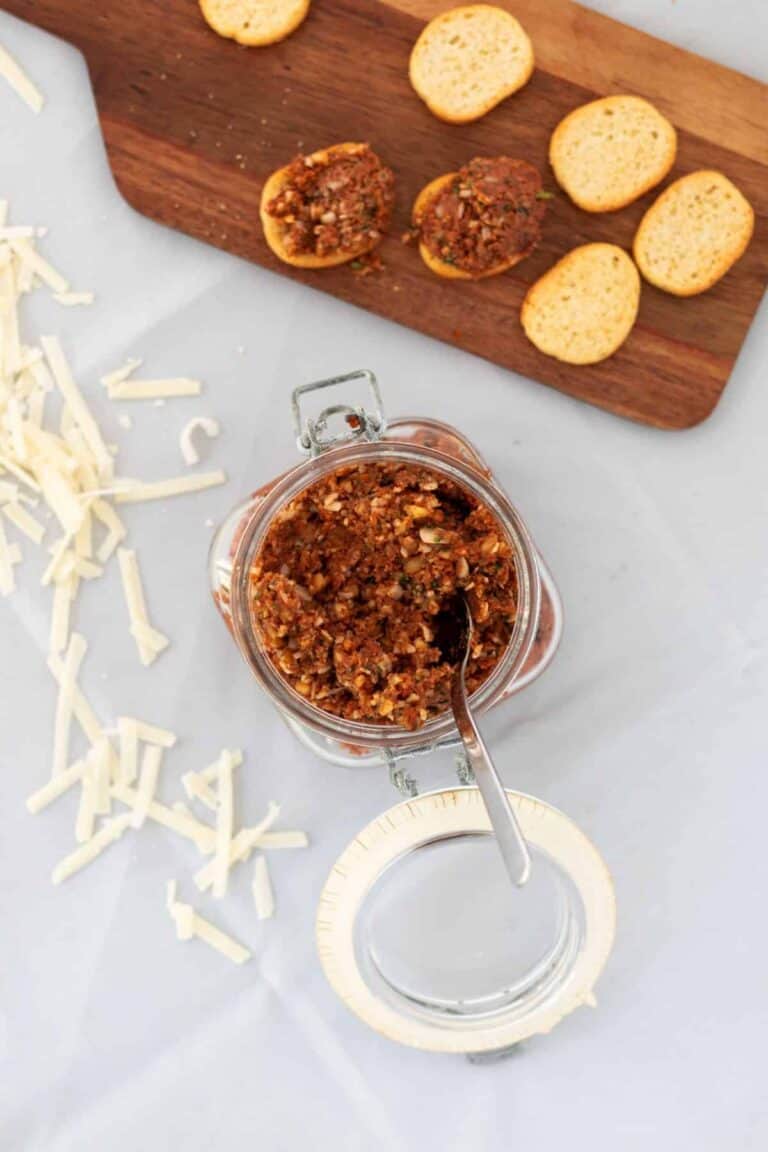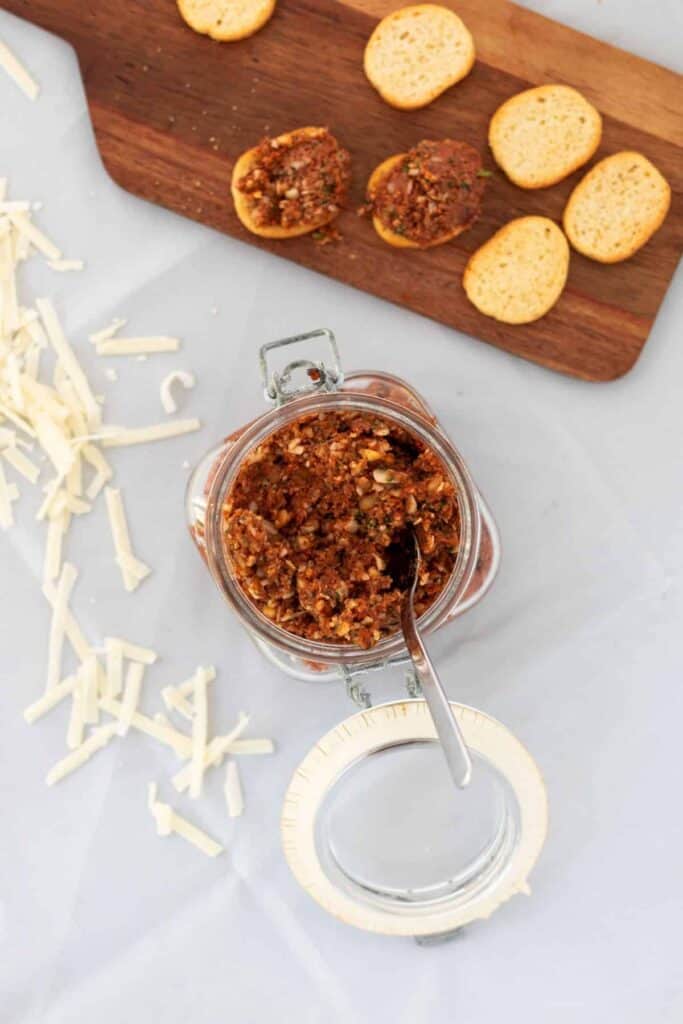 How to make Walnut Pesto
Now making this walnut pesto is super easy and it's done in just a few minutes. Use a food processor and you won't even have to chop anything ahead of time.
Star by shredding your parmesan cheese and then place it in the food processor together with the walnuts, basil, sun-dried tomatoes and garlic. Mix, and add oil from the sun-dried tomatoes (or any other olive oil of your choice) until you've reached your desired consistency.
The addition of the sun-dried tomato oil really makes a huge difference. It's loaded with flavor and why on earth waste good olive oil?
I keep my pesto pretty coarse, but just mix it a bit longer and you'll have a super smooth pesto to match the consistency of the storebought version. I also keep it kinda low in oil - but if you like more oil, then by all means - add it. If you're using your pesto as a sauce I even recommend it!
How to Store Walnut Pesto
Good news! You do not need to finish all of your Walnut Pesto in one sitting - even if you'll probably want to.
Store Walnut Pesto in the fridge for a week
Store your Walnut Pesto in an air-tight container in the fridge - it will keep for at least a week. If you're not using it regularly you can top it with some oil to ensure it doesn't go dry.
I never have this issue though - I'm there grabbing some pesto several times a day!
Store Walnut Pesto in the freezer for several months
If you want to keep your walnut pesto for longer, it freezes really well and will last for months. Just make sure to freeze it in portion-sized containers as it will be hard to divide when frozen.
You can even freeze your pesto in an ice cube tray to make for easy access to smaller amounts, perfect whenever you want to treat yourself. Just pop out a few pesto cubes every time you feel a Peto Pasta craving coming on!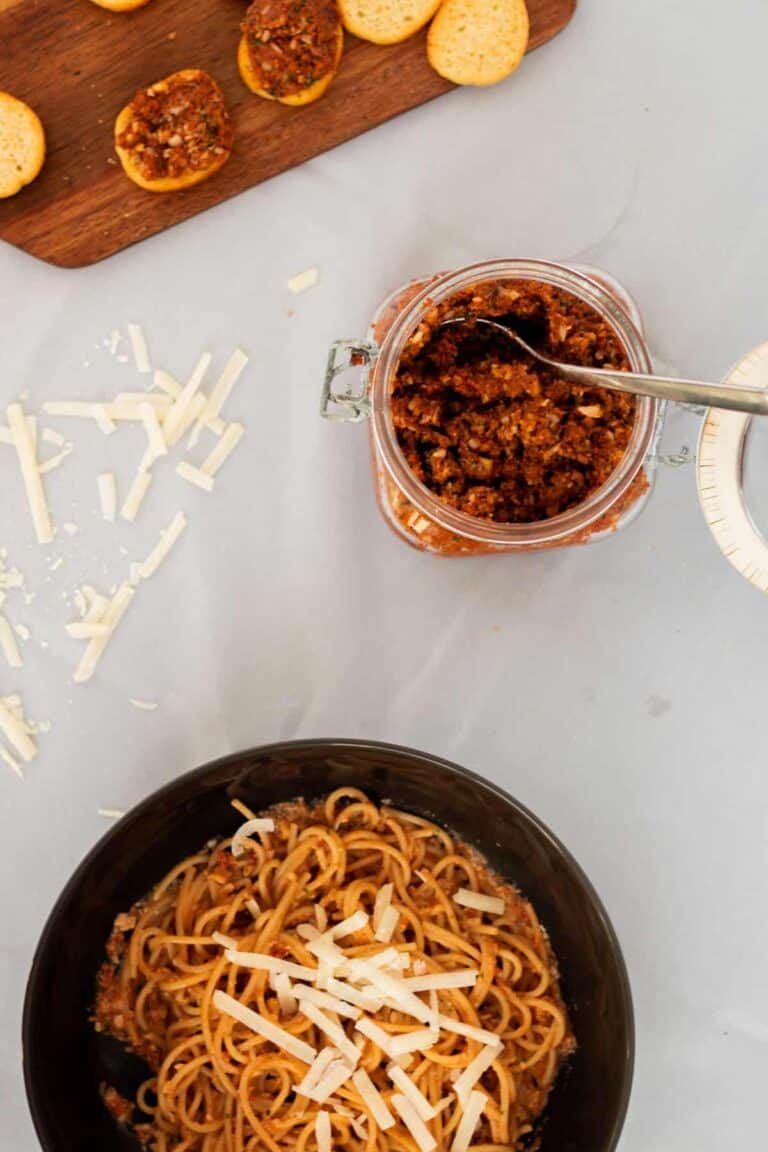 What to Use Walnut Pesto For
Walnut Pesto, like most kinds of pesto, is so versatile and you won't have any trouble making away with it.
Serve Walnut Pesto with Pasta
Walnut Pesto is delicious served with pasta. Just cook up some nice spaghetti or your favorite type of pasta, even better if it's homemade... Then mix the pesto with a little bit of pasta water to create a creamy sauce, add in the pasta and top with freshly grated parmesan cheese, fresh ground black pepper and sea salt flakes.
How's that for super easy and super yummy??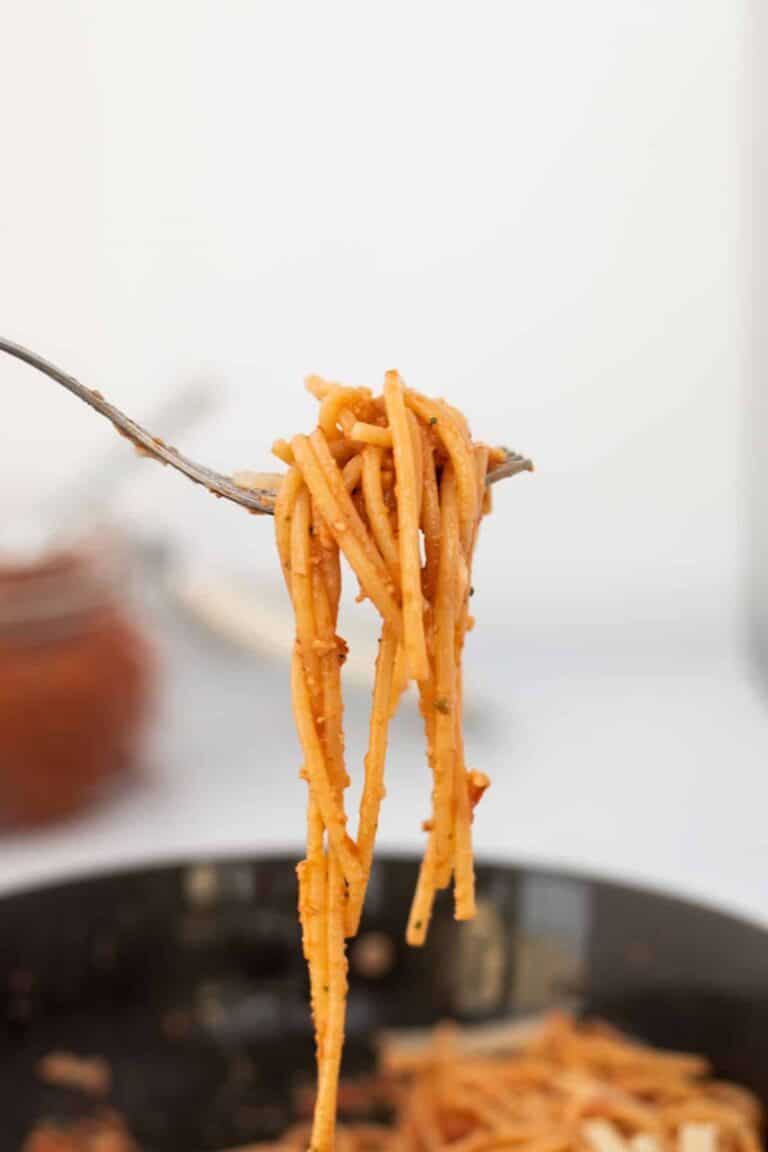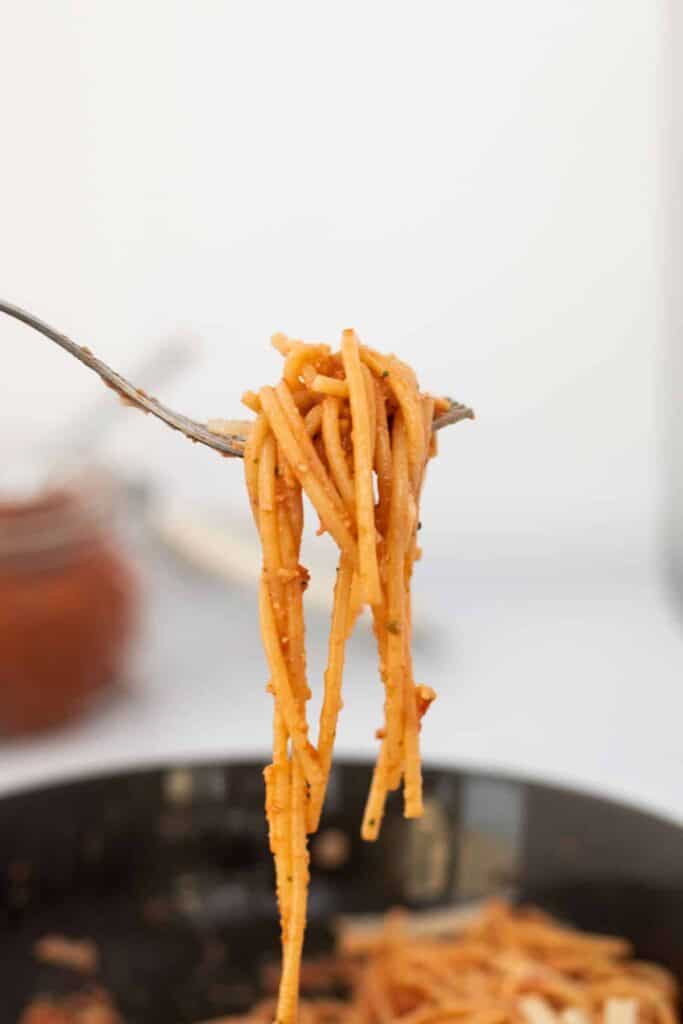 If you're looking for something more than just Pasta & Pesto - just add some of your favorite roasted veggies like I did for this deliciously simple Roasted Vegetable Red Pesto Pasta. Throw in some black olives as well, if that's your thing!
Serve Walnut Pesto as Part of an Appetizer
Walnut Pesto is delicious as part of an appetizer.
Use it to top crostini for a super easy canape, fill mushrooms with it or incporporate it as part of a cheese platter. Either way - it will be delicious!
And how impressed will your friends be when you tell them you actually made the pesto yourself??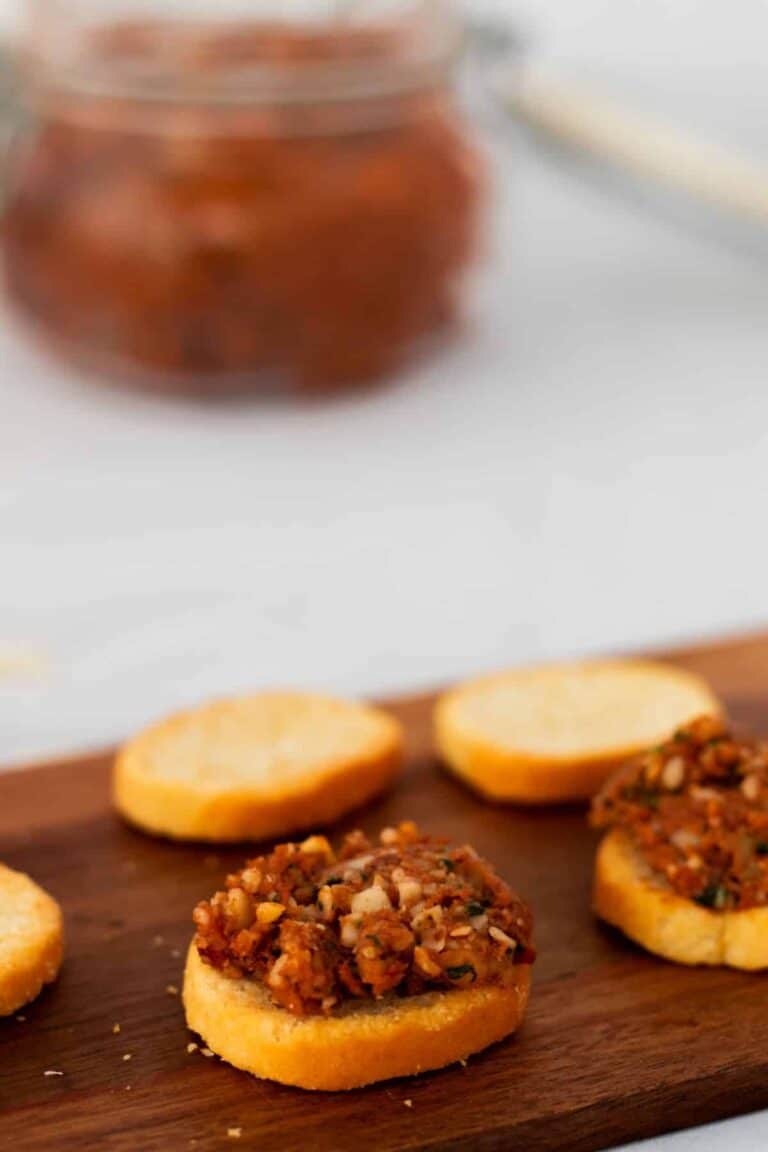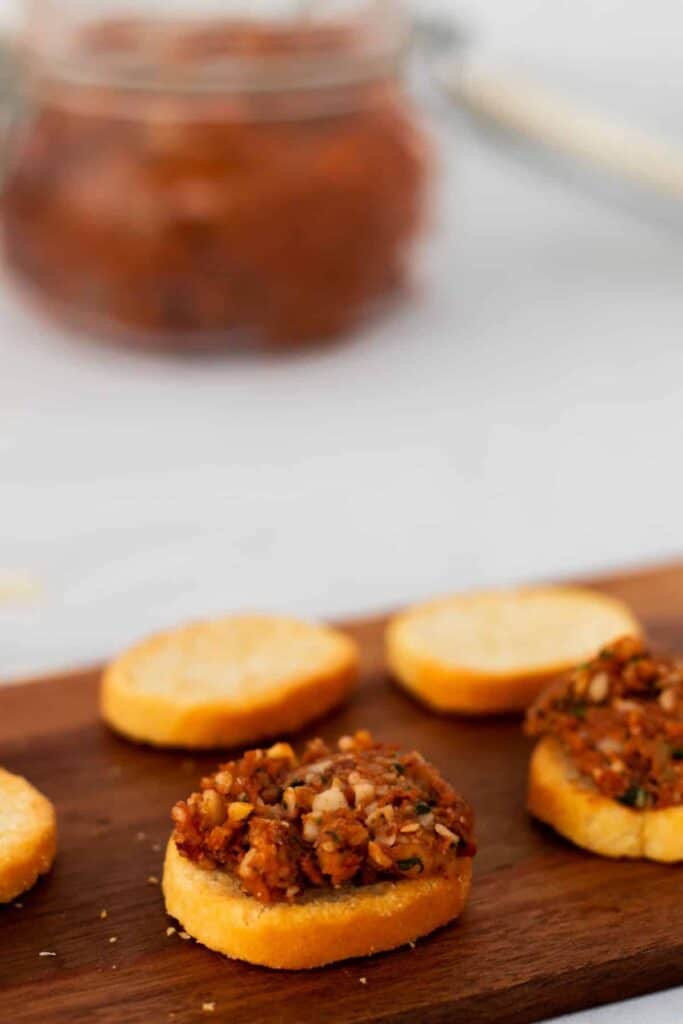 Top Your Bread with Walnut Pesto
It doesn't matter if it's breakfast time, snack time or you're being all Italian and fancy and serving some bread to go along with your Saturday night dinner - Walnut Pesto is delicious as a topping for bread. Best served on top of the airy, delicious, Meditteranean type bread it's really a perfect topping for any kind you prefer.
Top Your Pizza with Walnut Pesto
Ever had one of those fancy pizzas with all kinds of nice cheeses, cold cuts and maybe even some ruccola on top? Yeah, try that with pesto as well.
Add it on top of the whole thing when it has about 5 minutes of cooking left, and you'll soon have a delicious and restaurant worthy pizza at home!
Use Walnut Pesto as a Sauce for Chicken or Meat
Walnut Pesto is also delicious as a sauce for meat and chicken, or even stuffed inside a nice piece of chicken breast. If using as a sauce you might want to add a bit more olive oil, to make it more saucy, but if your stuffing something with it this consistency should be perfect.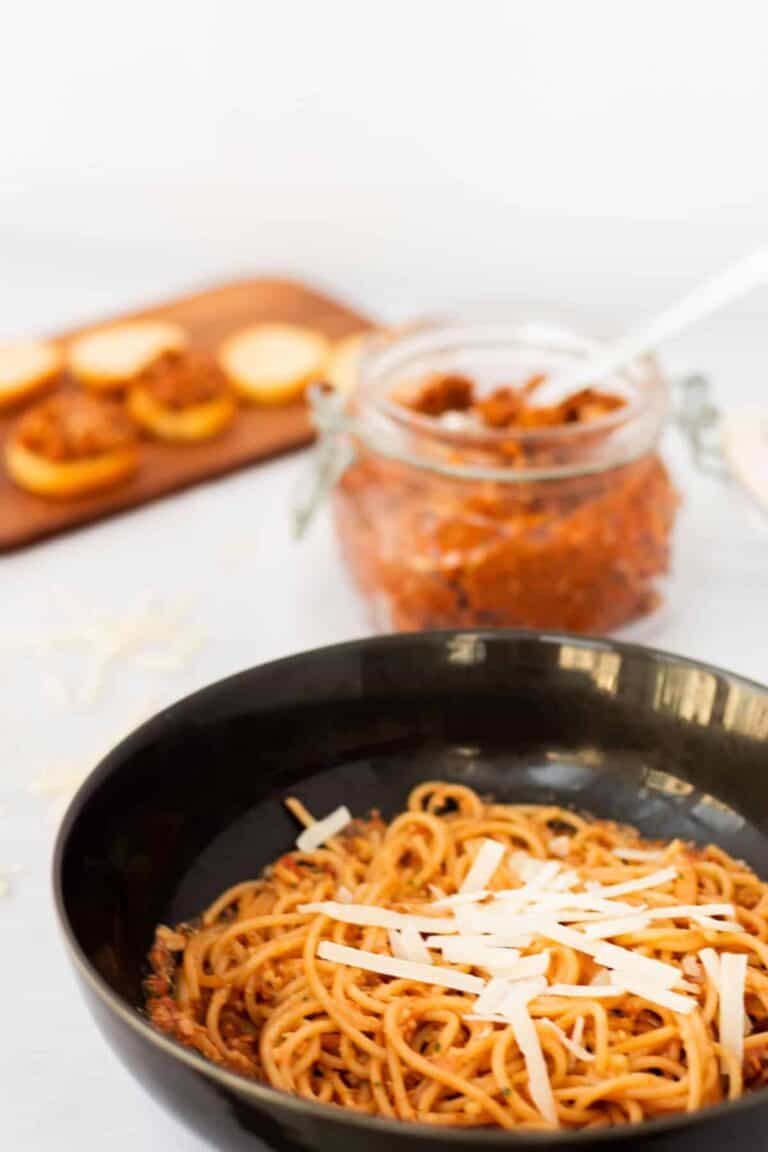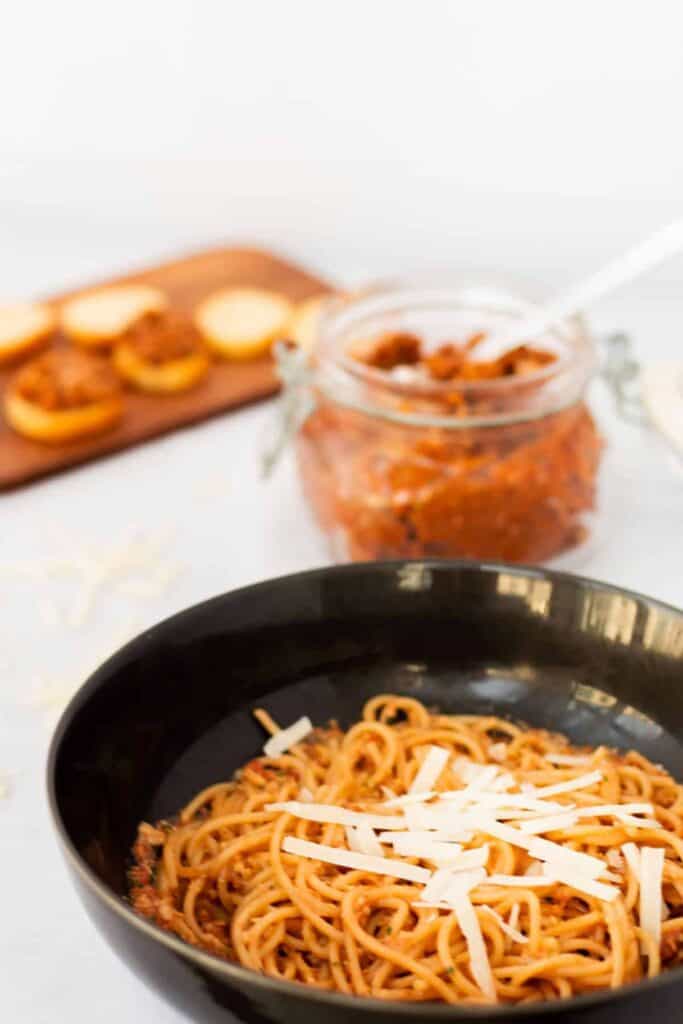 How I finished this batch of Walnut Pesto?? I had some on my pasta, a little bit on crostini, and then devoured the rest on top of brad for breakfast. Might have just been the best week of breakfasts I ever had!
What's your favorite way of using Pesto? Let me know in the comments below! And if you tried this? Please let me know what you thought by leaving a comment and a rating!
And now - I'm off to finish off the last of my Walnut Pesto on top a nice piece of Italian bread. Yummy!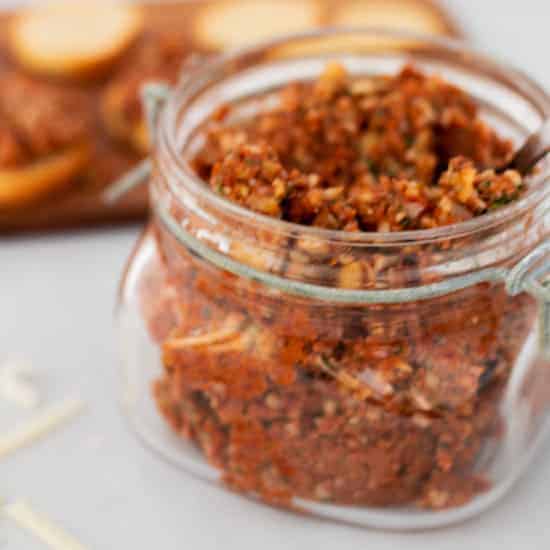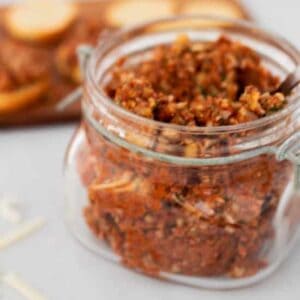 Ingredients
100

g

parmesan

shredded

200

g

sun-dried tomatoes in oil

weight incl. oil

15

g

fresh basil

100

g

walnuts

1

garlic clove

2

Tbsp

oil from the sun-dried tomatoes

or more to desired consistency
Instructions
Add all ingredients except the sun-dried tomato oil to a food processer and mix until all ingredients are at your desired coarseness.

Add in the oil from the sun-dried tomatoes (or other olive oil if this is not enough). Mix, check consistency, and add more olive oil if desired.

Serve on top of bread or crostini, with pasta, with meat or chicken or any other way you desire.
Notes
Store in the fridge for 1 week, top with a bit of olive oil to ensure it doesn't go dry
Freeze for several months, use an ice cube tray to ensure easy access to portion-sizes
Nutritional information is approximate and automatically calculated, and should only be viewed as an indication.