If you're wondering what to eat with mac and cheese, this post is for you. We scoured the internet so you don't have to and gathered up the 22 best easy recipes to serve with mac and cheese. From fresh vegetable sides to flavor-packed mains, this collection has something for every taste.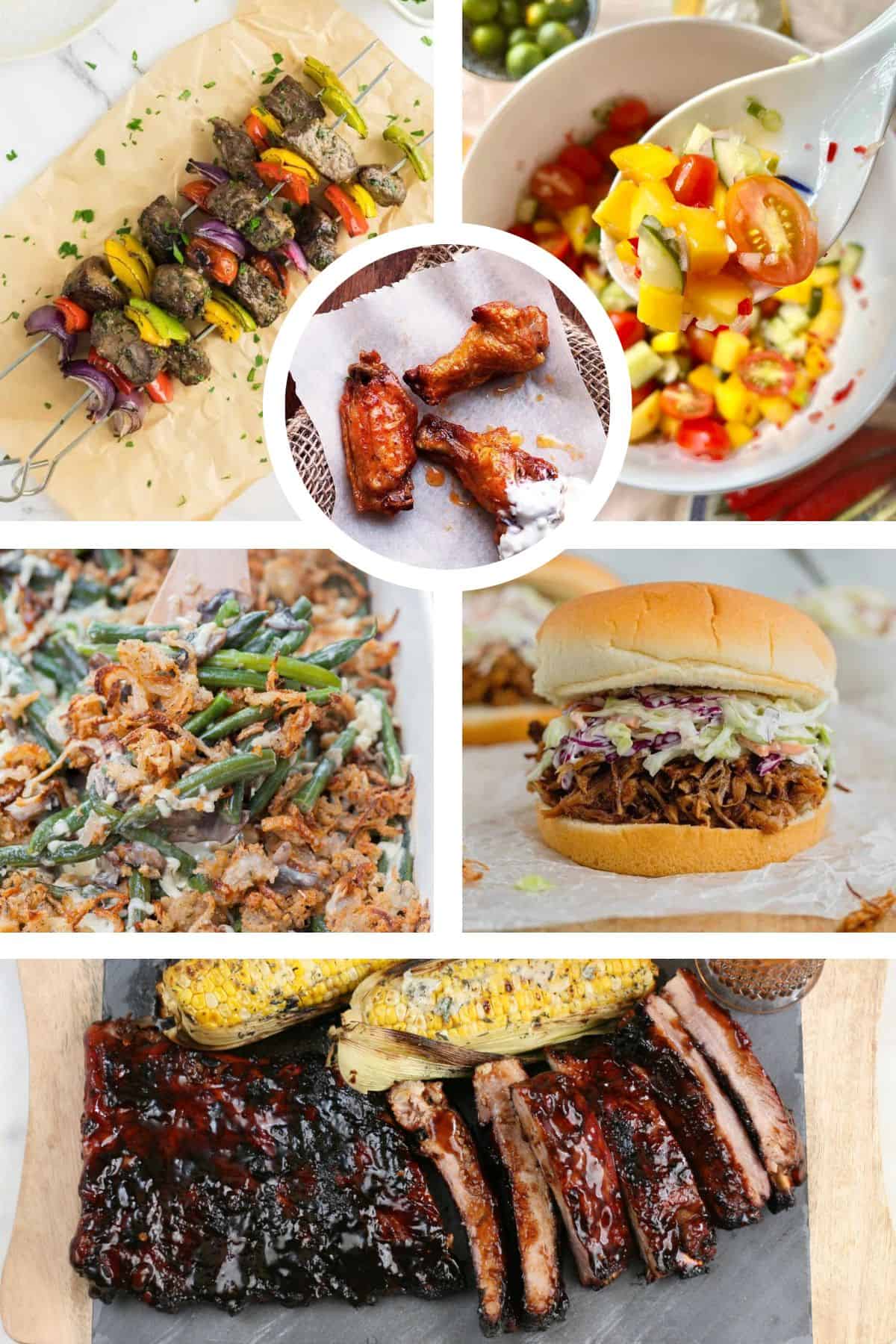 Jump to:
We all love mac and cheese, but I, for one, have sometimes found myself craving some cheesy pasta and not knowing what to eat with it. Of course, you can always enjoy mac and cheese on its own - but it's even better with a nice main dish or a few mac and cheese sides.
Here we collected 20 exciting ideas for what to eat with mac and cheese - some are traditional, and others less so. There's meat, there's bread, and there's veggies.
What they all have in common, though, is that they will pair perfectly with your macaroni and cheese recipes and allow you to enjoy your meal in full.
Coca-Cola Pulled Pork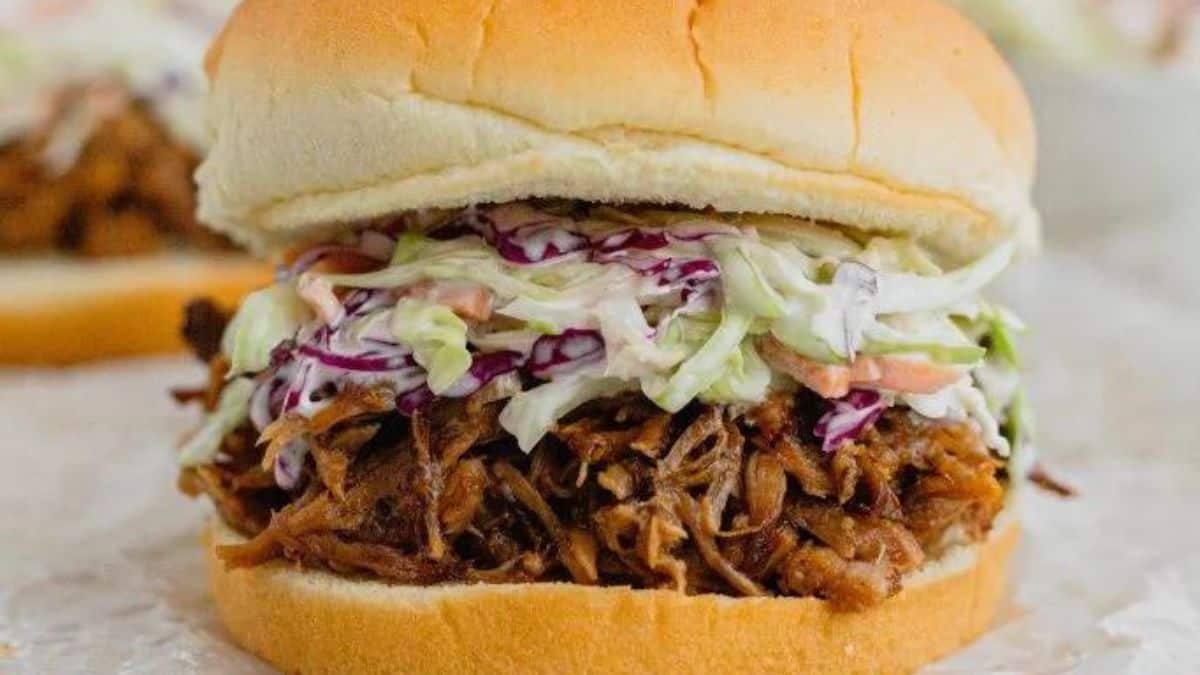 This pulled pork is an easy, flavorful, and protein-packed option! You can make it in the slow cooker or instant pot to get a tasty meal on the table with almost no effort at all. Serve as it is, or as pictured here in hamburger buns.
Get the recipe: Coca-Cola Pulled Pork
Swedish Meatballs
You won't believe how amazing these meatballs, made entirely without breadcrumbs and eggs, truly are! They're a breeze to whip up and ready in under an hour, with three cooking methods to choose from: stove-top, air fryer, or oven. What's the outcome? Meatballs that are incredibly juicy, bursting with flavor, and perfectly tender.
Get the recipe: Meatballs without Breadcrumbs & Eggs
Instant Pot Chuck Roast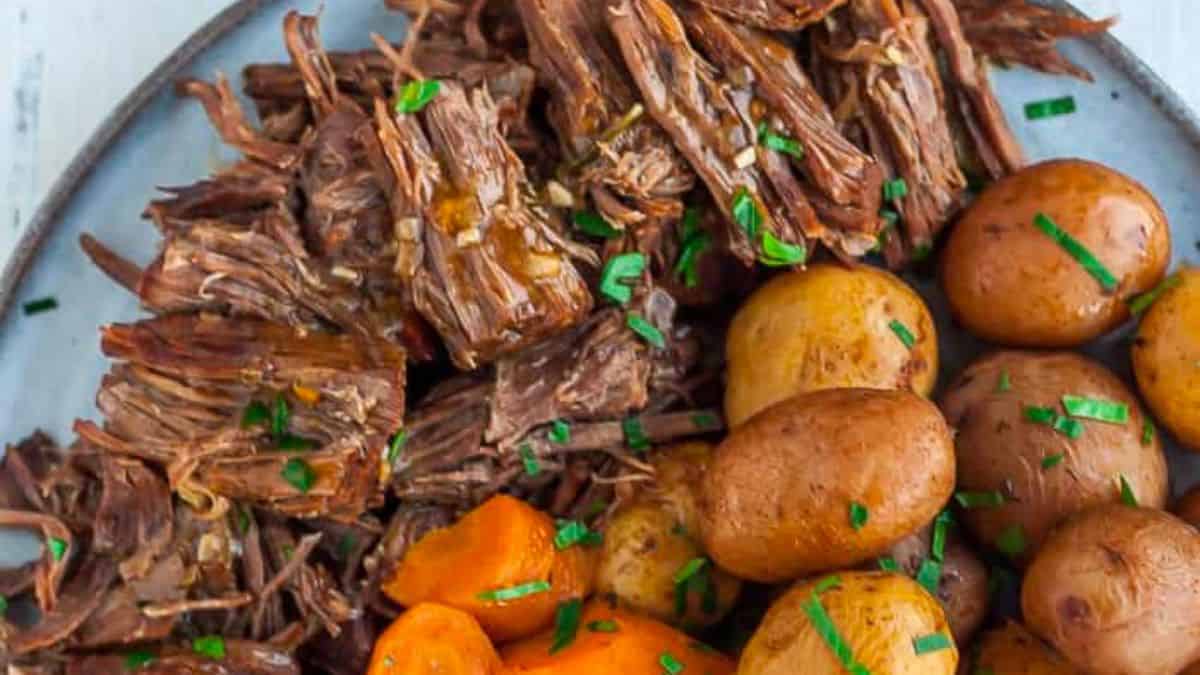 Imagine this: a melt-in-your-mouth chuck roast that falls apart at the touch - basically the definition of comfort food. The best part? You'll get that same slow-cooked flavor in no time, thanks to the magic of a pressure cooker.
Get the recipe: Instant Pot Chuck Roast
Buffalo Wings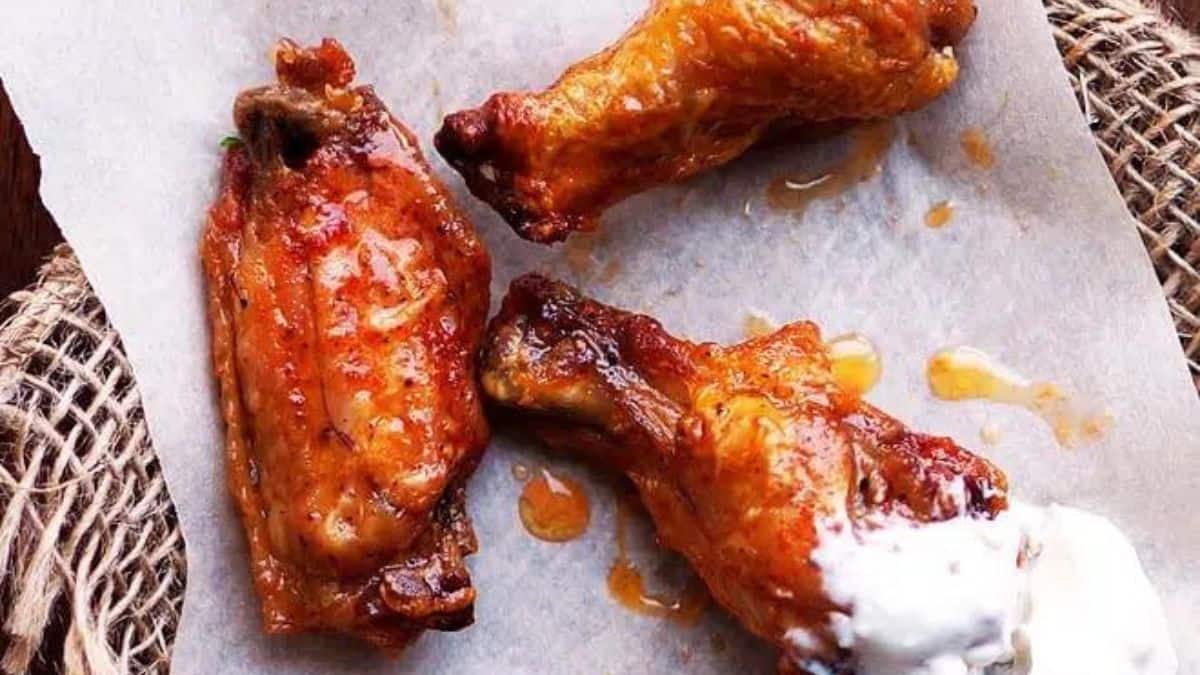 You're in for a treat with this amazing homemade buffalo wing recipe! These wings are baked in the oven until perfectly crispy, then coated in a mouthwatering homemade buffalo wing sauce and paired with a tangy, made-from-scratch blue cheese dressing. It's the ultimate wing experience!
Get the recipe: Buffalo Wings
Lamb Meatballs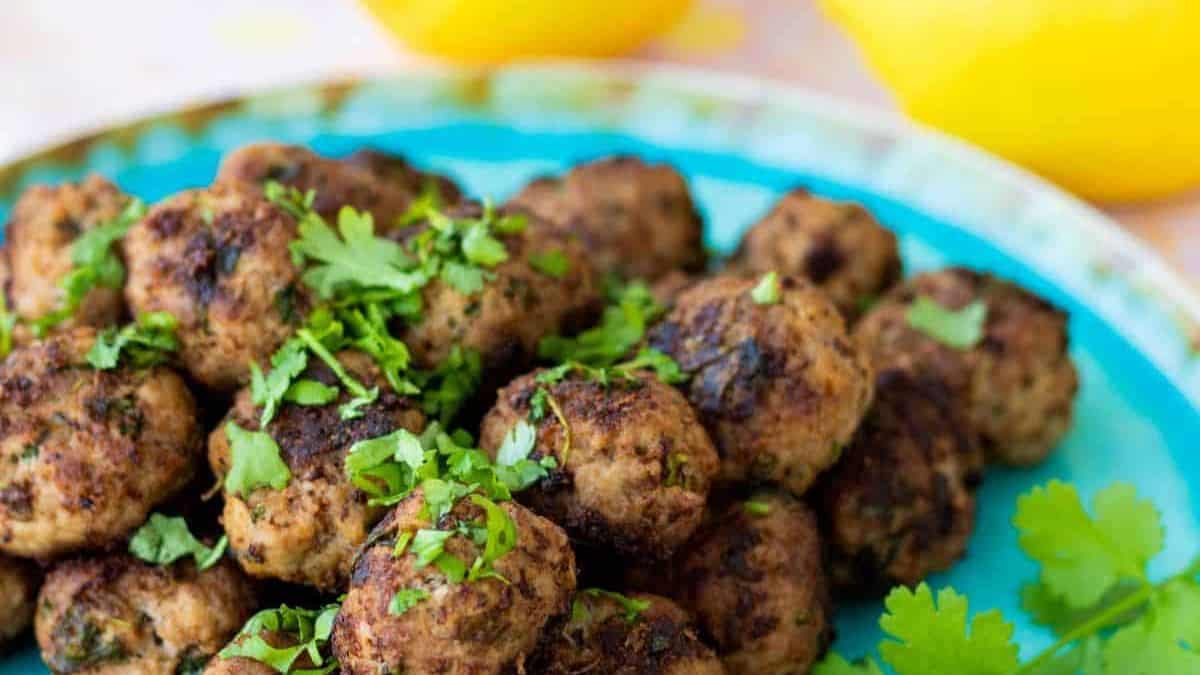 Whipping up these lemon & cilantro lamb meatballs is a breeze, and they're packed with fantastic flavors. The lighter, lemony, flavors of these meatballs pair so well with mac and cheese and help lighten up your meal.
Get the recipe: Lamb Meatballs with Cilantro & Lemon
Mexican Chicken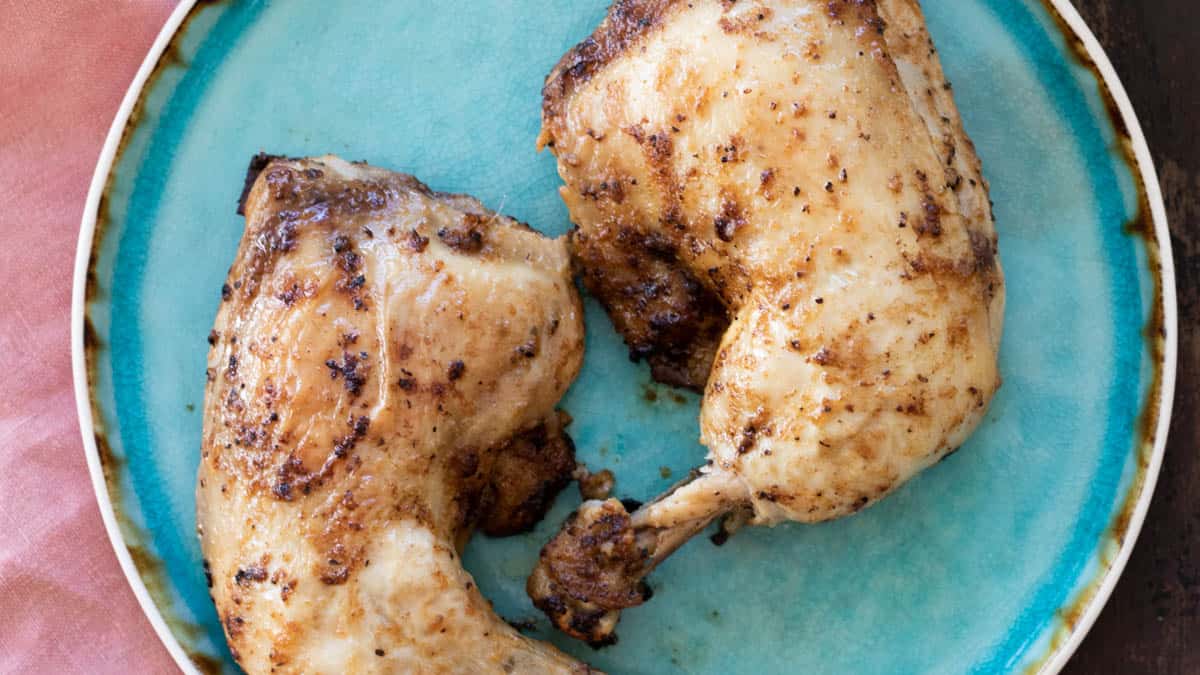 Elevate your dinner with this zesty Mexican Chicken recipe—it's quick, bursting with flavor, and guaranteed to turn ordinary chicken into a tender, flavor-packed fiesta of taste, thanks to vibrant spices and tangy citrus. A perfect main course for your mac and cheese!
Get the recipe: Mexican Chicken Marinade
Honey Chipotle Ribs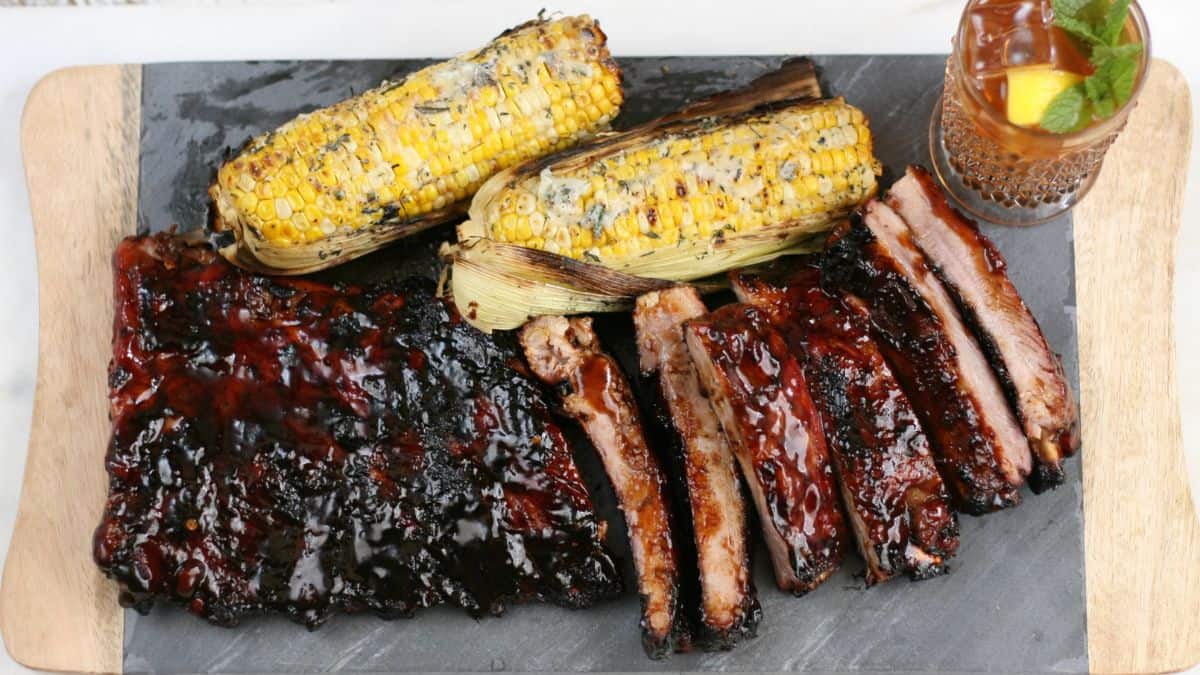 Making these fall-off the bone tender BBQ ribs is a breeze, and all done with just a handful of basic ingredients. A delicious honey chipotle barbecue sauce takes them to the next level, so get ready for a flavor explosion!
Get the recipe: Honey Chipotle Ribs
Beef Kabobs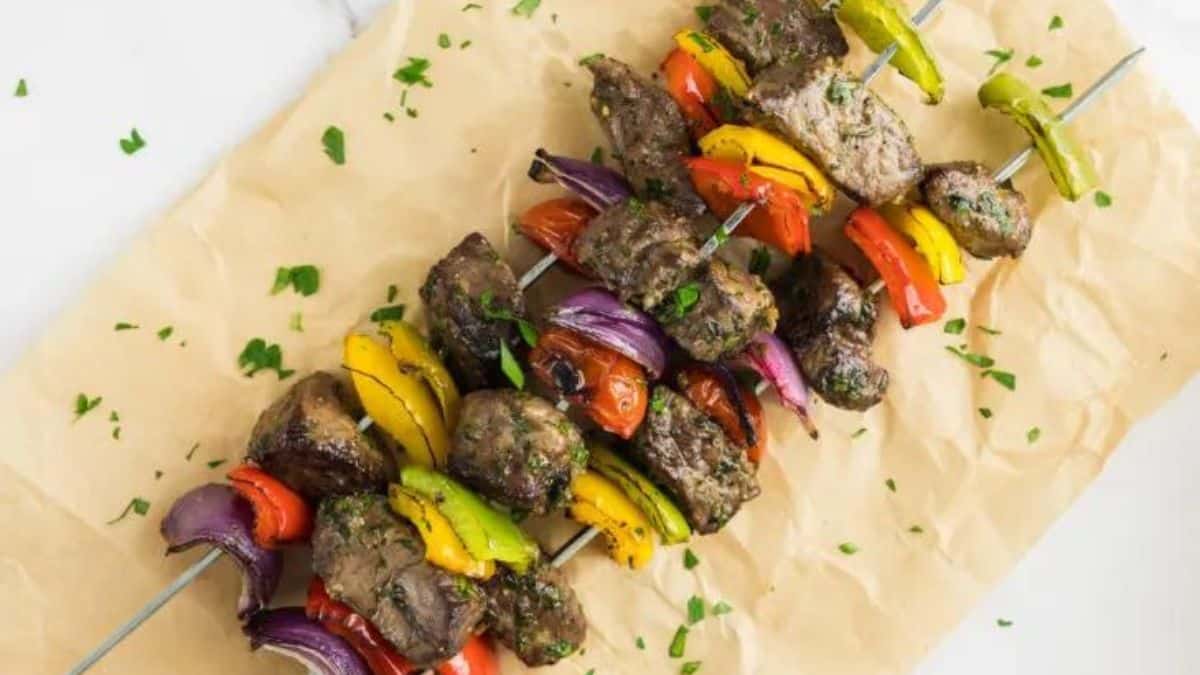 Create these irresistible oven-baked beef kabobs in the cozy confines of your kitchen! They're ready in under 30 minutes and make for a hearty, family-friendly dish that's sure to be a hit.
Get the recipe: Beef Kabobs
Crispy Chicken Tenders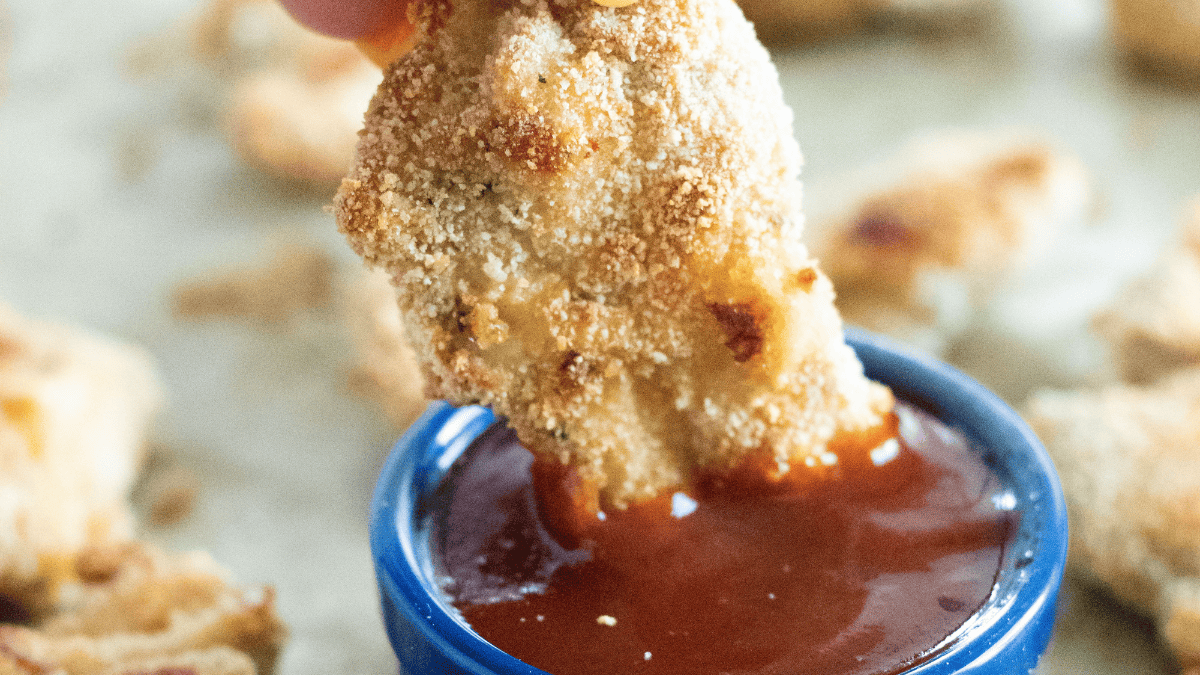 Prepare the most delicious chicken tenders in just 25 minutes using simple ingredients and lightly seasoned with salt and black pepper. These tenders are a healthier alternative to fried versions, as they're made without oil and dairy products. They're all set for dipping in your favorite sauce and will prove a great main for your mac and cheese.
Get the recipe: Oven Baked Chicken Tenders
Pan Seared Venison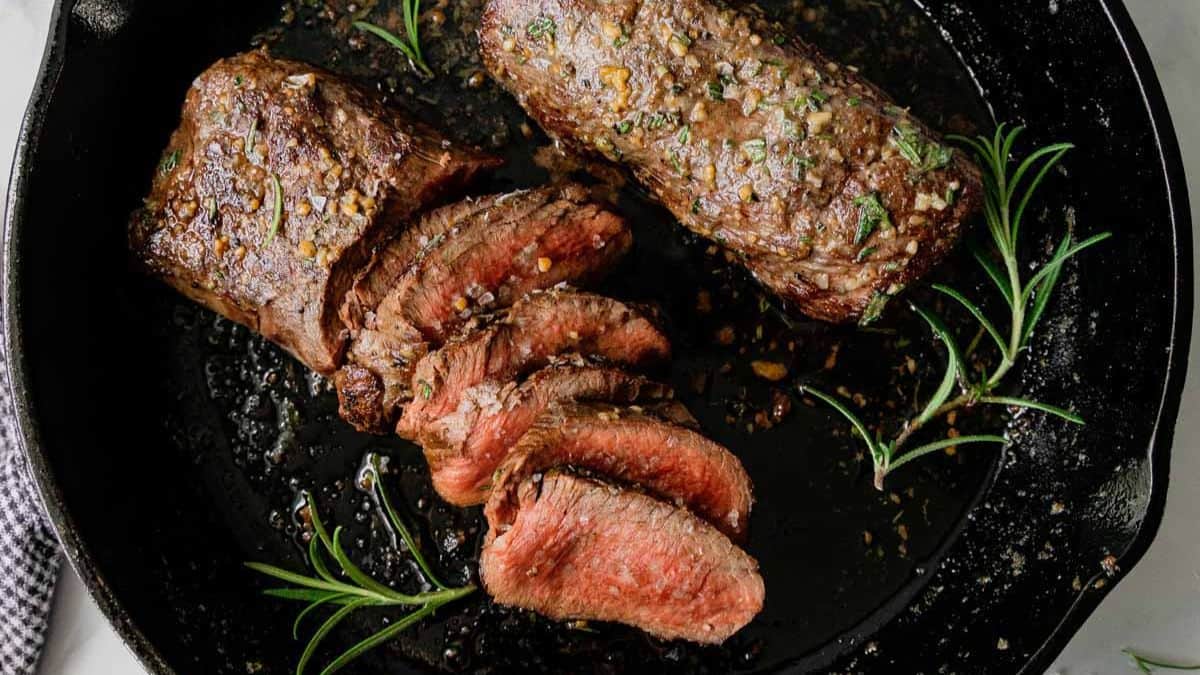 Indulge in the goodness of pan-seared venison tenderloins, with a flavorful garlic herb butter. Fresh and tender venison steaks are seasoned with simplicity and expertly seared to a medium-rare in a trusty cast iron skillet. Say goodbye to any gaminess in your venison steaks when you follow this fail-safe cooking method!
Get the recipe: Pan Seared Venison
Lemon Basil Chicken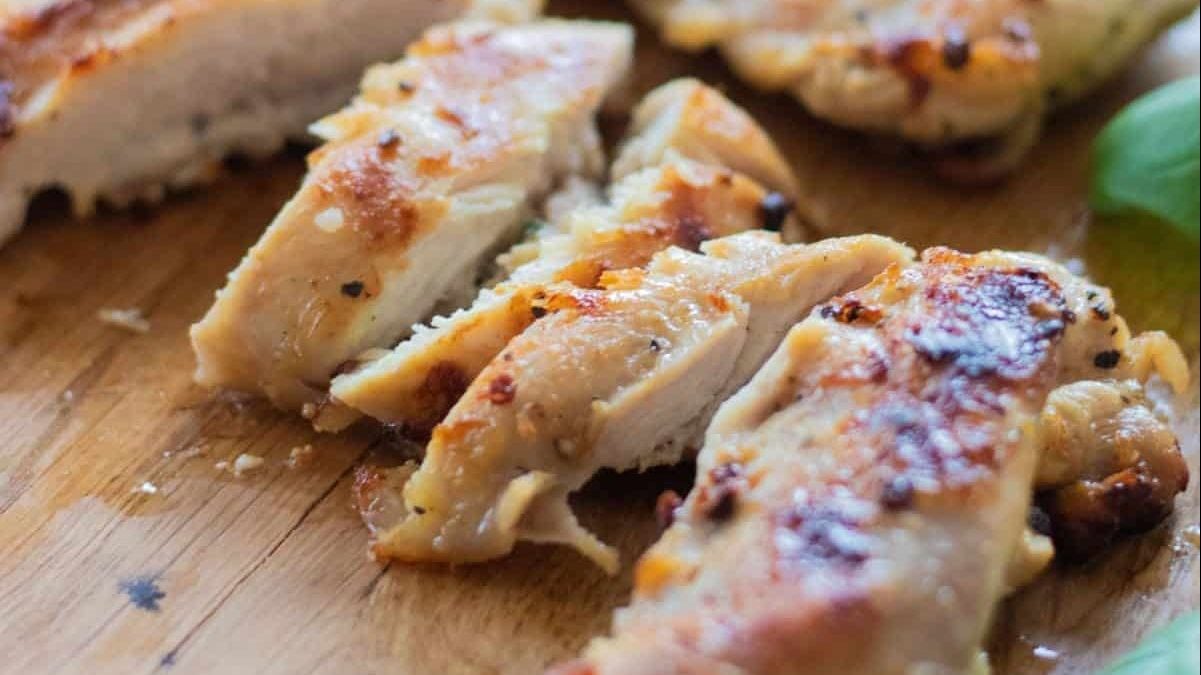 Create the ultimate lemon chicken marinade in just a few minutes using straightforward and wholesome ingredients. Whether you're grilling, pan frying, or oven baking, this marinade, enriched with olive oil, lemon, and basil, will infuse your chicken with incredible juiciness, tenderness, and an abundance of flavor.
Get the recipe: Lemon Chicken Marinade
Meatloaf
Get ready for a meatloaf recipe like no other, featuring a sticky, caramelized topping that's pure comfort food. It's moist and tender without falling apart, making this the ultimate meatloaf you'll ever try!
Get the recipe: Meatloaf
Cornbread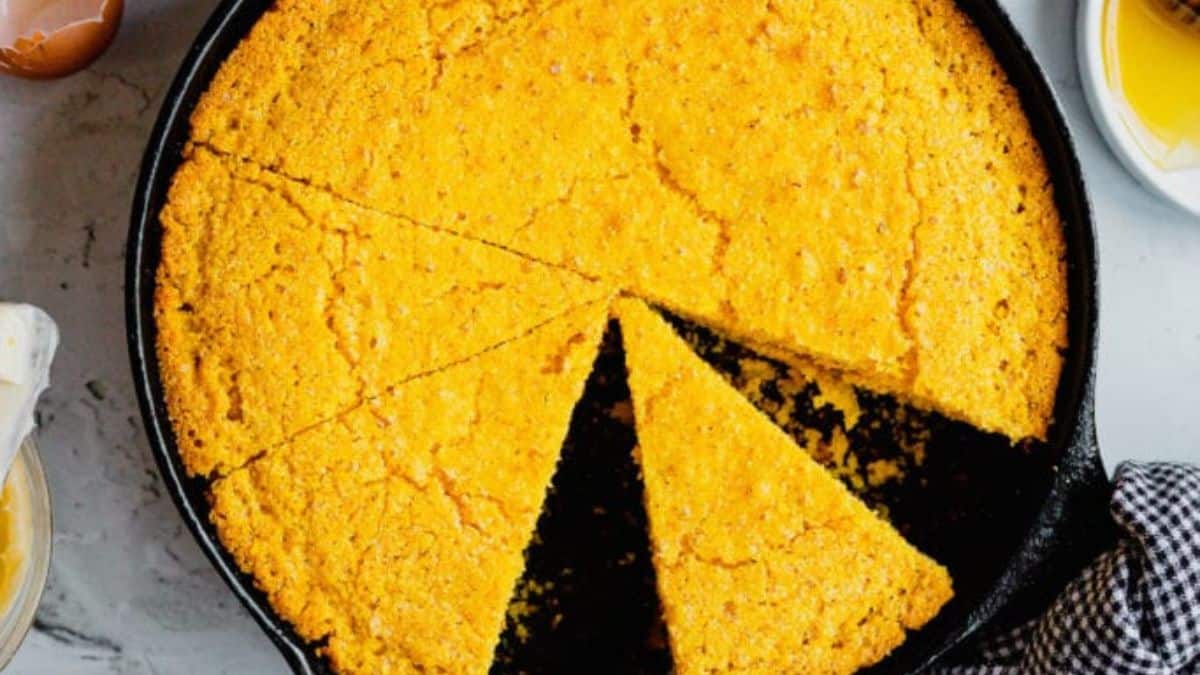 Rich and moist with a hint of sweetness, this cast iron skillet cornbread is a classic, top-tier recipe! Enjoy it alongside your mac and cheese or just savor it on its own with some butter and a drizzle of honey. It's the ultimate comfort food!
Get the recipe: Cornbread
Lemony Arugula Salad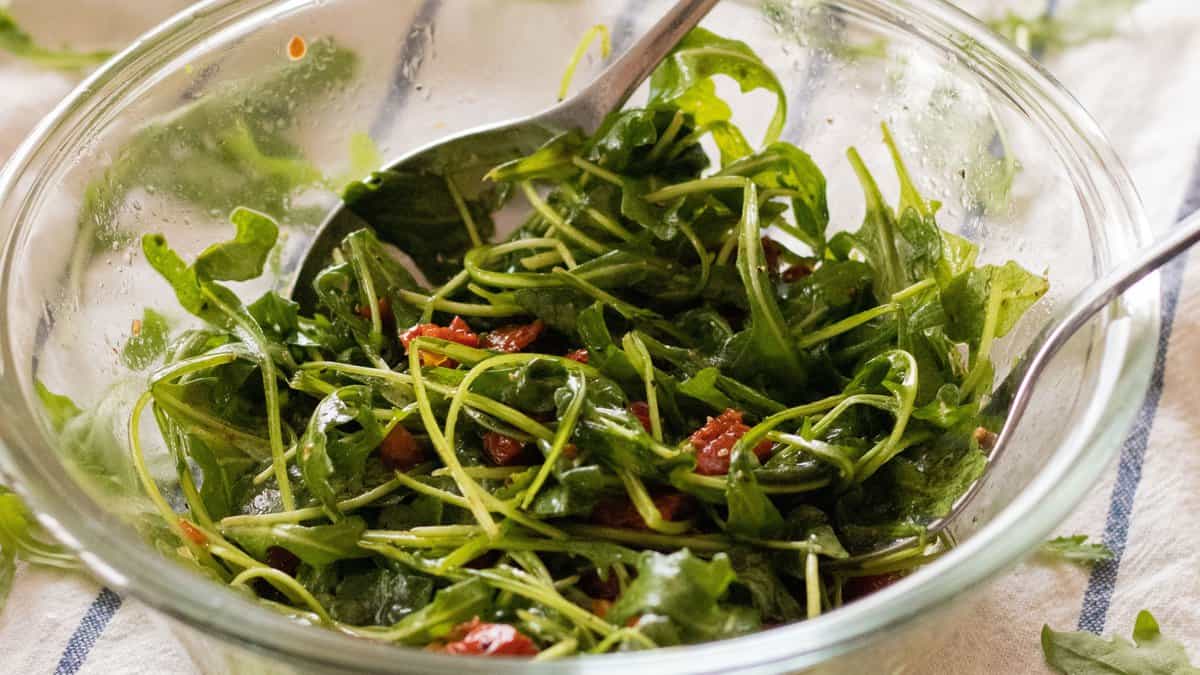 Meet the ideal sidekick for your mac and cheese: a simple salad. Bursting with flavors from sun-dried tomatoes and a honey lemon vinaigrette, it's a delightful blend of sweetness, sourness, saltiness, and a peppery kick from the arugula. Best of all, it's ready in just 5 minutes!
Get the recipe: Simple Arugula Salad
Garlic Roasted Broccoli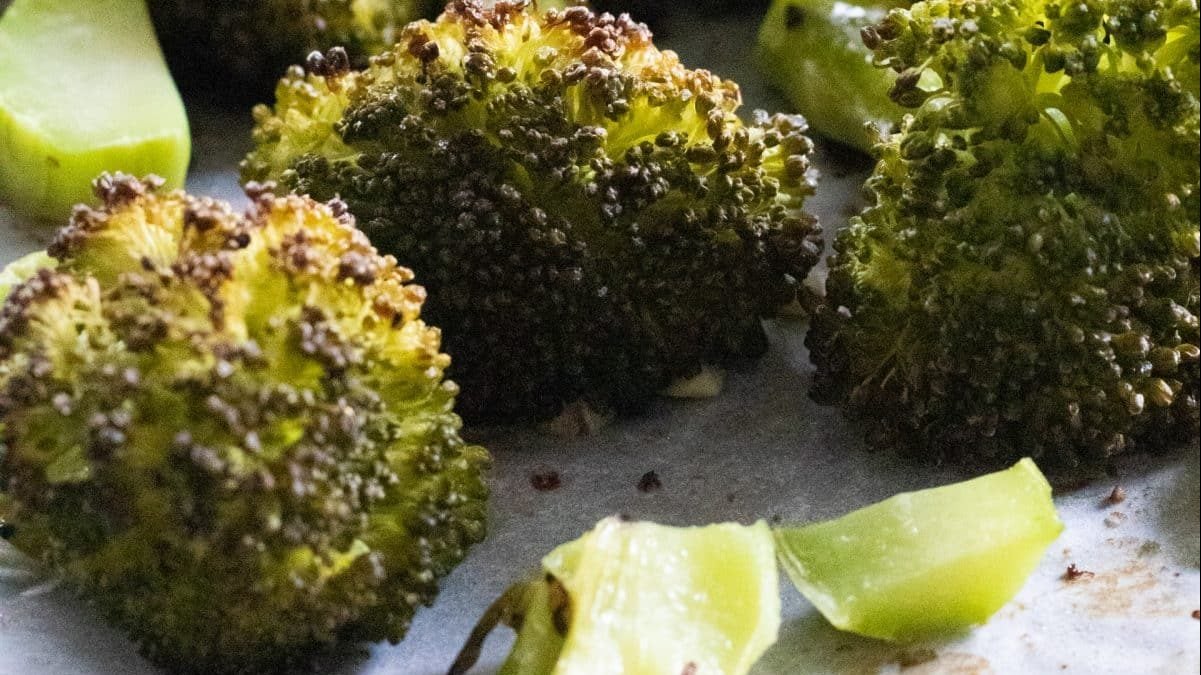 Prepare to fall in love with your new go-to side dish: Garlic Roasted Broccoli, boasting a perfect crispy texture and irresistible flavor. It's not only healthy but also vegan-friendly, and the best part? It's ready in just 25 minutes with minimal prep.
Get the recipe: Garlic Roasted Broccoli
Brown Sugar Baked Beans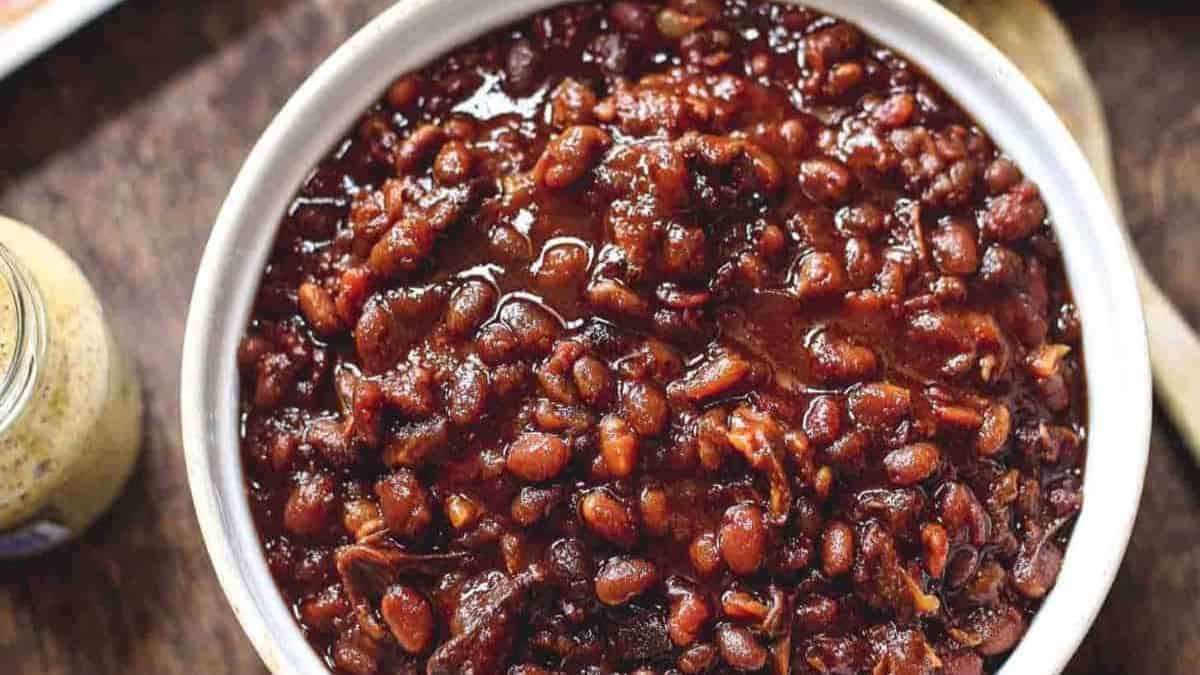 Whipping up these slow-cooker brown sugar baked beans is a breeze. Simply toss a bunch of fantastic ingredients into the slow cooker, and after a few hours, your home will be filled with an irresistibly tempting aroma. Plus, you'll have plenty of these beans to satisfy a hungry crowd. The brown sugar adds sweetness, and guess what the secret ingredient is for that incredible savory flavor? Short ribs!
Get the recipe: Brown Sugar Baked Beans
Brussels Sprouts with Bacon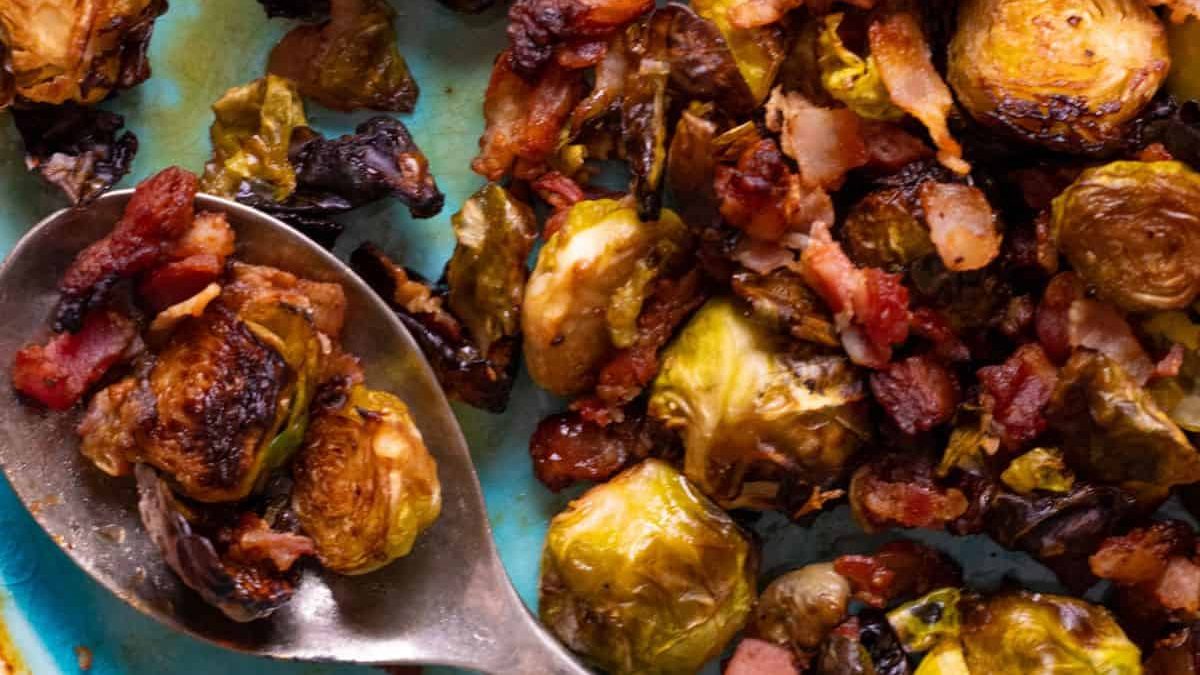 Prepare to savor these quick and flavorful Air Fryer Brussels Sprouts with Bacon, ready in just 20 minutes. They offer a delightful combination of salty, crunchy, and sweet, with a touch of balsamic vinegar to add a hint of acidity.
Get the recipe: Air Fryer Brussel Sprouts with Bacon
Caulislaw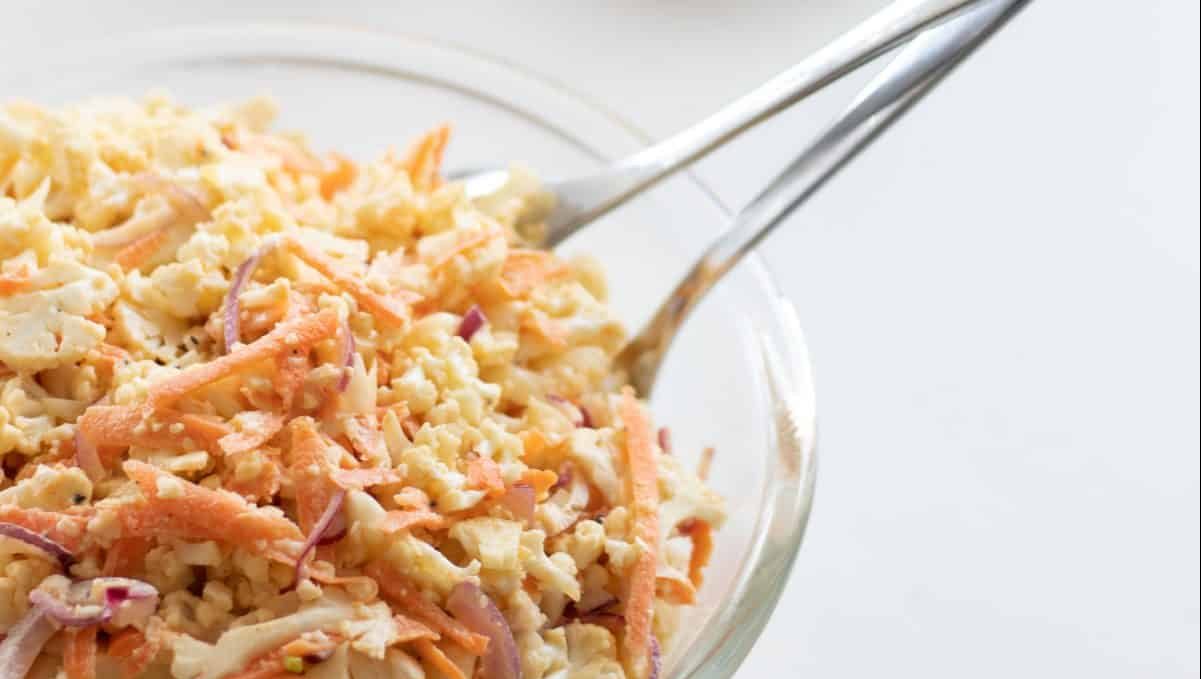 Introducing "Caulislaw," a blend of cauliflower, carrots, and red onions dressed in a perfectly balanced mayonnaise dressing. It's quick, healthy, and low in carbs, making it a versatile choice you'll keep coming back to again and again!
Get the recipe: Caulislaw - Raw Cauliflower Salad [Coleslaw Style]
Air Fryer Green Beans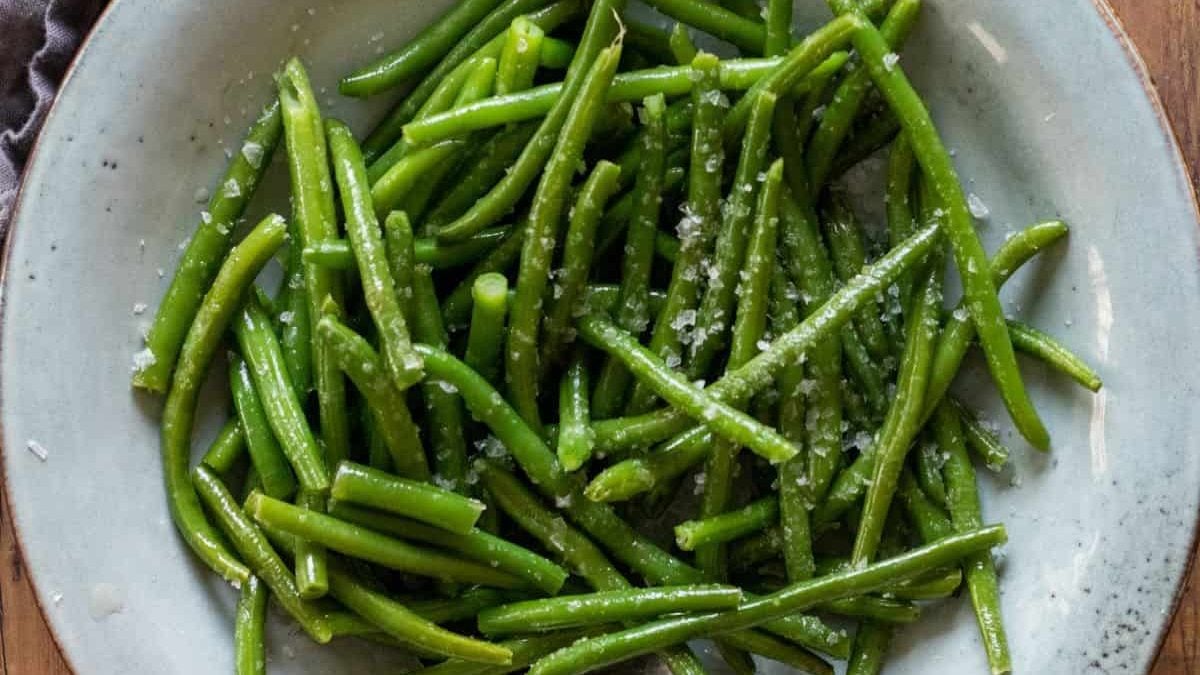 With minimal prep and just 4 minutes of cooking time, you can whip up the finest green beans in your air fryer, straight from frozen! They're as convenient as steamed and make for an excellent and effortless side dish for mac and cheese.
Get the recipe: Air Fryer Frozen Green Beans
Mango Cucumber Salad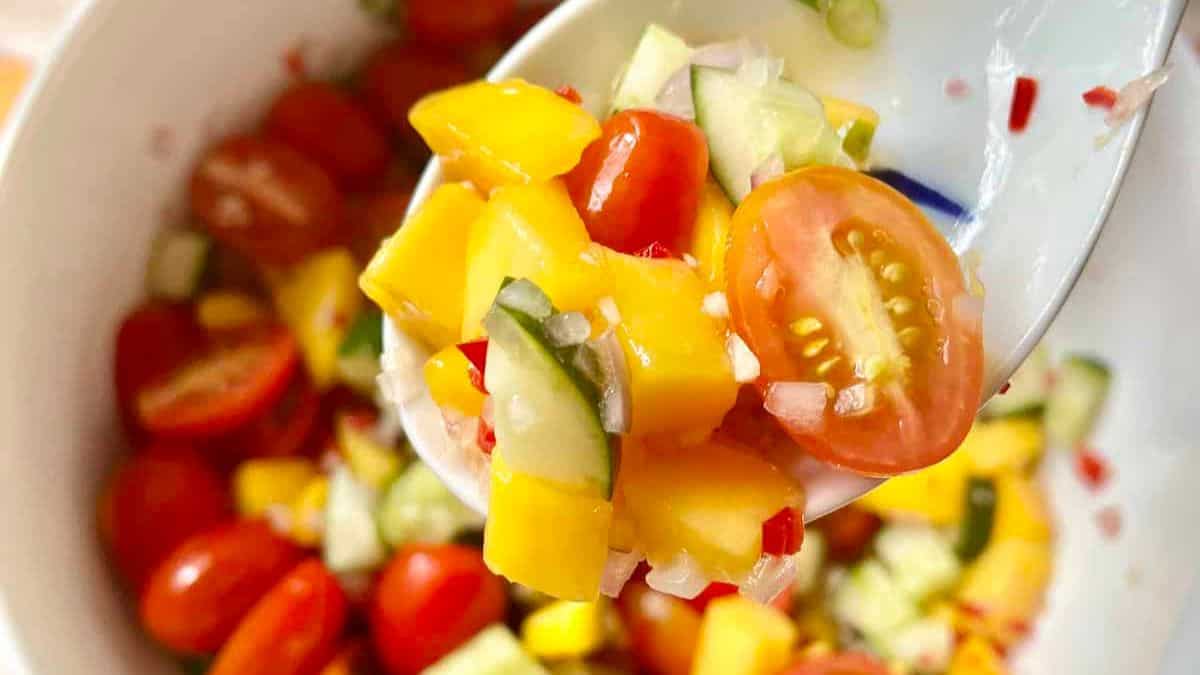 You might not think to pair an Asian-inspied salad like this with your mac and cheese, but that's all about to change! This Mango Cucumber Saladis all about light and refreshing tropical goodness, which pairs amazingly with a starchy mac and cheese. It's also a breeze to whip up, offering the perfect blend of sweet, savory, and crunchy.
Get the recipe: Mango Cucumber Salad
Green Bean Casserole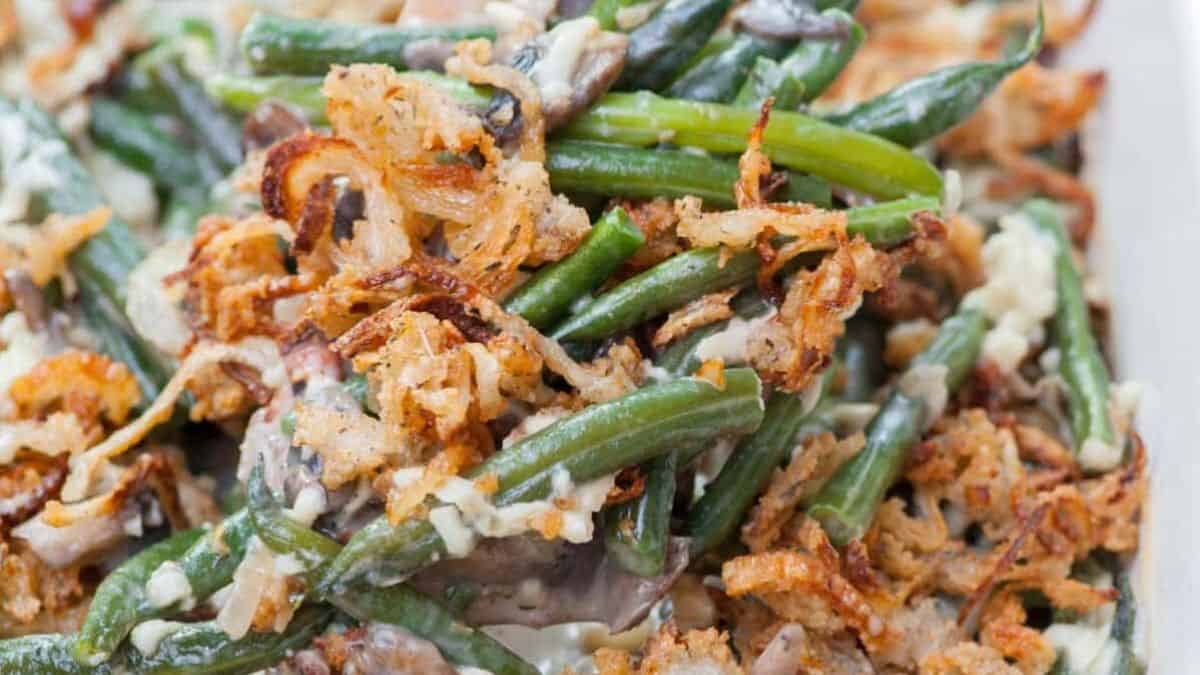 Behold the ultimate green bean casserole recipe, created entirely from scratch! Fresh green beans with a delightful crunch, a flavorful mushroom sauce featuring bacon (that's easy to make!), all crowned with sharp cheddar cheese and homemade fried onions.
Get the recipe: Green Bean Casserole
Fall Harvest Salad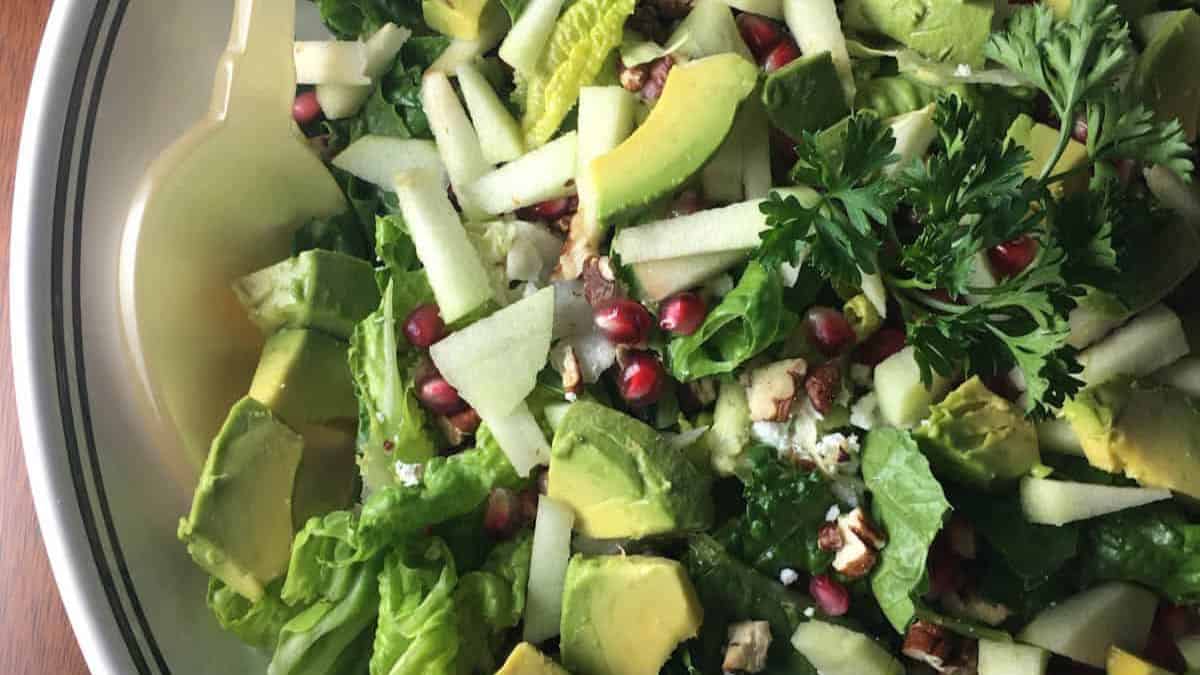 Celebrate the flavors of fall with this vibrant fall harvest salad! Crisp apples, juicy pomegranates, pecans, avocado, and goat cheese come together topped with a white balsamic vinaigrette. This salad offers a delightful mix of crunchiness, creaminess, sweetness, and savory notes.
Get the recipe: Fall Harvest Salad
Which recipe are you most excited to try? Let me know in the comments below and share what you're making on Instagram with the tag #alwaysusebutter!