Are you ready to turn your outdoor picnics into memorable feasts? We've got you covered with 33 simple and delicious picnic recipes that will take your al fresco dining to a whole new level. Whether you're planning a romantic date or a family outing, these recipes will ensure your picnics are packed with flavor and fun.
Red Pesto Pasta Salad with Veggies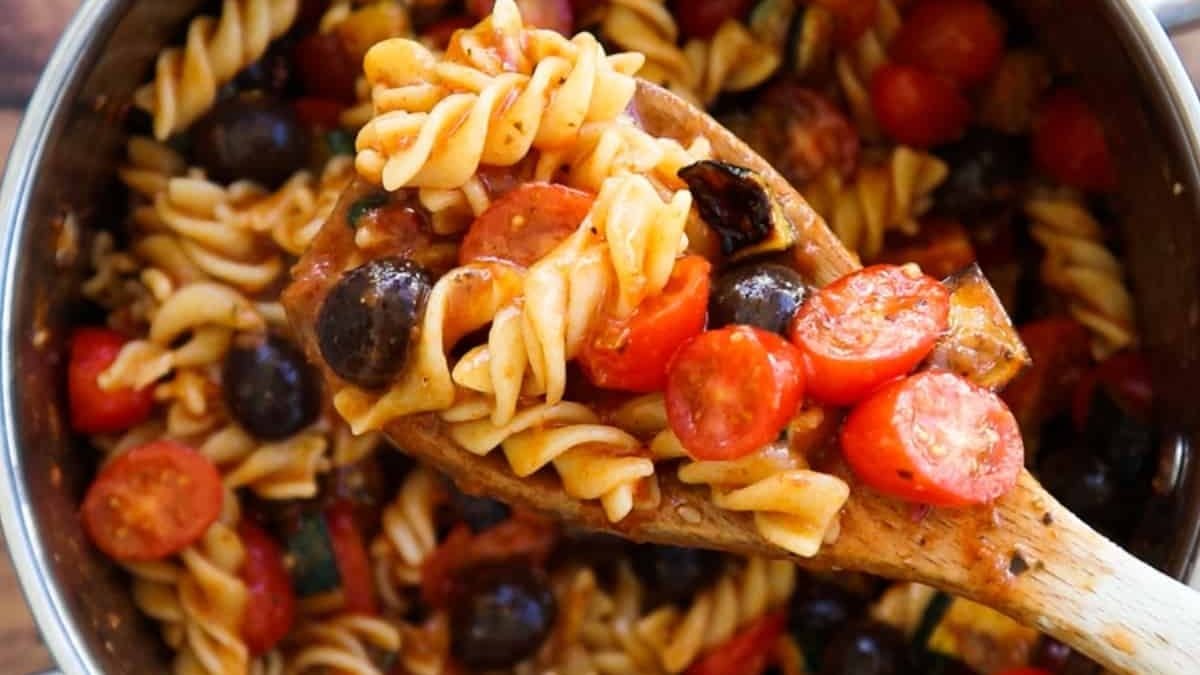 Done in under 30 minutes with just 15 minutes of active prepping & cooking this red pesto pasta is packed with veggies & flavor. Easy to make with homemade or store bought pesto - and just as delicious served cold as it is hot.
Tortellini Salad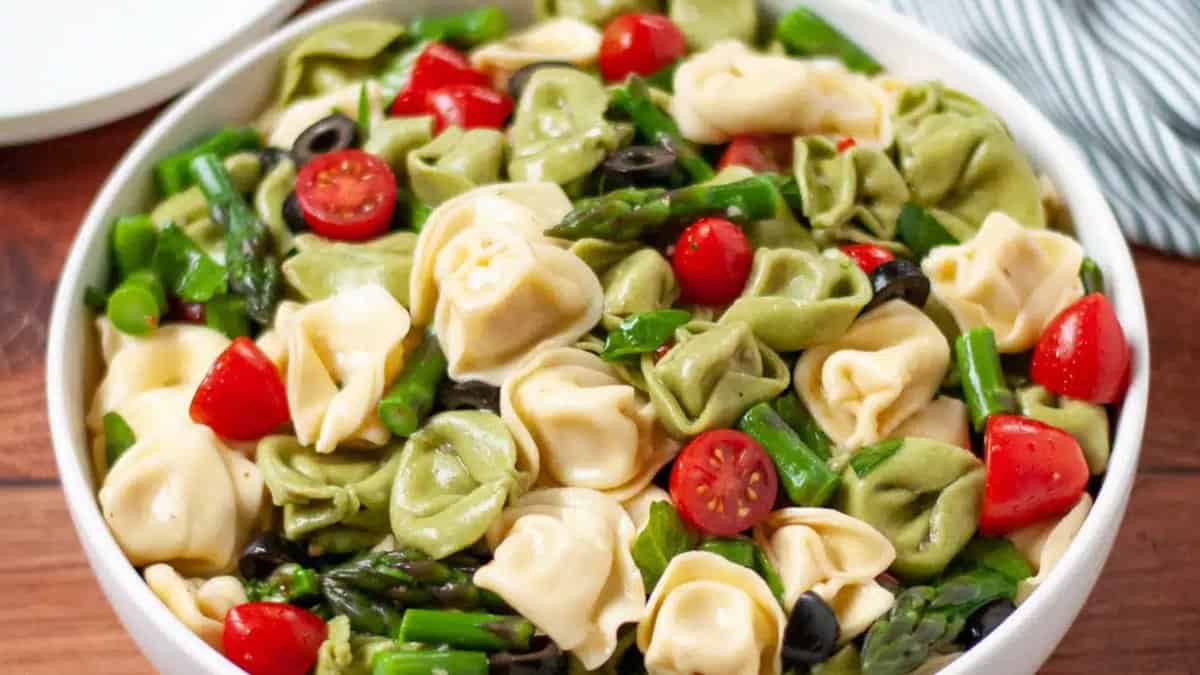 This delicious 6-ingredient summer tortellini salad is super easy and ready to enjoy in 20 minutes! A great option for potlucks, backyard BBQs, or as a light summer meal.
Air Fryer Chicken Legs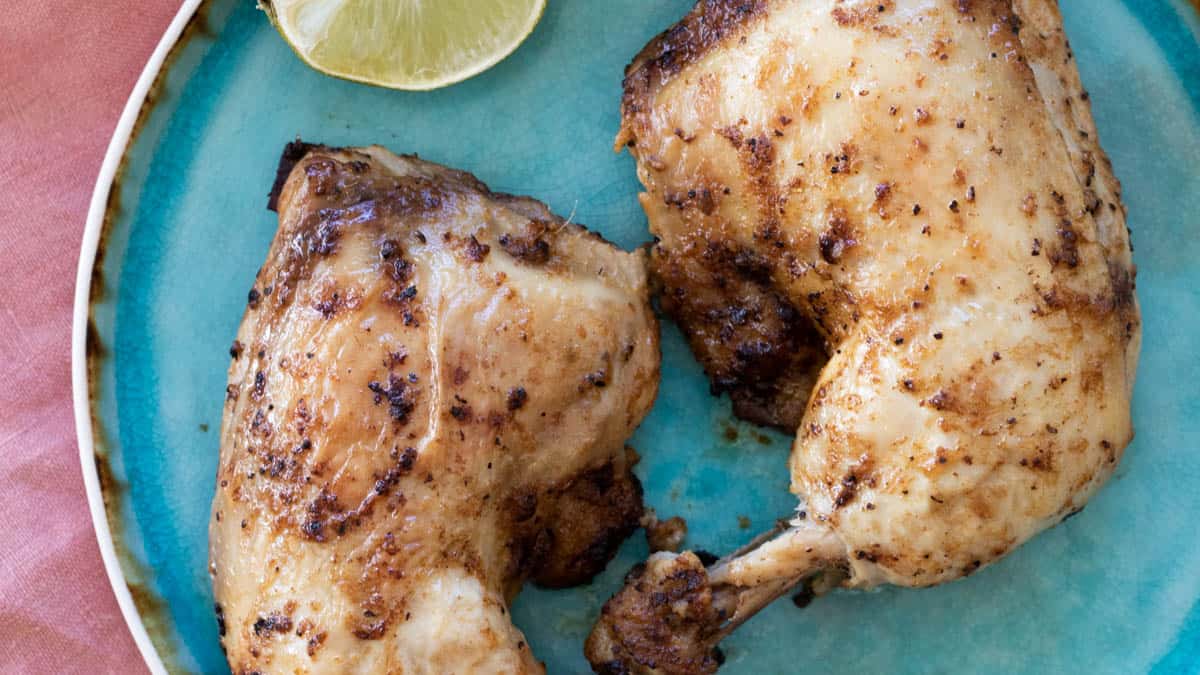 Experience the perfect blend of crispy skin and tender meat with this foolproof Air Fryer Chicken Legs recipe. Using the magic of air frying technology, these chicken legs turn out golden brown on the outside and tender on the inside.
Get the recipe: Air Fryer Chicken Legs
Antipasti Pasta Salad
This recipe for Antipasto Pasta Salad is the perfect addition to any meal. If you're looking for something simple and Italian-inspired for your next potluck, BBQ or cookout, then this delectable salad is perfect for you! Great for a crowd and thrown together in less than 30 minutes, this easy pasta salad recipe is a definite keeper and made with flavorful salami, pepperoni, grape tomatoes, and Parmesan cheese for a pasta salad that is both filling and tasty.
Bacon Steak Wraps with Blue Cheese Dressing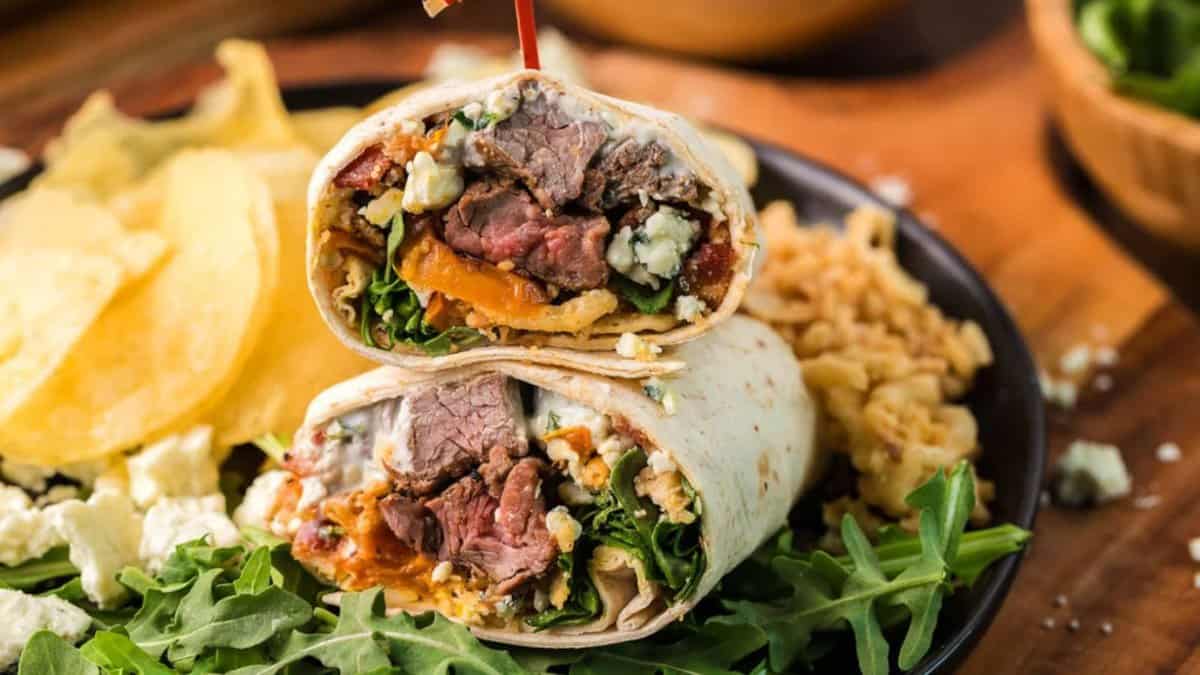 Bacon steak wraps, made with chuck steak and a homemade blue cheese dressing, are hearty, rich and delicious. If you're wondering what to put in a steak wrap, I recommend bacon, blue cheese crumbles and fried onions! If you're going to make something this tasty, you might as well go ahead and add in all your favourites! As always, you can simply leave out any ingredients you aren't so keen on. You will love this delicious and easy to make lunch recipe.
Buffalo Chicken Pasta Salad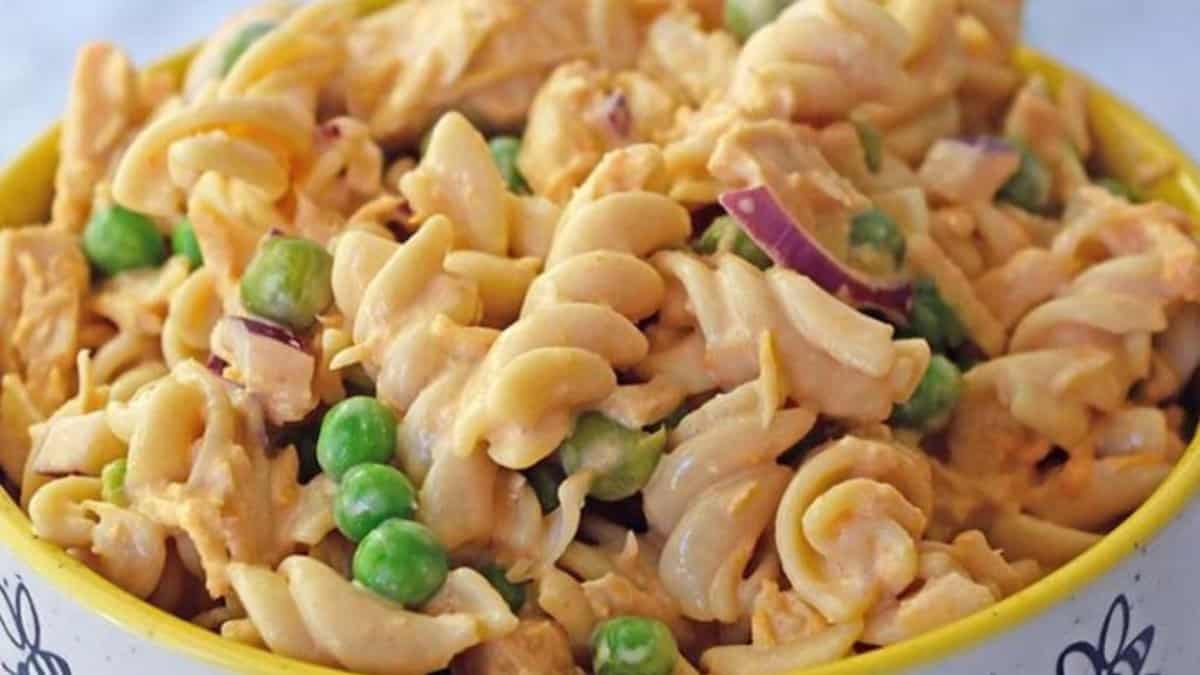 When the weather gets warm, pasta salads are a healthy lunch or dinner choice. Buffalo chicken pasta salad is a tasty option. Plus it's great for sharing at picnics, potlucks, and more!
Get the recipe: Buffalo Chicken Pasta Salad.
Halloumi Wraps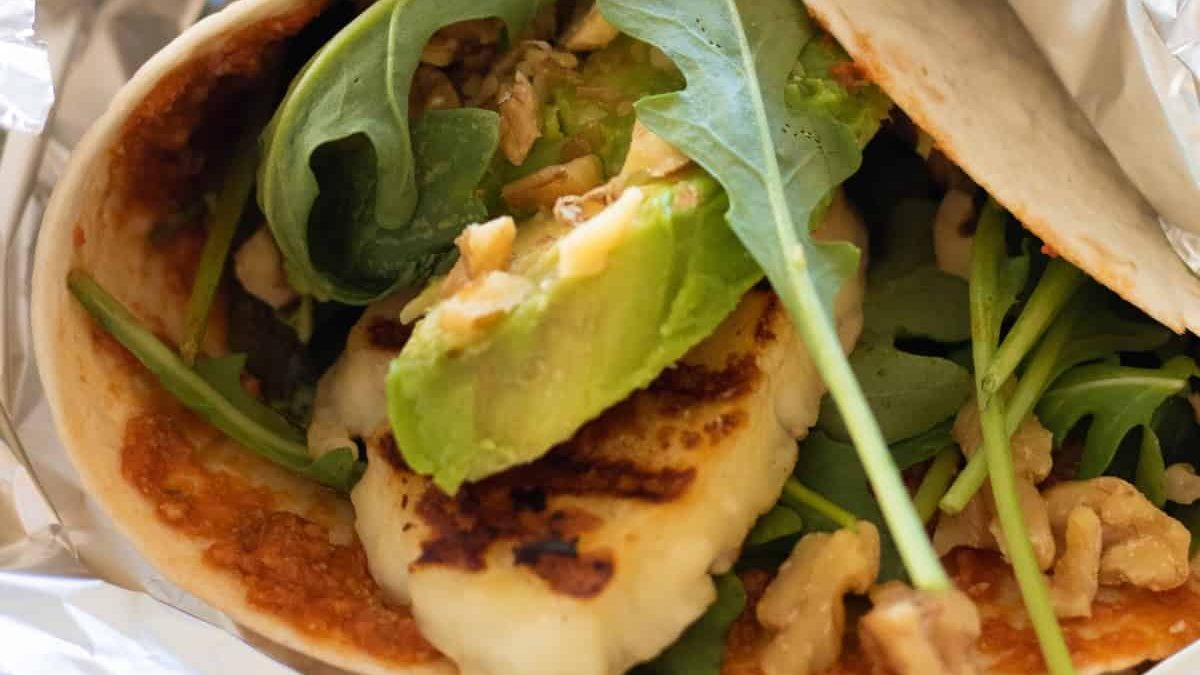 Make the halloumi wraps that everyone loves - kids and foodies included! - and be the star of your next picnic or road trip. With halloumi cheese, red pesto (store-bought is fine), avocado and walnuts these wraps are packed with flavor, done in 20 minutes and super easy to make. Get the recipe from always use butter.
Creamy French Potato Salad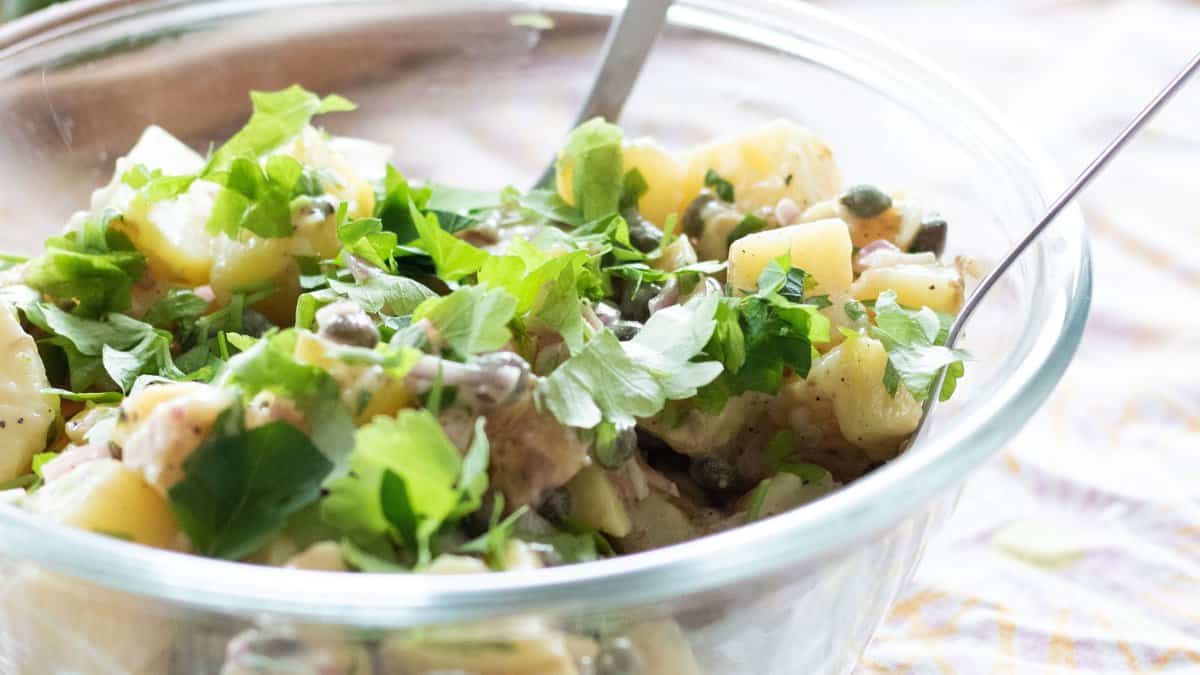 Try the best easy, homemade Vegan Potato Salad! Without mayo, eggs or any dairy products it's made creamy the traditional French way with a Dijon mustard dressing - which makes it naturally vegan, gluten free and dairy free.
Get the recipe: Creamy Vegan Potato Salad with Dijon Mustard [no mayo!]
Chicken Pesto Pasta Salad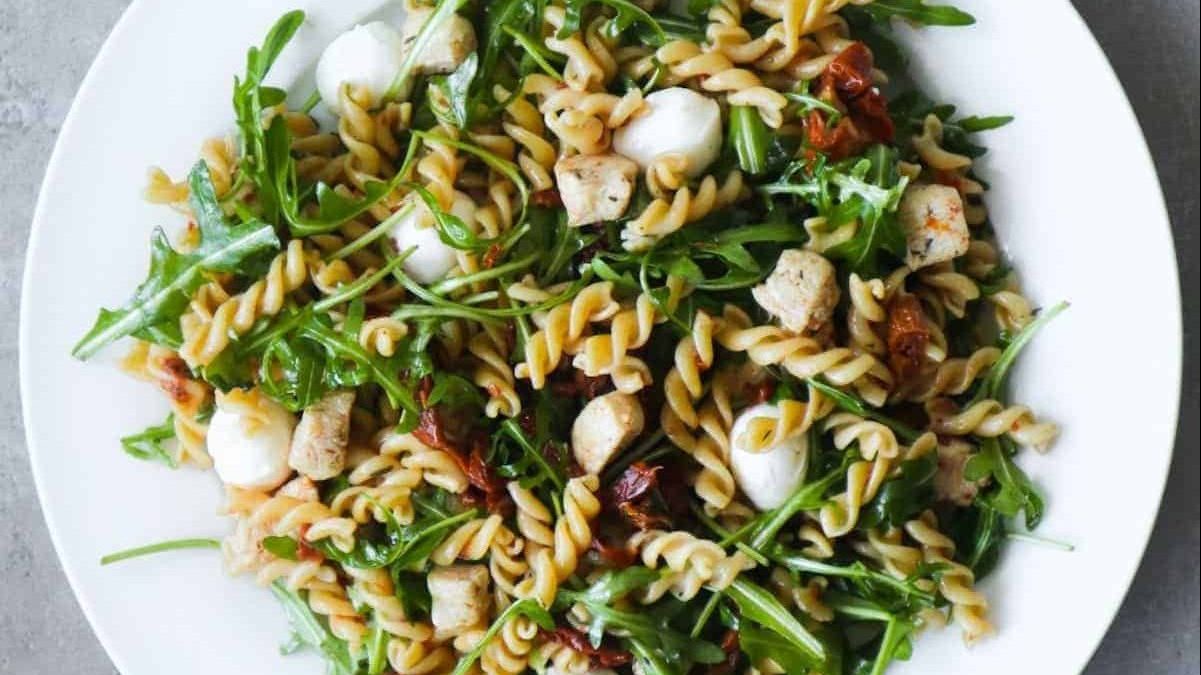 This chicken pesto pasta salad recipe is perfect for summer. This healthy, simple salad that is quick to prepare and perfect for a BBQ! Get the recipe from Nutmeg & Vinegar.
Roasted Sweet Potato & Feta Cheese Salad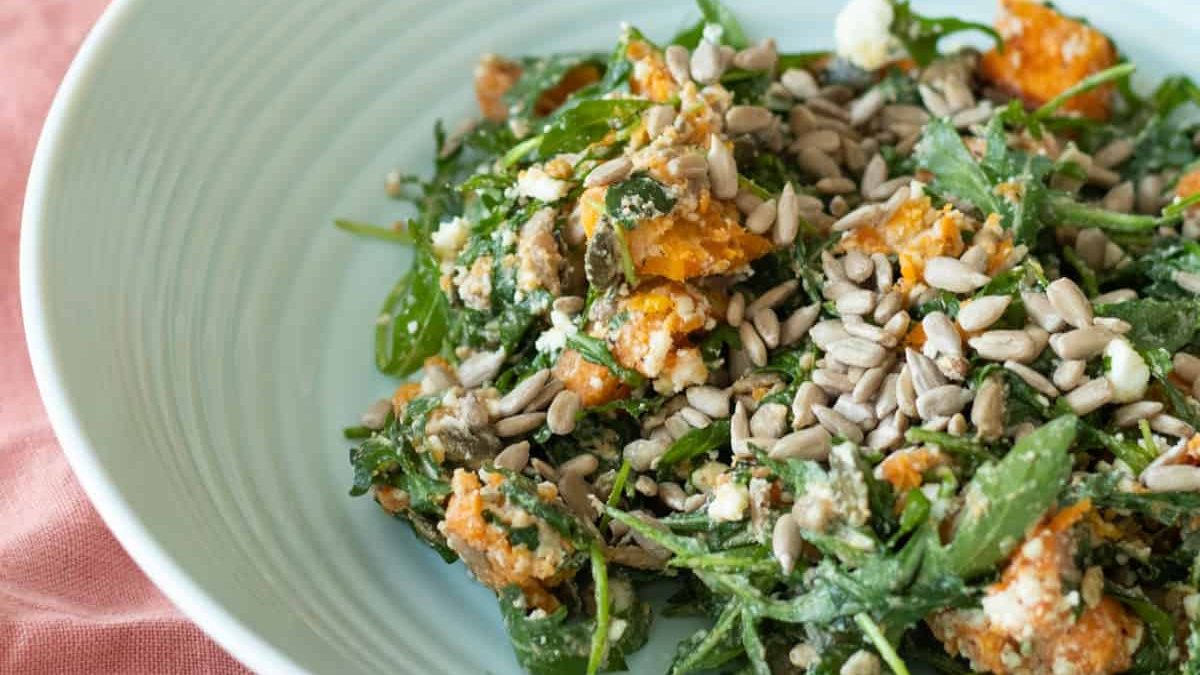 If you're craving a healthy salad, this sweet potato version is just what you need. Make the day before and serve cold at your picnic. Get the recipe from always use butter.
Strawberry Balsamic Tofu Pasta Salad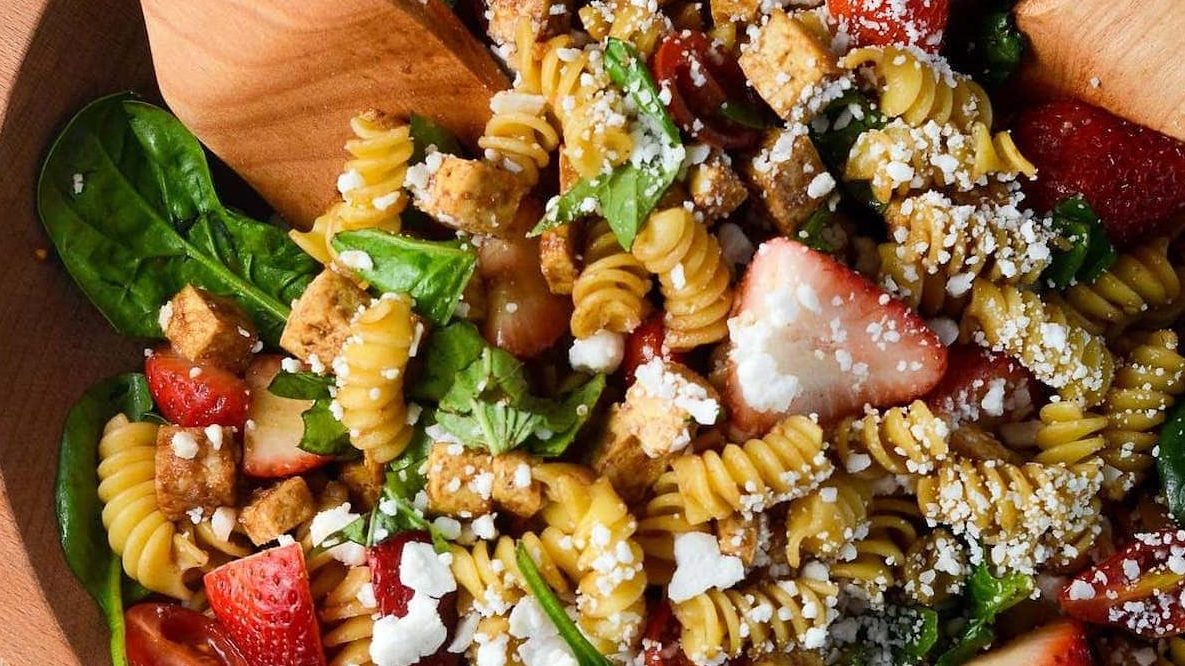 As the warm weather settles in, there's nothing better than this Strawberry Balsamic Vegan Tofu Pasta Salad with vibrant, juicy strawberries, marinated balsamic tofu, fresh spinach & basil, and creamy feta cheese. Enjoy this as a side dish for a picnic, BBQ, or weeknight main dinner! Get the recipe.
Grilled Lemon Chicken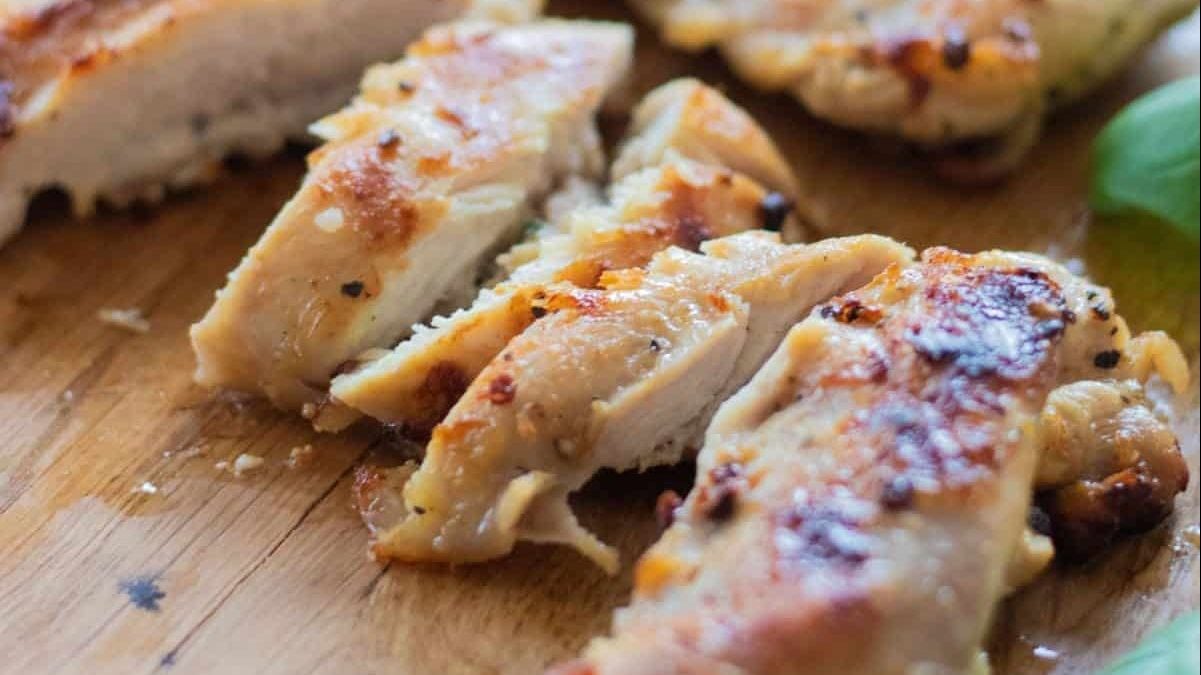 Make the best Lemon Chicken Marinade in just a few minutes with simple, healthy, ingredients. It's great for grilling, pan frying and oven baking and perfect to make ahead and bring along cold for picnics. Get the recipe from always use butter.
Caprese Orzo Pasta Salad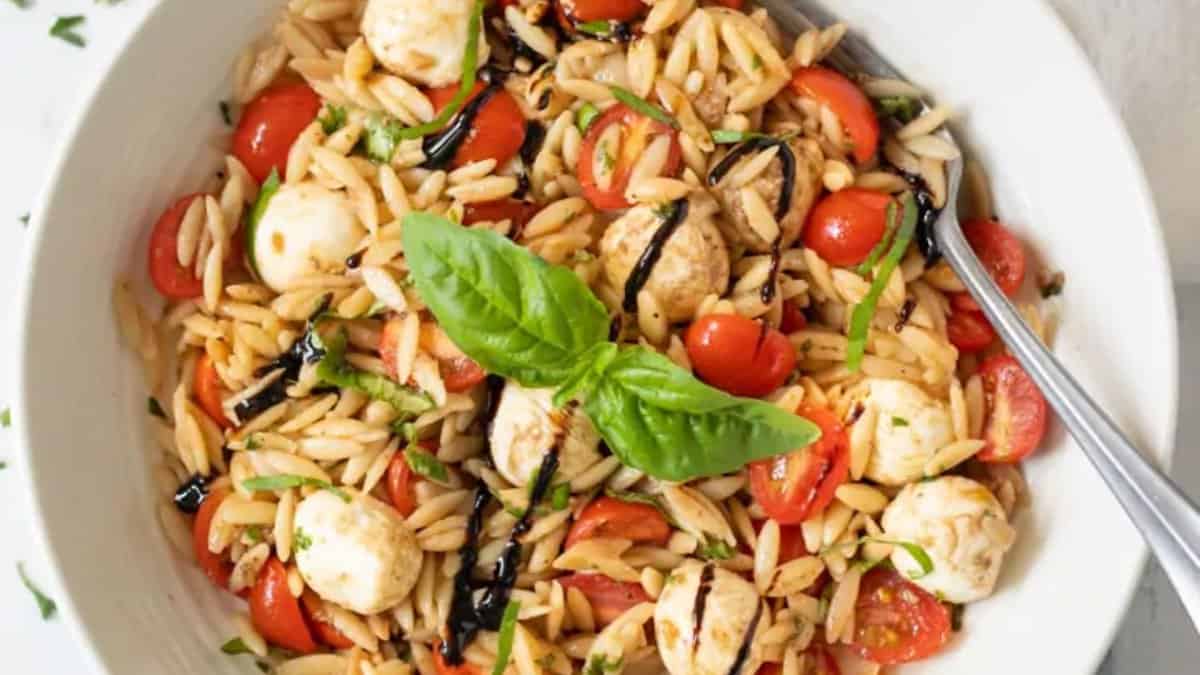 Caprese Orzo Pasta Salad is a light and refreshing salad, made with orzo pasta, grape tomatoes, mozzarella and fresh basil. This easy orzo pasta salad is so quick to make, perfect to take to a picnic or get-together.
Get the recipe: Caprese Orzo Pasta Salad.
Tuna Pasta Salad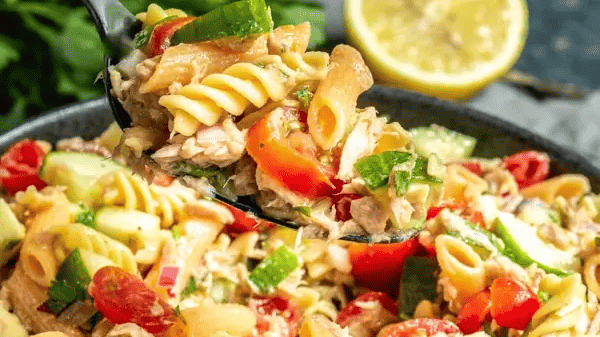 Tuna pasta salad is packed with veggies and fresh flavors. This tuna noodle salad calls for no mayo, which makes it a great, low calorie dish perfect for sharing. Get the recipe.
Caprese Salad with Spinach & Cashews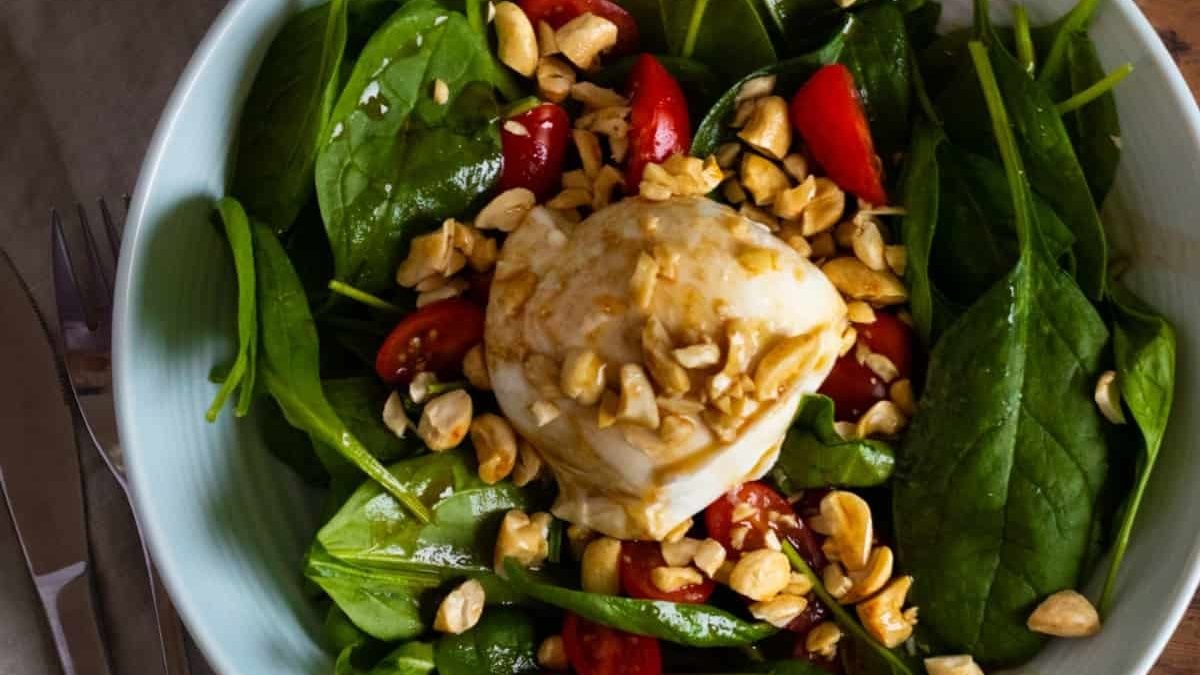 A quick and easy caprese version that's filling enough for dinner. Get the recipe from always use butter.
Caprese Pasta Salad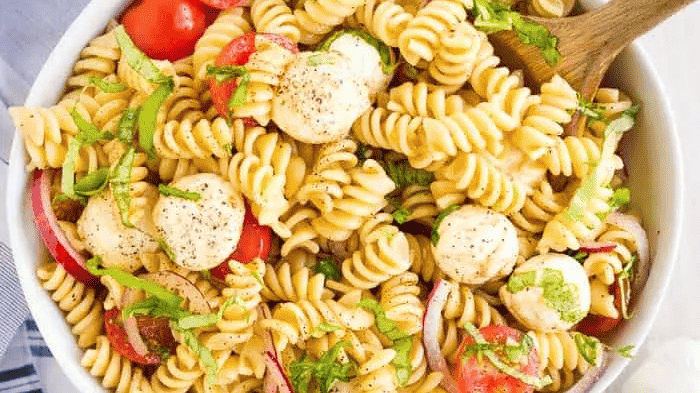 Caprese Pasta Salad is an easy and delicious summer salad full of fresh ingredients! A tangy balsamic dressing ties the fresh tomatoes, creamy mozzarella, and tender pasta together for the perfect side dish to any potluck or BBQ. Get the recipe.
Chicken Pesto Pasta Salad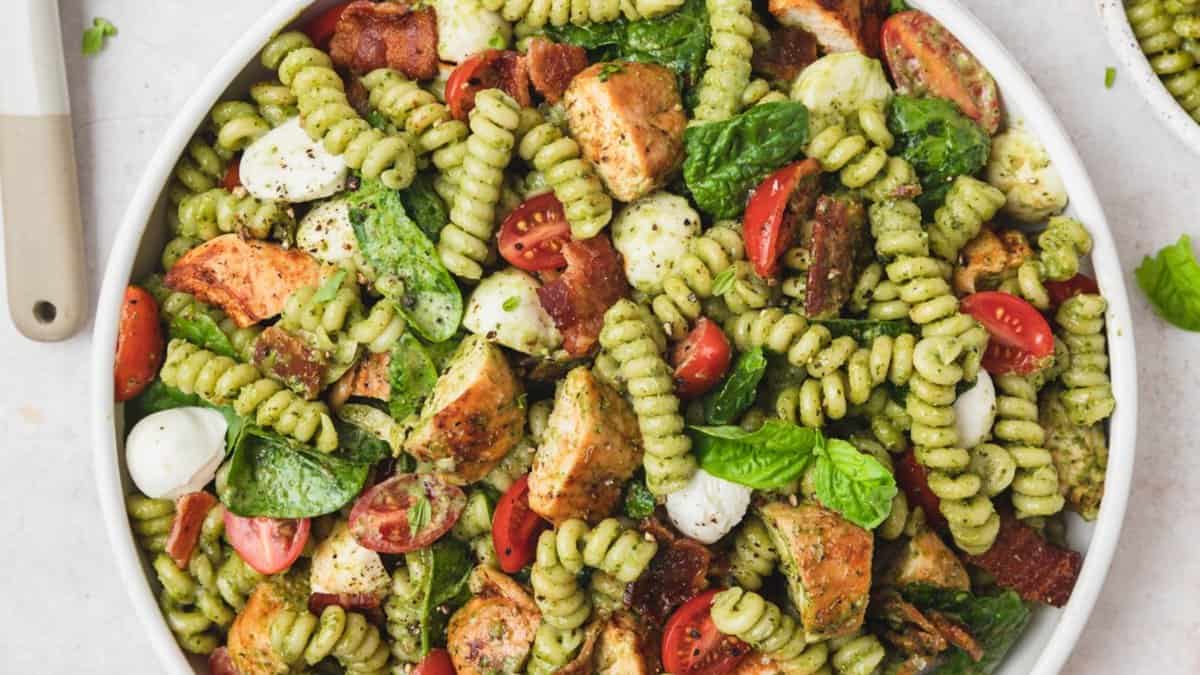 One of my favorite easy meals is this super simple chicken pesto pasta salad! It's light, fresh, and comes together in less than 20 minutes! With creamy pesto and mascarpone cheese, grilled chicken, spinach, and tomatoes it's the perfect summer lunch!
Get the recipe: Chicken Pesto Pasta Salad.
Spicy Southwest Salad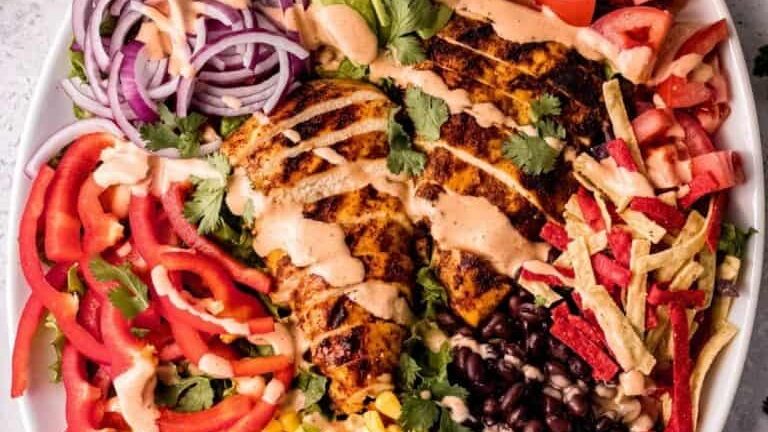 Chicken is marinated in honey, fresh lime juice, and seasonings, then grilled to perfection is already delicious. Placed on atop a bed of lettuce, avocado, fresh vegetables, and smothered in homemade spicy ranch dressing, this is a salad you just cant't beat! Get the recipe.
BLT Pasta Salad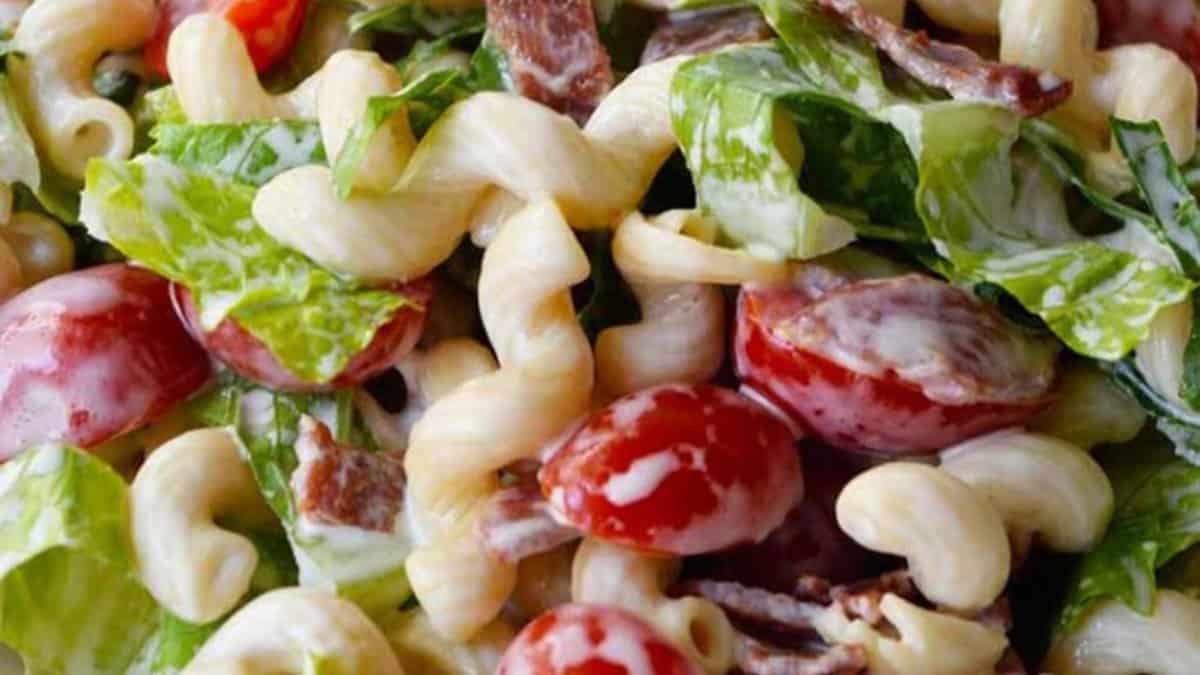 This BLT Pasta Salad features freshly grilled bacon and an extremely simple mayo-based dressing. It's a great dish to serve at a potluck, cookouts, barbecues, block parties, and any other social gathering.
Get the recipe: BLT Pasta Salad.
BBQ Pasta Salad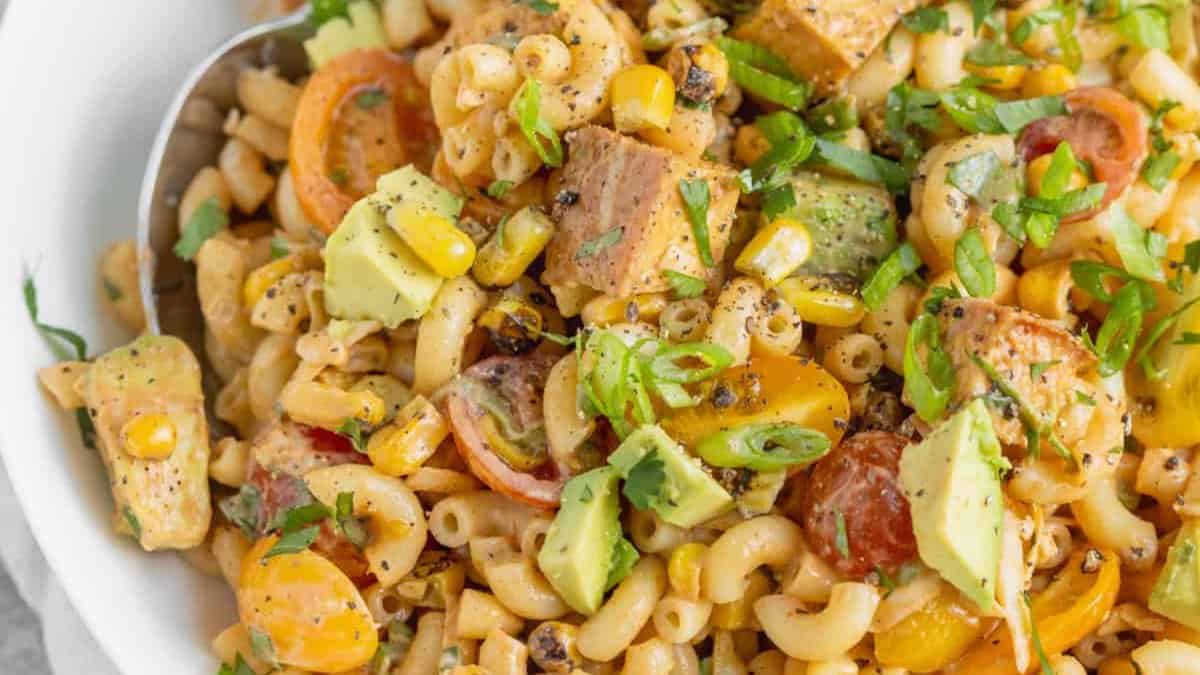 A pasta salad for BBQ lovers! Elbow noodles, corn, tomatoes, scallions, chewy BBQ tofu crumbles and a creamy dressing. A fun twist on pasta salad!
Get the recipe: BBQ Pasta Salad.
Greek Chicken Souvlaki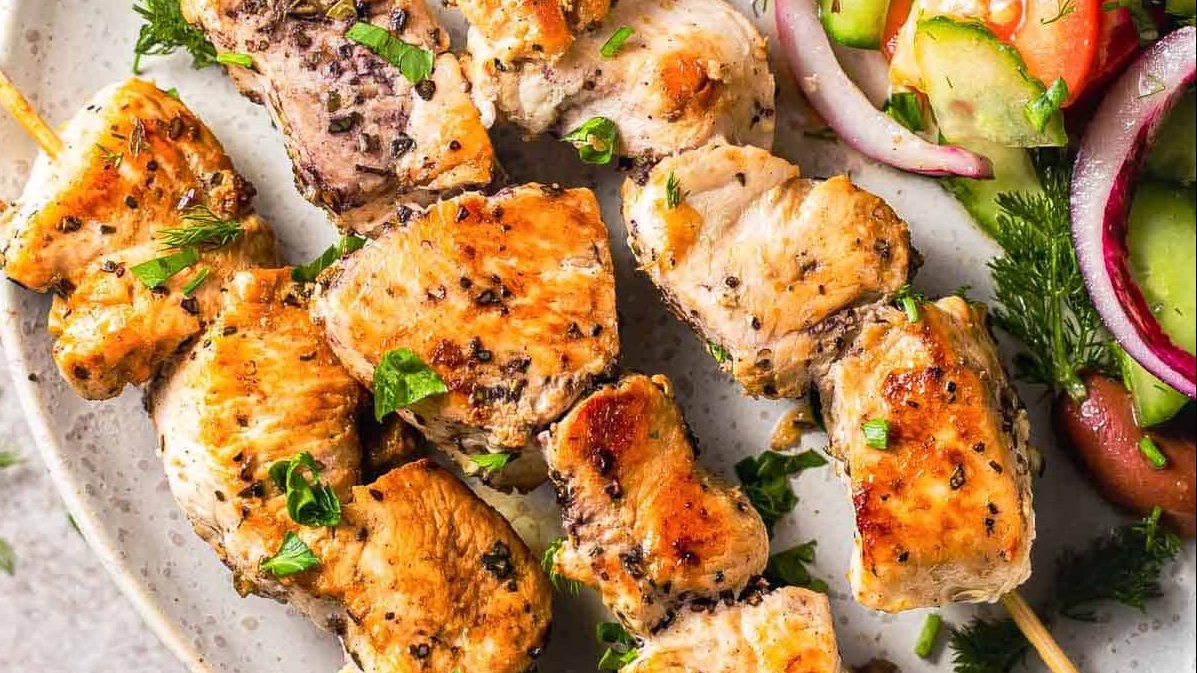 Chicken Souvlaki is a classic Greek dish that often needs little introduction! Made from fresh chicken marinated in a simple blend of oil and spices, souvlaki – or σουβλάκι in Greek – is then placed on skewers and grilled to perfection. Delicious served cold the next day! Get the recipe from Recipes from Europe.
Avocado Pasta Salad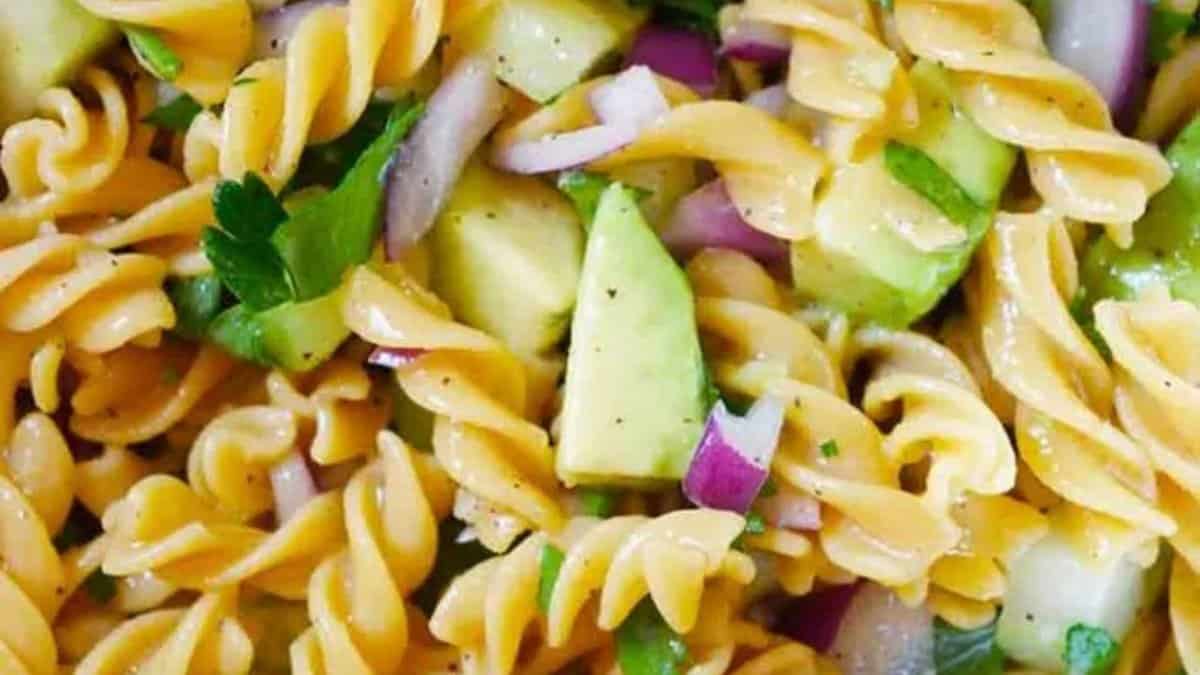 This avocado pasta salad recipe is healthy, easy to make, and it's a perfect side dish for summer parties.
Get the recipe: Avocado Pasta Salad.
Roasted Garlic Blue Cheese Pasta Salad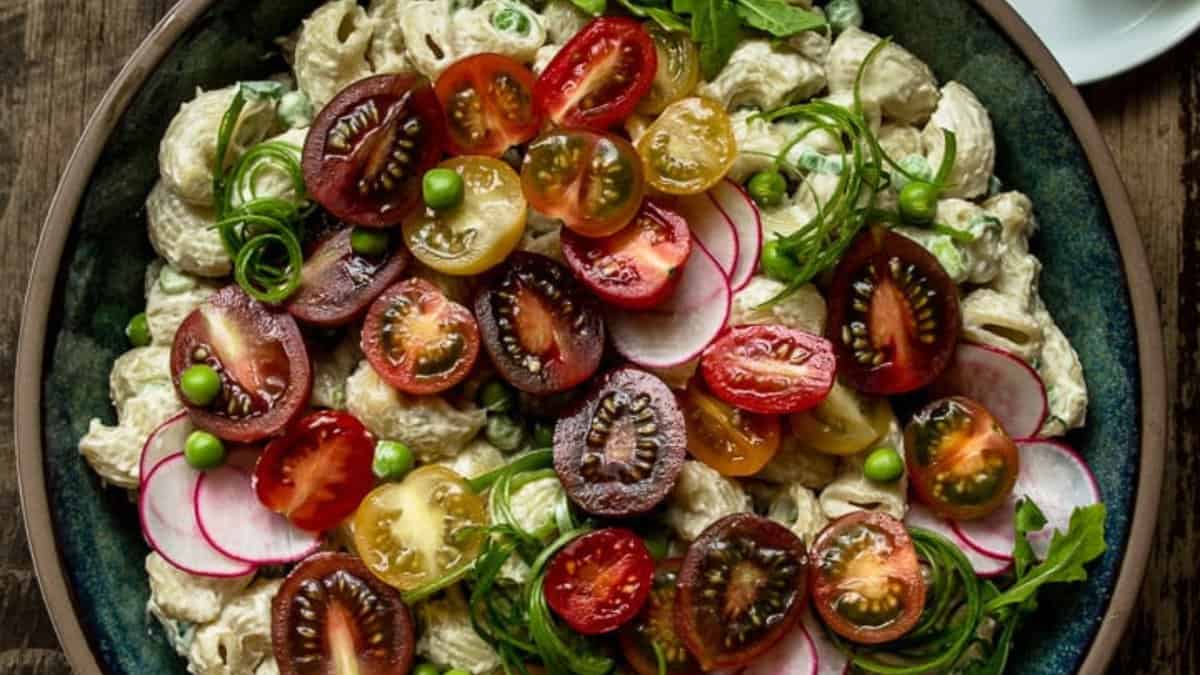 A simple creamy blue cheese pasta salad recipe made with fresh produce tossed in a double umami creamy roasted garlic miso blue cheese dressing. If you're not a fan of blue cheese, it can easily be omitted from the dressing and still have the umami flavors from the miso!
Get the recipe: Roasted Garlic Blue Cheese Pasta Salad.
White Bean Panzanella
This Tuscan Bread Salad is a hot weather saviour! In this Italian-style recipe, ripe juicy tomatoes are combined with white beans, toasted bread and tossed in an aromatic tomato and white bean dressing. Get the recipe.
Tuscan Pasta Salad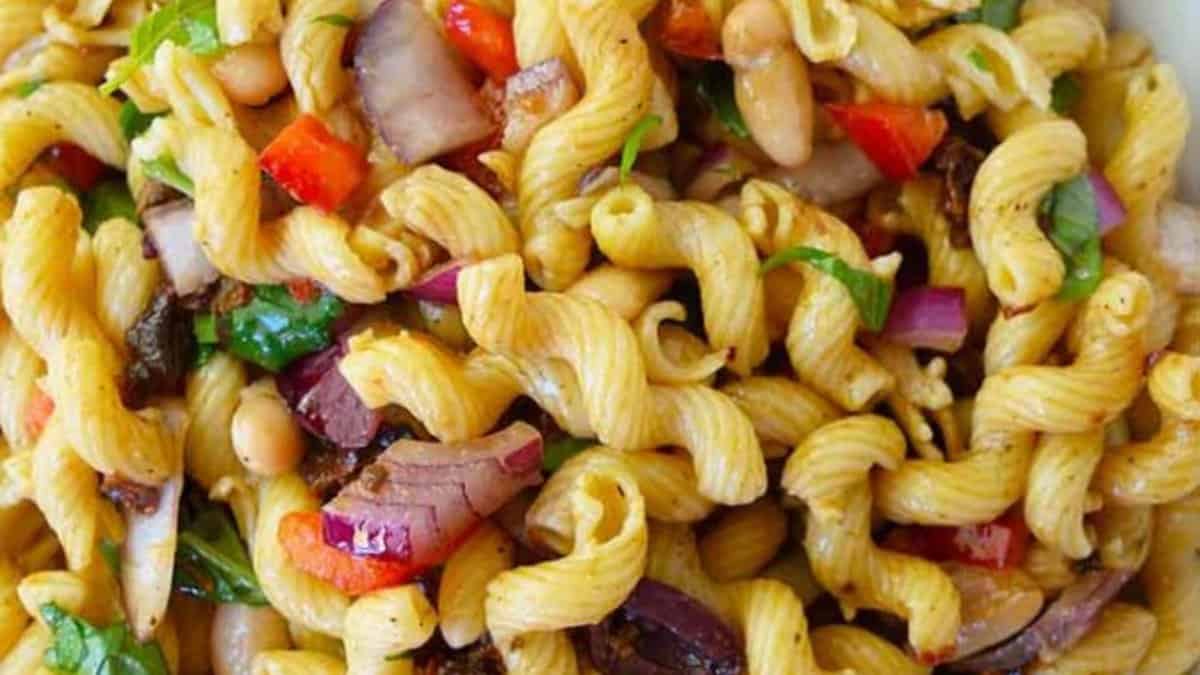 Tuscan Pasta Salad is a quick and easy summer pasta salad. The addition of veggies, beans, and optional cheese makes a tasty pasta dish or side.
Get the recipe: Tuscan Pasta Salad.
Cherry Caprese Pasta Salad
Cherry Caprese Pasta Salad! Sweet and savory pasta salad for all your summer potluck needds. Vegetarian as is, and easily made vegan.
Get the recipe: Cherry Caprese Pasta Salad.
Southwest Salad with Honey Chipotle Chicken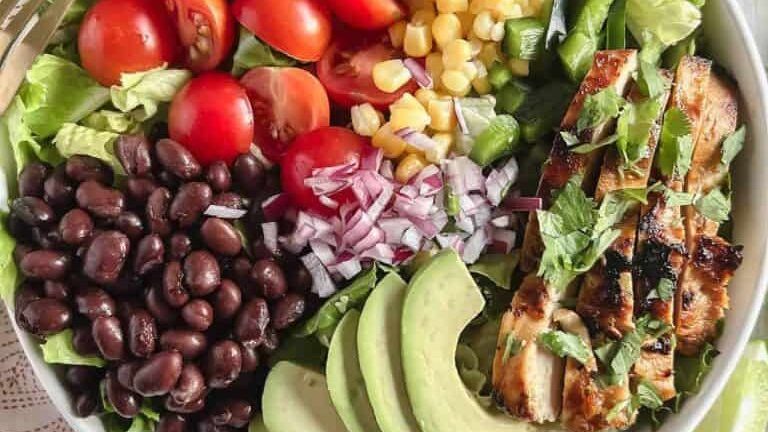 This Southwest Salad is loaded with black beans, corn, avocado and smoky, spicy honey chipotle chicken, drizzled in a tangy cilantro lime dressing. A hearty main dish salad that fresh, full of bold flavor and easy to make! Get the recipe.
Orzo Pesto Salad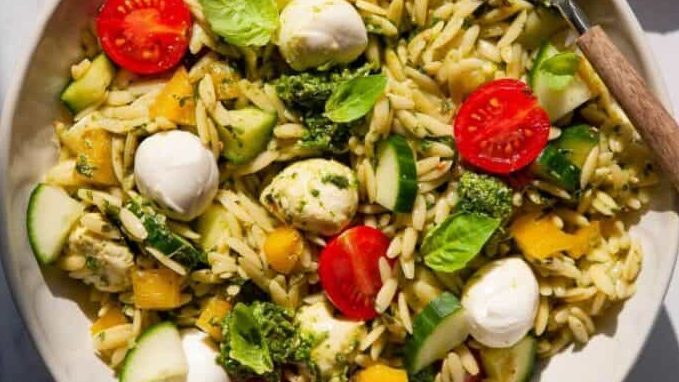 This orzo pesto salad recipe is packed with veggies, fresh mozzarella, and tossed in homemade nut-free basil pesto. Serve it for dinner, lunch, or as a side for a summer cookout! Get the recipe.
Roasted Beet Pasta Salad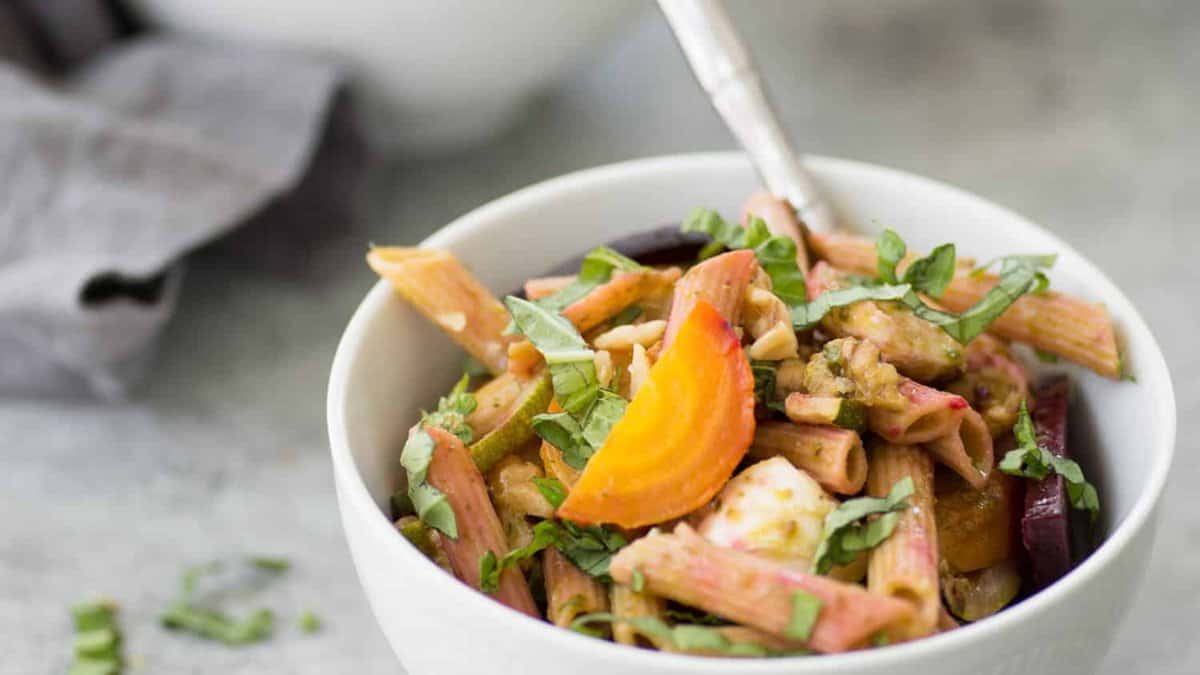 A simple yet unique spin on classic pasta salad. The hands-on time is minimal and it's the perfect thing to bring to a potluck. Everyone likes pasta, right?
Get the recipe: Roasted Beet Pasta Salad.
Black Lentil Salad with Feta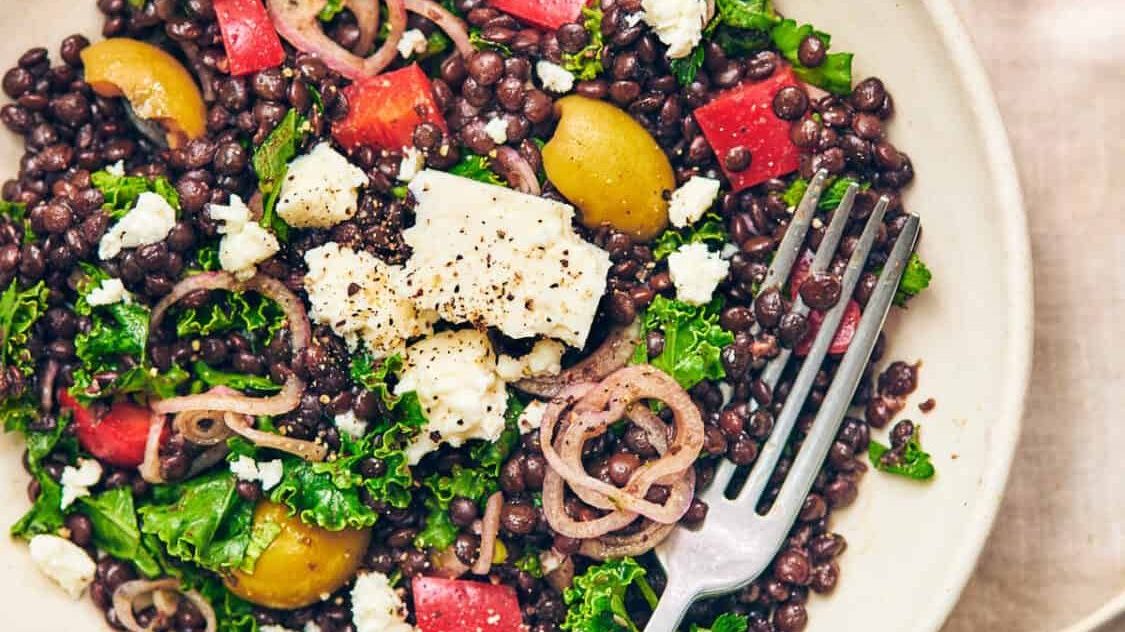 This Mediterranean Black Lentil Salad with Feta is bursting with flavor! Easy to make, a great source of protein, and meal prep friendly for dinners or lunches. Features healthy lentils, creamy feta, crisp veggies, and a simple vinaigrette. (Gluten Free, Vegan option) Get the recipe.
Tex Mex Chicken Pasta Salad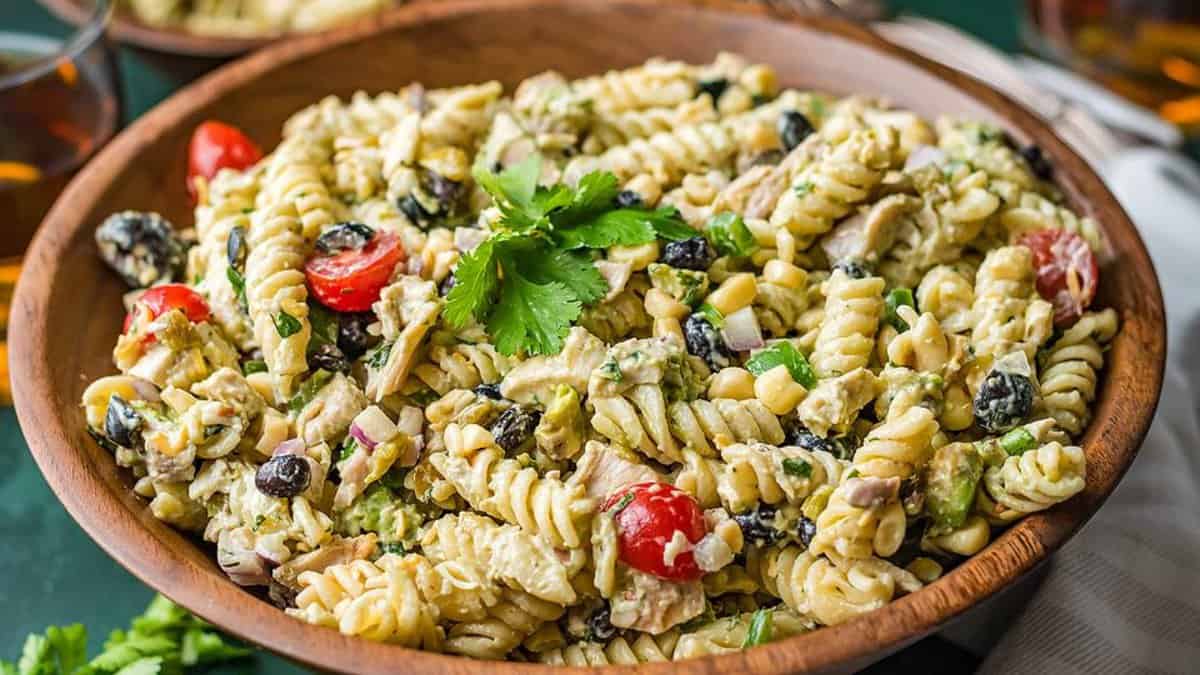 This Tex Mex chicken pasta salad is so delicious. If you aren't sure what you fancy for dinner – Tex Mex, chicken, something with pasta, or a salad – try this! It's a southwest pasta salad with chicken offering the best of all worlds. This is a flavourful dinner salad just bursting with colour and flavour! This is the perfect salad for a summer BBQ and I hope you have plenty of those this season. Add this favourite summer salad recipe to the menu and you won't be disappointed.
Get the recipe: Tex Mex Chicken Pasta Salad.
Vegetable Pasta Salad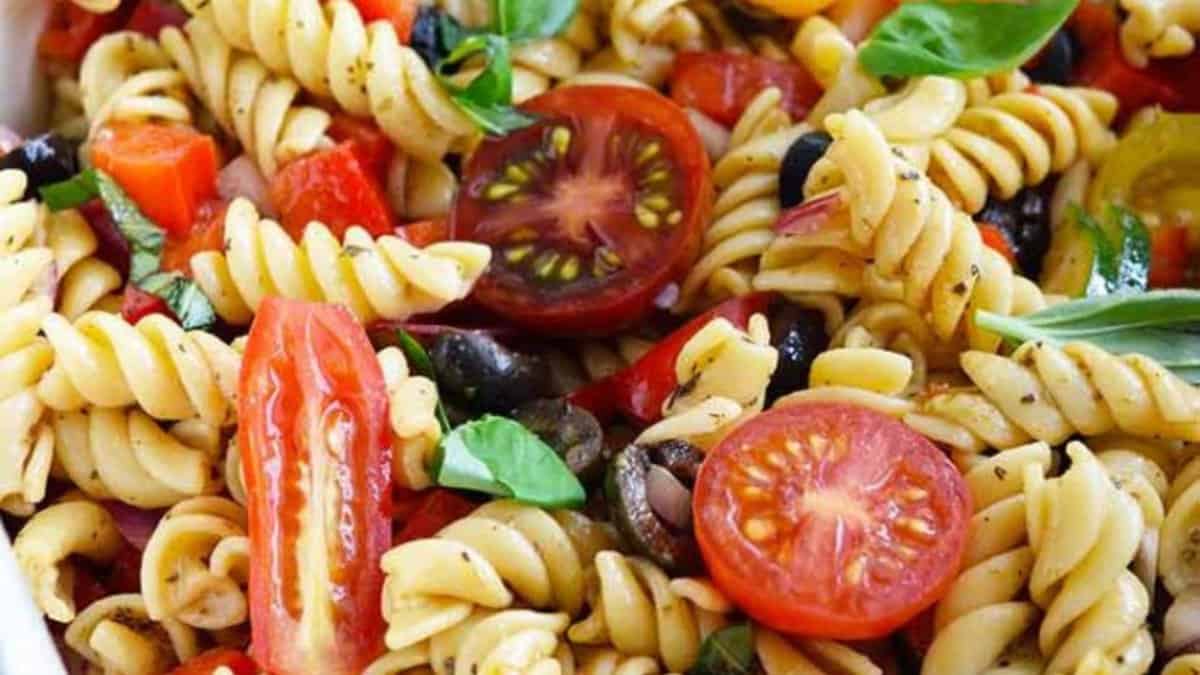 This delicious vegetable pasta salad recipe is perfect for a vegan/vegetarian pasta dinner, or as a side dish to a main course right off the grill.
Get the recipe: Vegetable Pasta Salad.
Watermelon Panzanella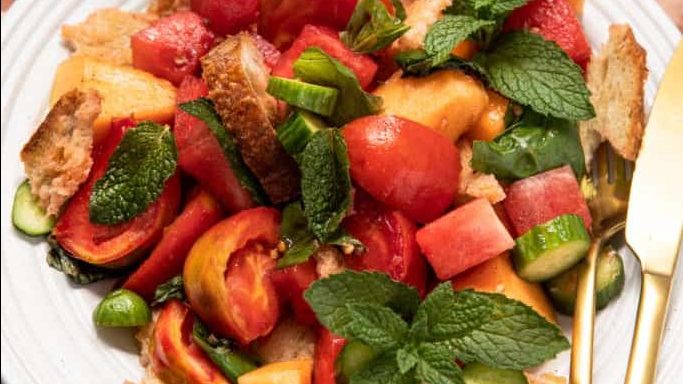 This Watermelon Panzanella salad is the perfect easy, fresh summer salad recipe! It uses just a handful of fresh, easy to access ingredients for an incredibly impressive dish. Highly customizable to any taste or dietary needs by making a few simple swaps detailed in this post. Get the recipe.
Storebought Wins: 10 Foods That Are NOT Better Homemade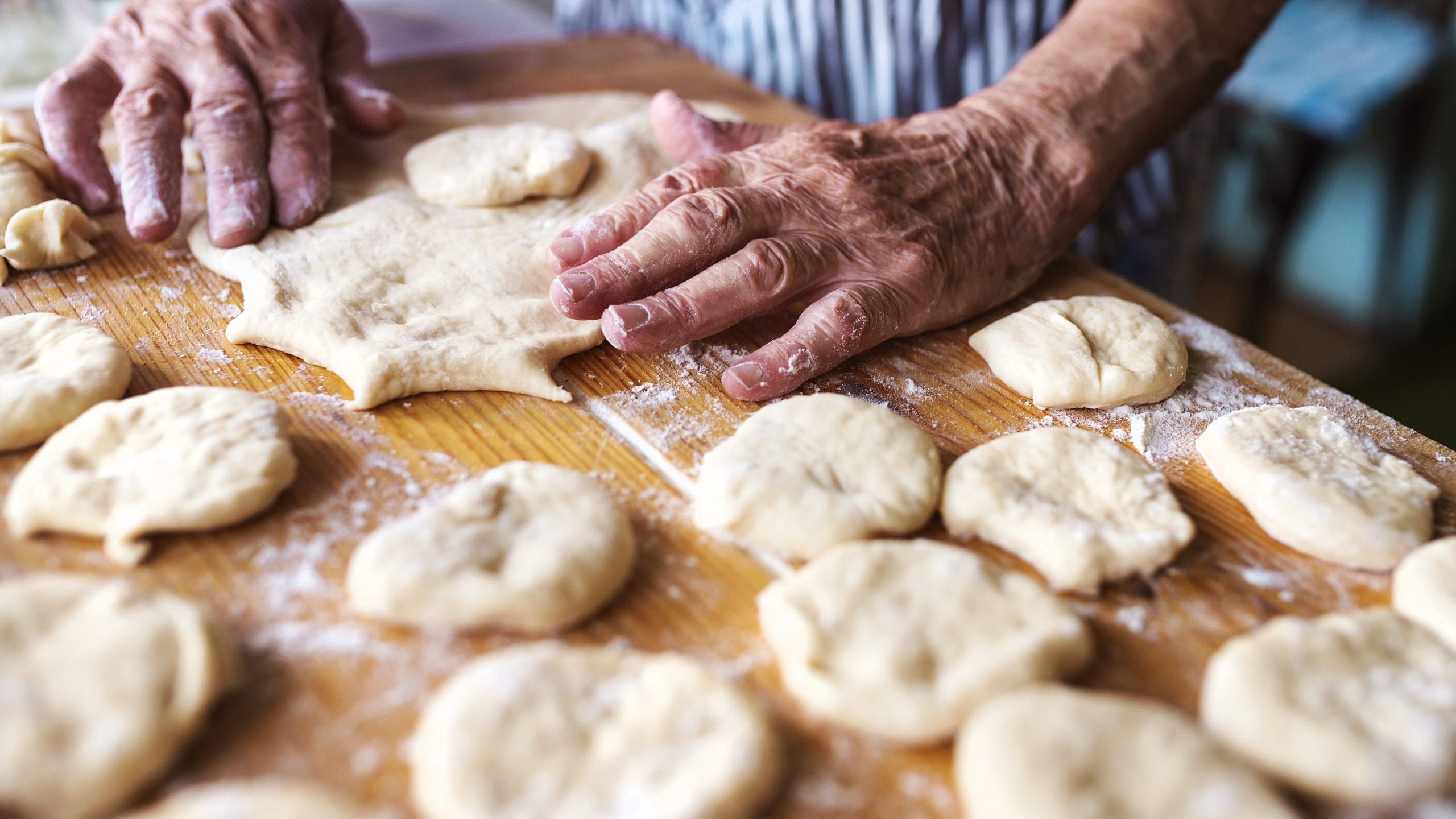 A lot of the time we value homemade food much higher than what we get from the store. And in many cases, this is correct - homemade is better. But for some foods, this is definitely not the case. Whether due to the difficulty of making it, lack of access to the right ingredients, or just the homemade version missing that special "something" we get in the storebought version - some foods are just not worth it making at home. Read on for the 10 top foods that are NOT better homemade, as decided by a group of foodies on an internet forum.
10 Most Unhealthy Foods Most People Don't Realize Are Junk Foods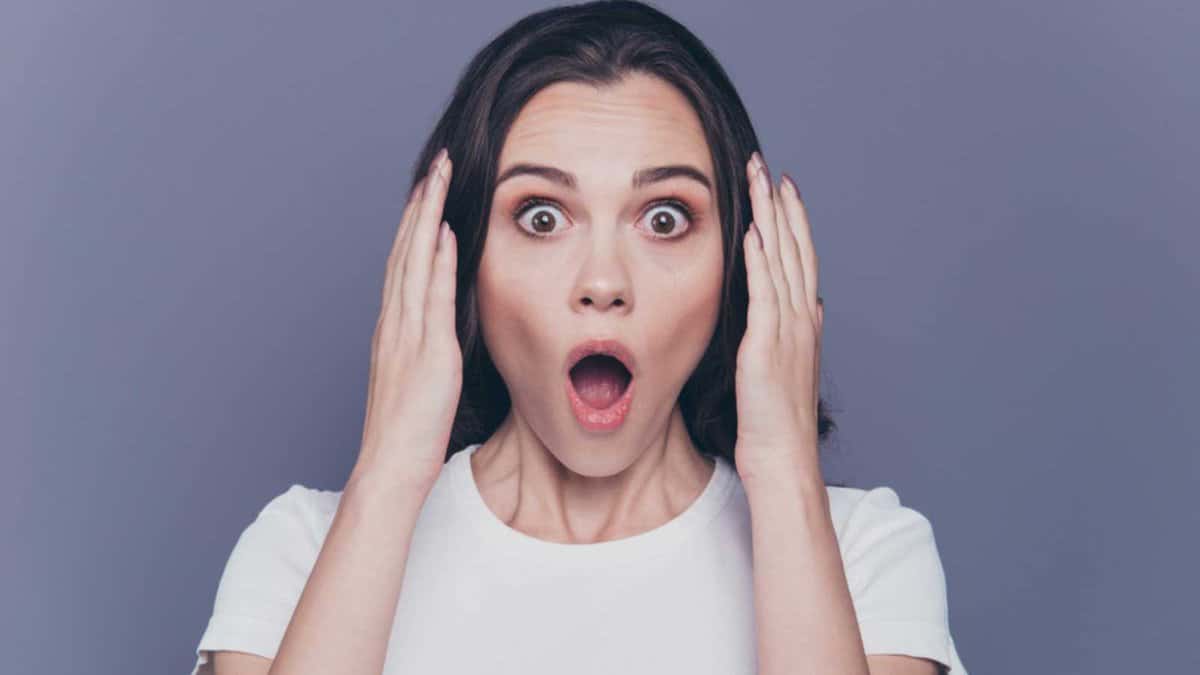 Surprisingly there are a lot of foods that consumers assume are healthy when they definitely aren't. We often don't bother to check the labels of foods that have always been marketed to us as beneficial. According to a popular internet forum, these 10 foods are super unhealthy foods - most people just don't realizeit. Get ready to be shocked, and maybe even clean out your pantry.
12 Ground Beef Dump-and-Bake Dinners for Super Busy Nights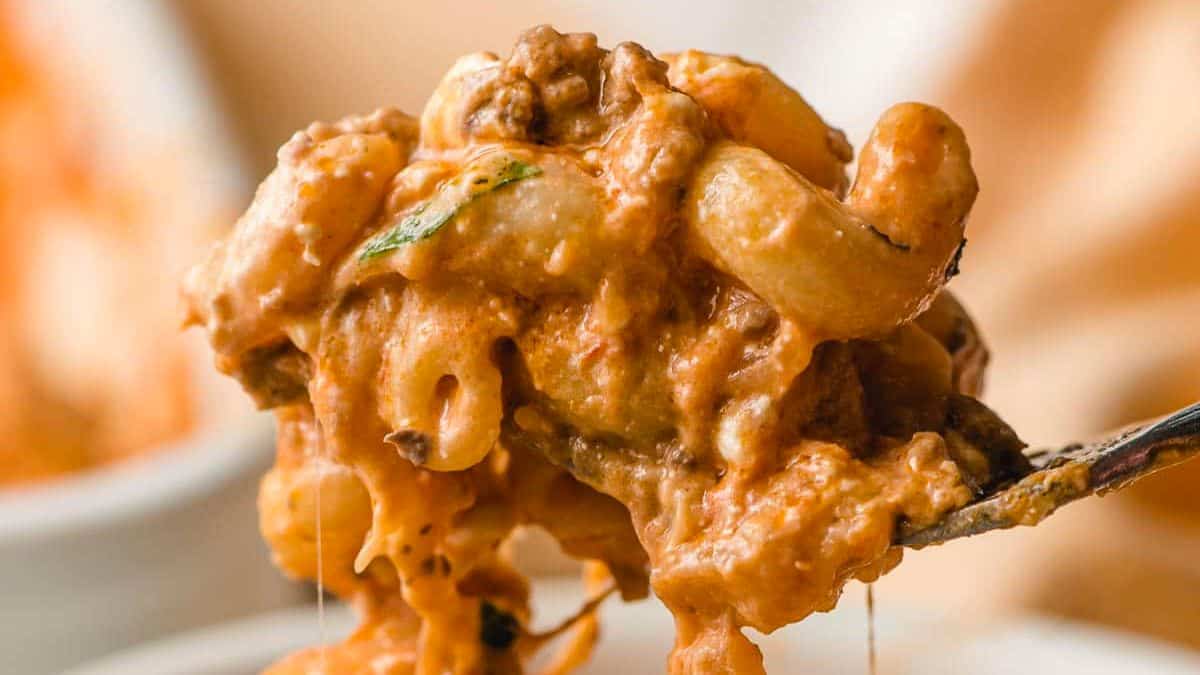 Say goodbye to complicated meal prep and hello to effortless cooking with these delicious dump and bake ground beef recipes. We've gathered a variety of delicious and hassle-free dishes that will save you time in the kitchen. Get ready to enjoy hearty and satisfying meals with minimal effort, making weeknight dinners a breeze!
Dump, Bake, and Enjoy: 13 Hands-Off Recipes Done in 30 Minutes or Less.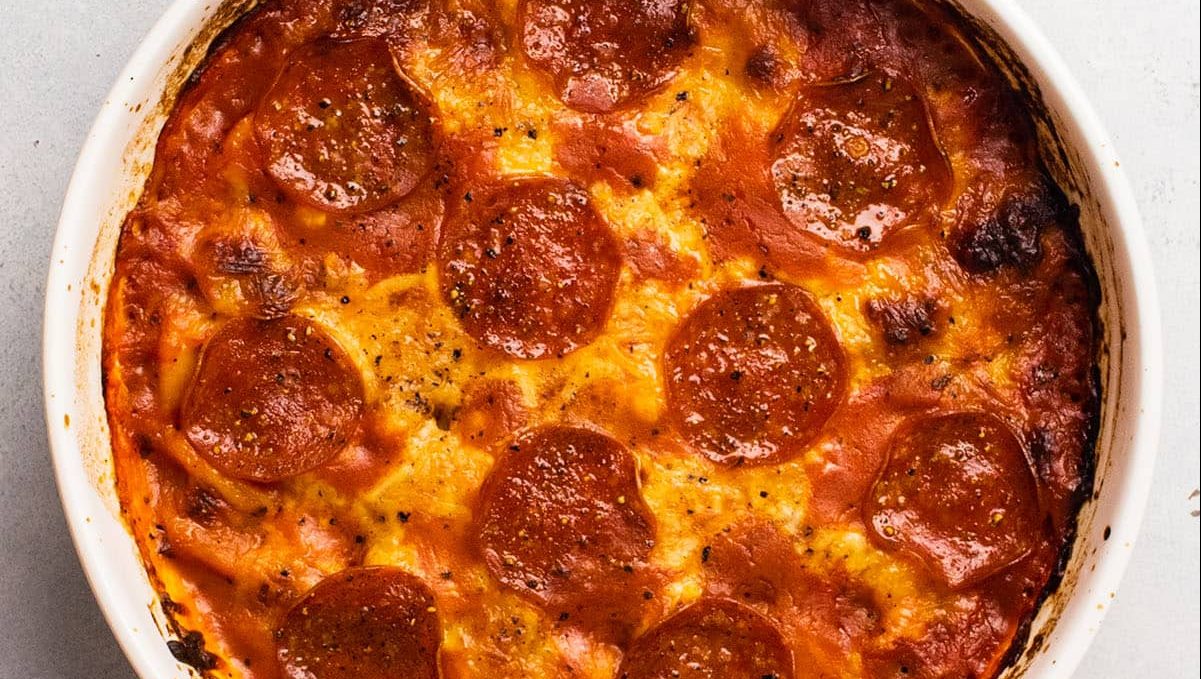 Imagine making a delicious meal with just a few simple steps and less than 30 minutes of your time. Well, you can do just that with these 13 dump-and-bake recipes! They're perfect for busy days when you want something tasty without all the fuss.
41 Easy But Fancy Meals You Can Make Tonight!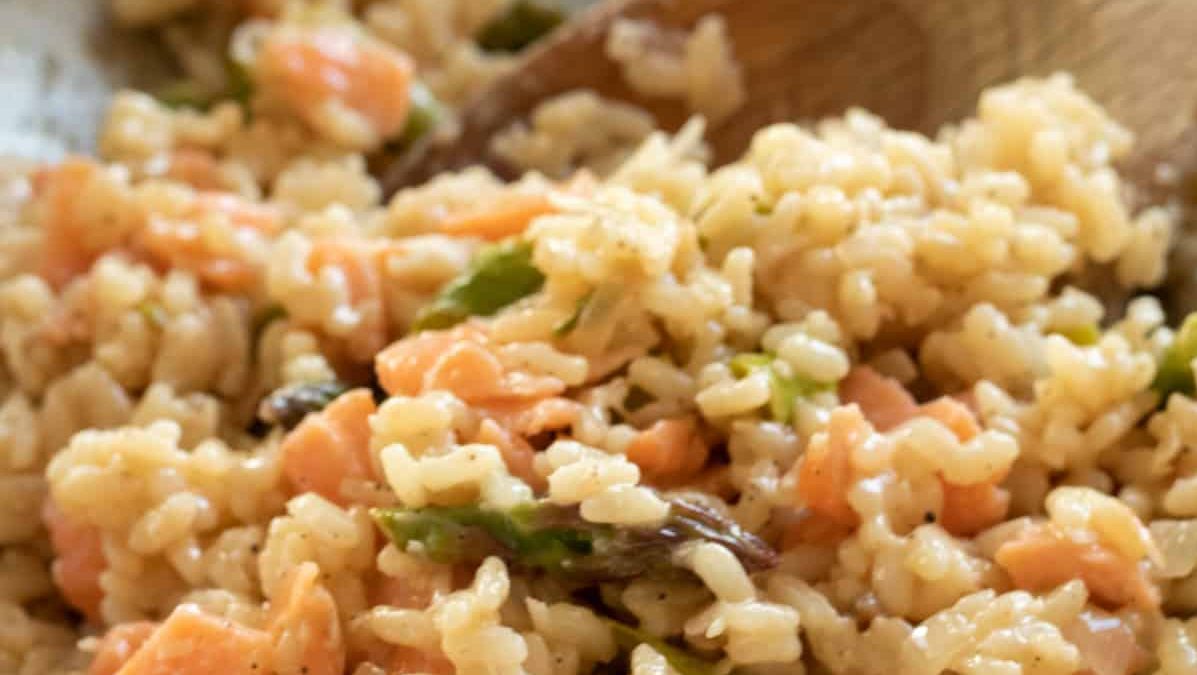 Do you want to impress your family or friends with a delicious home-cooked meal tonight? Here you go! We've put together a colelction of 41 exceptional recipes that are perfect for any night of the week. These easy-to-follow recipes use simple ingredients and straightforward techniques, helping you create a satisfying and flavorful meal right in the comfort of your own kitchen - even if you're not a cooking star!