This post may contain affiliate links, which are always marked with *. Please read my disclosure for more information.
Get your healthy fill with this simple & delicious salad made with roasted sweet potatoes, loads of arugula salad, crumbled feta cheese and an addictive tahini sauce.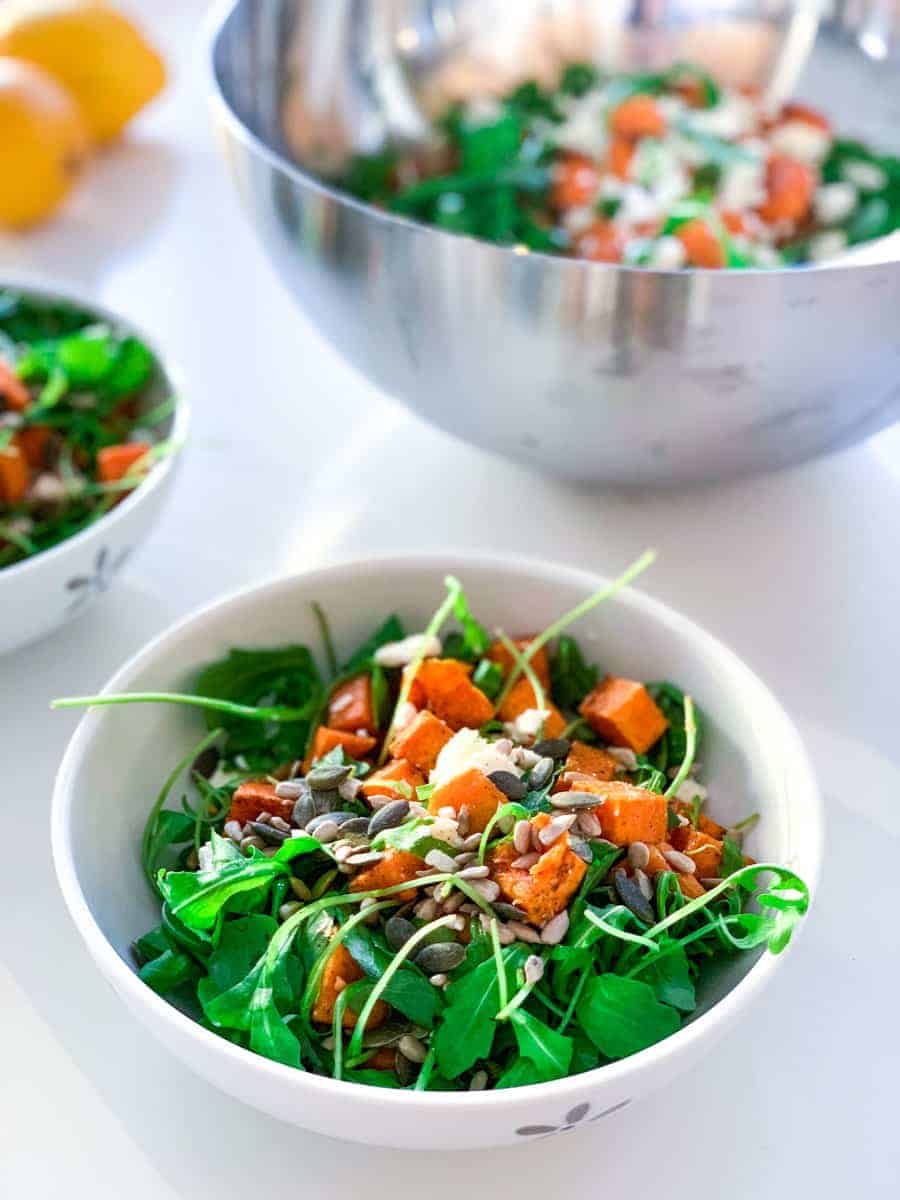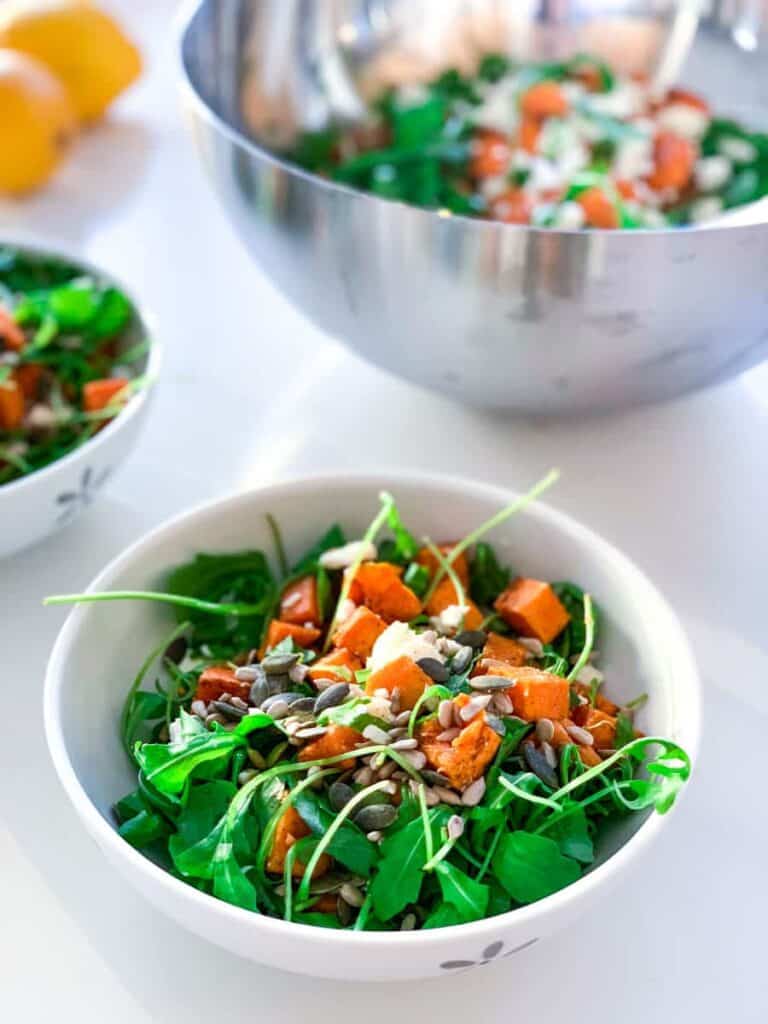 I know I've said I'm not a big salad fan - but once in a while I go there anyway. However, it has to be filling and flavor-packed (like this Cashew Caprese with Honey Balsamic Vinaigrette) and, best case, have some kinda warm or warmish or has-been-warm-at-some-point component (like my go-to Pointed Cabbage Salad with Gyoza Chickpeas & Parmesan). Lettuce-tomato-and-cucumber salads need not apply.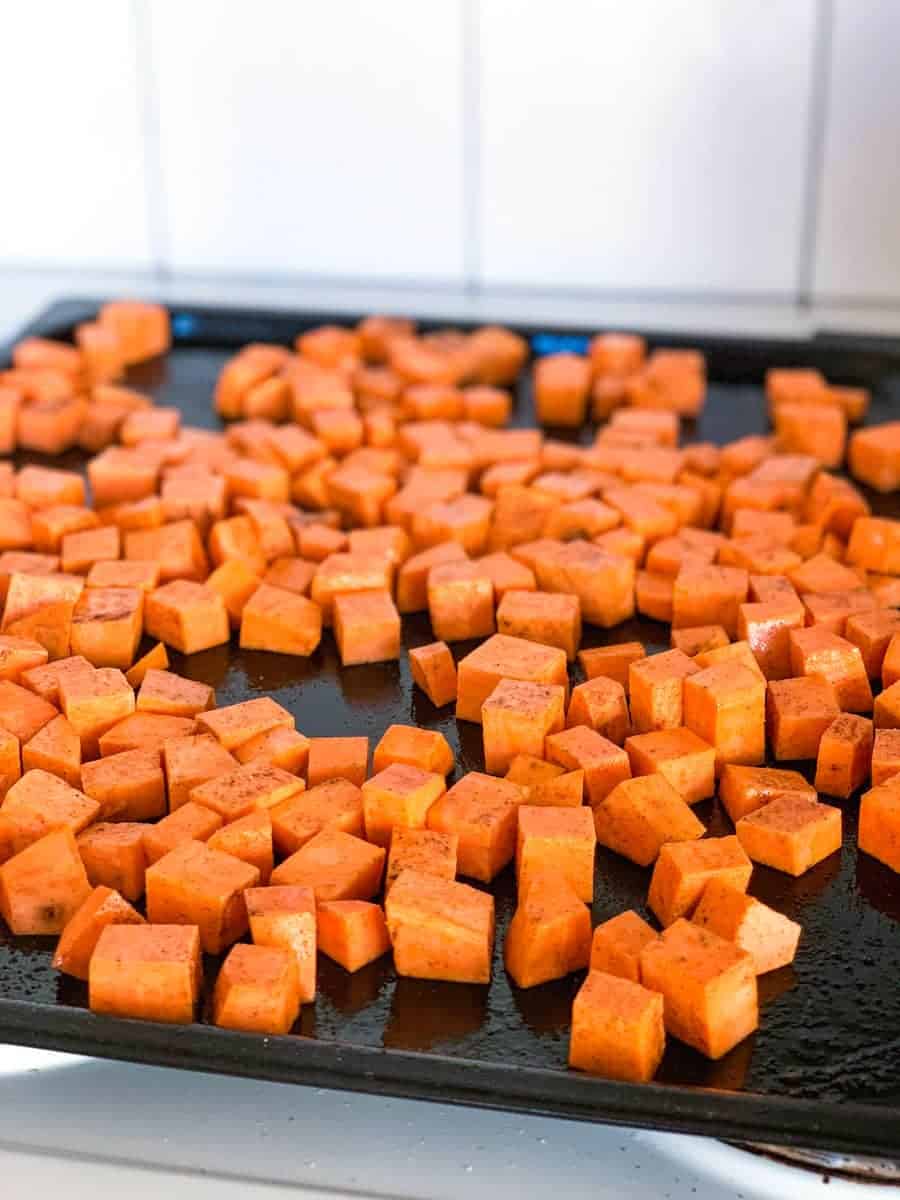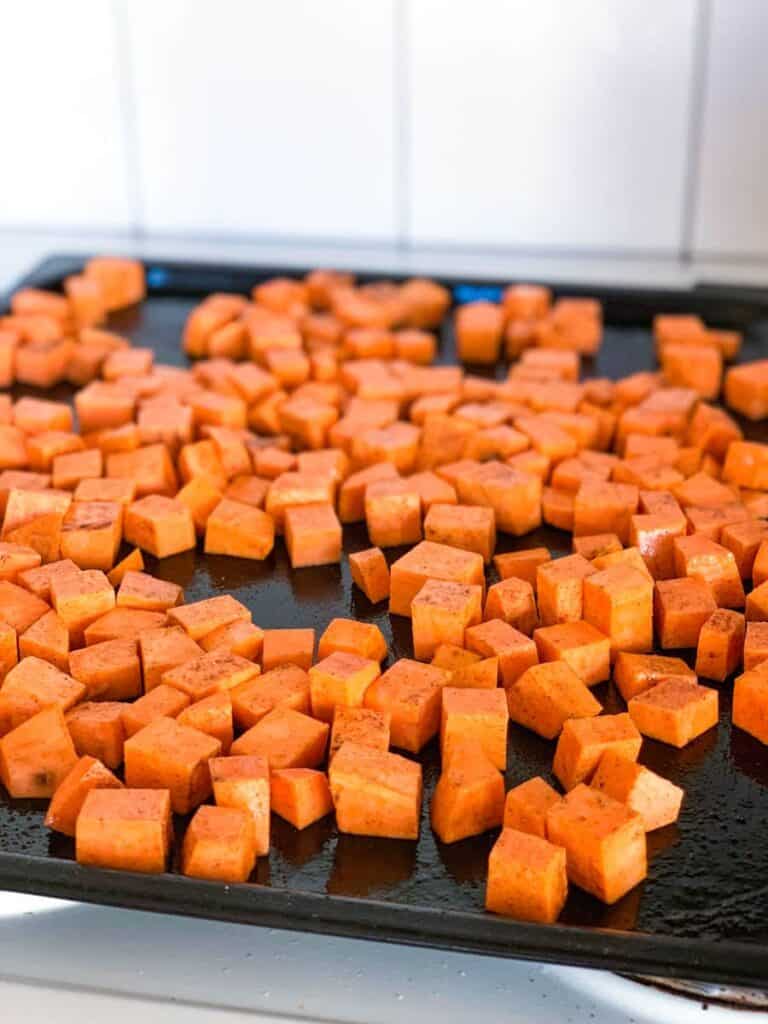 For my latest favorite salad the warm/warmish/has-been-warm-at-some-point component comes in the form of roasted sweet potatoes. Apart from the serious hazard related to cutting into these often rock-ish hard veggies (not pictured: my heavily bleeding middle finger), roasting sweet potatoes is so quick & easy. Cut in cubes - half-inch/one-centimeter cubes will do the trick - mix with salt, pepper and olive oil and roast for 15 minutes. Nothing more to it! Then either let them cool all the way for a cold salad or half-way for a lukewarm salad - I sure know which version I'm choosing!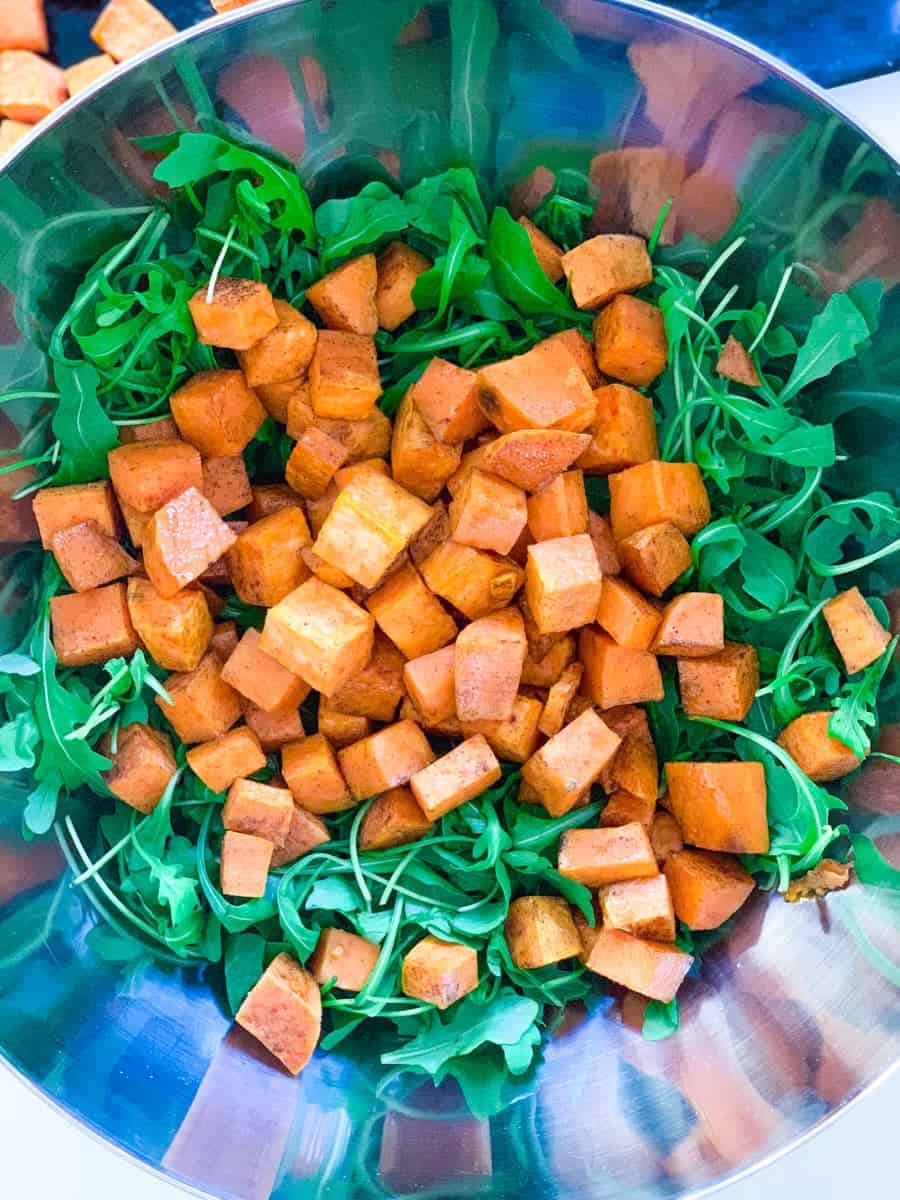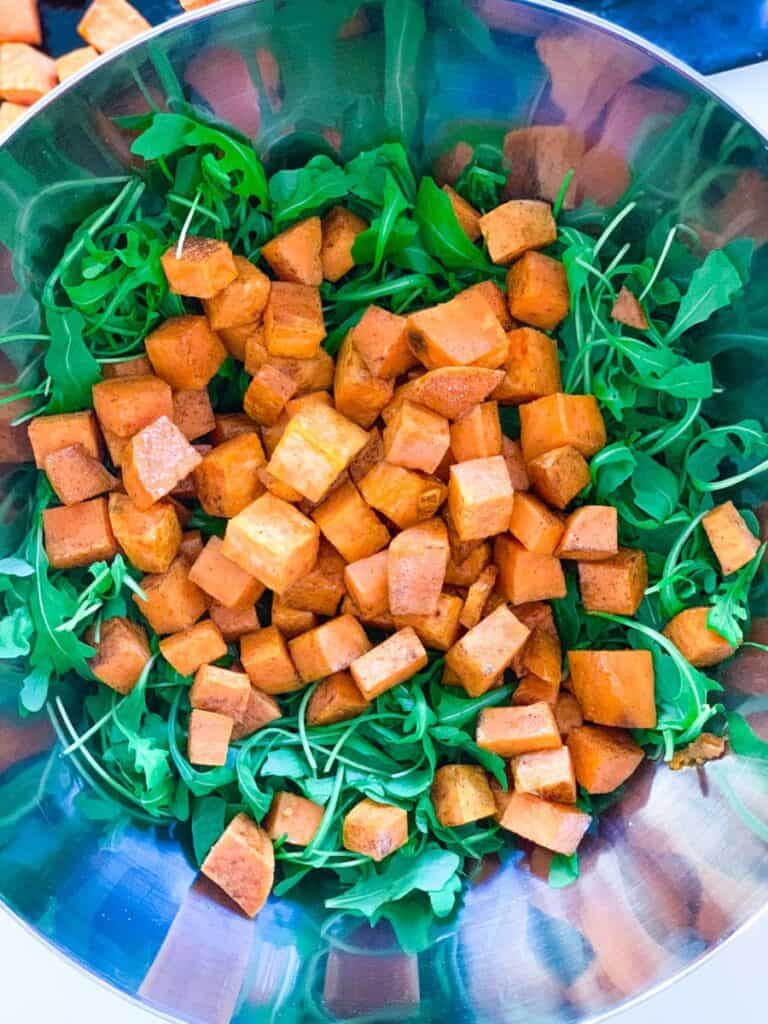 No matter what temperature you prefer your salad to be - mix the roasted sweet potato with loads of arugula salad. (Rocket? Arugula? You know what I mean!)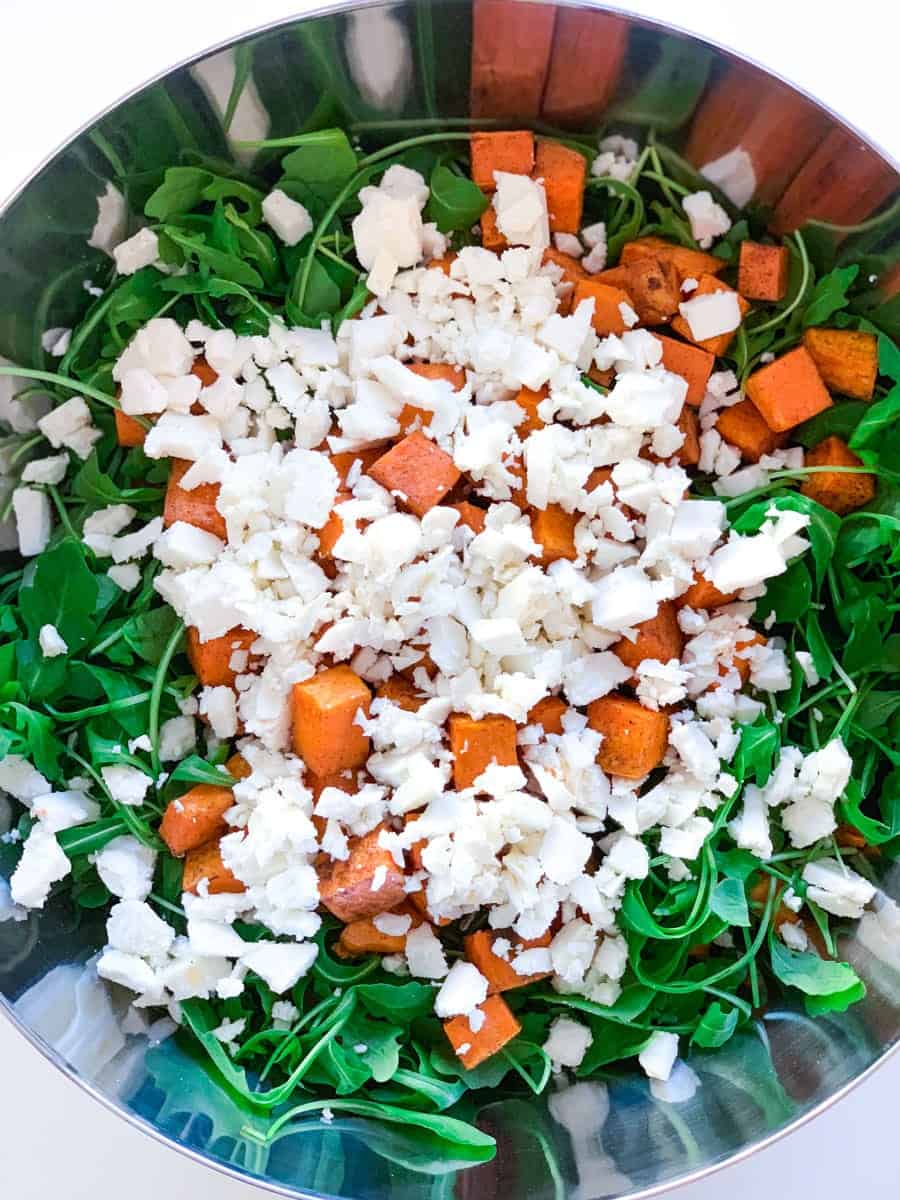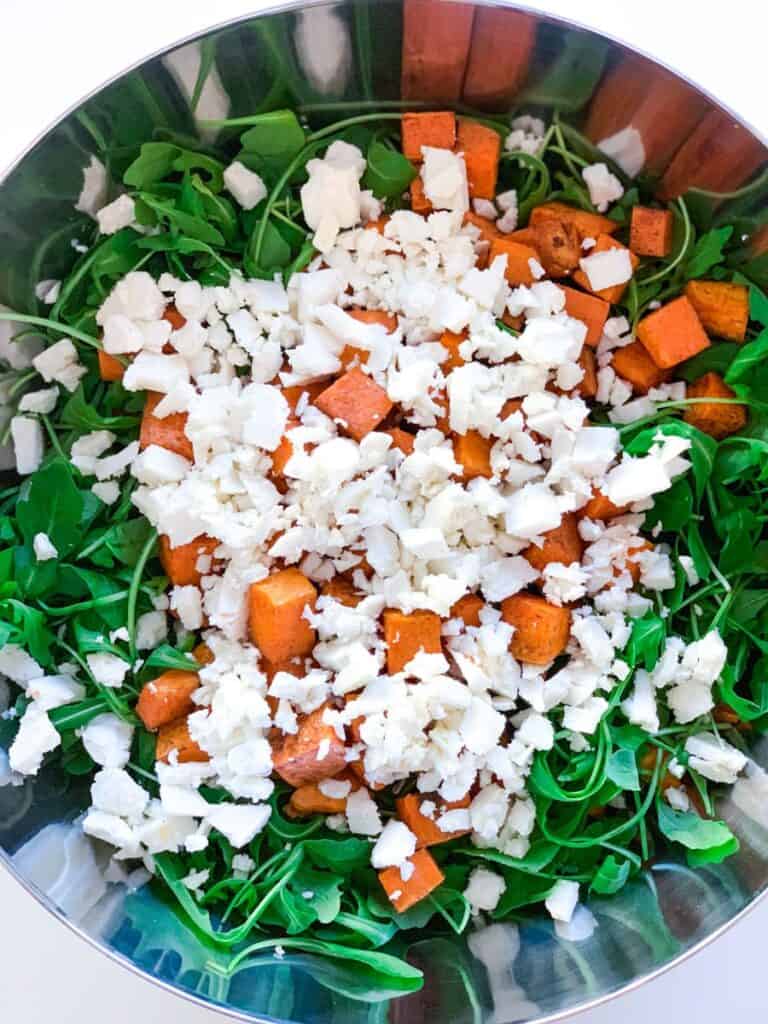 After the rocket-arugula comes another very important ingredient of this roasted sweet potato & feta cheese salad. Yes, you guessed it - the feta cheese. Salty, with the perfect texture for salads, feta cheese is probably my favorite ingredient to cook with. Don't know what I'd do without it! (I definitely would not be eating salads, that's for sure.) The only thing I don't like about it is crumbling it, and getting all sticky. But for the deliciousness that is feta cheese - even that's worth it!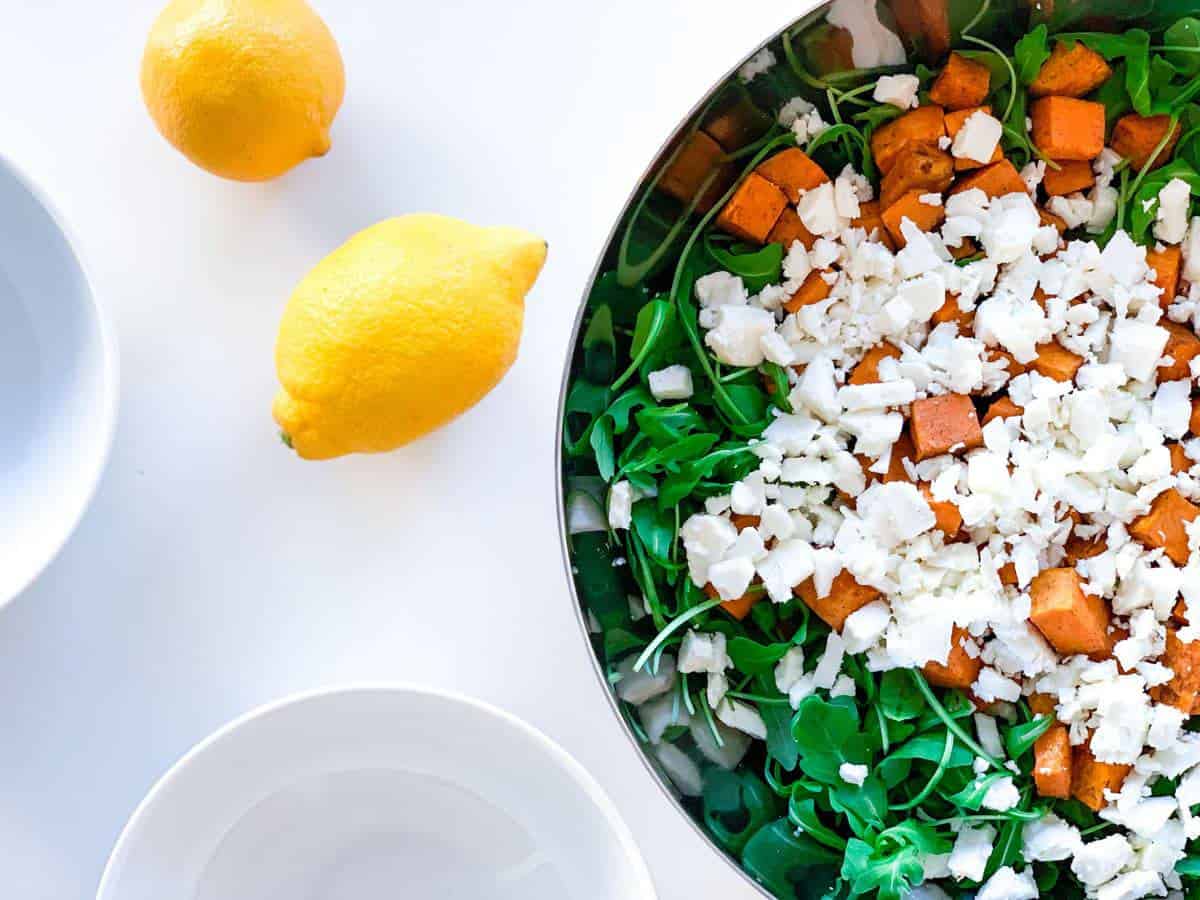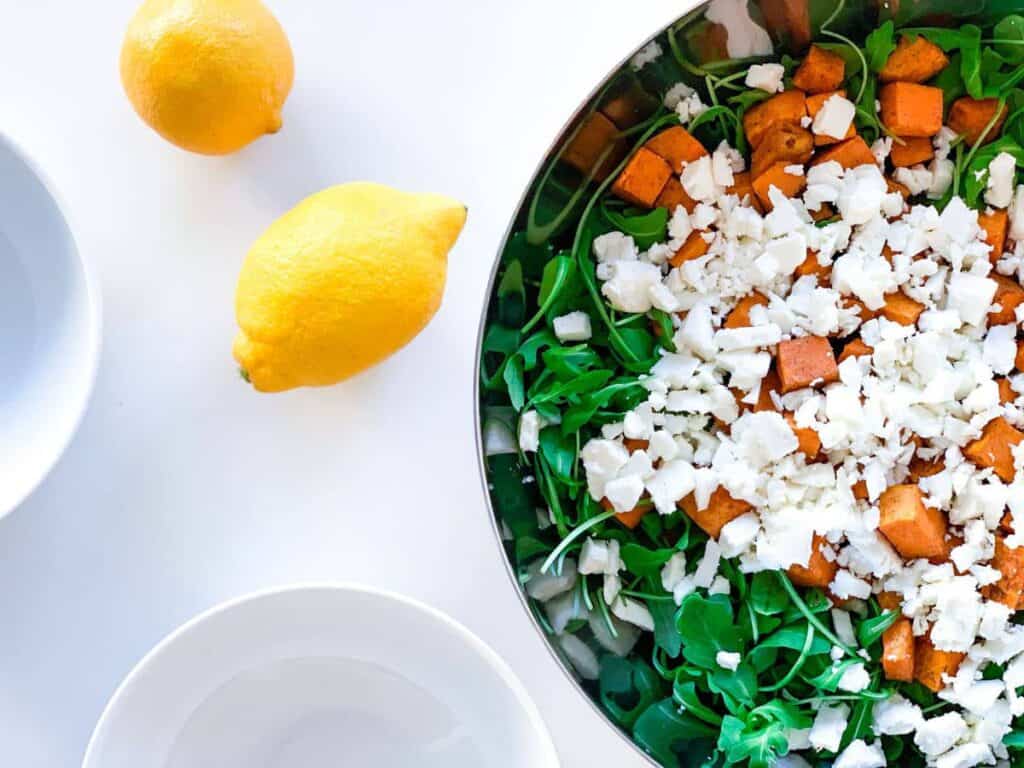 Now that's really the three big ingredients of this salad. But, we have one super important component left, to make this so much more than just a regular salad.
Yep. It's all in the name. I'm talking about The Tahini Sauce.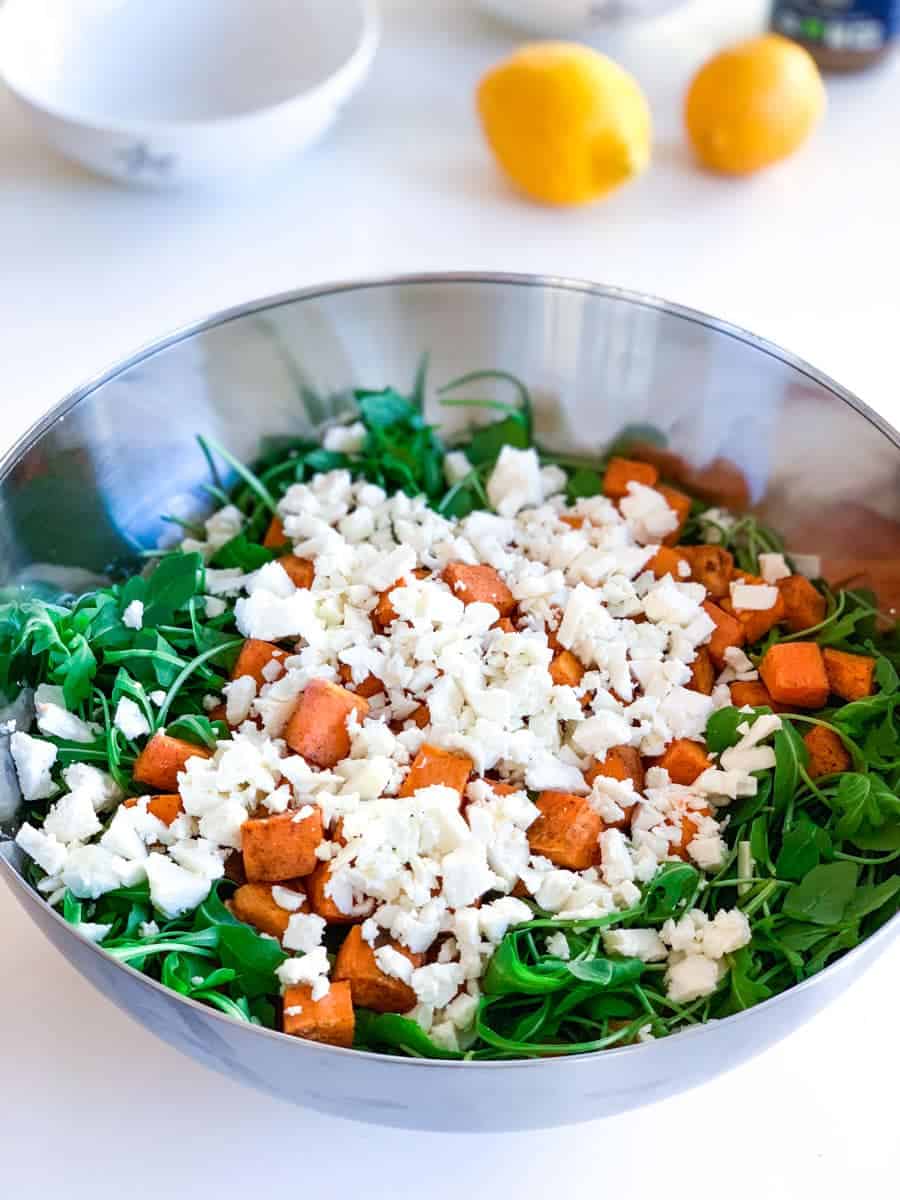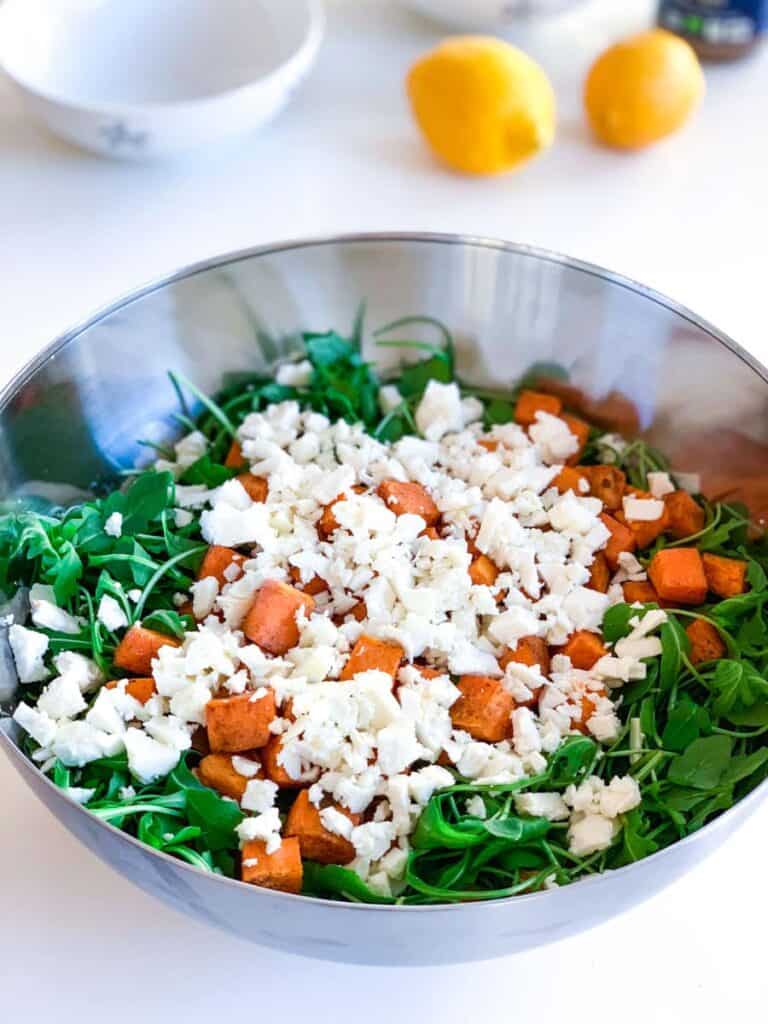 Let me tell you - I remember the very first time I had tahini sauce. It was at my friend's house, half a lifetime ago, they had just been to Morocco for a holiday and brought back some tahini. Mixed with just water and with white bread to dip in it, it was one of the best things I'd ever had. Ever since, I've been hooked. When I spent a week at an all-inclusive in Egypt I'm not sure I had anything else (apart from a gazillion Piña Coladas).
The flavor is like none other - earthy and nutty and rich. Kinda like what I imagine dirt would taste like, if dirt tasted good, you know? No? Completely weird? Yeah, probably.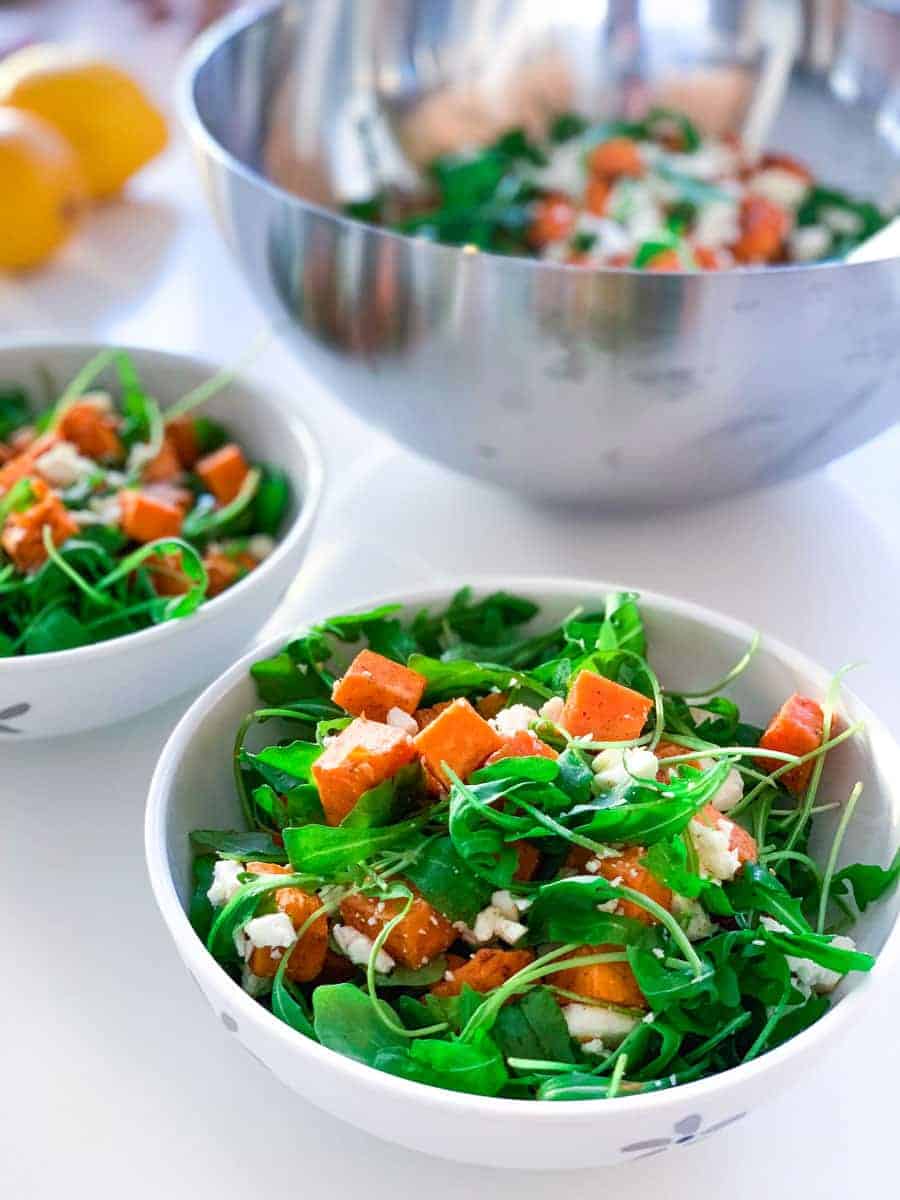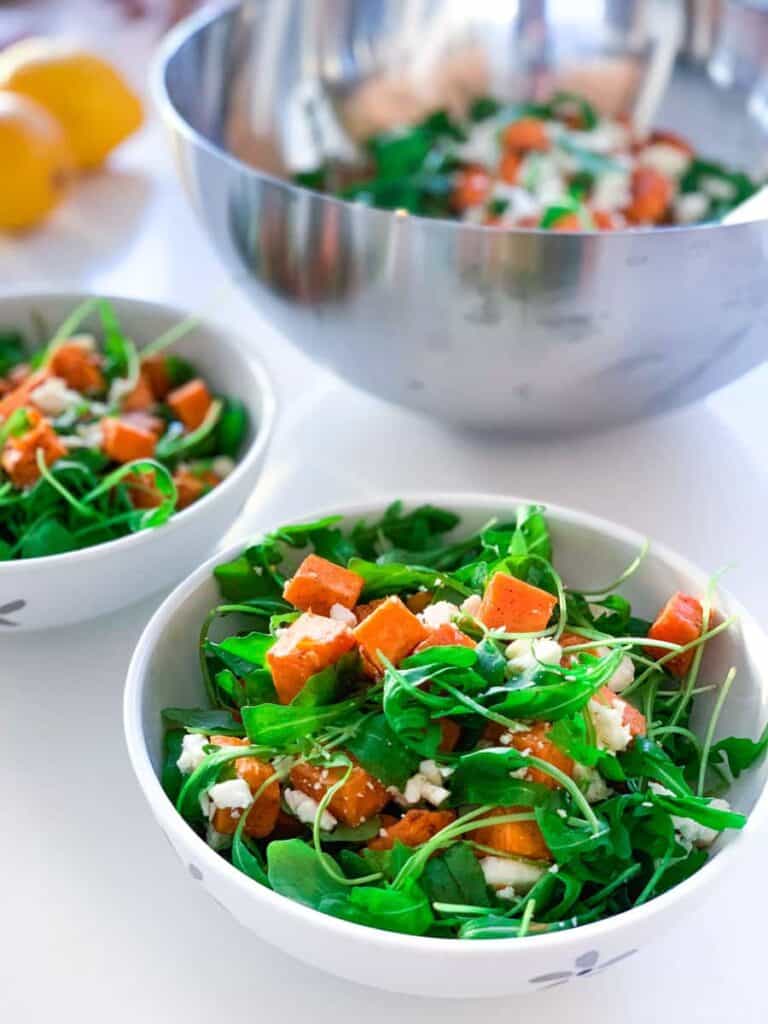 Anyway. Tahini pairs so well with lemon and salt, in my opinion. While the classic, basic tahini-mixed-with-water sauce is amazing - this tahini sauce where the tahini is mixed with lemon juice, salt, olive oil and then some water is out of this world. You think buying a whole can of tahini just for this recipe is nuts? Well, wait until you've tried this tahini sauce. You'll want to use it for everything! And that can of tahini? It'll be done before you know it.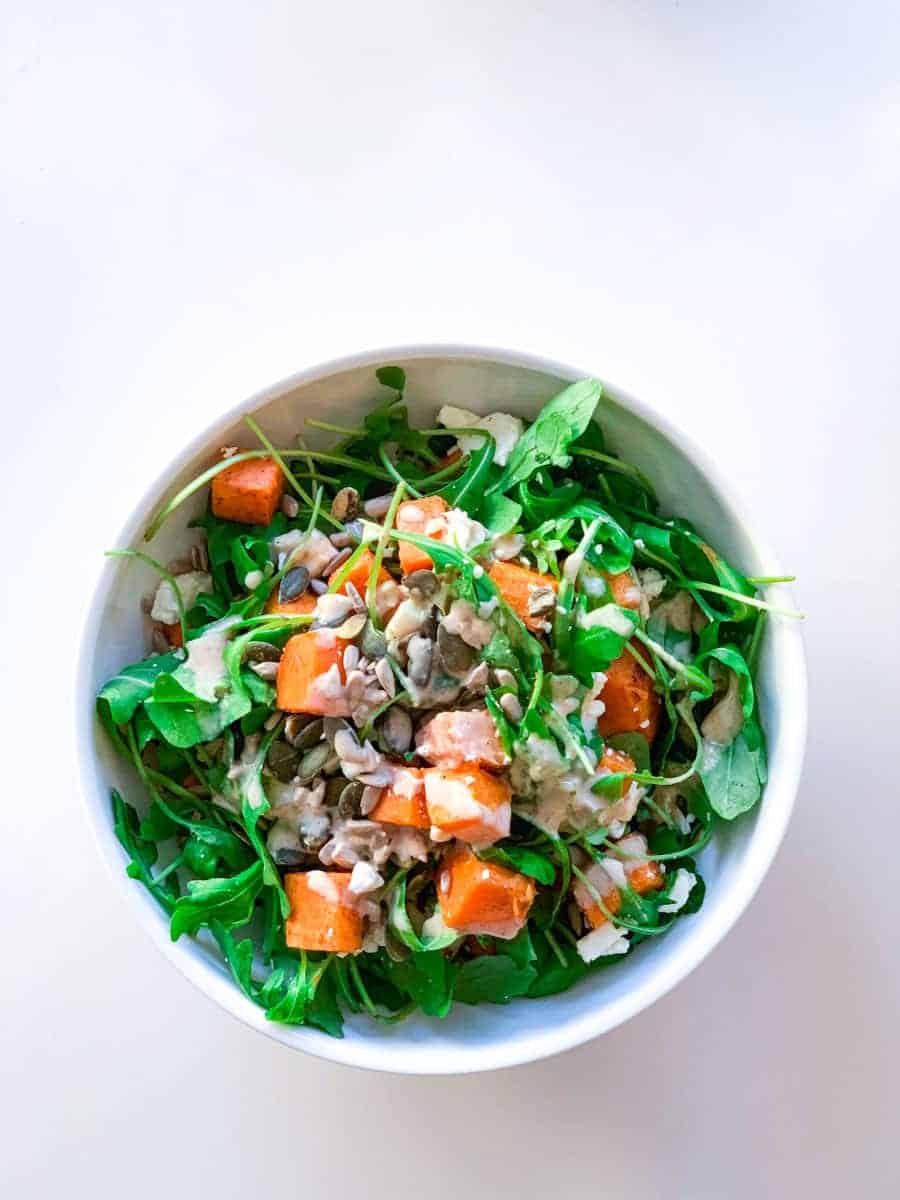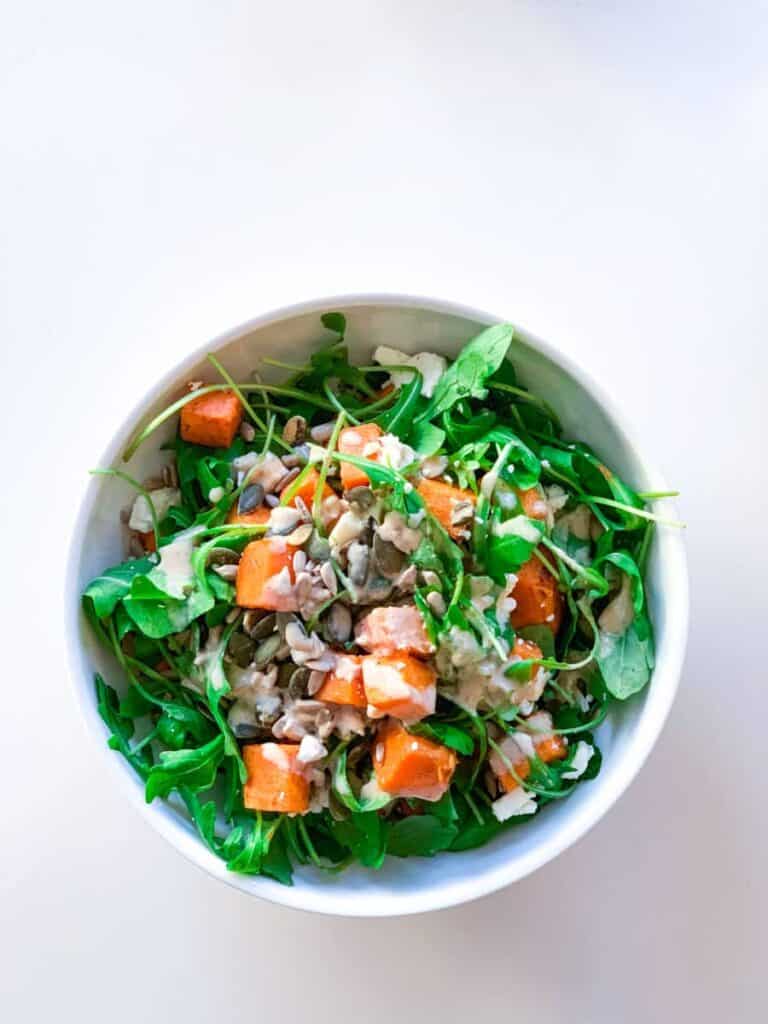 So if you're looking for a meal that ticks all the boxes this January (Which boxes? you ask. Well, the boxes of course being: healthy, vegetarian, quick and easy!) - this is it. As an added bonus it keeps very well in the fridge so you could make it to have for lunch all week. Just saying - that's what I did.
Did you try this recipe? Please leave a comment and/or a rating and let me know what you think! Or choosingleave one anyway - I love hearing from you. And if you post in on social - don't forget to tag me @alwaysusebutter (for example on Instagram, Pinterest and Facebook) an use the hashtag #alwaysusebutter.
Until next time!
Nothing but love,
Emmeline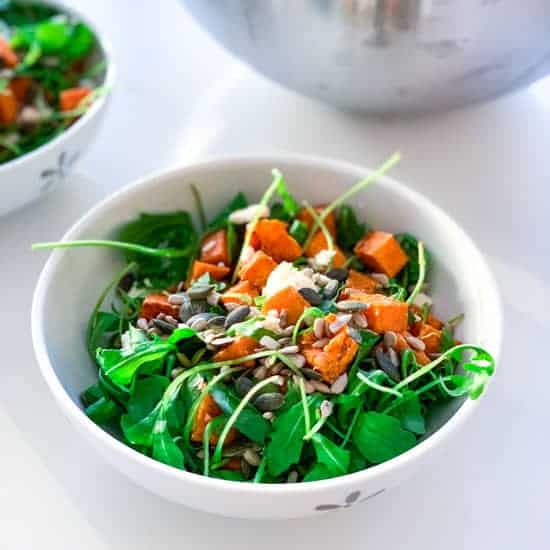 Roasted Sweet Potato & Feta Cheese Salad with Tahini Sauce
Print
Pin
Rate
Ingredients
2

Tbsp

olive oil

800

g

sweet potato

peeled & cut in 1 cm/half-inch cubes

1

tsp

salt

1

tsp

ground black pepper

150

g

arugula

150

g

feta cheese

crumbled
Tahini Sauce
4

Tbsp

tahini

1

Tbsp

olive oil

1

lemon

juice of

1

tsp

salt

6

Tbsp

water

to desired consistency
To serve
4

tsp

sunflower seeds

optional

4

tsp

pumpkin seeds

optional
Instructions
Set the oven for 225 C/430 F.

Place the sweet potato cubes on a large oven tray and mix with the olive oil, salt and black pepper. Place in the middle of the oven and roast for 15 minutes. Take out and set aside to cool for at least 5 minutes.

While the sweet potatoes are cooling, make the tahini sauce by placing all the ingredients in a jar, screwing on a lid tightly and shaking vigorously.

Mix the arugula salad and roasted sweet potato in a bowl and mix.

Top with sunflower seeds and pumpkin seeds as well as tahini sauce just before serving.
Nutrition
Calories:
527
kcal
|
Carbohydrates:
50
g
|
Protein:
14
g
|
Fat:
31
g
|
Saturated Fat:
8
g
|
Cholesterol:
33
mg
|
Sodium:
1709
mg
|
Potassium:
1013
mg
|
Fiber:
8
g
|
Sugar:
11
g
|
Vitamin A:
29420
IU
|
Vitamin C:
25.3
mg
|
Calcium:
337
mg
|
Iron:
3.6
mg
Nutritional information is approximate and automatically calculated, and should only be viewed as an indication.