This post may contain affiliate links, which are always marked with *. Please read my disclosure for more information.
This Caprese Salad with Cashews & Honey Balsamic Vinaigrette is one of the best salads I've ever had, perfectly filling and with all the makings of a classic: sweet and salty, crunchy and cheesy. Oh, and with lots of healthy stuff at that!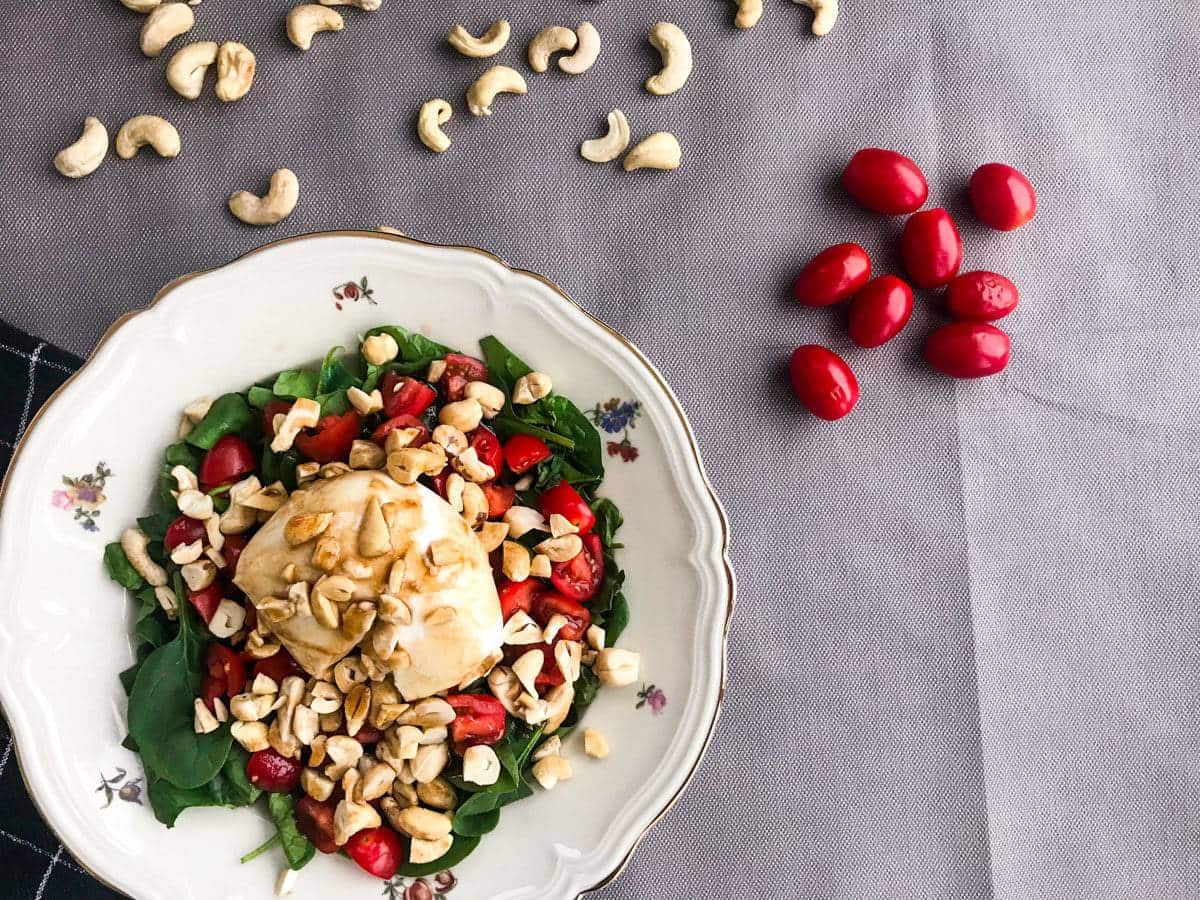 Usually I would never have a salad in November. Ever. I shy so far away from cold food in the fall & winter that my friends make fun of me. But this year - I don't know if it's because it's about 10 degrees warmer than it should be and the early-November snow we usually get is yet nowhere to be seen, or if I'm just extremely vitamin deficient right now - I found myself with serious cravings.
Not just for salads, mind you. For all things healthy. After all the fally pastas & risottos & surviving-the-darkness comfort foods my body put down the foot and said: No. Nope. No more. I want a salad. No, not in 6 months with a glass of rosé - NOW!
Isn't that cool? That our bodies work that way? If we just listen, they will tell us just what we need, right now. And right now my body wants loads of fruit & veggies. Seriously, I'm eating 5 clementines a day and throwing spinach on everything. (Also craving a lot of other stuff like pizza and red wine and candy so you don't have to worry about my sanity just yet!)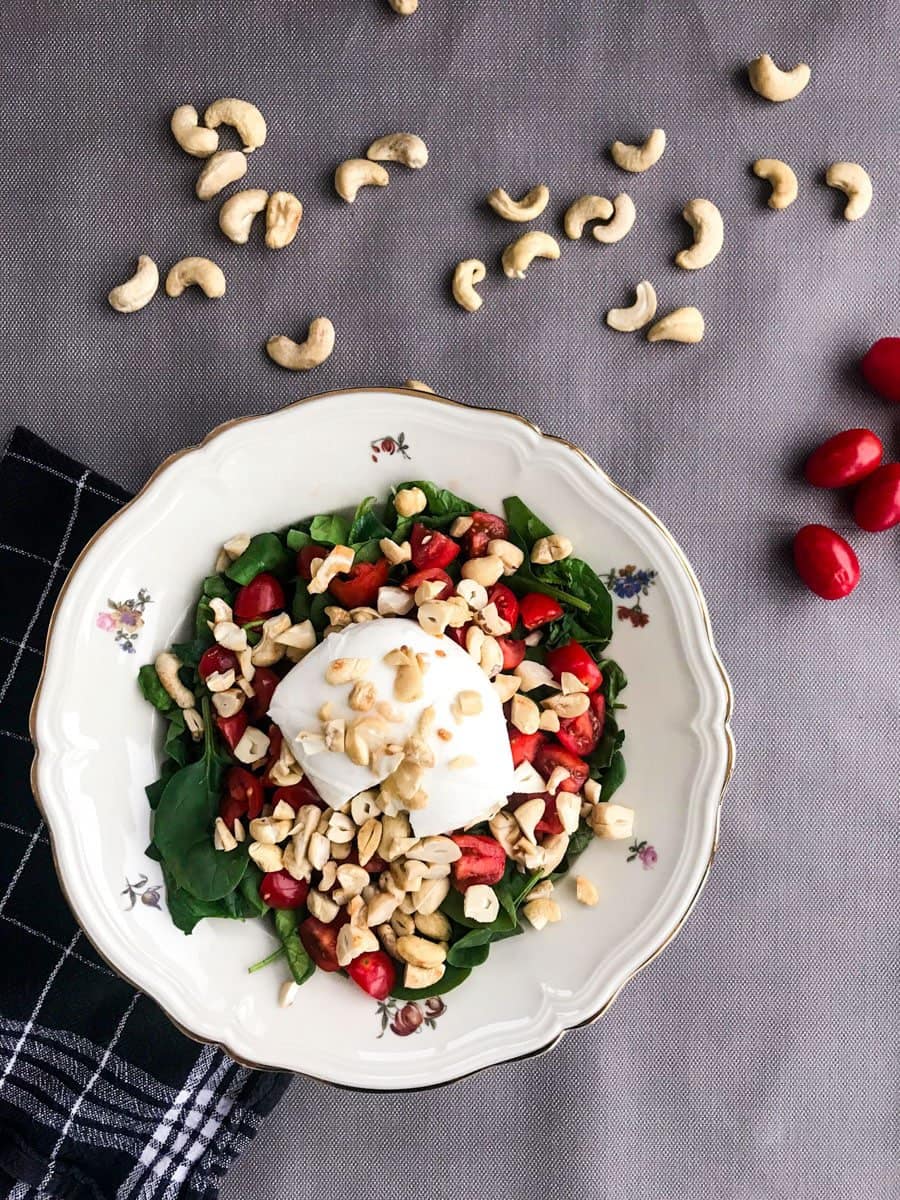 OK, so let's talk about this Caprese Salad with Cashews & Honey Balsamic Vinaigrette then. I love a good Caprese salad, the traditional way you know with sweet tomatoes, perfectly creamy mozzarella, loads of basil and maybe topped of with loads of sea salt flakes and fresh ground black pepper and a drizzle of olive oil. The only negative of it is that it's just not enough to satisfy me as a whole meal. On top of bread - yes please. As a side dish for grilled chicken - oh yes. And, as it turns out, in a salad with loads of spinach and a handful of lightly roasted cashews.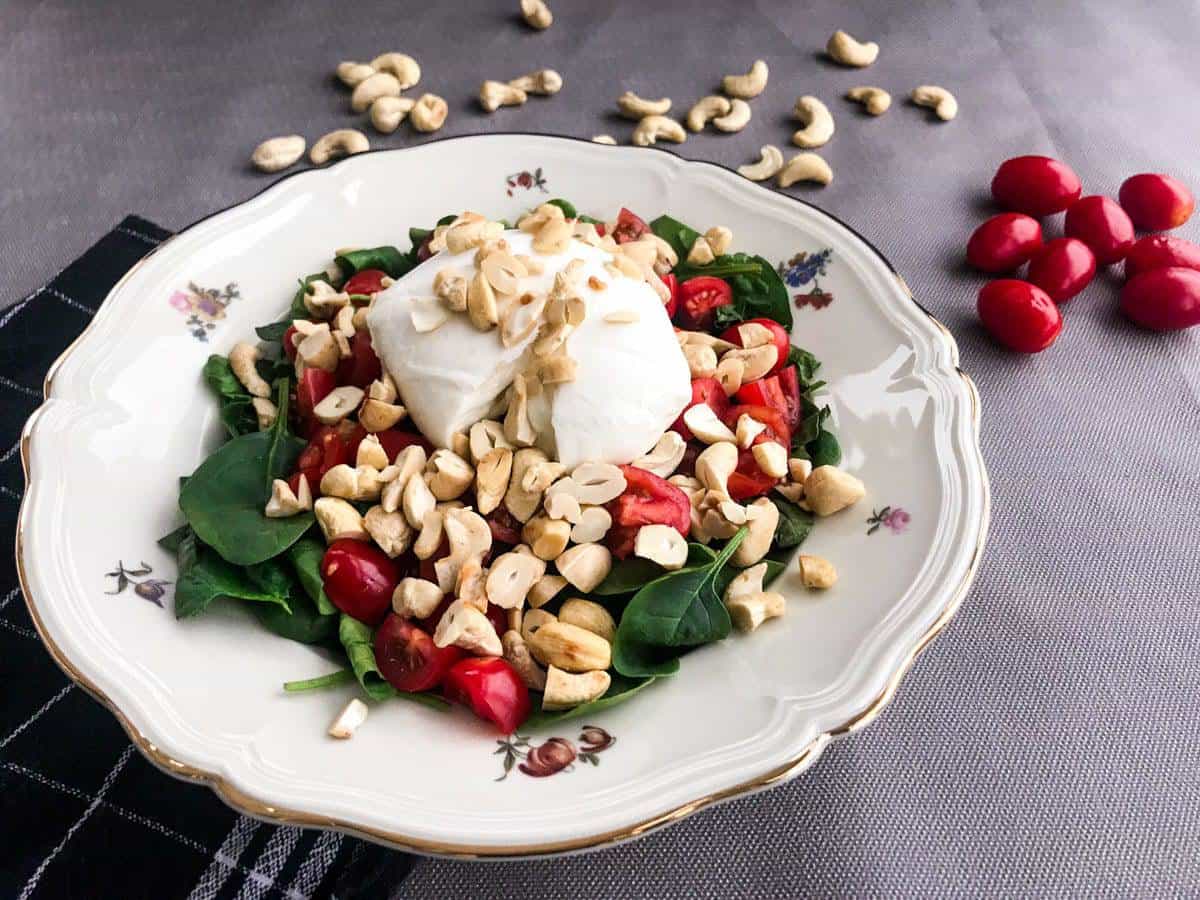 And just as I went to top off my Caprese Salad (with Cashews!) with loads of sea salt flakes and fresh ground black pepper and a drizzle of olive oil, I stopped myself. I got to thinking about one of my favorite restaurant dishes right now, served at my Stockholm go-to place - a piece of delicious Burrata with some kind of nuts (walnuts?) and a honey-something vinaigrette. It's so delicious and I have it every time I go there. And so I thought... this is like the salad version of that, but you're allowed to have it for Tuesday lunch and not just for a Saturday appetizer. All it's missing is a bit of sweetness.
Enter: the delicoius & from now on until death do us apart ride or die BFF Honey Balsamic Vinaigrette. It's a very simple vinaigrette and with no other ingredients than those right there in the name - all the better for you to be able to make it every day. Because you will want to!
Just try not to finish off the whole batch of vinaigrette with a spoon before serving, OK? (I'm still working on my self-control)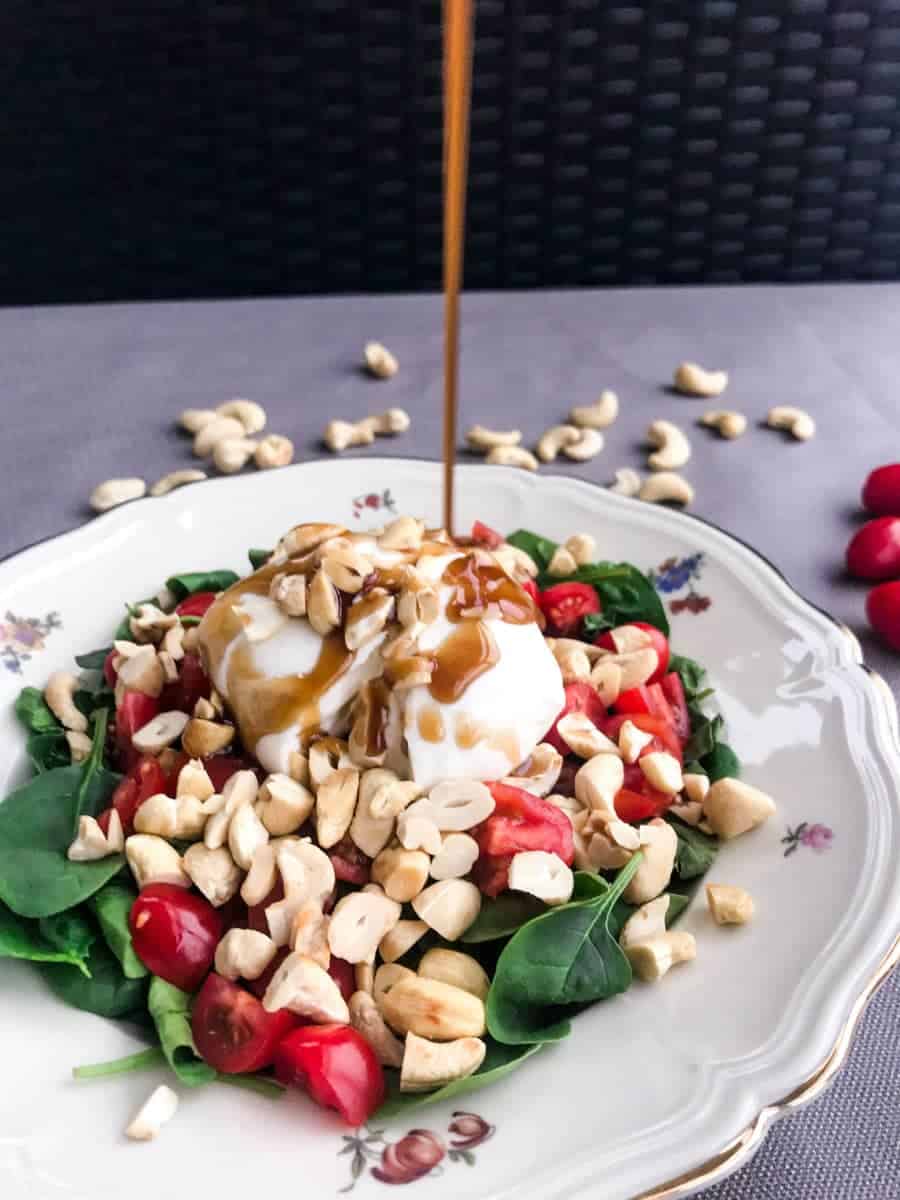 Did you try this Caprese Salad with Cashews & Honey Balsamic Vinaigrette ? If so - please leave a comment and/or a rating below, I love hearing from you! I also love seeing your creations - so please tag me on Instagram if you post it.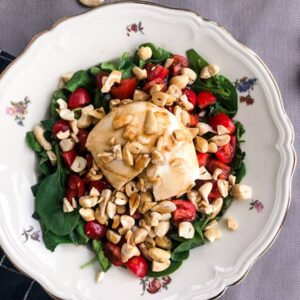 Cashew Caprese Salad with Cashews & Honey Balsamic Vinaigrette
Print
Pin
Rate
Ingredients
Cashew Caprese Salad
30

g

cashew nuts

50

g

baby leaf spinach

75

g

cherry tomatoes

cut in quarters

100

g

mozzarella cheese
Honey Balsamic Vinaigrette
1.5

Tbsp

olive oil

0.5

Tbsp

balsamic vinegar

0.75

Tbsp

honey

0.25

tsp

salt
Instructions
Start by roasting the cashew nuts over medium-high heat for a few minutes. Stir often and make sure they don't burn. They're finished when they're warm and have a bit of color. Set aside and let cool for a minute.

Place the baby spinach leaves on a plate and top with cherry tomatoes. Place the mozzarella cheese in the middle.

Chop the roasted cashew nuts roughly and sprinkle on top of the salad.

Make the Honey Balsamic Vinaigrette by mixing together all the ingredients. Taste and add more salt and honey as desired.

Drizzle the vinaigrette on top of the salad and serve.
Notes
Cashew nuts can be substituted for another type of nut - eg. walnuts or pistachios.
Mozzarella cheese can be substituted for burrata cheese to make the salad even creamier & more luxurious.
Nutrition
Calories:
731
kcal
|
Carbohydrates:
30
g
|
Protein:
29
g
|
Fat:
56
g
|
Saturated Fat:
18
g
|
Cholesterol:
79
mg
|
Sodium:
1262
mg
|
Potassium:
716
mg
|
Fiber:
2
g
|
Sugar:
19
g
|
Vitamin A:
5730
IU
|
Vitamin C:
31.2
mg
|
Calcium:
566
mg
|
Iron:
4.3
mg
Nutritional information is approximate and automatically calculated, and should only be viewed as an indication.