This post may contain affiliate links, which are always marked with *. Please read my disclosure for more information.
This healthy, vegan, green mango smoothie is a delicious and easy breakfast or snack that both kids and adults love. With banana, spinach, ginger and mango it's nutrient packed and can even be made ahead the day before.
Green mango smoothie not your thing? Try this equally healthy & vegan Chocolate Peanut Butter Smoothie or a healthy, hidden-veggie Strawberry Banana Smoothie - or why not step up your breakfast game with a homemade Vanilla Iced Coffee?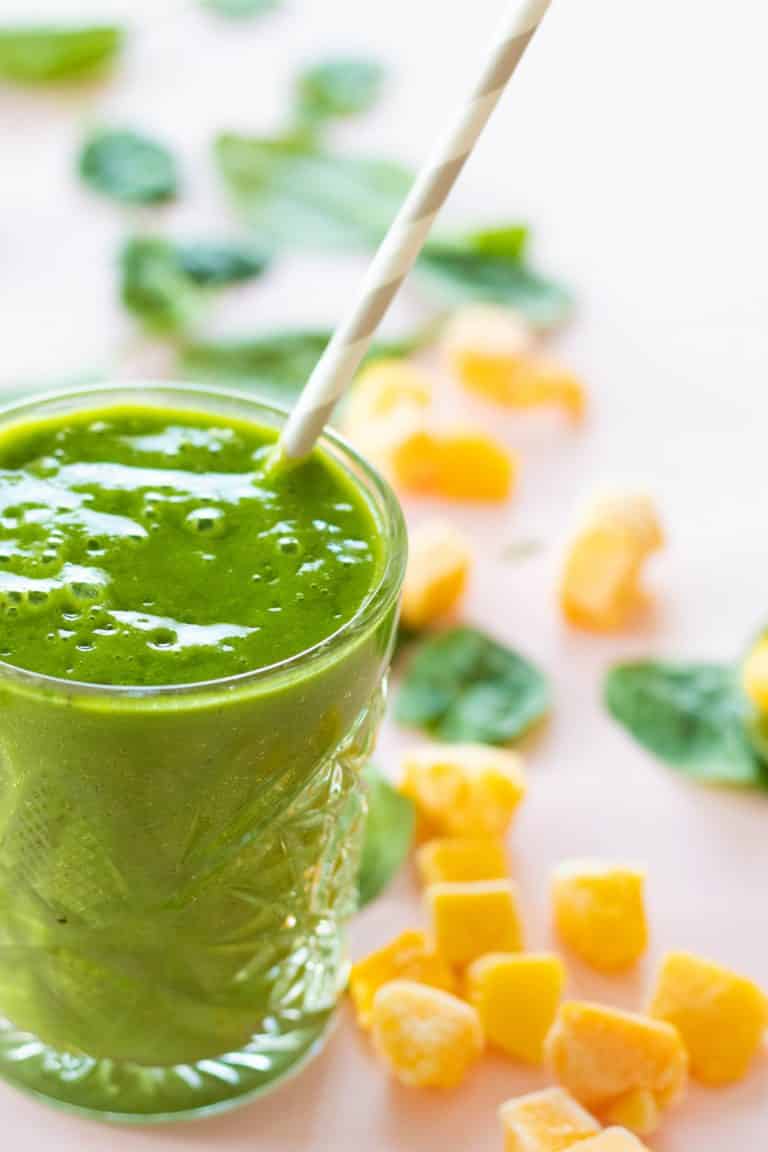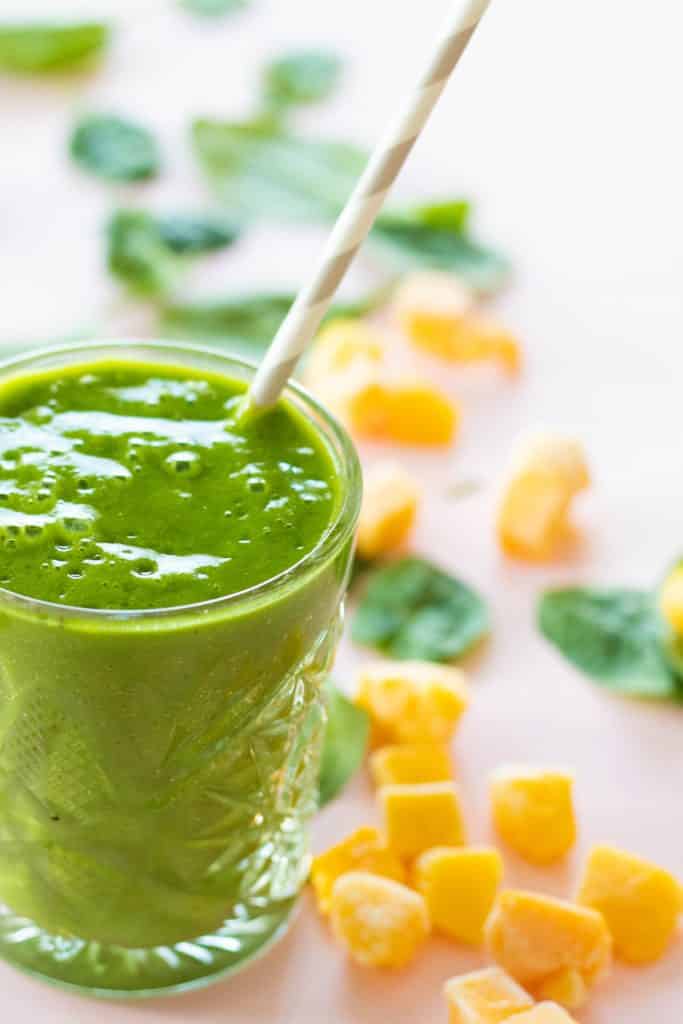 I admit it - I'm an on and off health freak. Off meaning OFF - like fried everything, cheese everything, as many carbs as possible and wine whenever I can get away with it - not to mention (gasp!!) the occasional cigarette. And ON meaning equal amounts of ON: minimal carbs, nothing fried, fish & veggies & starting each day with a glass of lemon water followed by a smoothie packed with all the nutrients I could possibly fit into a glass.
Lately though I've been trying to find some kind of balance and instead off going all the way on or off I'm trying to have my carbs & my smoothie too, so to speak. Because yes, a healthy green smoothie really is such a great way to add some health to your lifestyle.
Even if that's all you do - switching out your regular breakfast for a fruit & greens packed smoothie will ensure you start the day of right and get loads of nutrients. So then what you do the rest of the day rests on a solid foundation, at least.
I'm all about adding healthy stuff, rather than taking away. And you know what? When you add healthy stuff that has a tendency to decrease the amount of less healthy stuff you consume. (Never ever gonna call it bad stuff because red wine, deep fried anything & pasta anything makes me HAPPY - and that can't ever be bad.)
Anyway. This mango smoothie has been with me since forever. It's perfect as a snack, or as part of a nice breakfast - or as a treat, because it's so yummy you won't believe your drinking something that's good for you. It's about time you try it!
Why I love this Green Smoothie version
Sweet, fresh and with a gingery kick it's my favorite kind of juice just healthier since you have all those fibers in there.
Speaking of fibers - that's what makes smoothies so amazing and so much healthier than juices. Juice = lots of sugar, no fiber. Smoothie = while they may contain equal amounts of sugar, you get loads of fiber as well which means you stay full longer.
Tasty enough to satisfy your sweet tooth, if you're trying to be a bit healthier.
Enough greens to make up at least 50% of your daily requirement. For real! Just have this for breakfast and add some veggies with lunch & dinner and you're there.
Coconut water adds natural rehydrating electrolytes - perfect if you had a few too many glasses of wine the night before or just finished a tough workout.
Easy to make - just pop all the ingredients in the blender, hit on, and in two minutes it's all done.
Can be made ahead of time (like the day before) without losing too much flavor. Don't you just love a healthy breakfast to go you can prep the day before?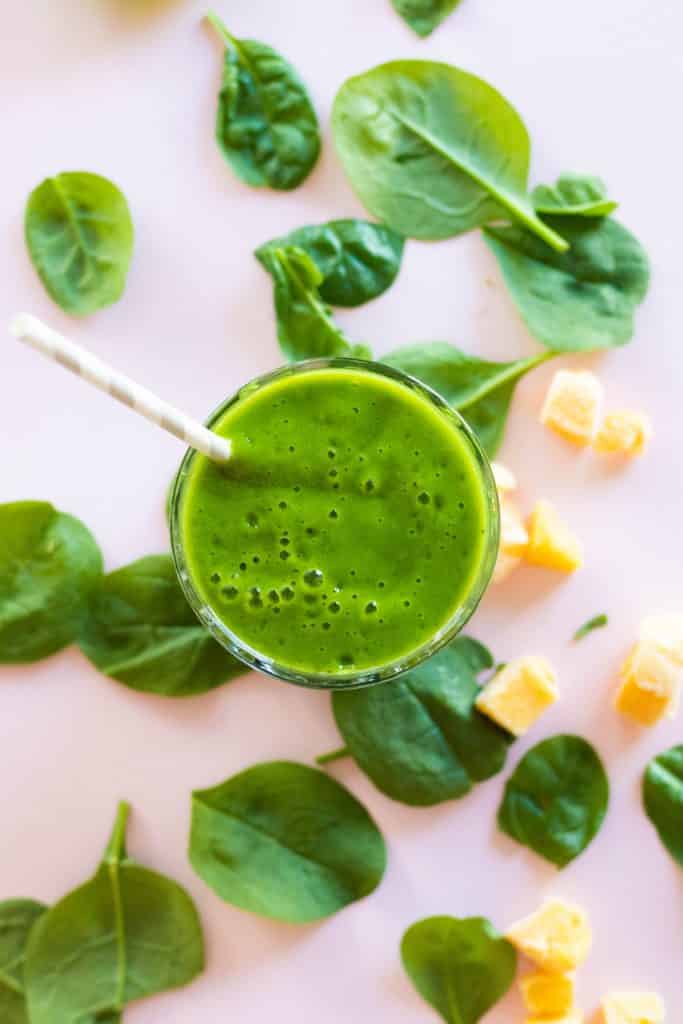 Pro tips for making a Green Mango Smoothie
Use frozen mango - cheaper than fresh, easy to have on hand at all times and it ensures you get a chilled smoothie.
Use frozen spinach in a pinch - I really prefer fresh, but spinach is spinach and sometimes it's just easier using the frozen kind.
Ripe bananas make the creamiest smoothies - but also makes them taste more "banana".
Freeze bananas that are about to go bad - just peel them, slice them and place in a bag. Freeze and you have a perfect amount ready to go the next time you crave a smoothie.
Buy organic ginger if you don't want to have to peel it - that's right, then you can eat the skin too! And we all know by now that the skin has loads of nutrients, right?
Adjust consistency according to preference by adding more or less coconut water or regular water.
Follow the tips for substitutions below to create your own favorite version!
Want more tips? Check out my guide to making the best healthy smoothies at home.
Make it your own - suggested substitutions for healthy Green Smoothies
Banana can be substituted for avocado, which makes it even creamier, less sweet and more neutral in taste.
Spinach can be swapped for any other kind of leafy green, like kale. It doesn't affect taste too much but gives it a bit of an earthier taste.
Ginger can be skipped if that's not your thing, or supplemented with/substituted for fresh turmeric. And if you don't have the fresh ginger but really want the kick - use ground ginger instead.
Lemon can be swapped for lime, or skipped in a pinch.
Mint leaves can be skipped but do add a nice layer of flavor.
Coconut water can be substituted for regular water.
Mango can be swapped for other frozen fruit or berries, for example pineapple or raspberries.
Add a plant-based protein powder, like hemp protein, to make it more filling and a complete breakfast.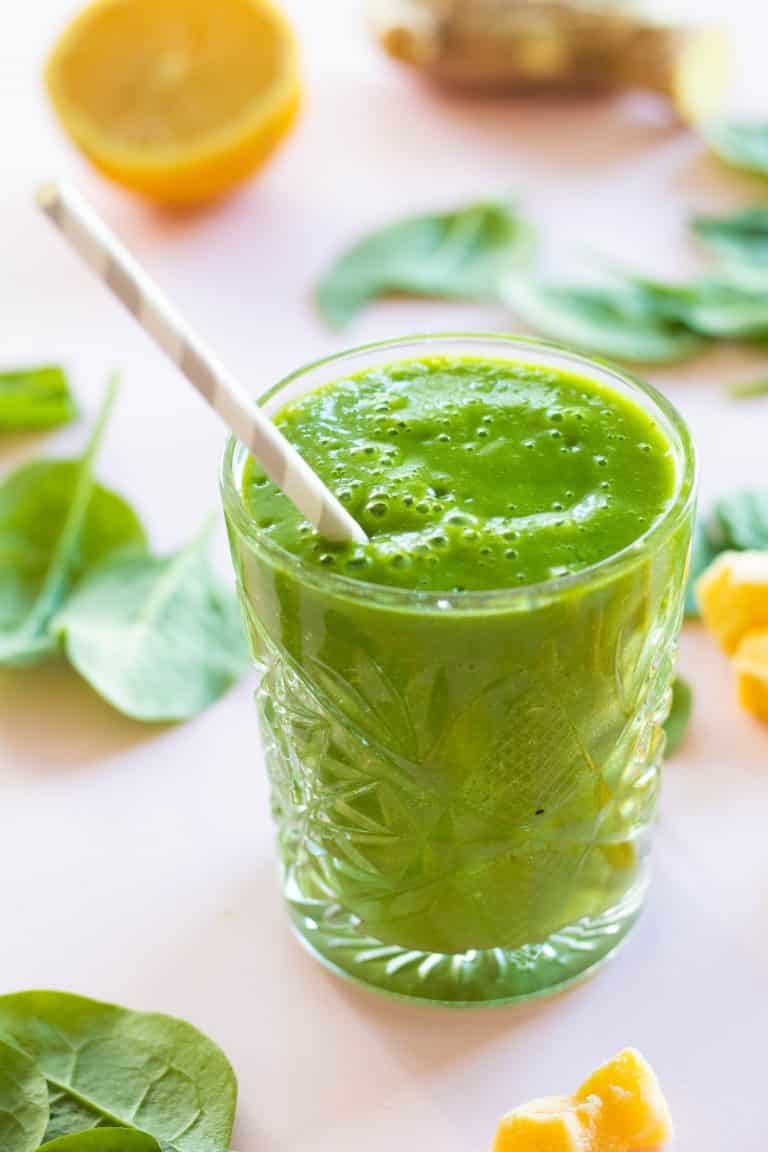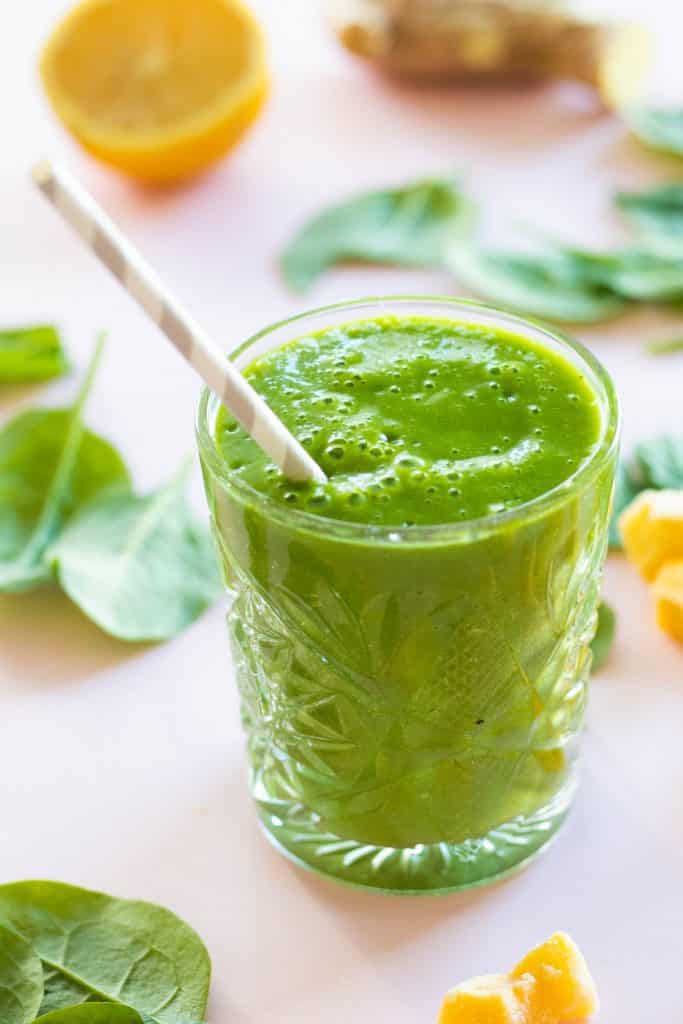 What do you put in your healthy green smoothie? Let me know in the comments below - I would love to get some new versions to try out. And I'd love for you to leave a rating while you're at it!'
Now enjoy your week & maybe have a green smoothie or two. And then have that glass of red too 😉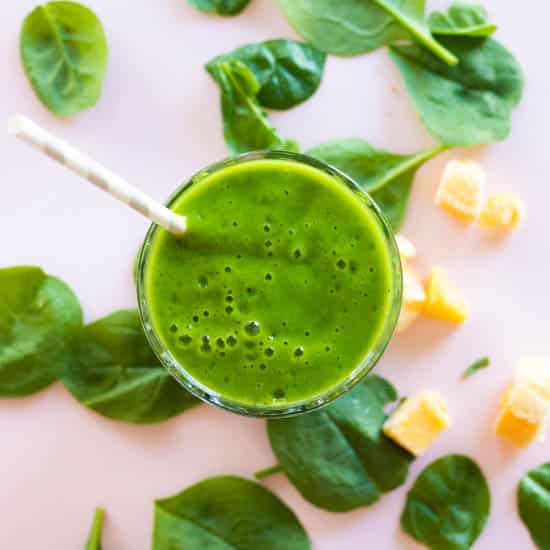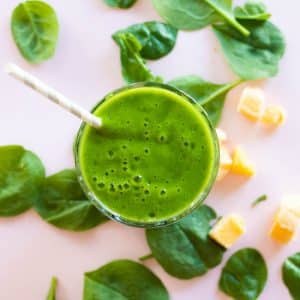 Ingredients
1

banana

1

handful

fresh spinach

1 handful = about 50g/1.8 oz

2

inches

ginger

about 20 g for 1 smoothie

½

lemon

juice only

10

mint leaves

more if small leaves

¾

cup

coconut water

¾

cup

frozen mango
Instructions
Place all ingredients in a high powered blender and cover. Mix until smooth. Adjust consistency to your taste by adding more or less coconut water or regular water. Serve immediately!
Notes
Use ripe or over-ripe bananas for the creamiest consistency
Banana can be substituted for avocado
Spinach can be substituted for kale
Ginger can be omitted or subbed for turmeric or ground ginger
Lemon juice can be swapped for lime juice, but always use fresh lemon and lime juice
Coconut water can be substituted for regular water
Fresh mango or fresh or frozen pineapple or raspberries can be used instead of frozen mango
Nutrition
Calories:
313
kcal
|
Carbohydrates:
76
g
|
Protein:
7
g
|
Fat:
2
g
|
Saturated Fat:
1
g
|
Sodium:
259
mg
|
Potassium:
1752
mg
|
Fiber:
12
g
|
Sugar:
49
g
|
Vitamin A:
7355
IU
|
Vitamin C:
134.7
mg
|
Calcium:
158
mg
|
Iron:
3.4
mg
Nutritional information is approximate and automatically calculated, and should only be viewed as an indication.