This Lime Aioli is super easy to make and so refreshing with lots of lime flavors from both juice & zest. Done in just 5 minutes it's perfect next to any type of seafood dish and a must-have side for paella.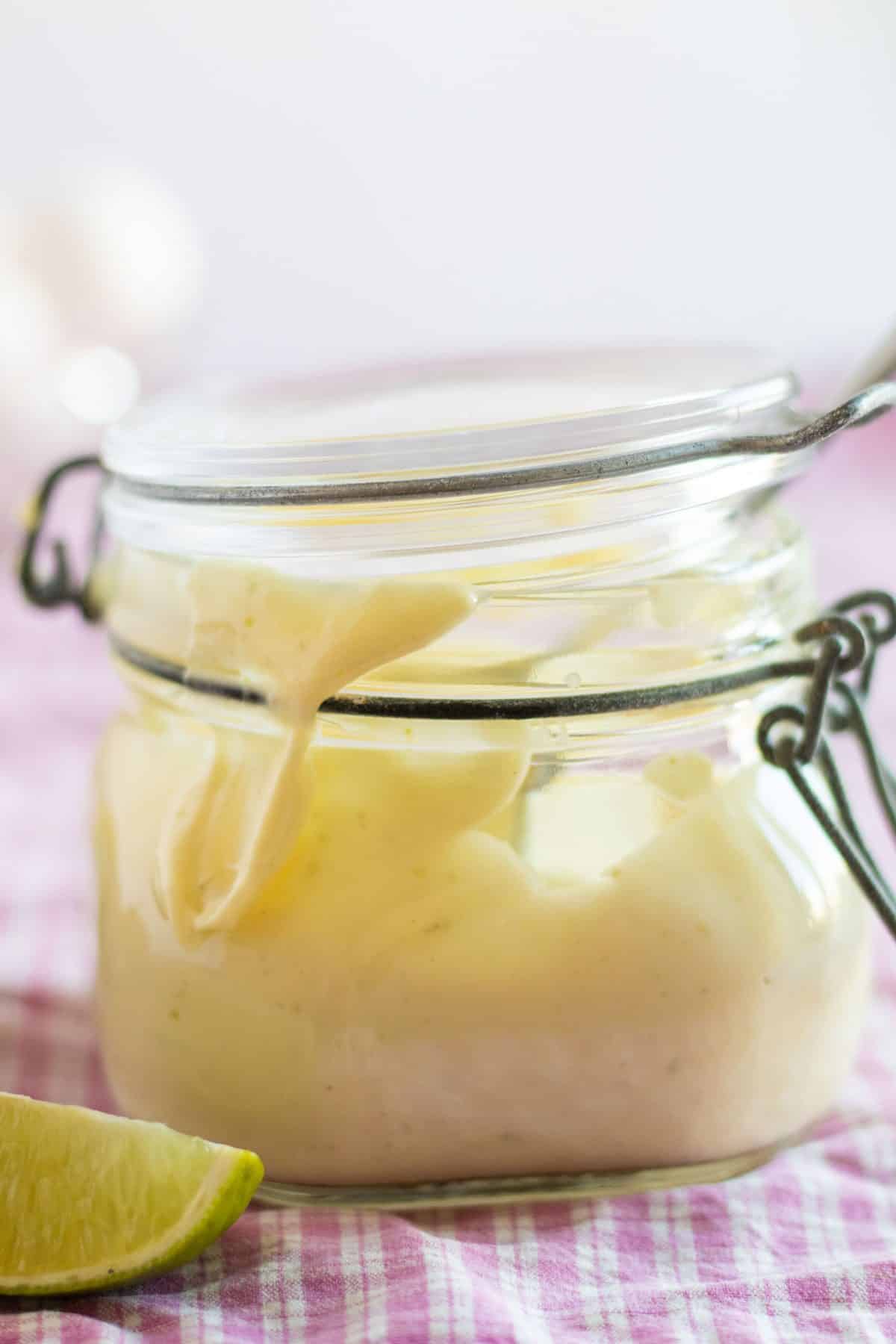 For years, I was so scared of making mayonnaise and mayonnaise based sauces like aioli. And then I tried it once, and was hooked.
Because it's really not difficult at all. And once you master the basics (room temperature ingredients and add the oil slowly) you have so many versions to try.
My first mayonnaise based sauce to make was a Lime Aioli - and this easy recipe is the one I've been working away at for years. I dare say now, it's reached perfection.
Why you will love this recipe
It's quick & easy to make
Lighter than most aiolis as it has a good dose of acidity
High acidity to pair great with fish & seafood
Loads of lime flavor from lime zest
A bit of a kick from Dijon mustard and garlic
What you need to make it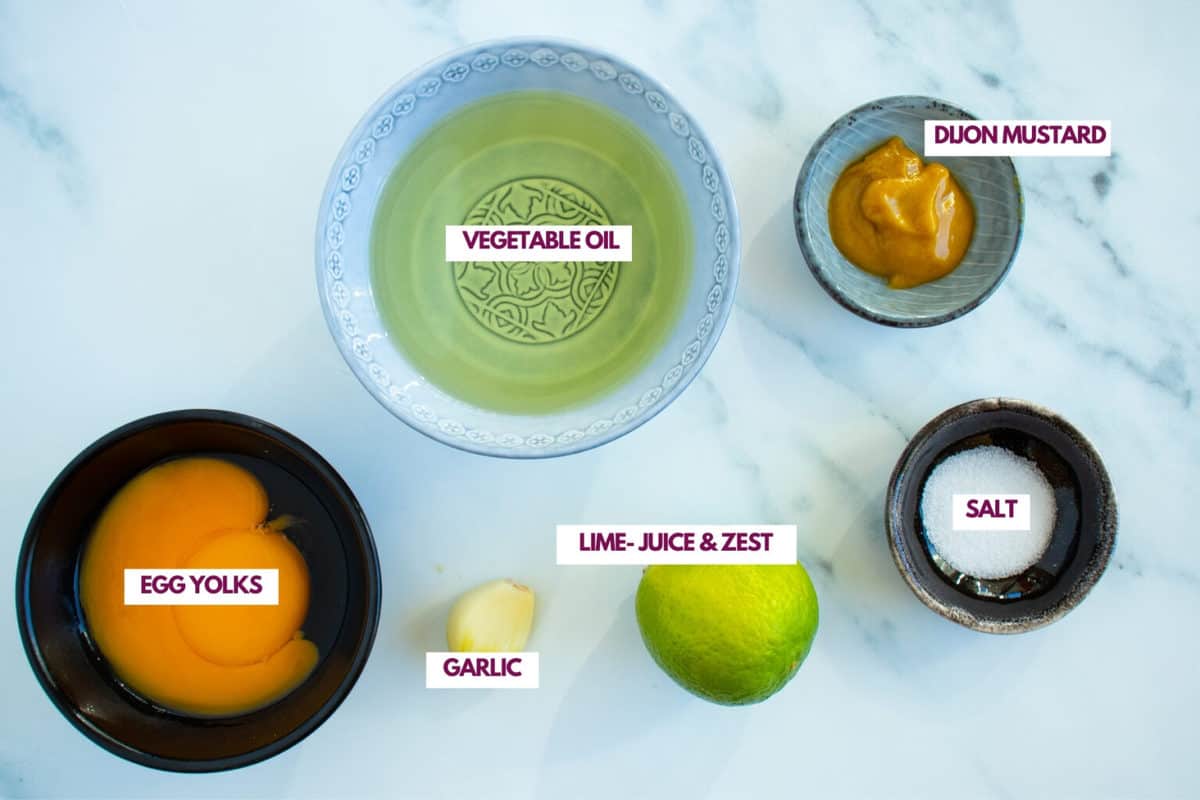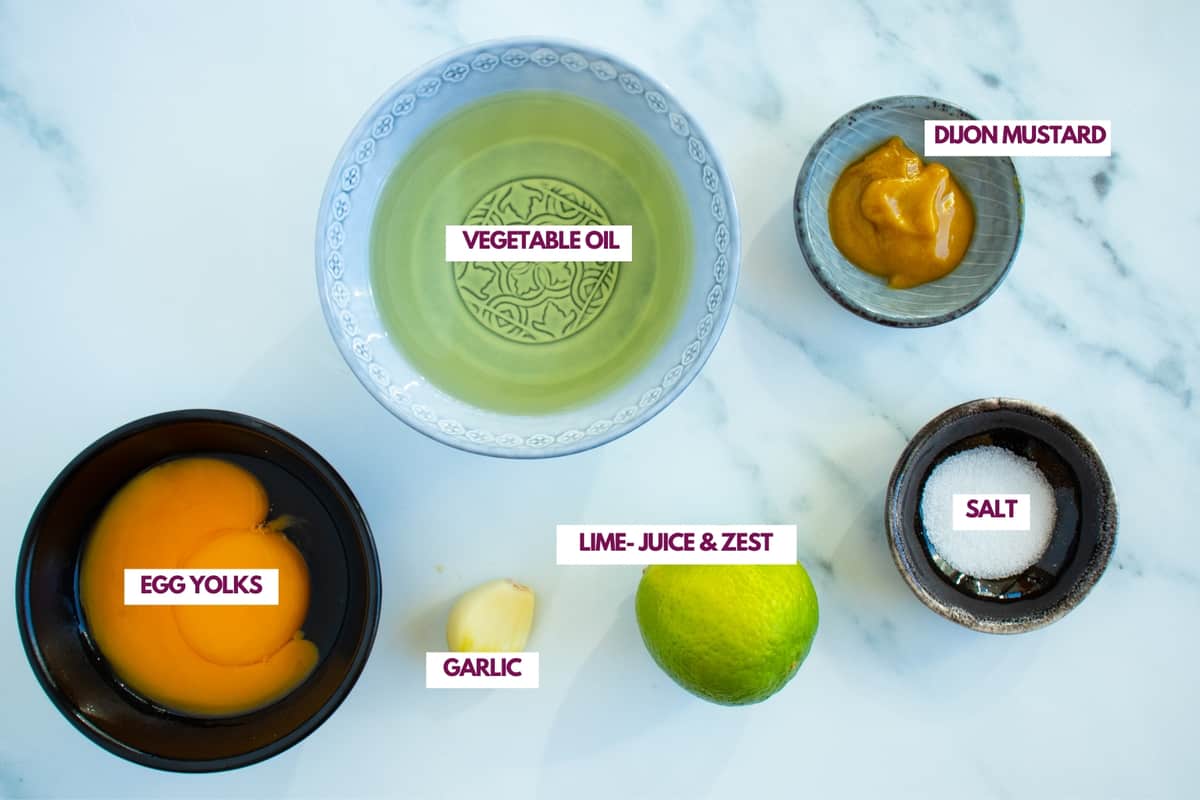 Ingredient notes & substitutions
Vegetable oil: use a neutral kind like rapeseed oil or generic vegetable oil, and not one with a distinct taste, like olive oil
Dijon mustard can be skipped, but adds great taste - adjust amount to make it more or less spicy
Garlic can be skipped
How to make it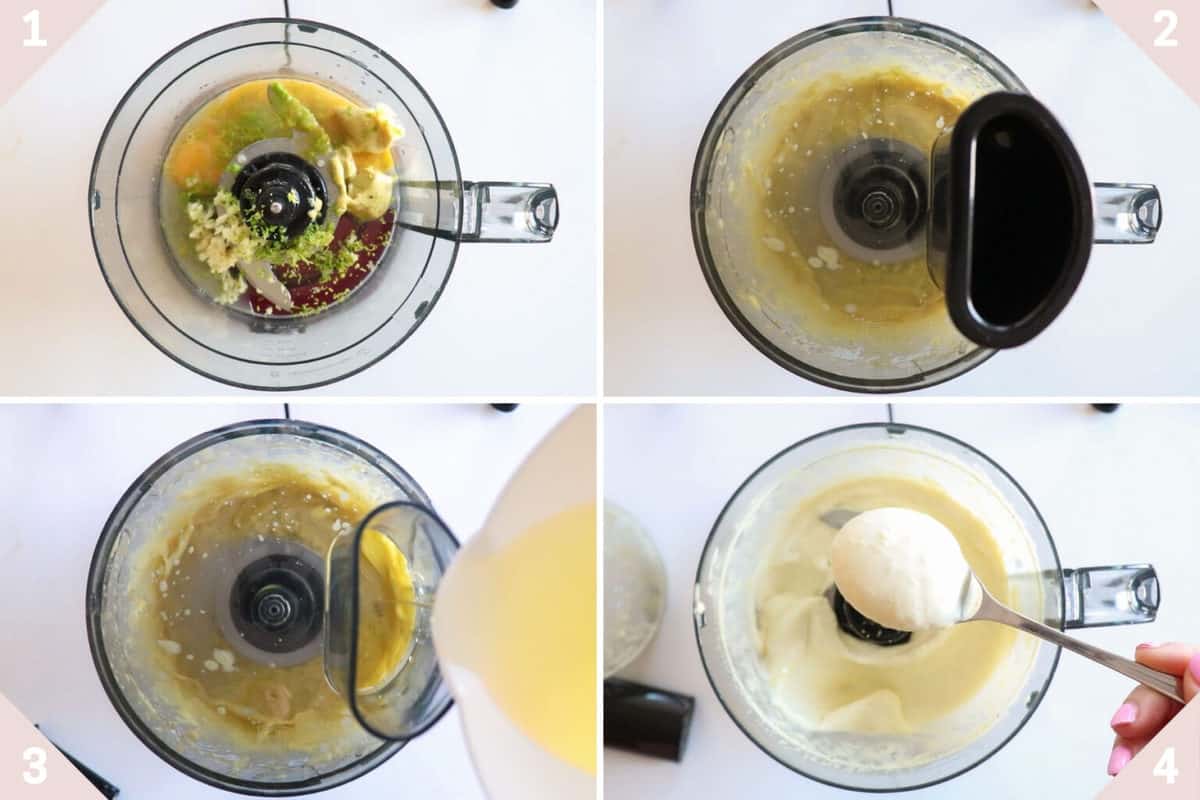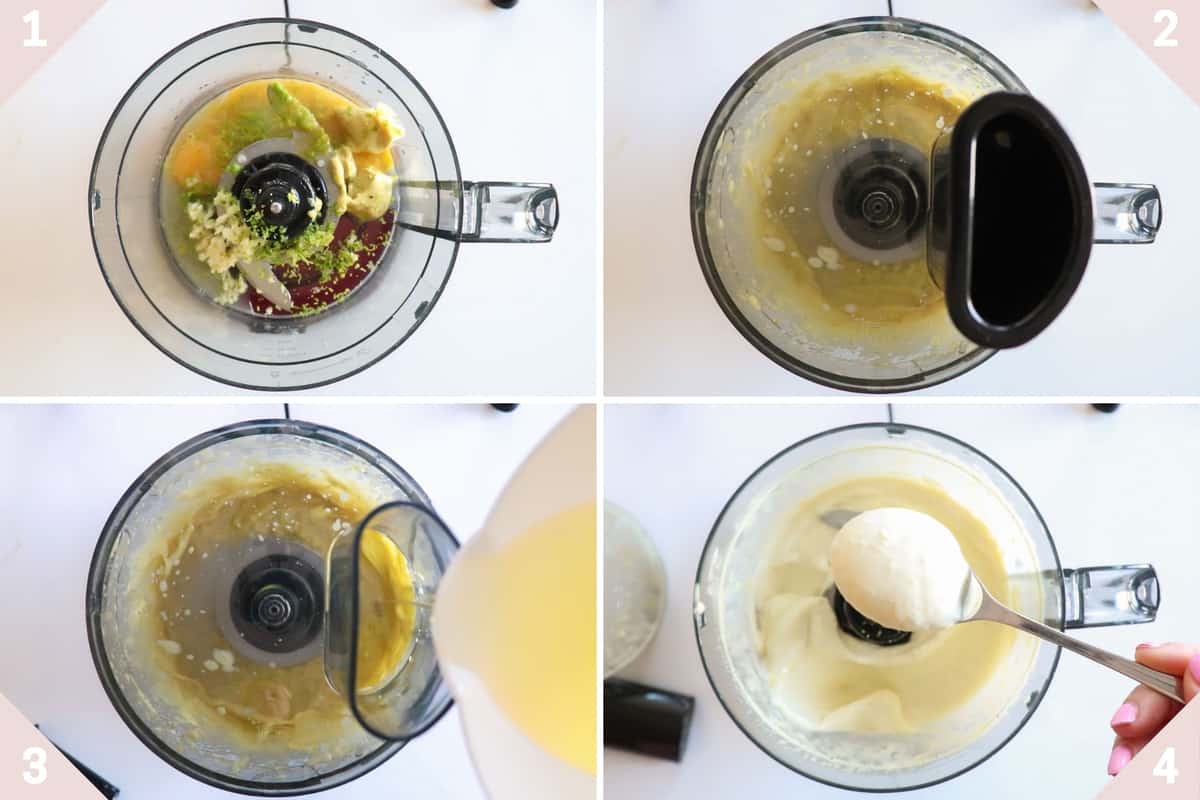 Place egg yolks and all ingredients except vegetable oil in a food processor, or in a bowl with high sides
Mix together well
Start adding the oil very slowly. Add a tiny bit at a time at first, and then after a while you can add it in a steady stream.
Once all the oil has been added - taste test, and adjust seasoning if desired
Tips & tricks
Use a food processor* or electric mixer * to minimize the risk of the aioli breaking (if it does break anyway - see my tips below!)
If you don't have either - don't worry, you can beat it by hand as well. Just be vigorous and careful not to add too much oil at once.
Use room temperature ingredients - since we mix the rest of the ingredients (and thereby heat them up a bit) you mainly need to make sure your oil is about room temperature
Mix the egg yolks with the seasonings before adding the oil - this makes adding the oil without breaking the sauce easier and ensures your flavors are well mixed throughout the sauce
Add the oil very slowly at first, once you've added a bit and the sauce is starting to look creamy, go ahead and speed it up a bit if you'd like
When tasting - don't put the spoon back in the bowl - your saliva contains enzymes that may break the sauce
Store leftovers in the fridge in an airtight container for up to 4 days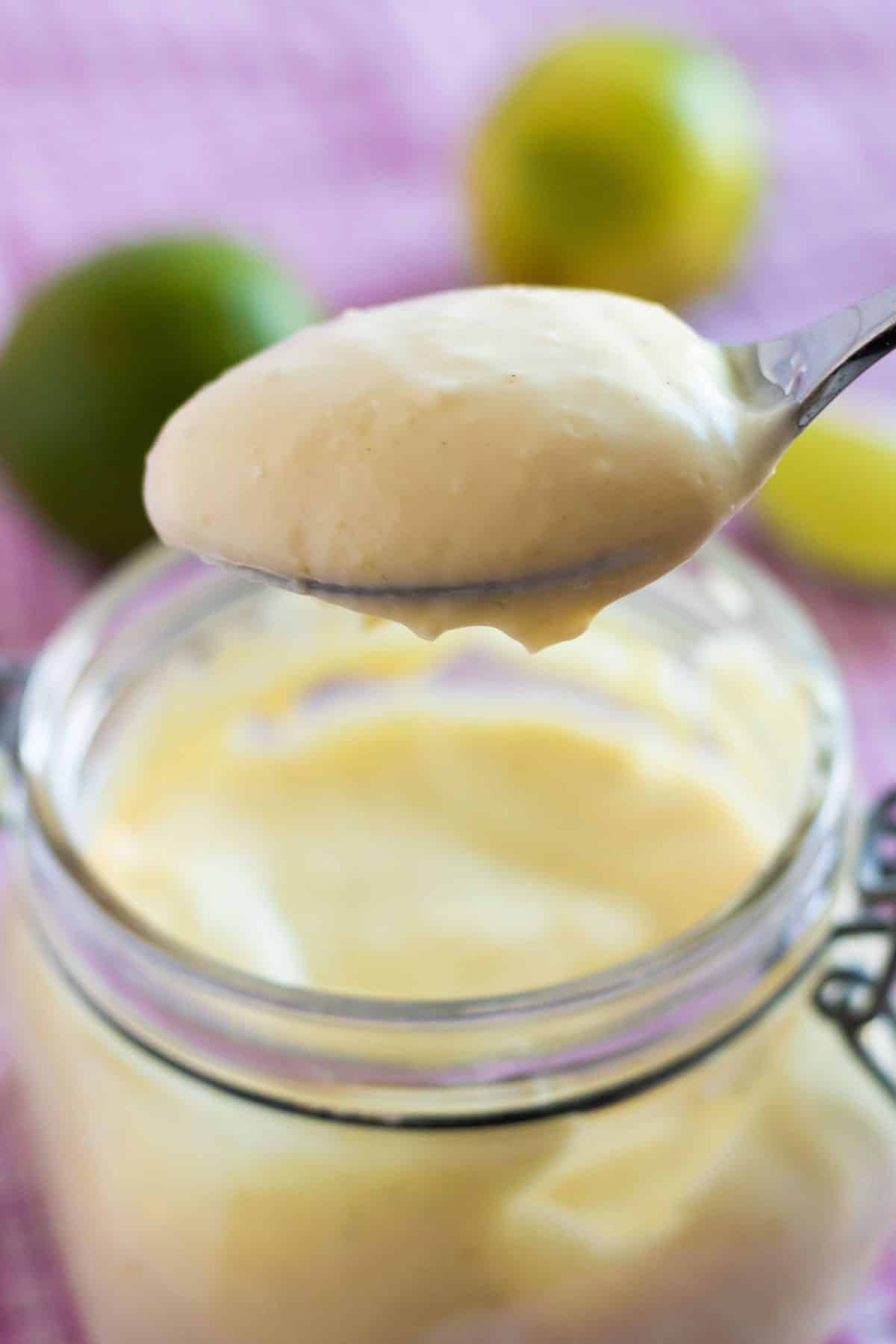 Recipe FAQ
What is aioli?
Aioli comes from the Spanish region of Catalanuya where its known as "allioli", which in Catalan basically translates to "garlic oil".

Garlic and oil are actually the only two ingredients for the original aioli recipe. At the most seasoned with a dash of salt, nothing else. It's traditionally made the same way as a classic pesto, with a mortar and pestle.

The more common version these days is the garlic mayonnaise kind- that is, garlic, oil and whole eggs or egg yolks. Often with some acidic component added - like lemon juice or vinegar - as well as a dash of French mustard.
What is the difference between aioli and garlic aioli?
Really - NOTHING! Classic aioli always has garlic, so calling it "garlic aioli" is just stating the obvious.
What do I do if my aioli breaks?
First off - don't panic! There are a few ways to solve this.

The best way is to mix up another egg yolk in a separate bowl, and then add in the broken aioli (slowly!).

Don't have any more eggs? Use 1-2 teaspoons of water instead of the egg yolk. Not as effective, but often works.

Once you've added in all of the broken aioli and it's all nice and creamy again - go ahead and add in the remaining oil, if there is any.
Other ways to season your aioli
While I love my lime aioli, here are a few other ideas for how to season your aioli as well as suggestions for what to serve them with:
Add fresh cilantro to make this a Cilantro-Lime Aioli. Serve with fish tacos.
Lemon zest & juice instead of lime. Best served with seafood.
Up the Dijon mustard to make a Dijonnaise
For a spicy version I do what any semi-trendy Stockholm restaurant has done the past few years - and add Sriracha. A tablespoon or so should do it. Skip the lime and Dijon mustard - and go for a dash of white whine vinegar instead. Serve with chicken, pork, potatoes, shrimp or sweet potato fries.
And when I feel indulgent I do what every semi-trendy Stockholm restaurant did before that - and add some white truffle oil. Mix it in with the regular vegetable oil, skip the lime, add a dash of white wine vinegar and get to work. Serve with potatoes or meat.
Make a classic aioli by excluding the lime zest & juice from this recipe and adding a dash of white wine vinegar instead. Delicious with shrimp, bread or potatoes. Serve with anything really, but I especially love it with bread.
And if you're feeling really basic (the good kinda basic that is, no judging!) - skip the lime & garlic, add some white wine vinegar and you have yourself an amazing mayonnaise. Heavy on the French mustard, just the way I like it. Serve with shrimp, bread or on top of egg halves.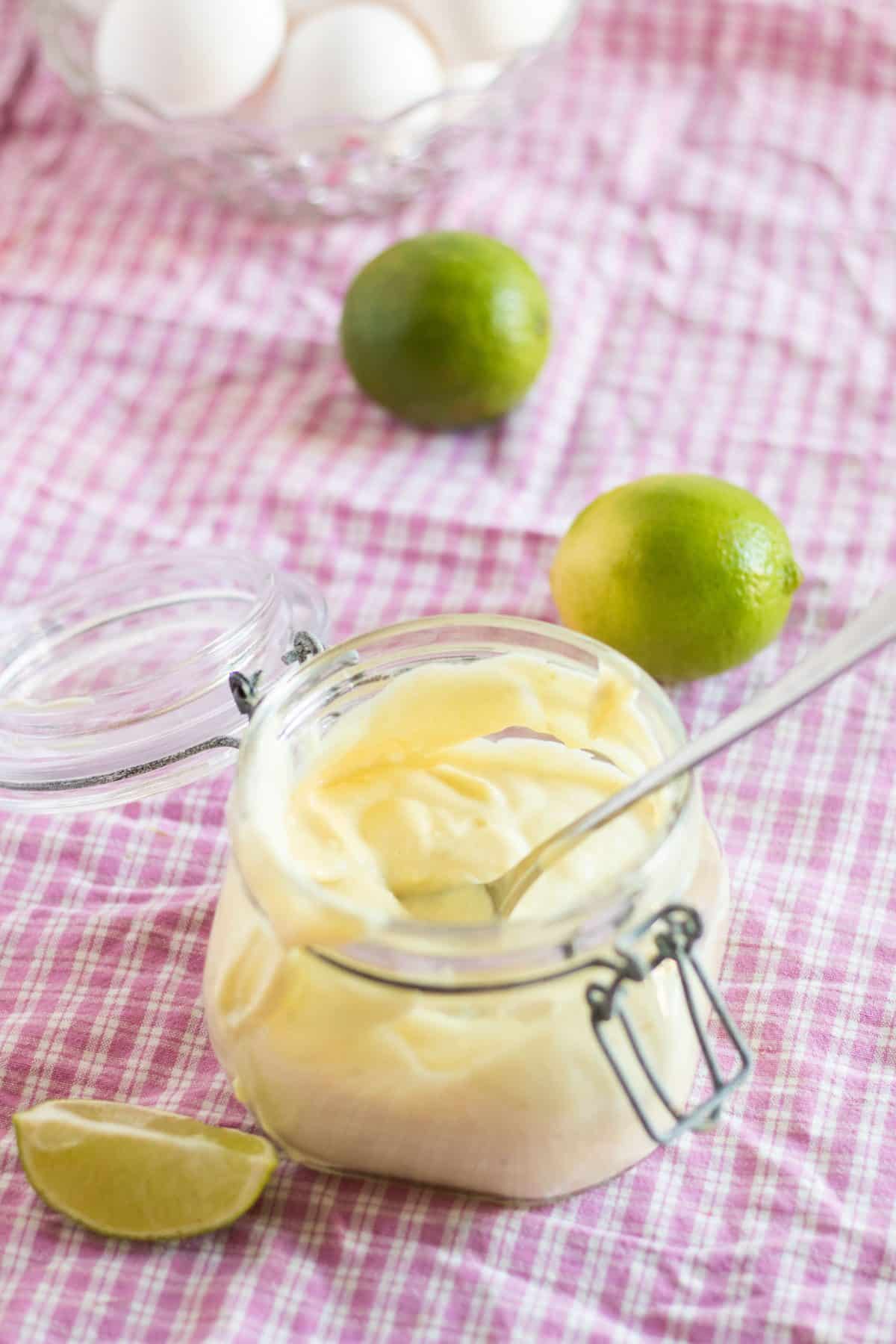 More Amazing 5-minute Sauces
Looking for other sauces you can make in just 5 minutes, like this Lime Aioli? Check out these amazing options:
Did you love this recipe? Rate it five stars!
...and let me know what you loved about it in the comments.
Recipe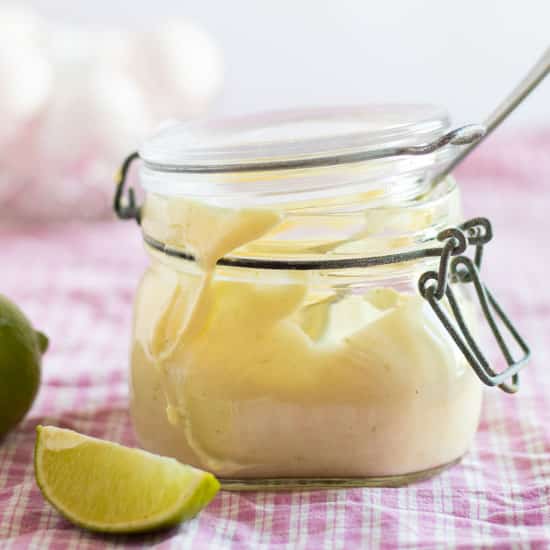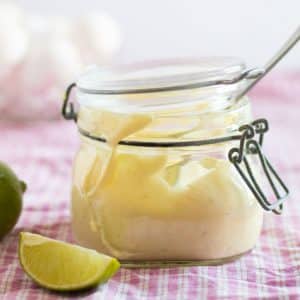 Ingredients
2

egg yolks

1

garlic clove

minced

2

teaspoon

French Dijon mustard

1

lime

zest and juice

¼

teaspoon

salt

1⅓

cup

vegetable oil

neutral
Instructions
Place all ingredients except vegetable oil in a food processor or bowl with high sides. Mix together.

2 egg yolks,

1 garlic clove,

2 teaspoon French Dijon mustard,

1 lime,

¼ teaspoon salt

Start adding the vegetable oil very slowly. Once you've added a bit and the aioli is starting to look creamy, you can add it a bit faster. The sauce is ready once all oil has been mixed in. Taste test, and adjust seasoning as desired.
Equipment (may contain affiliate links)
Measuring cups (metric or US)*
Nutrition
Calories:
453
kcal
|
Carbohydrates:
1
g
|
Protein:
1
g
|
Fat:
52
g
|
Saturated Fat:
41
g
|
Cholesterol:
65
mg
|
Sodium:
119
mg
|
Potassium:
7
mg
|
Fiber:
1
g
|
Sugar:
1
g
|
Vitamin A:
85
IU
|
Vitamin C:
1.7
mg
|
Calcium:
8
mg
|
Iron:
0.2
mg
Nutritional information is approximate and automatically calculated, and should only be viewed as an indication.