This easy blue cheese sauce comes together in just a few minutes with loads of amazing flavor. Perfect for satisfying your blue cheese cravings whether it be together with a salad, on top of a pizza or to dip your cauliflower buffalo bites in. And as a treat for us non-US foodies – no need for buttermilk in this one.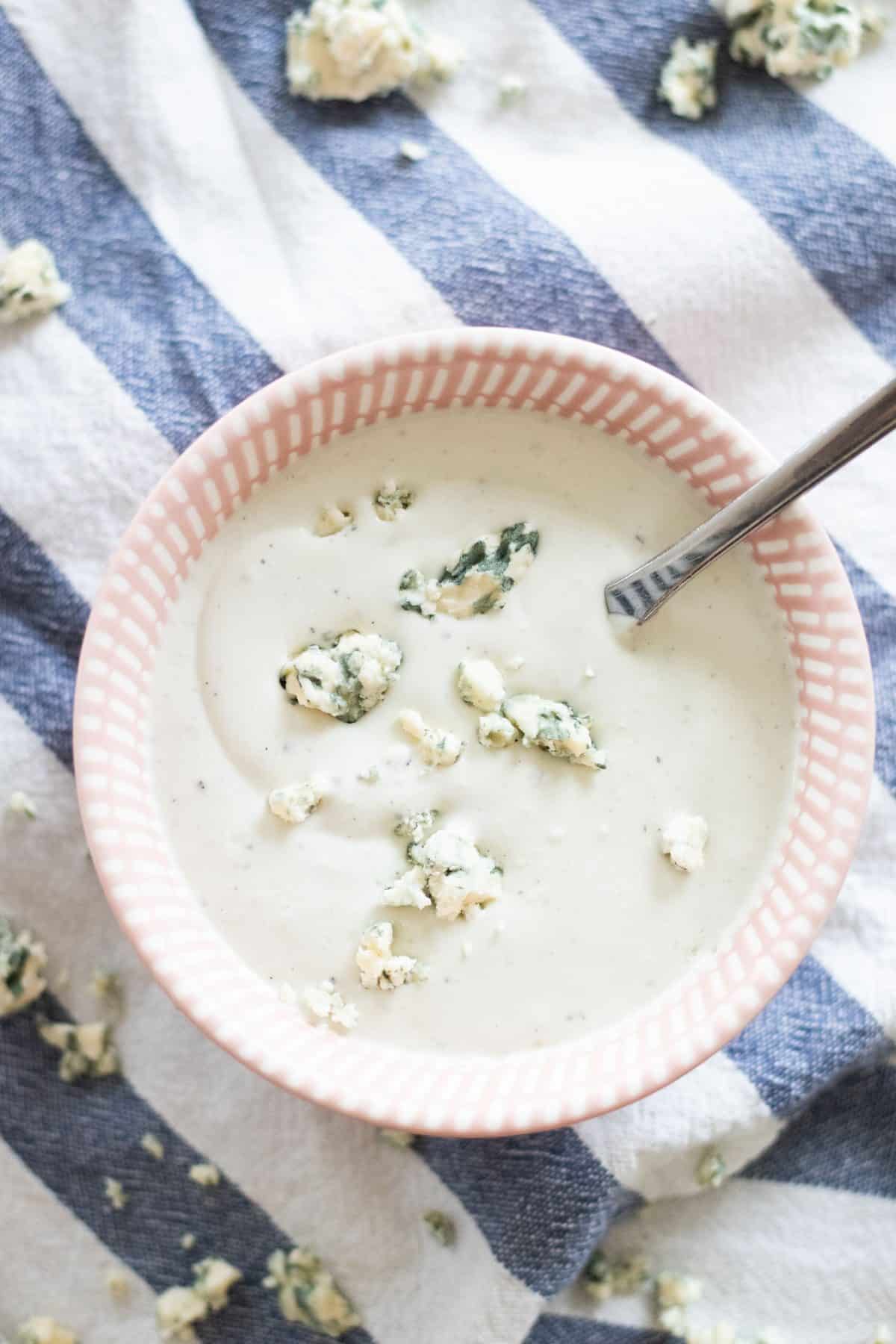 Some of the links below are Amazon affiliate links. If you buy something through one of them, I receive a small commission (at no extra cost to you). These links are always marked with *.
Few things bring about as many happy childhood food memories for me as a blue cheese dip. Buffalo addicted since around age three I have for equally long been prone to sudden bouts of heavy cravings for creamy blue cheese. Surprisingly though, it wasn't until just a few years ago I started making it myself. But once I did… now I can't stop.
So I did what any responsible foodie would – I came up with a super easy, super yummy, recipe for it. Enjoy!
What is blue cheese sauce made of?
The main ingredient of blue cheese sauce is *surprise* blue cheese. Now which blue cheese you use is up to you – I usually go for semi-mild and pretty cheap. No need to use the fancy St Agur for a sauce… I'd rather save it for dessert!
Then, to go from crumbles of blue cheese to smooth saucy goodiness you need at least one more thing: something creamy. I use mayonnaise (yup, storebought!), sour cream, and a dash of milk if I want to make it thinner (which I usually don't need, unless I'm making it as a salad dressing).
For the ultimate taste, some lemon, salt and pepper is also beneficial. Added in just the right amount to suit your own taste buds – or according to the recipe below, of course.
Can you use Gorgonzola instead of blue cheese?
As I mentioned, which blue cheese you choose se is up to you – and gorgonzola definitely falls into the blue cheese category. As it's pretty mild as blue cheeses go I'd say it will definitely work for your blue cheese sauce. It can be a bit on the expensive side compared to a more generic "blue cheese" but that's all.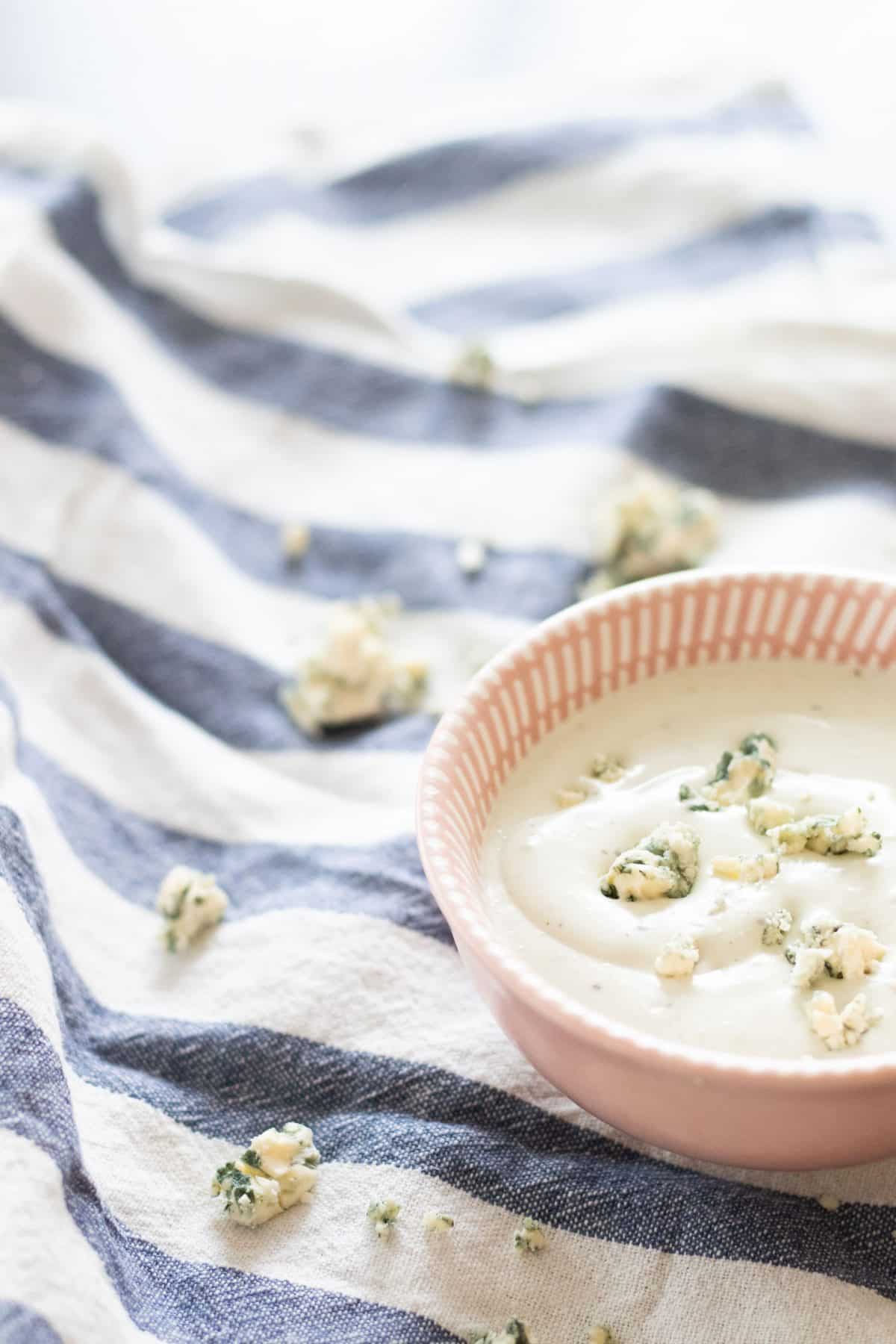 What do you eat with blue cheese sauce?
Blue cheese sauce is great with so many things – ranging from healthy to fully indulgent . Or how about:
Salad – especially one with pears or grapes will go amazing with a blue cheese sauce. Pro tip: might wanna add that dash of milk to make it just a bit thinner if using as a salad dressing!
Veggie sticks (celery, cucumber, carrot, bell pepper…) for a delicious snack or appetizer.
A steak goes wonderfully with a blue cheese sauce – as do pork chops.
If you love blue cheese – you're gonna adore it on top of your burger.
Baked potato topped with a generous amount in place of sour cream.
Buffalo wings, buffalo cauliflower, buffalo anything… no further introduction needed, right?
Why with anything Buffalo?
Now why is blue cheese sauce so often served with buffalo wings? Well, while the very first ever buffalo wings where in fact served with blue cheese they were not served with a blue cheese sauce. But the sauce + blue cheese + buffalo wings that was the original dish somewhere morphed into blue cheese sauce + buffalo wings.
My reasoning? It just tastes so damn good together. The blue cheese sauce cools down all that buffalo spiciness, while having enough taste on its own to not just disappear alongside those flavorful wings. Hence, the ultimate combo.
" thumbnail="https://mediavine-res.cloudinary.com/video/upload/vetvgfi73sgcxkqeatvi.jpg" volume="70″ doNotOptimizePlacement="undefined" doNotAutoplayNorOptimizePlacement="false" ratio=""]
Why this is the best recipe for blue cheese sauce/dressing/dip
No buttermilk necessary – making it a great recipe even for those outside the US
Perfect balance of blue cheese, salt and lemon juice
Quick and easy to make – all done in under 5 minutes.
Just as delicious as a sauce, dip or salad dressing.
Expert tips for making blue cheese sauce
Use a cheap blue cheese – while you can of course opt for your favorite there's really no need to be fancy here.
Use store-bought mayonnaise – save the homemade version for when it's not gonna be hidden with loads of other flavors, like when you're cravig a simple lime aioli.
A food processor ensures minimal lumps and maximum creaminess – but you can make this with an immersion blender, regular blender or mixer as well.
Add half of the seasoning (lemon juice, salt, pepper), taste test, and then add more as needed.
Let sit for at least 30 minutes before serving, but even better if you let it sit longer…
Choose consistency according to what you're using it for – this blue cheese sauce is just as delicious as sauce, dip or salad dressing. To make a thinner blue cheese dressing– add a dash of milk. To make a thicker blue cheese dip, reduce the amount of sour cream.
How to make this easy blue cheese sauce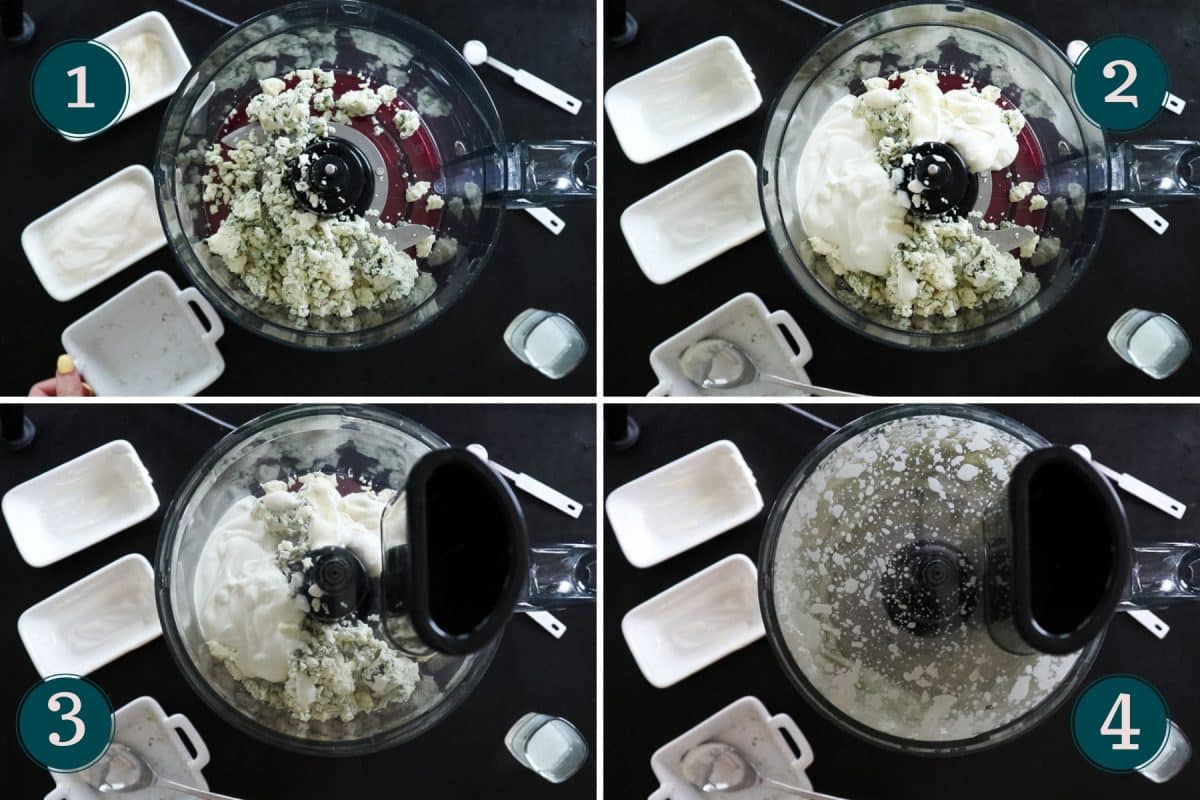 Start your blue cheese sauce by placing crumbled blue cheese, mayonnaise and sour cream in a food processor. Start the food processor and mix for a minute or so.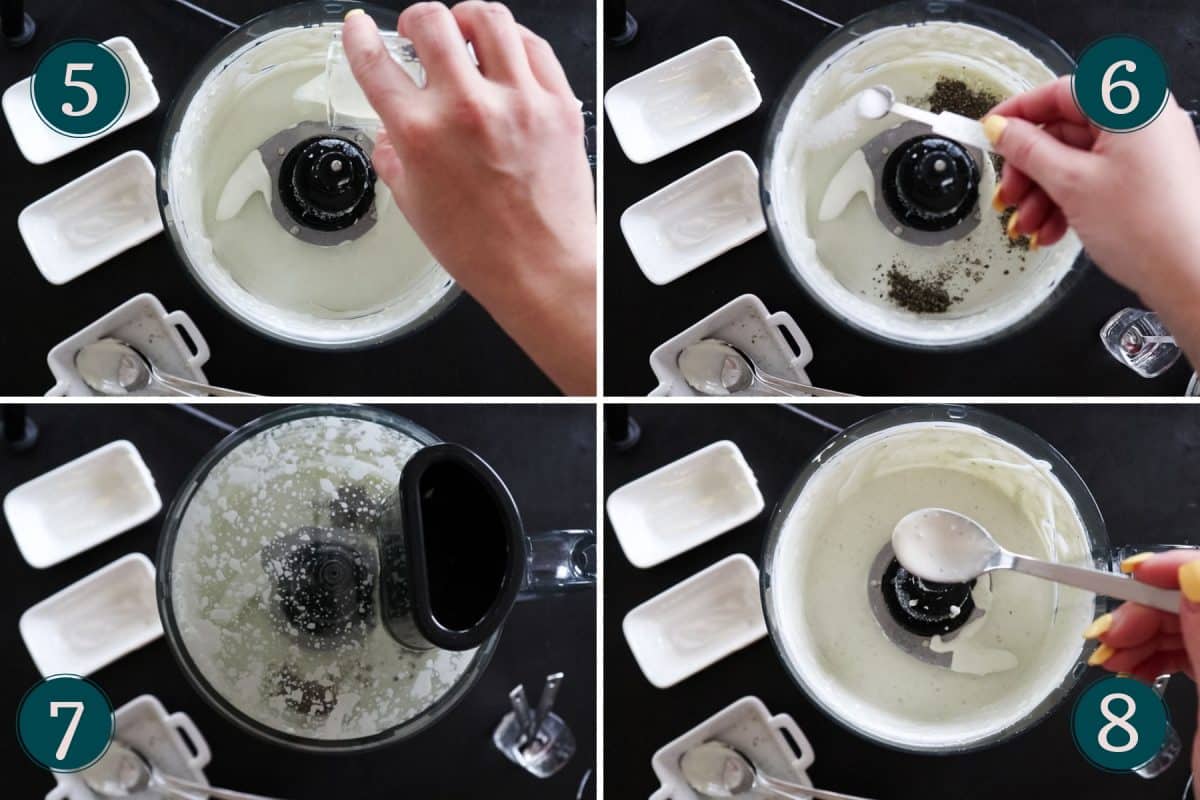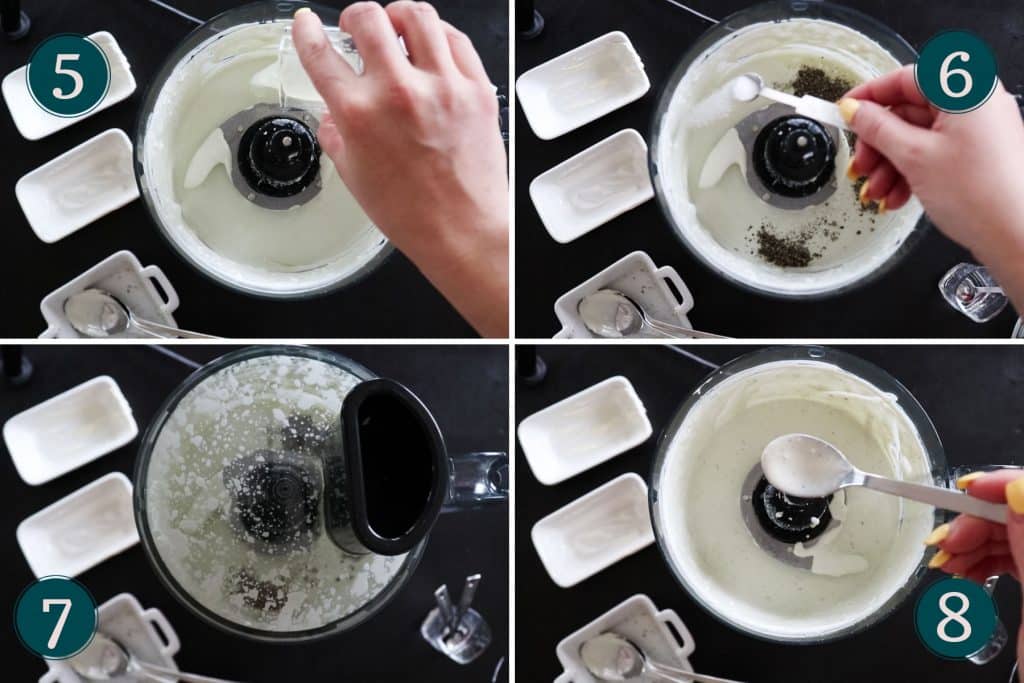 When the cheese, mayonnaise and sour cream is well mixed together – add in the lemon juice, salt and pepper (start with half the seasoning if you're unsure how much you would like). Mix well and taste test. Add more seasoning as needed, and then place in the fridge for at least 30 minutes before serving.
Tools to help you make it
How long will blue cheese sauce keep in the fridge?
Like most homemade sauces you need to consume it pretty fast – but you can save it for at least 5 days assuming your ingredients are fresh to start with.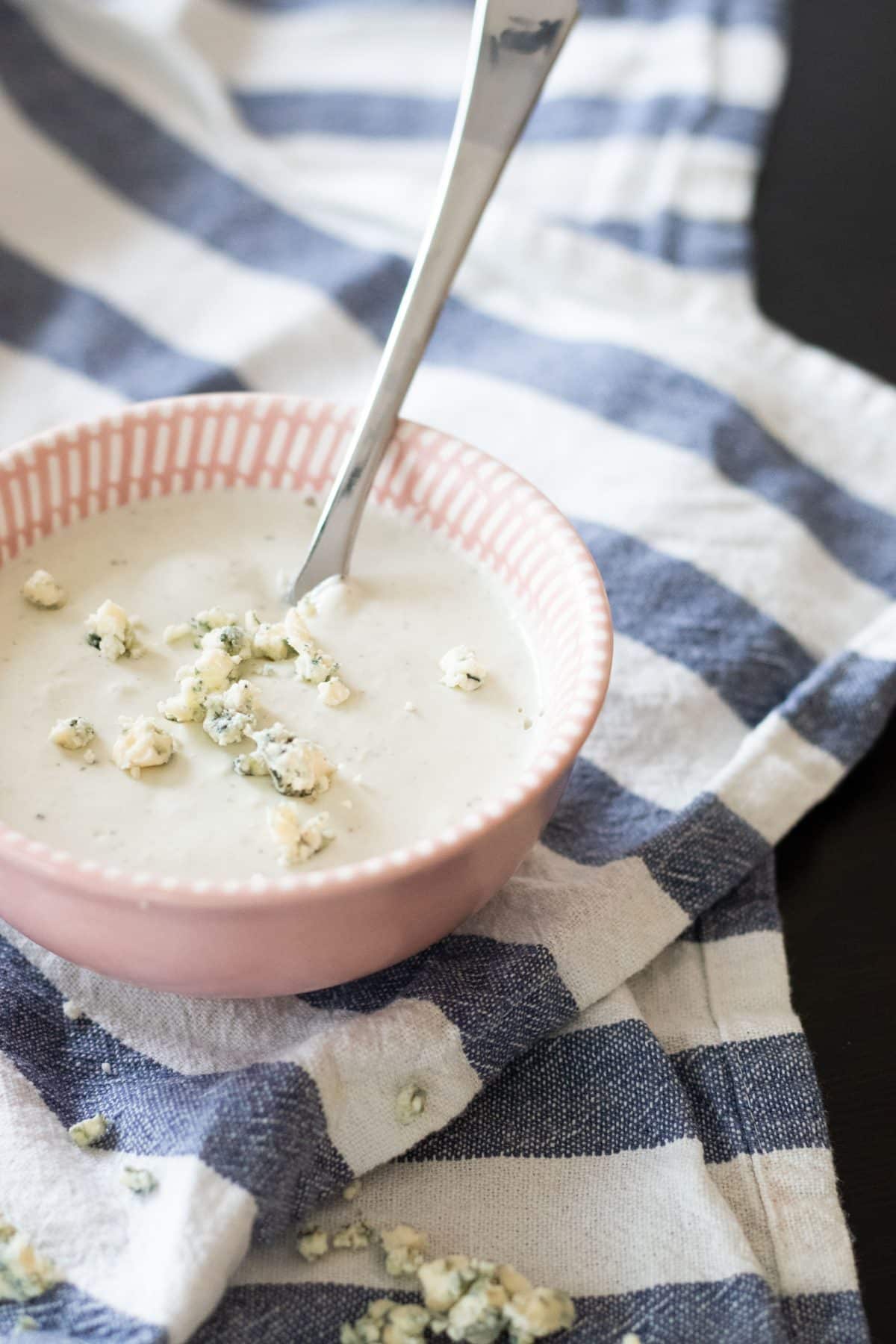 And that's assuming you will have anything left after even an hour – I speak from experience when I say it's highly unlikely! What do you think? Could you stay away from this blue cheese dip or would you devour it all in on sitting? Let me know in the comments below! And while you're at it – I'd love for you to leave a rating as well.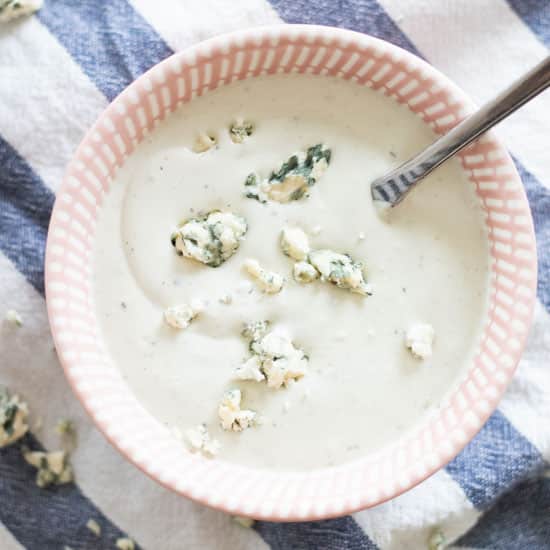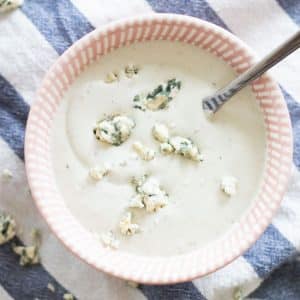 Ingredients
150

g

blue cheese

crumbled

1

dl

sour cream

0.5

dl

mayonnaise

1

Tbsp

lemon juice

1 Tbsp = about half a lemon, according to taste

0.5

tsp

salt

according to taste

0.5

tsp

fresh ground black pepper

according to taste
Instructions
Place crumbled blue cheese, sour cream and mayonnaise in a food processor and mix for about a minute.

Add in lemon juice, salt and fresh ground black pepper. Mix again, then taste test and adjust seasoning if necessary. When happy with the seasoning, place in the fridge for at least 30 minutes before serving.
Notes
To make the sauce thinner, add a dash of milk.
To make the sauce thicker, use less sour cream. The sauce sets in the fride though and the cosistency after chilling is thicker than that just after mixing it together.
Nutrition Facts
Easy Blue Cheese Sauce
Amount Per Serving
Calories 267
Calories from Fat 225
% Daily Value*
Fat 25g38%
Cholesterol 46mg15%
Sodium 913mg40%
Potassium 131mg4%
Carbohydrates 2g1%
Protein 9g18%
Vitamin A 440IU9%
Vitamin C 1.7mg2%
Calcium 226mg23%
Iron 0.1mg1%
* Percent Daily Values are based on a 2000 calorie diet.
Nutritional information is approximate and automatically calculated, and should only be viewed as an indication.