This post may contain affiliate links, which are always marked with *. Please read my disclosure for more information.
A quick and easy vegetarian meal, this stir-fry is filled with potato, halloumi, mushrooms, asparagus, spinach and parsley, and seasoned with chili flakes to give it a bit of a bite. Add to that lemon slices & a squeeze of lemon juice for freshness, and you have a dish that's sure to become a weeknight classic!
Want something even easier? Check out these hands-off baked chicken drumsticks with veggies – a whole meal in one pan.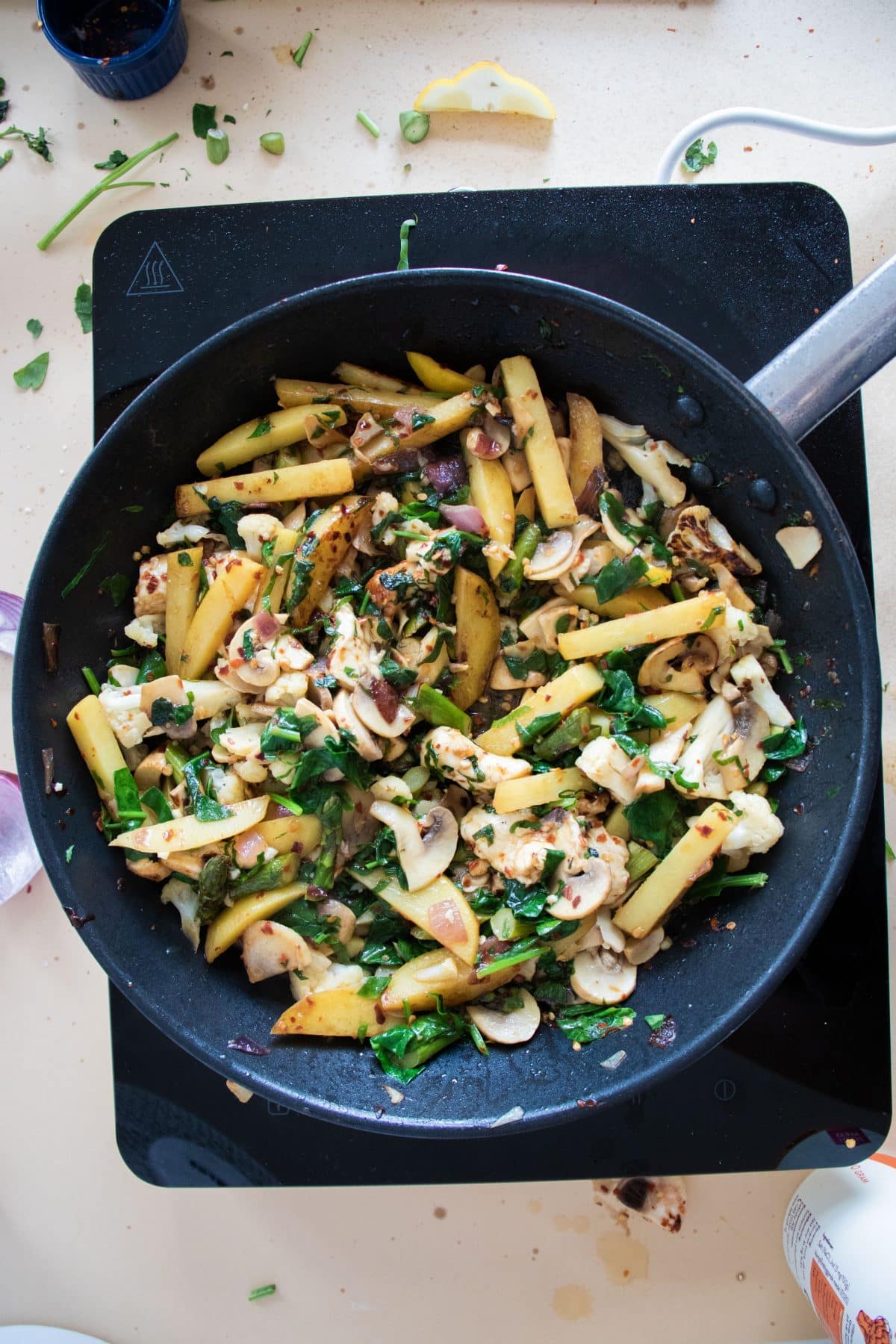 So to set the story straight: I stole this recipe. Yep, stole it straight off. But when you have a boyfriend who cooks you amazing food sometimes you just have to, you know? The amazing Vegan Lentil Soup was the first, and since then every time I exclaim "Wow, this is good!" he is quick to respond with "Maybe you can put it on the blog?".
All that to say – I love having another recipe creator for the blog, and this is definitely not the last of his recipes you'll see. I was going to let him have his first recipe video as well, but, well… I somehow deleted it. So sad about that! It was a good one.
Now I did put my own small twist (quite literally) on this recipe – deglazing using whatever inspires me at the moment being my favorite cooking technique right now I had to incorporate it. But the rest is all him.
OK – over to what you really came here for.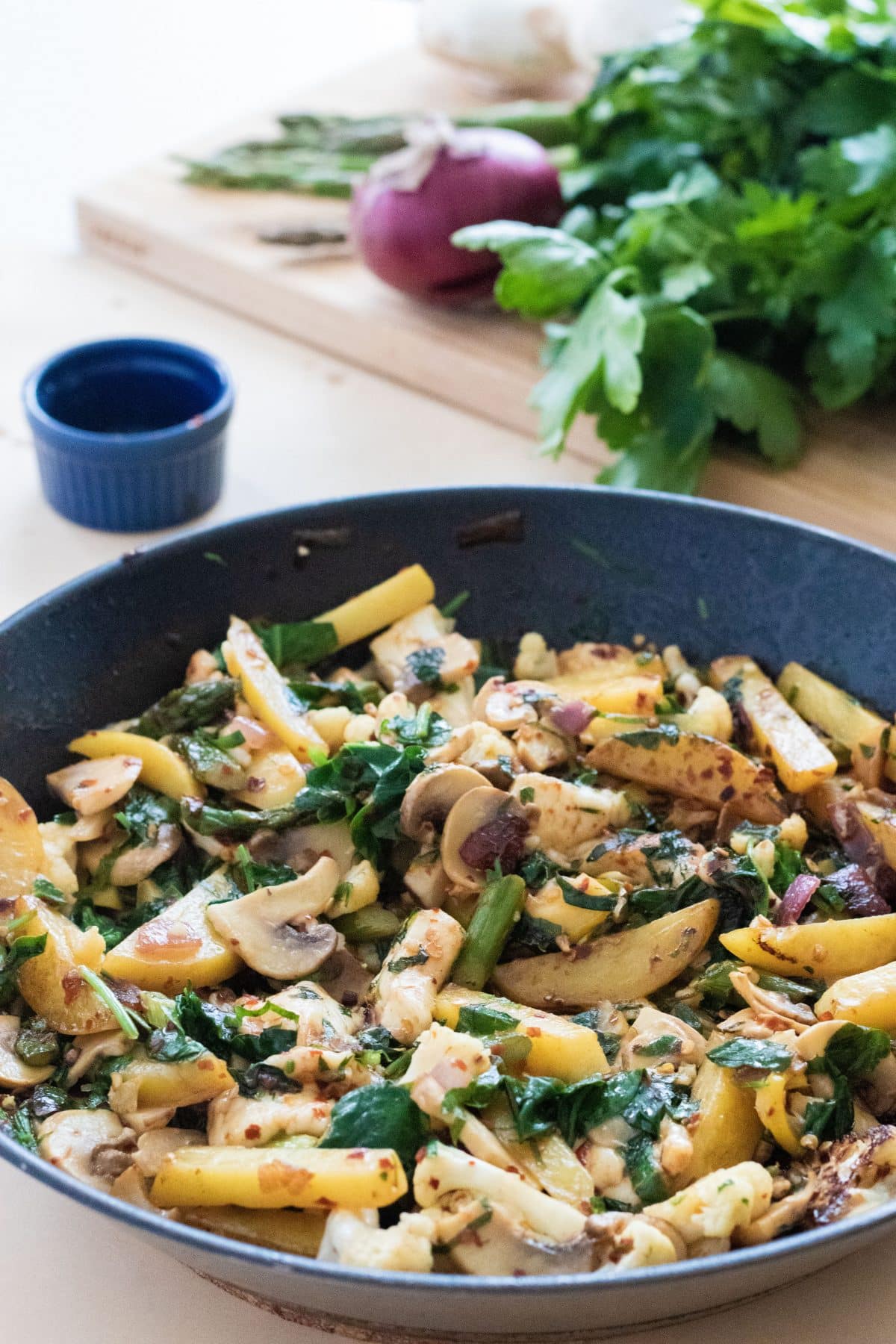 What makes this Vegetarian Stir-fry amazing
It's quick and easy and all made in one pot in less than 20 minutes
Chili flakes add a nice bite
Lemon adds freshness which makes the dish all the more interesting
Fried potatoes are always a good idea, and make this stir-fry something different from all the plain veggie or noodle stir-frys
Lots of veggies to give you a nice vitamin boost & great flavor, together with layers of texture
Mushrooms cooked with butter & lemon might be the best thing this year – the umami flavor mixed with fattiness and acidity is just wow
Halloumi cheese keeps its structure well even when cooking for a while – unlike other cheeses that would melt entirely – ensuring you get some chewiness and yet another layer of texture together with that cheesy flavor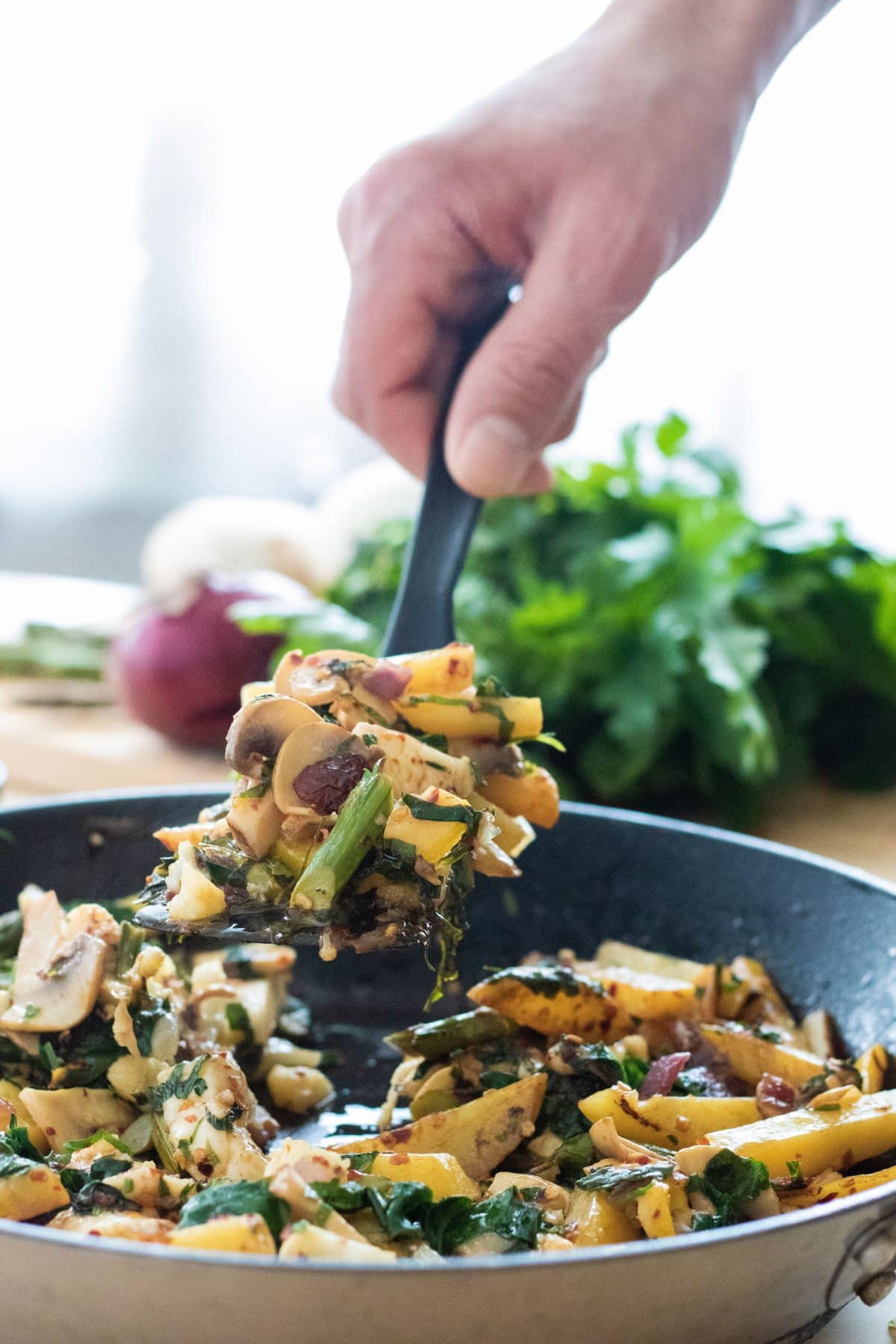 Expert tips for making Potato Halloumi Stir-Fry
Cutting the potatoes small and thin helps them cook quickly
Deglazing the pan with lemon juice ensures you get all those flavors that would otherwise just stay in the pan
Turning off the heat and finishing the dish with just the residual heat ensures it's not overcooked
Covering your pan while cooking helps it cook quicker and also ensures it doesn't get dry
Using both butter and olive oil gives the best combo of two delicious flavors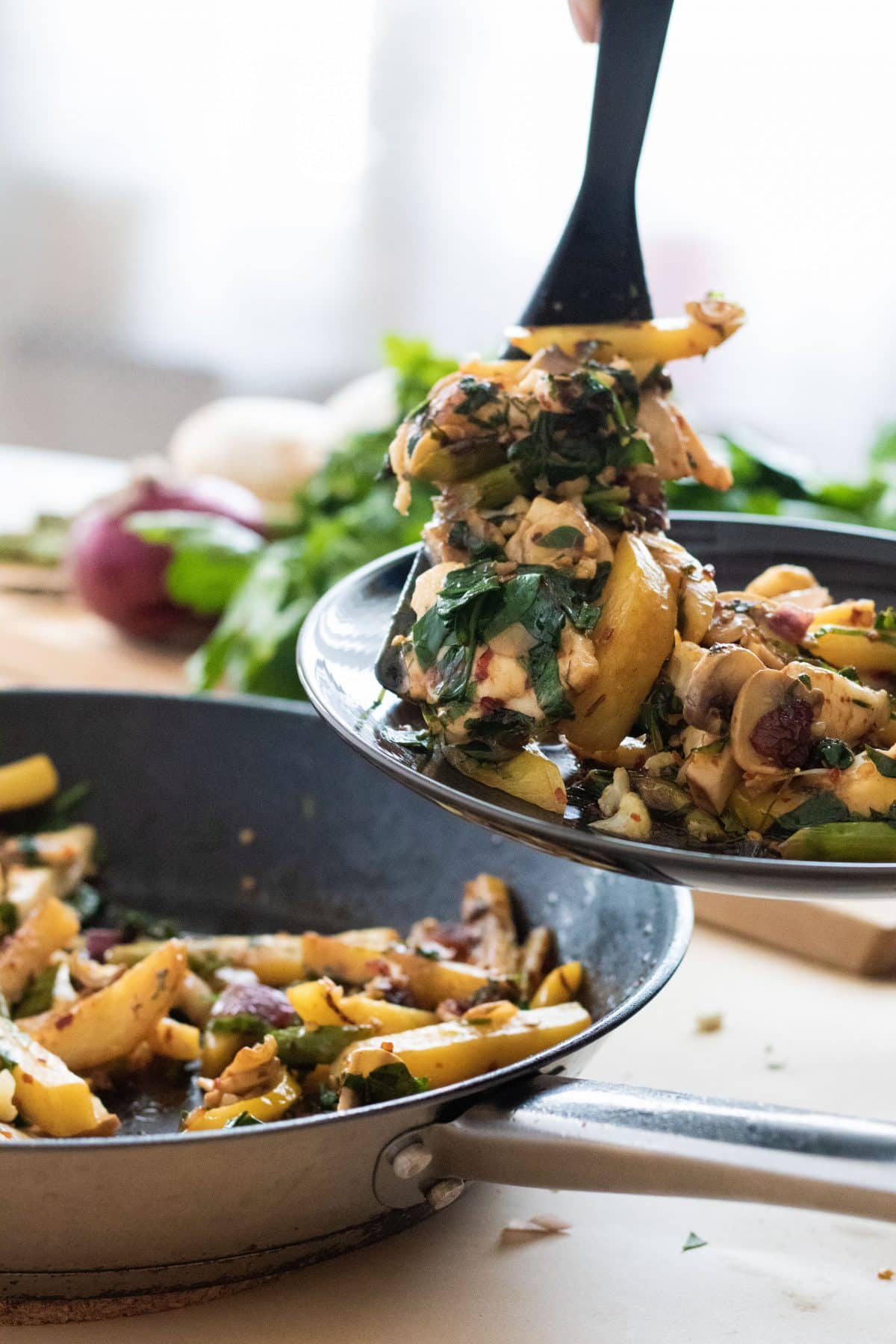 Suggested substitutions
Like with any other stir-fry, this is a perfect dish to make with whatever you have in your fridge. While I would keep the halloumi no matter what (because the texture is great & it's super yummy) and the lemon (because the freshness it adds is really what brings this dish over the top) all the other ingredients can be substituted for what you find at home.
Potatoes can be substituted for sweet potatoes, or left out entirely in favor of more veggies
Asparagus and cauliflower can be substituted for another vegetable, like bell peppers or broccoli
White button mushrooms can be substituted for another mushroom, like shitake or portobello
Spinach can be substituted for another type of leafy green, like kale
Parsley can be substituted for another fresh herb, like basil
Chili flakes can be left out if spice is not your thing, or substituted for dried paprika or another type of dried chili
Essential tools
A good pan. I'm recently in love with using a stainless steel pan – I use the SENSUELL from IKEA but I would not mind this one either (it even comes with a glass lid!). Best thing? A stainless steel pan can be washed in the dish washer!
A lid of some kind is absolutely necessary, and I like a glass one so I can see what's going one – but if you don't have a lid for your pan you can always use a plate or such.
A good knife will help you a lot – I love the Kai Wasabi Chef's Knife and use it for everything.
" thumbnail="https://mediavine-res.cloudinary.com/video/upload/lb3gix8u8dde9esh3r3e.jpg" volume="70″ doNotOptimizePlacement="undefined" doNotAutoplayNorOptimizePlacement="false" ratio=""]
How to make Potato Halloumi Stir-fry
To make this stir-fry, you start with the hardest part (yes, really!) – chopping your veggies. You want the red onion to be small, the lemon slices to be thin, the potato pieces to be small-ish and the asparagus, cauliflower, mushrooms and halloumi to be bite-sized.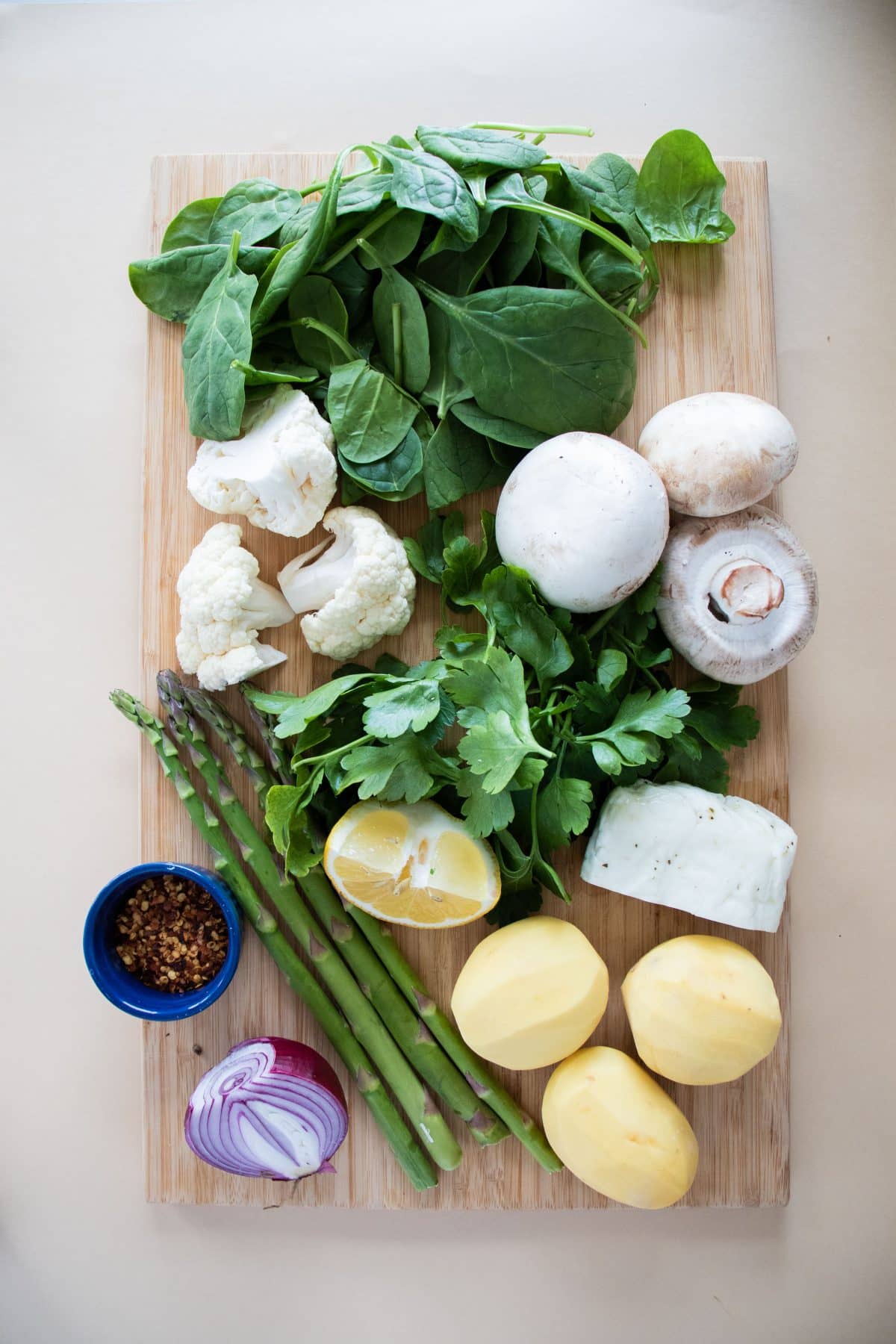 For the parsley and spinach, roughly chopped will due – but you'll want to pick the parsley leaves off the sprigs before chopping. Peeling your potatoes is optional – I rather like frying my potatoes skin-on, but sometimes the skin just doesn't look nice and then I'll peel them.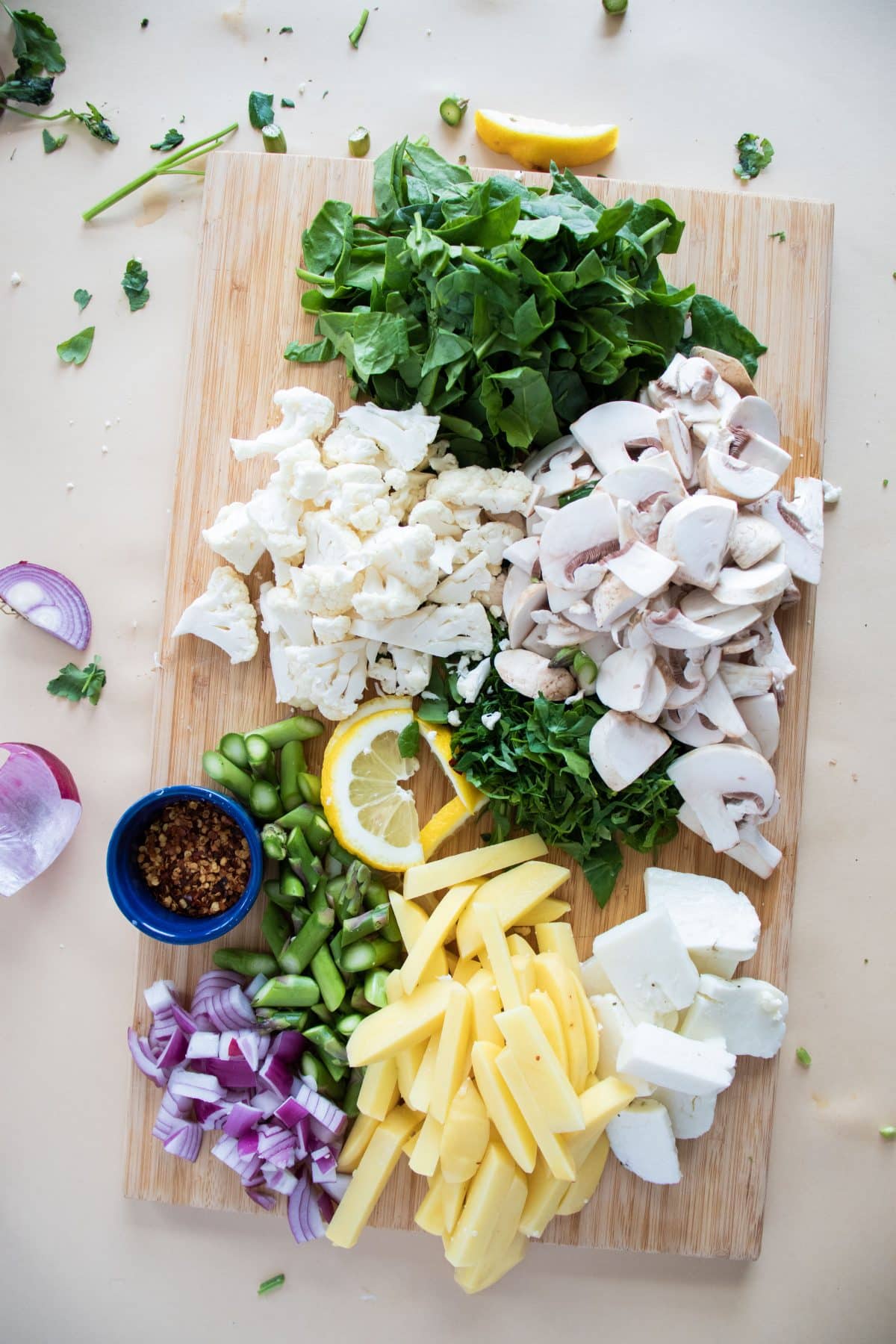 Once your veggies are chopped (and don't forget that cheese!) it's time to start cooking.
Start by melting your butter in a pan over medium-high heat and then adding in the olive oil. When hot, add in the red onion and fry for a minute.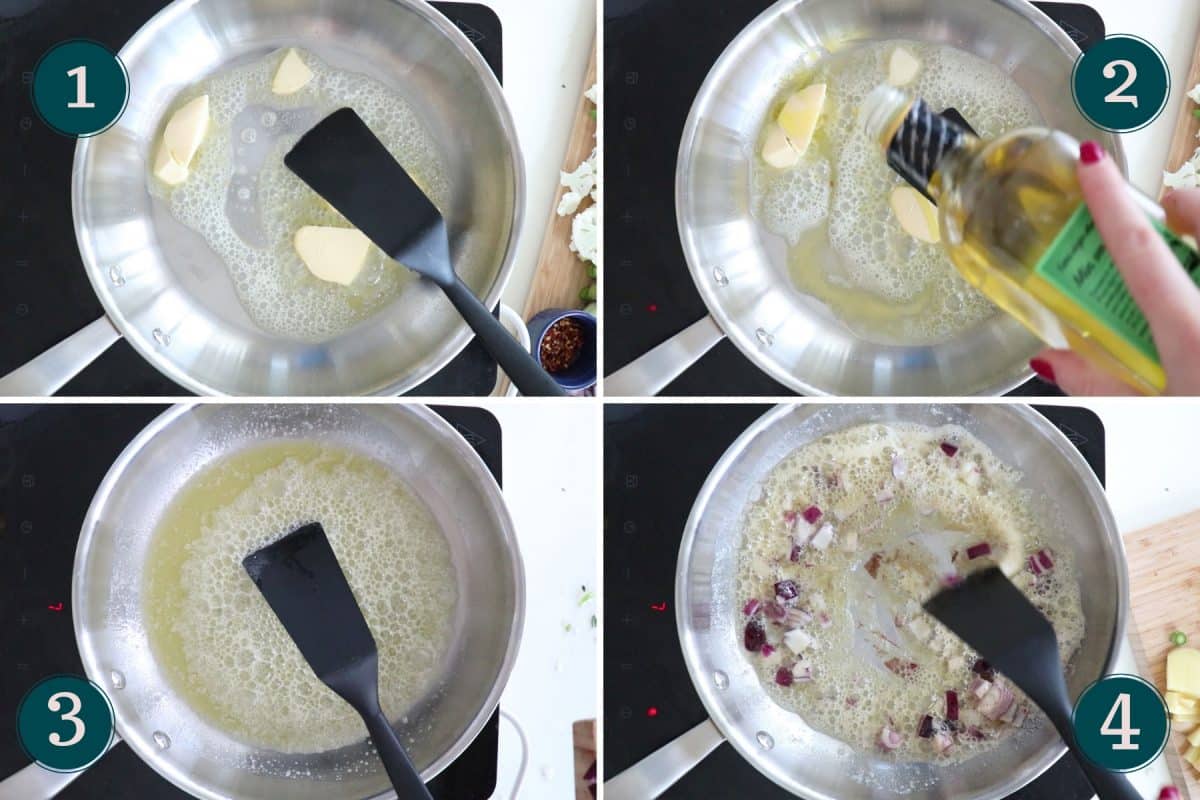 Then add in the potatoes, stir, cover, and cook for 5 minutes. Take off the lid and stir a few times while cooking.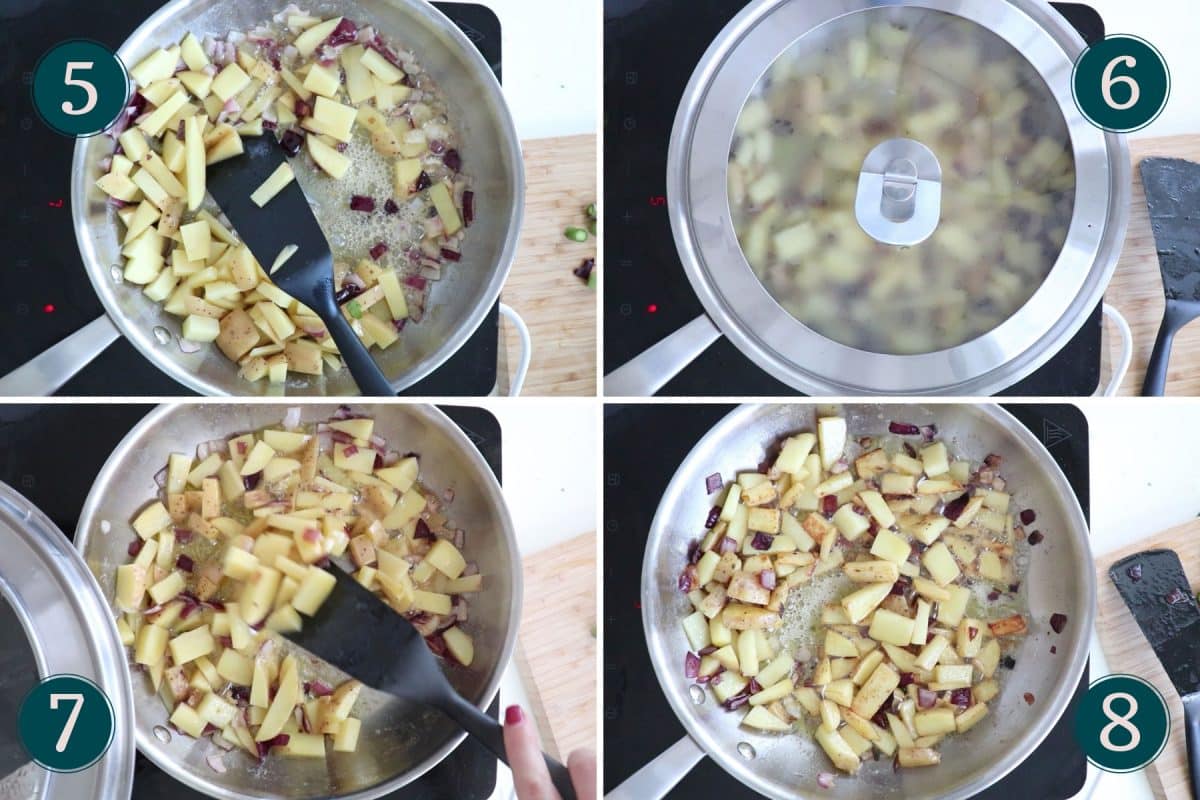 After 5 minutes, take off the lid and add in asparagus, cauliflower, mushrooms, halloumi lemon slices. Mix well, cover, and cook for 5 more minutes. Take off the lid and stir a few times while cooking.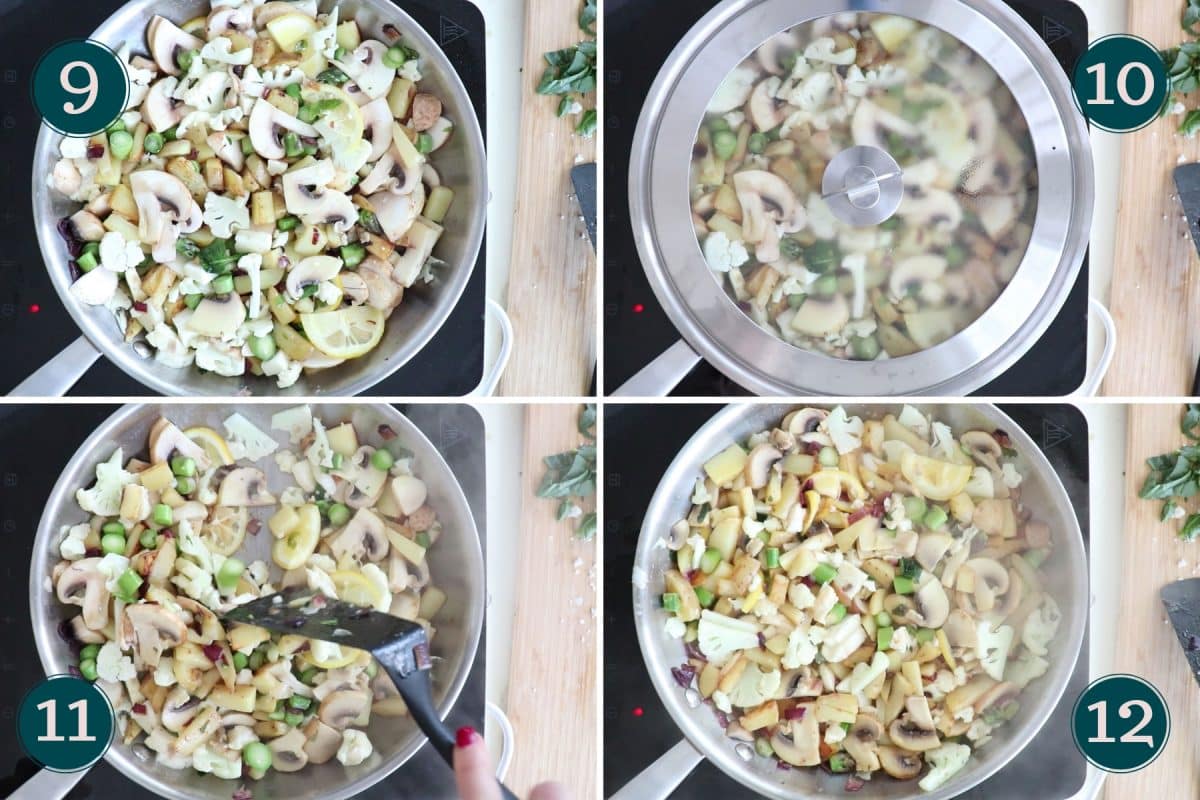 After 5 minutes, take off the lid and deglaze the pan with a squeeze of lemon juice. Deglazing is done by adding the liquid to the hot pan and then using it to loosen the tasty bits stuck to the bottom off the pan. It's an easy way to add so much more flavor to your food!
After deglazing, take the pan off the heat and mix in the chili flakes.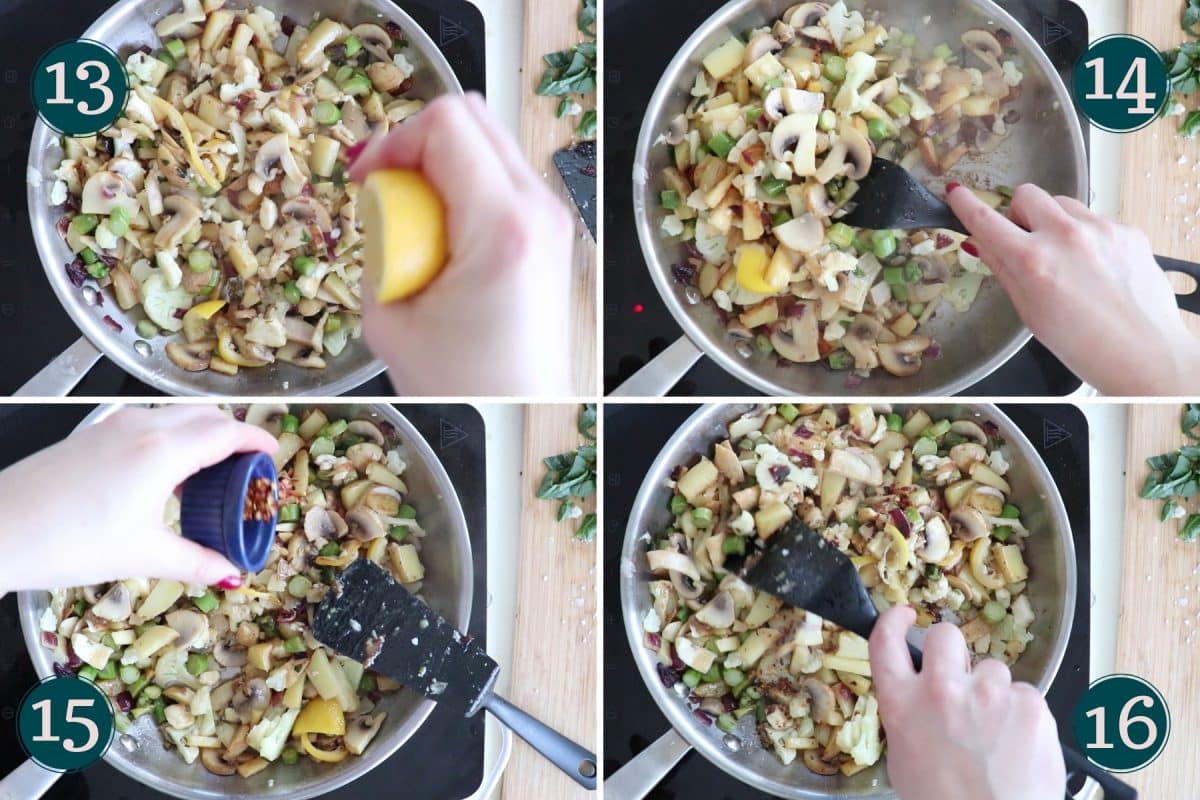 Then taste test and season with salt.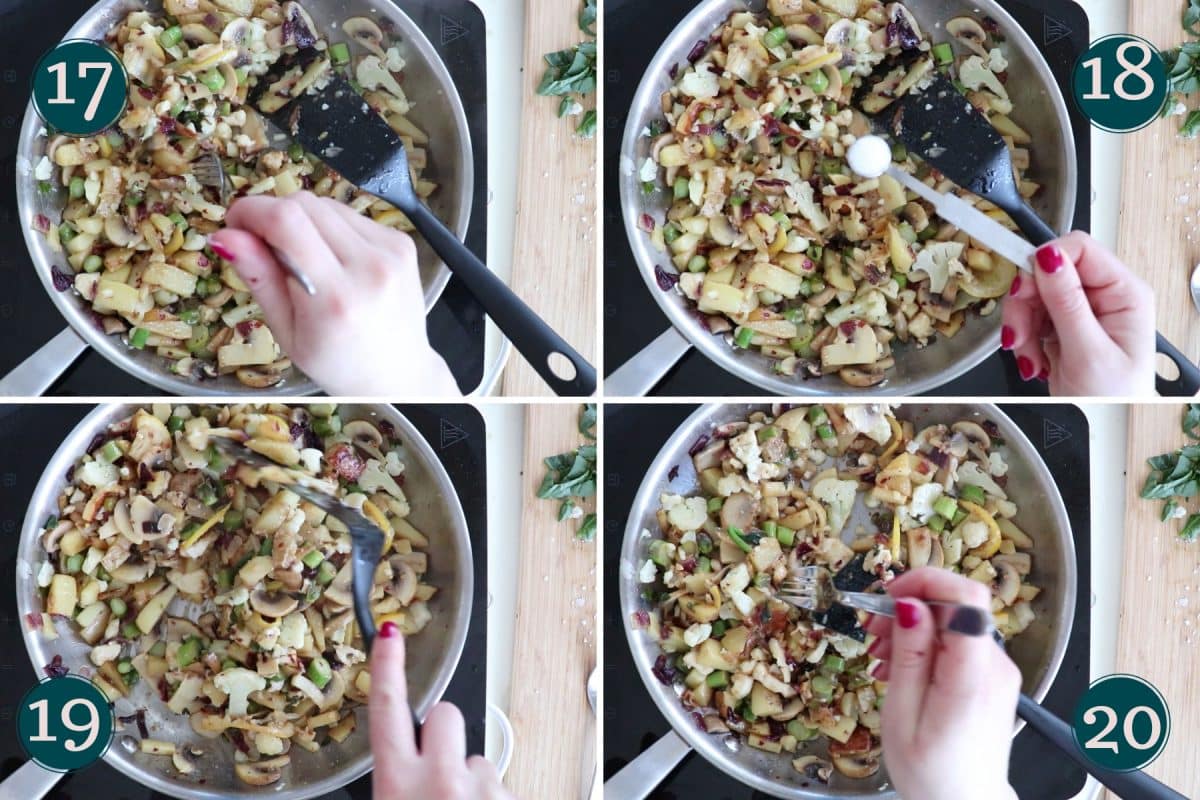 Once you're satisfied with your seasoning, mix in the parsley and spinach, cover, and let sit off the heat for 2 minutes.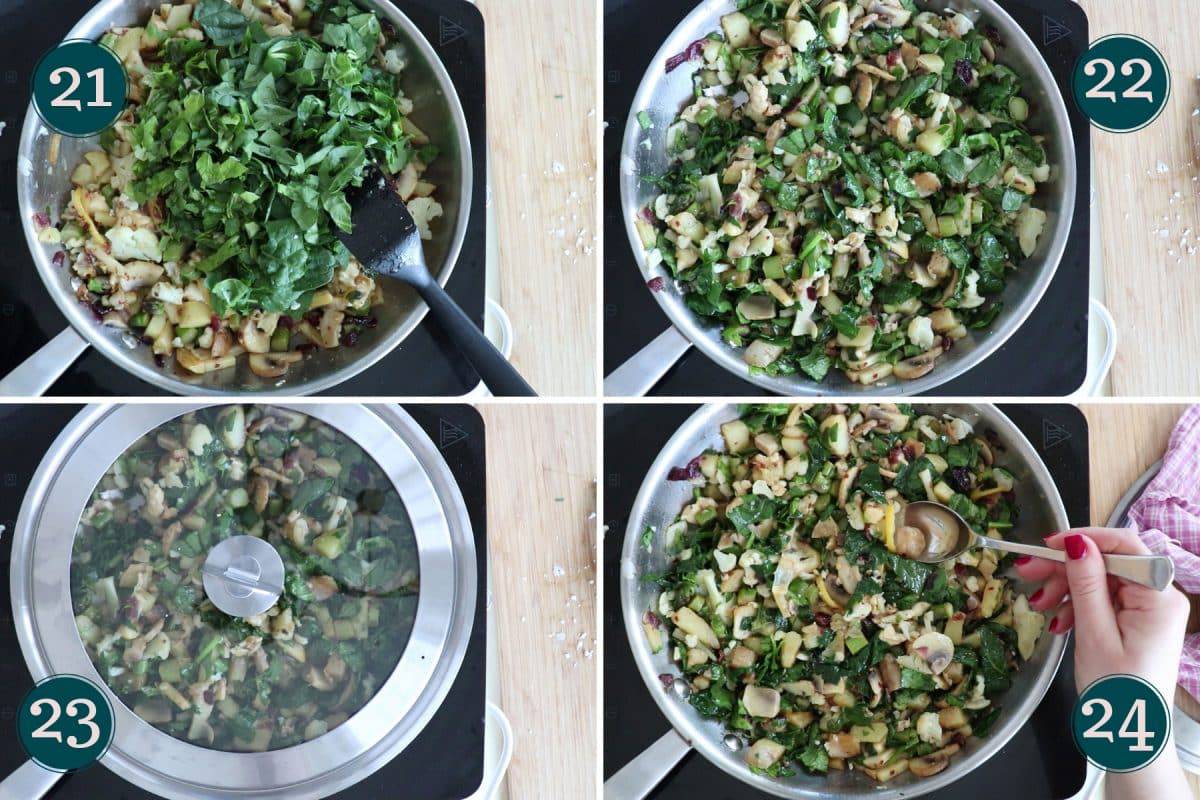 And now, you're ready to serve!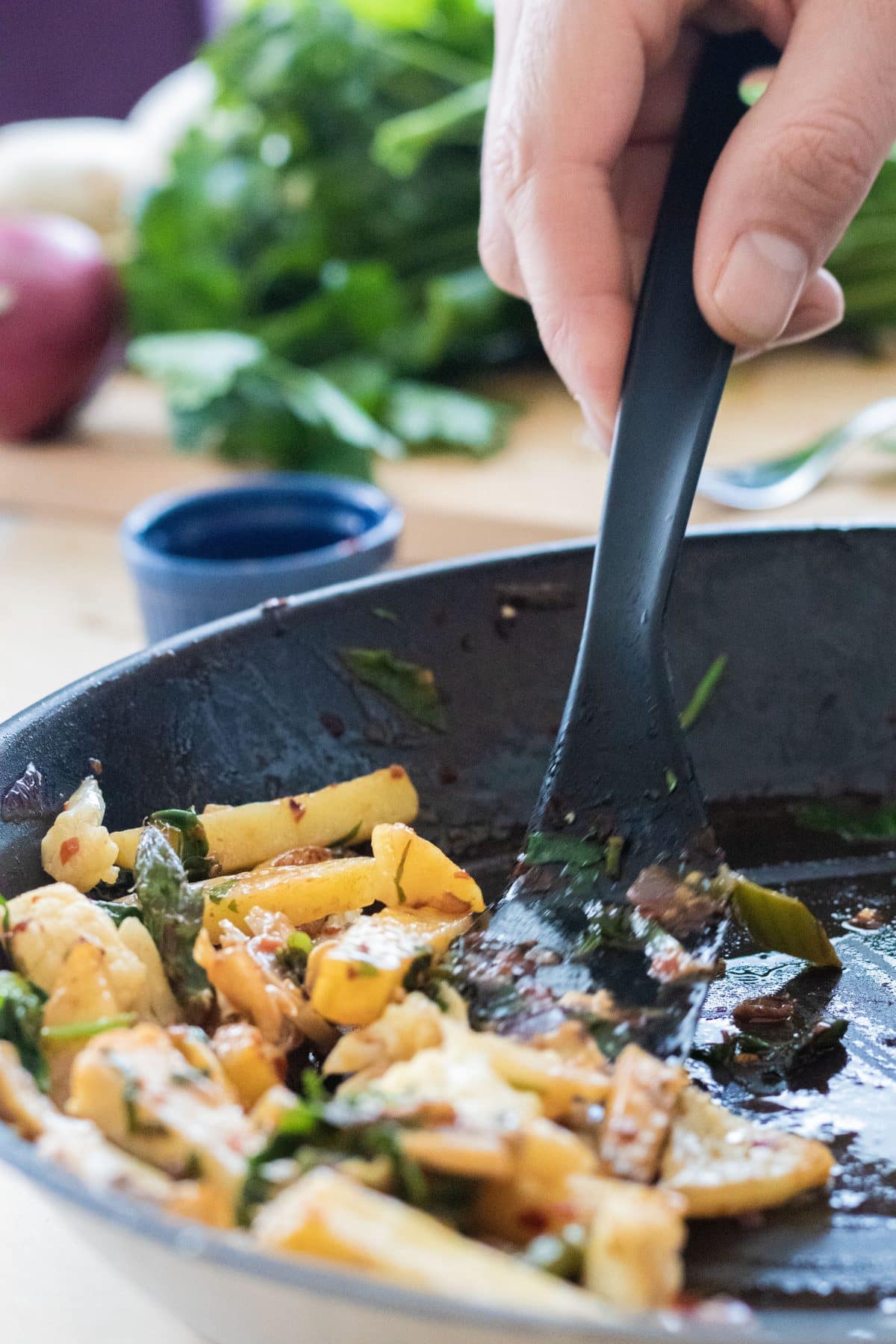 As I mentioned earlier, this stir-fry is perfect to make using whatever veggies and spices you have at home. So don't be afraid to make it your own! And I would love to hear what you added or replaced for your version – so if you made it, please leave a comment and a rating below! Or just leave a comment anyway, and let me know what you think.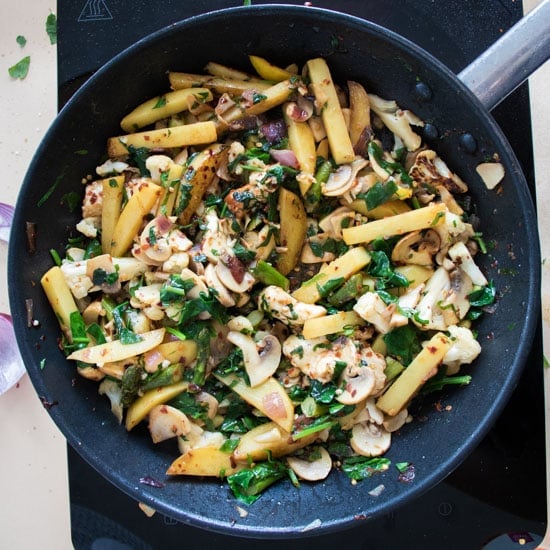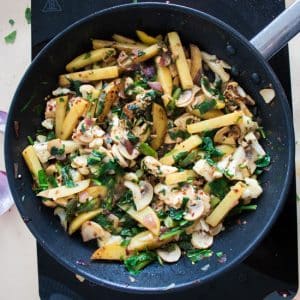 Ingredients
70

g

butter

0.5

Tbsp

olive oil

0.5

red onion

finely chopped

2

large potatoes

cut in small pieces

150

g

cauliflower

chopped

3

white button mushrooms

sliced

4

asparagus

chopped

100

g

halloumi

roughly chopped

0.5

lemon

thinly sliced

a squeeze of lemon juice

10

sprigs of parsley

chopped

65

g

spinach

roughly chopped

1

tsp

chili flakes

according to taste

0.5

tsp

salt

according to taste
Instructions
Place a pan over medium-high heat and add the butter and olive oil. When the butter is melted, add in the onion and fry for a minute. Then add in the potatoes, stir, cover with a lid, lower heat to medium and cook for 5 minutes.

Remove the lid, stir, and add in the cauliflower, white button mushrooms, asparagus, halloumi and lemon slices. Mix well, cover with a lid, and cook for 5 minutes.

Remov the lid, stir, and deglaze the pan by squeezing over some lemon and mixing – making sure to loosen all the bits stuck to the bottom off the pan, then take the pan off the heat.

Add chili flakes and salt according to taste. Then add in the spinach and parsley, mix well, cover and let sit for two minutes. Serve!

Notes
Adjust your spiciness level depending on taste & what chili flakes you use
Taste test before adding salt – depending on whether or not you use salted butter and how salty your halloumi is you may need to add more or less salt
Potatoes vary a lot in size, so choose amount accordingly. I use two large ones, or three smaller. Peeling them is optional.
Nutrition
Calories:
623
kcal
|
Carbohydrates:
39
g
|
Protein:
21
g
|
Fat:
45
g
|
Saturated Fat:
27
g
|
Cholesterol:
75
mg
|
Sodium:
1520
mg
|
Potassium:
1542
mg
|
Fiber:
10
g
|
Sugar:
4
g
|
Vitamin A:
4460
IU
|
Vitamin C:
88.4
mg
|
Calcium:
642
mg
|
Iron:
9.3
mg
Nutritional information is approximate and automatically calculated, and should only be viewed as an indication.
Stir fry essentials
The links in the collage below are Amazon affiliate links which means that if you buy something through one of my links I receive a small commission (at no extra cost to you).