This post may contain affiliate links, which are always marked with *. Please read my disclosure for more information.
Vegan Black Bean Chili is a quick, easy and delicious vegan take on a classic Black Bean Chili with eggplant and zucchini giving it a perfect chewy and crispy texture. Enjoy as it is, or add some bread or nachos and your favorite vegan sour cream or créme fraiche alternative.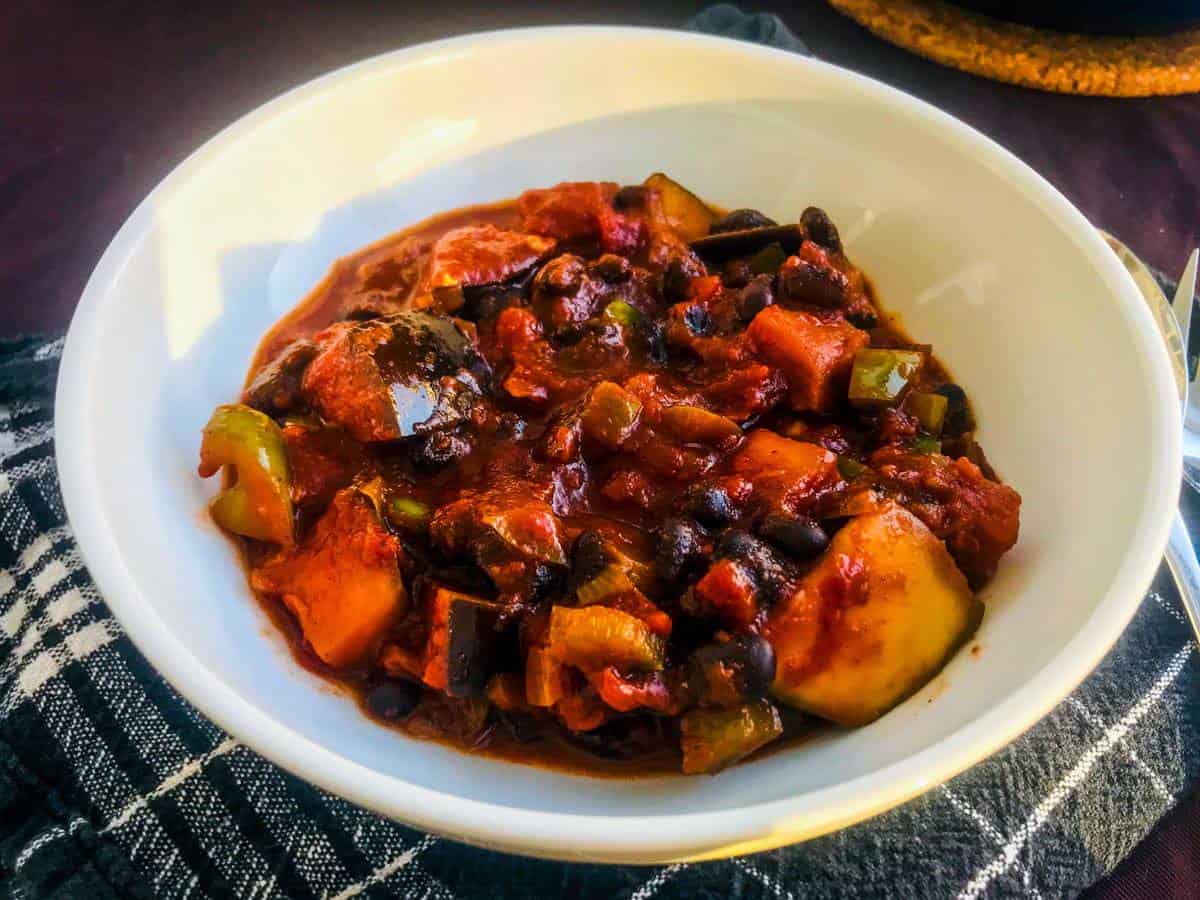 For the longest time I thought I didn't like beans and that I didn't like chili. Thanks, school cafeteria! I think their chili was actually just leftover bolognese sauce with beans added in (always mushy and weird) and served with rice. Let's just say it did not taste like what I now know a chili to taste like.
And dad's chili? Well, it's probably delicious - but it had celery in it, so I would never go near that. (Yep, celery is probably my only no-go. Still. Can't even keep the celery stick in my Bloody Mary for too long.)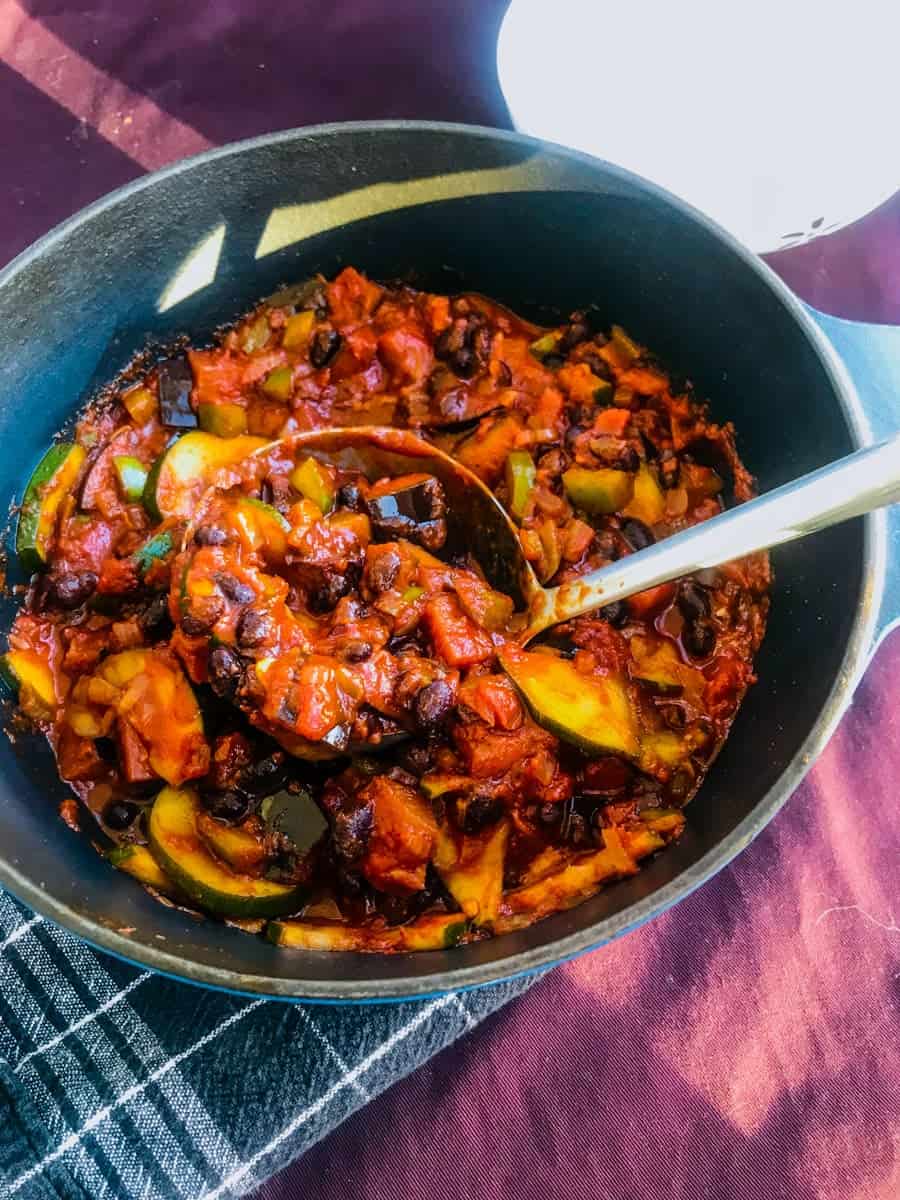 Luckily, one day, I don't know why, I actually ordered chili at a restaurant. And it was amazing. I think that was actually the first time I really enjoyed beans as well. So thank you, whatever restaurant that was, you changed my life (OK maybe that's a bit dramatic - but it DID change it a little bit).
After that first encounter I remember craving chili, so I went to work creating my own. I knew I wanted it to have beans and I knew it couldn't take hours to make. So I did what I do - I researched, I researched some more, I researched even a little bit more, and then I came up with a recipe. I tried it out - and it was delicious from the start. Yep, a lot of research will do that.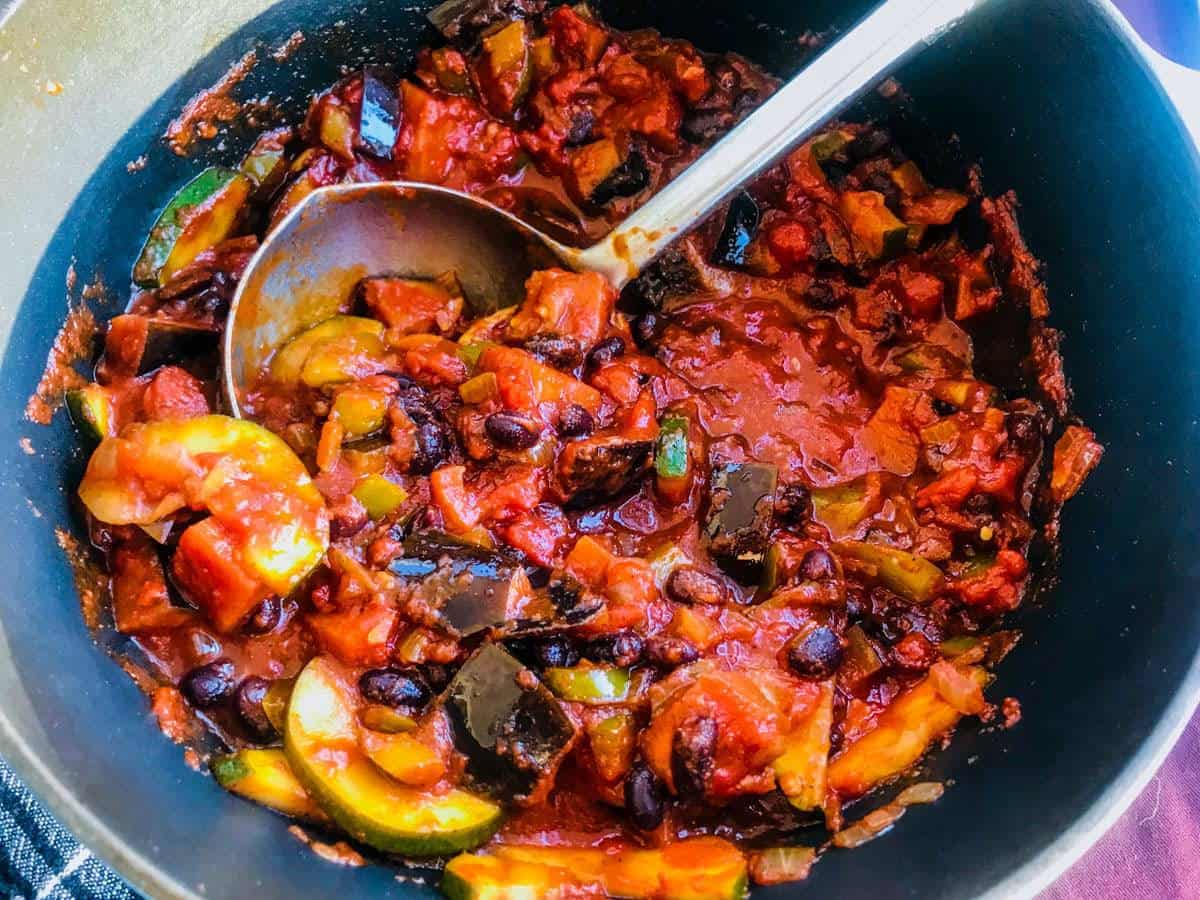 Some years passed. The recipe remained the same. I made it at least once a month and it always turned out great. Then I embarked on a vegetarian journey for a few years, and the chili had to go. But oh how I missed it. The spiciness, the warmth, slurping it up with a piece of bread or some tortillas and a generous amount of créme fraiche or sour cream. But chili without meat? Nah! That's not a thing, right?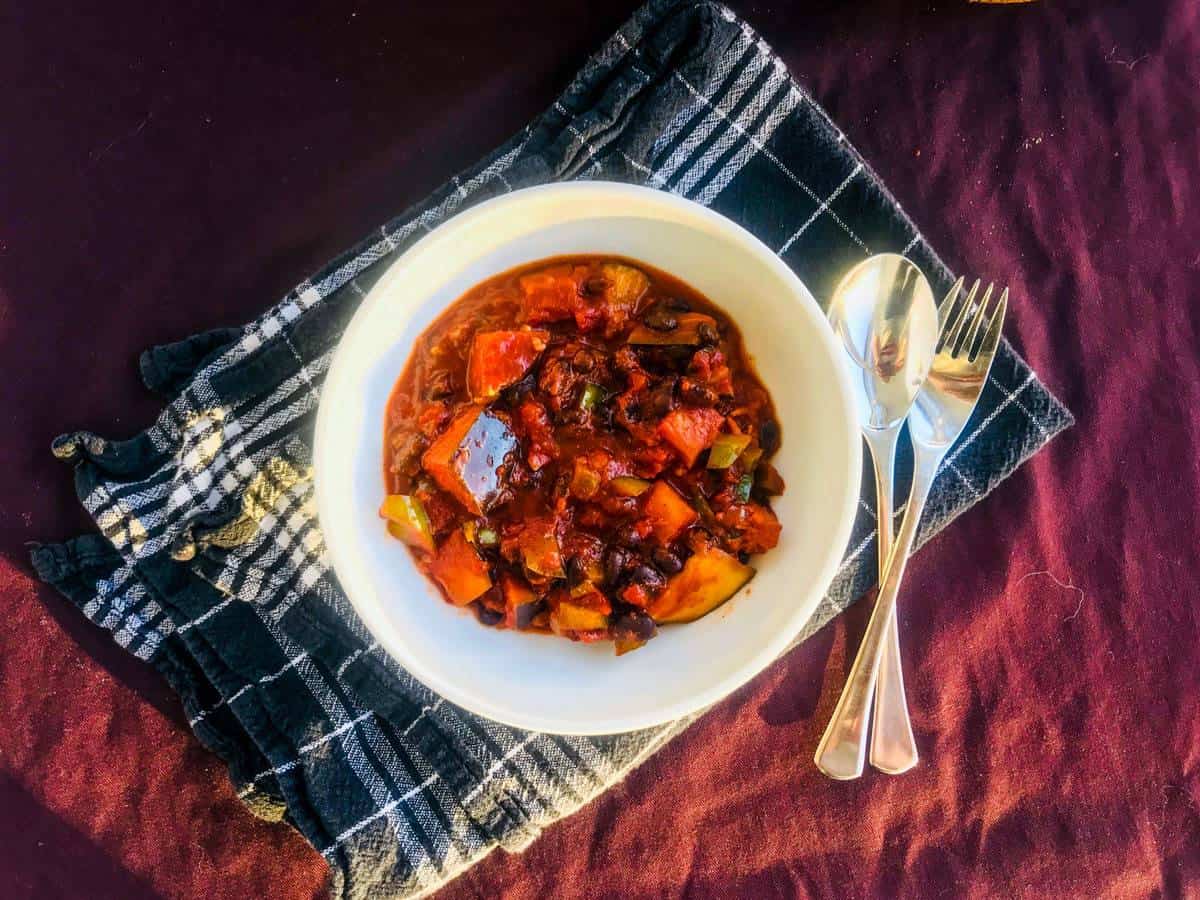 Wrong! It suddenly hit me - I can make this vegetarian! And so I did, or well, almost. I skipped the meat and since I'm not at all a fan of soy or tofu or any other meat substitutes I instead added in zucchini, cooked so it's still a bit crispy, and eggplant, cooked so it's still a little bit chewy. Eggplant is actually a great way to win over carnivores to a vegetarian dish like this - I get it, they miss the texture of the meat. I do too. But eggplant cooked well provides the same kind of chewiness, and so it provides an extra, "faux meat", layer for the chili.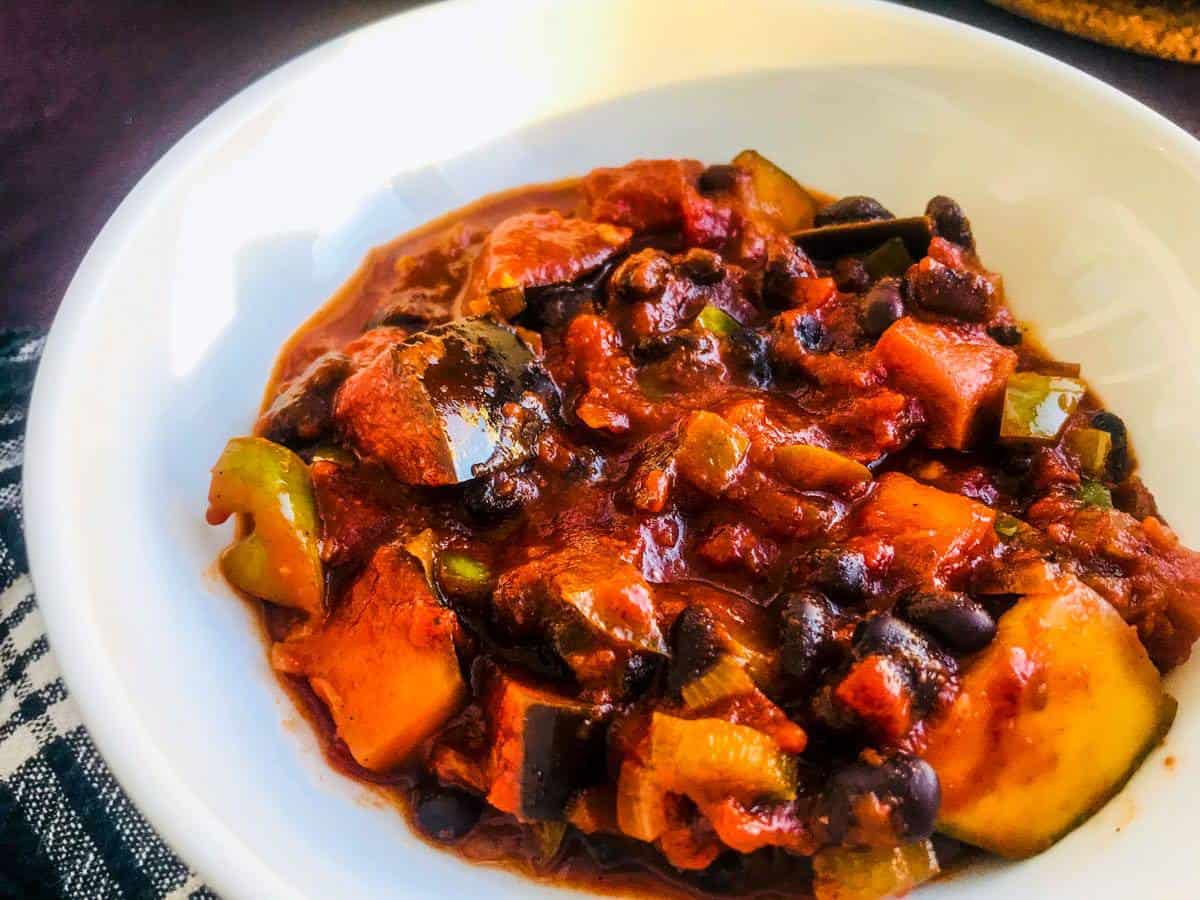 Remember I said I made it almost vegetarian? Well, I did still use a cube of beef stock. It's just so hard to get the umami flavors right without it. And I was never too serious about the vegetarian stuff so in my book removing the meat was enough. But I know not everyone agrees - and you know what? I finally managed to get the umami just right, while making the dish entirely vegetarian (spoiler alert: tomato purée, lot's of it). Vegan, even, if you just skip the créme fraiche or replace it with your favorite non-dairy substitute. But that's not my forte so I'll leave the choice to you.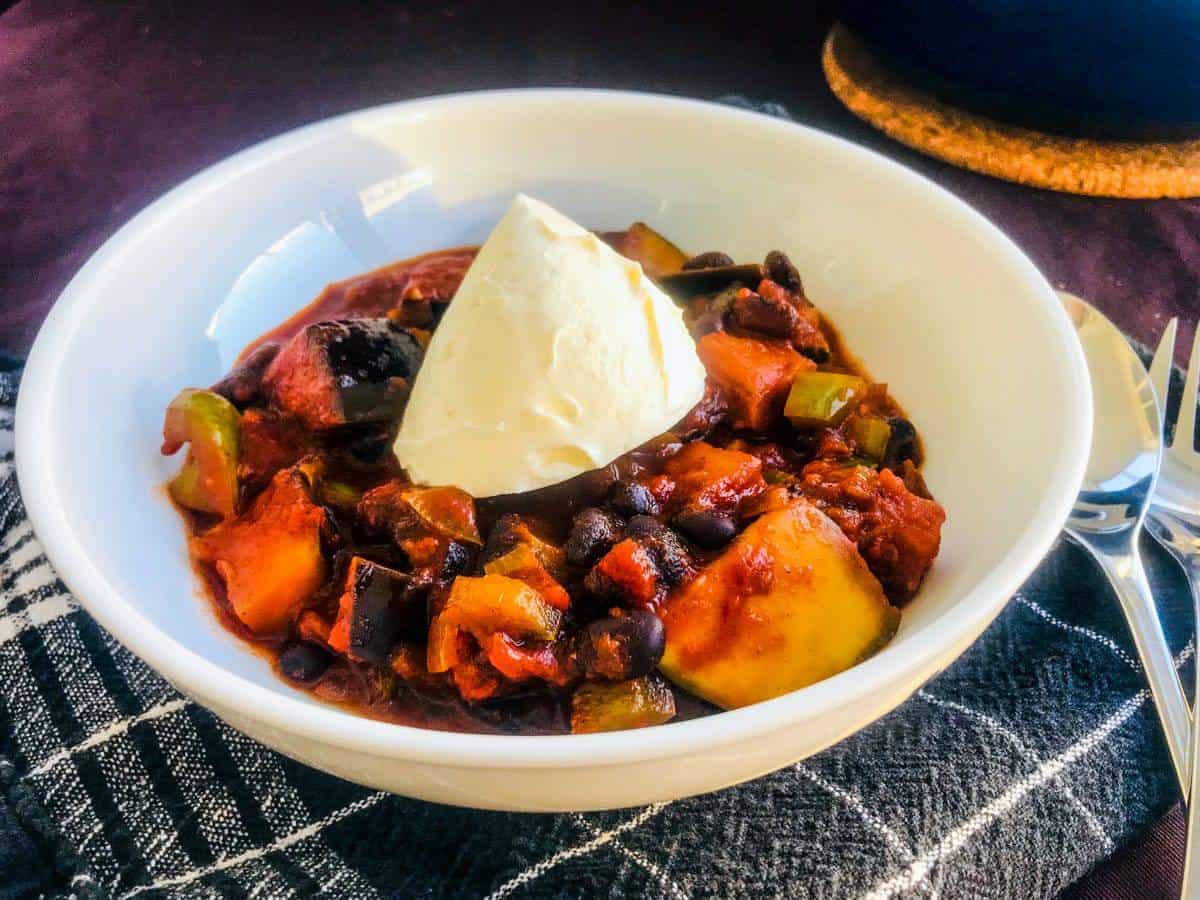 Long story short! It took a while to create this Vegan Black Bean Chili recipe - but it won't take you long in the kitchen. I did the groundwork so you can skip the research - and now you can also enjoy this deliciously simple Vegan Black Bean Chili at home.
Did you try this recipe? If you did, please leave a comment and/or a rating below! Or just leave a comment anyway - I love hearing from you. I also love seeing your version of my creations - so please tag me on Instagram if you post it!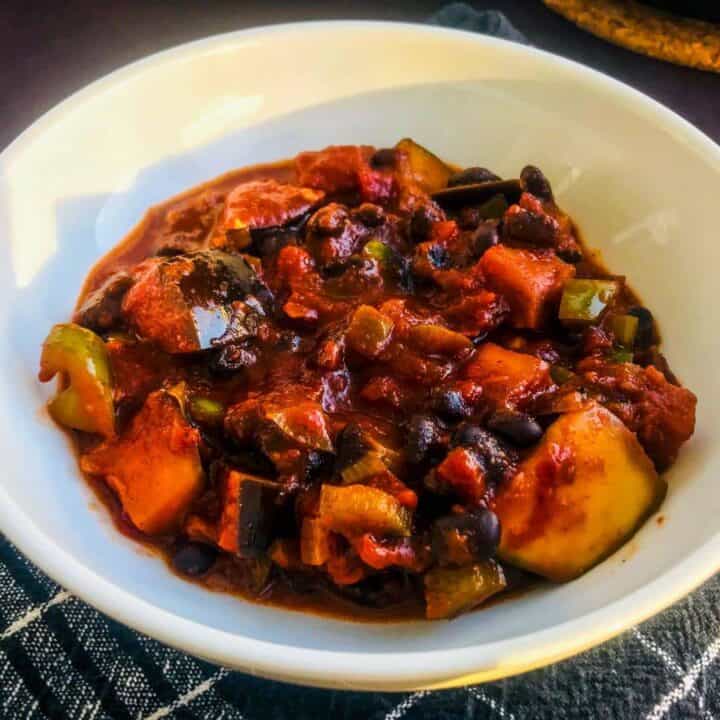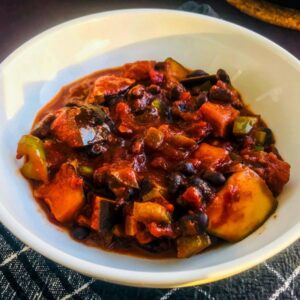 Ingredients
1

Tbsp

butter

1

yellow onion

finely chopped

2

garlic cloves

minced

100

ml

tomato purée

1

green bell pepper

chopped

1

eggplant

roughly chopped

0.5

zucchini

cut in half-moons

100

ml

red wine

500

g

canned chopped tomatoes

100

ml

water

1

cube

vegetable stock

0.5

Tbsp

chili

ground

0.5

tsp

cayenne pepper

ground

1

tsp

cumin

ground

2

bay leaves

0.5

tsp

black pepper

1

tsp

salt

400

g

black beans

cooked and drained

500

ml

créme fraiche

can be substituted for non-dairy substitute or omitted
Instructions
Heat the oil in a crockpot over medium heat. Add in onion and garlic and fry until onion is translucent, 3-5 minutes.

Add in the tomato purée and fry for 1 minute.

Add in the red wine and cook off for 1 minute.

Add in the bell pepper, eggplant and zucchini and stir. Let cook for a minute.

Add chopped tomatoes, water, chili, cayenne, cumin, bay leaves and black pepper. Crumble up the stock cube and add in. Mix well, cover, lower heat and cook for at least 20 minutes.

Just before serving, remove the bay leaves, add salt as needed, and mix in the beans. Stir well. Serve as-is, or with bread or nachos and créme fraiche or non-dairy substitute.

Nutrition
Calories:
506
kcal
|
Carbohydrates:
47
g
|
Protein:
15
g
|
Fat:
28
g
|
Saturated Fat:
16
g
|
Cholesterol:
72
mg
|
Sodium:
904
mg
|
Potassium:
1335
mg
|
Fiber:
15
g
|
Sugar:
14
g
|
Vitamin A:
1440
IU
|
Vitamin C:
51.4
mg
|
Calcium:
239
mg
|
Iron:
4.9
mg
Nutritional information is approximate and automatically calculated, and should only be viewed as an indication.