This post may contain affiliate links, which are always marked with *. Please read my disclosure for more information.
This savory whipped butter is seasoned with lemon & sea salt flakes for a delicious side that goes just as well with veggies and fish as it does on top of bread. High in fat and with basically no carbs it's keto, gluten free, vegetarian, super simple to make and a crowd favorite every time.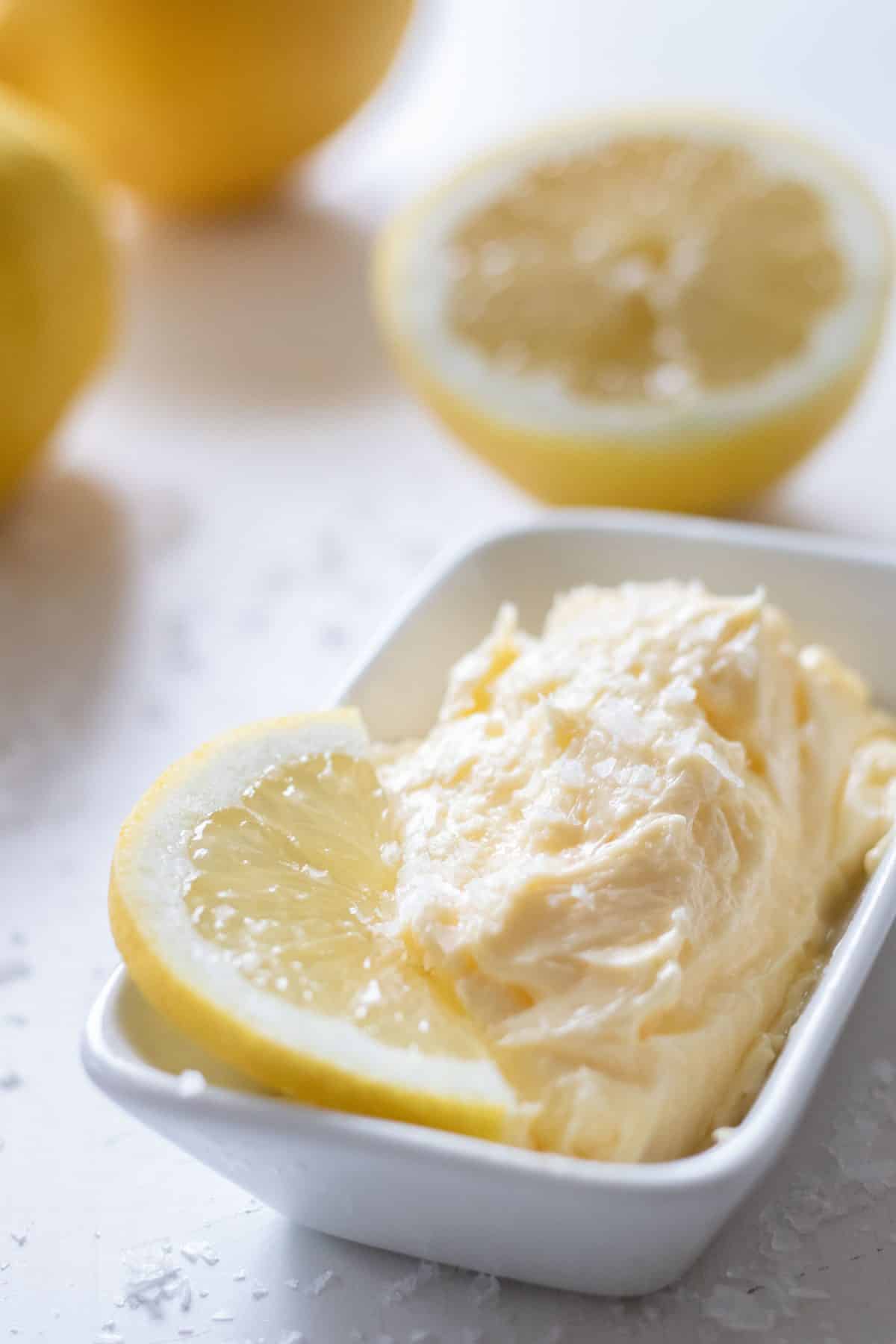 Why this recipe works
Quick & easy to make - this whipped lemon butter comes together in just 5 minutes without any chopping.
Whipping butter is so amazing as it makes it easily spreadable and hence perfect to serve alongside bread instead of regular butter.
Perfectly balanced taste with the acidity of the lemon balancing the heaviness of the butter - not to mention the crisp saltiness from the sea salt flakes...
Pro tips for making Whipped Lemon Butter
Use a food processor, blender or mixer - they all work great for this recipe.
If using a regular mixer - just know that it will splatter a bit. So do your mixing somewhere suitable, like in the sink.
Always use real lemon juice.
Is your whipped butter too thin? Add more solid butter.
Is your whipped butter too thick? Add a dash of water.
No need to use unsalted butter unless that's what you have - taste test instead and add just as much salt as you like.
Taste test and season to your liking - add more or less salt, lemon or other seasonings as needed.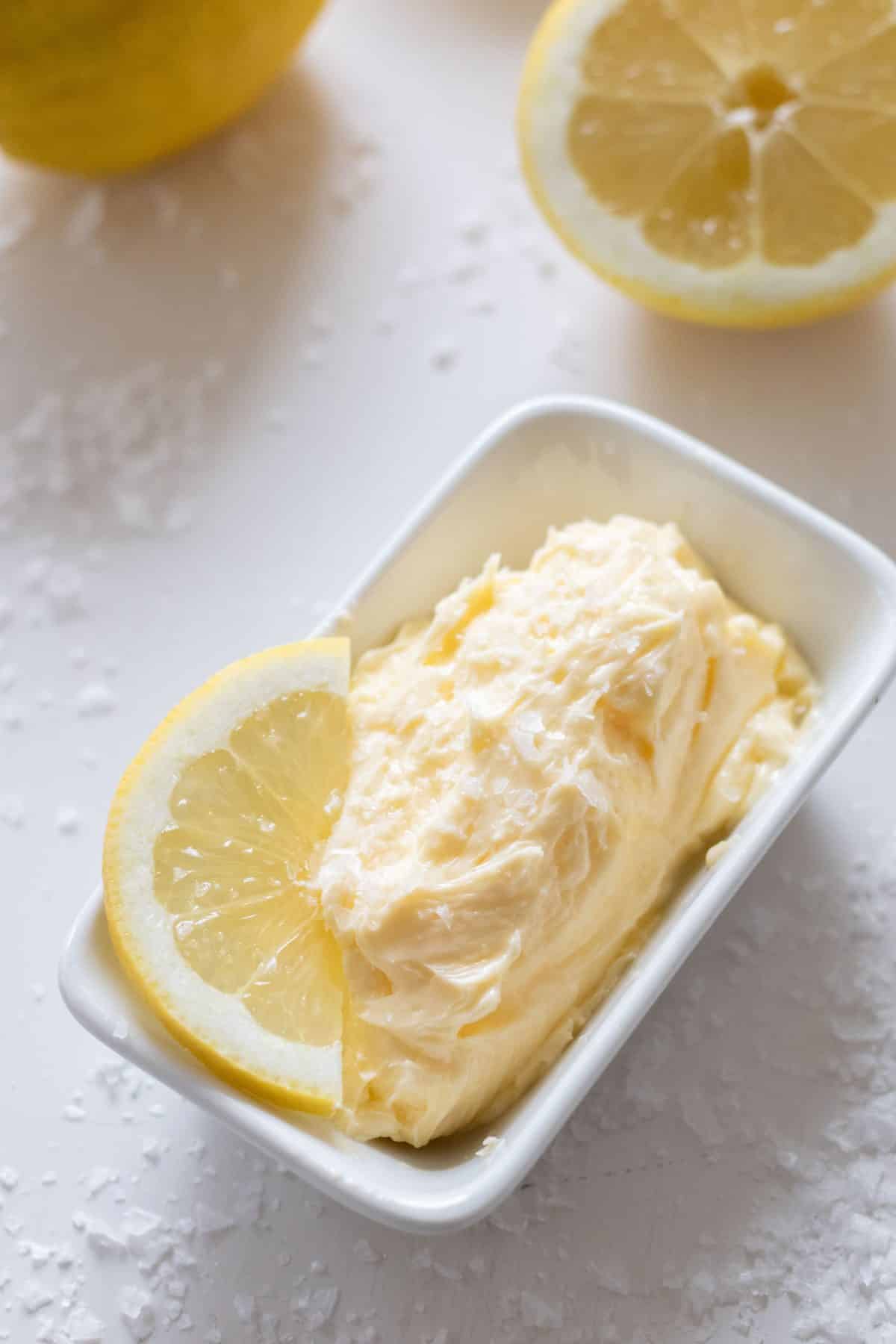 What to use Whipped Lemon Butter for
Serve alongside artichokes for a perfect summer night snack or appetizer.
Use instead of regular butter for corn on the cob...
... or do the same for baked potatoes.
Serve on top of your favorite steamed or grilled veggies - broccoli and asparagus love it!
It's the perfect sauce for fish (I love it with fatty fishes like salmon, but it goes amazing with lighter white fish as well!).
Seafood in general (did I hear lobster and crab?? not to mention some barbecue shrimp or prawns... or on top of scallops... now I'm hungry!!).
Place a good amount on top of a freshly grilled steak and watch it melt and season at the same time.
Not to forget - bread. Use instead of regular butter and you won't need any other topping. This is 100% how I use the leftovers, every single time...
How to make Whipped Butter
How about that? No chopping in this recipe - at all! All you need to do for prep is melt a third of your butter and cut the other two thirds in small-ish cubes, and squeeze your lemon. That's it! Now let's get started cooking.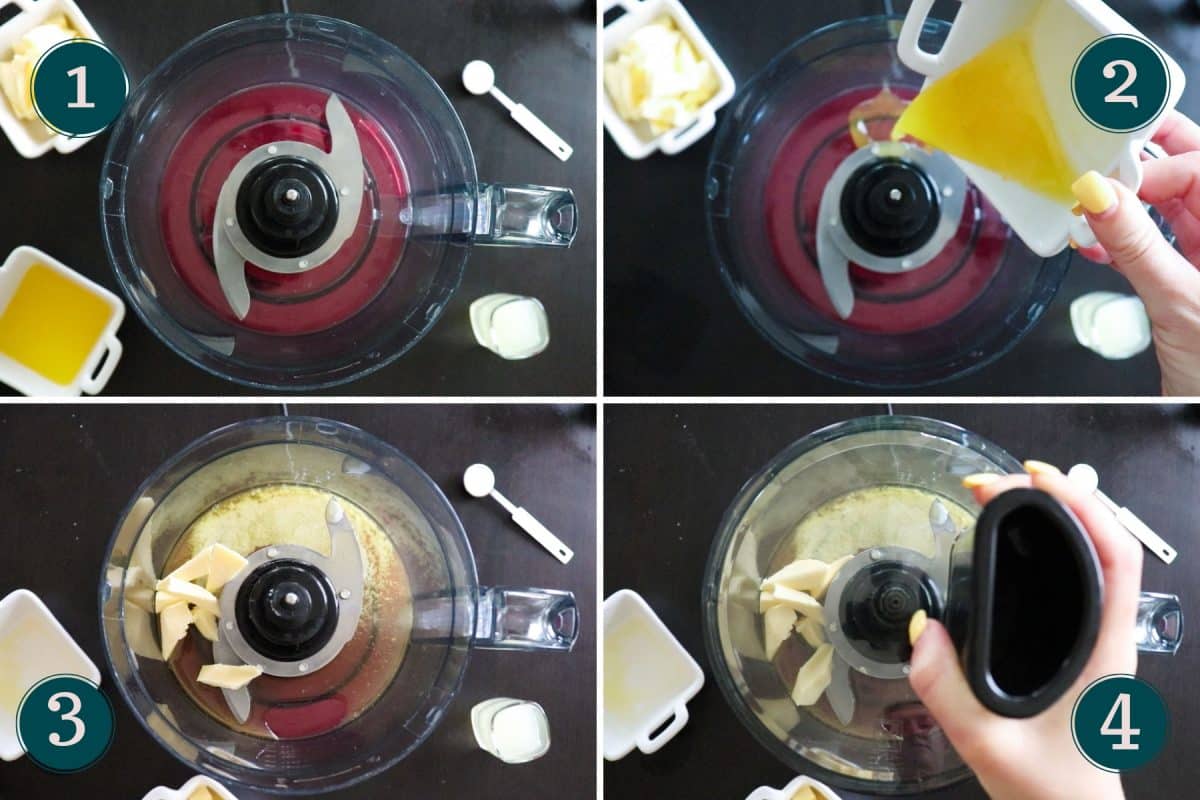 Start by bringing out a food processor, mixer or blender. You really need one of them, but which one you choose is entirely up to you. I like using my food processor as this ensures the splatter stays inside.
Then first pour in your melted butter and add in a few of the solid butter cubes. And start mixing!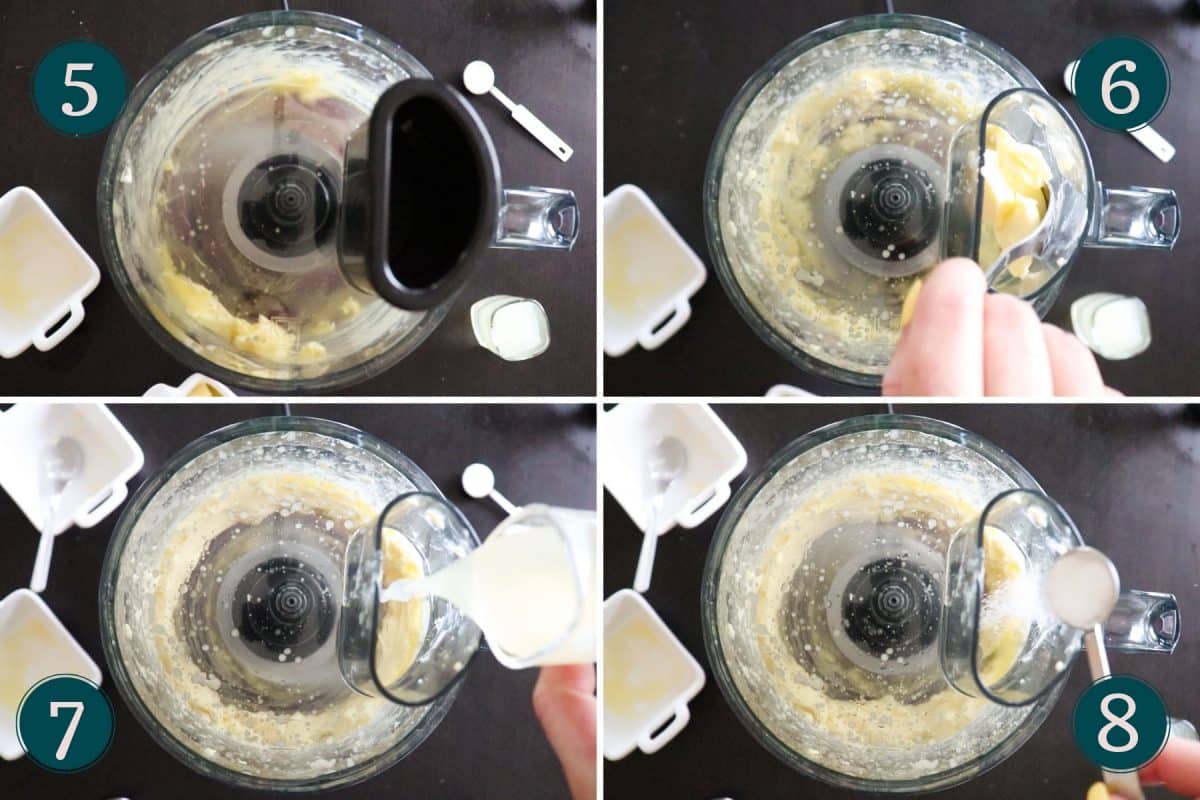 With the food processor or whatever you're using running, add in a few solid chunks of butter at a time, until you've added them all. Then add in some lemon juice and salt. I recommend starting with half first, and then taste testing and adding more as needed.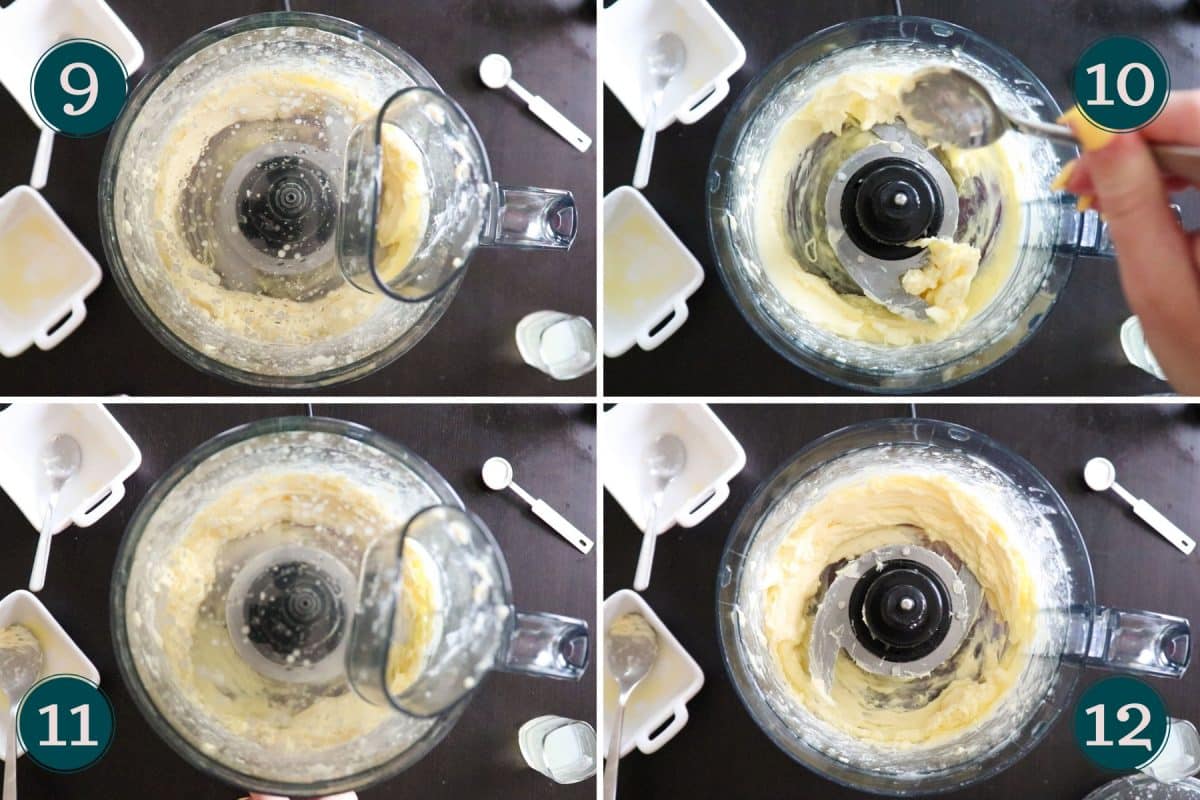 Now if you're using a food processor or blender it might need a little bit of help - especially if you're making a smaller batch of whipped butter. So when it looks mixed and nice, stop the engine, mix well with a spoon and taste test. Add more seasoning if needed and then start it up once more. Mix a short while and then you're done!
Tools to help you whip your butter
Other ways to season your Whipped Butter
Whipped butter is such an amazing invention, and even though I most often make this lemony kind there are all kinds of ways you could season it. Why not try it with
herbs (dill, basil, rosemary... match the seasoning of your food for a real flavor bomb!)
garlic for a true classic
capers, or for an extra special treat
browned butter instead of just melted butter.
Any other amazing seasonings you can think of? Let me know in the comments below and I'll include it on the list!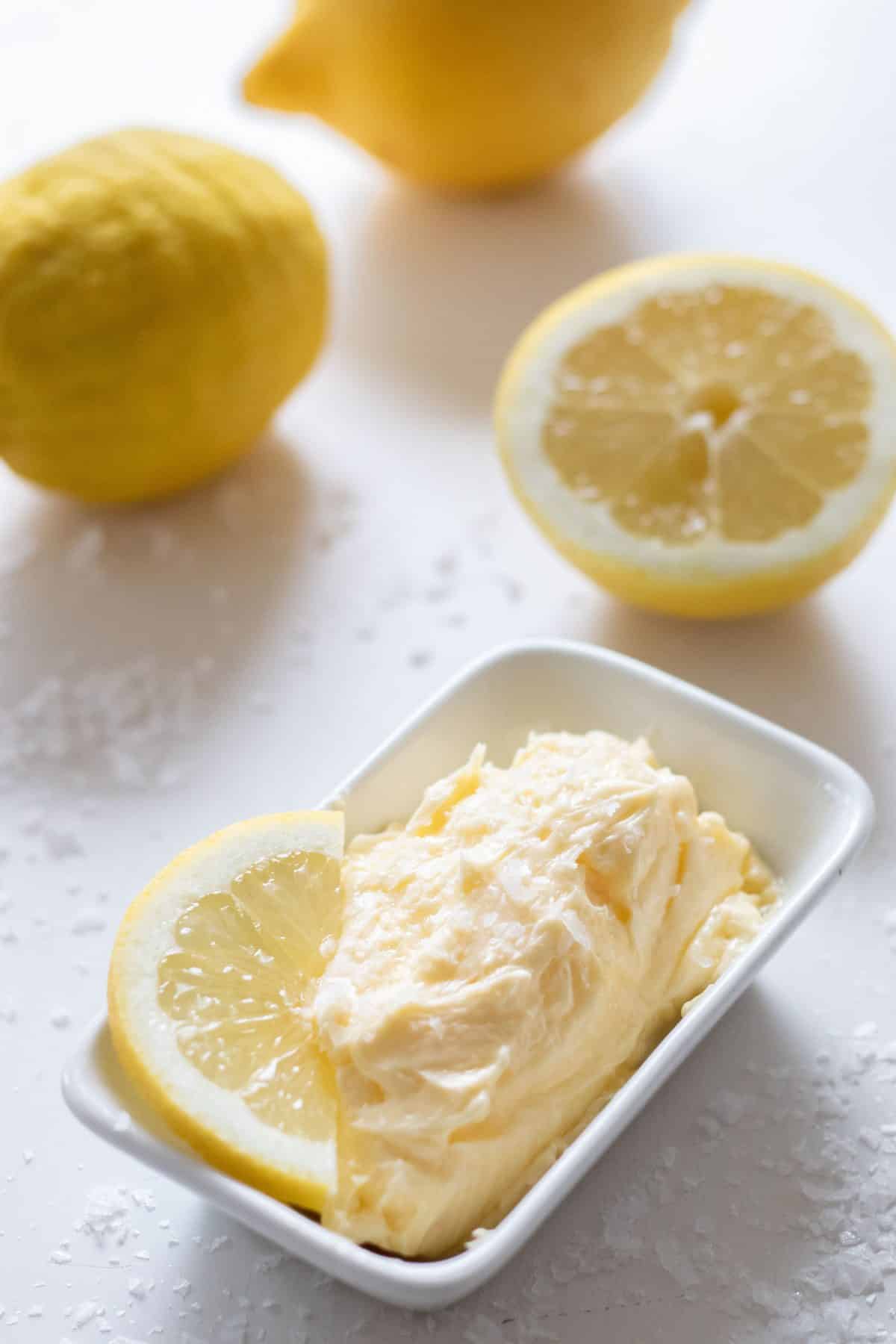 How long will whipped butter keep?
Whipped butter will keep for up to 5 days in the fridge, however it will lose its smooth consistency when refrigerating and revert to the regular hard butter texture. This doesn't have to be a bad thing though - all the flavor is still there and I highly recommend you still refrigerate any leftovers and just top anything you can think of with it! If you want it a bit softer again for serving, just bring it out ahead of time.
Now over to you - make this recipe your own with the amount and type of seasoning that best suits your tastebuds! Did you find any amazing seasoning I've missed in my list of suggested seasonings? Let me know in the comments below! And I'd LOVE for you to leave a comment & a rating letting me know what you think of this recipe!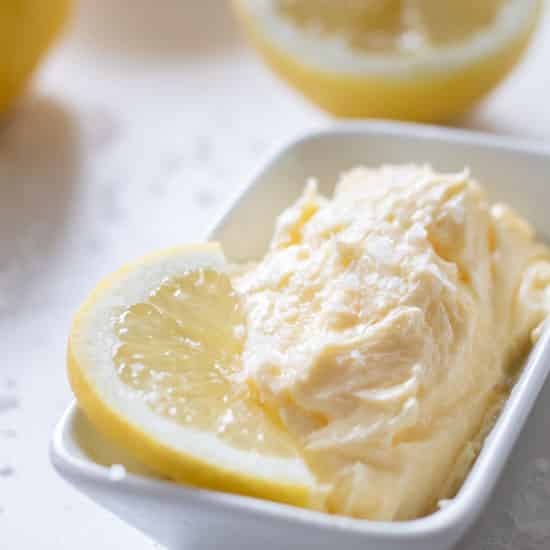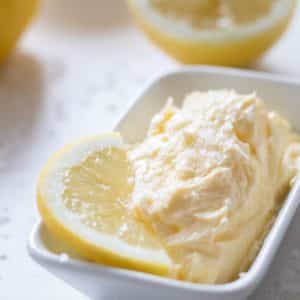 Ingredients
75

g

butter

divided

1

Tbsp

lemon juice

freshly squeezed, according to taste

0.25

tsp

sea salt flakes

according to taste
Instructions
Start by melting one third of your butter and cutting the rest of the butter into small-ish cubes.

Add your melted butter to a food processor (or a blender, or a bowl if using a regular mixer) together with a few of the cubes of solid butter. Start mixing, then add more butter cubes until they have all been added.

Add your lemon juice, then crush the sea salt flakes in your hand and add them as well. Mix well and taste test. Mix more and adjust seasoning if needed. Serve!
Nutrition
Calories:
135
kcal
|
Carbohydrates:
1
g
|
Protein:
1
g
|
Fat:
15
g
|
Saturated Fat:
10
g
|
Cholesterol:
40
mg
|
Sodium:
279
mg
|
Sugar:
1
g
|
Vitamin A:
470
IU
|
Vitamin C:
1.5
mg
|
Calcium:
5
mg
Nutritional information is approximate and automatically calculated, and should only be viewed as an indication.