This post may contain affiliate links, which are always marked with *. Please read my disclosure for more information.
Vegan Tapenade is the no-anchovy version of the classic French olive spread. Filled with your favorite black olives, basil, garlic, sun-dried tomatoes, capers & olive oil it has all the flavor but none of the fish. Perfect for dipping your bread in, serving as a sauce next to fish, chicken or steak or using in your salads.
Who am I kidding - this one goes with everything!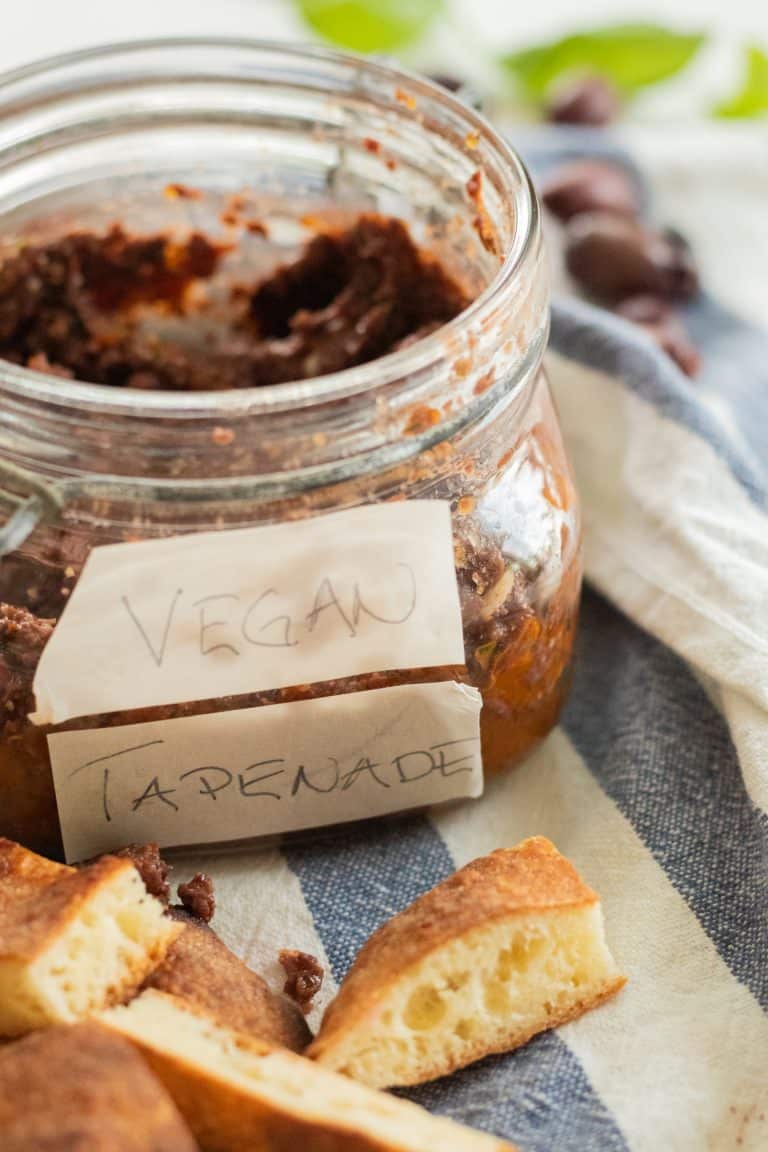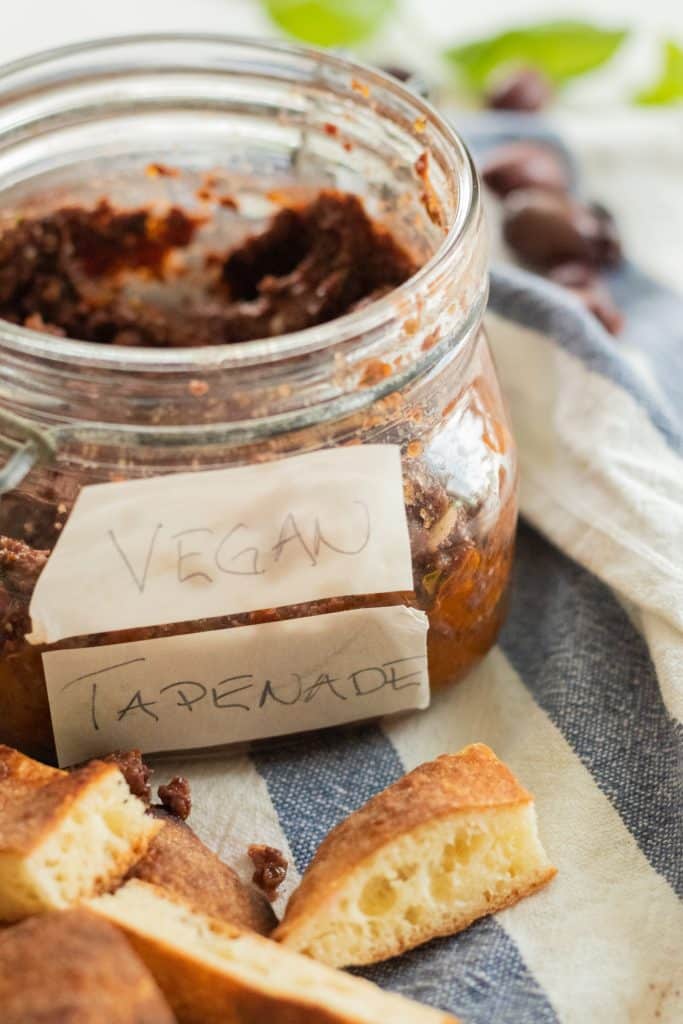 Why I love this Olive Tapenade
Easy to make without any chopping - just use your food processor.
So quick - 5 minutes is all it takes. Max!
Vegan - which is always a good thing in my book & makes it easy to serve to a crowd
Versatile and can be used for just about anything - on top of your breakfast sandwich, with your lunchtime salad and as a sauce for your steak dinner. Just to name a few!
Expert tips for making Vegan Olive Tapenade
Use good quality olives - it makes all the difference. I tried it with the cheap kind and it was so lacking in flavor. Now I go for nice, flavor packed ones like Kalamata or Kalamon olives. But any good quality kind will do!
Add olive oil slowly to make sure you get the consistency you like.
Don't chop anything! You just don't need to and who likes to chop when you don't need to?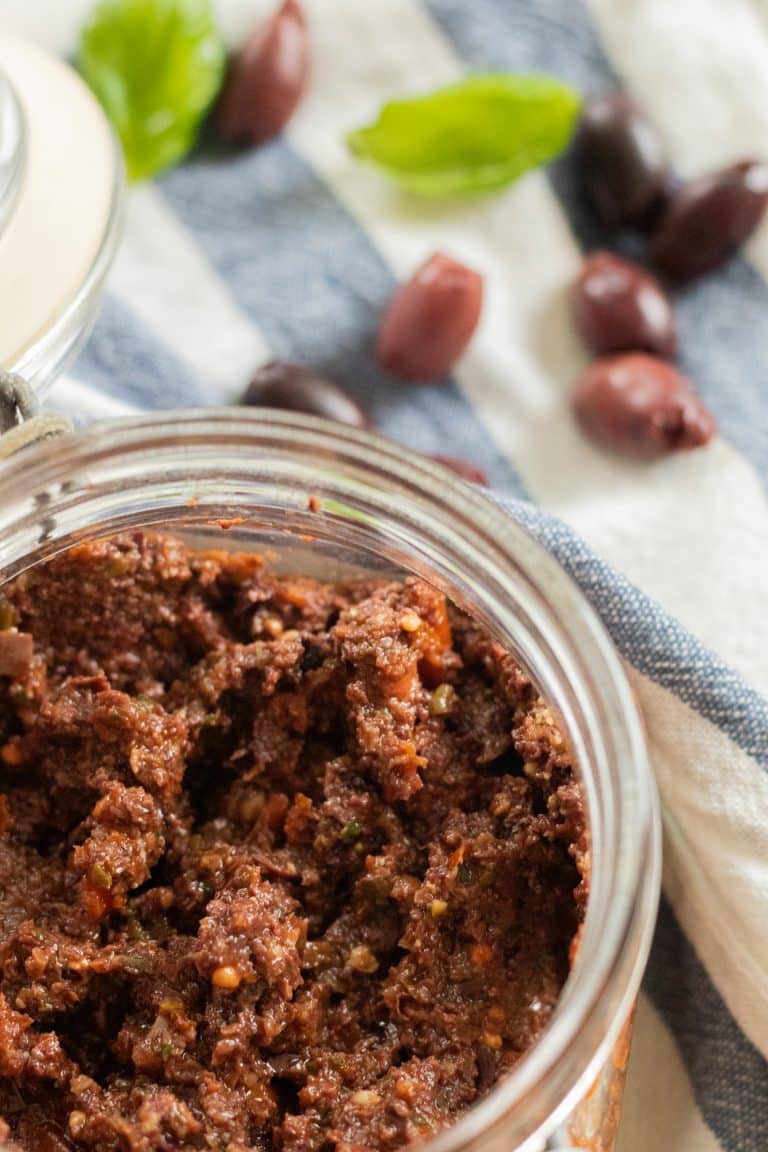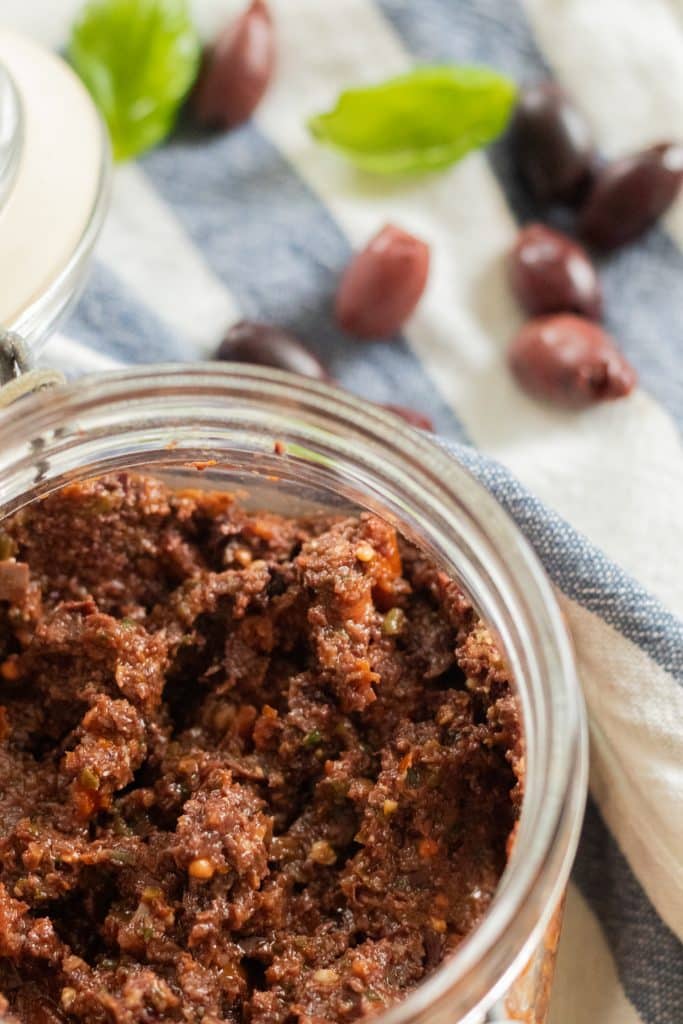 Frequently asked questions
How to store tapenade?
Store tapenade in the fridge in a sealed container. If you're storing it for more than a few days you can add some olive oil on top so it doesn't dry out.
How long will tapenade keep in the fridge?
In general I'd say: don't worry, it won't last long enough to go bad.
But if you still wanna know - as long as your ingredients are fresh, at least two weeks. Probably longer - so don't throw it out unless it looks or smells bad.
Is tapenade vegan or vegetarian?
In general, tapenade is neither as the classic recipe contains anchovies. This version however is both vegetarian and vegan.
Is tapenade keto?
Tapenade is high in fat and low in carbs, and is hence keto approved.
Is tapenade gluten free?
Tapenade is generally gluten free, and so is this version.
How to make Vegan Olive Tapenade
Making this tapenade will only take you about 5 minutes. Max! No chopping, no prepping - you basically just add (almost) everything to a food processor and get going.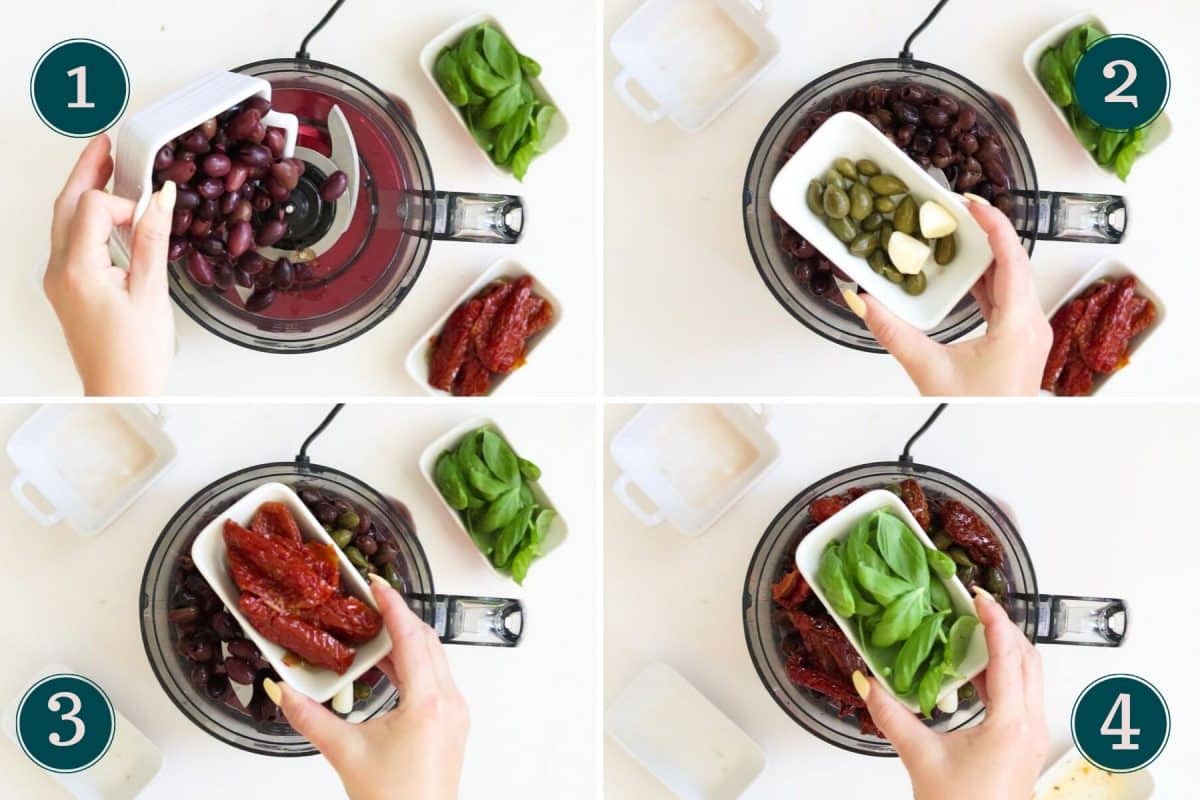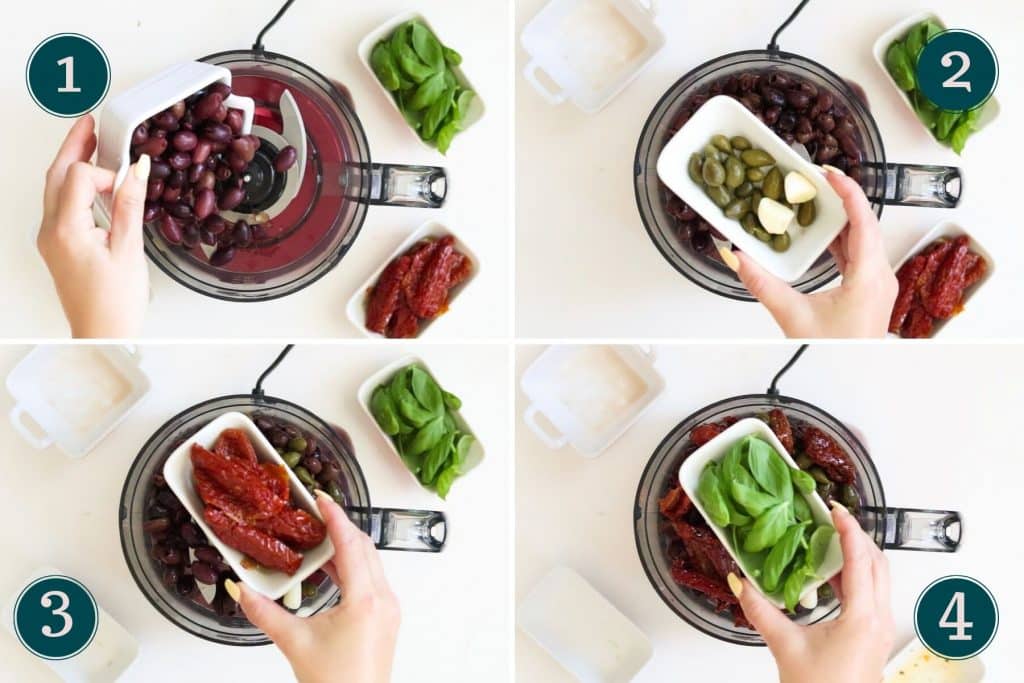 Start by adding all ingredients except olive oil to a food processor.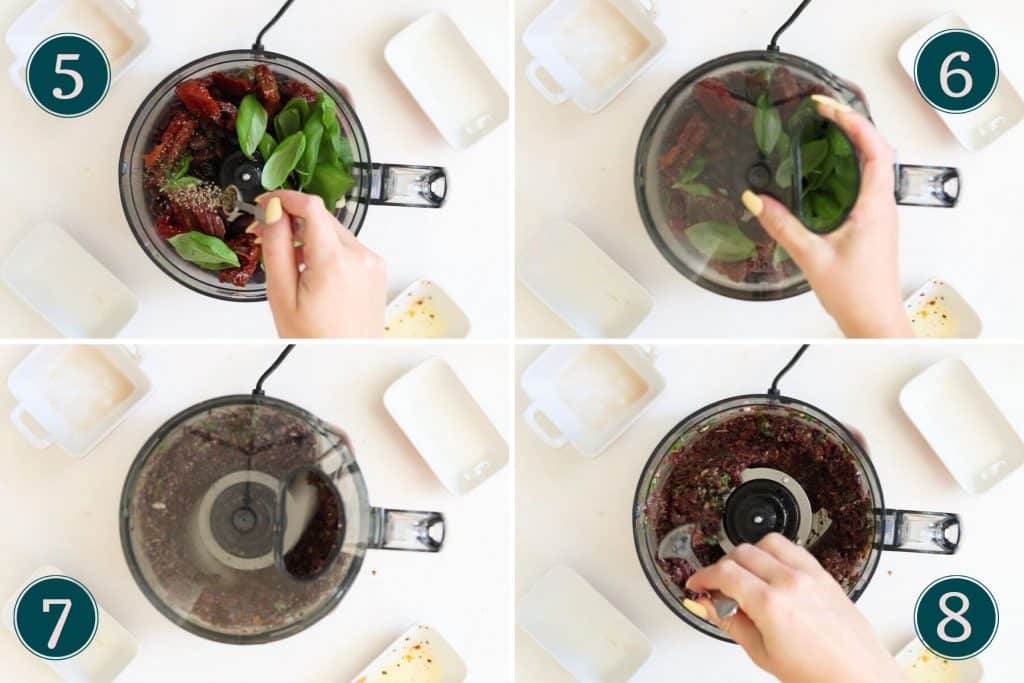 Then start your food processor and mix for a minute. After a minute or so, take off the lid and check that everything is somewhat well chopped. If not - run it a while longer before moving on. Then give it a mix with a spoon.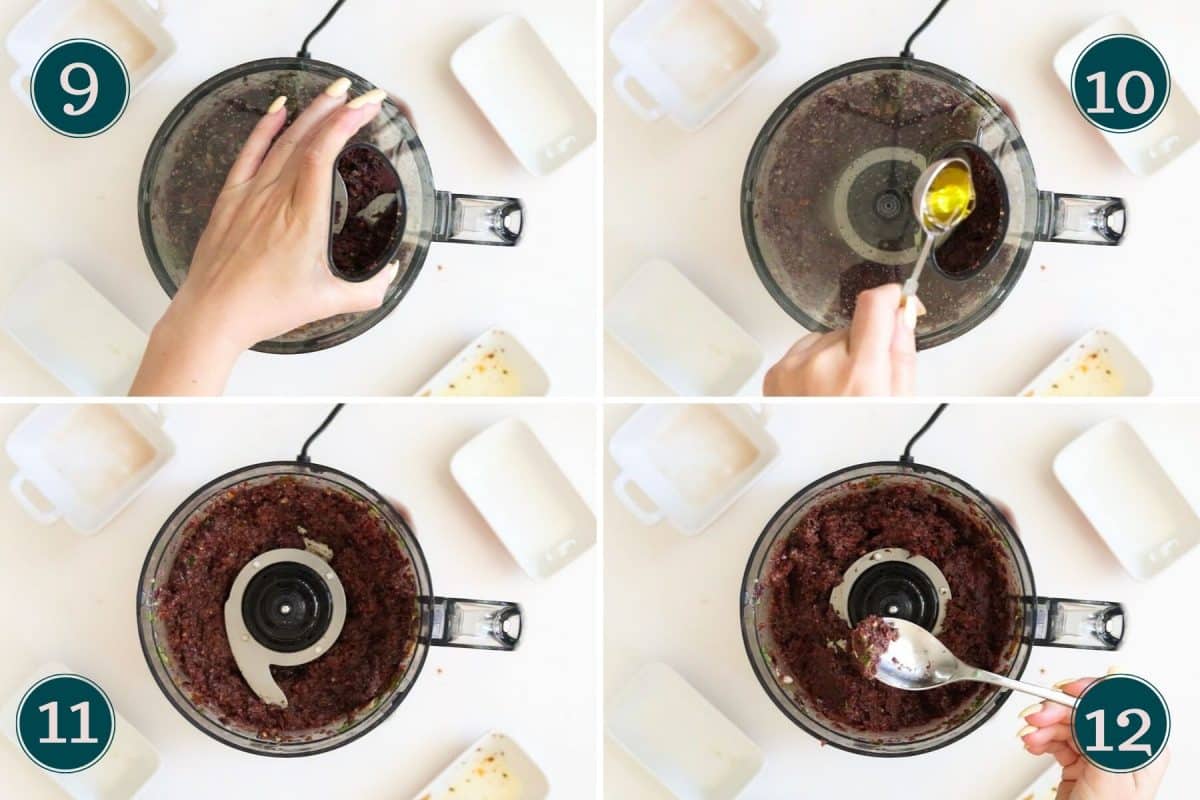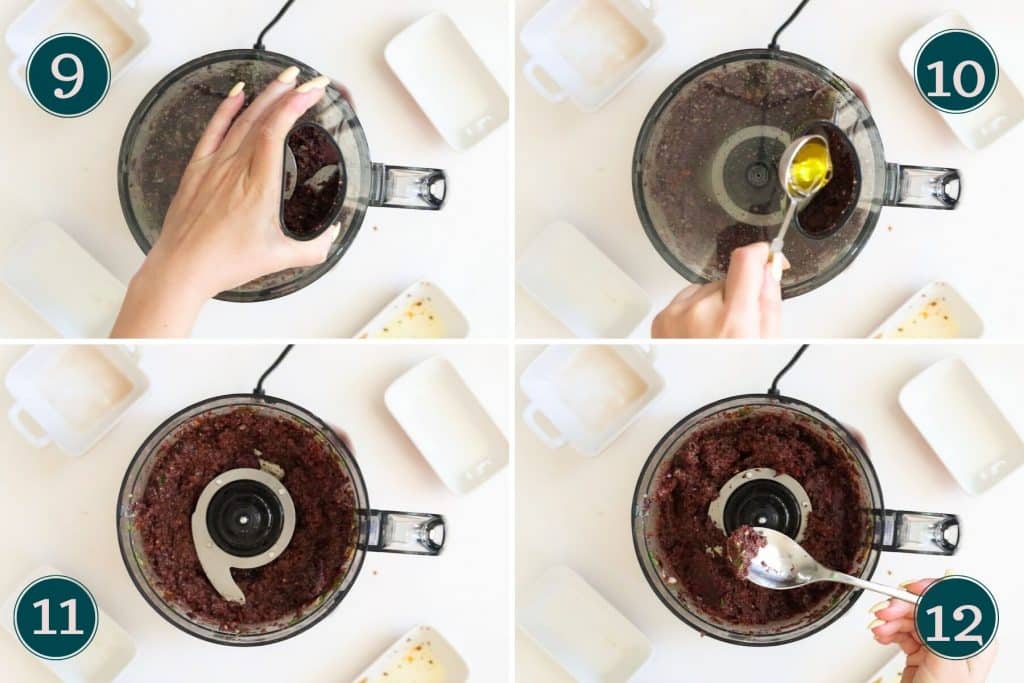 Then put the lid back on and start the food processor again. With the food processor running, add your olive oil. Start with some and then add more if you want it looser.
Done! Easy, wasn't it?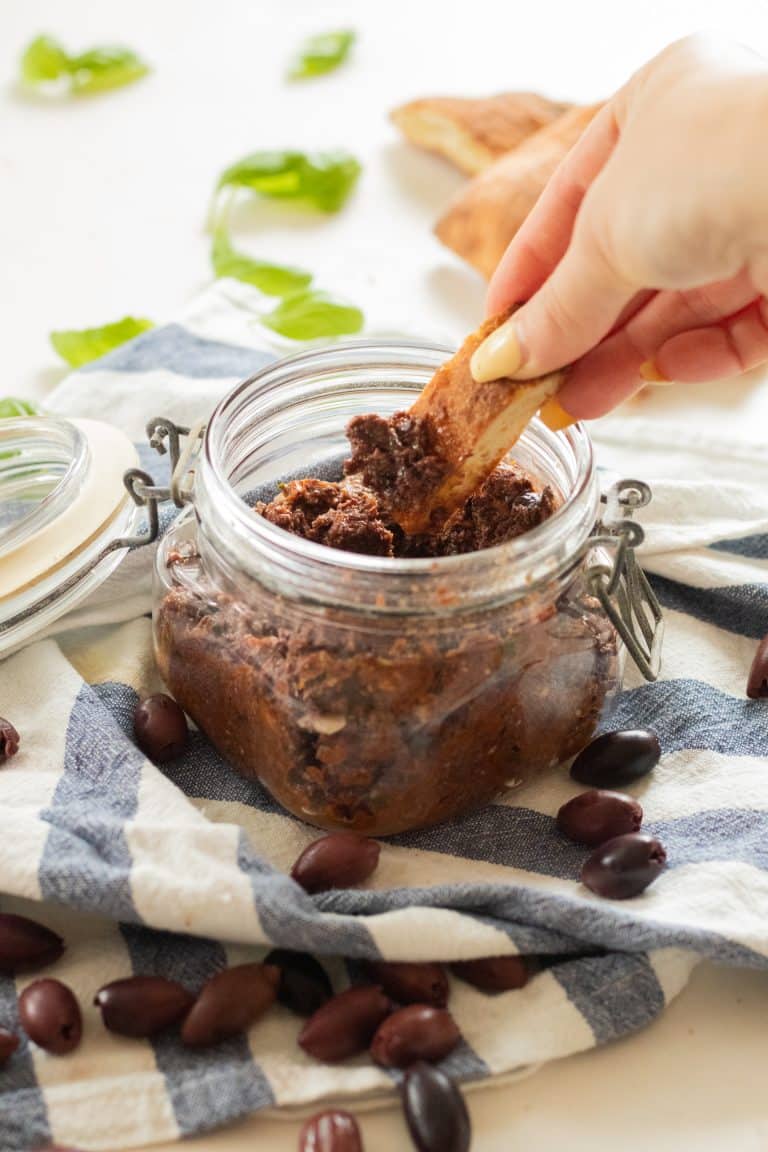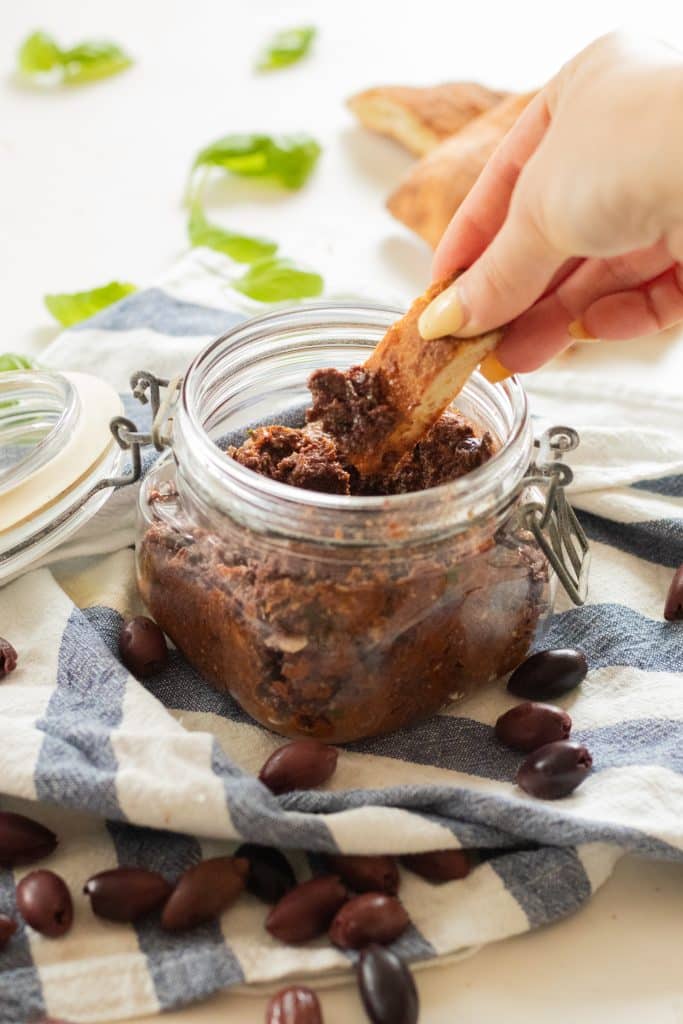 How to use Tapenade
Now you have a nice big jar of tapenade. But what to do with it?
#1 Jump with joy. You have an amazing condiment ready to go whenever you want to add some flavor! But maybe you wanted specifics? OK let's go. Serve tapenade:
On top of bread (I love it with the whitest baguette or focaccia I can find)
For canapes - and while your making canapes, make some with Whipped Feta Cheese and some with Walnut Pesto as well, and there you have your party food all done
As a sauce for fish (the best thing I ever had with tapenade was a tapenade covered tuna in the Philippines (of all places!) but it's delicious with salmon & swordfish as well)
With steak or chicken - on top or as a side
With pasta - use it like a pesto, that is mix it in with the still warm pasta and some pasta water and that's about it
In a salad - no need for salad dressing, this is so much better
On top of pizza - because everything good should go on a pizza sometimes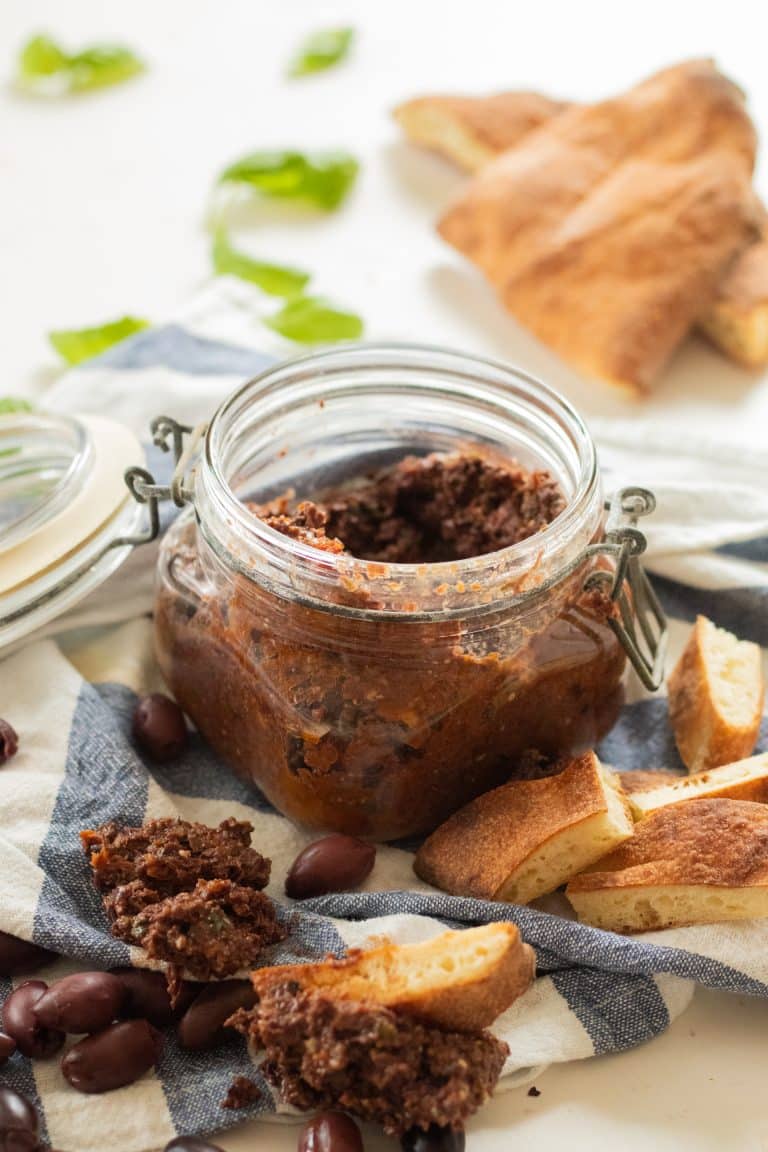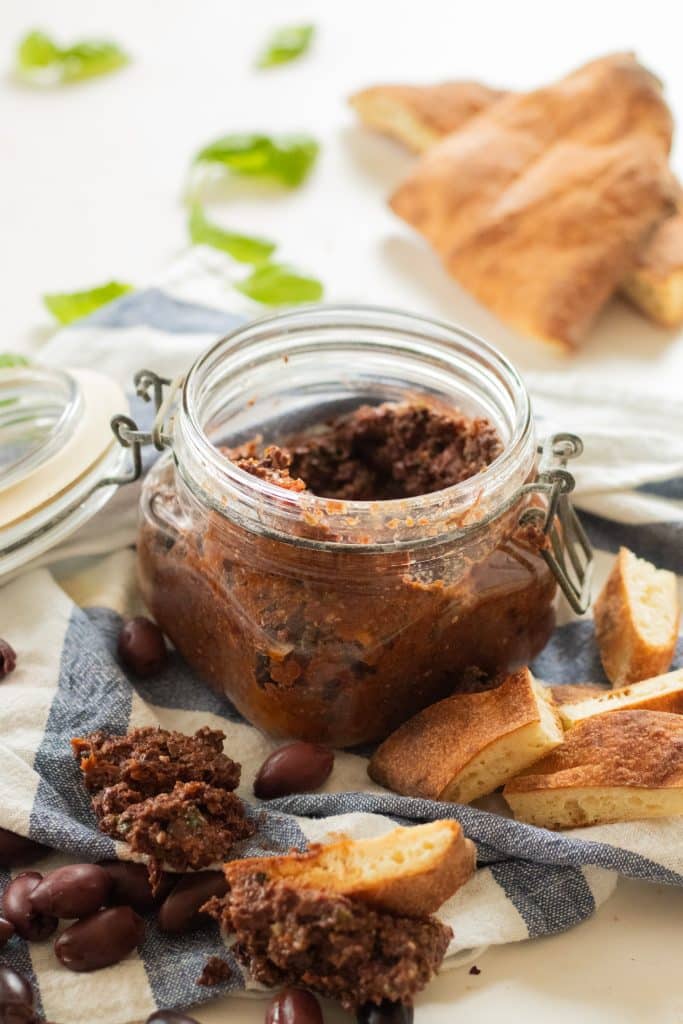 I hope you enjoyed this Vegan Tapenade! I'd love for you to let me know what you think! Just leave a comment, and why not a rating as well?
Until next time -
All the love & flavor,
Emmeline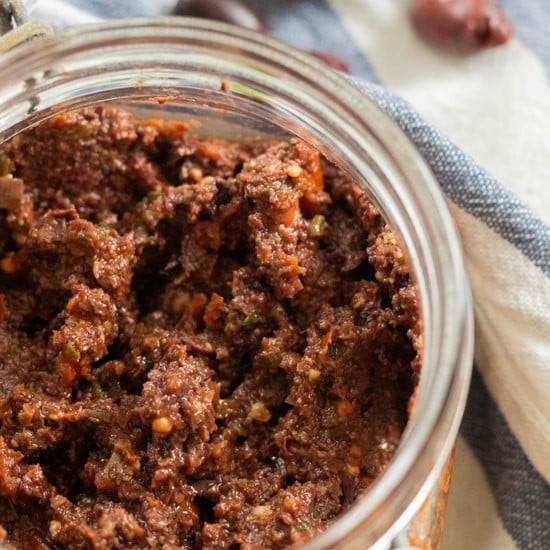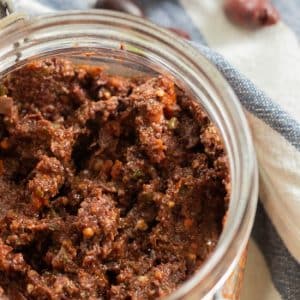 Ingredients
1

cup

drained, good quality black olives without pit

20

medium-sized capers

stem removed

1

garlic clove

peeled

10

sun-dried tomatoes

20

basil leaves

¼

tsp

fresh ground black pepper

2

Tbsp

olive oil
Instructions
Add all ingredients except olive oil to a food processor. Start the food processor, mix for a minute, then stop it, remove the lid, check that everything has been chopped kinda small and mix with a spoon.

Place the lid back on, start the food processor again and start adding the olive oil. Add as much as needed to reach your desired consistency. Once well mixed and at the right consistency, it's done.
Equipment needed for this recipe
Notes
Add as much olive oil as needed for your desired consistency. The amount stated in this recipe usually gives a semi-firm tapenade, but that also depends on how wet your other ingredients are. If you're unsure, start by adding half the amount and check. Add more as needed.
Store tapenade in the fridge in an airtight container, for up to 2 weeks. It can be good longer as well, as long as it doesn't look or smell bad.
If storing for more than a few days add a layer of olive oil on top to keep it from drying out.
Use high quality olives for this recipe for maximum taste.
Nutrition
Calories:
200
kcal
|
Carbohydrates:
7
g
|
Protein:
2
g
|
Fat:
20
g
|
Saturated Fat:
3
g
|
Sodium:
1147
mg
|
Potassium:
256
mg
|
Fiber:
3
g
|
Sugar:
3
g
|
Vitamin A:
460
IU
|
Vitamin C:
3.4
mg
|
Calcium:
47
mg
|
Iron:
1
mg
Nutritional information is approximate and automatically calculated, and should only be viewed as an indication.