This post may contain affiliate links, which are always marked with *. Please read my disclosure for more information.
This Vegan Guacamole is the best, authentic, homemade version there is - creamy without dairy products and filled with avocado, tomato, jalapeño, cilantro and lime juice. Make it as spicy as you like - and serve to all your friends. This healthy dip suits most diets as it is gluten free, dairy free, vegan, pretty low in carbs and high in healthy fats.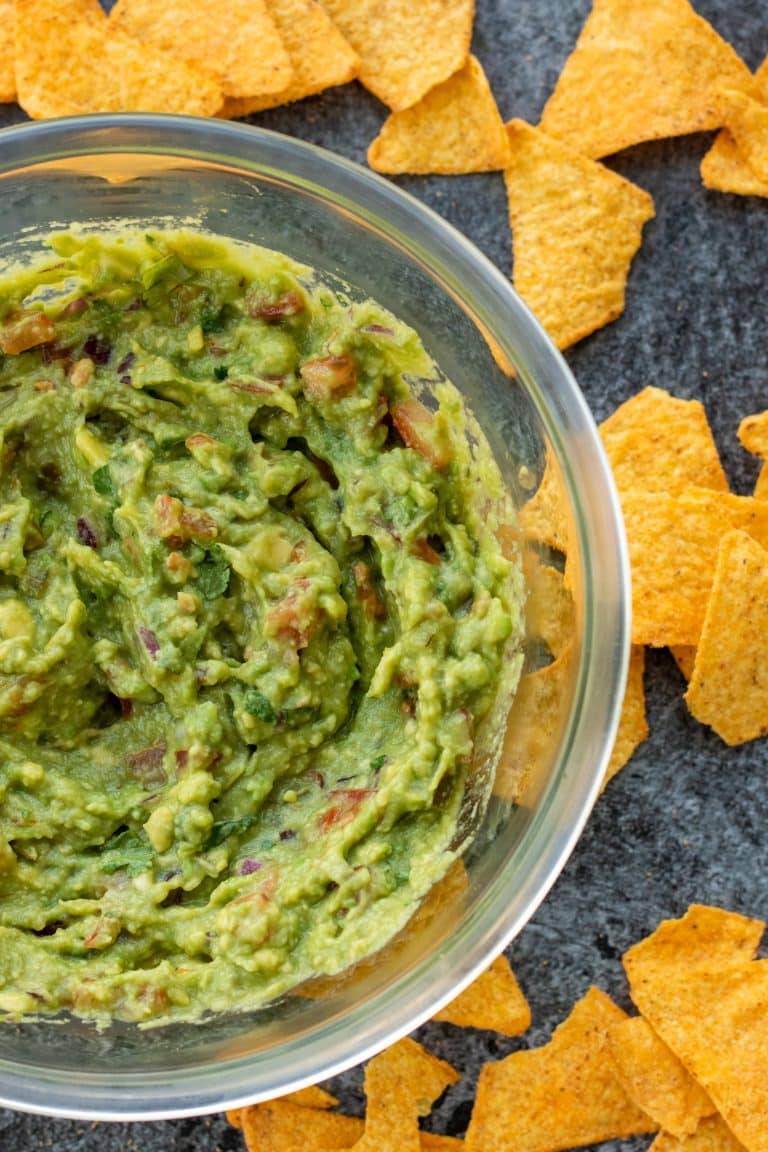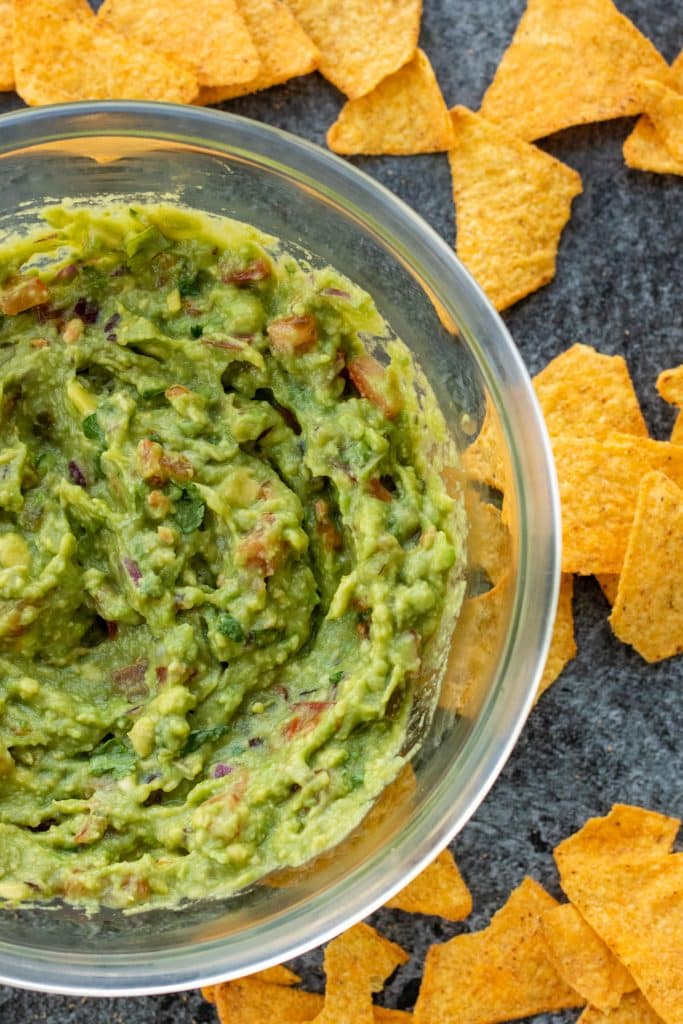 I love all my sauces, but there's probably no sauce I've made more than guacamole. And while I make many different versions - some as simple as just smashing avocado with some lime or lemon juice and seasoning it with salt and pepper - this here is my absolute favorite version that's been tried, tested and perfected through the years.
Why this is the only guac recipe for me
Soft garlic flavor that's spread evenly throughout the dish thanks to mashing the salt and garlic together first.
Perfect levels of acidity, garlic, salt and spice - neither too overpowering, yet all notable on the palate.
Mashed, not blended, so it's a bit chunky, and you don't have to get a big machine dirty.
Tastes just like the table side guac of my childhood's Mexican restaurants - which is what I've always been looking for in my homemade versions.
How to make Vegan Guacamole
To make this recipe, start by doing the following:
Dice tomatoes
Chop red onion and jalapeño as small as possible
Chop cilantro
Peel a garlic clove
Slice avocados in half and remove the pit
Slice lime in half
Bring out salt, a mixing bowl, a fork and a spoon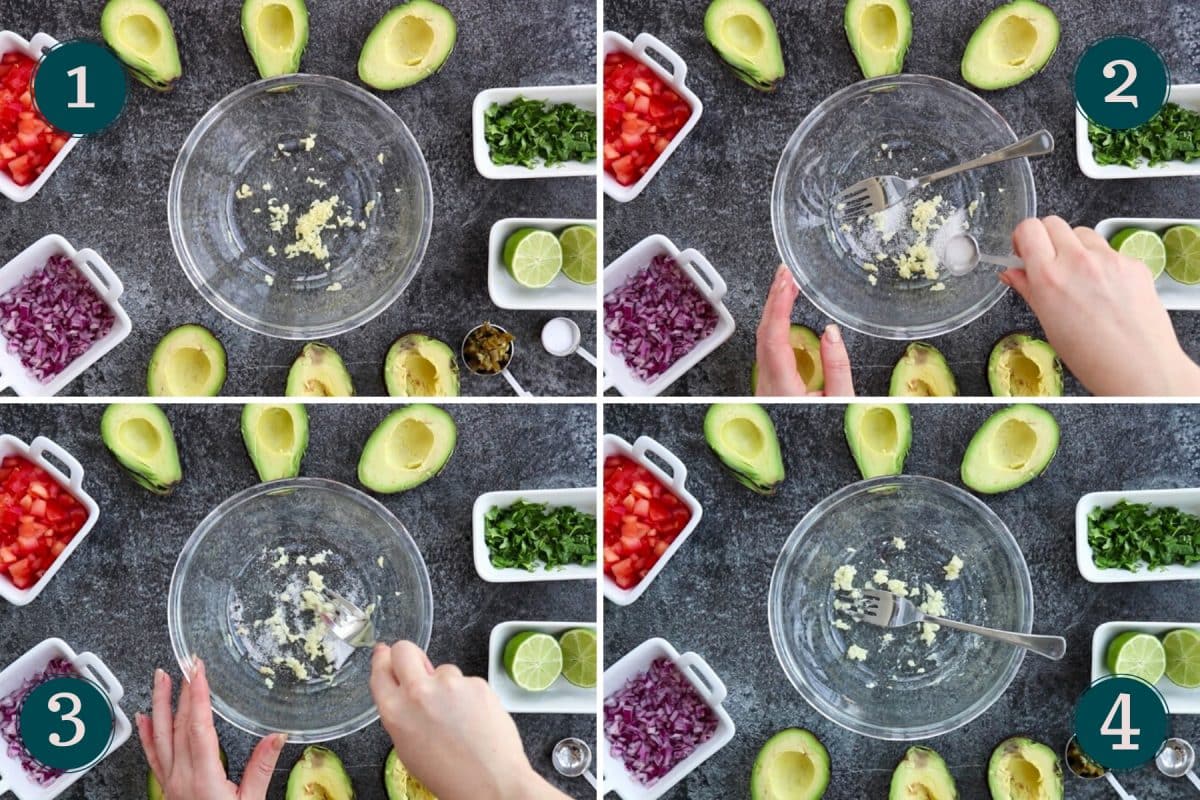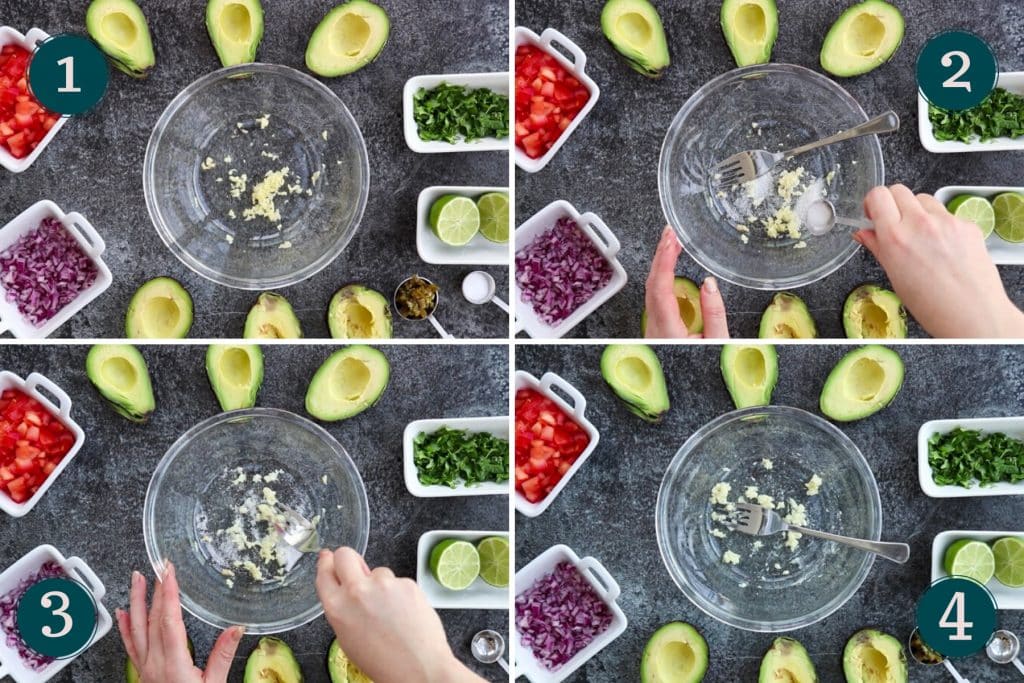 Then mince the garlic or press with a garlic press into a mixing bowl. Pour over the salt and then mash the salt and garlic together with a fork until completely combined.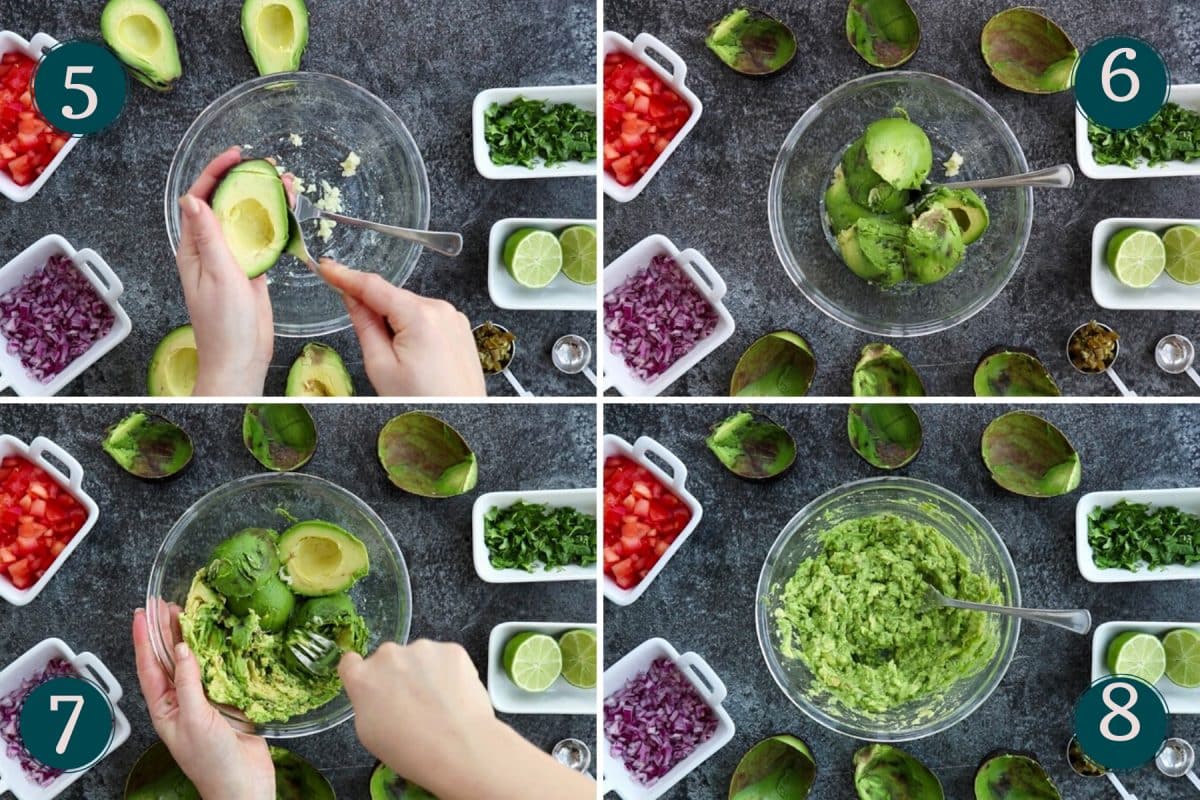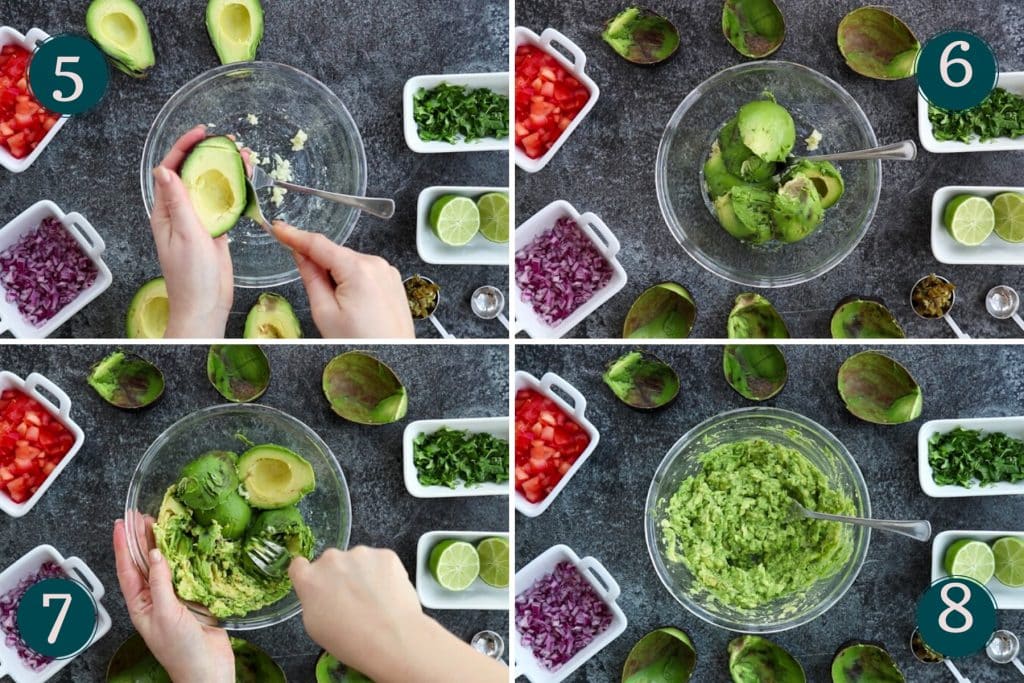 Add in the avocado by scooping it out of its peel with a spoon, and then mash well.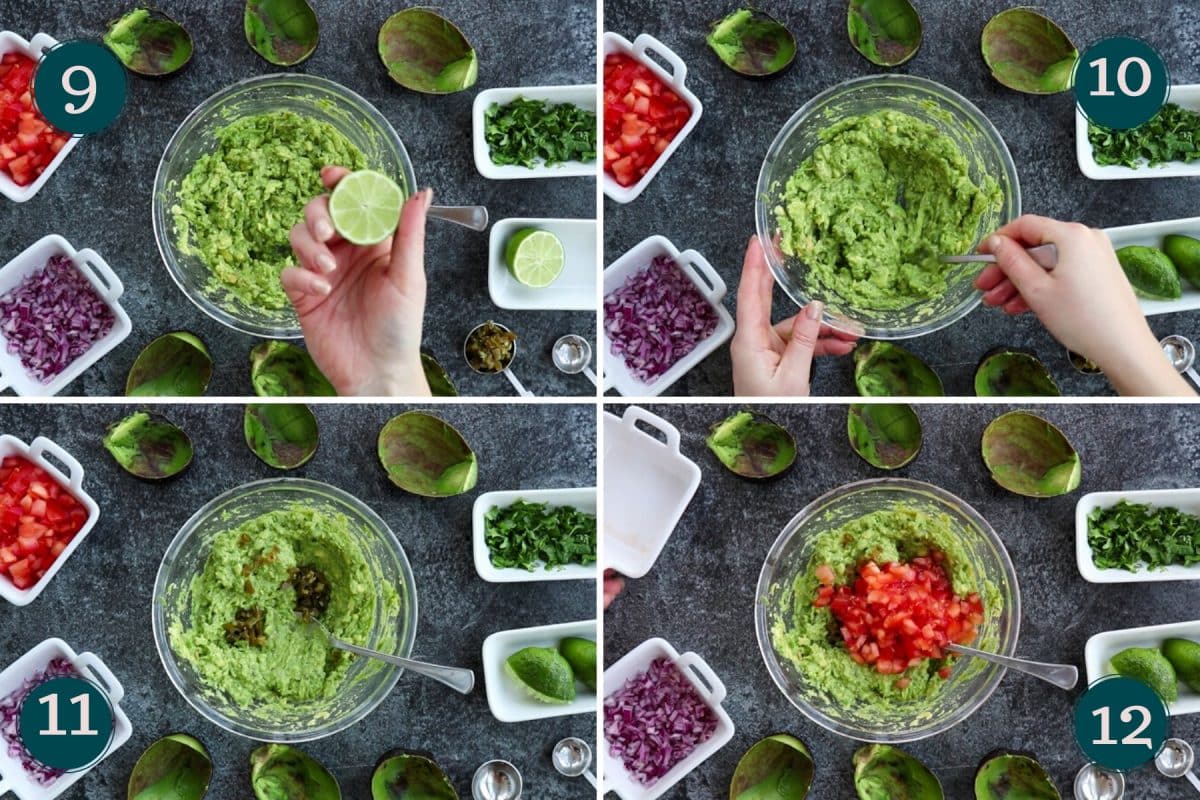 Squeeze in the lime and mix together. Then add chopped jalapeño and diced tomatoes...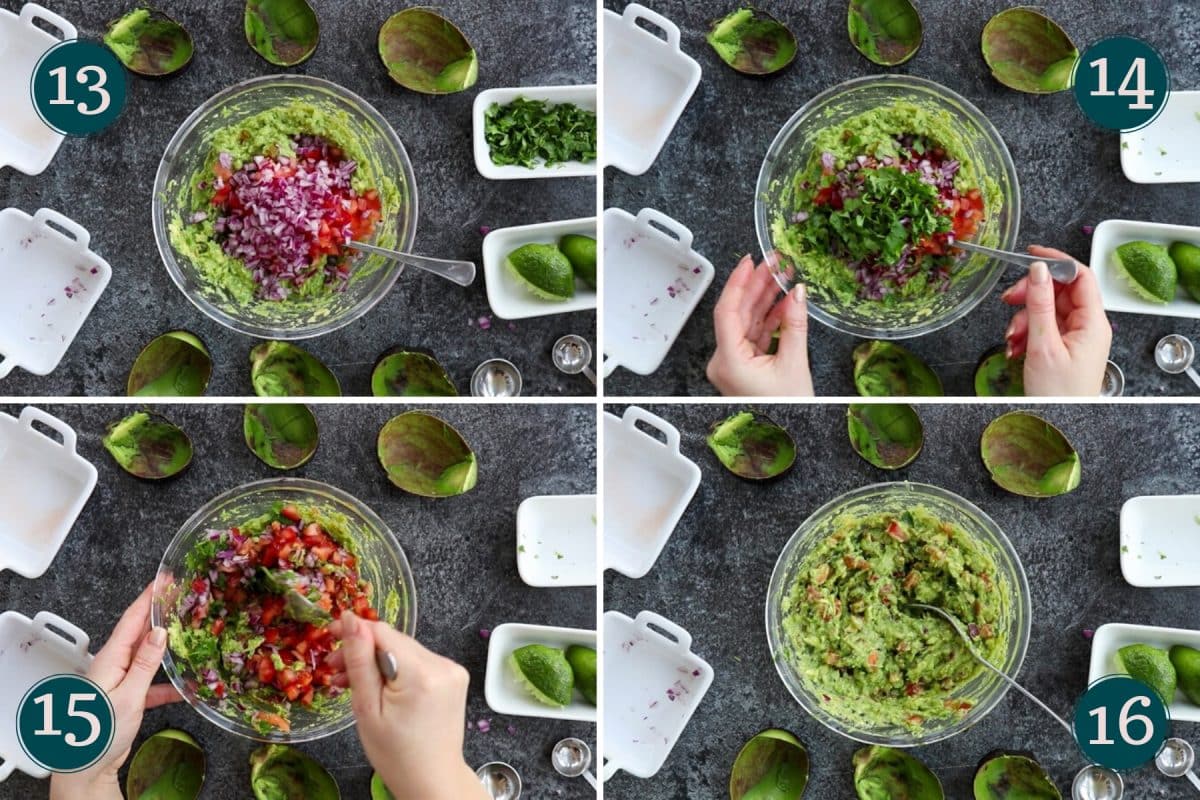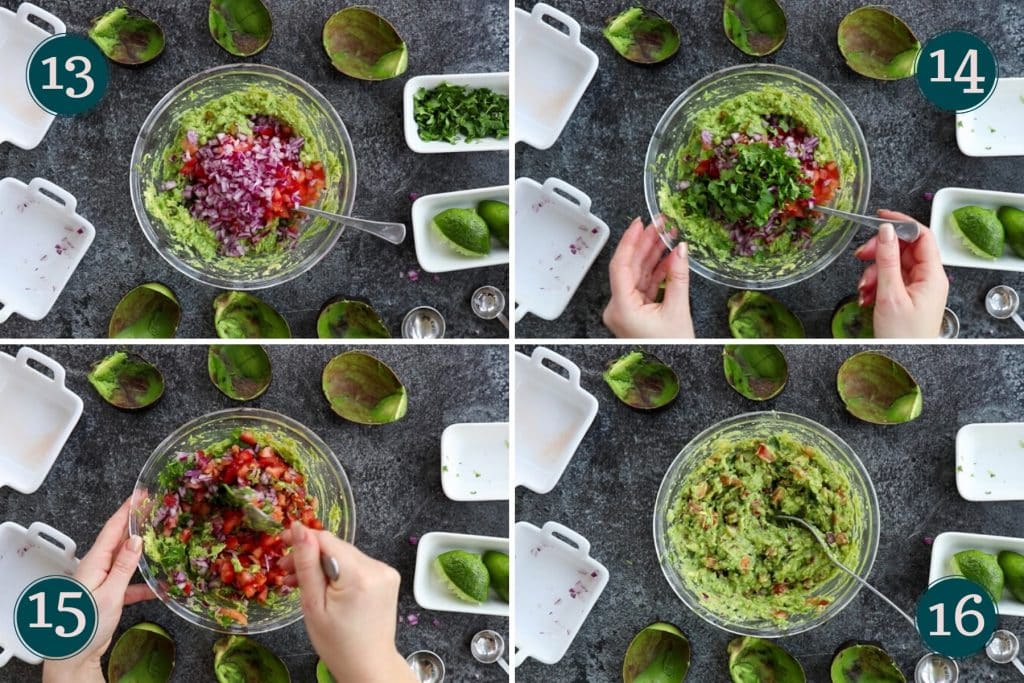 ...as well as chopped onion and cilantro. Mix well, then taste test and adjust seasoning if desired. Serve immediately!
Pro tips for making Guacamole
Use ripe and soft avocados - rather overripe than under.
Always add lemon or lime - if not for flavor, then to keep it from going brown.
Mash garlic with salt first, to make the garlic taste softer and ensure it spreads evenly throughout the sauce.
Soak onion in water for 15 minutes before adding to the guac if you wish to soften its sharp bite.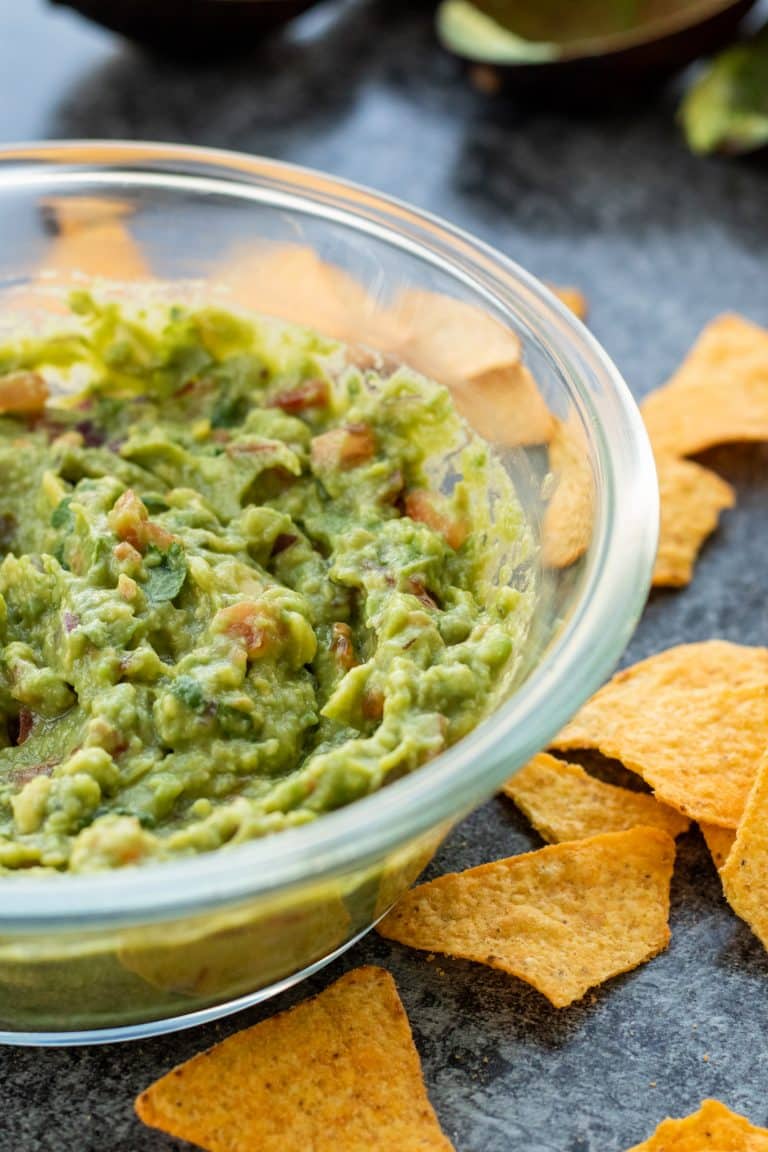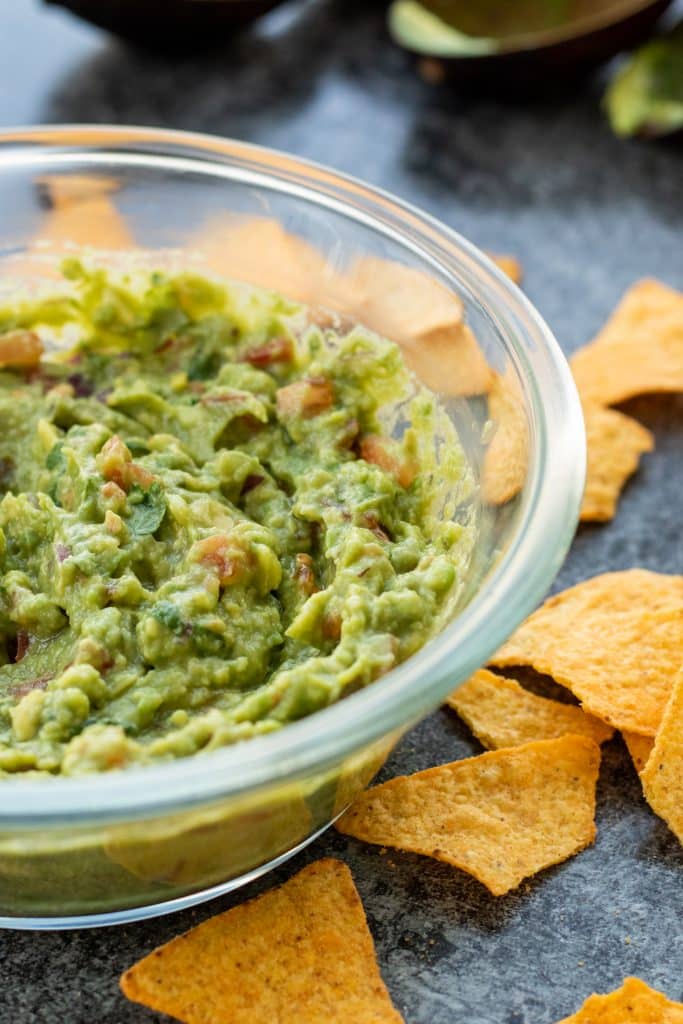 Frequently asked questions
Why is guacamole healthy?
This type of guacamole is super healthy since it's basically a salad in the form of a sauce. Think about it - avocado, tomato, cilantro, lime, garlic, onion and salt. There's nothing there that's not good for you! Just loads of vitamins, fiber and healthy fats. If you're going totally low carb or keto though, this might be a bit high in carbs for you.
Some versions will add sour cream or mayonnaise - and this can put it more over to the unhealthy side. However, if you add just a small amount you can still call it a healthy-ish choice in my book.
What is Guacamole made from?
Guacamole can be made in multiple ways and the only ingredient every single recipe will have is avocado. Apart from this, it's your choice. Below you can find some of my suggestions as well as possible substitutions.
Lemon or lime?
Either works! Lime adds a more Mexican flavor for me, so I use this if I have it.
Garlic or not?
For me, a guacamole is not really a guacamole without garlic. But if garlic is not your thing, then you can absolutely make it without. In this case, you might want to add some extra other seasoning instead - for example a dash of cumin, some fresh ground black pepper, an extra squeeze of lime or some more cilantro.
With or without tomatoes?
My childhood table side guacamole always came with chopped tomatoes - so that's an important ingredient of a true guacamole for me. But most of the time I see it made without tomatoes, and this is definitely a matter of taste. I also make it without tomatoes from time to time, if I'm lazy (or out of tomatoes), and it still comes out delicious.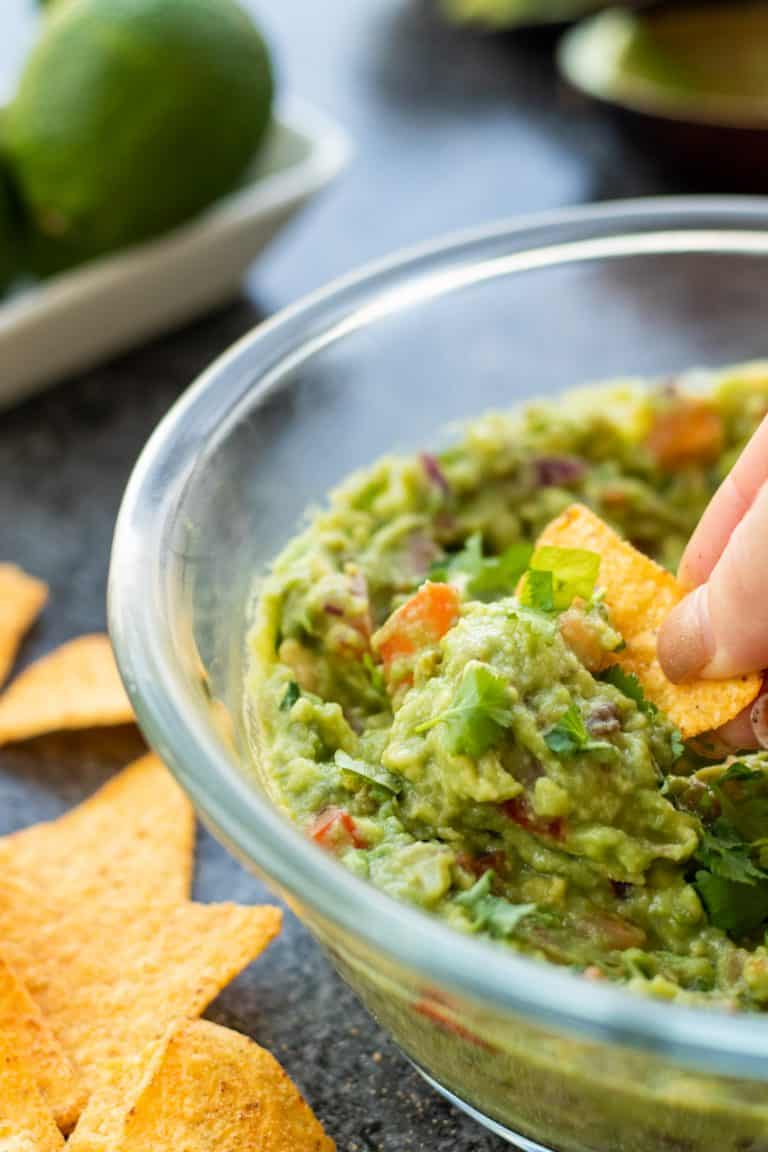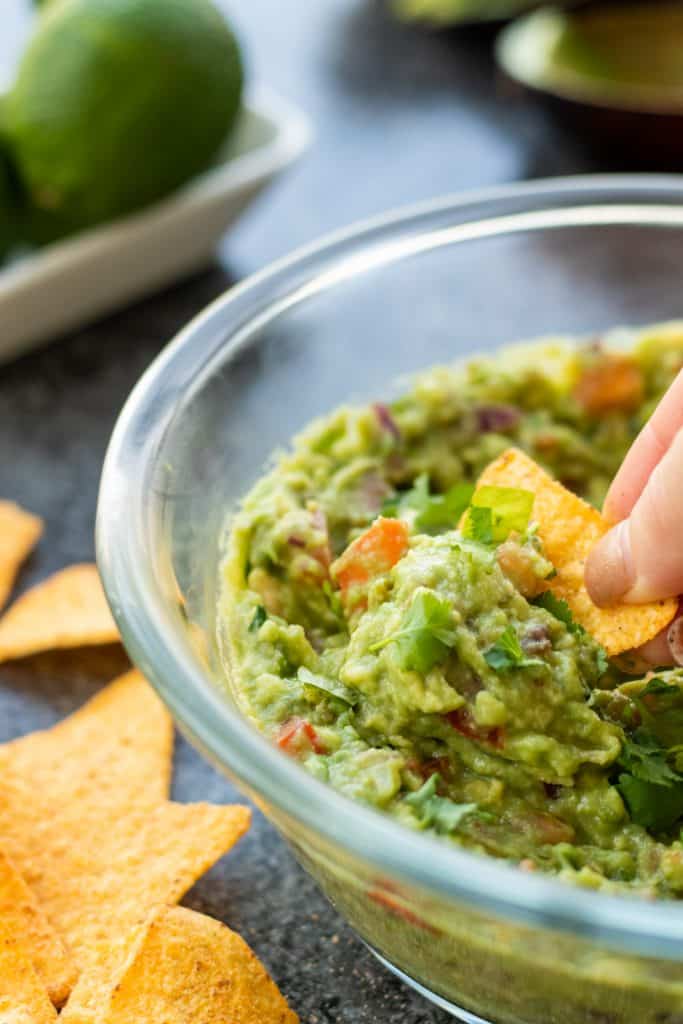 What onion should I use, and should I even use onion?
I always add onions - unless, like with the tomatoes, I'm a bit lazy and don't feel like doing any chopping. Red onion and shallots have a gentler taste than yellow onion, so my choice is usually one of these. If you don't mind the sharper bite - or if that's what you have - then yellow onion will also be fine.
A great trick for softening the bite of any onion is to chop it, then soak it in cold water for about 15 minutes. Then drain away the water and add to your guacamole.
How long does Guacamole last and can you make it in advance?
Guacamole is best when eaten fresh. When placed in the fridge it quickly turns a bit brown and boring, and while the acidity from the lime will help to slow this down it will still happen sooner rather than later. But! Don't worry. Even if it turns a bit brown, you can still eat it. It's still delicious. It' just not as pretty.
Now guacamole is one of those sauces that rarely has leftovers - it's just to good! But if you do have some leftovers, cover and store in the fridge and you can eat it the next day as well (even if it's a little brown).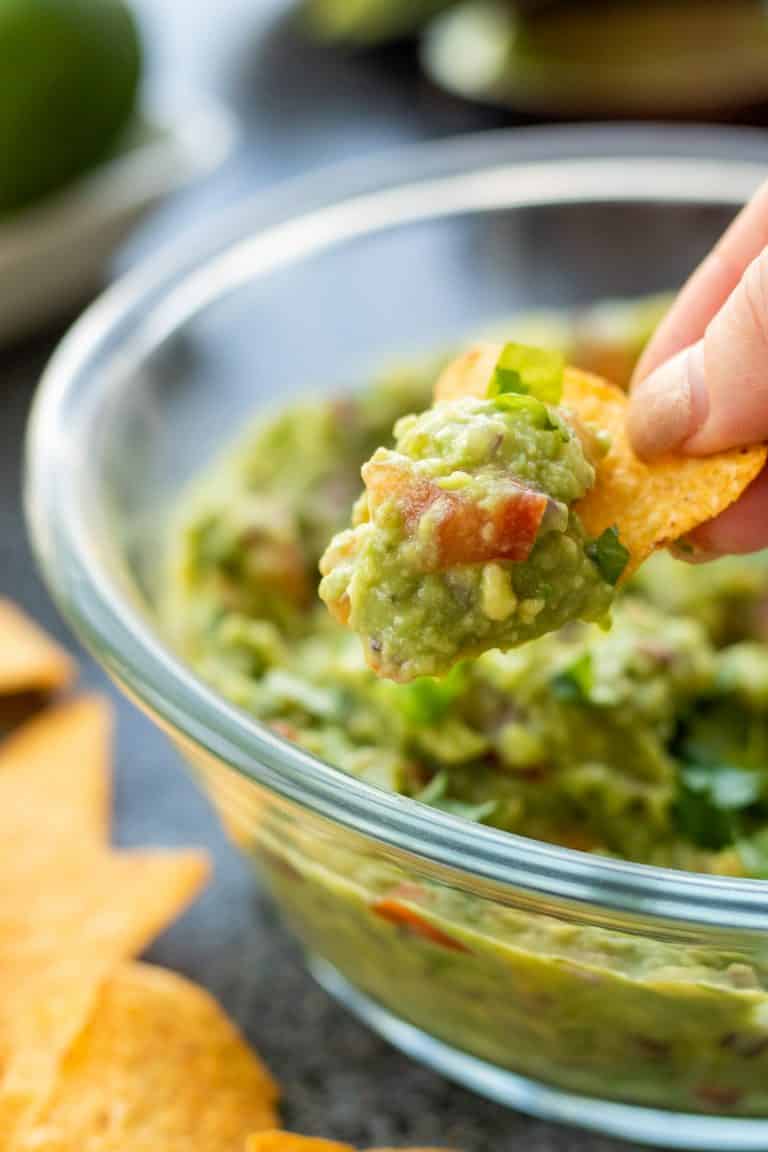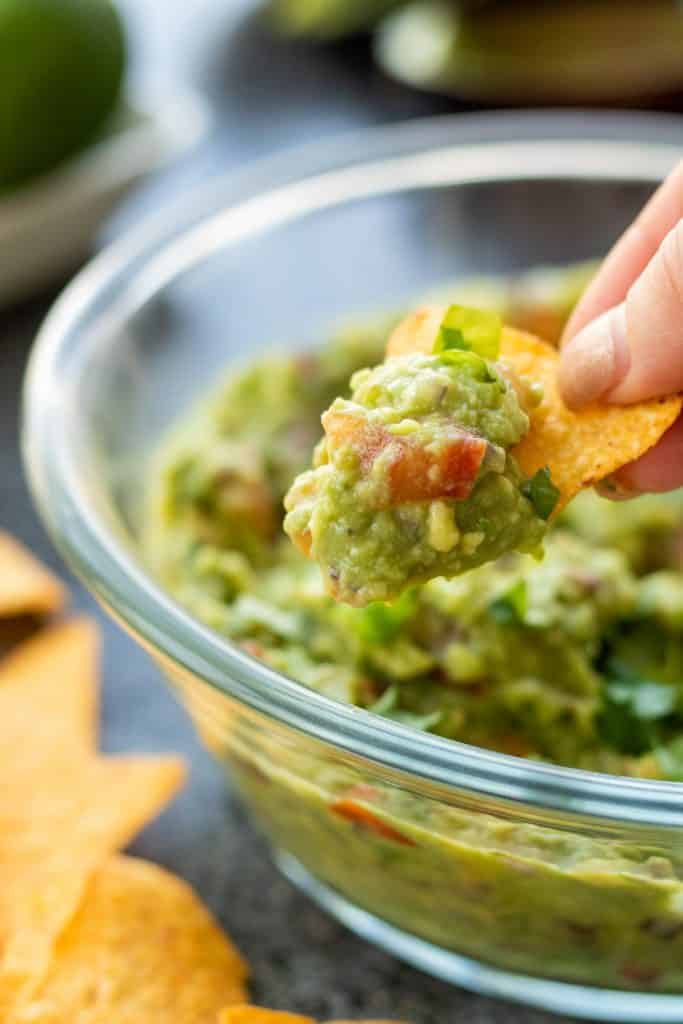 How to eat Guacamole & what to serve with it
Guacamole is my absolute favorite sauce because it's so delicious - and goes with almost everything. Here are some of my favorite ways of eating it:
For breakfast - either on top of a slice of bread, or as a side for your eggs.
With a barbecue - grilled chicken, steak, salmon, tuna, they all love a side of guacamole.
In a wrap - make a chicken wrap and top with guacamole. So delicious!
On top of a salad - it makes a perfect topping and removes the need for a high fat salad dressing.
With tacos - of course, it's great in a taco. Or burrito. Or anything else Mexican.
For nachos - make a nacho plate with some melted cheese and serve this guac on the side.
With tortilla chips - either let this guacamole be the lone star for your chips, or make a dip platter with a pico de gallo salsa, sour ceam and - of coure - a nice, chunky, guacamole.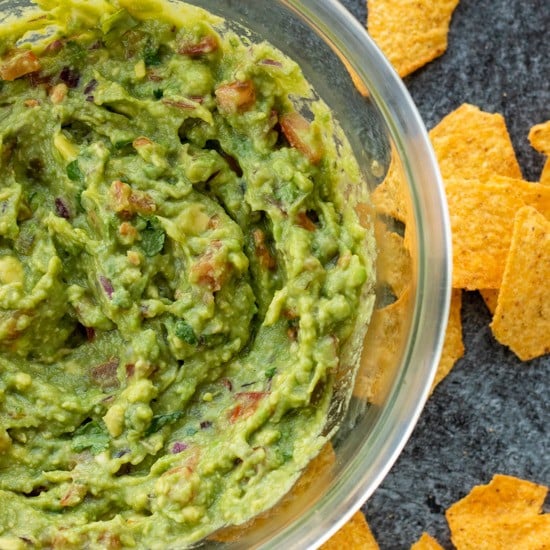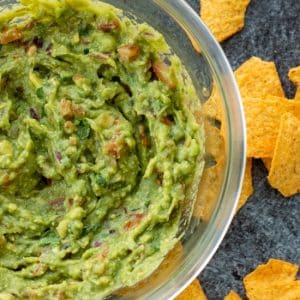 Ingredients
1

clove

garlic

peeled and minced

1

tsp

salt

3

avocados

peeled and pitted

1

lime

1

Tbsp

fresh cilantro

chopped

½

red onion

finely chopped

1

tomato

chopped

1

Tbsp

jalapeño

chopped
Instructions
Optional: soak the onion in water for about 15 minutes to take some of the edge off.

Combine the minced garlic and salt in a bowl and mash together.

Add the avocados and mash them. Squeeze over the lime and mix.

Add the rest of the ingredients and mix. Taste and adjust seasoning according to taste. Then serve immediately!
Equipment needed for this recipe
Notes
Possible substitutions and exclusions
Garlic can be excluded
Lime can be substituted for lemon, but one of them should always be added to preserve the color and freshness of the avocado
Red onion can be substituted for shallots or yellow onion
Tomatoes can be excluded
Jalapeños can be excluded for a very mild guacamole, and the amount varied to suit your desired level of spiciness
Pro tips for making Guacamole
Use ripe and soft avocados - rather overripe than under.
Always add lemon or lime - if not for flavor, then to keep it from going brown
Mash garlic with salt first, to make the garlic taste softer and ensure it spreads evenly throughout the sauce
Soak onion in water for 15 minutes before adding to the guac if you wish to soften the taste of the onion as well.
Nutrition
Calories:
256
kcal
|
Carbohydrates:
16
g
|
Protein:
4
g
|
Fat:
22
g
|
Saturated Fat:
3
g
|
Sodium:
594
mg
|
Potassium:
833
mg
|
Fiber:
11
g
|
Sugar:
3
g
|
Vitamin A:
517
IU
|
Vitamin C:
27
mg
|
Calcium:
24
mg
|
Iron:
1
mg
Nutritional information is approximate and automatically calculated, and should only be viewed as an indication.
What's in your go-to favorite guacamole? And what did you think of my guac recipe? Let me know in the comments below! And while you're there - please leave a rating and let me know how I'm doing!
/Emmeline