This post may contain affiliate links, which are always marked with *. Please read my disclosure for more information.
These spicy buffalo cauliflower bites are the best vegetarian wing alternative there is! Easy to make and a bit healthier than the regular kind, they're crispy and perfect to dip in blue cheese sauce or put in tacos, waps or salads. Breaded with panko and oven baked – not fried! – without oil I bet these will be your new favorite "wings"!
The text & images for this post were updated on September 1st 2019 – the recipe is still the same great one. You can find the old text & images here.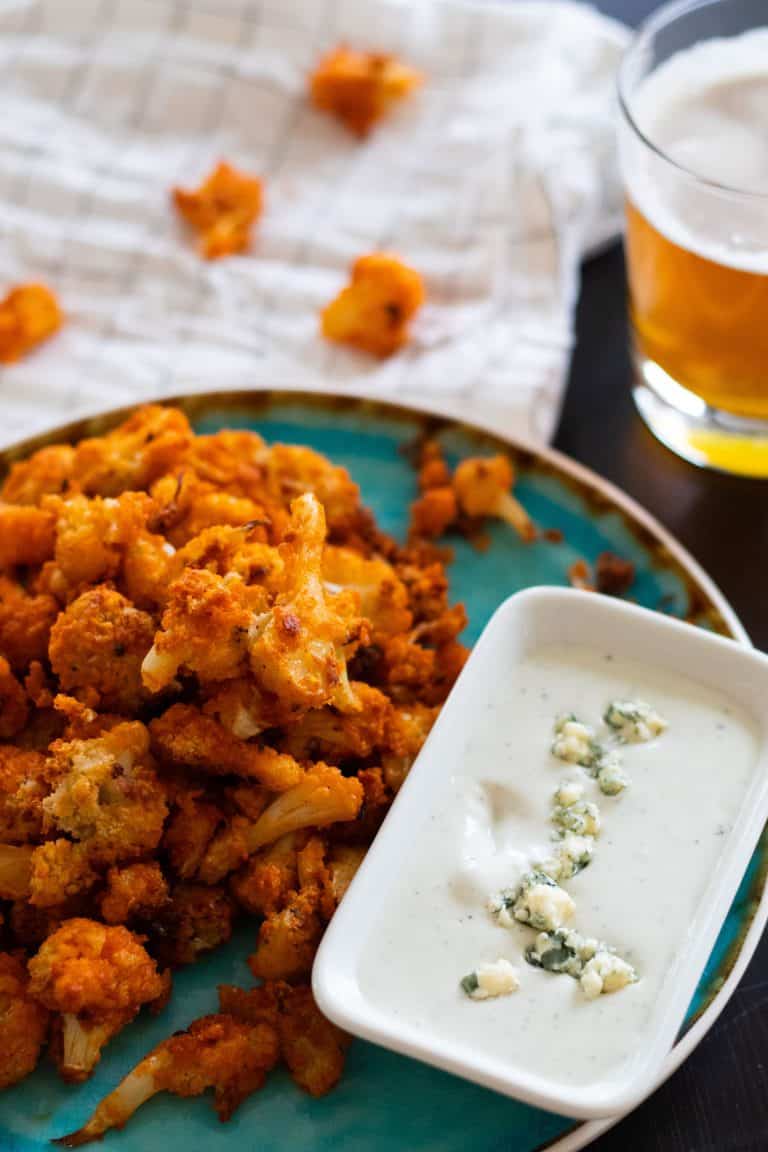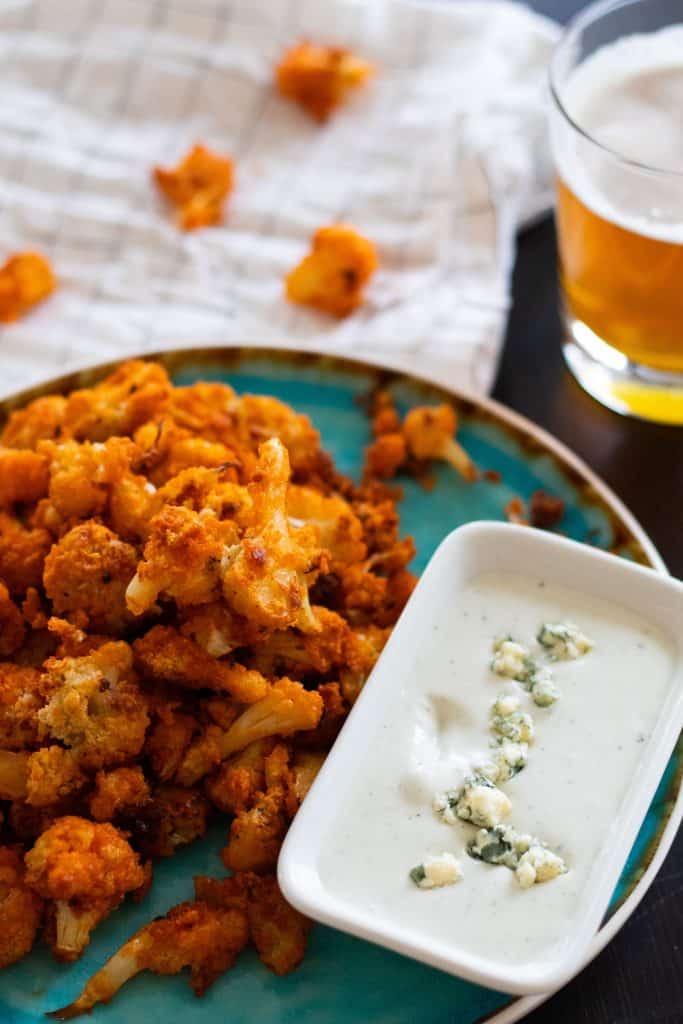 I first published this recipe almost exactly one year ago – August 27th 2018 to be exact. Back when I was just starting this blog, had zero photography skills and wrote long essays to go with my food.
A year later my photography has come a looong way, even if I still have lots to learn. (Isn't it great with a skill like photography where you can always evolve and improve??) (Yeah no I'm not sure about how "great" that is either – but hey, that's creativity for you!)
The long essays have become a bit shorter but when I tried to skip them entirely I missed them too much and you know, if you don't want to read all of this and instead go straight to the recipe – that's 100% fine! Just click the "Jump to recipe" button at the top of the post (or click here and you'll accomplish the same thing).
Anyway. A lot changes in a year but the story about this recipe hasn't. And I still love it so I kept it over here if you're curious. With the one-year-ago pictures actually, just because on my down days I love to be able to see how far I've come.
And if you're not interested in that then just read on for the details on this delicious recipe.
A year later – and it's still one of my top 3 (yes, I love all my children, but I'd lie if I didn't admit that Buffalo Cauliflower, Creamy Red Wine Chicken Pasta and my go-to Brownies with Cocoa Powder have a very special place in my heart). (Oh and these quesadillas so let's make that top 4.)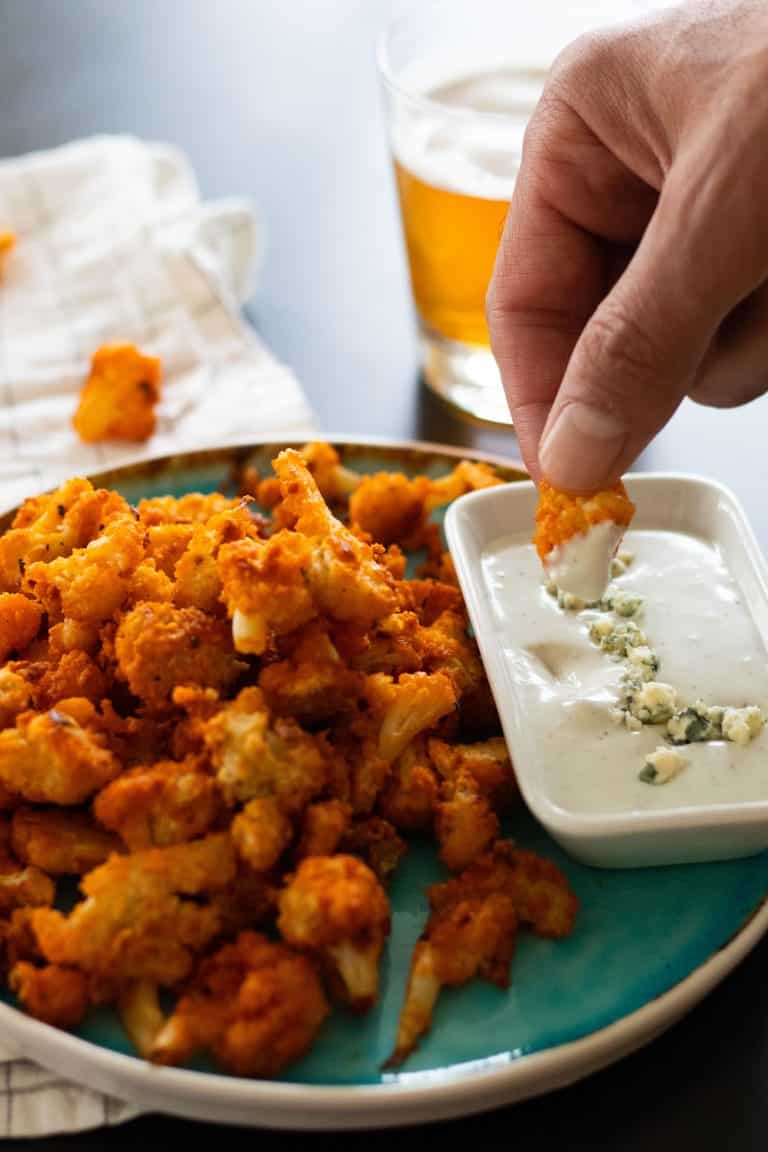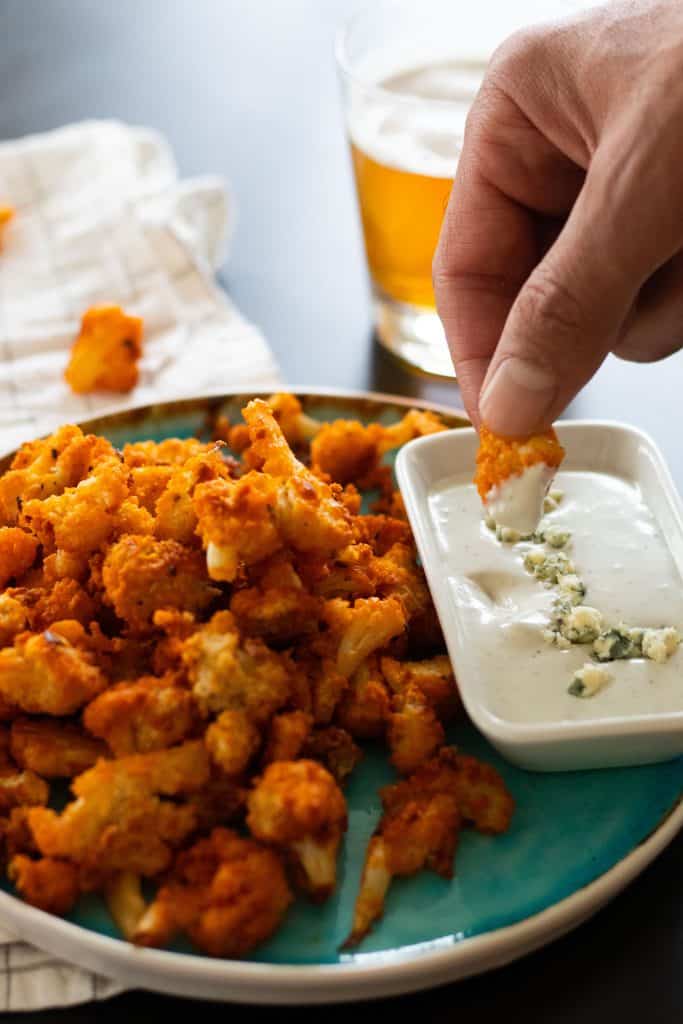 What are Buffalo Cauliflower Wings?
Buffalo Cauliflower Wings are the delicious vegetarian alternative to Buffalo Wings. For all us buffalo lovers who want something vegetarian, a bit healthier and – to be honest – a whole lot easier, cauliflower wings are the best thing that ever happened!
Are Buffalo Cauliflower wings healthy?
So I said "heathier". And they are. Yes, they sure are. Healthy? Well, let's just stick with healthier.
Cauliflower = veggie! Good for you! Nutrients and all that stuff!
Baked without oil instead of fried = less fat = healthier.
Meatless which depending on what type healthy you subscribe to is a good choice.
Are they vegan?
This version of cauliflower wings is not vegan, as there is milk in the batter and butter in the buffalo sauce. However, make it with non-dairy milk and a vegan butter substitute and it's all vegan for you!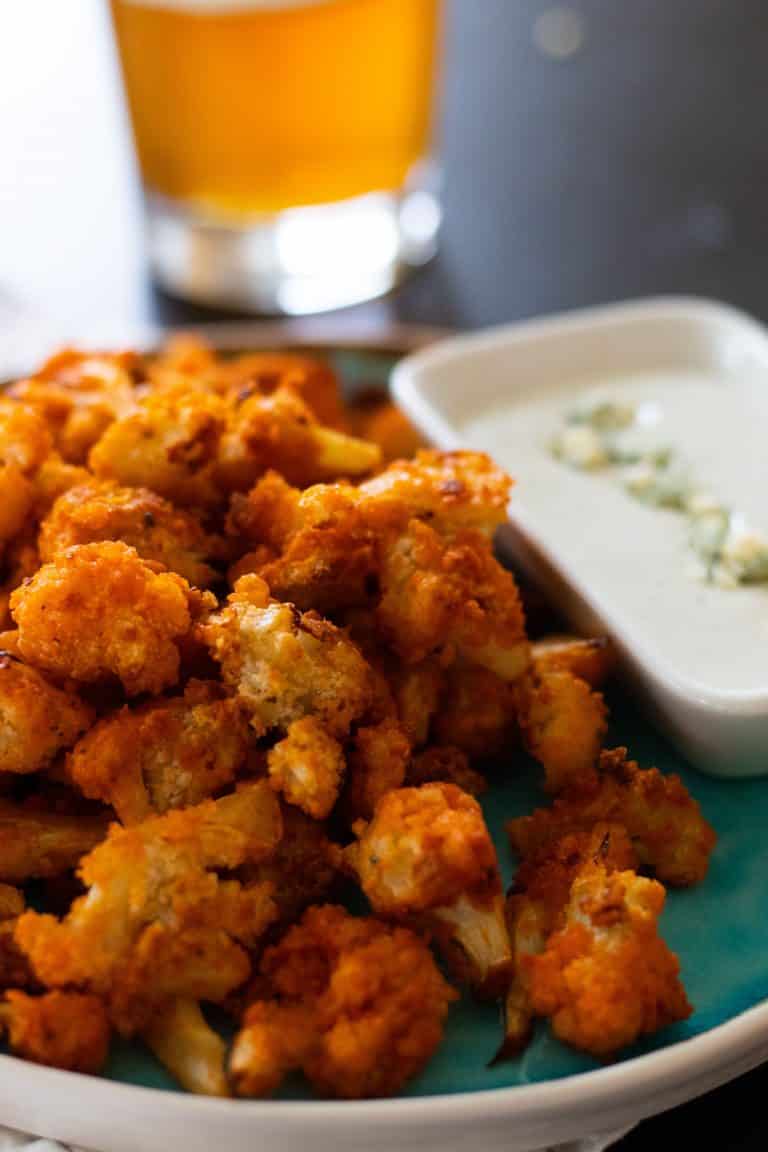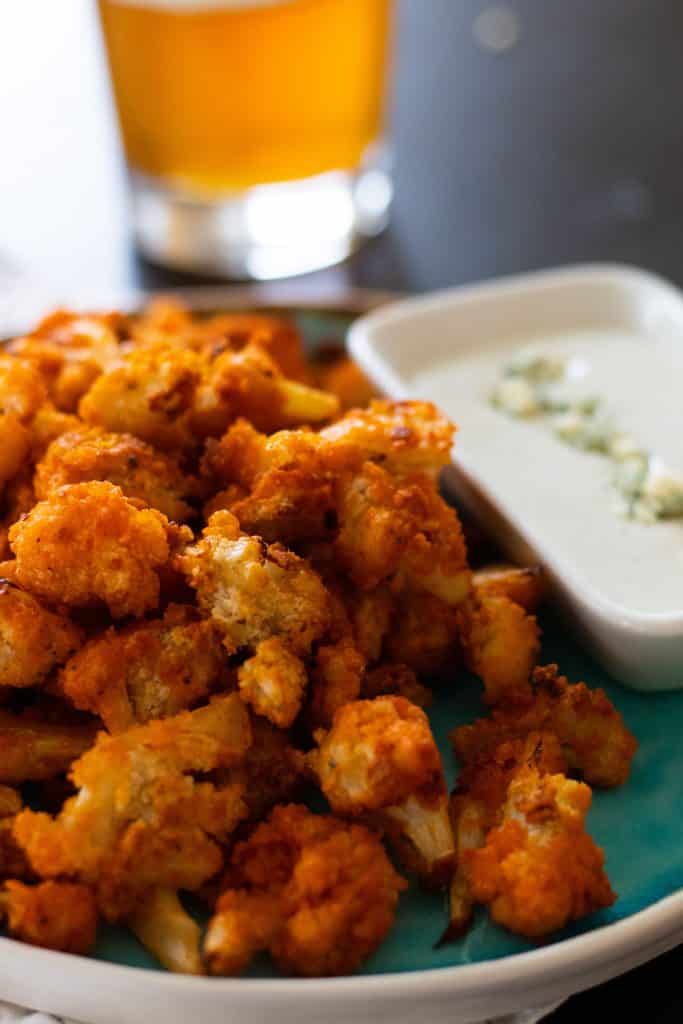 What goes with buffalo cauliflower?
Buffalo cauliflower wings love everything that Buffalo loves. That is, more than anything else, they really really really love blue cheese sauce. And so do I, so I always make a batch to go with them. Ranch sauce is also a good bet, if blue cheese is not your thing. Or just some sour cream to dip them in & sooth a bit off that spice.
A few other things I've found to go amazing with these buffalo cauliflower bites are avocado and cilantro. Have the avocado as it is, or make a simple avocado sauce to serve alongside (bonus: great for taking some off the heat away!) – or make some buffalo cauliflower tacos and top with said avocado and a nice helping of cilantro.
And yes, I know, people say celery goes with anything buffalo. But you know what? I don't hate a lot of food. I really don't. Almost nothing. The only thing I really truly hate to be honest is celery.
I can't even keep it in my bloody mary for too long or it tastes too much of celery.
So nope, you do your celery but please don't make me eat it.
How to make Buffalo Cauliflower Bites
Making Buffalo Cauliflower Wings is done in three steps:
Breading & baking the cauliflower
Making the buffalo sauce
Putting it all together and baking for 5 more minutes
Prep? Just chop your cauliflower in nice bite-size pieces. I like them like this, bite-sized and small and full of taste, but if you want to make them bigger that's delicious as well and requires less utensils to eat.
Now if you're making your own blue cheese sauce I recommend you do this before starting with the cauliflower wings as well, just to let it set for an added stretch of time. However if you're short on time you will have time to make it while the cauliflower is baking as well!
Then set the oven for 225 C/430 F, bring out your ingredients and get going.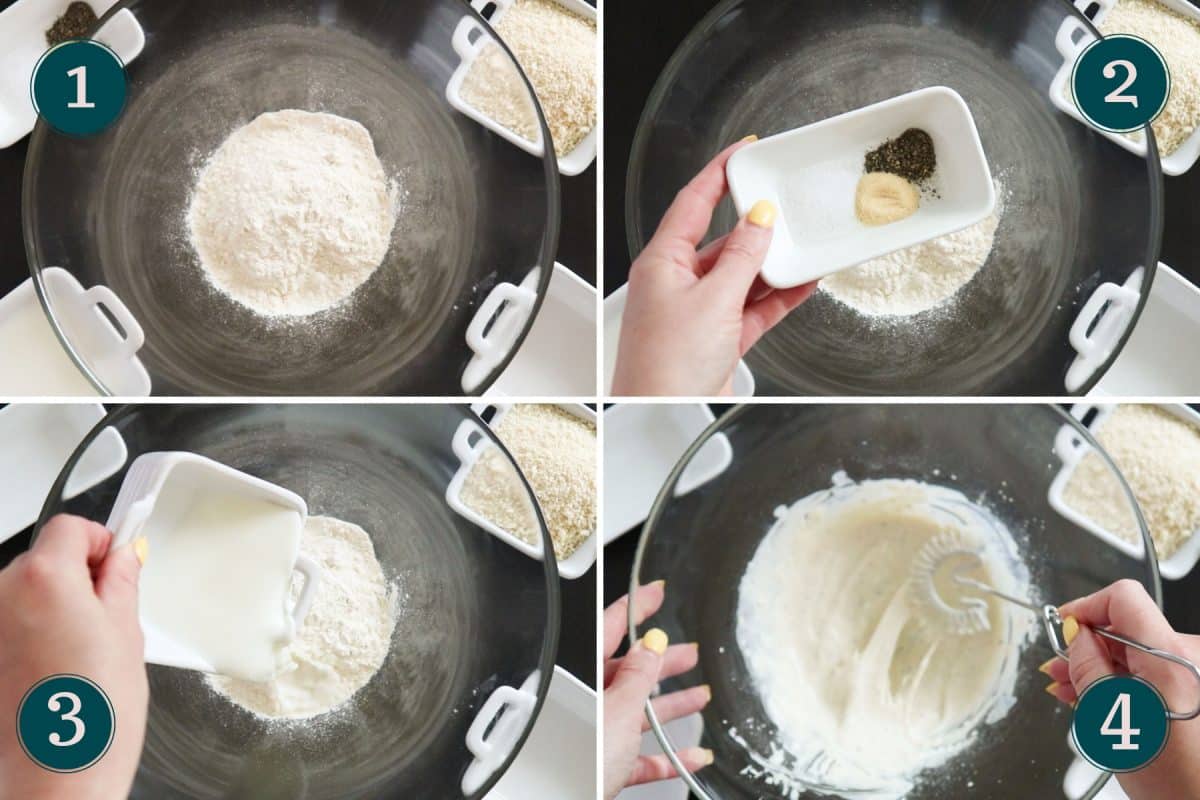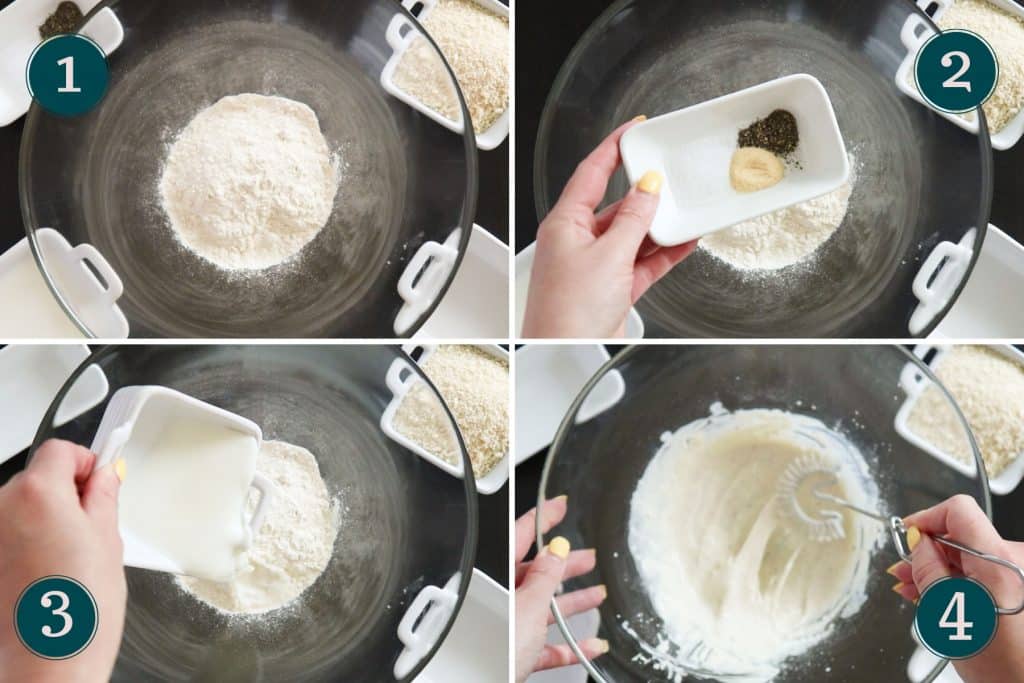 First, mix together the flour, spices and milk you will coat the cauliflower in.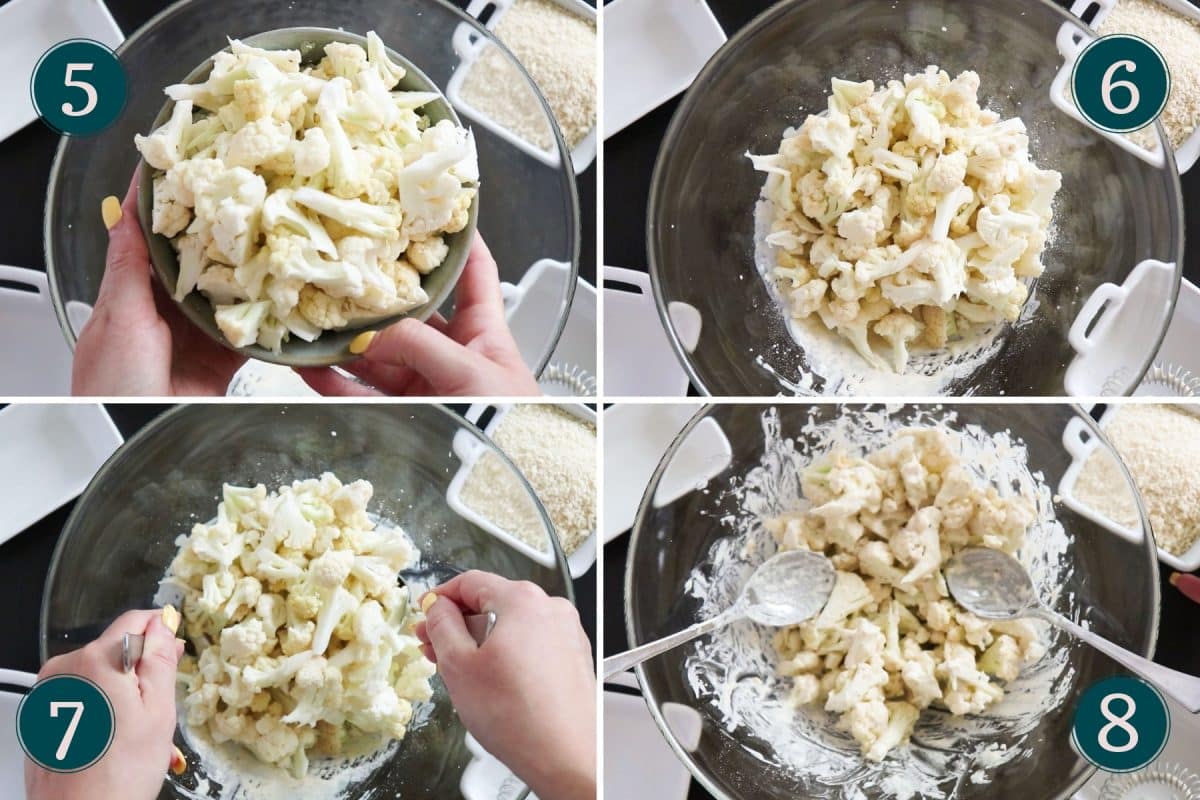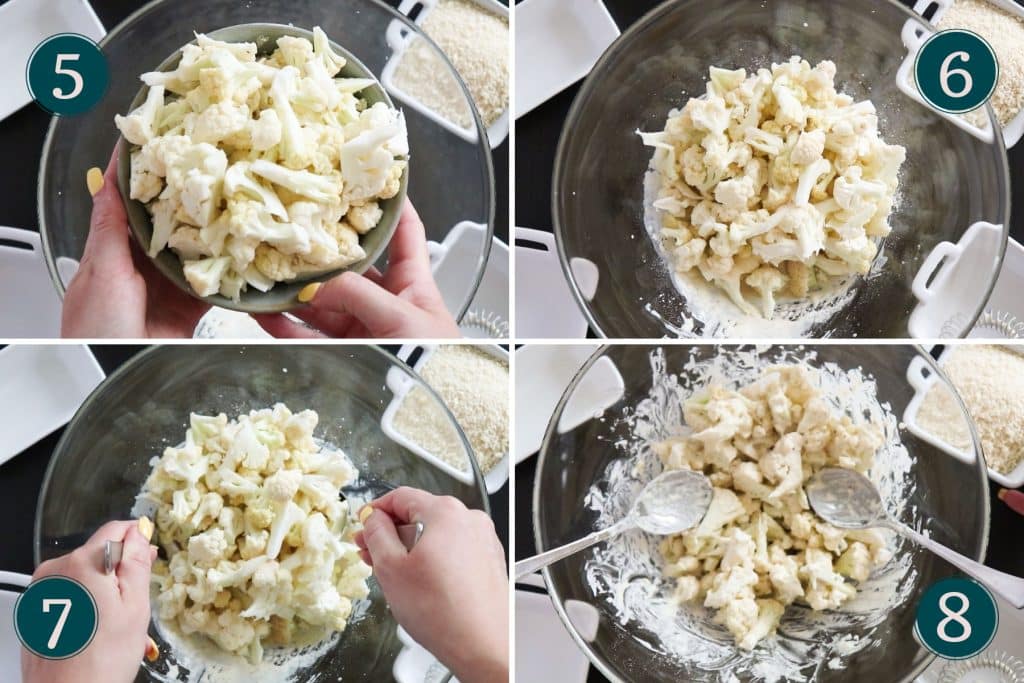 Then add in the cauliflower and mix well. Make sure all pieces are entirely covered, or the panko won't stick.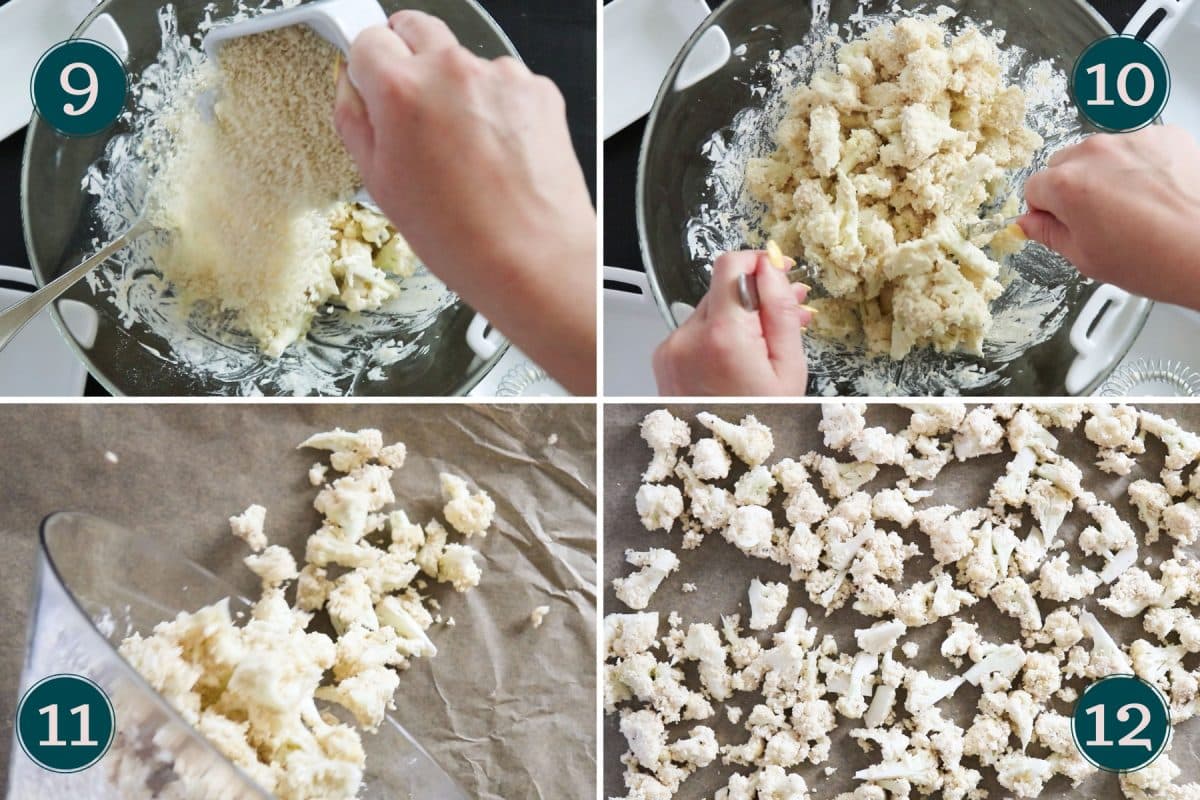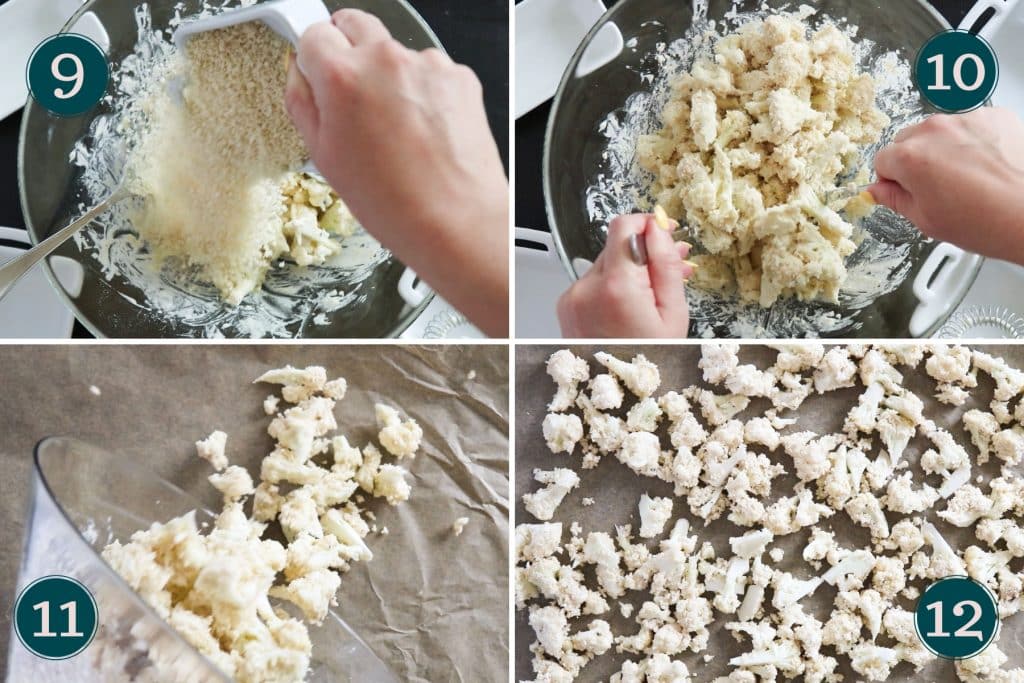 Follow with said panko, and once again mix it all well, making sure you get panko everywhere. Then pour it all out onto an oven tray lined with a baking sheet and spread out evenly. Pop in the oven and bake for 20 minutes, mixing once halfway, until they have a bit of color.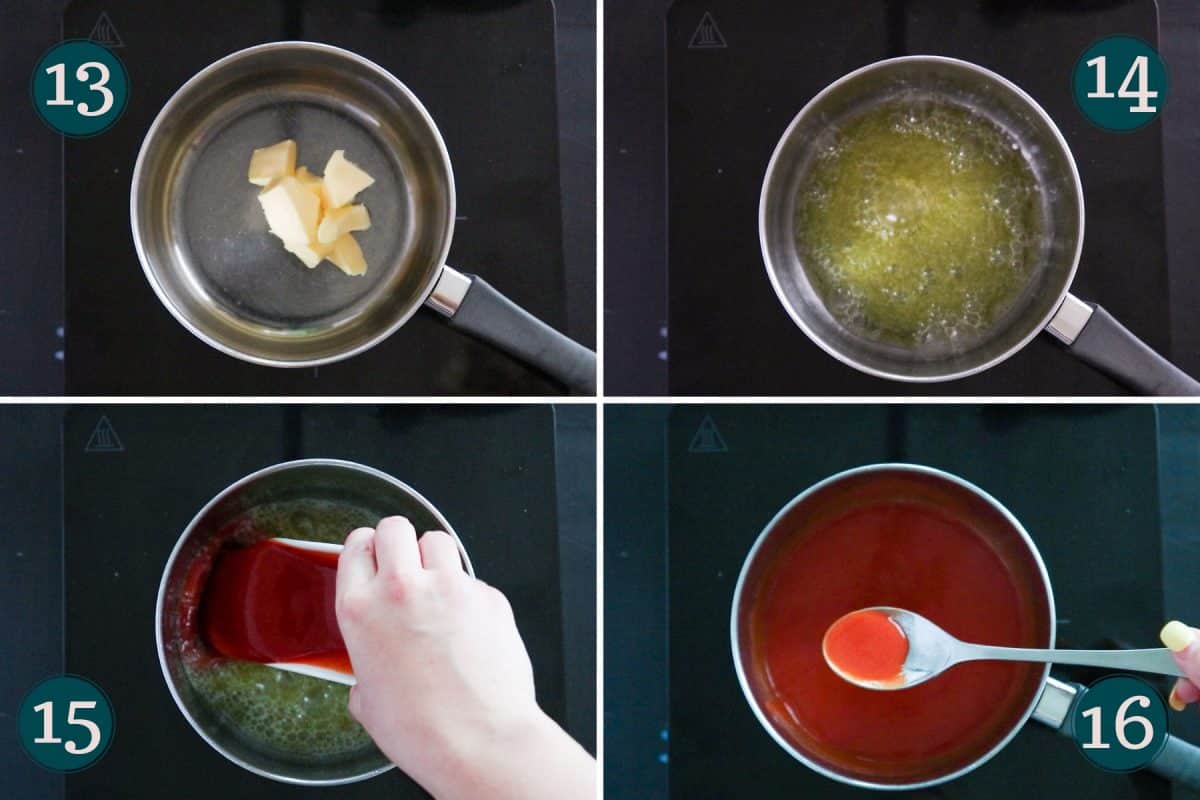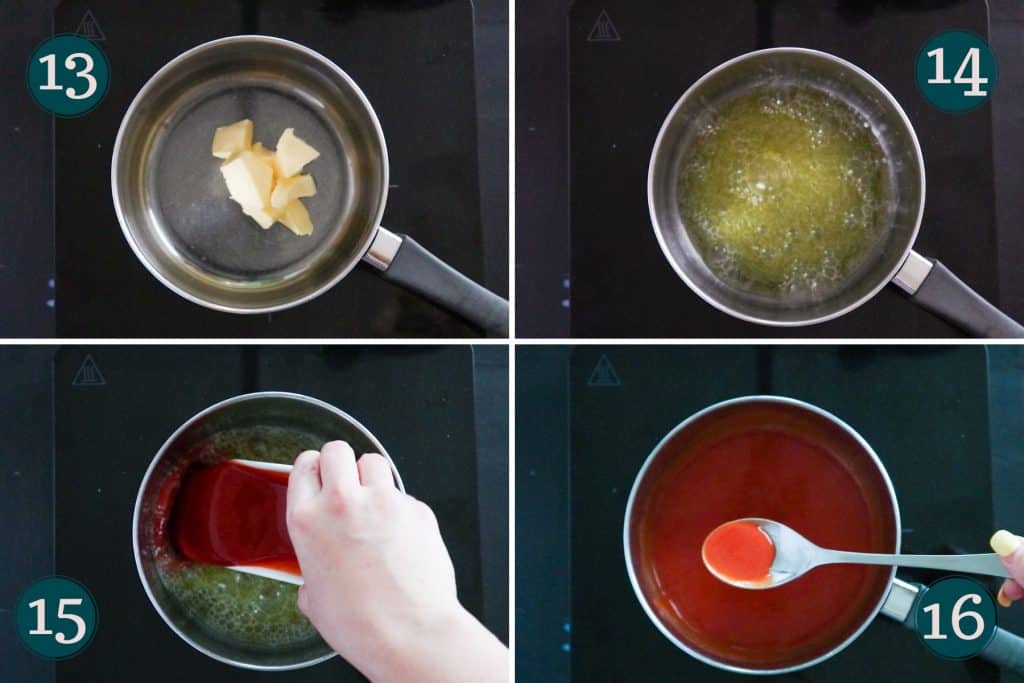 While the cauliflower bites are baking, make your buffalo sauce. This is so easy I can't believe I didn't know how to for so much of my life! Despite being crazy for all things buffalo since what, age 5?
You just melt your butter and then mix in your hot sauce. Make sure to mix it in when the butter is still hot on the stove – this way it combines beautifully.
Adjust the ratio of butter to hot sauce depending on how spicy you like it. For less spice just use less hot sauce, or add more butter and get some extra sauce instead.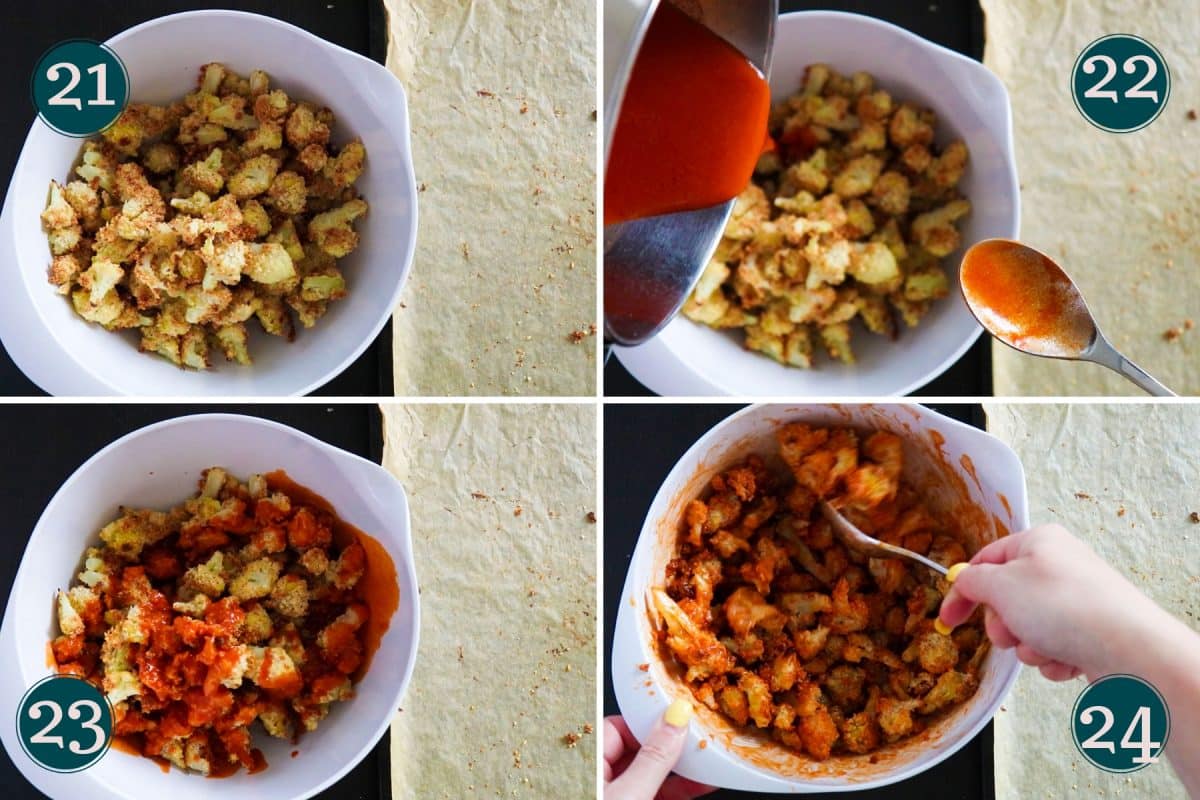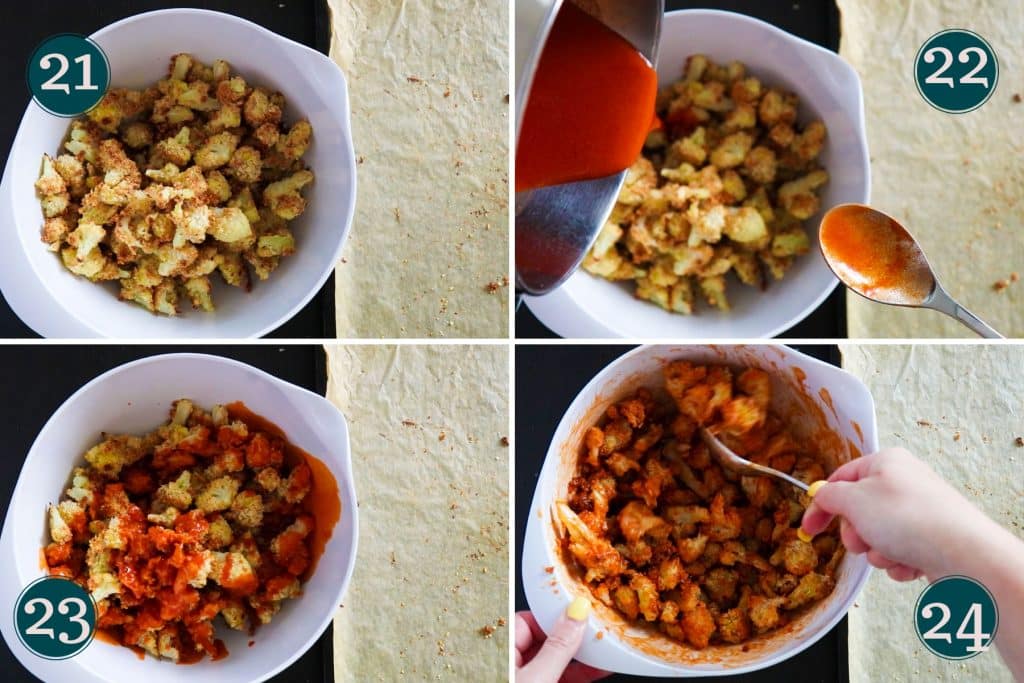 When the cauliflower has finished baking and you're all done with your buffalo sauce, bring the cauliflower from the oven and place it in a bowl.
Pour the buffalo sauce over the baked cauliflower and mix well, making sure to coat all pieces evenly.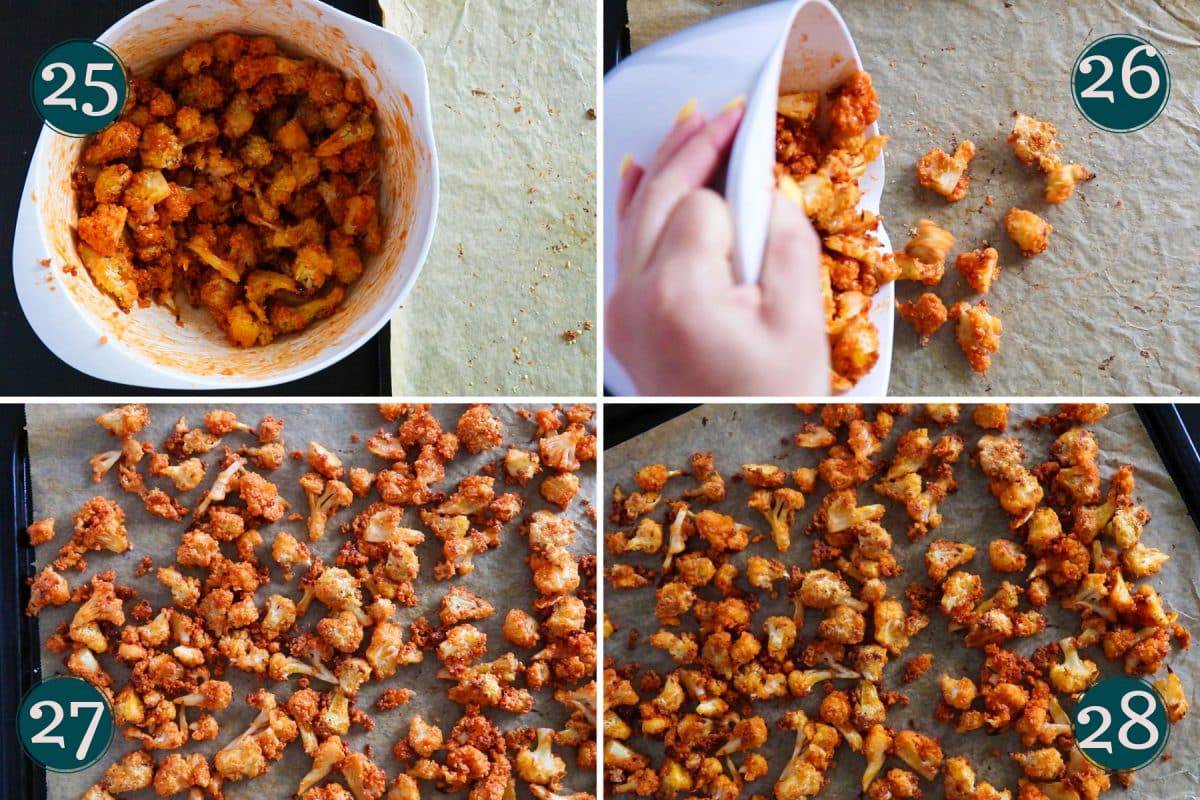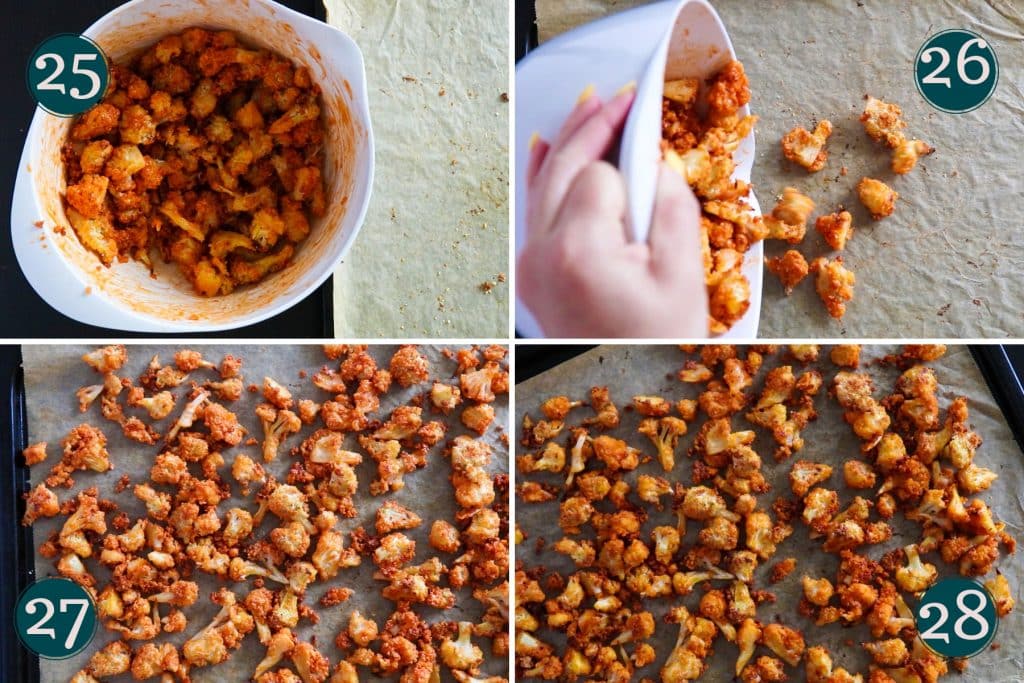 Finally, spread out the cauliflower wings on the baking sheet once again and place back in the oven for about 5 minute. And that is it!
Bring out your blue cheese sauce, make your tacos, or whatever works for you – and enjoy!
Looking for more buffalo recipes? Oh do I have just what you need! Check out this 15-minute Buffalo Chicken Pasta, the best Buffalo Chicken Quesadillas, this Buffalo Cauliflower Puff Pastry Pizza and do not forget about the Buffalo Bacon Loaded Sweet Potatoes.
Did you like this recipe? Have you had cauliflower wings? Let me know in the comments below! And while you're down there – why not leave me a rating as well and let me know how I'm doing?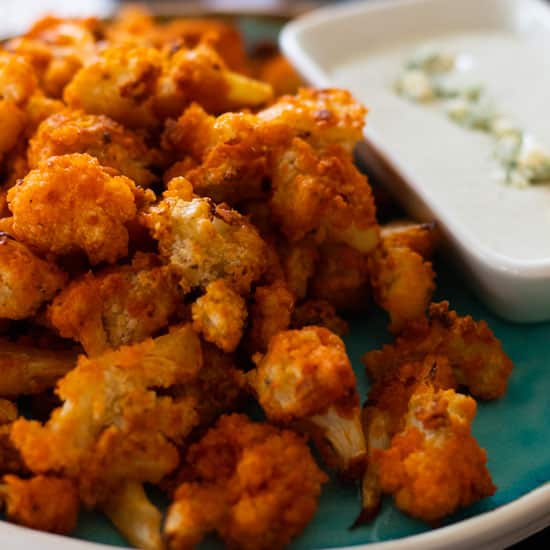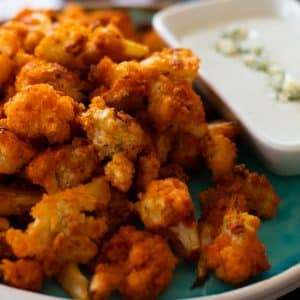 Ingredients
Buffalo Cauliflower
1

medium sized head of cauliflower, about 500g

1

dl

flour

1

dl

milk

0.25

tsp

salt

0.25

tsp

black pepper

0.25

tsp

garlic powder

1.5

dl

panko breadcrumbs

50

g

salted butter

melted

1.5

dl

hot sauce

I use Cholula original hot sauce
Instructions
Buffalo Cauliflower
Set the oven to 225 C/430 F and place a baking sheet on an oven tray.

Cut the cauliflower into bite-size pieces.

Mix together the flour, milk, salt, black pepper and garlic powder in a bowl.

Add the cauliflower florets to the flour, milk and spice mixture and mix well, making sure that they get covered on all sides.

Then add in the panko on top, and mix well. Make sure the cauliflower gets covered on all sides here as well.

Place the florets on the baking sheet, well separated. Place the oven tray with the florets in the middle of the oven and cook for 20 minutes.

While the cauliflower is cooking you can prepare the buffalo sauce. Melt butter and pour in the hot sauce while the butter is still hot on the stove. Mix well to an even consistency.

After 20 minutes, remove the cauliflower from the oven and place in a bowl. Pour over the buffalo sauce. Toss, making sure to cover the cauliflower well, and then return to the baking sheet. Pour over any remaining buffalo sauce and then place back in the oven for an additional 5 min. Bring out and serve immediately with blue cheese sauce.
Notes
Adjust the ratio of butter to hot sauce depending on how spicy you like it – and how spicy your hot sauce is! This recipe makes a pretty spicy version using Cholula hot sauce. To make it milder reduce the amount of hot sauce or use a milder version, or add more butter and get more buffalo sauce.
This Buffalo Cauliflower is great on it's own with just Blue Cheese Dip – but it's also perfect for making Buffalo Cauliflower Tacos
Nutrition
Calories:
472
kcal
|
Carbohydrates:
24
g
|
Protein:
14
g
|
Fat:
36
g
|
Saturated Fat:
18
g
|
Cholesterol:
74
mg
|
Sodium:
2268
mg
|
Potassium:
615
mg
|
Fiber:
3
g
|
Sugar:
5
g
|
Vitamin A:
845
IU
|
Vitamin C:
90.9
mg
|
Calcium:
300
mg
|
Iron:
1.7
mg
Nutritional information is approximate and automatically calculated, and should only be viewed as an indication.