Buffalo cauliflower just got an upgrade! And ended up on top of a pizza with the best & easiets kind of crust - puff pastry. Baked crispy with cheese, and drizzled with a good amount of blue cheese sauce this is one tasty vegetarian dinner, snack or appetizer - either way, you won't be able to help yourself.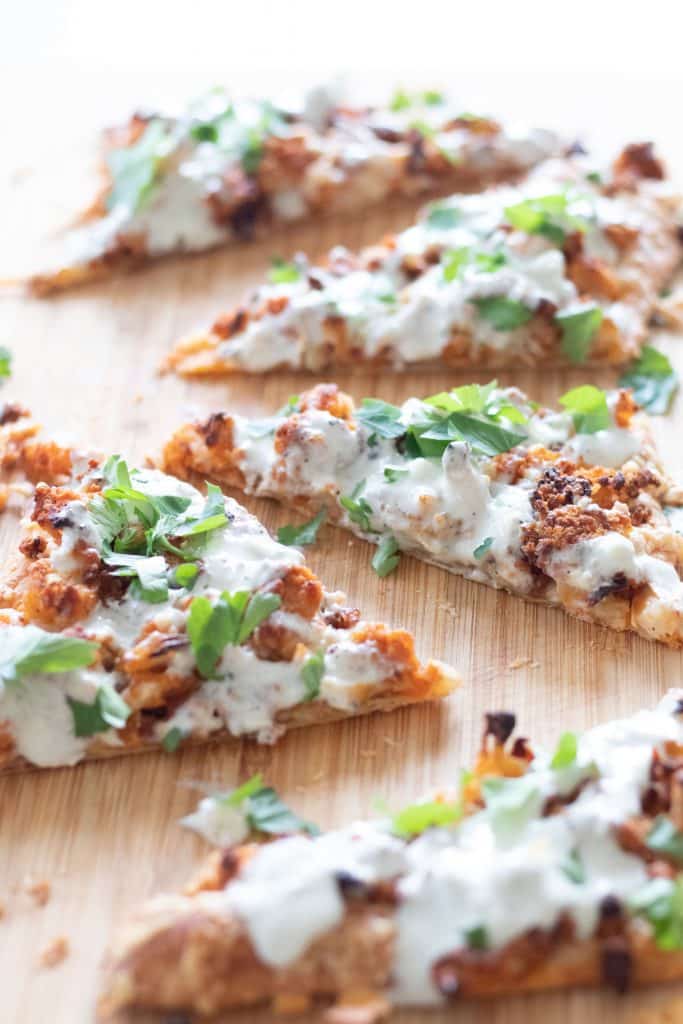 So by now it should come as now surprise that I love my buffalo-anything. And while Buffalo Cauliflower Tacos are seriously yummy, as are Buffalo Chicken Quesadillas, and the 15-minute Buffalo Chicken Pasta is hard to beat, I do think this is my #1.
Why? Well, it's one of those dishes that feels 100% like a treat. Like something you really, truly, earned.
Let me set the stage for you.
Imagine it's Saturday afternoon. You worked a long hard week, you did so much good work. Almost didn't check Instagram at all at work. Maybe you even worked out a few times. Yesterday was Friday and so you had a few beers - not too many though, you were really good yesterday too. And now it's Saturday afternoon, you're lazy and lying on the couch and wondering what to make for lunch. You feel like you earned a treat. And so you make this.
That's the kind of dish this is. The treat yourself, enjoy it, savor it kind. Equally delicious the moment you make it & when you heat it up for lunch (or breakfast..... yep that was me) the day after. Just leave the blue cheese sauce off the pieces you're saving for now (or don't, that's OK too).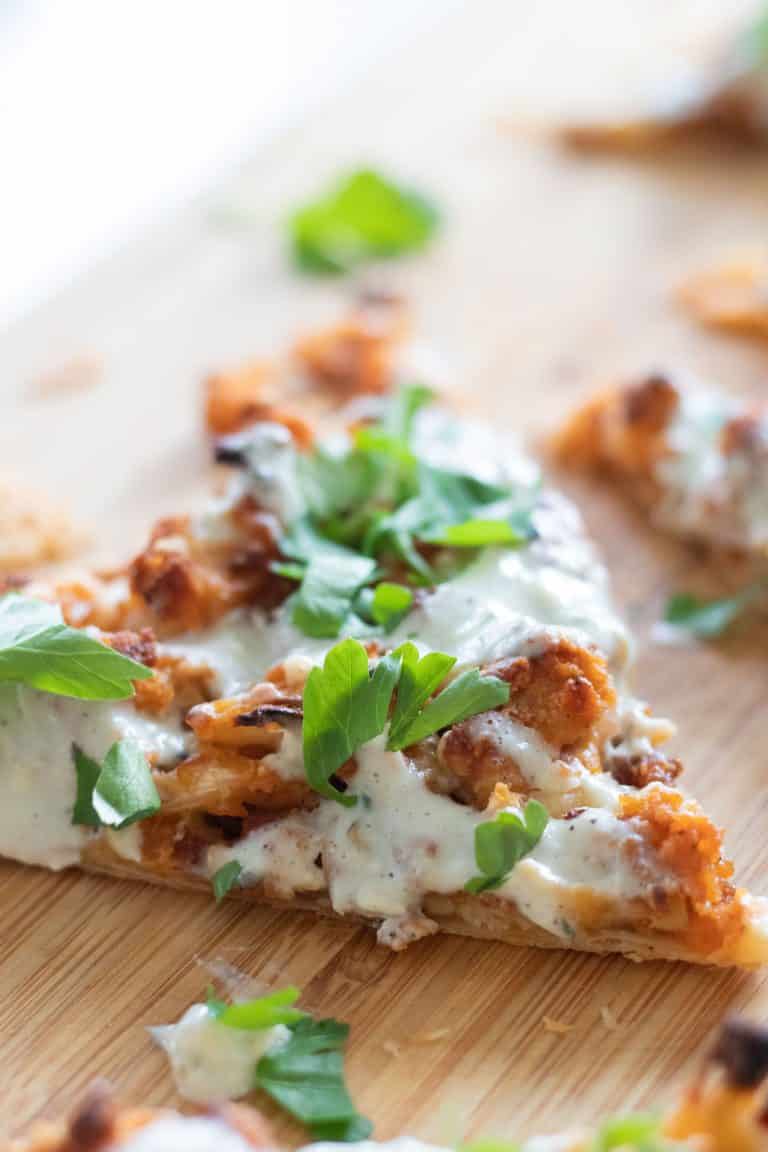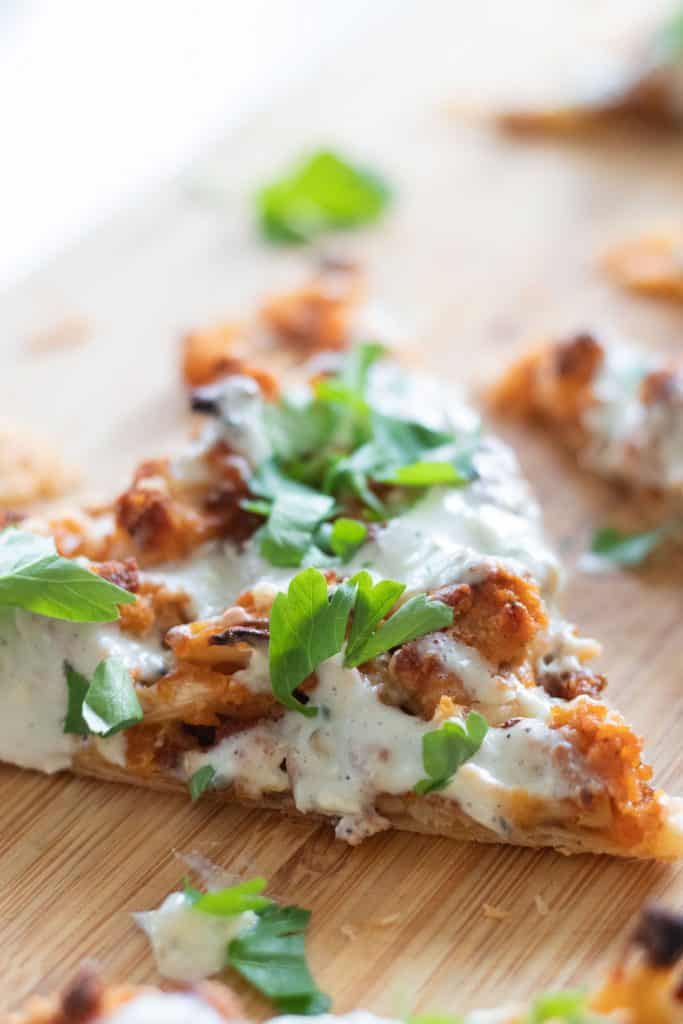 Using puff pastry for pizza
OK let's talk a bit about using puff pastry instead of pizza dough. I just love it. It's so easy, you know? You can keep it in the freezer forever, it thaws quickly, and it comes out so much more light & delicate than pizza dough.
To be honest, puff pastry pizza to me feels more like a fancy appetizer at some fancy party than a pizza. Lighter, fancier & not as filling - so I can actually eat that whole pizza before I'm full...
Wanna try another version of puff pastry pizza? Check out this Blue Cheese, Apple & Kale version.
How to make Buffalo Cauliflower Pizza with Puff Pastry
While this pizza takes about an hour from start to finish, most of that is idle time - so you'll have plenty of time to binge watch Billions while it's cooking. (Binge watching = another great way to treat yourself.)
Start by bringing out your puff pastry sheets if they're frozen and leaving them out to thaw.
Then start making your Oven-baked Buffalo Cauliflower or Air Fryer Buffalo Cauliflower, and while they're baking make your Blue Cheese Sauce. For detailed instructions (and video!) for how to make them, click the links above. Save about 2 tablespoon of the buffalo sauce for the pizzas.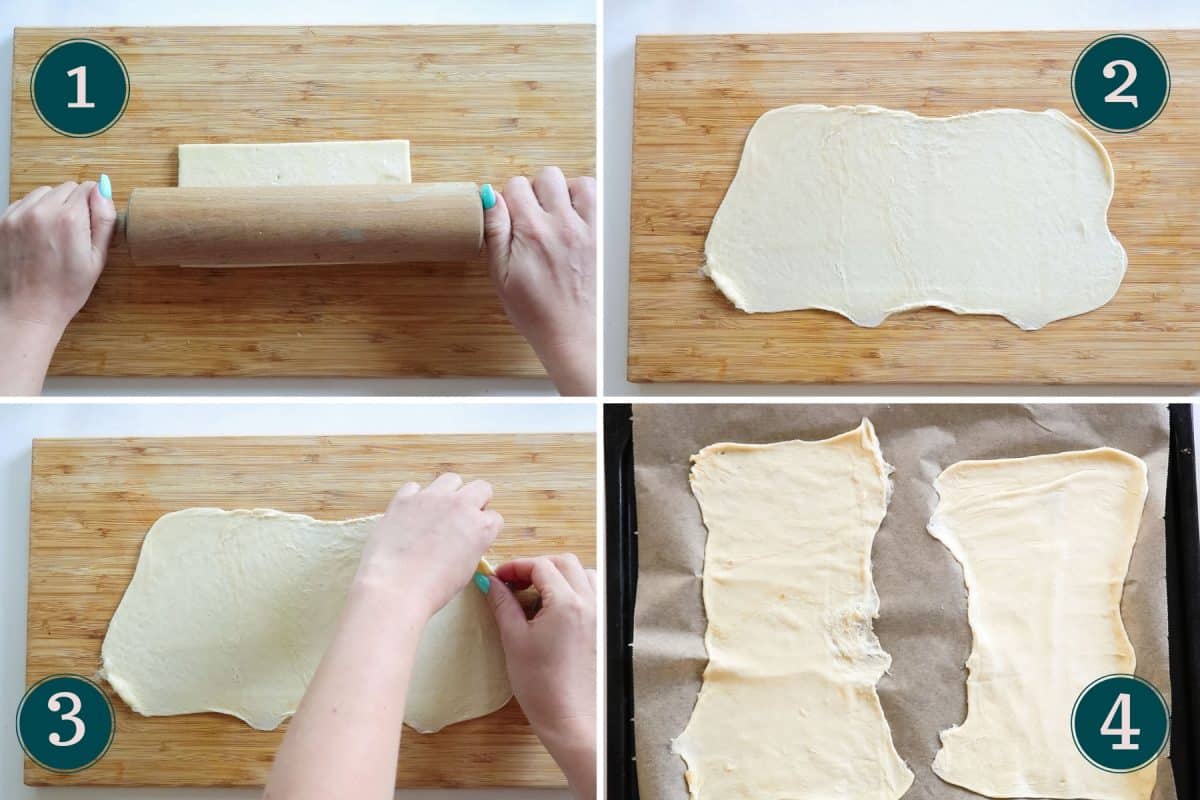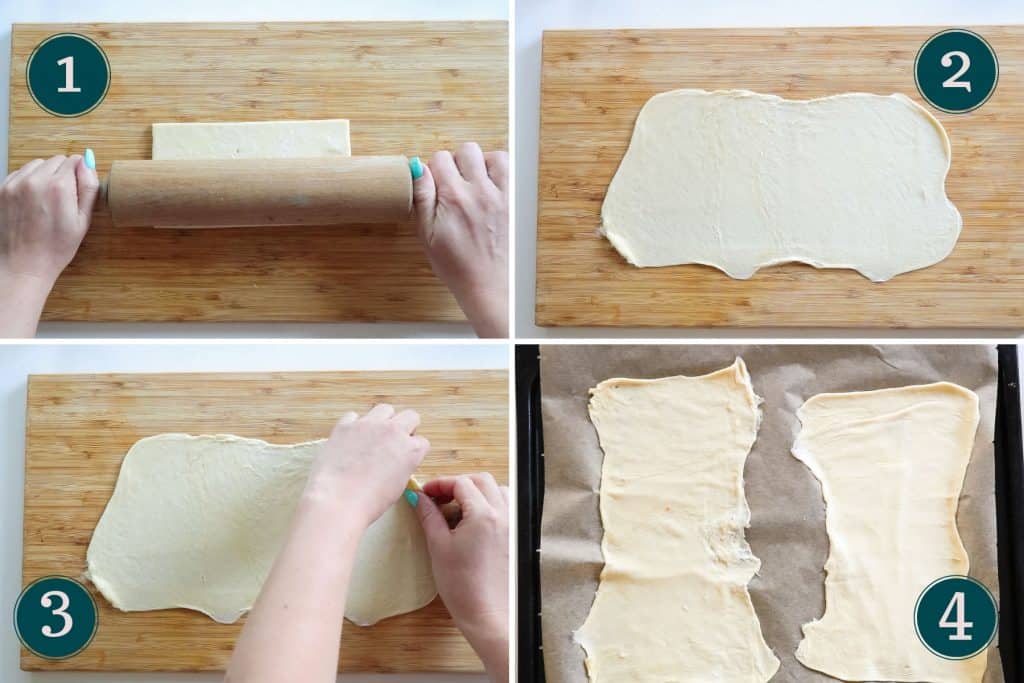 Then when your Buffalo Cauliflower Bites and Blue Cheese Sauce are finished, raise the oven temperature to 225 C/440 F and roll out your puff pastry. You can do as in the above pictures and roll it out on a separate surface before transferring to an oven tray lined with parchment paper, but it's often easier to just roll them out directly on top of the parchment paper.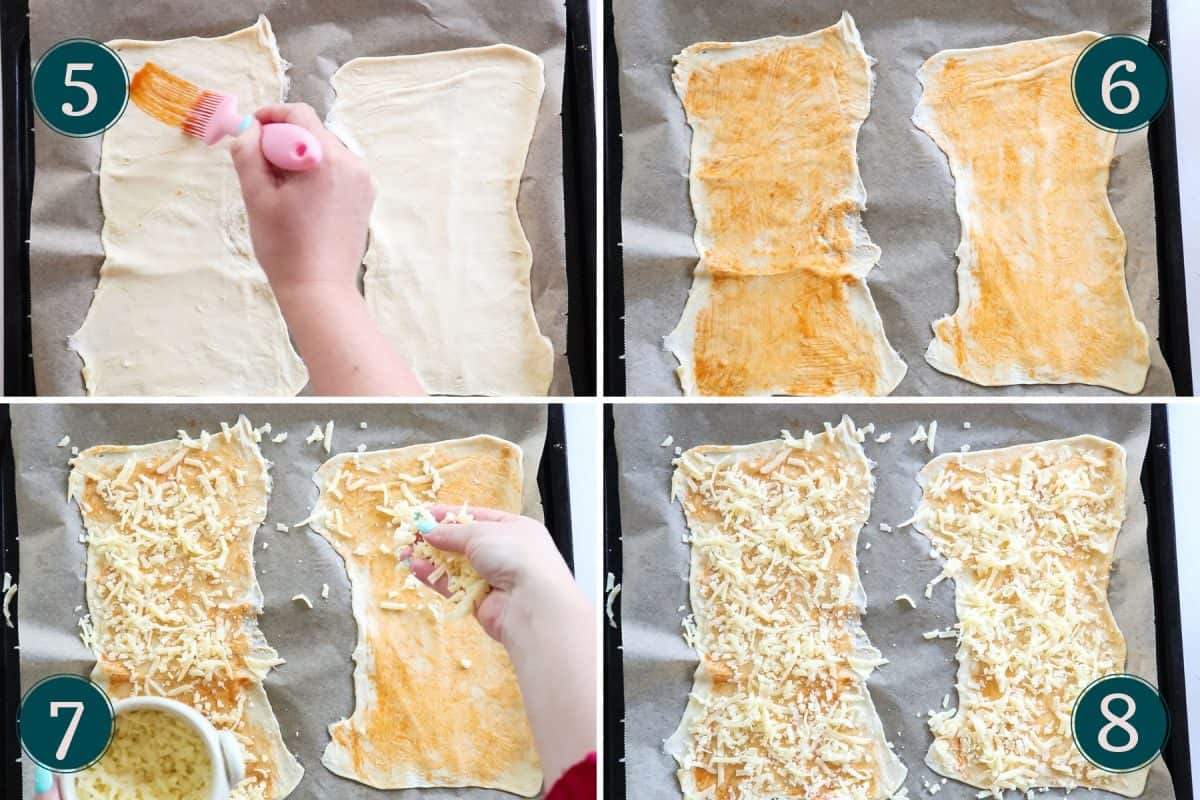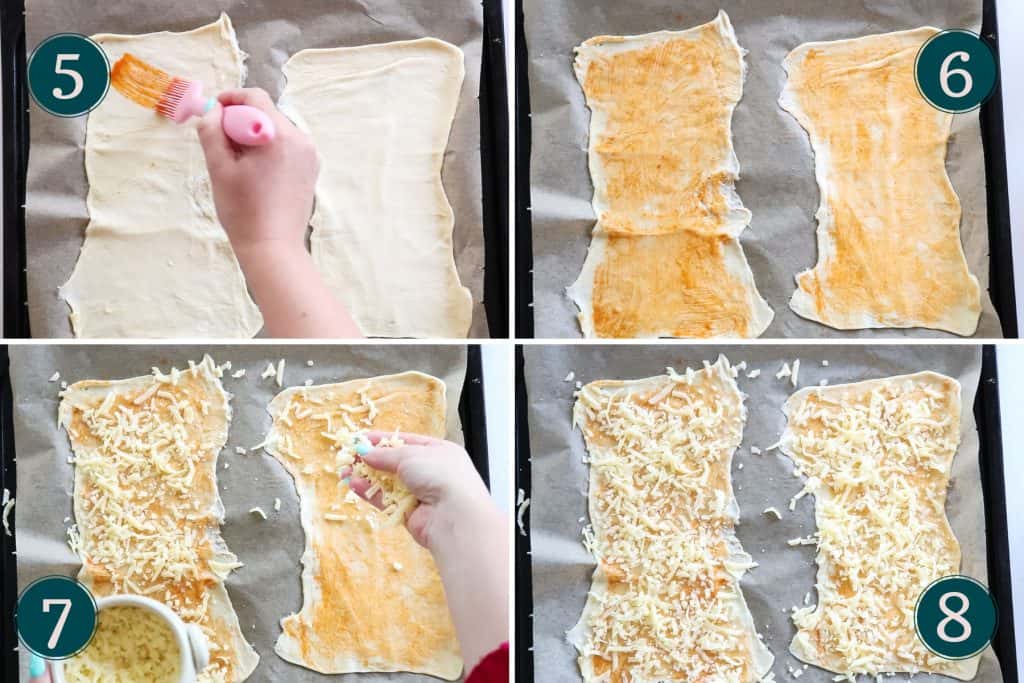 Then brush your saved Buffalo sauce on top of the pizzas, and top with about half of the cheese (or a little more).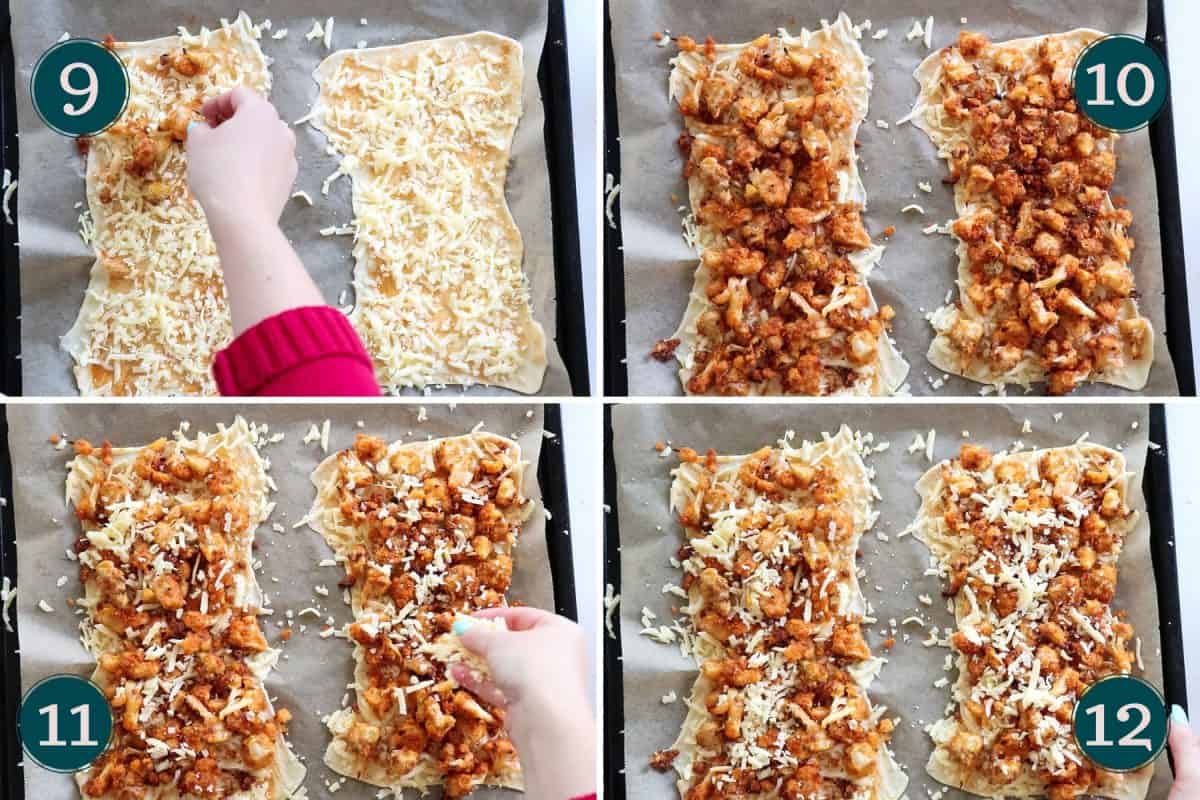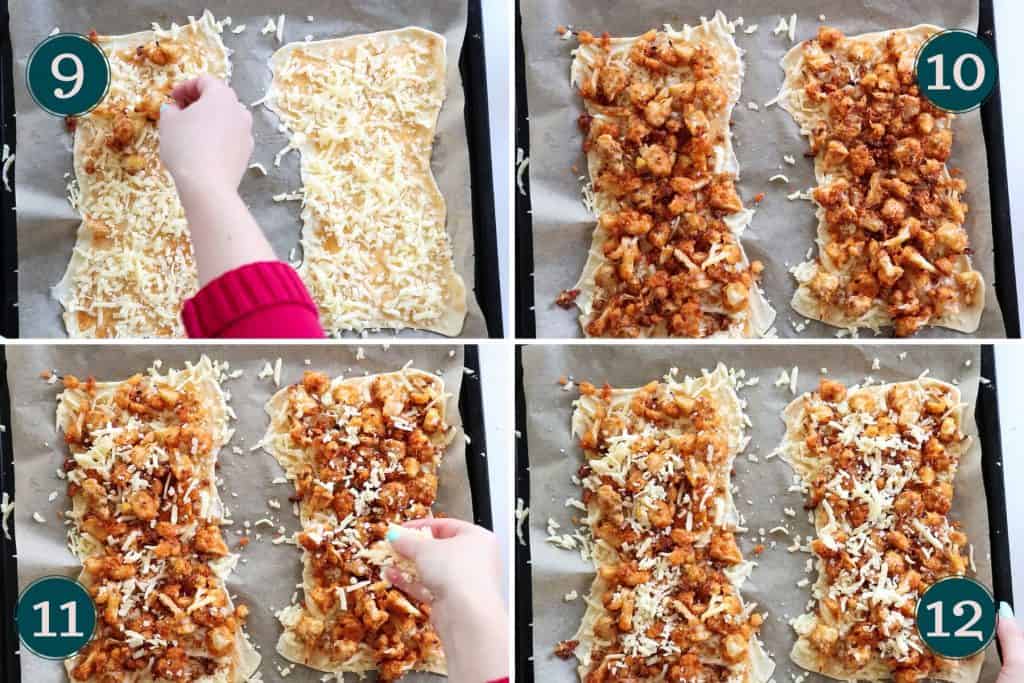 After the cheese, add the buffalo cauliflower, and top with the rest of the cheese. Then place in the oven and bake for 15-20 minutes - until the puff pastry is puffy and the cheese is melted and a bit browned.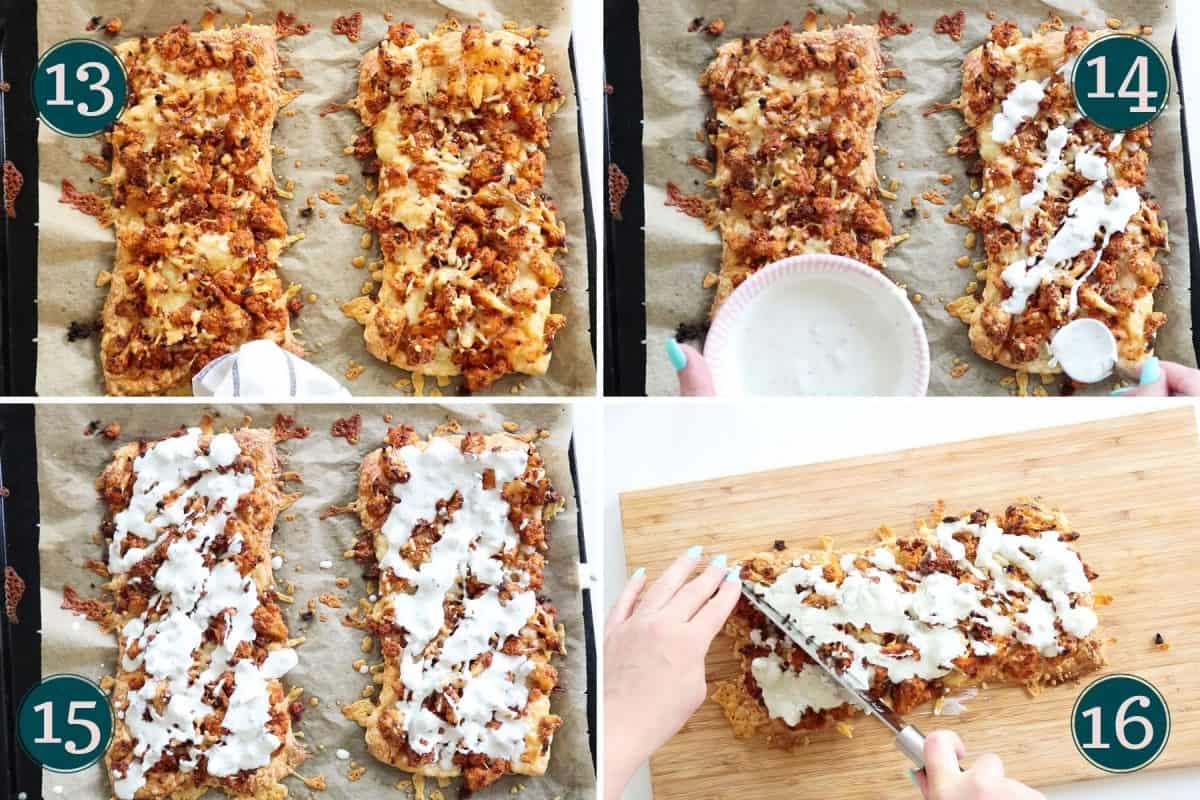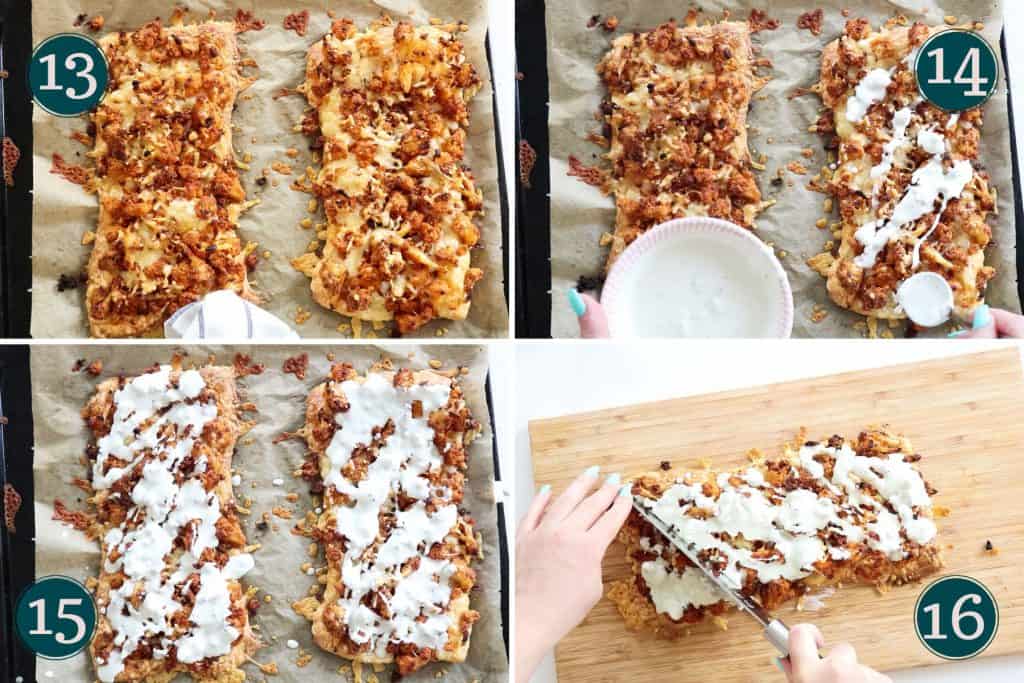 When the pizzas are done in the oven, bring them out and top with the blue cheese sauce. Then cut, and serve immediately - on its own, or with one or two healthy sides for pizza. If you have any leftovers, you can reheat them in the air fryer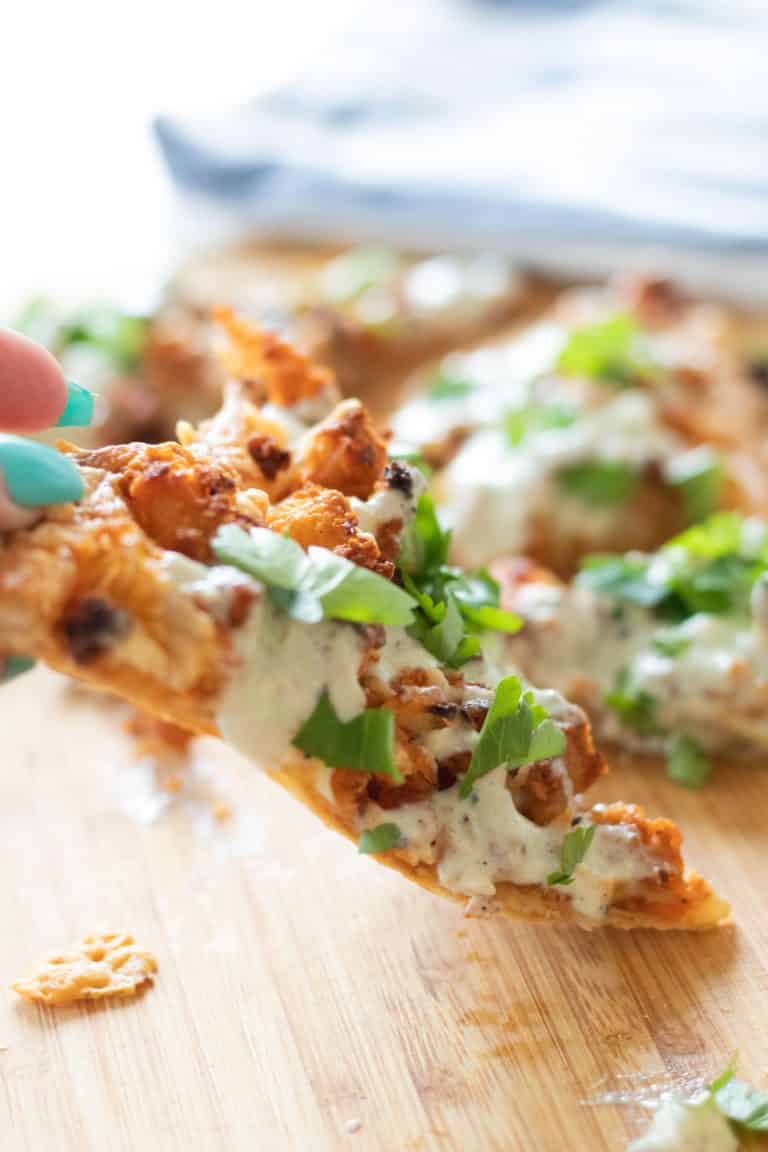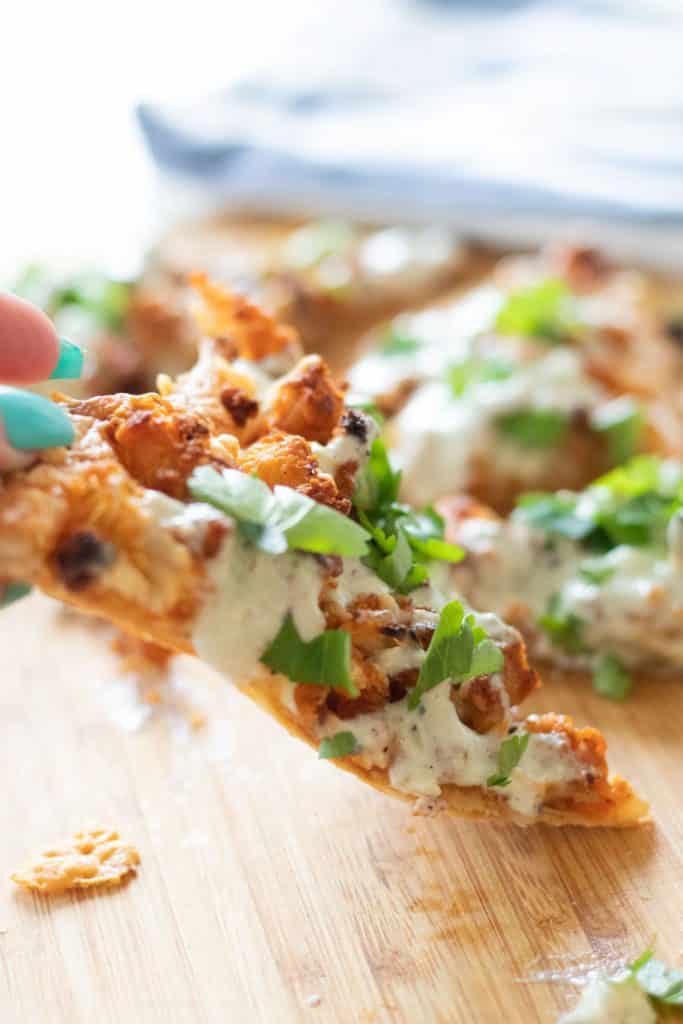 What about that? Are these Buffalo Cauliflower Pizzas something you can see yourself chowing down on on a Saturday afternoon, when you like really deserve it? Let me know in the comments below! And while you're there - why not leave a rating and let me know how I'm doing??
Until next time, enjoy fall & all things Buffalo!
Emmeline
Recipe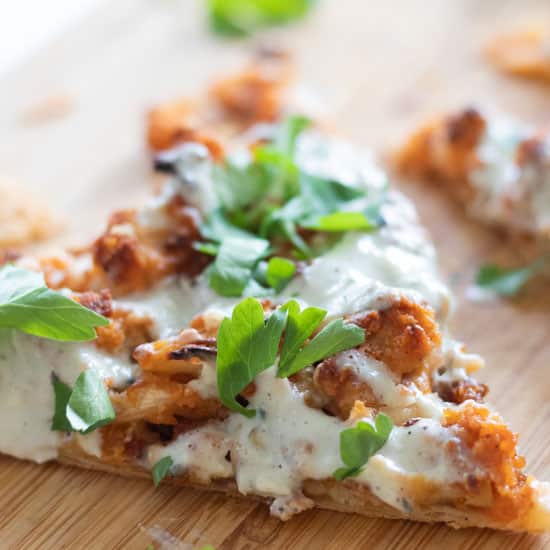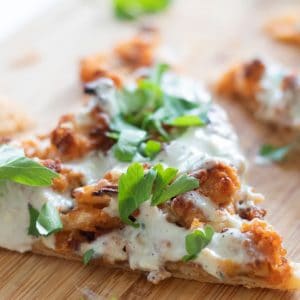 Vegetarian Buffalo Cauliflower Puff Pastry Pizza Bites with Blue Cheese Sauce
Print
Pin
Rate
Ingredients
To serve
parsley

chopped (optional)
Instructions
Take out your puff pastry sheets if they are frozen and leave out to thaw.

Then start by making the Buffalo Cauliflower Bites. Save 2 tablespoon of the buffalo sauce for your pizza but otherwise follow the recipe. While they are baking you can make the Blue Cheese Sauce.

1 batch Buffalo Cauliflower Bites

Set your oven for 225 C/440 F and place a piece of parchment paper on top of an oven tray. Place your puff pastry sheets on top and roll out as thinly as possible.

Bring out the Buffalo Sauce you saved when making the Buffalo Cauliflower Bites. Brush the sauce on top of the puff pastry.

1 batch Buffalo Cauliflower Bites

Add about half of the shredded cheese on top of the buffalo sauce. Then follow with all of the Buffalo Cauliflower Bites and the rest of the shredded cheese. Place in the middle of the oven and bake for 15-20 minutes, until the dough is puffy and the cheese is melted and slightly browned.

150 g shredded cheese, divided

Bring out your pizzas from the oven and drizzle your blue cheese sauce on top. Slice and serve immediately with fresh parsley sprinkled on top!

1 batch 5-minute Blue Cheese Sauce,

parsley
Notes
1 pizza serves 4 as an appetizer, or 1-2 as a main course.
Nutrition
Calories:
947
kcal
|
Carbohydrates:
37
g
|
Protein:
34
g
|
Fat:
74
g
|
Saturated Fat:
35
g
|
Cholesterol:
139
mg
|
Sodium:
2181
mg
|
Potassium:
477
mg
|
Fiber:
3
g
|
Sugar:
4
g
|
Vitamin A:
1395
IU
|
Vitamin C:
46.3
mg
|
Calcium:
804
mg
|
Iron:
2.7
mg
Nutritional information is approximate and automatically calculated, and should only be viewed as an indication.