This post may contain affiliate links, which are always marked with *. Please read my disclosure for more information.
These Buffalo Cauliflower Tacos have all your favorite buffalo flavors in a neat taco packaging. Buffalo Cauliflower, avocado, blue cheese sauce & cilantro make this dish a winner very time. Easy to make in just 40 minutes in the oven or air fryer!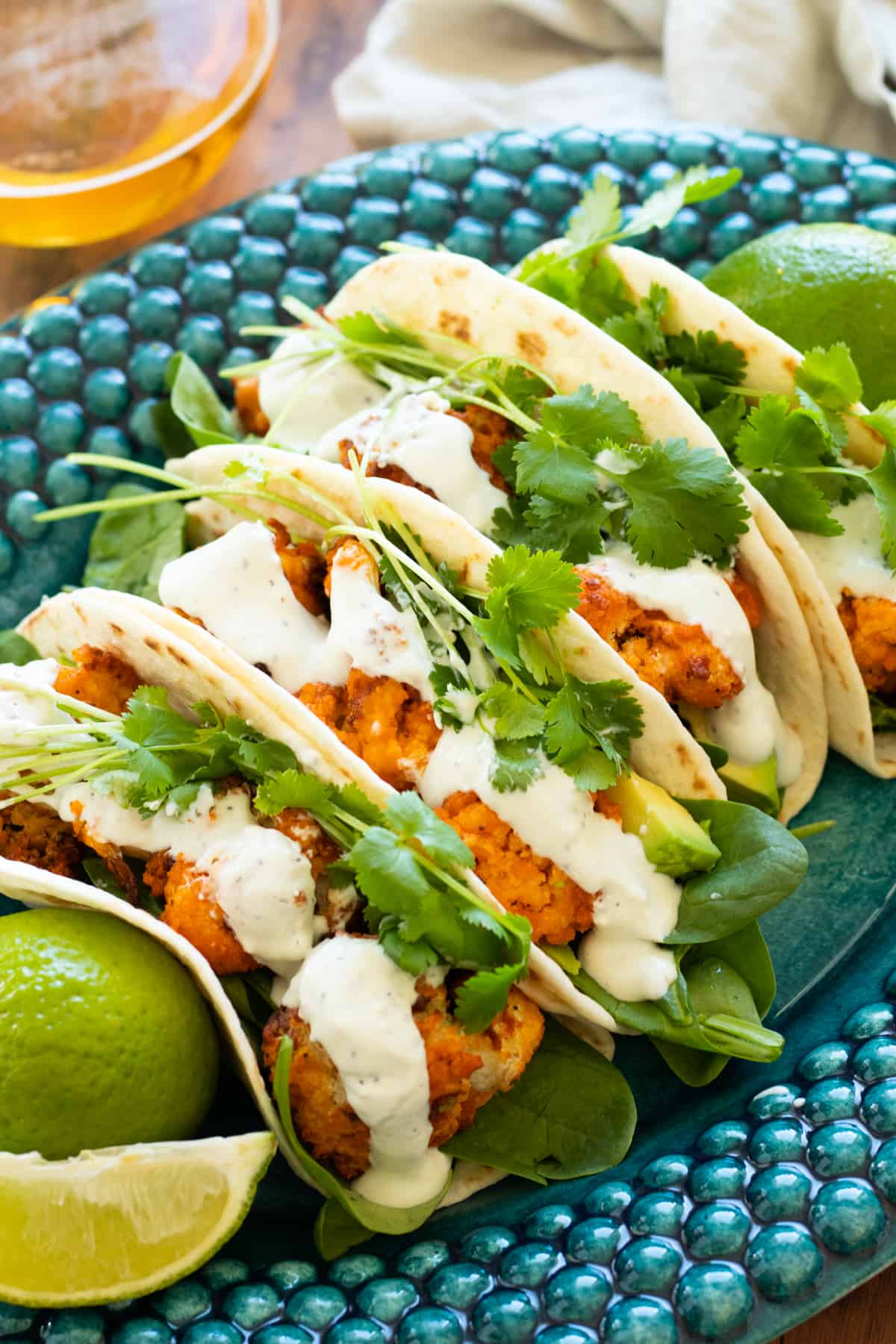 Jump to:
So I feel a warning is in place here. If you make these Buffalo Cauliflower Tacos for your friends, be prepared to make them every, single, time, they come over.
At least that's what happened with my friends. Anytime we have a dinner at my house, this is THE dish they request.
But I don't mind. Because it's probably my #1 favorite dish as well.
What you need to make it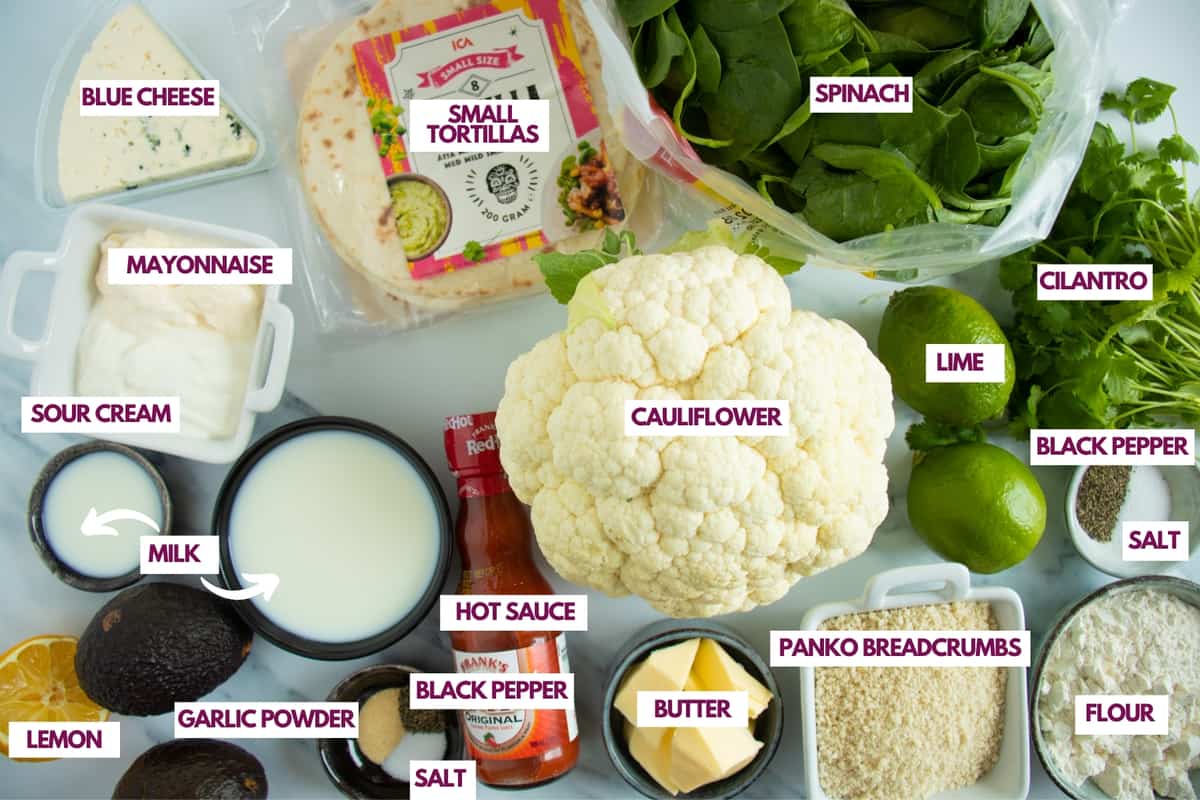 Ingredient notes
Blue cheese: If you want to make these tacos vegetarian, make sure you choose a vegetarian blue cheese
Tortillas: I like wheat flour tortillas for this recipe
Mayonnaise: Store bought is fine
Hot sauce: I always use Cholula or Frank's Red Hot, but any similar type will do
Ingredient substitutions & exclusions
Spinach can be swapped for another leafy green
Lemon juice can be switched for lime juice
Fresh cilantro & lime can be skipped, but add a nice extra dimension
Panko breadcrumbs can be swapped for regular breadcrumbs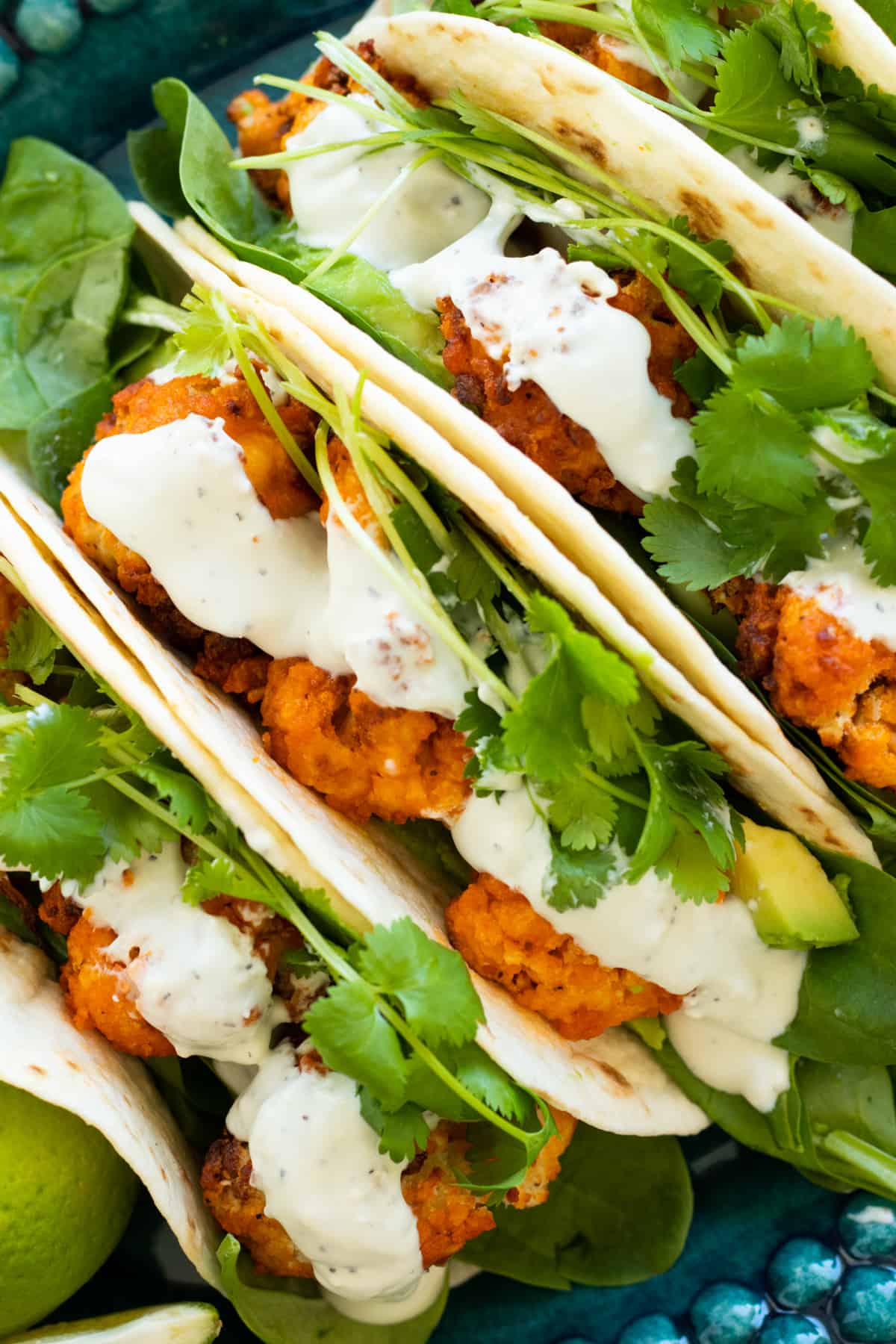 How to make it
There are three parts to making Buffalo Cauliflower Tacos:
Making Buffalo Cauliflower
Making Blue Cheese Sauce
Making Buffalo Cauliflower Tacos
How to make Buffalo Cauliflower
For detailed process pictures and video showing how to make Buffalo Cauliflower, head on over to either the Oven Baked Buffalo Cauliflower or Air Fryer Buffalo Cauliflower Wings post, depending on which method you want to use.
Here follows a shorter description of how to make them with either method.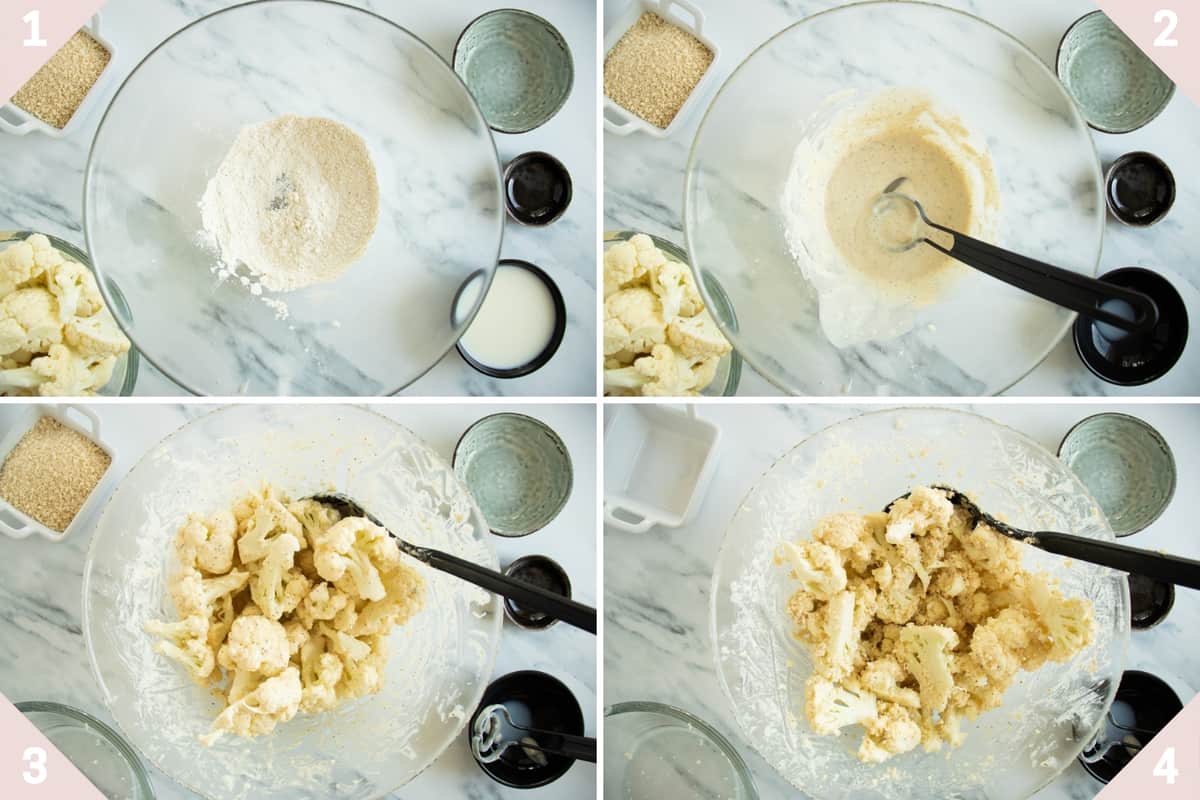 Mix flour and spices in a large bowl
Add milk and mix well
Mix in cauliflower florets until well coated
Add Panko breadcrumbs and mix well, making sure the cauliflower is coated on all sides. Then either spread out on a baking sheet and bake at 430°F (225°C) for 20 minutes, or air fry at 350°F (180°C) for 14 minutes. Whichever method you choose, turn them halfway.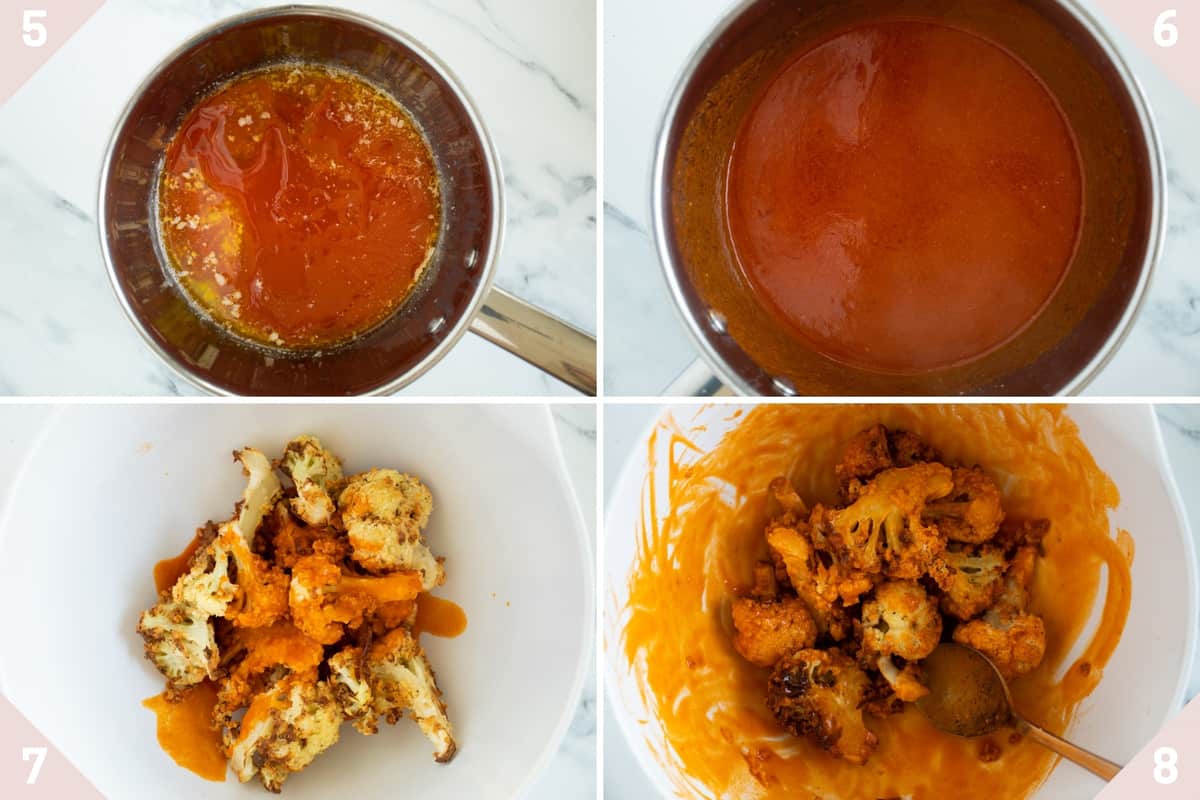 Meanwhile, make Buffalo sauce by melting butter and adding the hot sauce
Mix well while still over the heat, until you have a smooth sauce
Place baked or air fried cauliflower in a large mixing bowl and pour over Buffalo sauce
Mix well, then bake or air fry for 5 more minutes
How to make Blue Cheese Sauce
Depending on how much time you have you can make this before you make the Buffalo Cauliflower, or while it's baking. For best results, let the blue cheese sauce rest in the fridge for at least 30 minutes before serving.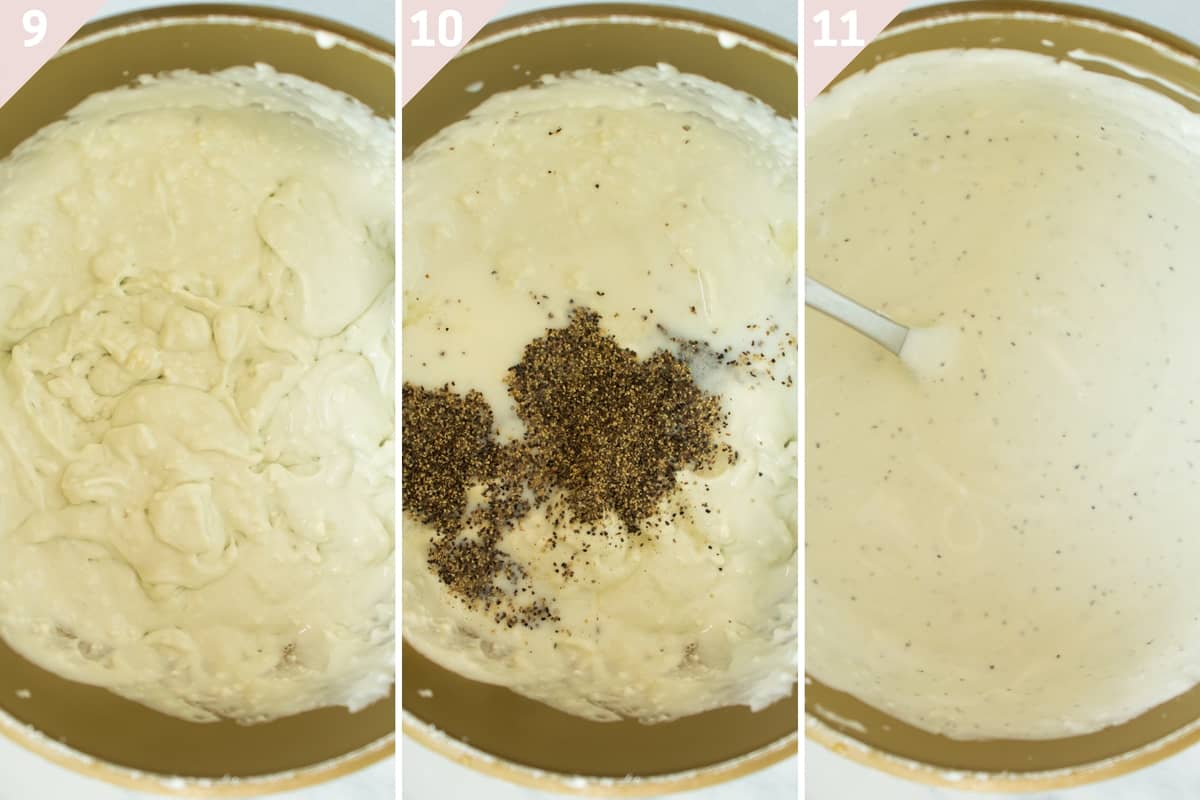 Place blue cheese, mayonnaise, sour cream and milk in a bowl and mix with an immersion blender

*

Season with lemon juice, salt and black pepper
Mix well and taste test, add more of either seasoning if needed
How to make Buffalo Cauliflower Tacos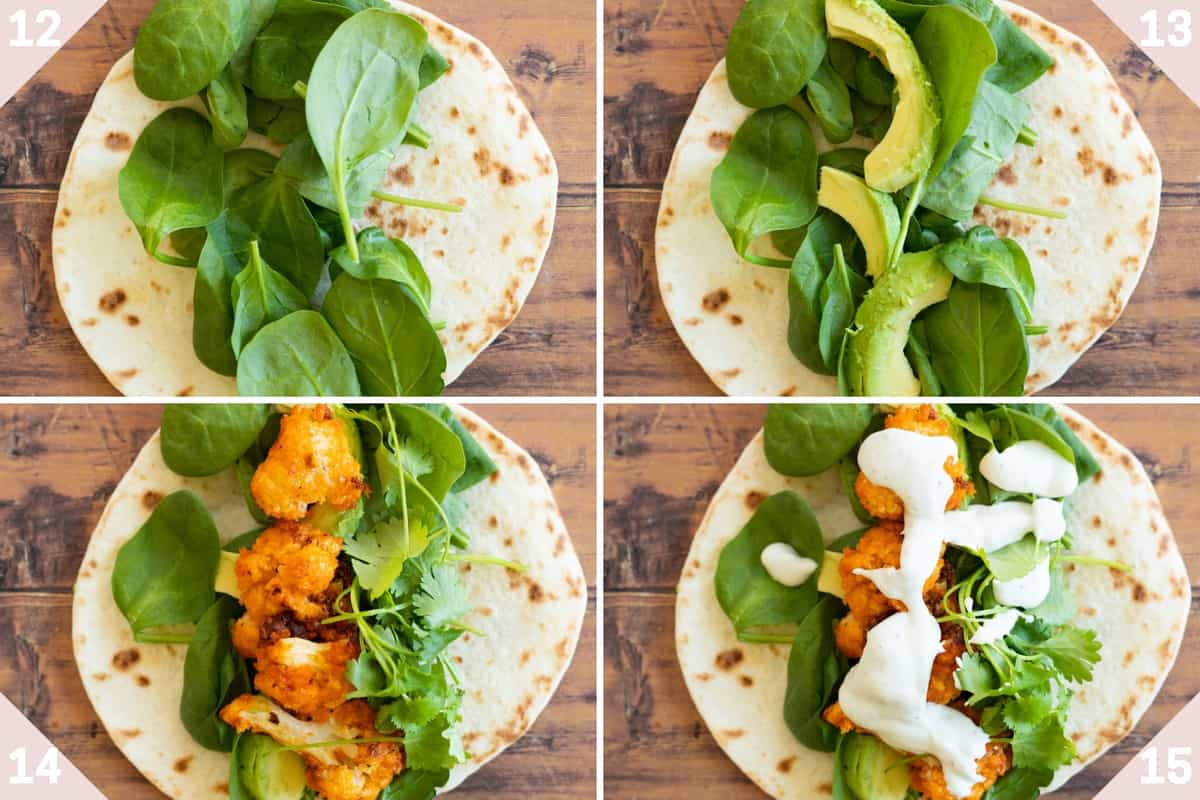 Place spinach on a small tortilla
Add avocado slices
Add buffalo cauliflower and fresh cilantro
Top with blue cheese sauce. Repeat to make all tacos, and serve with a wedge of lime!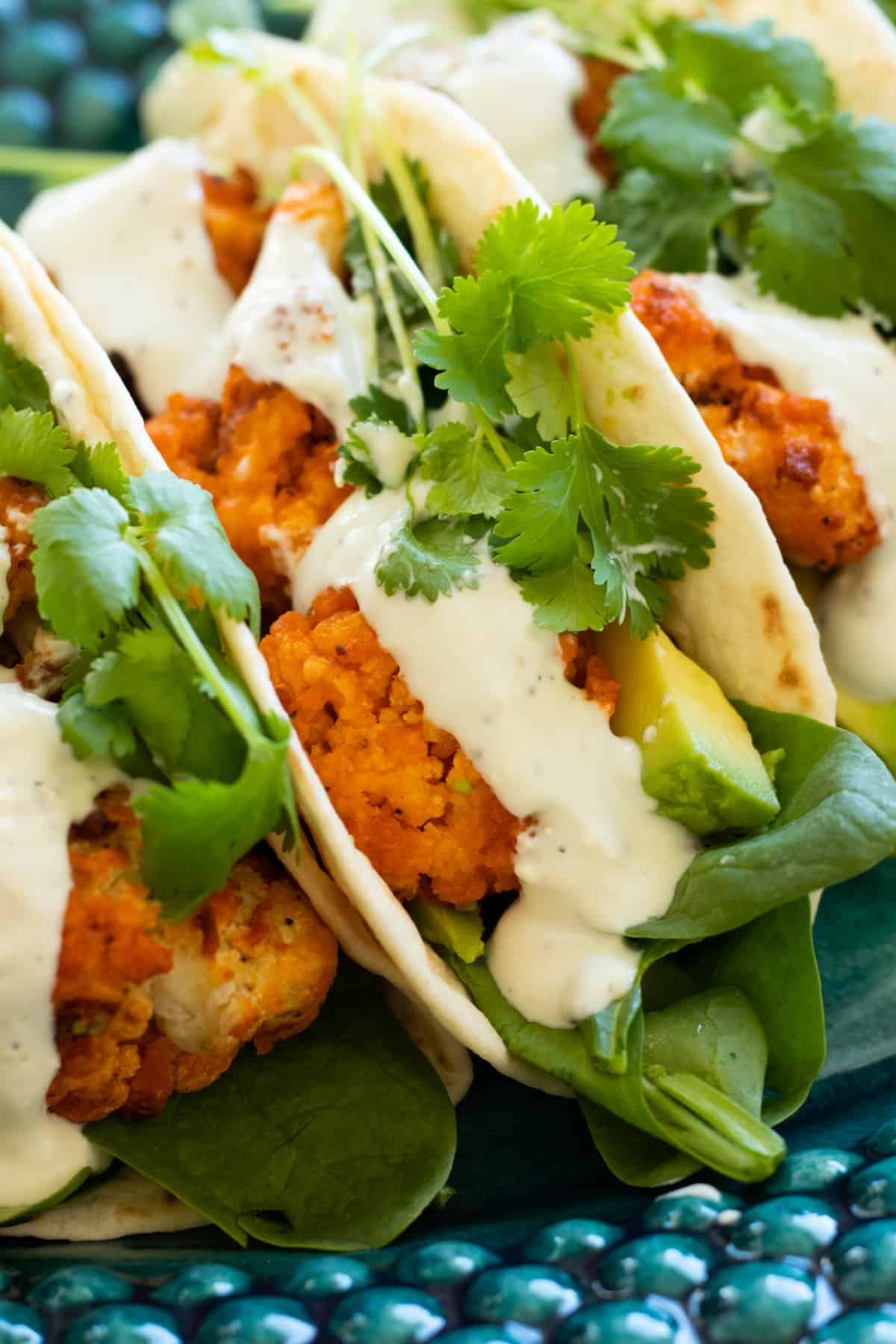 What to serve with Buffalo Cauliflower Tacos
These tacos are delicious on their own, but even better with one or two sides. Some of my favorites include: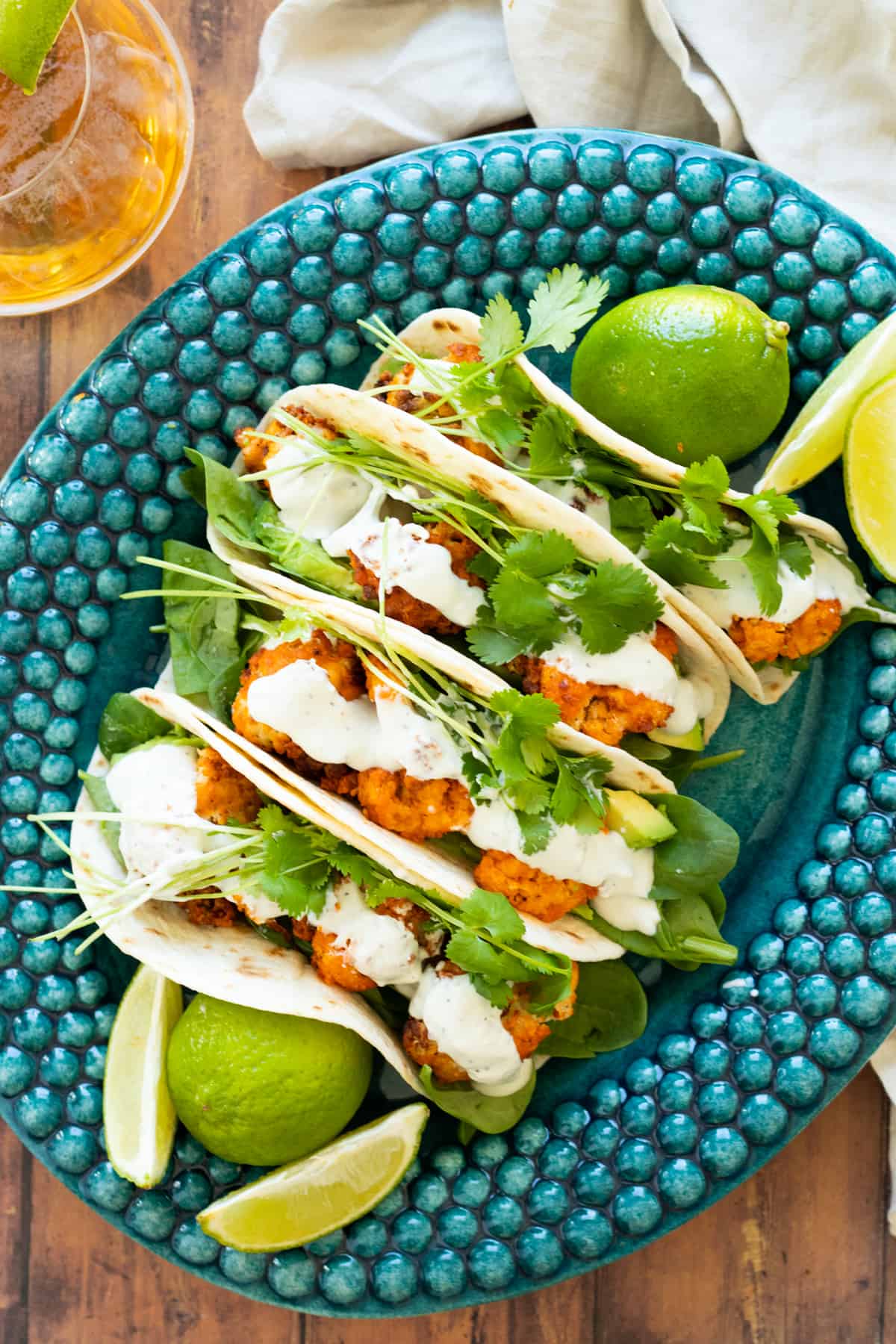 More quick & easy buffalo recipes
Looking for more quick & easy spicy recipes?
Did you love this recipe? Rate it five stars!
...and let me know what you loved about it in the comments.
Recipe