This post may contain affiliate links, which are always marked with *. Please read my disclosure for more information.
If your air fryer won't turn on, don't worry! In this comprehensive troubleshooting guide we will walk you through the common issues and provide helpful solutions to get your favorite device up and running again.
Whether it's a simple fix or a more complex problem, this guide will help you troubleshoot and solve it.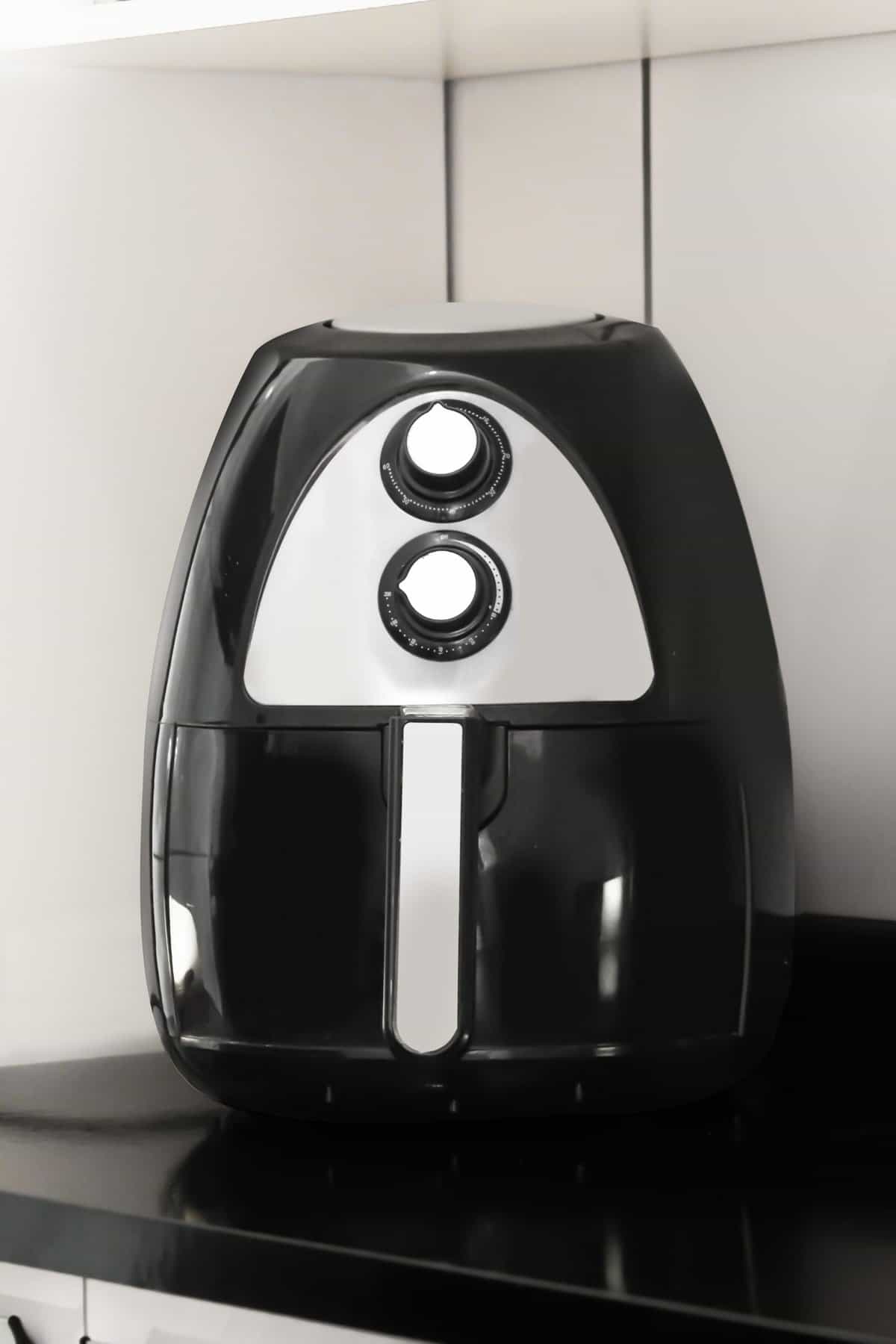 Jump to:
Is your air fryer not turning on? Don't worry, I'll walk you through what you can do to figure out what is wrong - as well as fixes for some possible causes. Whether you have a new air fryer or have been using it for a while, sometimes it just won't turn on - and often there are easy ways to fix it.
Just go through the steps below, and have it worked out in no time. If you have other issues with your air fryer - check out my complete Air Fryer Troubleshooting Guide and Air Fryer FAQ.
What you will learn in this post
The top possible reasons why your air fryer won't turn on
Fixes you can do yourself to get your air fryer to turn on
When you need to contact an expert for help
Is there an error code?
If there is an error code showing on the display, this can be a lot of help. Check the user manual to see what the error code means, and follow to instructions to resolve the error.
How to fix: Check the instruction manual and act accordingly.
Is the air fryer plugged in?
A very common reason your air fryer won't start, is that it is not plugged in. It's an easy thing to check - and easy to fix.
How to fix: If not plugged in, just plug in the cord and try again! If plugged in, try unplugging and then plugging it back in.
Is the basket in place?
Sometimes the air fryer basket is just slightly out of place, and this will stop the air fryer from working properly.
How to fix: Remove the air fryer basket, then place it back in your air fryer, and try again.
Is the door or drawer fully closed?
Your air fryer will only start if the door or drawer is fully closed. Sometimes a misplaced basket will stop the door or drawer from closing fully, and sometimes you just need to give it an extra push to close.
How to fix: Open the door or drawer fully, then close it again. If it still doesn't close fully, make sure the basket is in place and try again.
Is the power source working?
Test the power outlet by plugging in another appliance you know is working in the same wall socket. If this one does not work either, it's likely the wall outlet that's the problem - and not your air fryer.
How to fix: Move your air fryer to a different electric outlet and try again.
Are you using an extension cord?
If you're using an extension card, try removing it and plugging the air fryer straight into the wall socket instead.
Has the cable been damaged?
Check the power cord for any external damage. If you find a damaged part, you will need to have the power cable replaced by a professional.
How to fix: The cable needs to be replaced by a professional. Contact the store where you bought your air fryer for further assistance.
Is something stuck in the heating elements?
Sometimes food debris and other things get stuck in the heating element or air fryer fan. This can happen if you air fry food that flies around the air fryer, or if you have used a paper towel in your air fryer while cooking.
If this has happened, you will often have seen excess smoke coming out of the air fryer on previous occasions.
How to fix: Unplug the air fryer and check to see if there is anything stuck that is easy to remove. You should not remove the casing for the air fryer, so if you don't see anything, contact a professional instead.
Has a safety feature been triggered?
Some air fryers come with safety features or a safety switch, for example regarding cook time, cook temperatures and cooking too much food. Check the instruction manual for your air fryer to see if this could be the case!
How to fix: Check the instruction manual and adjust accordingly.
Check your instruction manual
If you still haven't found the problem, have a read through the instruction manual and see if it mentions any common issues and fixes.
Contact the manufacturer or store
Finally, there might be something wrong inside the cord or the air fryer, like a blown fuse, or a component that needs to be replaced. If this is the case you will need the help of a professional electrician or technician to repair it. Contact the manufacturer's customer service or the store where you bought your air fryer for further assistance and professional help.
It's very important you do not attempt to repair it yourself in order to keep any warranties.
More air fryer resources
Looking for more air fyer resources?
Did you love this recipe? Rate it five stars!
...and let me know what you loved about it in the comments.