This post may contain affiliate links, which are always marked with *. Please read my disclosure for more information.
When you have leftovers, reheating them in the air fryer * is a great way to ensure maximum flavor and texture. Many foods are best reheated in the air fryer *, and in this post you will learn which ones, and how to reheat them.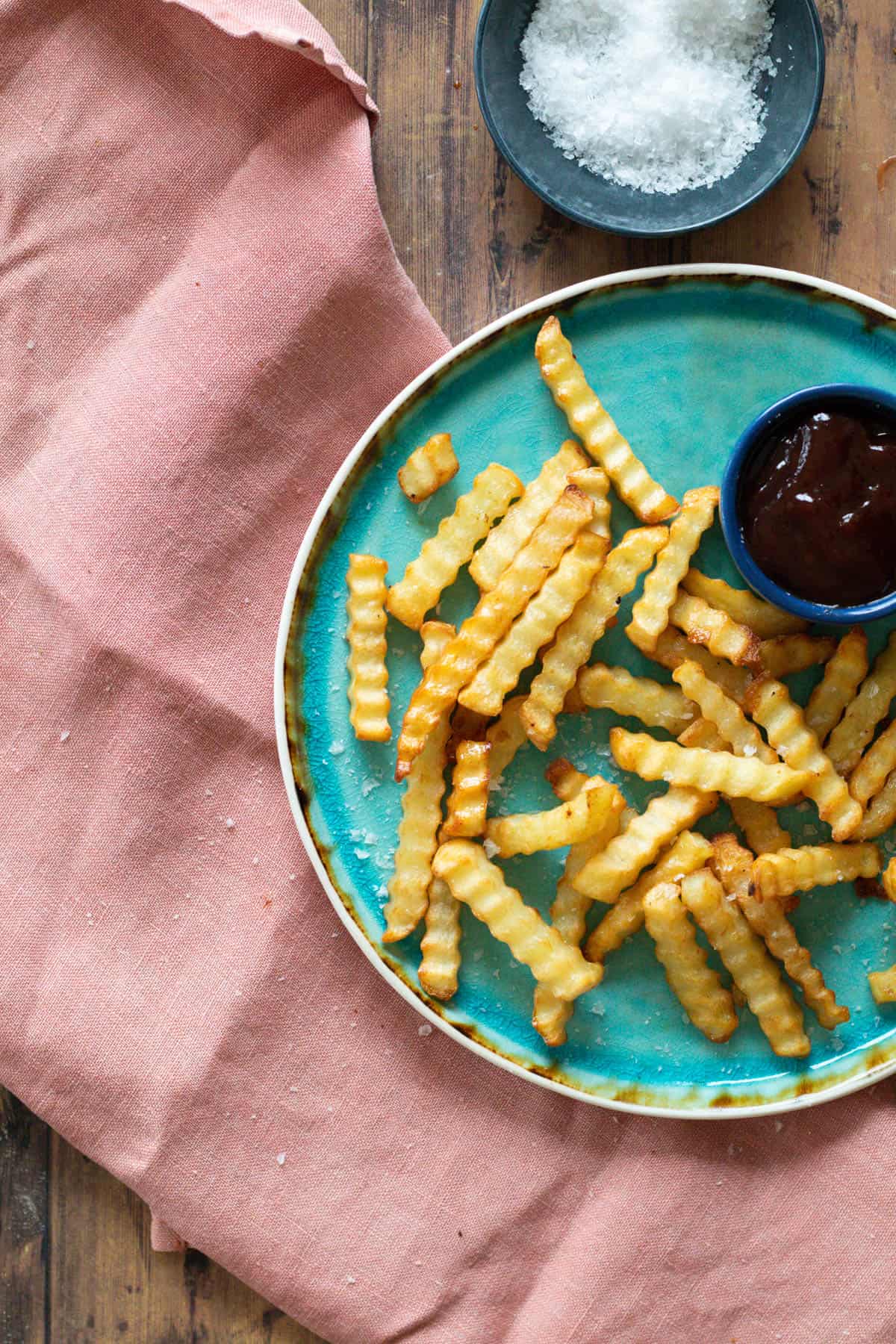 Jump to:
It will comes a no surprise that the air fryer * is my all time favorite kitchen appliance. And one of the reasons is that it's just so amazing when you have leftovers to reheat - whether those leftovers are fast food fries or a whole steak.
Why Should You Reheat Food in Your Air Fryer?
The air fryer * is a great choice when deciding how to reheat your food - it far surpasses other methods when it comes to taste, speed, texture and ease.
It's Quick
The functionality of an air fryer * is to circulate hot air around your food. This works in the same way as in a regular convection oven. However, using an air fryer * with a basket (as opposed to an oven tray) will ensure the hot air reaches all surfaces of the food - including the bottom.
This means food cooks quicker, and more evenly. And it's the main reason the air fryer * is so good for reheating leftovers, and cooking food from frozen.
Food is Less Likely to Dry Out
Reheating leftovers quicker, means they will be less likely to dry out. So you can end up with a juicy steak, even after reheating.
Refresh the Crisp
The circulating hot air also helps refresh the crisp on any food that you want really crispy - like French fries, or fried chicken.
It's Easy
Reheating food in an air fryer * is as easy as reheating it in the microwave. But the result is so much better.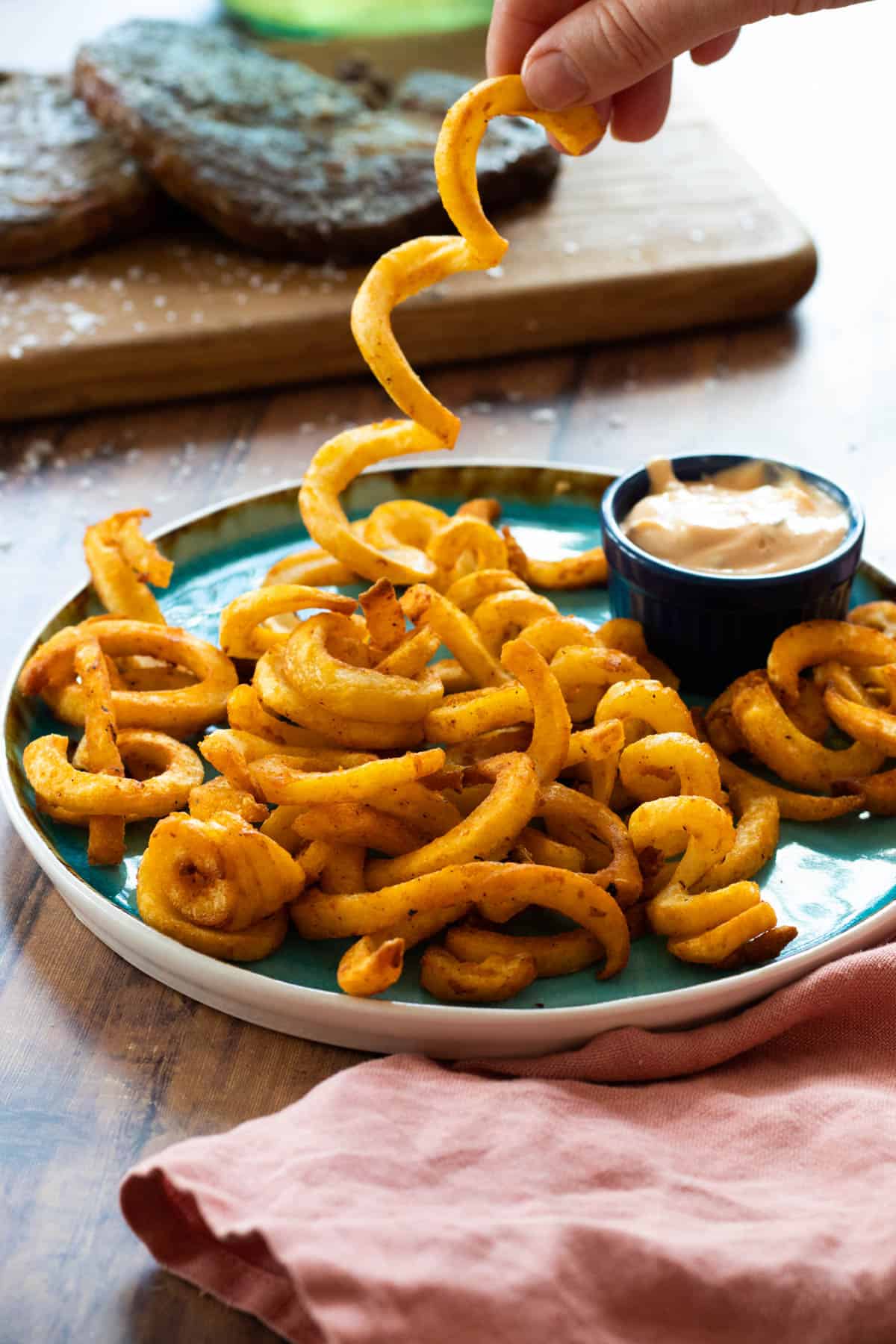 What Foods are Best to Reheat in an Air Fryer?
An easy rule is that any type of food you can cook in an air fryer *, you can also reheat in an air fryer *. Some of the best foods to reheat are:
Which Foods Should You Not Reheat in an Air Fryer?
Here are some foods I would not recommend reheating in your air fryer *:
Leafy greens like spinach or arugula - why you would even want to reheat them
Whole roasts like roast beef or chicken - slice it first, and then you can reheat in the air fryer

*

, just like steak!
Cheese without a coating - it will just melt and drip through your basket. The exception is halloumi cheese and other similar grilling cheeses.
Soups and stews - while you could technically reheat them in your air fryer

*

using an air fryer

*

safe bowl, you won't get the same benefit from it as for other types of food
Pasta and rice - while you can use the air fryer

*

for this, there are better ways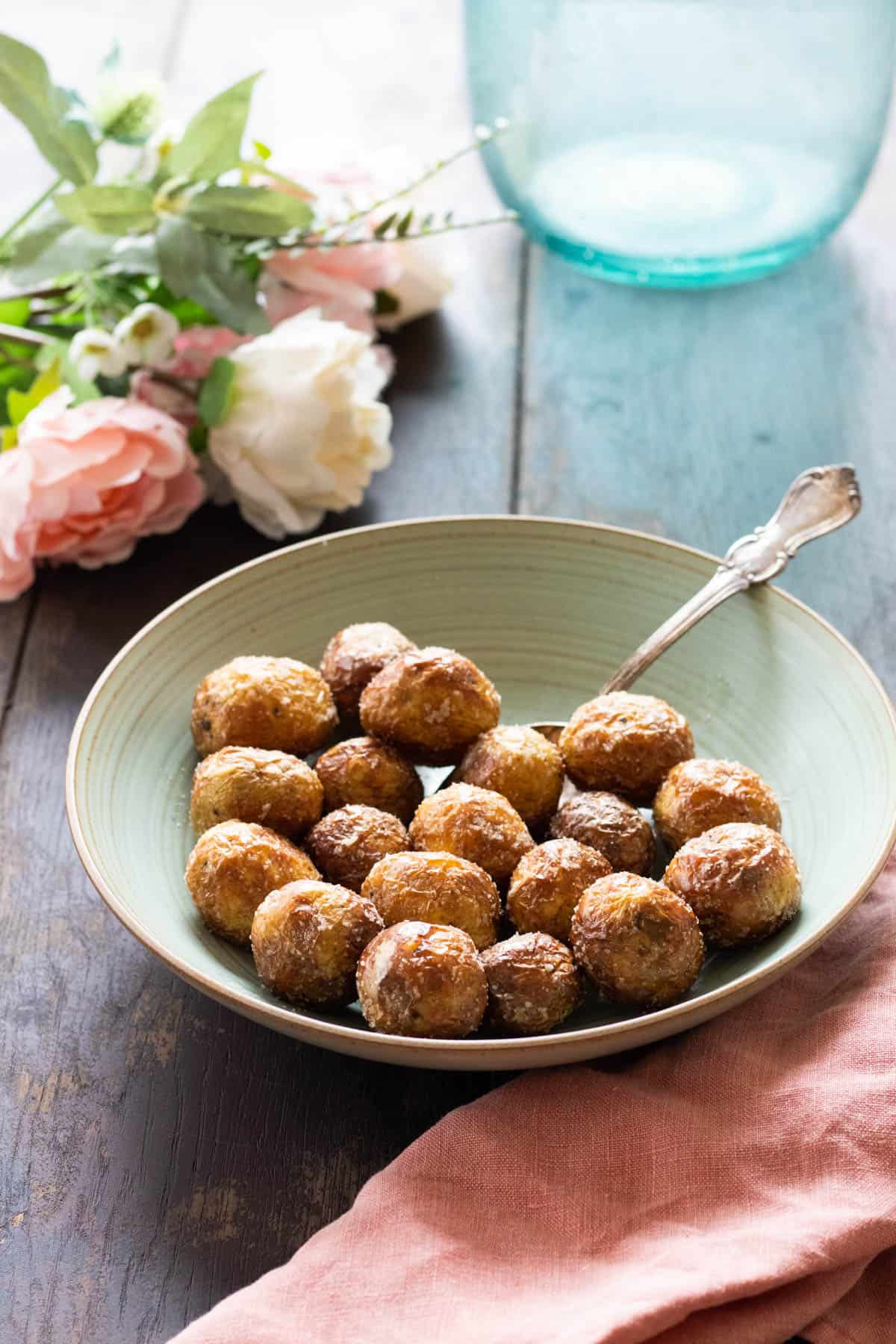 General Process
While the perfect time and temperature will vary for different foods, this simple process is a good place to start.
Place the food in the air fryer

*

basket and add a spritz of olive oil
Set the air fryer

*

to 360°F (180°C) and cook the food until heated through. Shake the food around, or flip it, about halfway, to ensure the most even cook.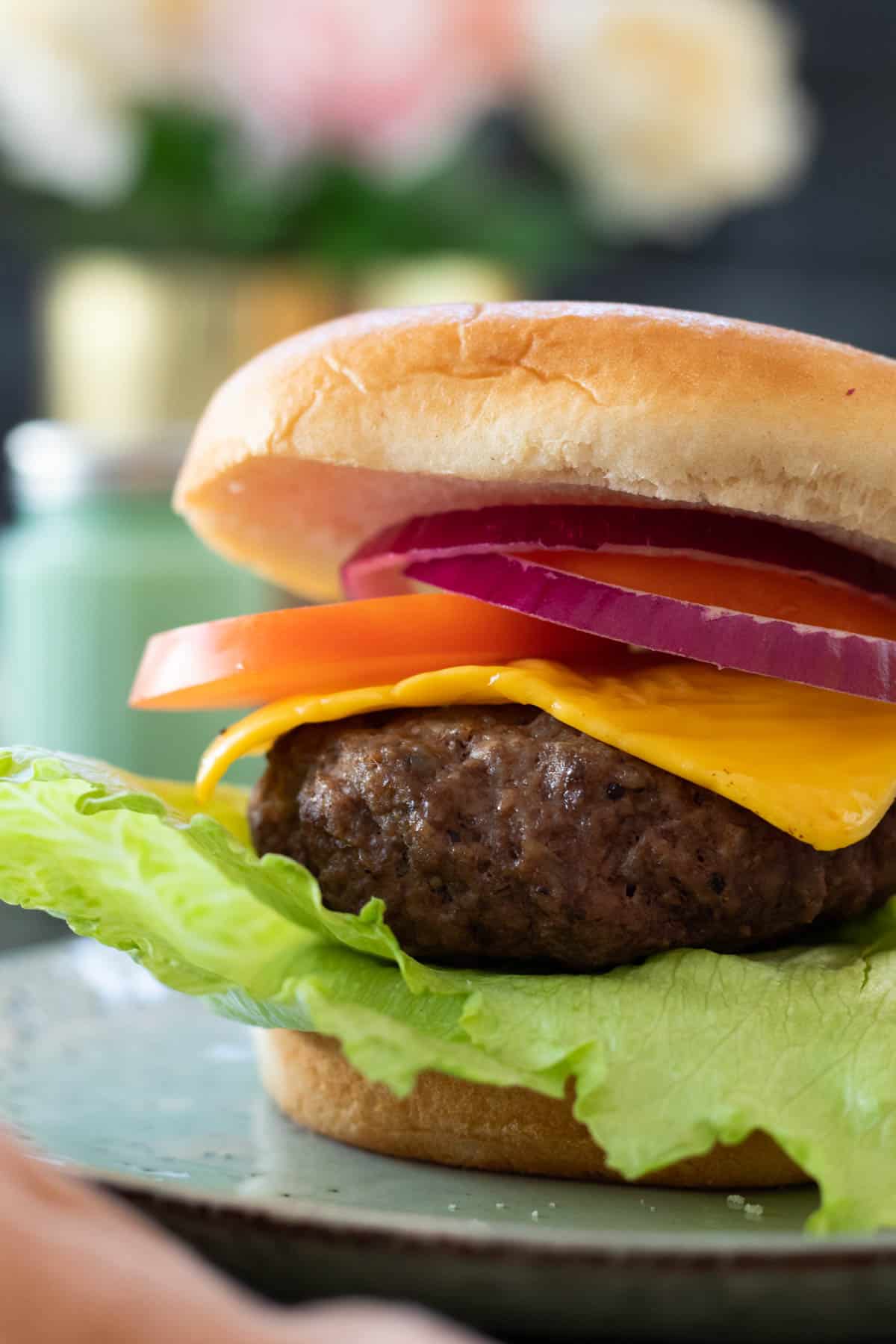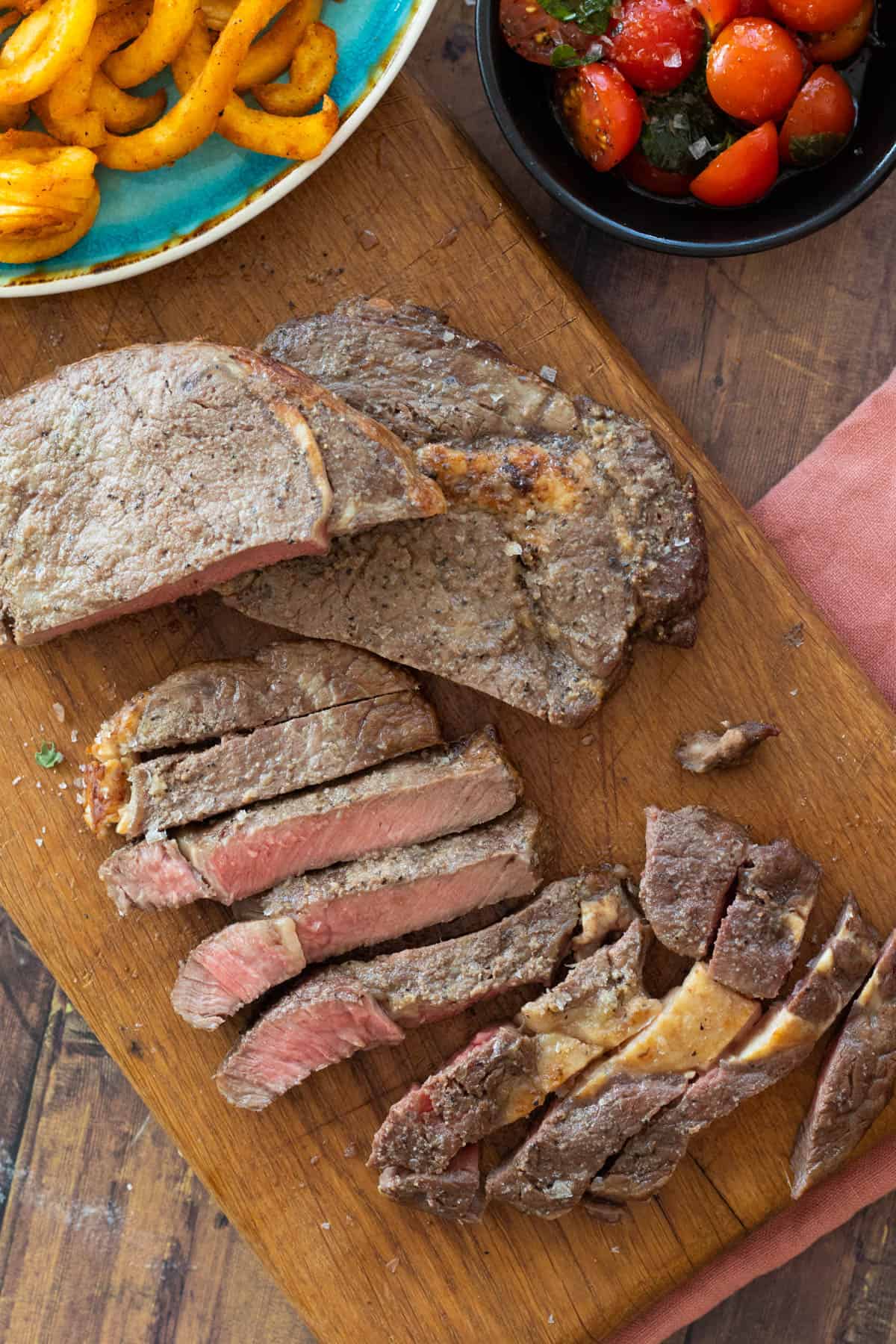 More Air Fryer Resources
Looking for more guides to how to use your air fryer, or maybe what air fryer * to buy?
Recipe