Congratulations, you got an air fryer! You've made one of the best appliance investments possible for quick, easy meals. Keep on reading to get my best tips and tricks for getting started using your air fryer - regardless of which model you decided to get.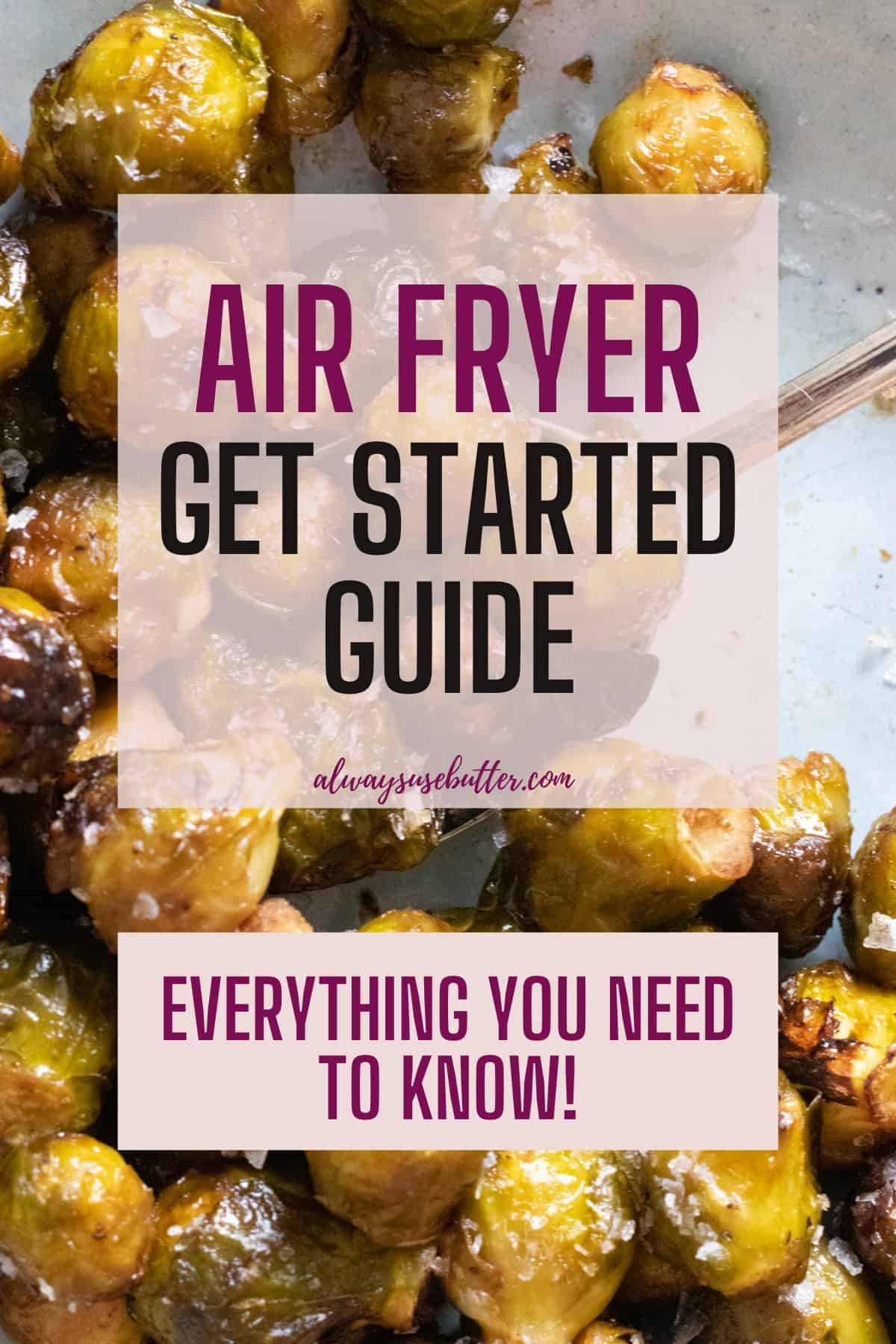 Jump to:
Still haven't bought an air fryer? Check out my guide to finding out which air fryer is right for you or get one of the four best pink air fryers, and bookmark this page for when you get it!
After developing lots and lots of air fryer recipes these past two years I do consider myself something of an Air Fryer expert. So to help you out if you're new to the air fryer game, I put together this guide for you to get started quickly. Because who has time to read through a whole manual when you have a new fun gadget to play with?!
How do I use an air fryer for the first time?
Read through this entire post
Check any important information in the instruction manual - especially how to clean your air fryer, how to preheat it and important safety information
Remove any plastic or cardboard that's been left inside or outside the air fryer
Clean all the removable parts (generally the drawer, air fryer basket and/or accessories like crisper plates) with hot soapy water, and dry
Place on a stable, heat resistant surface with ample space around it (for example a countertop) - I try to have at least 1 ft (30 cm) free in each direction, while cooking
And now you are ready to get started!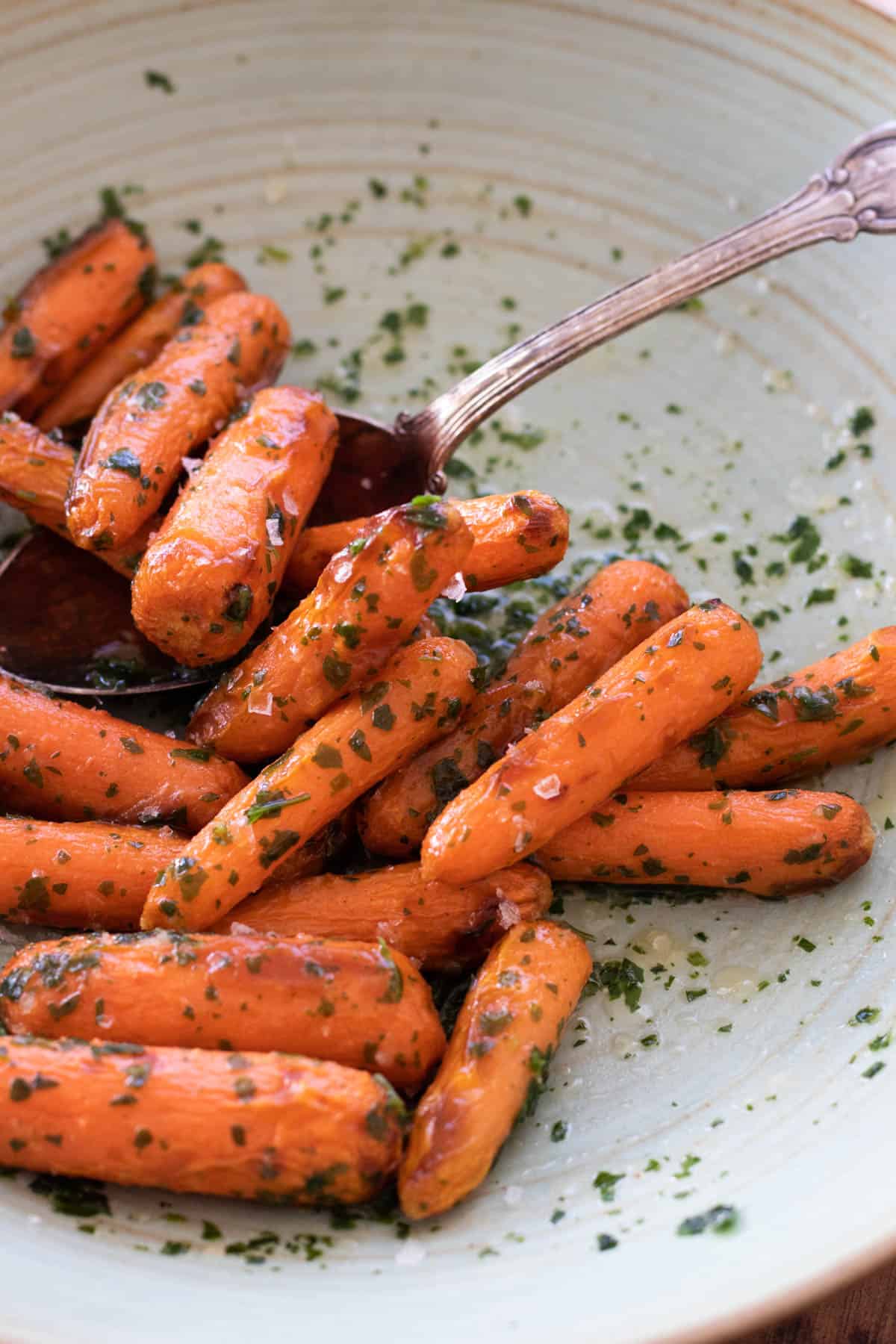 Do you need to preheat it, and how do you do it?
I always recommend preheating your air fryer for the best results. This is for the same reason as you always reheat your oven before using it - it makes cooking quicker and more consistent.
Preheating looks a bit different for different air fryers. Some of them have a built-in preheat button, but most do not. If it doesn't have this function, just run the air fryer with an empty basket for 5 minutes at your target temperature and it should be sufficiently preheated.
I recommend looking in your air fryer manual to determine how to best preheat your specific air fryer model.
Can you put it in the dishwasher?
Many air fryers have parts that can be washed in the dishwasher - most commonly the air fryer basket and/or drawer (depending on the model) and accessories like crisper plates. Most manufacturers still recommend handwashing everything for longevity - but I've used my Philips air fryer A LOT for the past 2 years, always washing it in the dishwasher, and it still looks as good as new.
The main unit of the air fryer can never be cleaned in the dishwasher. Instead you should wipe it down with a damp cloth after each use.
If you choose to use the dishwasher or not is of course up to you, but I know I always do. Just have a quick look in your air fryer manual first to see which parts are dishwasher safe and which need to be handwashed.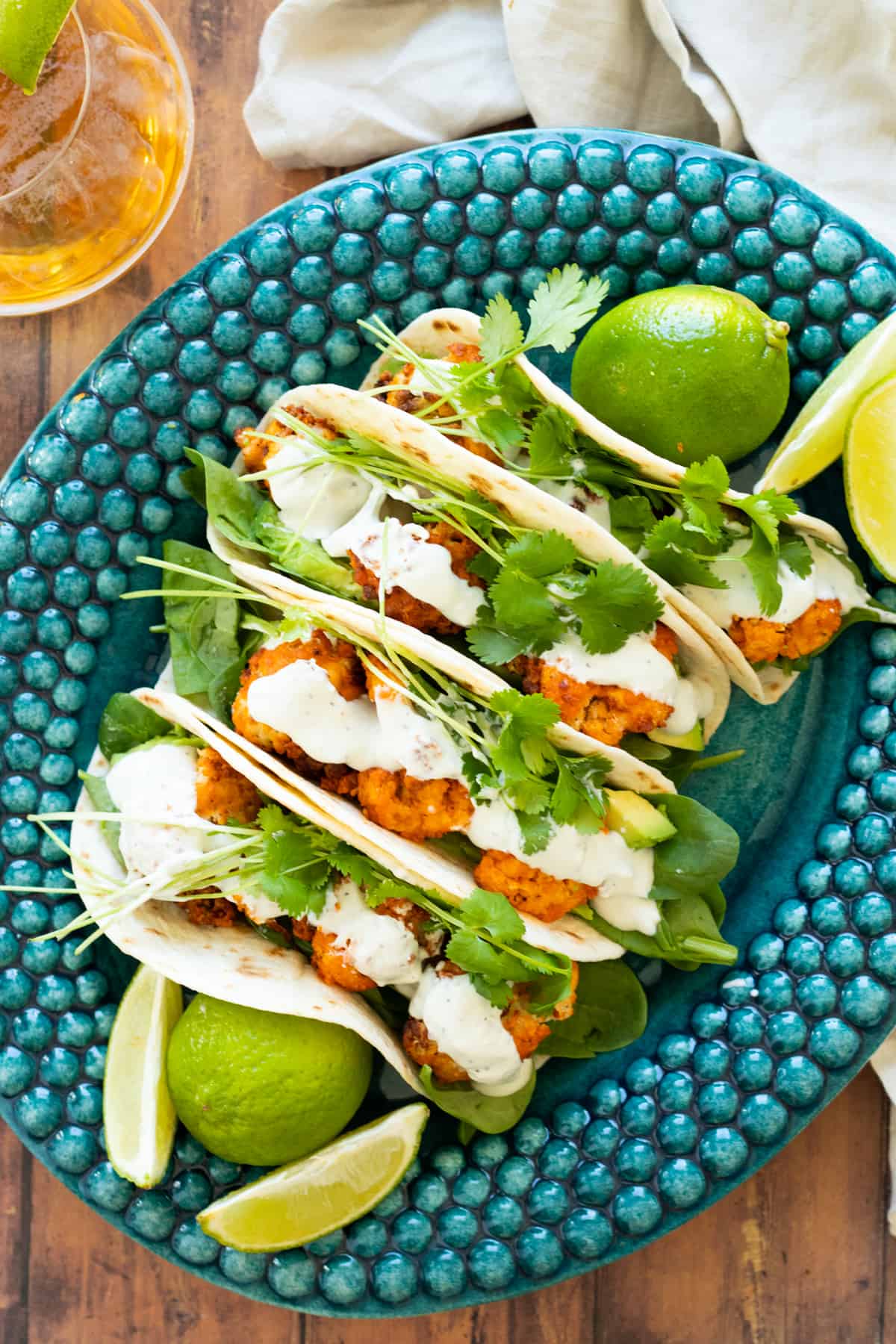 What should you use it for?
The air fryer is great for so many things, and I find new uses for it almost every week. It's especially great for cooking quick meals for 1-2 people, when your oven is already occupied by other food, or when you just want to save time.
I put together a guide with 50+ easy air fryer recipes for beginners, and some of my favorite things to use it for are:
What can you not cook in air an fryer?
Most things are great cooked in the air fryer, but there are some exceptions. I don't recommend cooking any of the following in an air fryer:
Water - while you can add a bit of water to the air fryer basket to avoid smoking when cooking fatty foods, you can not use it to boil or heat water
Anything with a wet batter - the batter will drip and you will not get the result you're after. Use a deep fat fryer instead!
Boiled rice, pasta or other grains - these need to boil in water and this is not something you can do with your air fryer
Leafy greens like spinach or arugula. These can fly around your air fryer and get stuck in the heating elements, and even if they stay put they will not cook well.
Whole roasts like roast beef or chicken - while you can cook them in the air fryer, they will end up very unevenly cooked
Cheese without a coating - it will just melt and drip through your basket. Coated cheese like mozzarella sticks is fine though!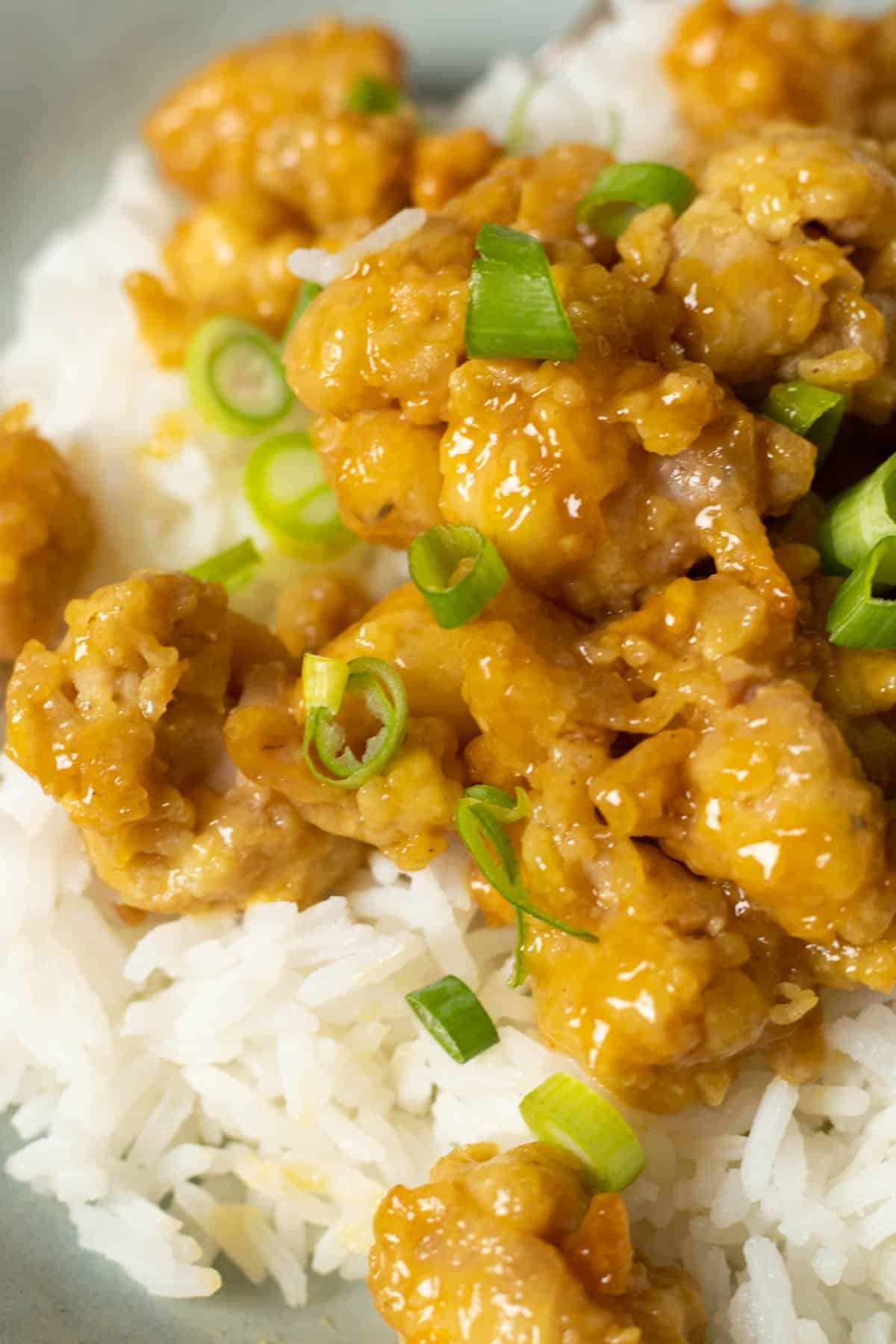 Do you have to use oil?
No, you don't have to use oil when cooking in your air fryer. However, for most things I do recommend using a small amount of oil, as I find it adds extra crisp and helps the food color nicely. You still need far less oil than for other modes of cooking, and if you want to skip oil entirely that's also fine.
I most often use olive oil or canola oil, but other vegetable oils are also fine, as is oil spray or cooking spray.
What temperature should you cook at?
An air fryer is basically a small convection oven / fan oven, and so you should use the same temperature as when cooking in this type of oven. A general rule of thumb is 50°F (20-25°C) below the temperature you would use in a regular oven.
Here is a quick guide for common oven temperatures:
| | |
| --- | --- |
| Regular oven | Air fryer |
| 350°F (175-180°C) | 300-320°F (150-160°C) |
| 400°F (200°C) | 350°F (180°C) |
| 450°F (225°C) | 400°F (200°C) |
| 480°F (250°C) | 440°F (225°C) |
How long should you cook your food?
A great thing about the air fryer is that it cooks food quicker than most, if not all, other cooking methods. A general rule of thumb is that it will take about half as long to cook in the air fryer, as it would in the oven. And the smaller the air fryer, the quicker the food will cook!
Here is a quick guide for common cooking times:
| | |
| --- | --- |
| Regular oven | Air fryer (start with) |
| 10 minutes | 5 minutes |
| 15 minutes | 7 minutes |
| 20 minutes | 10 minutes |
| 25 minutes | 12 minutes |
| 30 minutes | 15 minutes |
| 40 minutes | 20 minutes |
| 1 hour | 30 minutes |
What do I do if it doesn't work?
If you're having trouble getting your air fryer to work, I recommend checking out this Air Fryer Troubleshooting Guide or this post on what to do if your air fryer won't turn on.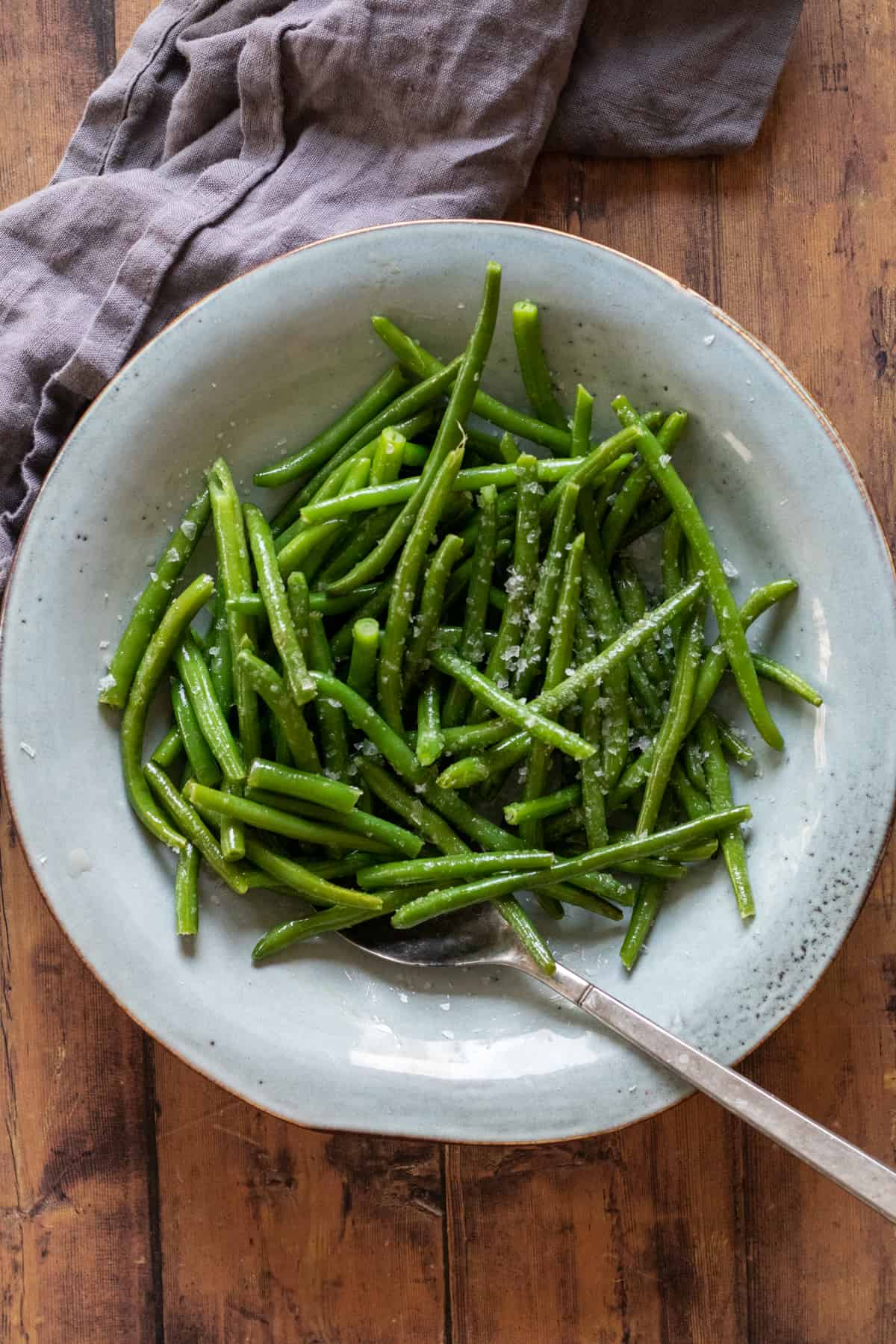 Top Air Fryer Tips & Tricks
Use silicone utensils to avoid damaging the non-stick coating - do not use metal utensils!
The outside of the air fryer will become hot while cooking - be careful!
The drawer of the air fryer can also become very hot, so be careful when removing it
Always preheat it - use the preheating function or run it for 5 minutes at your target temperature
Don't overcrowd it. This is important to allow the hot air to circulate. You should never fill the basket completely, and some recipes should always be cooked in a single layer. As a general rule, fries, potato wedges and veggies can be cooked in multiple layers but proteins that need to cook evenly, like steak and chicken, and anything that relies on a good crisp, like spring rolls and mozzarella sticks, should be cooked in a single layer.
Add a bit of water to the bottom of the drawer if you're cooking very fatty foods like bacon, sausages or something with lots of butter
Don't defrost frozen food - cook it straight from frozen
Thaw frozen food in the air fryer before seasoning. Cook it for a few minutes to thaw, season, and then continue cooking. This way the seasoning is more likely to stick to the food!
Always flip, mix or shake! While the air fryer cooks food more evenly than the oven, there is still a difference between how the top and bottom of your food will cook. Generally the top will get crispier, with more color. For this reason, I always recommend flipping, mixing or shaking your food at least once while cooking.
Cook times will vary with different air fryers. Both the brand and the size matter for cook times, so you need to keep an eye on the food in the beginning, the same way you would with a new oven.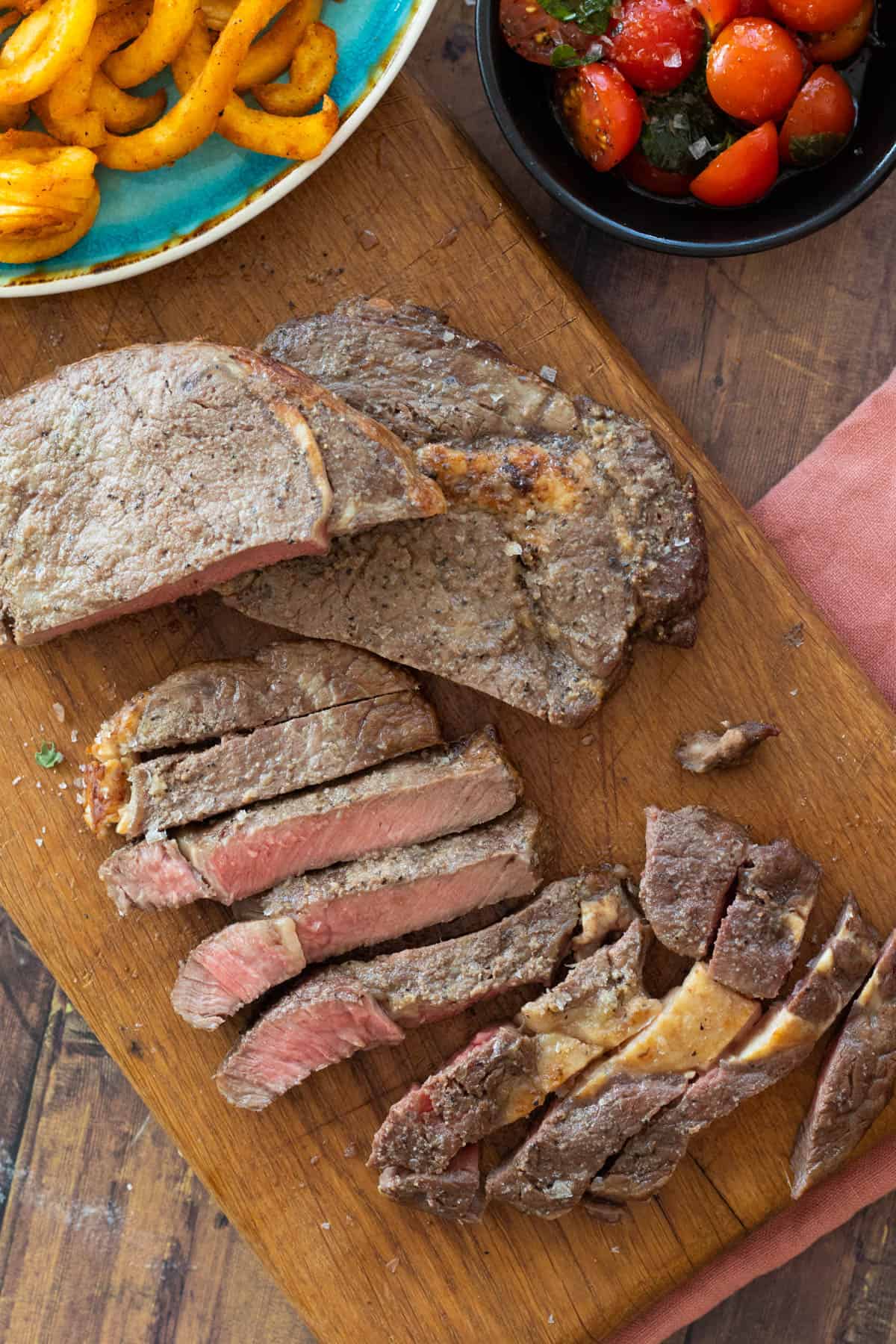 If you still have questions about how to use your air fryer - head on over to my extensive Air Fryer FAQ. And if you still don't find the answer - please send me an e-mail or leave a comment, and I will help you out!
All the best of Air Fryer luck!