This post may contain affiliate links, which are always marked with *. Please read my disclosure for more information.
Learn how to cook Frozen Salmon in Air Fryer * for a delicious, flavor packed, quick & easy dinner. The salmon comes out perfectly cooked with lots of lemon flavor, and tastes as good as when cooked from fresh.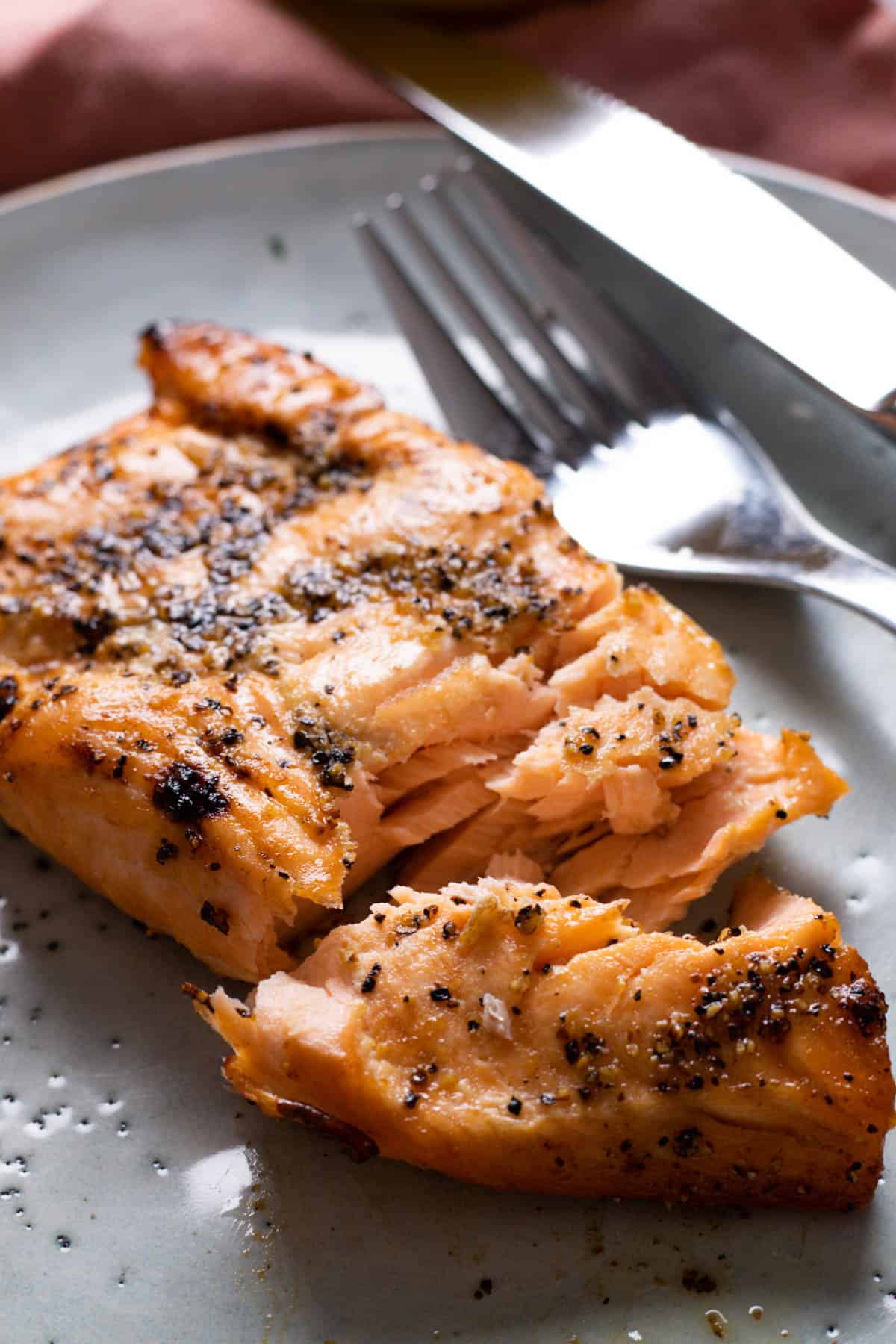 Jump to:
Salmon is a true staple in my house, and 9 times out of 10 I use it to make my lemon pepper salmon recipe. So of course I had to test this out in my air fryer *, with frozen salmon.
And you know what? It's JUST AS GOOD. Not sure how it's even possible, but this salmon comes out perfectly cooked and with so much flavor. If I didn't know it, I'd never believe it was cooked straight from frozen!
Delicious served with a potato side, creamy rice, or a side of air fryer broccoli.
What you need to make it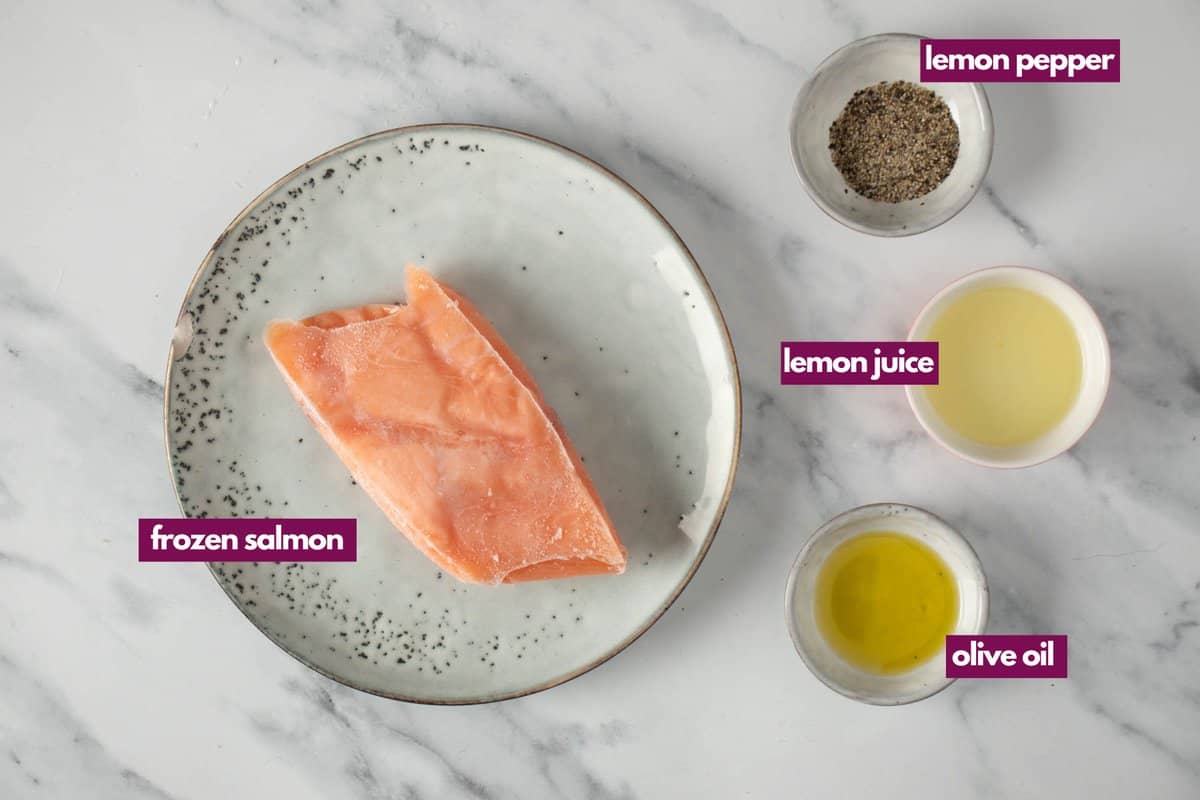 Ingredient notes & substitutions
Frozen salmon - I recommend individually frozen salmon fillets for this recipe, for the most even cook. It can be with or without skin.
Lemon pepper adds amazing flavor, but if you can't find it you can swap it for a mix of black pepper, salt and a touch of onion powder - or another seasoning of your choice
Lemon juice should be fresh squeezed
Olive oil can be swapped for a neutral cooking oil, or a spritz of cooking spray
Does frozen salmon taste as good as fresh salmon?
It's almost always the case that fresh food does have an edge over frozen food, both when it comes to taste and texture. But salmon is one of those foods where the benefit of the fresh version is very slight.
I almost never buy fresh salmon, because the small benefit of the taste & texture of fresh salmon really doesn't make up for the difference in price.
How to make it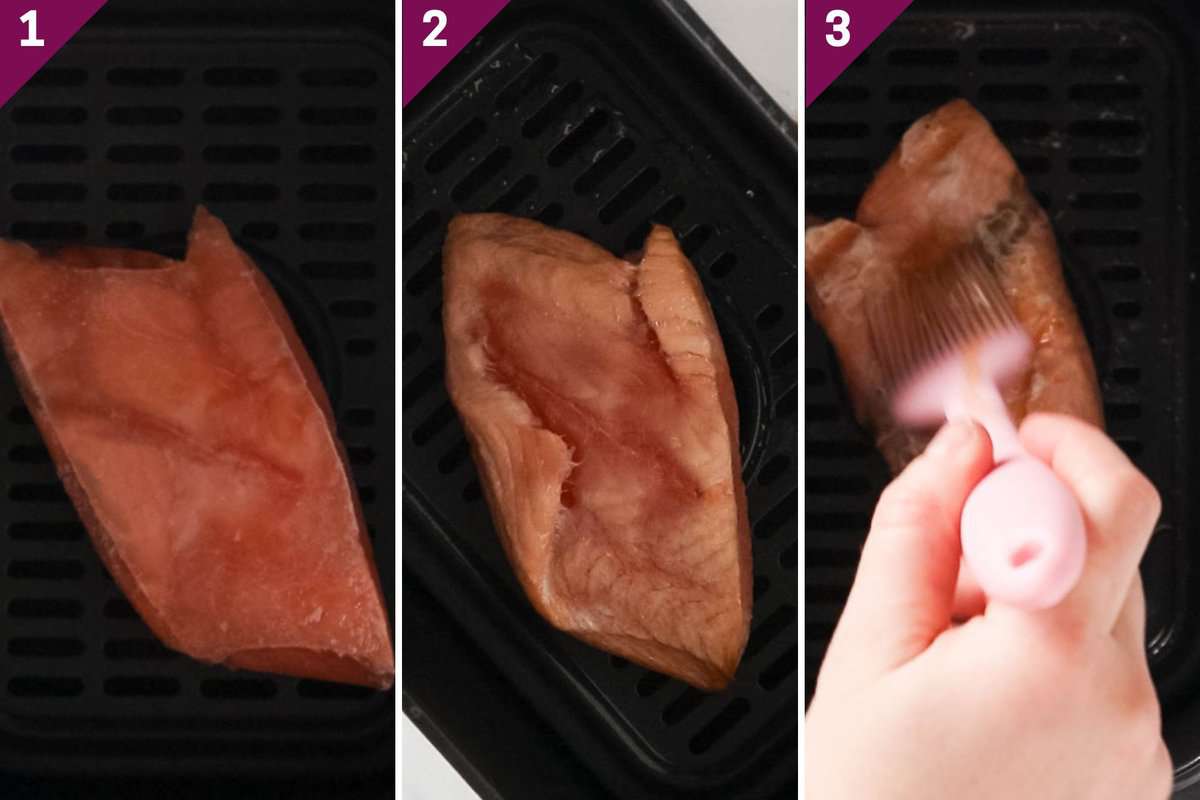 Place the frozen salmon fillet in a preheated air fryer

*

basket
Air fry 5 minutes at 360°F (180°C), until thawed
Brush with olive oil on all sides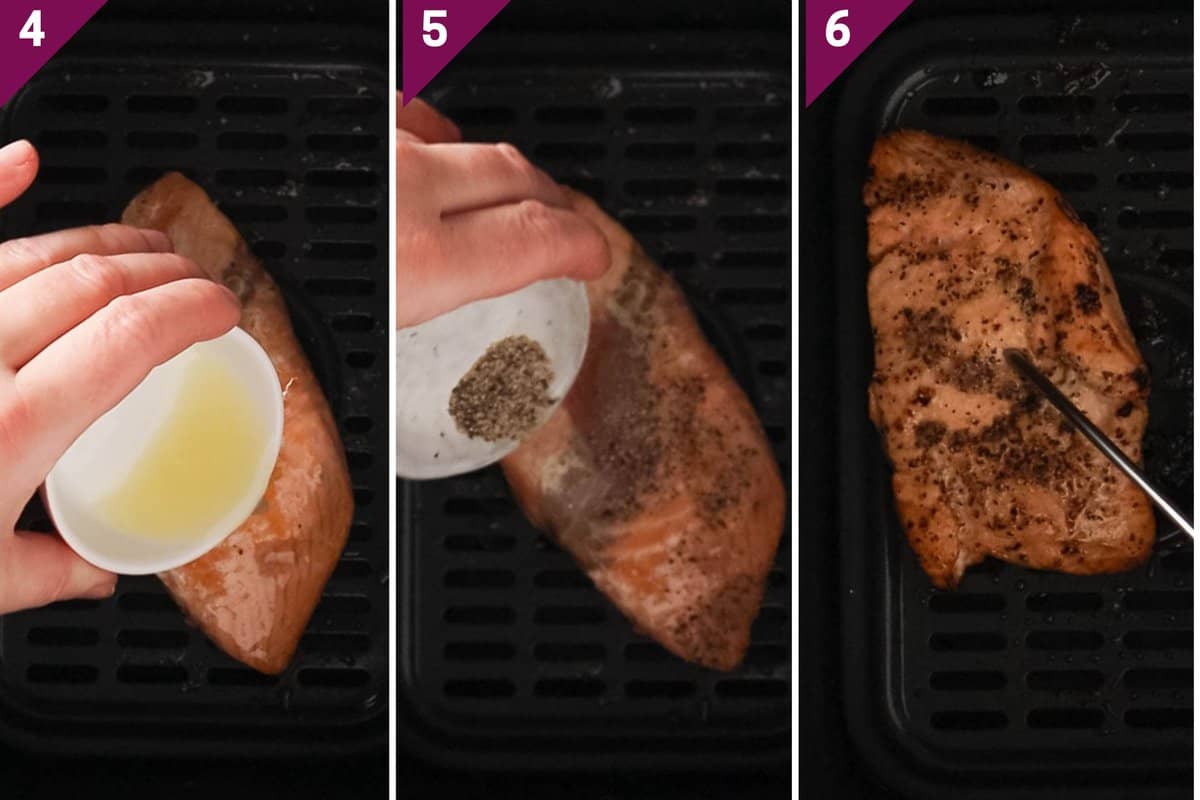 Pour over lemon juice
Season with lemon pepper
Air fry 4 minutes at 190°F (200°C), then flip the salmon and air fry 4 minutes more, until cooked through
How to know when salmon is done cooking
The best way to know when the salmon is done, is by using a meat thermometer *. The US FDA recommends cooking salmon to an internal temperature of 145°F (63°C), which will make it cooked all the way through, but some people prefer it to not be cooked fully in the middle.
If you do not have a thermometer, you need to cut into the salmon to check for doneness. It's done when it's flaky and opaque, and light pink in color.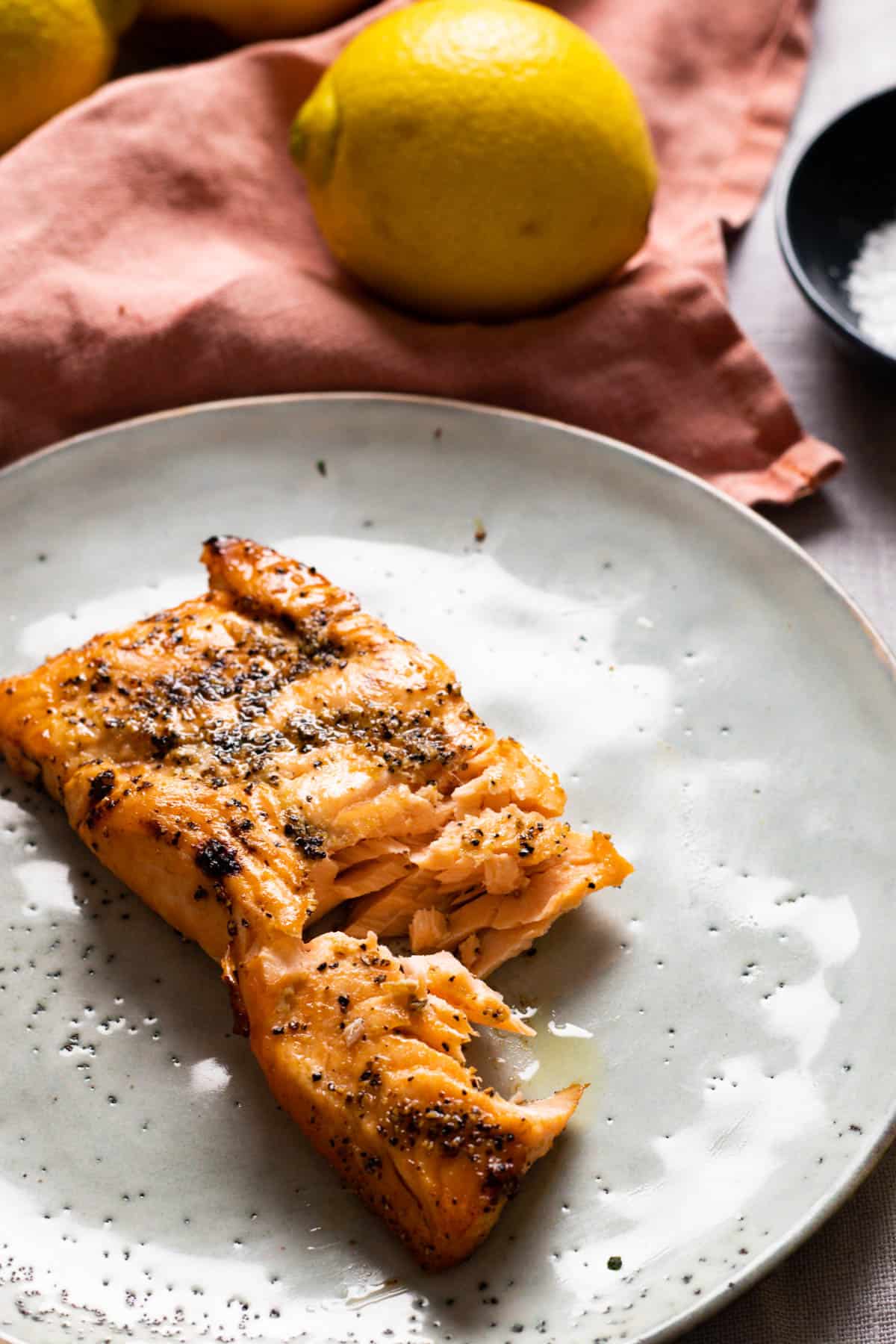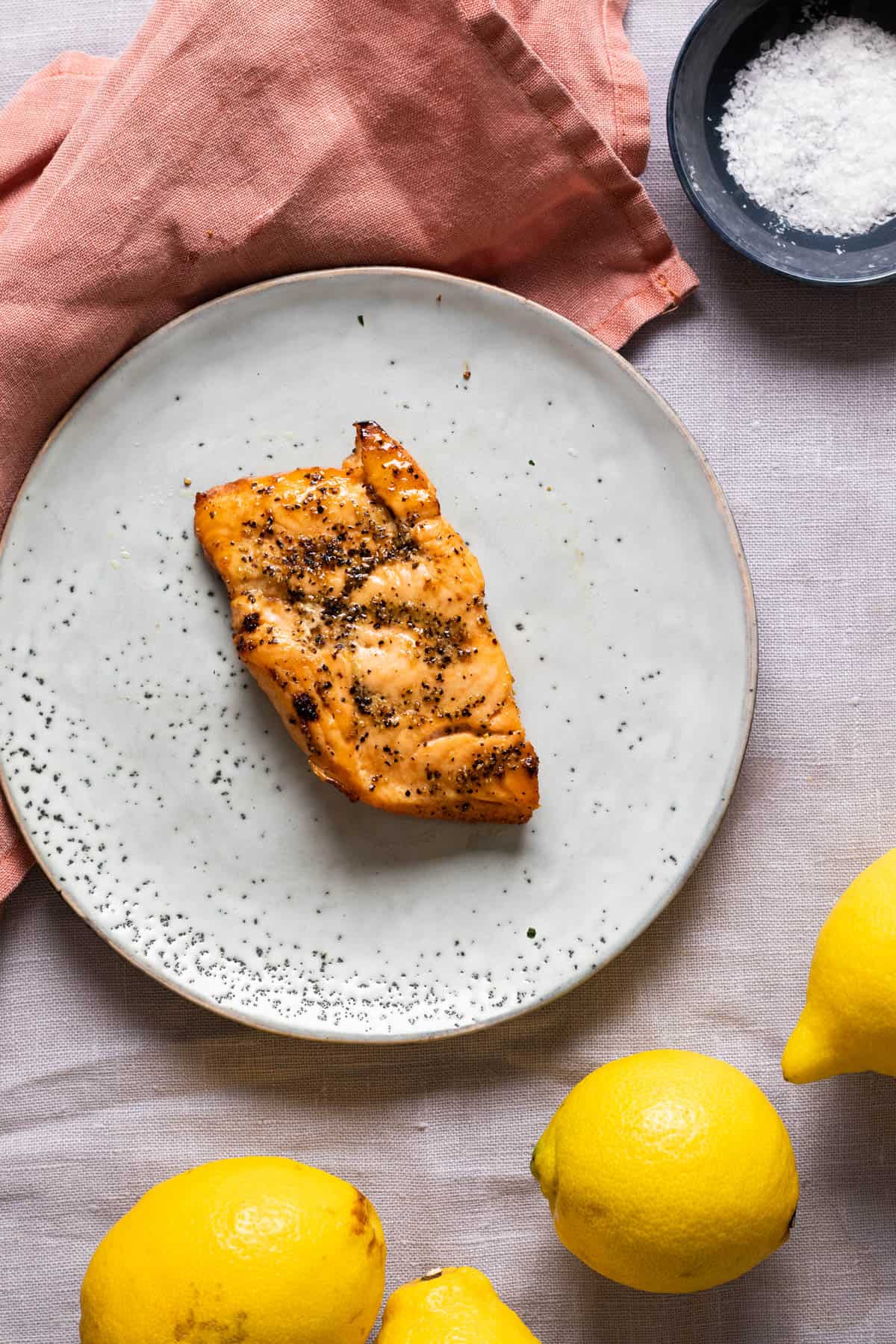 More quick & easy air fryer recipes
Looking for more guides to air frying frozen food?
Did you love this recipe? Rate it five stars!
...and let me know what you loved about it in the comments.
Recipe