This post may contain affiliate links, which are always marked with *. Please read my disclosure for more information.
No prep needed to make the best Frozen Burgers in air fryer *, all done in 15 minutes! Perfectly cooked, juicy & delicious, and all ready to serve with your favorite toppings & sides!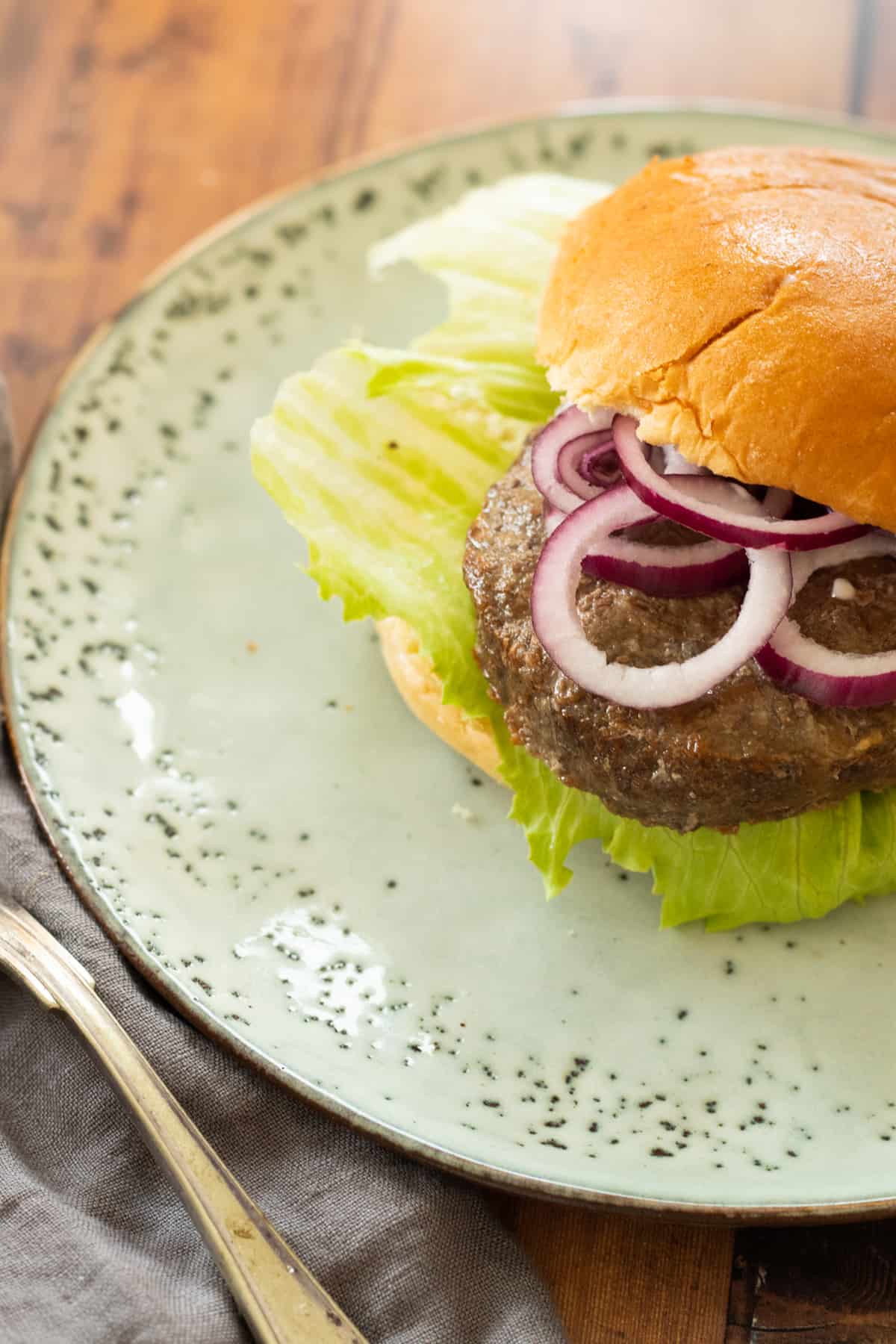 Jump to:
Craving fast food but don't want to run to McDonald's? Got lots of leftover frozen patties in your freezer since that last barbecue? Or just need a quick meal? This post is for you.
Why you will love this recipe
What you need to make them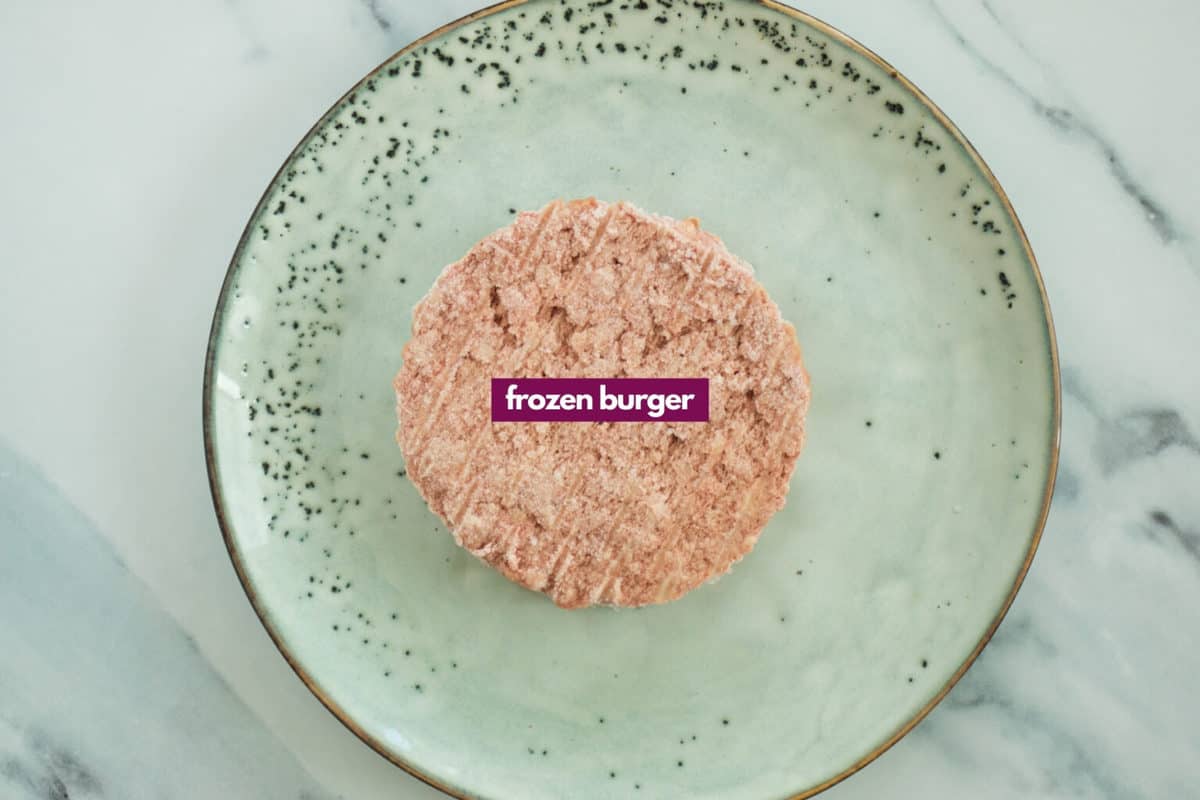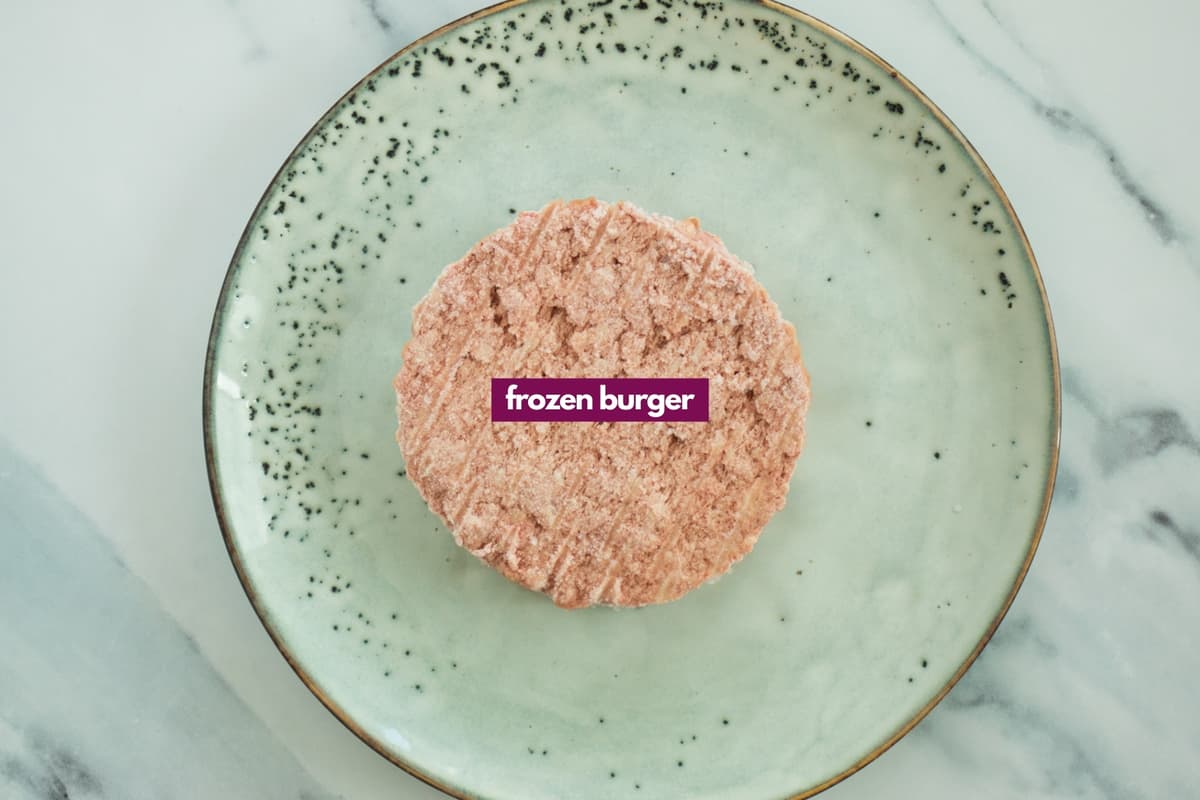 Ingredient notes
How to cook frozen burgers in air fryer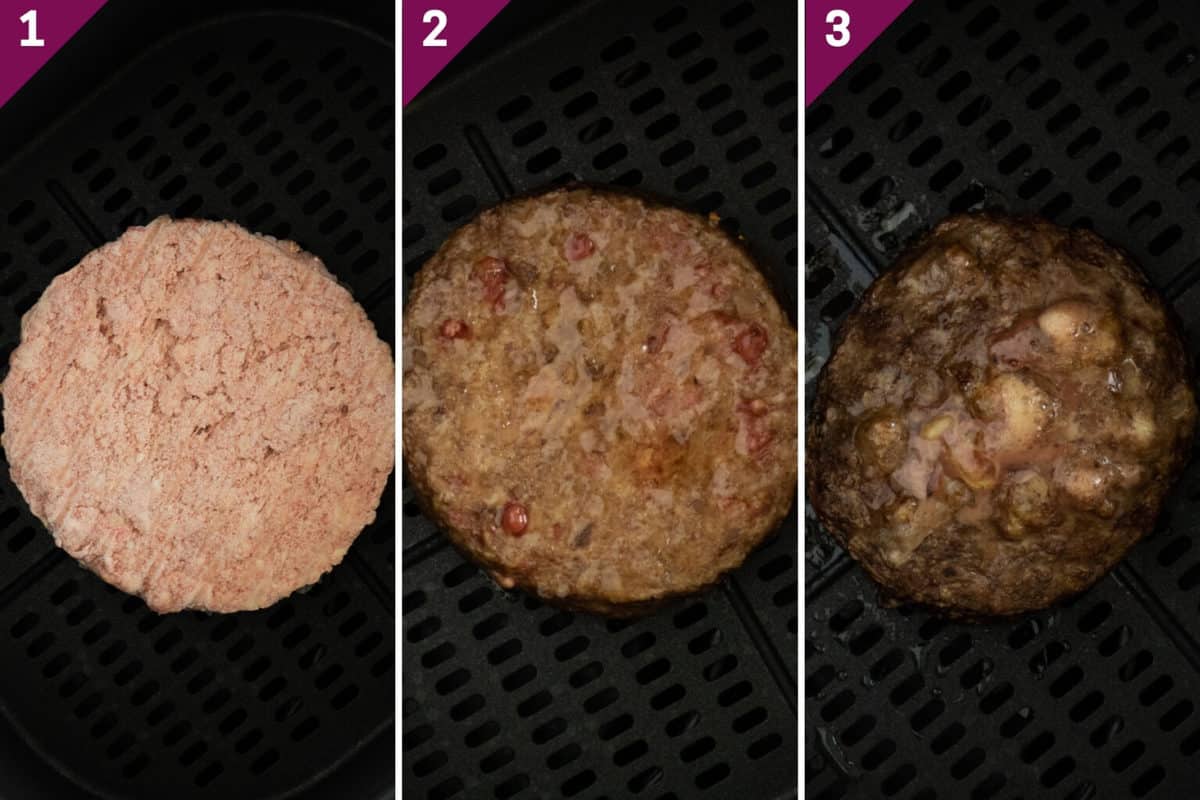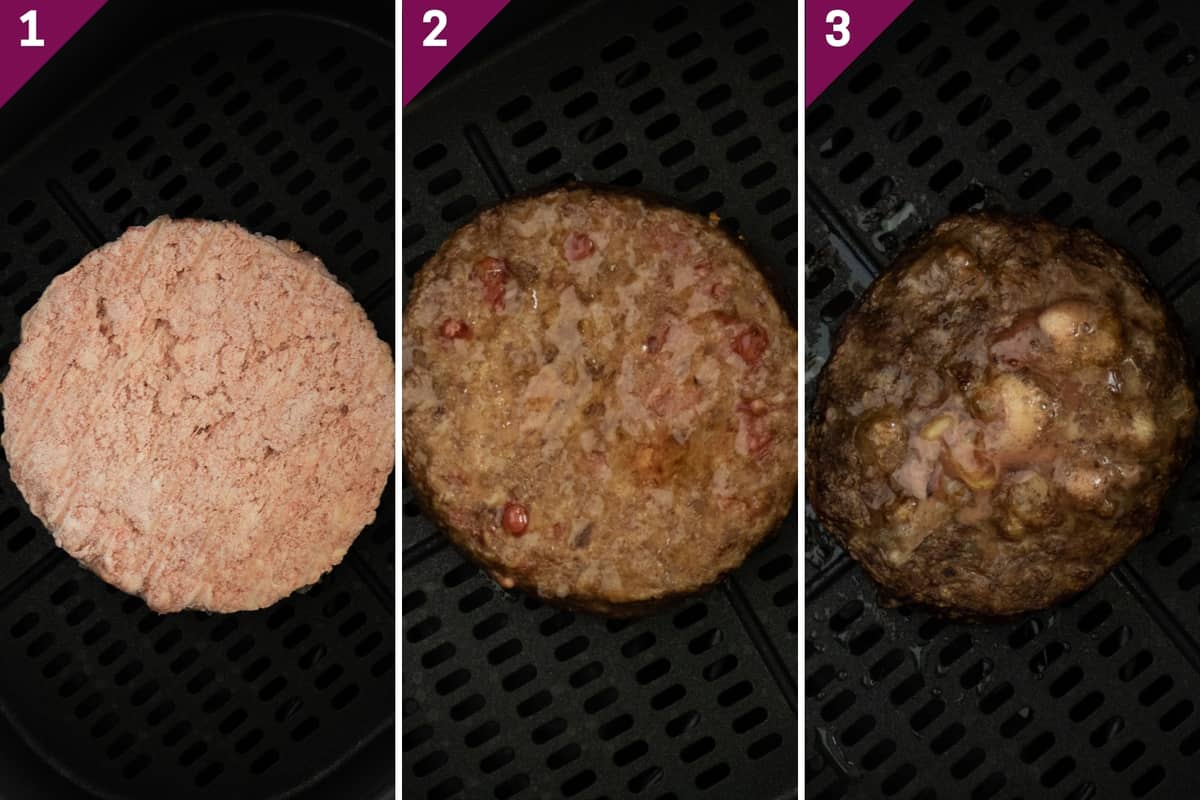 Preheat your air fryer

*

to 390°F (200°C)
Place the frozen burger in the preheated basket
Air fry for 5 (3 if thinner) minutes at 390°F (200°C), then turn and air fry for 5 (2 if thinner) more minutes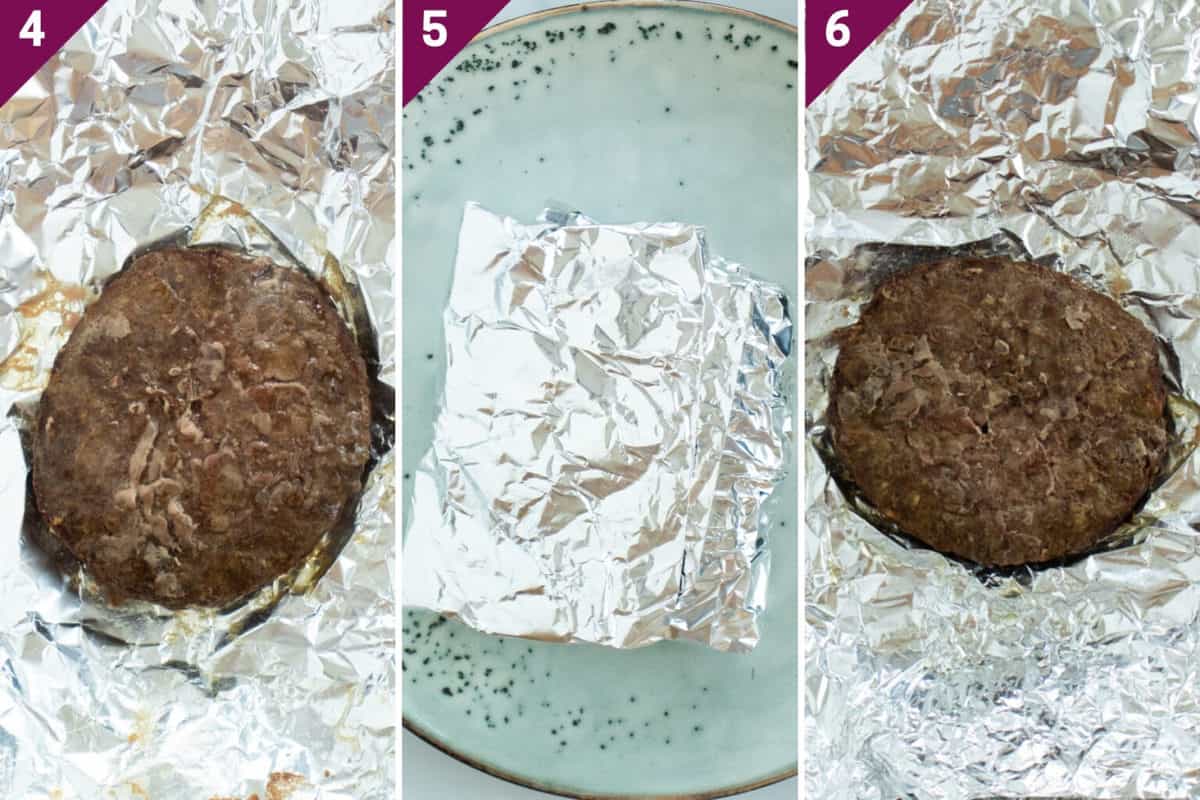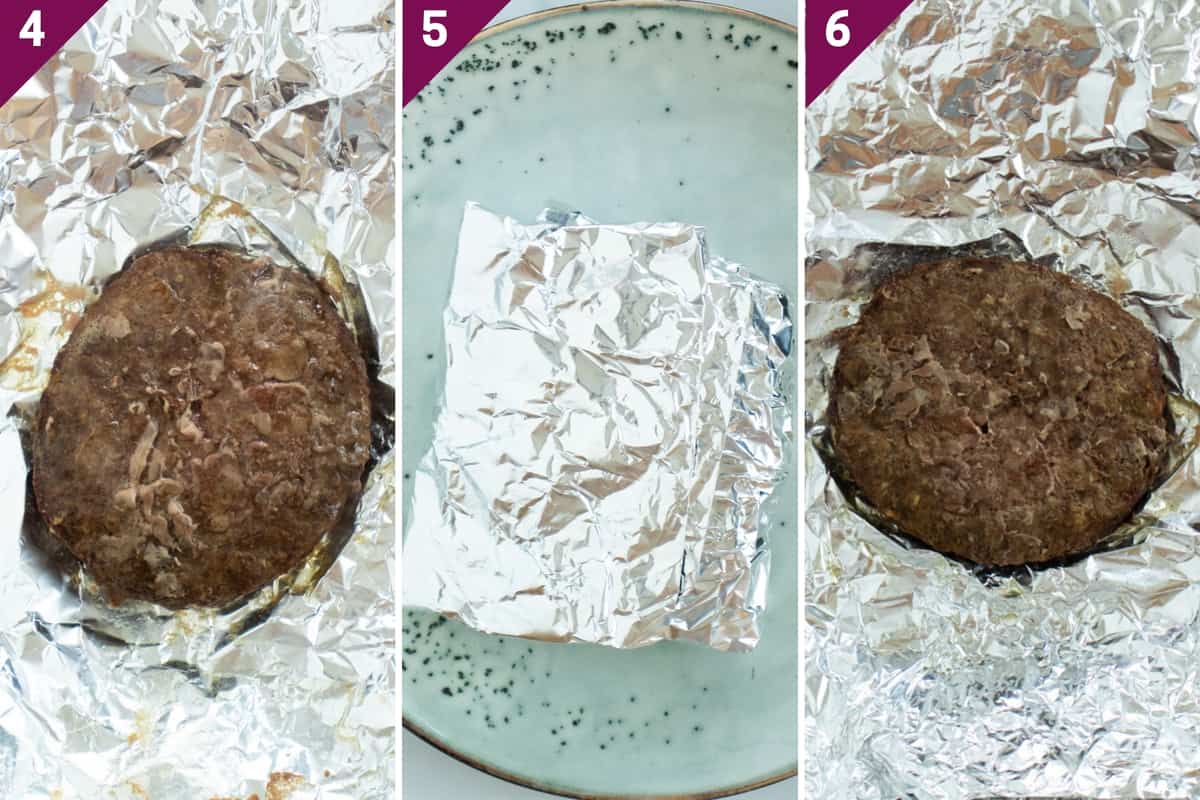 Place burger on a piece of aluminum foil
Wrap it up and let it rest for 5 minutes
Unwrap, make sure the temperature is at least 165°F (70°C), and serve!
Tips & tricks
Recipe FAQ
For more answers to your air fryer * questions, check out my complete Air Fryer FAQ.
Can you put frozen hamburger in air fryer?
Yes, you can air fryer frozen hamburgers.
Do I need to defrost my frozen burgers before cooking in air fryer?
No, for best results you should not defrost them first.
Can you put aluminum foil in the air fryer?
Yes, you can put aluminum foil in the air fryer.
What temp to cook frozen burgers in air fryer?
I recommend cooking frozen burgers at 390°F (200°C).
How long do you cook a frozen hamburger patty in an air fryer?
Cook time will depend on the size and thickness of your burgers, and it generally takes between 5-10 minutes.
Do you need to flip burgers in the air fryer?
Yes, for an even cook you should flip your burgers halfway.
Why does my air fryer smoke and how do I stop it?
A common reason for smoke coming from the air fryer is that there is a lot of grease in the bottom. This can happen when cooking foods with a high fat content, where the fat drips off while cooking.

To avoid this, you can add a little bit of water to the bottom of your air fryer.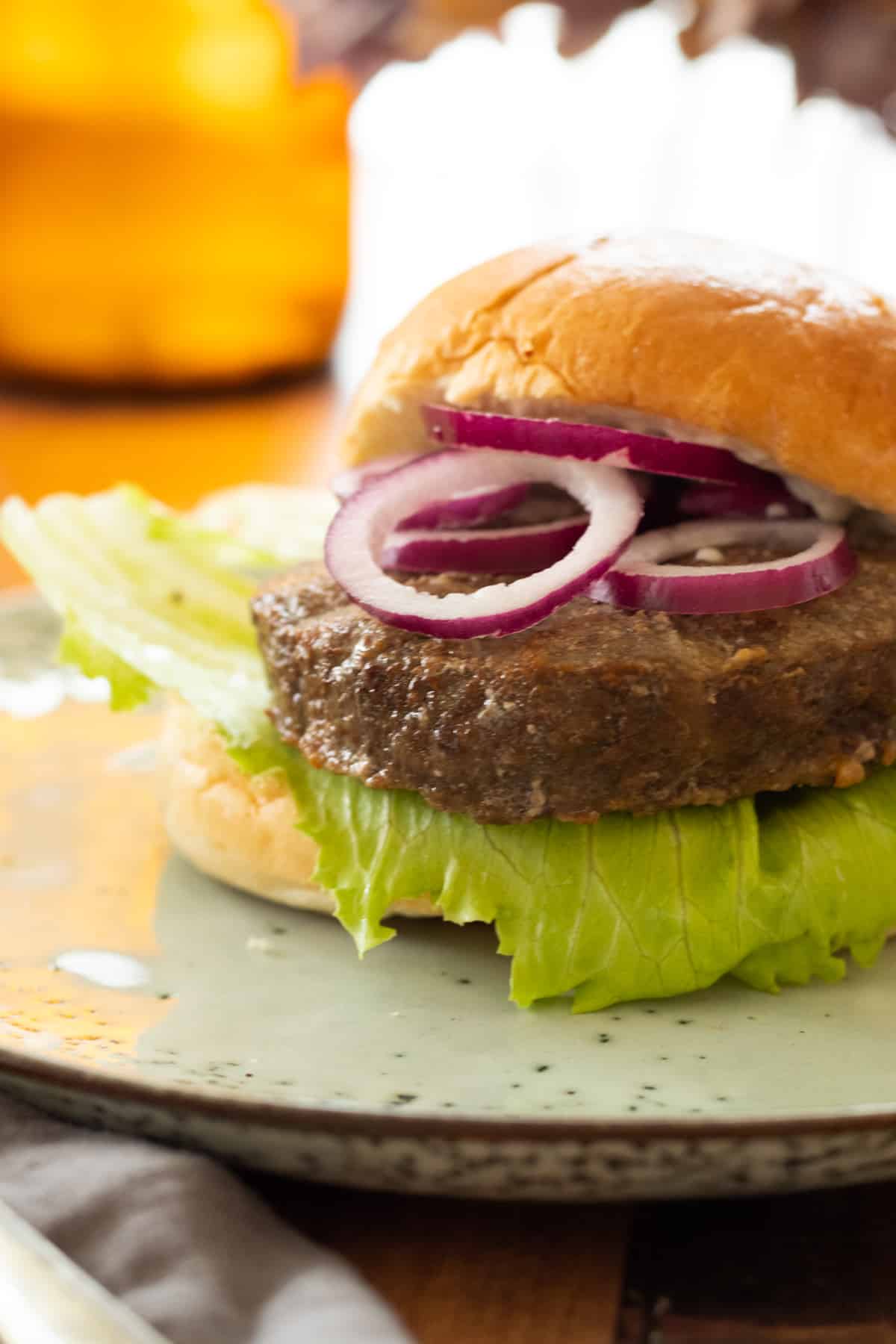 More guides to air frying frozen food
Check out some of my other air fryer * recipes for frozen food.
Did you love this recipe? Rate it five stars!
...and let me know what you loved about it in the comments.
Recipe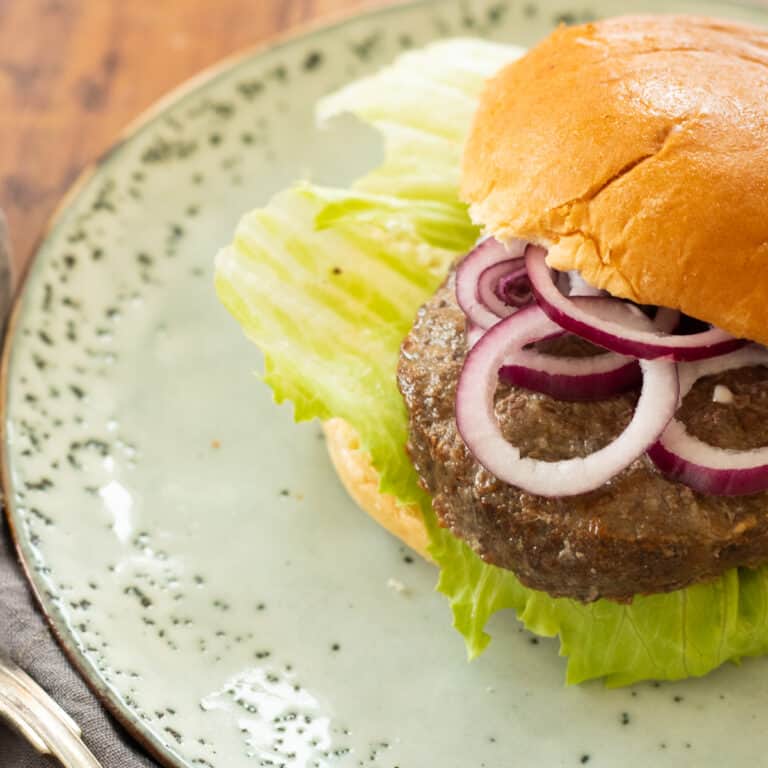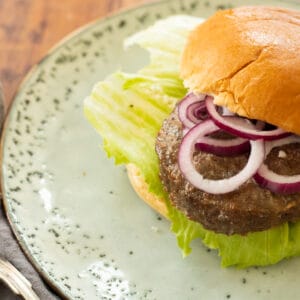 Instructions
Place the burger patty in the air fryer basket and air fry for 10 minutes if it's thicker (½ inch or 2.5 cm) and 5 minutes if it's thinner (¼ inch or 1.25 cm). Turn them once halfway.

Check the inner temperature and make sure it's at least 150°F (65°C), then immediately wrap in aluminium foil and allow to rest for 5 minutes.

Make sure the inner temperature has reached 165°F (70°C), and serve!
Equipment needed for this recipe
Notes
This recipe for frozen burgers in air fryer was created in a Philips HD9252/90 Air Fryer*. Cooking time can vary with your air fryer model.
Tips & tricks
Preheat the air fryer for best results
Don't defrost the burgers, cook them straight from frozen
If you want to add extra seasoning do so when flipping the burger
Cook in a single layer - you can cook multiple burgers at the same time, but make sure they are not overlapping
Allow the burgers to rest for the juiciest result
The burgers don't need to be done when removing them from the air fryer - the temperature will keep rising a few degrees when resting
Adjust cook time depending on the thickness of the burgers - this can vary a lot! I find 5+5 minutes cooking plus 5 minutes resting is great for thicker patties, and 3+2 minutes cooking plus 5 minutes resting for thinner patties.
Use a meat thermometer to ensure your burgers are not under or over cooked - the inner temperature should reach 165°F (70°C) after resting which means it needs to be at least 150°F (65°C) before wrapping in foil
Cook time can vary with different air fryers
Store any leftovers in the fridge in an airtight container for up to 4 days - but I recommend not air frying more than you will finish
Nutrition
Calories:
193
kcal
|
Protein:
20
g
|
Fat:
12
g
|
Saturated Fat:
4
g
|
Polyunsaturated Fat:
1
g
|
Monounsaturated Fat:
5
g
|
Trans Fat:
1
g
|
Cholesterol:
71
mg
|
Sodium:
66
mg
|
Potassium:
290
mg
|
Calcium:
17
mg
|
Iron:
2
mg
Nutritional information is approximate and automatically calculated, and should only be viewed as an indication.