This post may contain affiliate links, which are always marked with *. Please read my disclosure for more information.
Air frying frozen foods is the best way to cook it for the best taste & texture. And no cooking method is as quick, easy and non-messy. Learn how to cook any frozen food in the air fryer *, and have it tasting great in no time!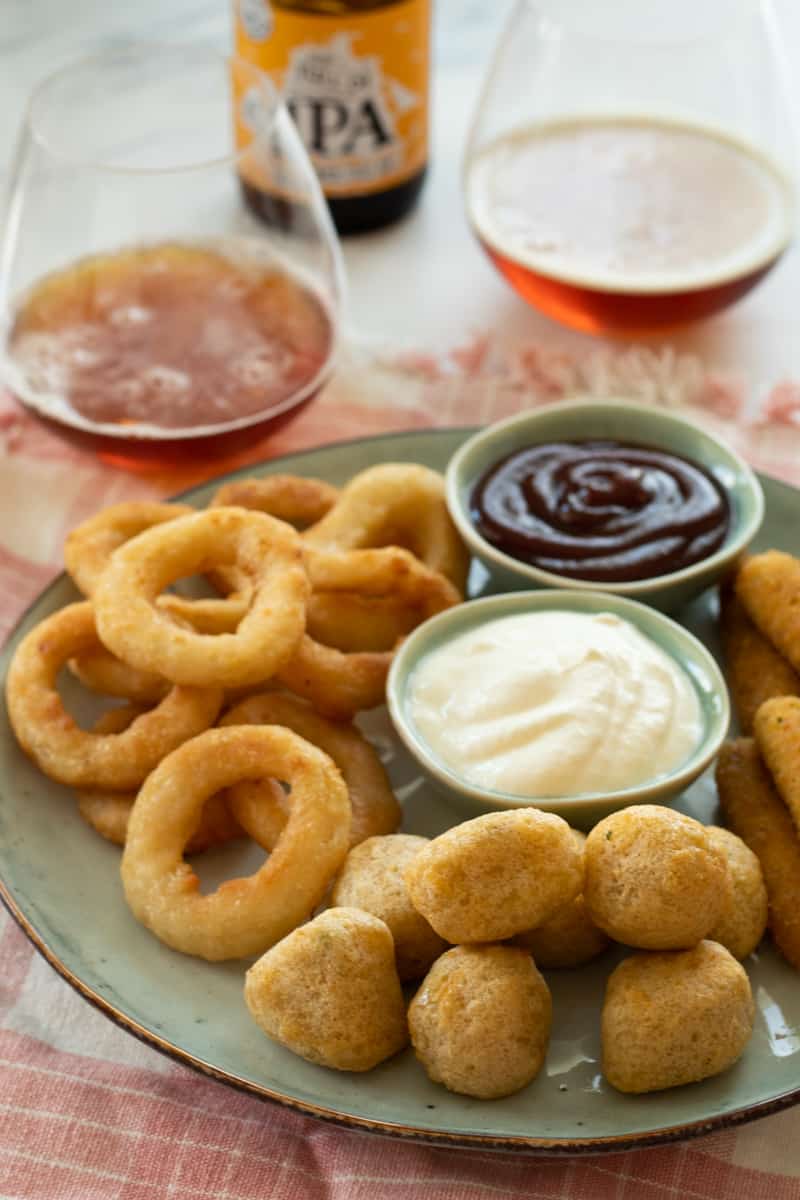 Jump to:
Since I got my air fryer * I'm not cooking frozen foods any other way. I love how quick air frying frozen foods is, the great results, and the super easy cleanup.
Why the Air Fryer is Great for Cooking Frozen Foods
It's quick, much quicker than baking in the oven
It's easy, at least as easy as any other cooking method
Great texture thanks to the circulating air - it crisps everything up on all sides
Great taste thanks to the even cooking and the added crispiness
Healthier since you need much less oil than for other methods
Super simple clean up - no oil to get rid off, no parchment paper to throw away, no pan to clean... and most air fryer

*

baskets you can just throw in the dishwasher!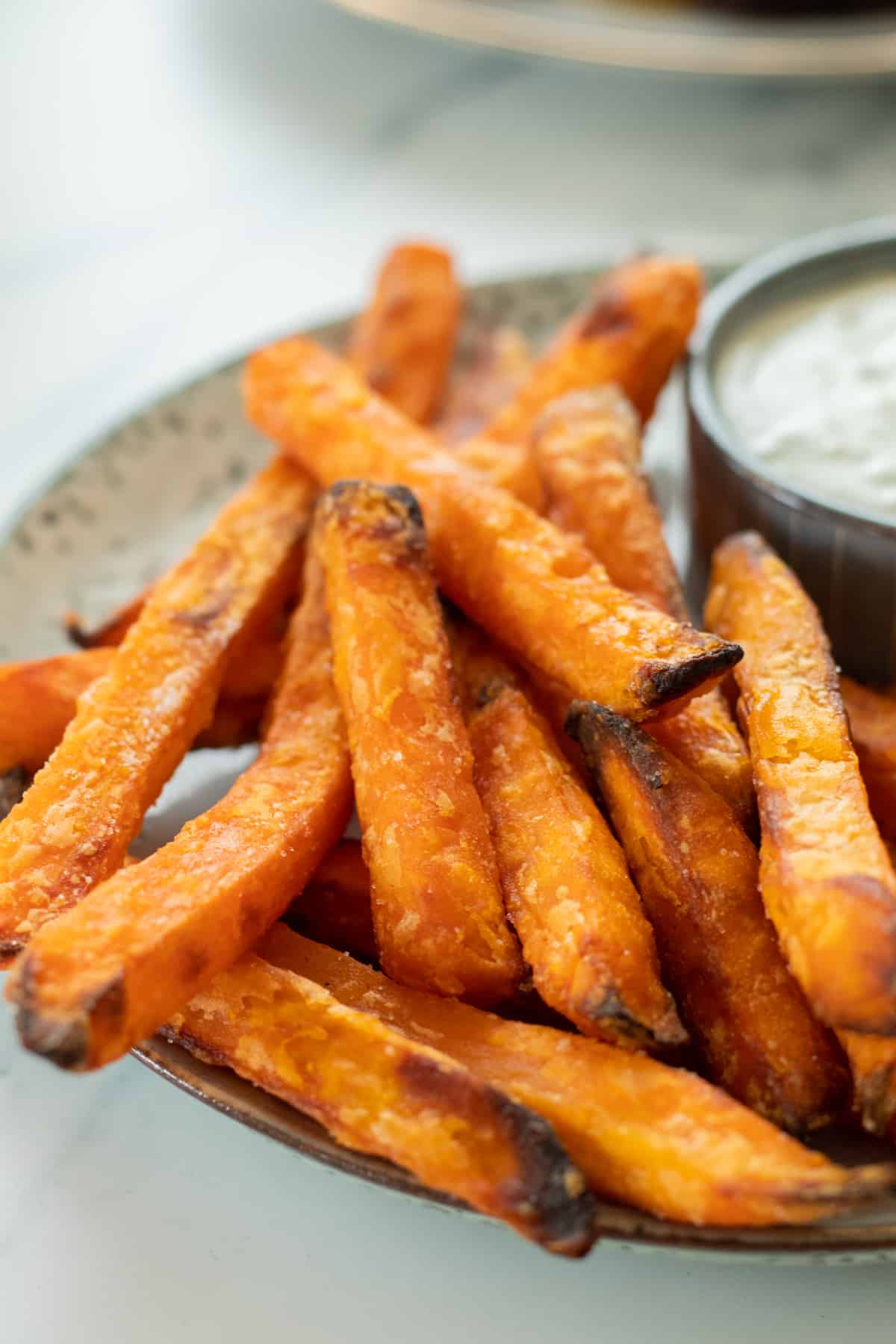 General Process & How-To
There's a simple process to follow for air frying frozen foods. Along the way, you just need to decide on a few things - and below you will find my tips for doing this.
Should I thaw the food?
You should generally never thaw frozen pre-cooked food you want to cook in an air fryer *. Cook them straight from frozen for the very best result.
Should I add oil?
Opinions differ regarding whether you should add oil or not when air frying frozen food, I find in most cases adding a bit of oil gives a better result.
For most frozen foods, I recommend adding a small amount of oil
Instead of oil, you can also use cooking spray
Oil helps give the food a nice golden color
Too much oil can make the food soggy instead of crispy
Choosing the right temperature
While most air fryers have a tight range of temperatures available - some go just between 350-400°F (180-200°C) - the temperature you choose for air frying frozen foods can make a big difference.
In general, go a step below what you would use in the oven. The recommended oven temperature for frozen foods will usually be stated on the bag.

If the bag says 400°F (200°C), go for 350°F (180°C)
If the bag says 450°F (225°C), go for 400°F (200°C)

For frozen foods filled with cheese, like mozzarella sticks or chili cheese nuggets, keep it at 350°F (180°C) to avoid the cheese leaking out
Should I preheat the air fryer?
I recommend always preheating your air fryer * when air frying frozen foods, if this is not explicitly recommended against for your specific model. This helps you start the cooking out at the right temperature, which means crispier and more evenly cooked food.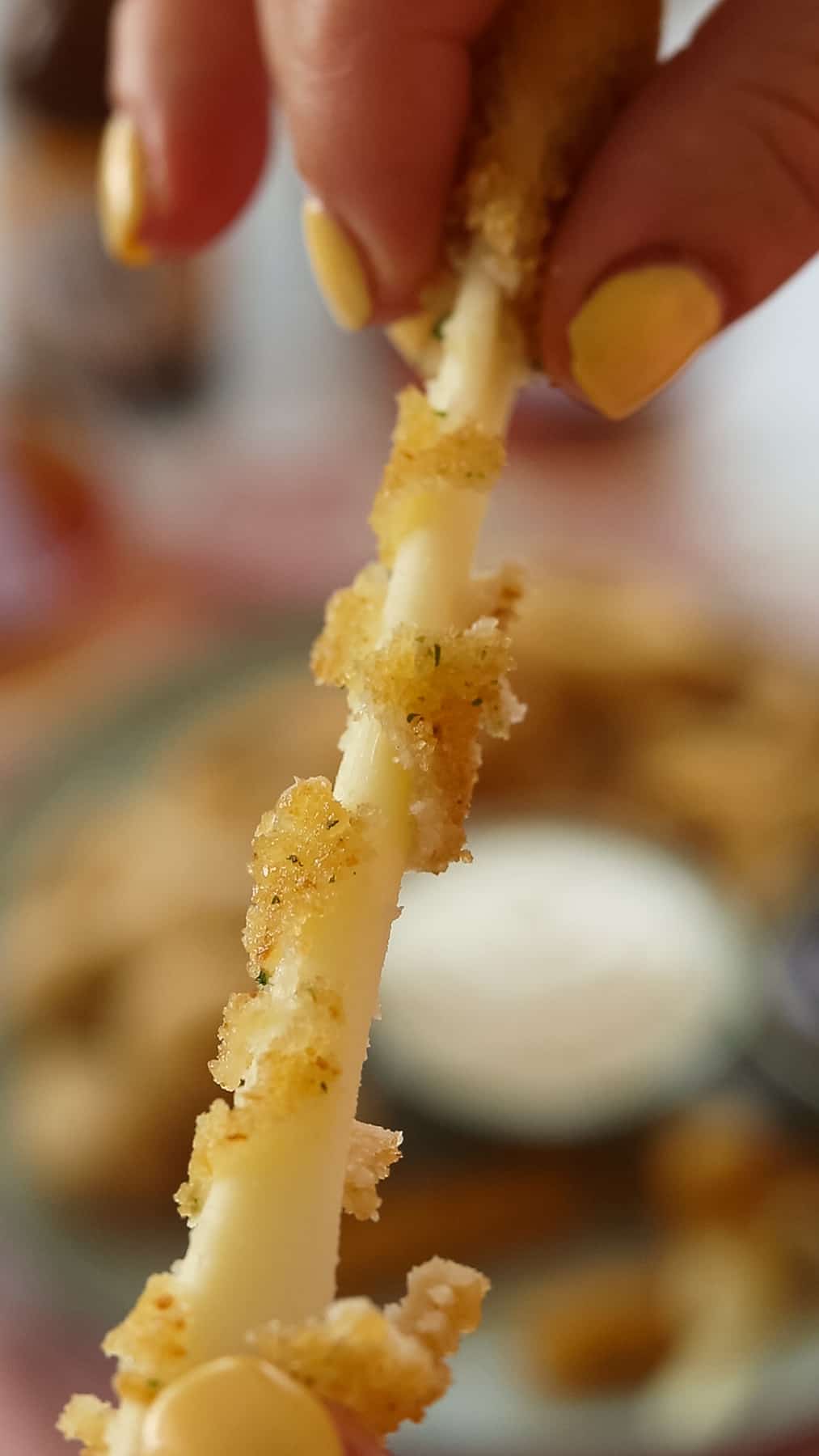 How much can I cook at the same time?
You don't want to overcrowd your air fryer *, as this will affect the result negatively.
For a crispy result, always cook in a single layer
French fries and sweet potato fries can overlap, but you should still not fill your air fryer

*

basket more than halfway - the less overlap, the crispier the result
Determining the cook time
A great thing about the air fryer * is that it's so easy to check on your food while it's cooking. So you can start with an idea of the time, and then adjust as you go.
As with the temperature, you can determine a good starting point from what it says on the bag when it comes to cooking time as well.
Generally, the food will cook in about half of the time it would in the oven
The smaller the air fryer

*

, the quicker the food will cook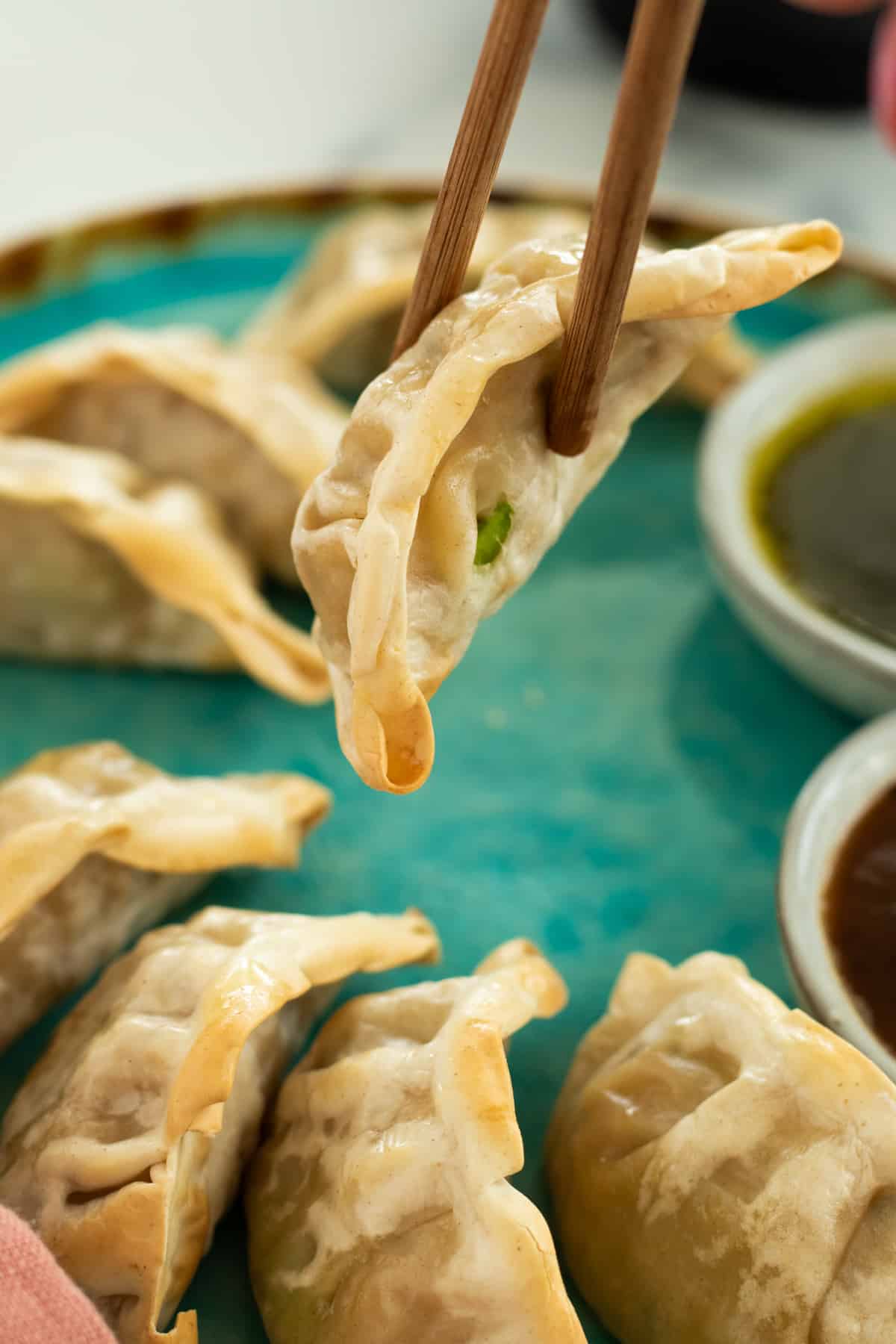 Turning the food
Despite the air fryer * circulating the air I find you get the best results when you turn your food halfway.
When is it done?
How to decide on when your food is done depends on what type of frozen food you are cooking in your air fryer *.
For pre cooked foods like pre-cooked chicken nuggets, chicken wings and shrimp the important thing is that it looks done and is warm enough inside
For cheese filled foods like mozzarella sticks, it should look done and the cheese should have melted inside

Test this by pinching a piece gently - it should feel soft

For raw foods like raw frozen chicken wings and raw frozen shrimp you need to make sure the food is thoroughly cooked through

Test this by cutting into one piece, or use a kitchen thermometer

*

The FDA recommends chicken be cooked to 165°F (74°C), ground meat to 160°F (71°C) and that shrimp should have pearly and opaque flesh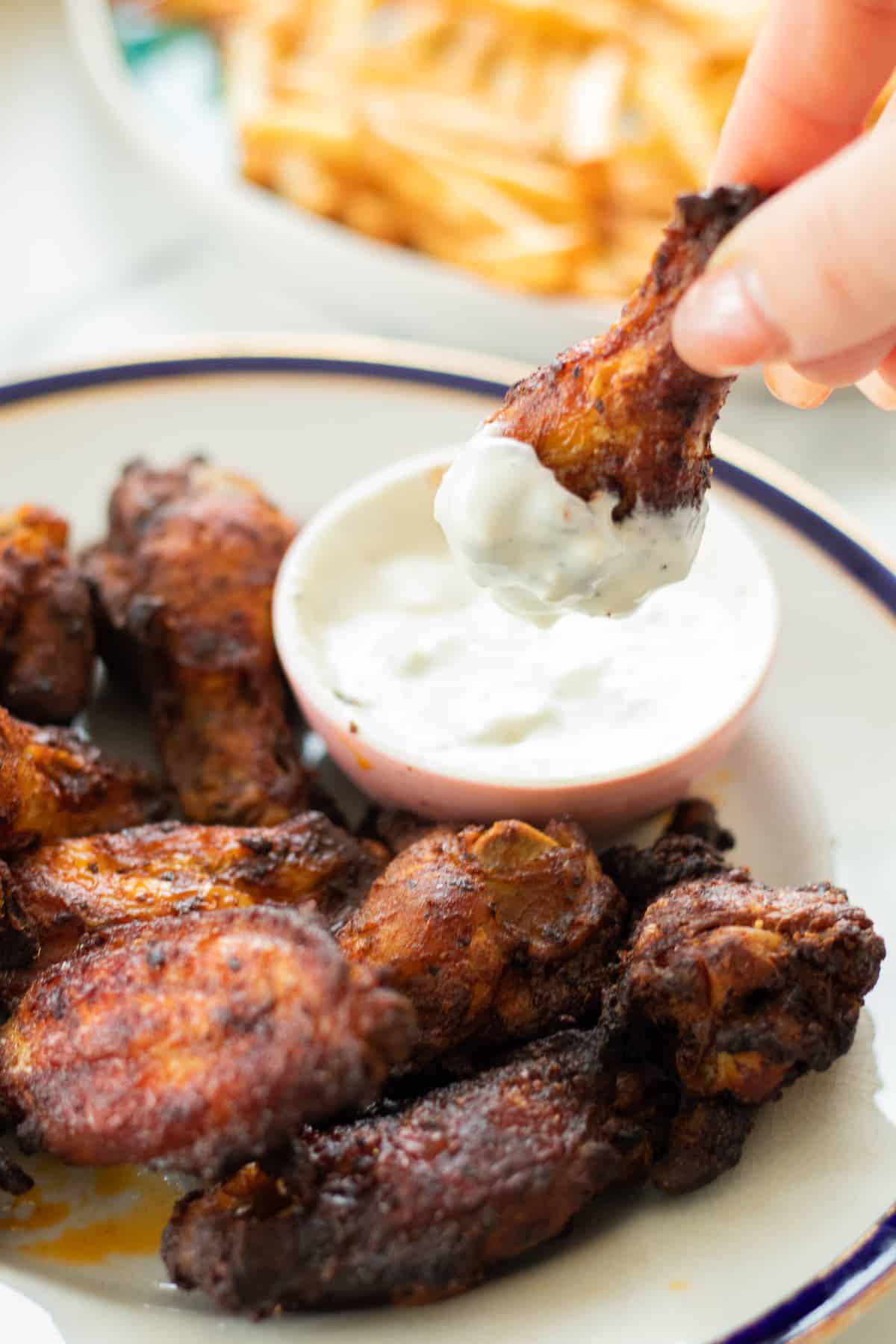 FAQ
Can you cook a frozen TV dinner in an air fryer?
Yes, you can! Just make sure the container is safe for the oven (this means it will be fine in the air fryer as well) and that it fits inside. If not, you can move it to another oven safe dish that fits.
Do you have to thaw chicken before air frying?
No, you can cook chicken straight from frozen in the air fryer, but it will take longer than cooking it after thawing.
Does frozen food cook faster in an air fryer?
Yes, compared to the oven frozen food does cook faster in an air fryer.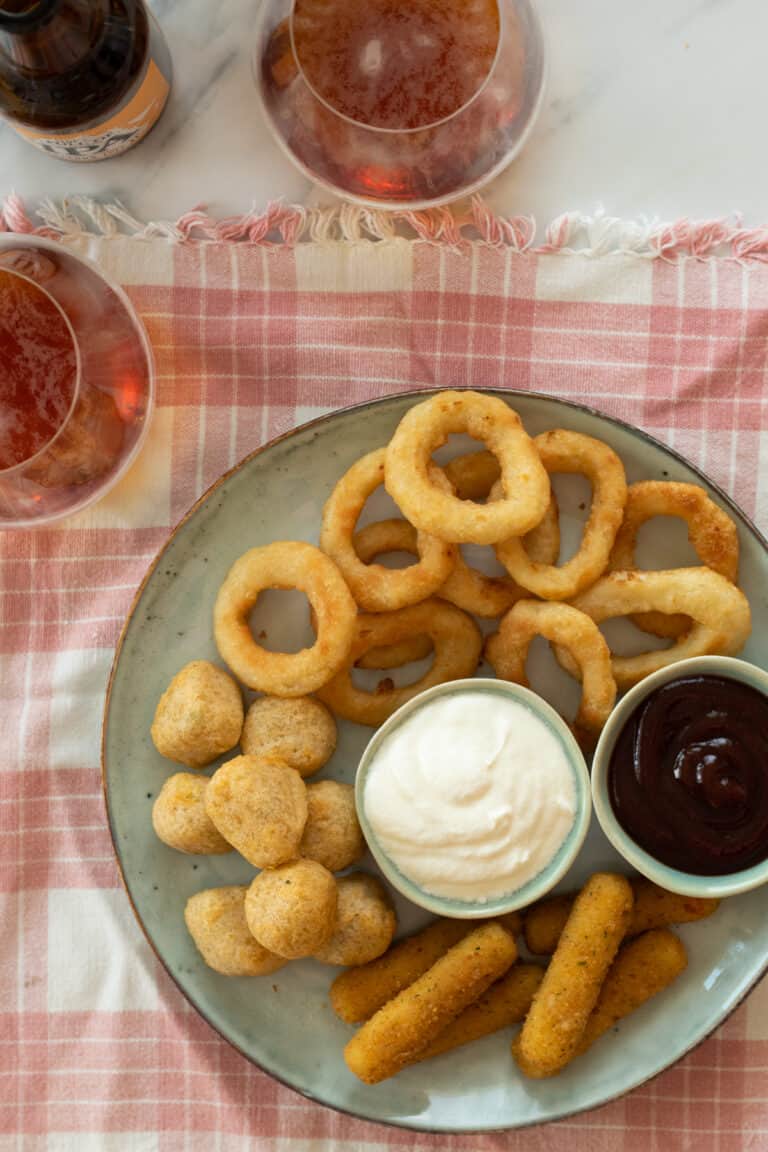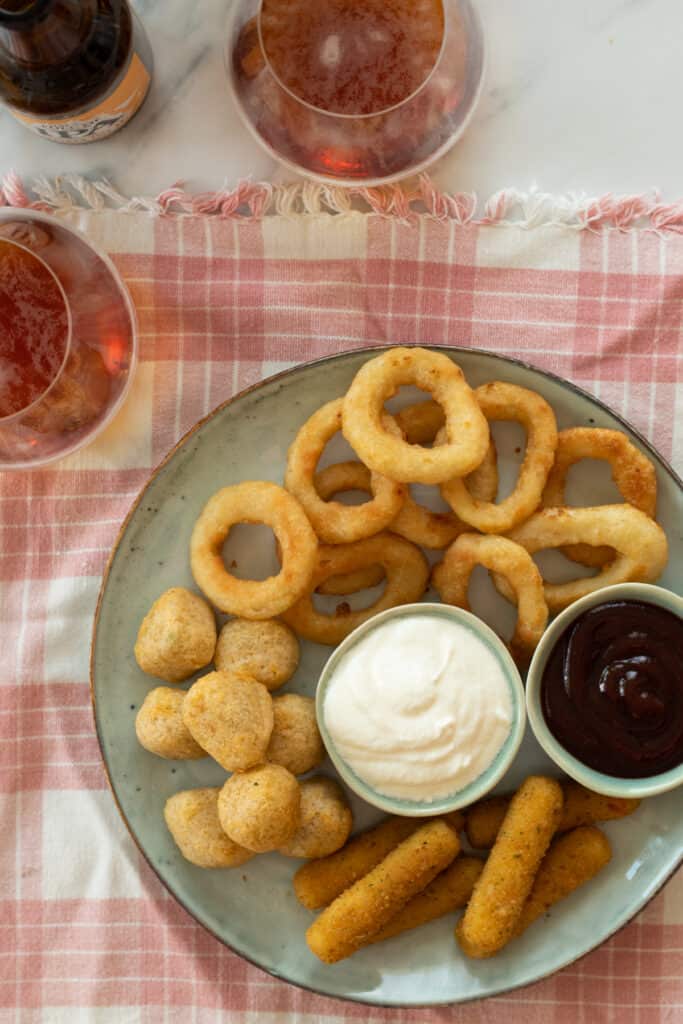 Specific Cook Times & Temperatures
Below you will find cook times and temperatures for common frozen foods. For most of these, you can click the link to go to a full guide to cooking this specific food - complete with tips & tricks.
These cook times have been tested in a Philips HD9252/90 Air Fryer*. Cook times can vary with your air fryer model.
Side dishes
Proteins
Snacks
Did you love this guide? Share it with someone!
...and let me know what you loved about it in the comments.