If you're observing Lent but still want to serve your family a delicious Friday night dinner, this is the guide for you. Here you have 30 recipes all without meat, that are tasty enough for Friday night - and all quick and easy to make.
Buffalo Cauliflower Bites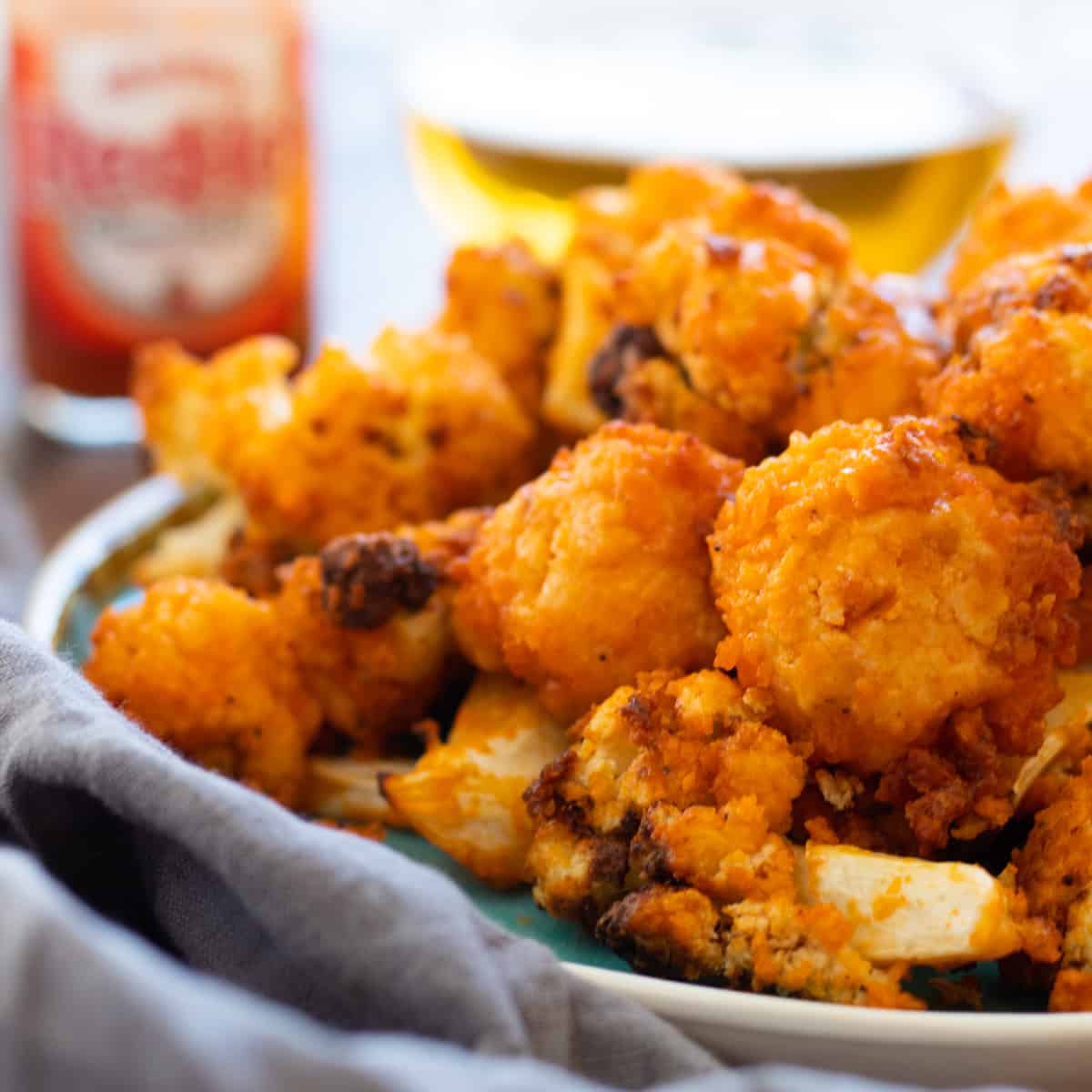 These spicy and crispy buffalo cauliflower bites are the best vegetarian wing alternative there is and will make a cauliflower lower out of anyone. Easy to make with just 10 minutes of active cooking these buffalo cauliflower wings are healthy-ish and perfect to dip in blue cheese sauce or put in tacos or on pizza.
Shrimp Scampi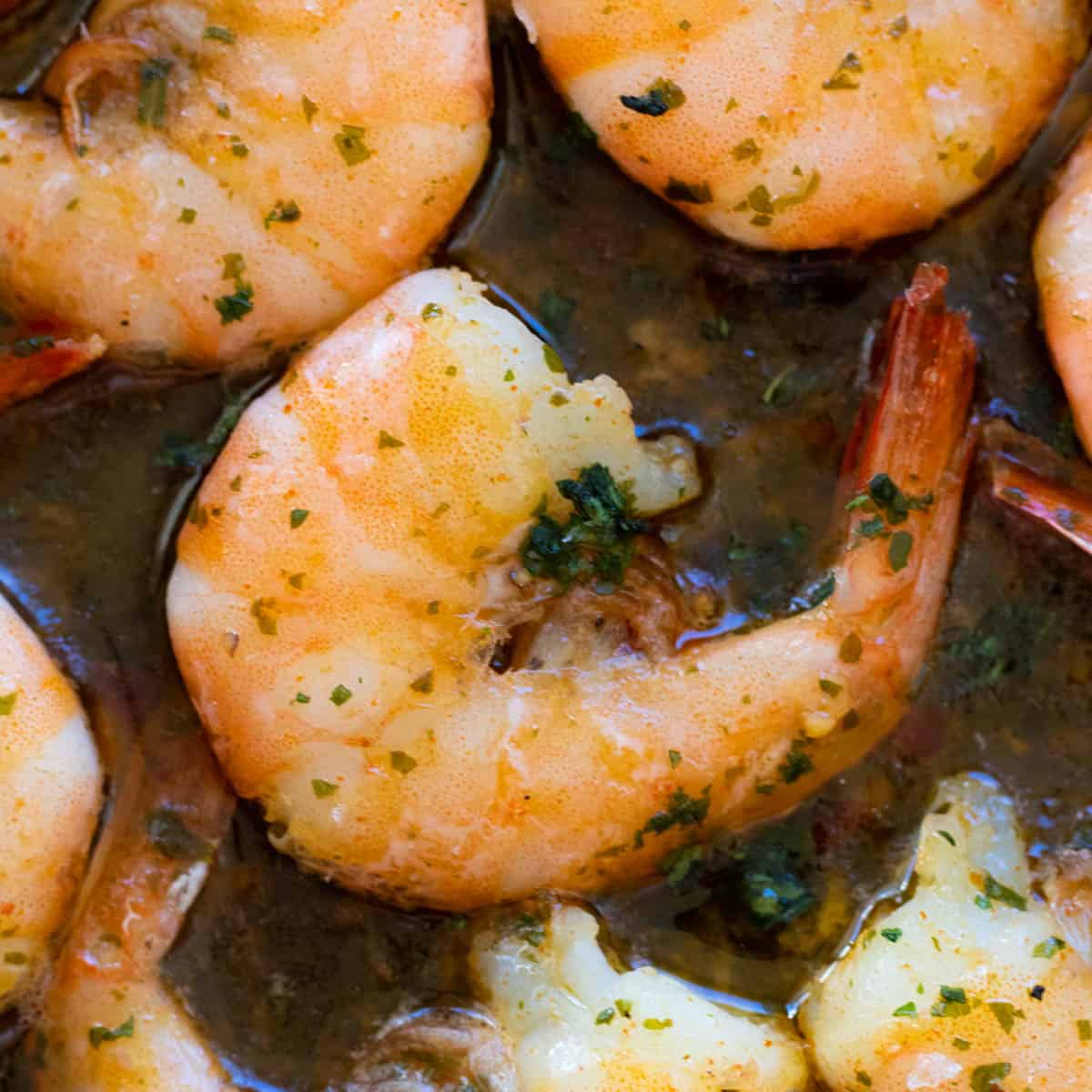 Make Shrimp Scampi without wine in just 10 minutes for a flavor packed appetizer or meal. Your kitchen will smell so amazing with all those garlic, lemon, chili and parsley flavors mixed together.
Spicy Vodka Pasta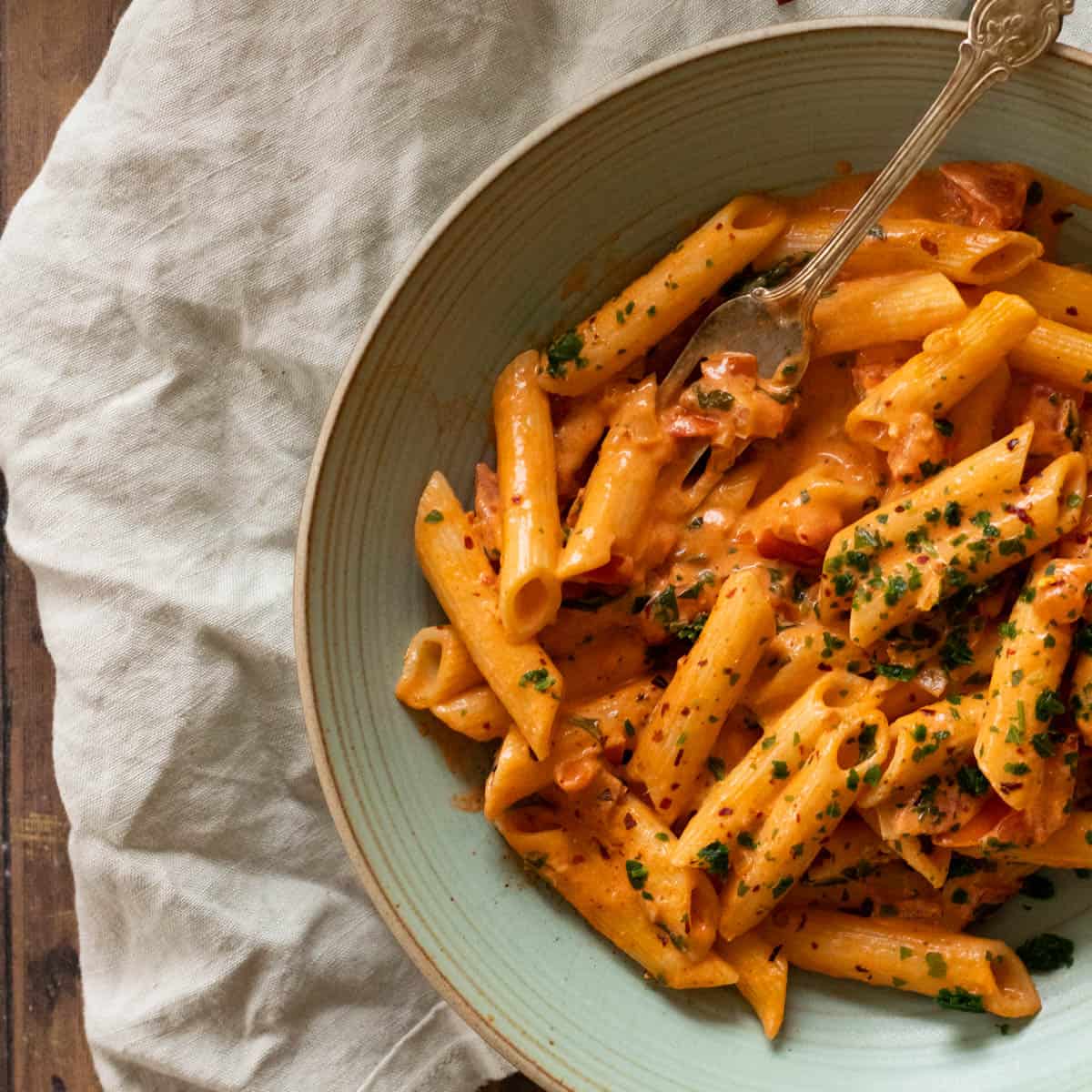 Done in 20 minutes this flavor packed Spicy Vodka Pasta (or Penne alla Vodka) is a delicious tomato cream sauce. Made from common ingredients such as fresh tomatoes, heavy cream, and parsley this is the best vodka pasta recipe you will find.
Apple Risotto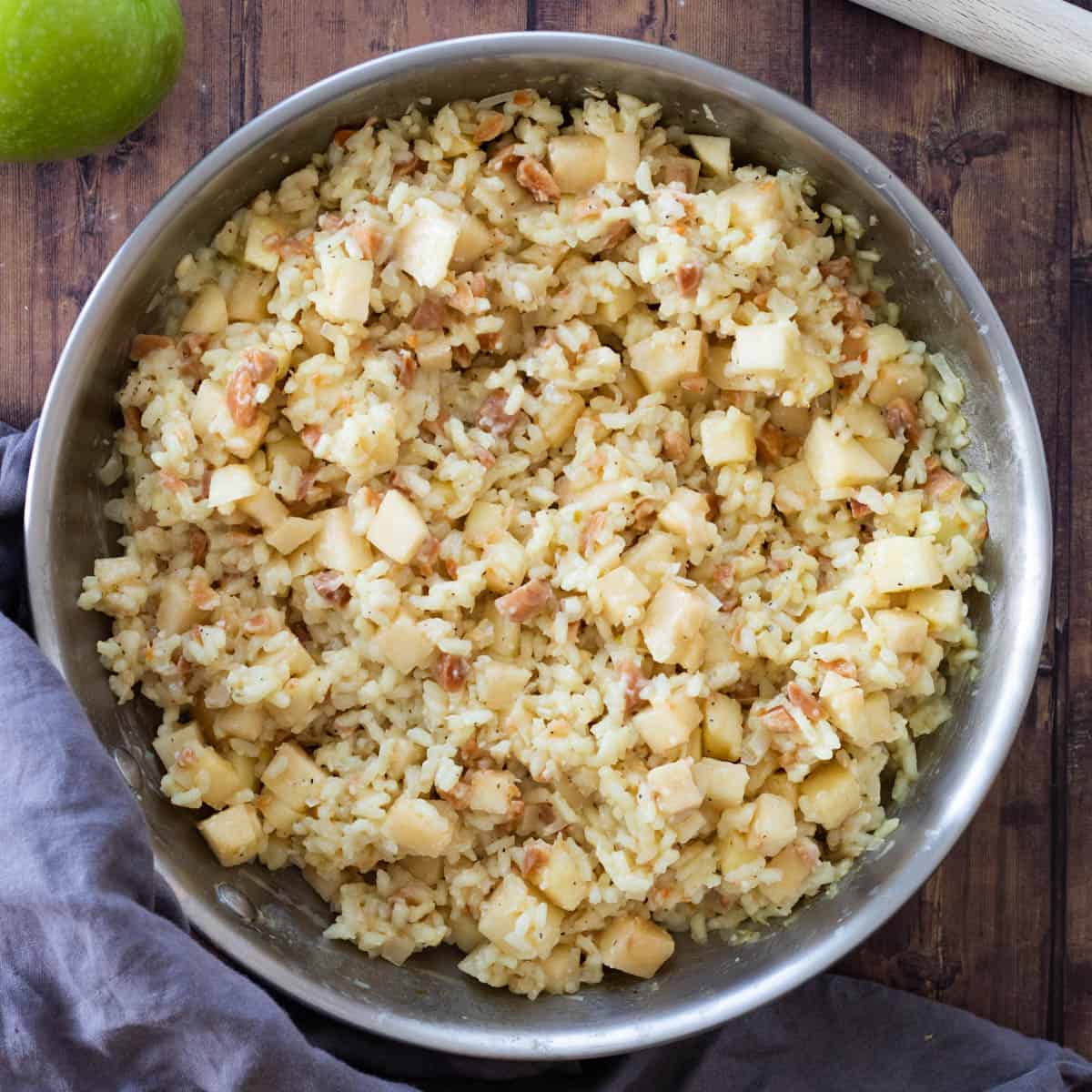 Make this delicious Apple Risotto loaded with apple flavors in 35 minutes. Apple Risotto is a delicious side dish or meal on its own, topped with crunchy Marcona almonds. Follow my no-stir risotto method for the creamiest, easiest risotto!
Fish & Broccoli in Lemon Butter Caper Sauce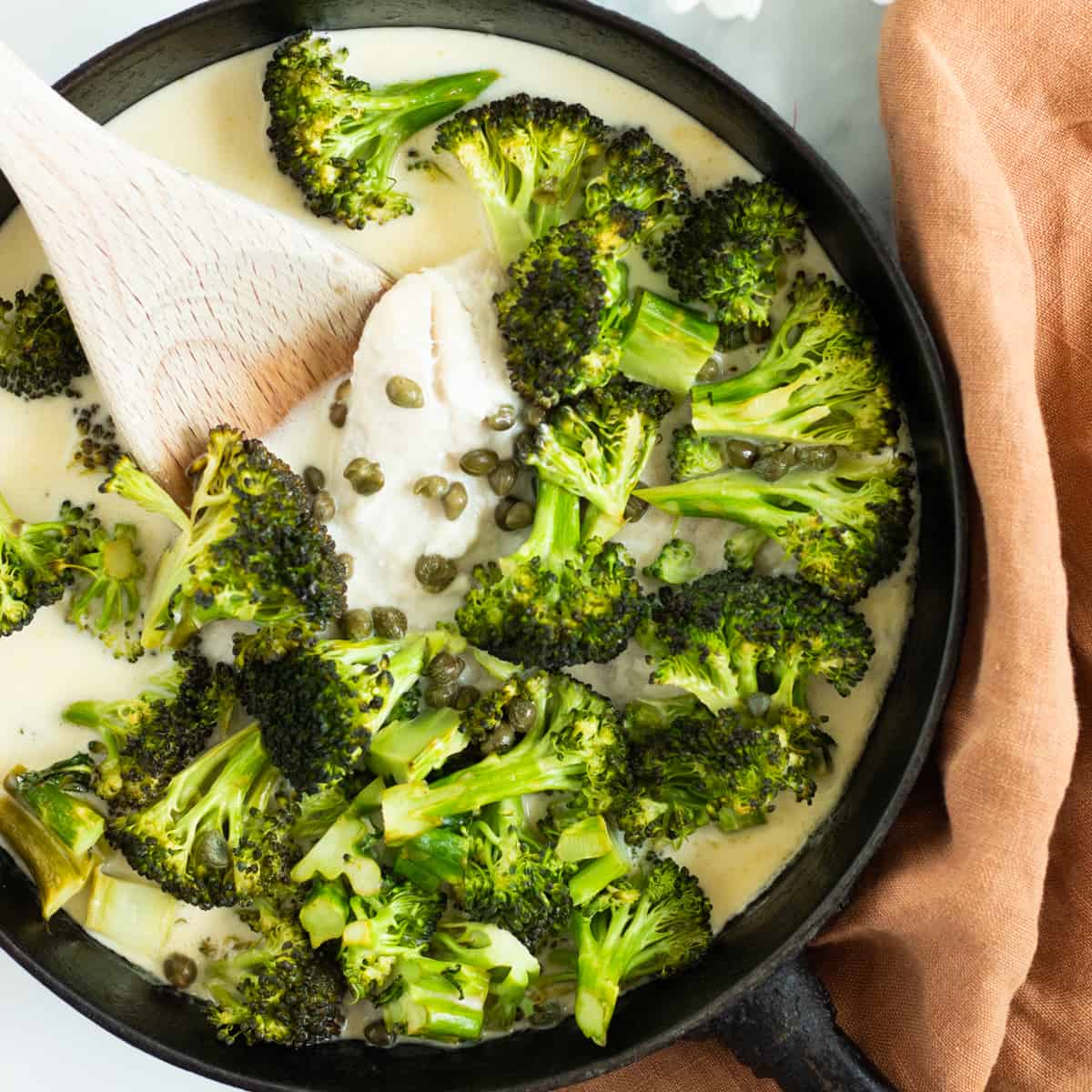 Make this easy Fish in Lemon Butter Sauce in just 25 minutes for a delicious one-pan meal. Fish & broccoli are cooked all the way in the sauce made from lemon, butter, white wine & capers - for a dish that will be a fast favorite.
Halloumi Portobello Burgers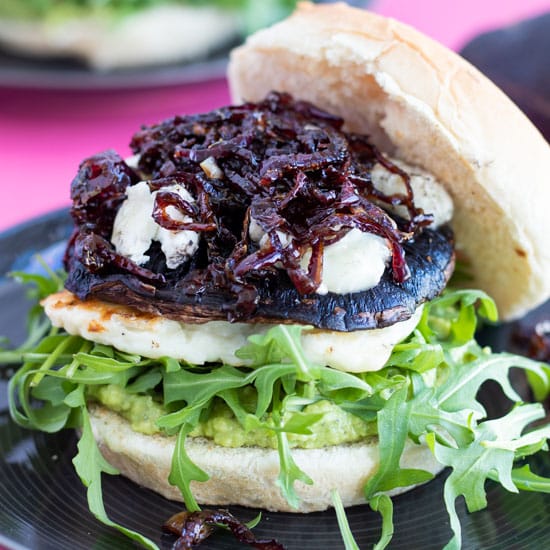 This review for these Halloumi Portobello Burgers says it all: "The best burger I've ever had!" - Yvonne
Buffalo Cauflilower Pizza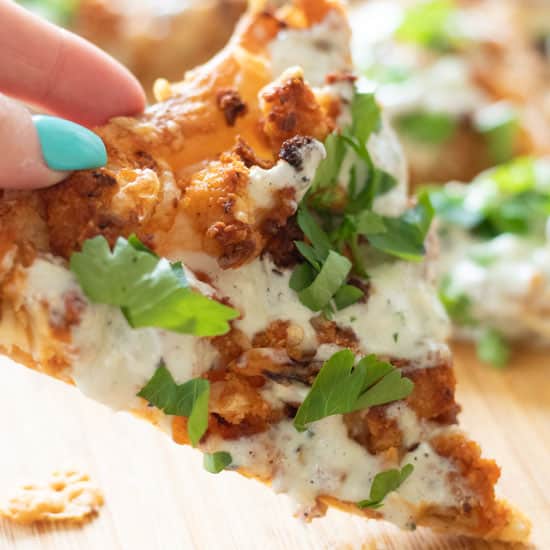 Buffalo cauliflower just got an upgrade! And ended up on top of this Buffalo Cauliflower Pizza with the best & easiest kind of crust - puff pastry. Baked crispy with cheese, and drizzled with a good amount of blue cheese sauce this is one tasty vegetarian dinner, snack or appetizer - either way, you won't be able to help yourself.
Smoked Salmon Pâté
This Smoked Salmon Pâté recipe is the perfect make-ahead appetizer, easy to make in just 25 minutes with 10 minutes of work. With amazing flavor from smoked salmon and lots of lemon, it's best served with a side of butter fried bread.
Black Bean Tacos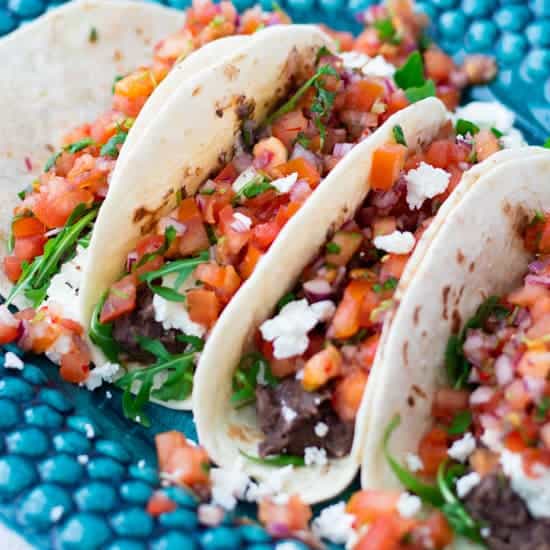 The best Vegetarian Tacos I've ever had are filled with refried black beans, crumbled feta cheese and topped with heaps of homemade pico de gallo. A quick and easy vegetarian taco recipe that's sure to have you coming back for more.
Smoked Salmon Tartare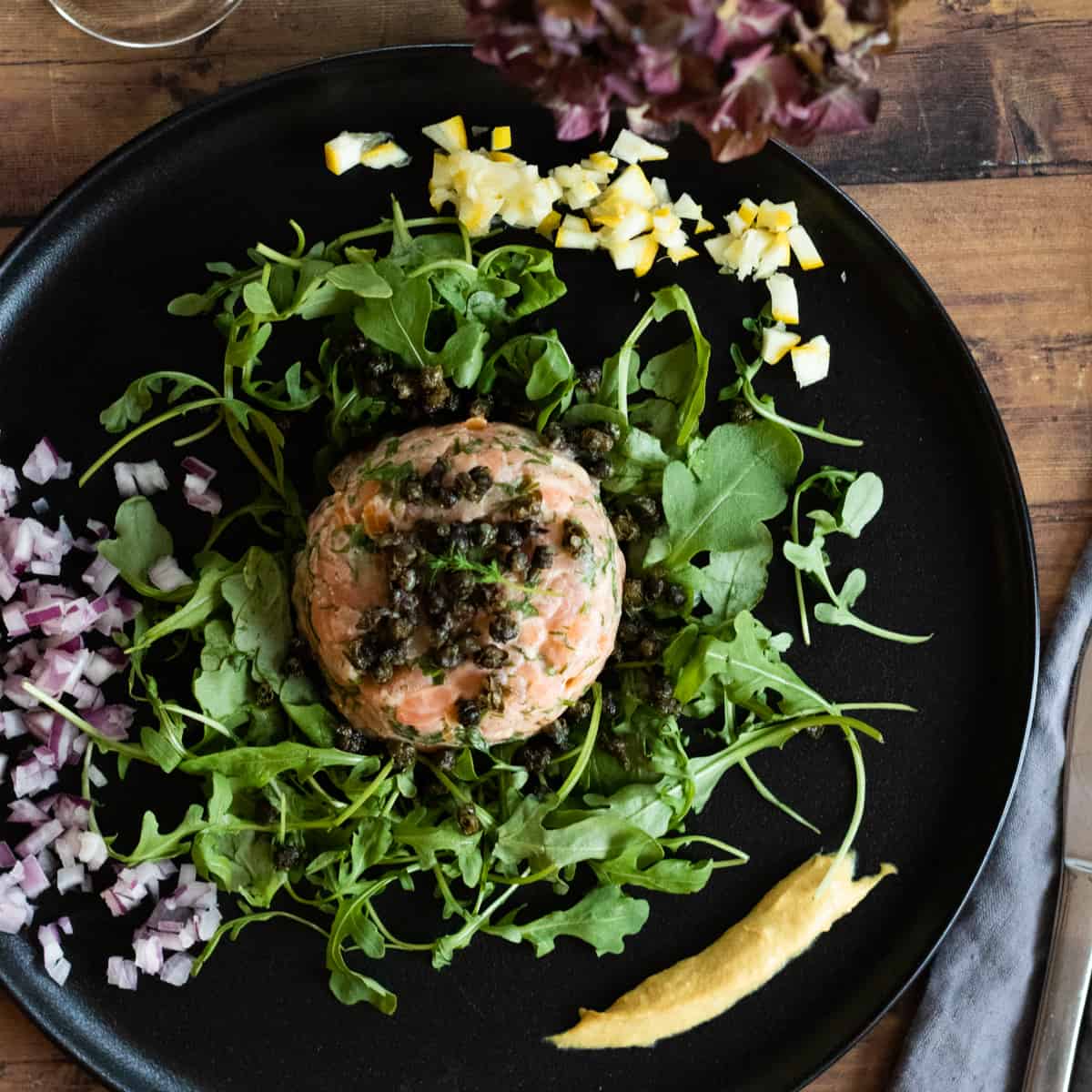 This quick & easy Smoked Salmon Tartare is the perfect prep ahead appetizer. Delicious and sophisticated, it's seasoned with spicy French Dijon mustard and a hint of rum, and topped with crispy fried capers.
Roasted Beetroot & Feta Salad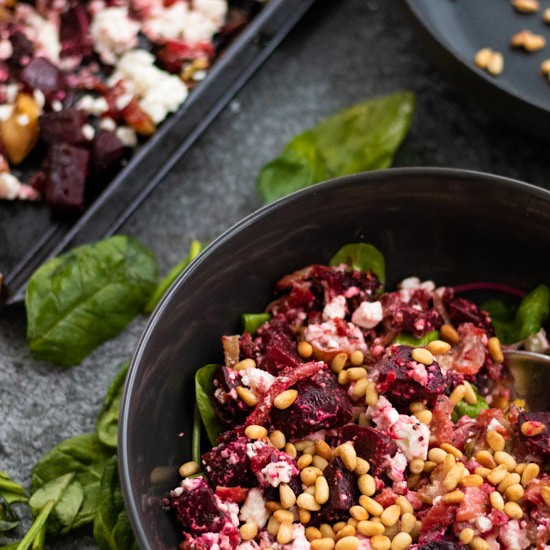 With just 15 minutes of active cooking and a few simple steps you can make this flavor packed beetroot and feta salad. Served a bit warm and loaded with beets, feta cheese, fennel and roasted pine nuts it's a salad that works in all seasons - and for any salad skeptic.
Seafood Pasta Bake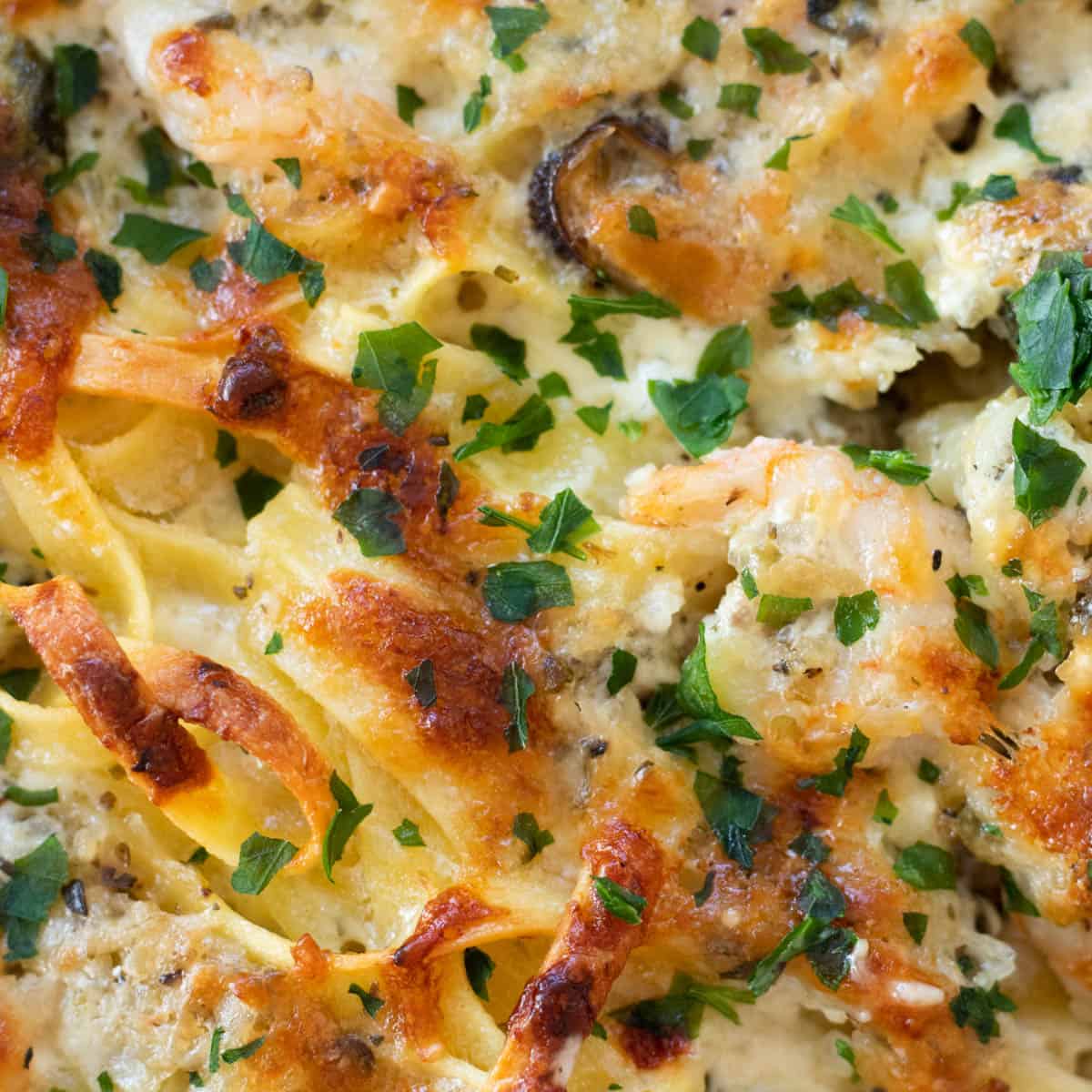 This creamy Seafood Pasta Bake is easy to make in 45 minutes with just 15 minutes of hands-on cooking. Loaded with shrimp & mussels and amazing flavor from white wine, marjoram, lemon, garlic and Parmesan cheese this dish is great for both weeknights and dinner parties.
Buffalo Cauliflower Tacos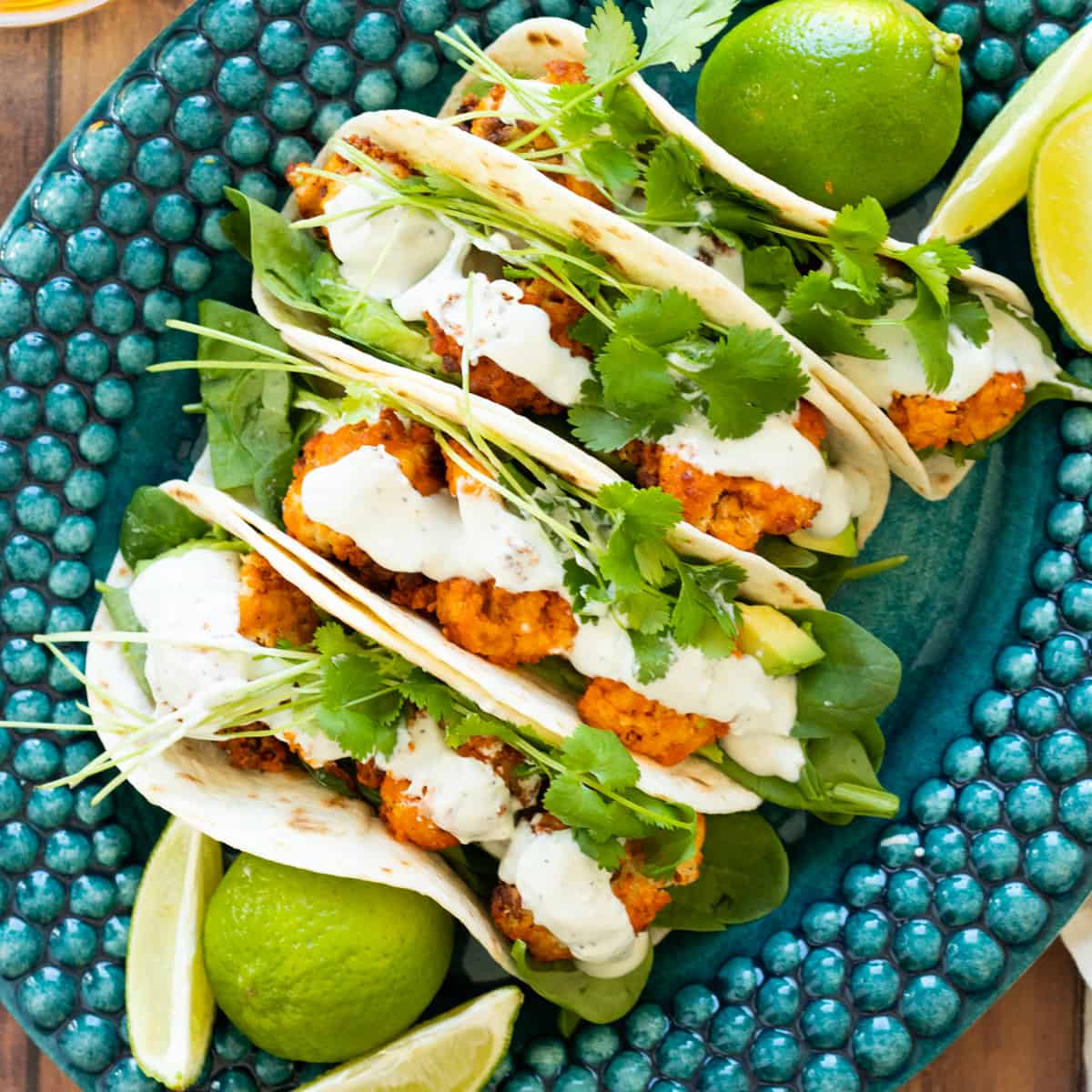 These Buffalo Cauliflower Tacos have all your favorite buffalo flavors in a neat taco packaging. Buffalo Cauliflower, avocado, blue cheese sauce & cilantro make this dish a winner very time. Easy to make in just 40 minutes in the oven or air fryer!
Smoked Salmon Risotto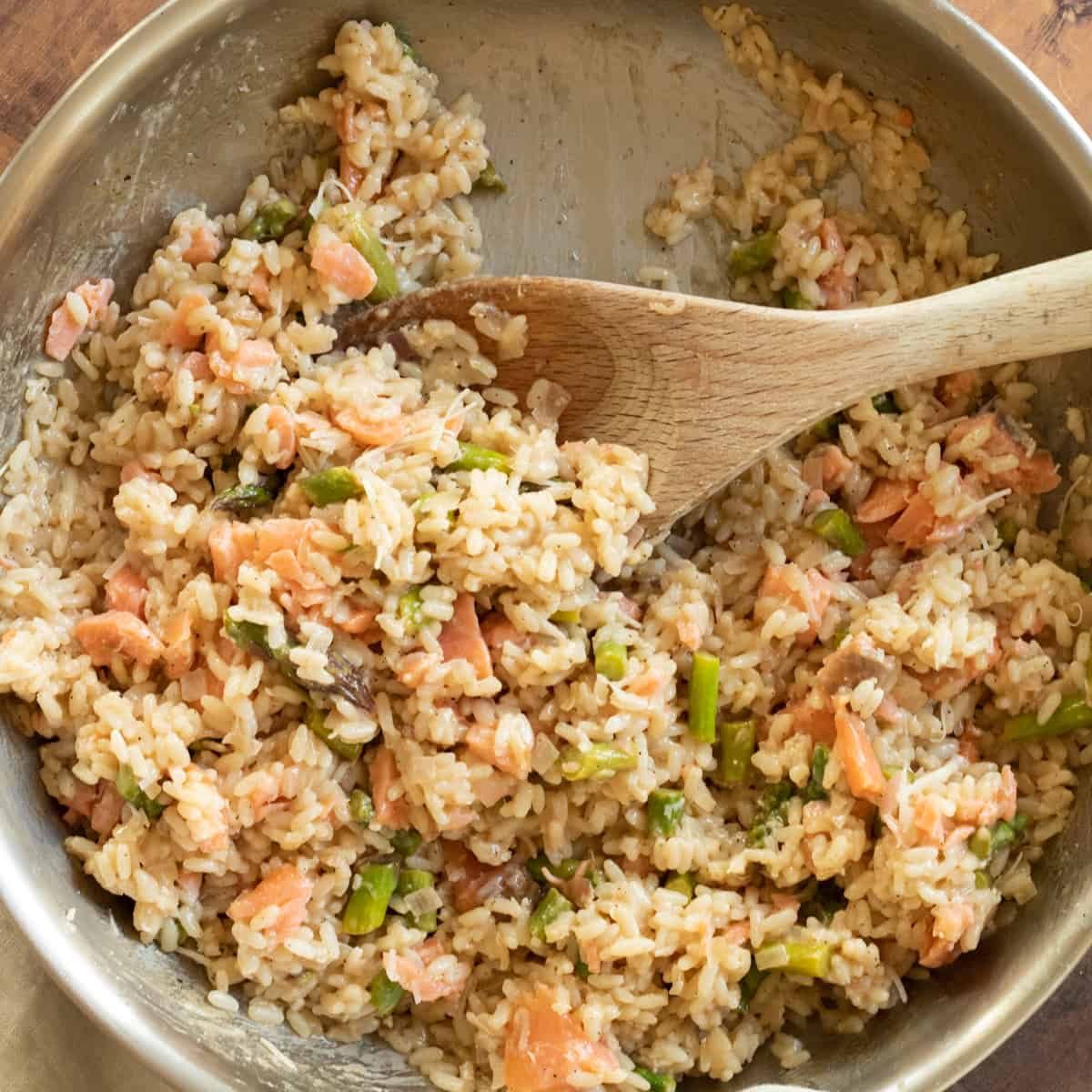 Make this super easy no-stir Smoked Salmon Risotto in just 30 minutes! Loaded with amazing lemon, asparagus and cold smoked salmon flavor and sure to quickly become your go-to dinner party dish.
Pasta Primavera with Halloumi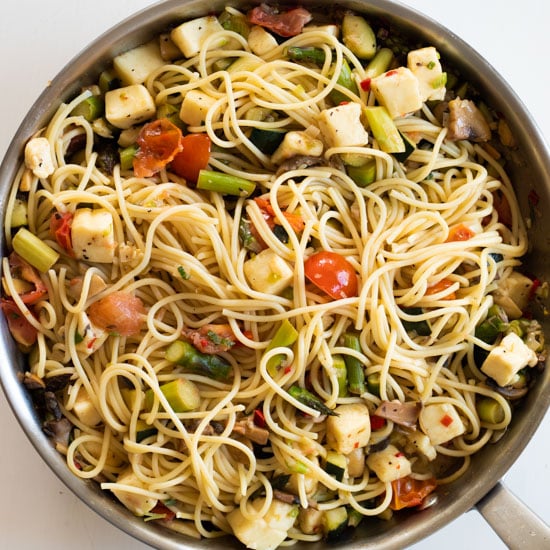 20-minutes (chopping included!) is all you need to make this delicious, vegetarian halloumi pasta loaded with veggies. A light and summery dish without cream, this is a great summer dinner that lets the veggies shine.
Creamy Shrimp & Asparagus Risotto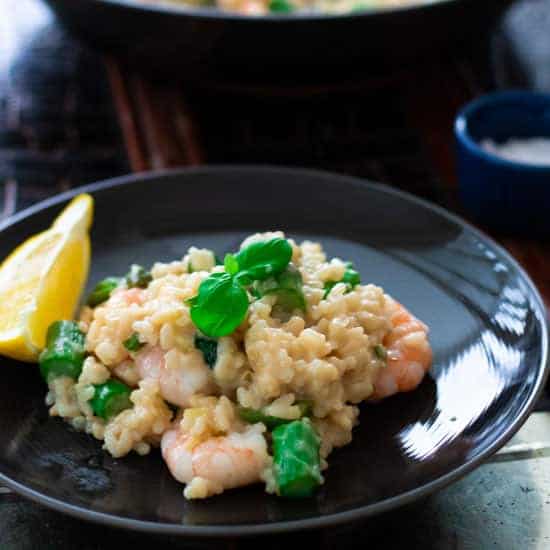 This creamy Shrimp and Asparagus Risotto is loaded with shrimp & asparagus and amazing flavor from lemon, basil and parmesan. A quick & easy dinner that's done in 40 minutes - and fancy enough for any dinner party. Follow my no-stir risotto method, and succeed in makng the creamiest risotto every time!
Burrata Caprese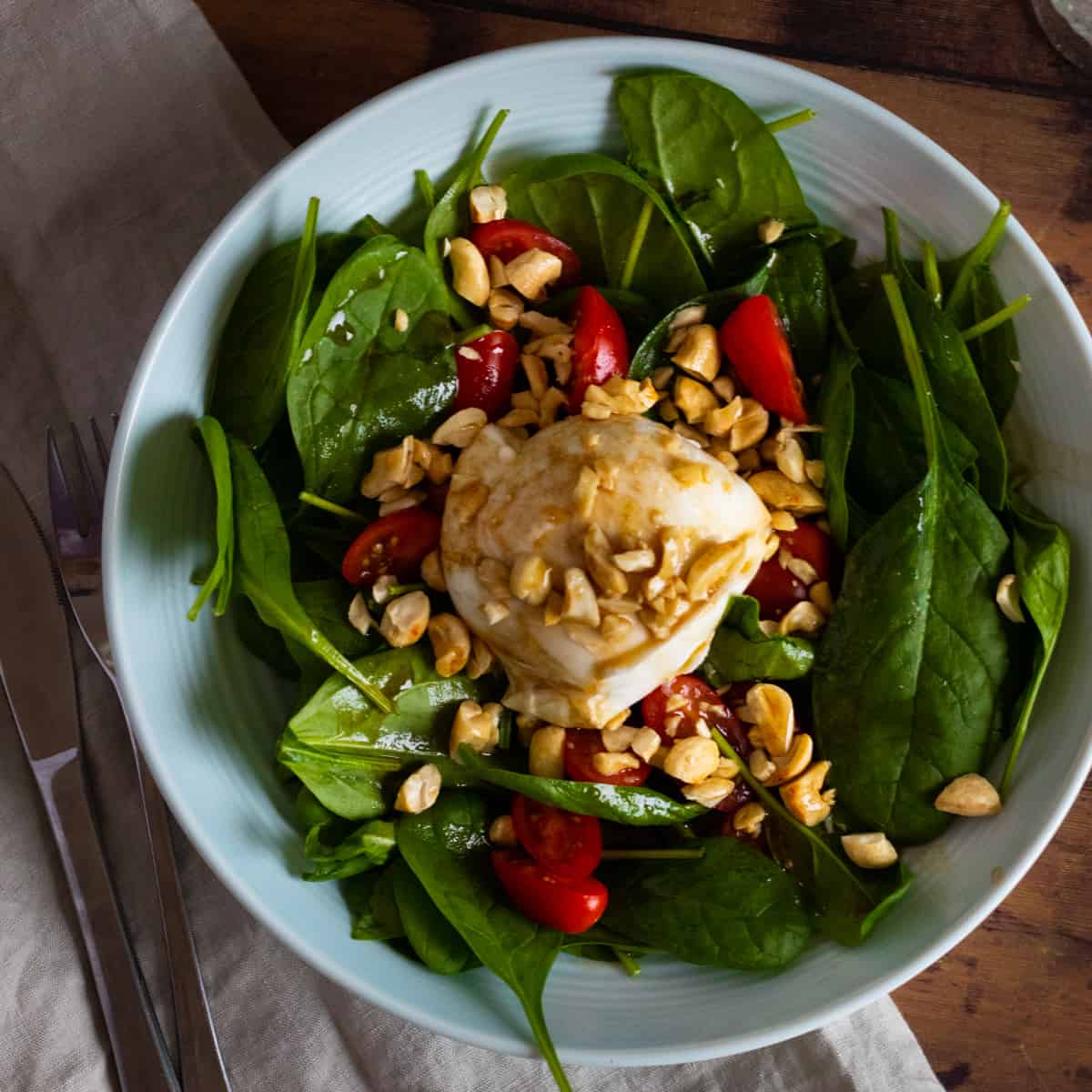 This quick (less than 10 minutes!) Burrata Caprese salad is a filling lunch or great side for your dinner. It's loaded up with all the good stuff - and will win over even the salad skeptics. Sweet and salty, crunchy and cheesy - and with a good dose of healthy greens!
Mushroom Truffle Risotto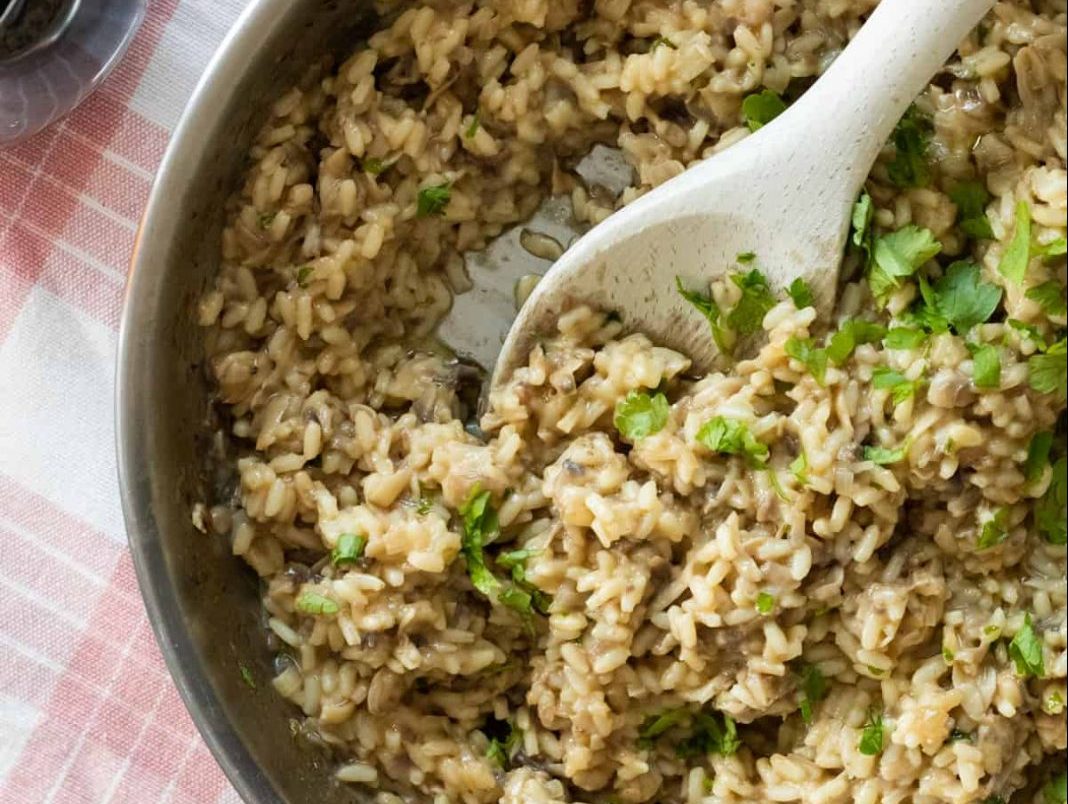 Make the best no-stir Mushroom Truffle Risotto in under 40 minutes. Loaded with flavor from mushrooms, white truffle oil and white wine it's a great dinner party dish that's sure to impress. Just don't tell them how easy it was to make!
Smoked Salmon & Spinach Pasta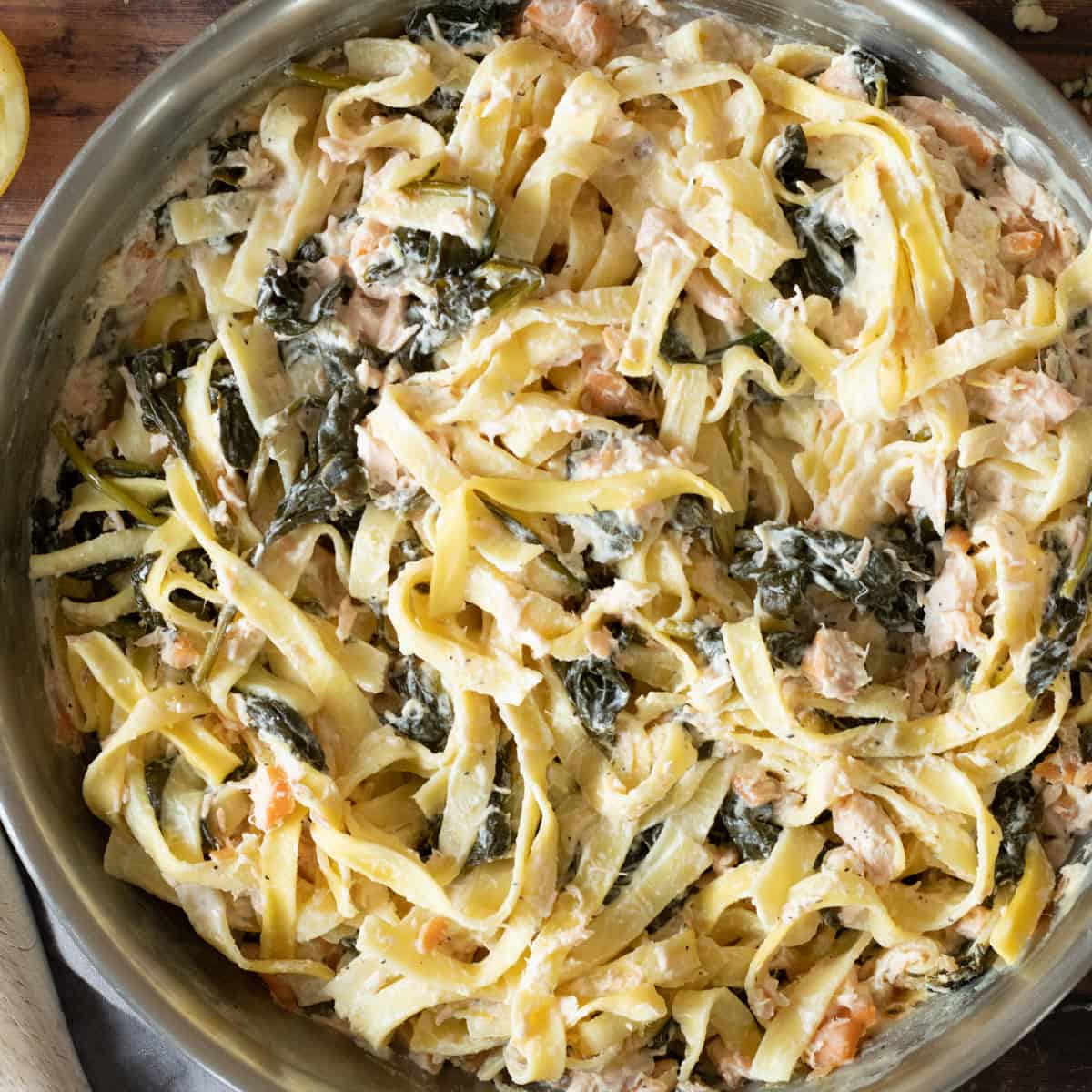 Make this easy creamy Smoked Salmon Pasta in less than 15 minutes. With hot smoked salmon and lots of lemon flavor it's a super easy yet elegant weeknight dinner with little prep and just a few simple steps.
Potato Halloumi Stir-fry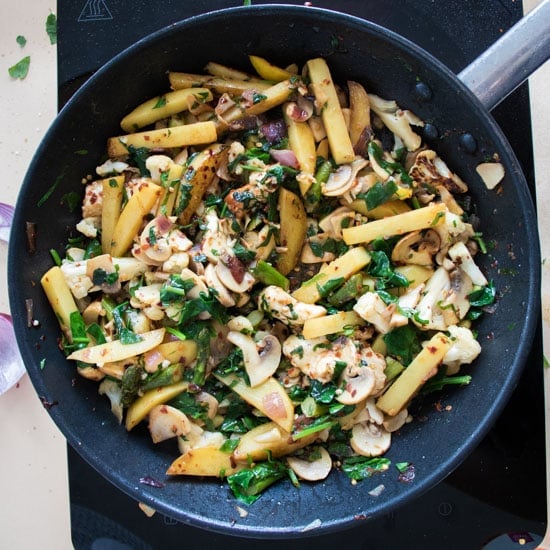 This 25-minute (prep included!) potato stir-fry loaded with halloumi & veggies is sure to become your new weeknight favorite! Healthy, quick and easy to make it's a delicious dinner dish that's packed full of flavor and all done in one pan - with just a touch of lemon to take it from great to amazing.
Lemon Pepper Salmon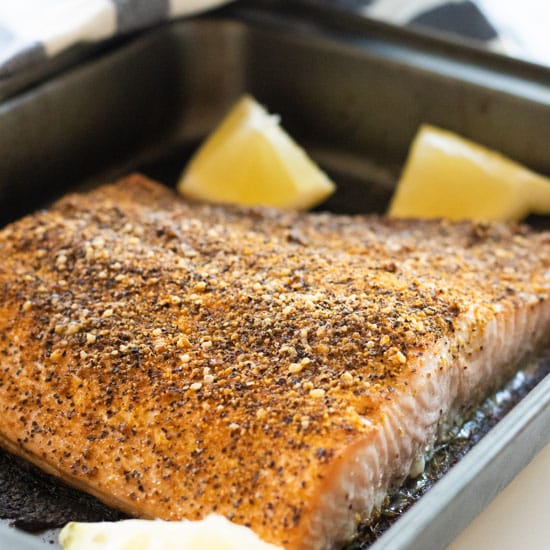 Healthy and easy to make - this baked Lemon Pepper Salmon is a delicious hands-off dinner that fits most diets. All done in 22 minutes with just 3 ingredients - and you'll be surprised how packed with flavor it is!
Vegetarian Chili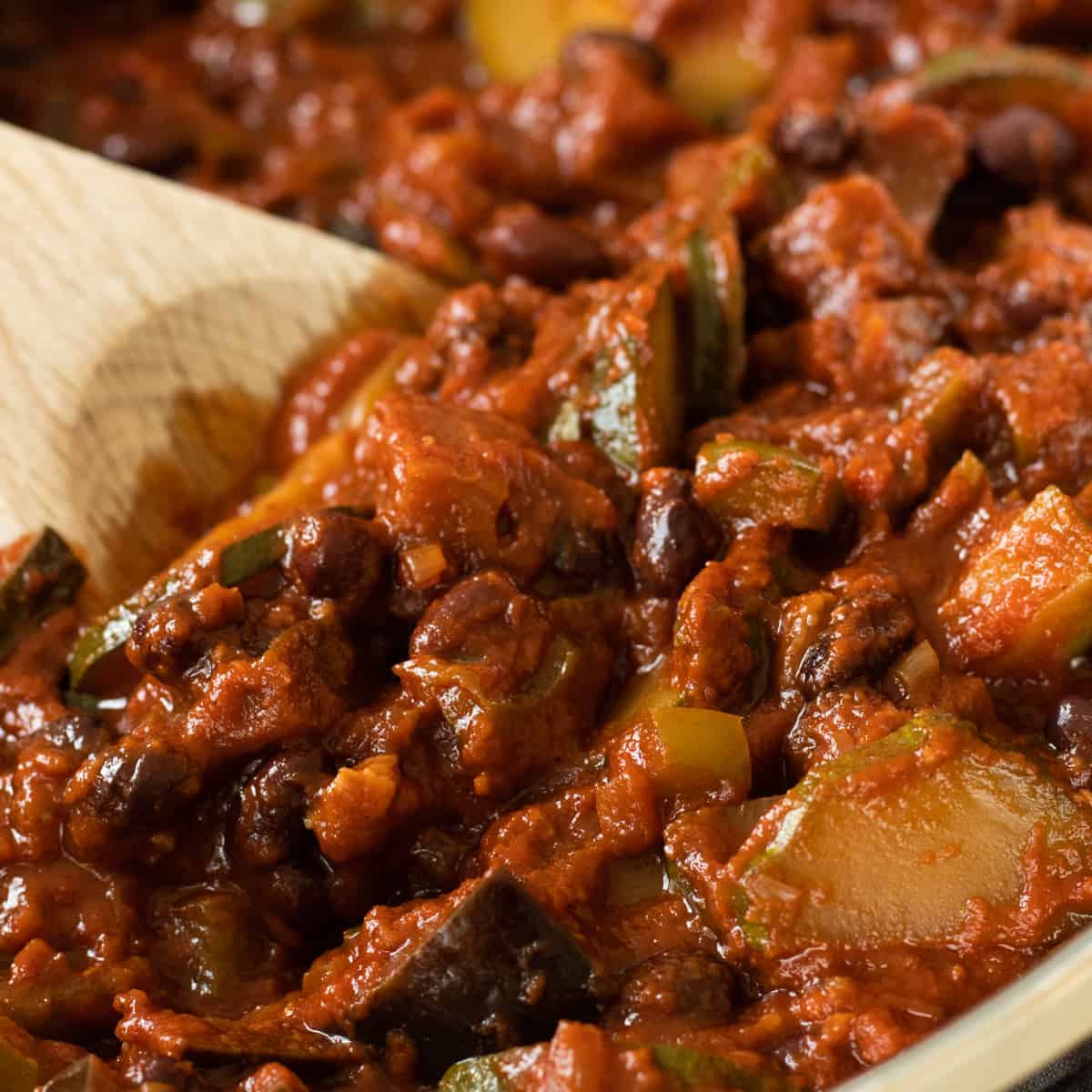 You're going to love this Vegetarian Chili Sin Carne with all the chili flavor and loads of veggies: zucchini, eggplant & green bell pepper. All done in just 40 minutes it's loaded with flavor & multiple textures - and made with just a few simple steps.
Salmon Crème Fraîche Pasta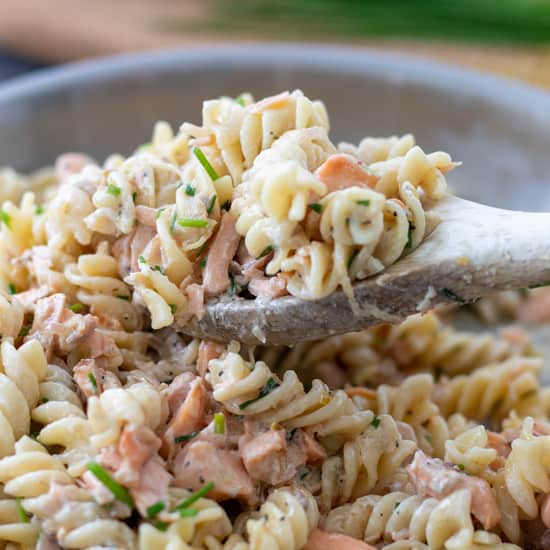 Done in 15 minutes & crazy delicious this salmon crème fraîche pasta with lemon and chives is a true weeknight winner. Made with fresh or frozen salmon, crème fraîche makes it a bit lighter - for a summery pasta you'll love having year round.
Puff Pastry Pizza with Kale & Blue Cheese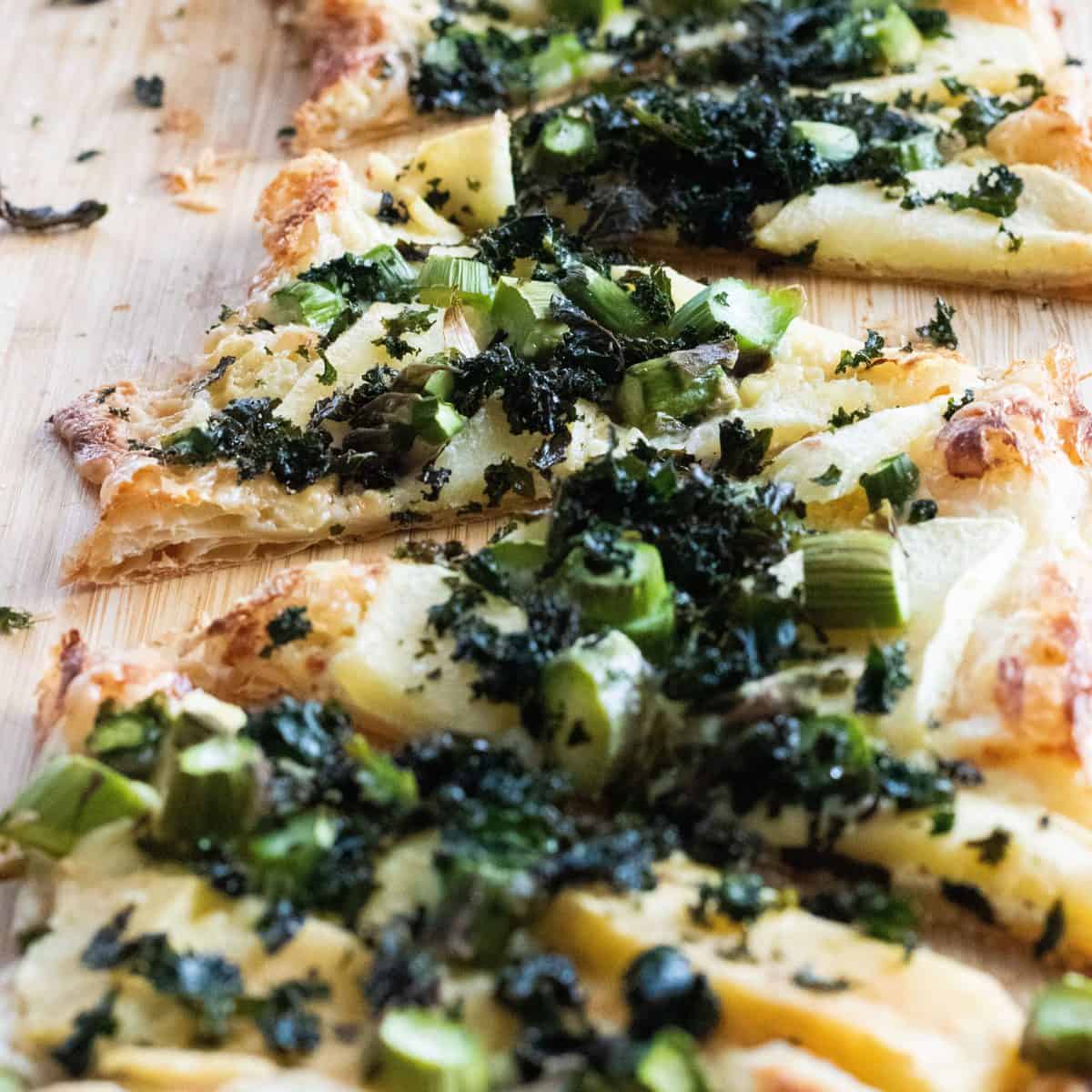 Puff Pastry Pizza is an easy & delicious way to make pizza - here it's salty, savory & subtly sweet, topped with a mild blue cheese, sliced red apples, green asparagus and crumbled up kale chips. A perfect dinner, appetizer or snack!
Shrimp Mei Fun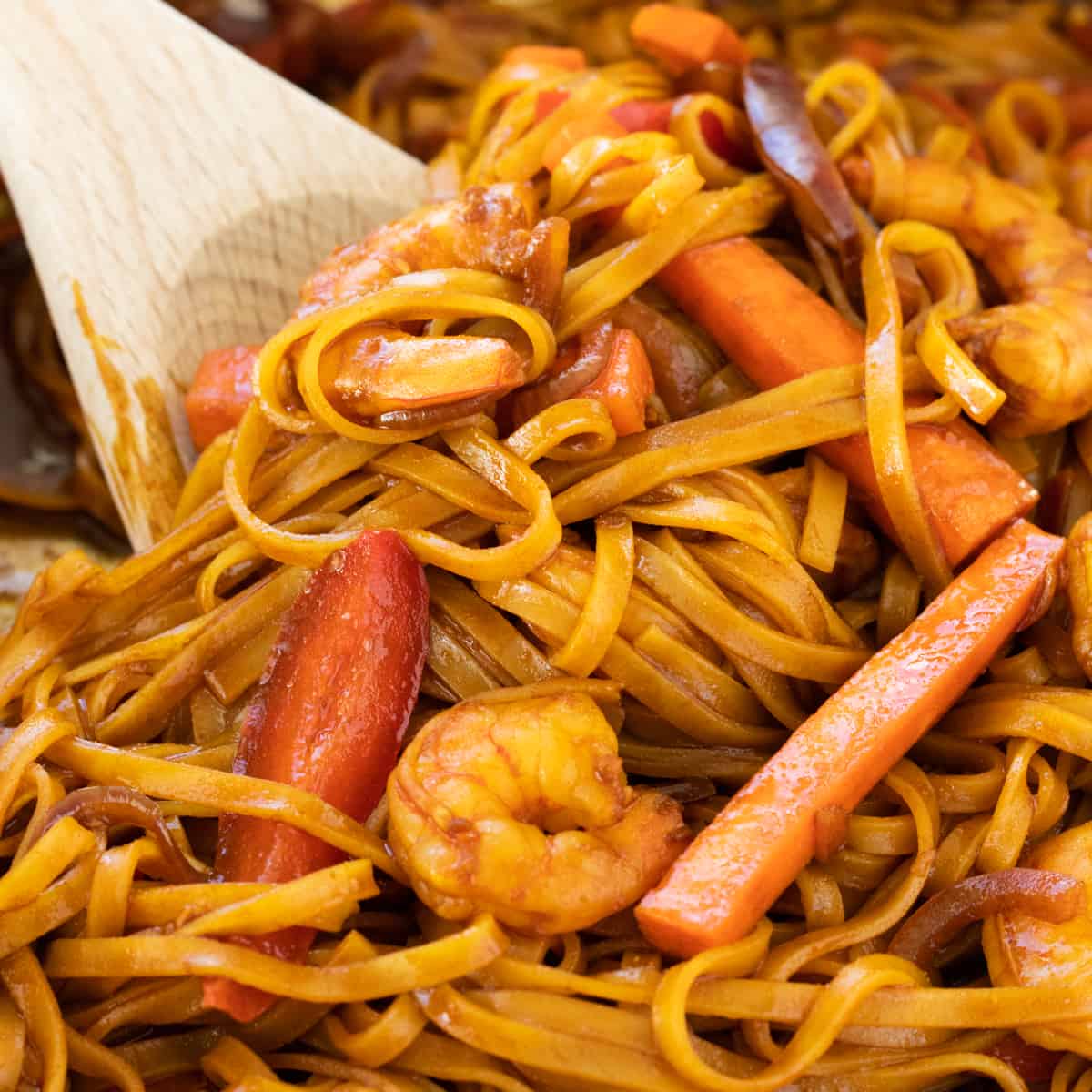 Make Shrimp Mei Fun at home in under 20 minutes (chopping included!) for a delicious veggie loaded dinner the whole family will love. With just a few simple steps this is a quick & easy "fakeout" meal you will be making over and over again.
Salmon Risotto with Leeks & Lemon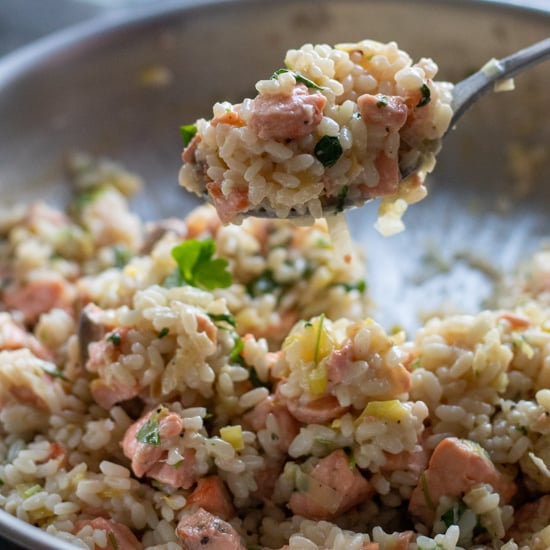 Make this Salmon Risotto in under 40 minutes, without constant stirring. With lemon, leeks and parsley it's loaded with flavor and an easy dish that seems fancy. Perfect for dinner parties, and quick & easy enough for a weeknight!
Creamy Broccoli Pasta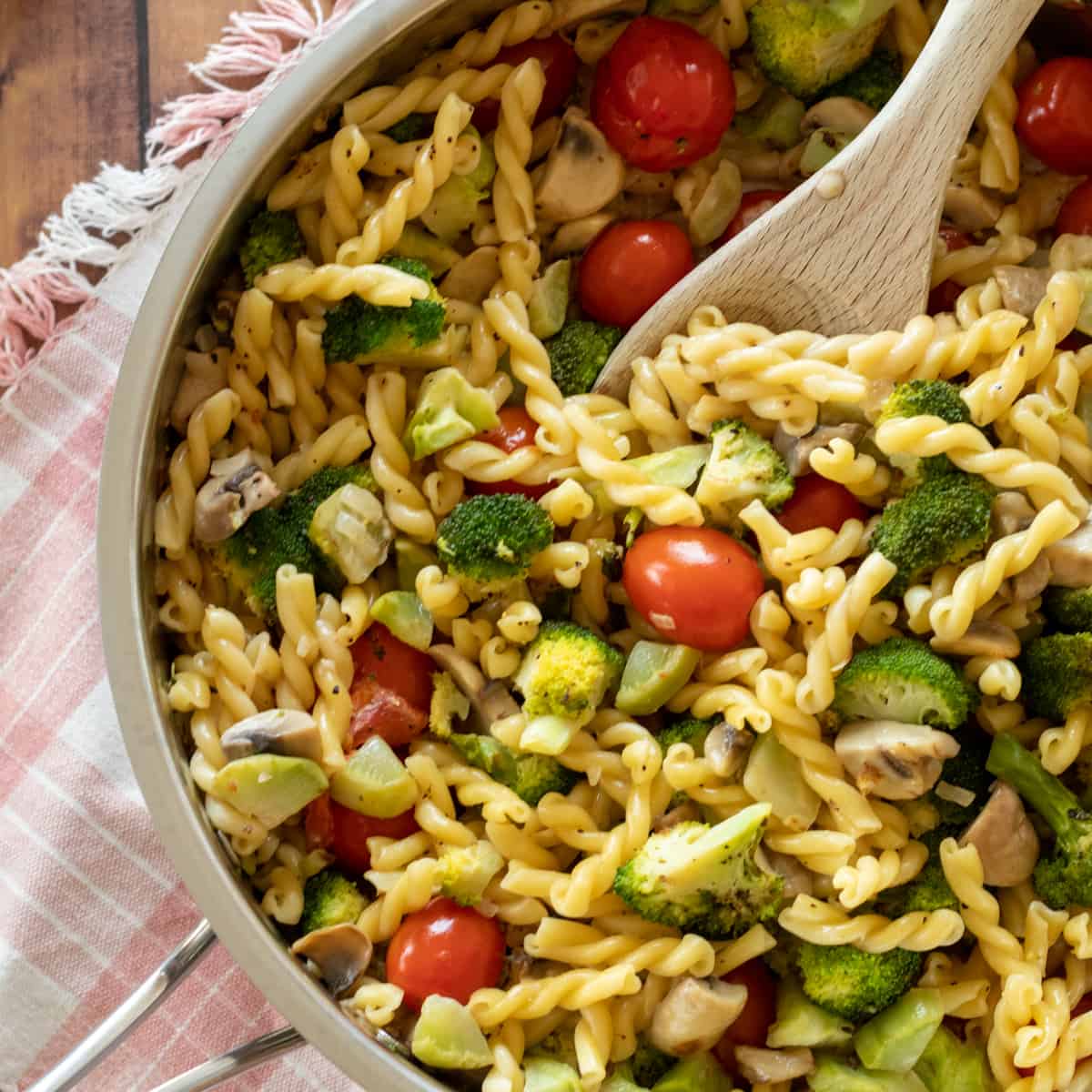 Make this light yet creamy Broccoli Pasta in under 30 minutes, for a delicious weeknight dinner. Lightly seasoned, this pasta allows the veggies to shine for a vegetarian pasta with a lighter and healthier feel.
Salmon Stir-fry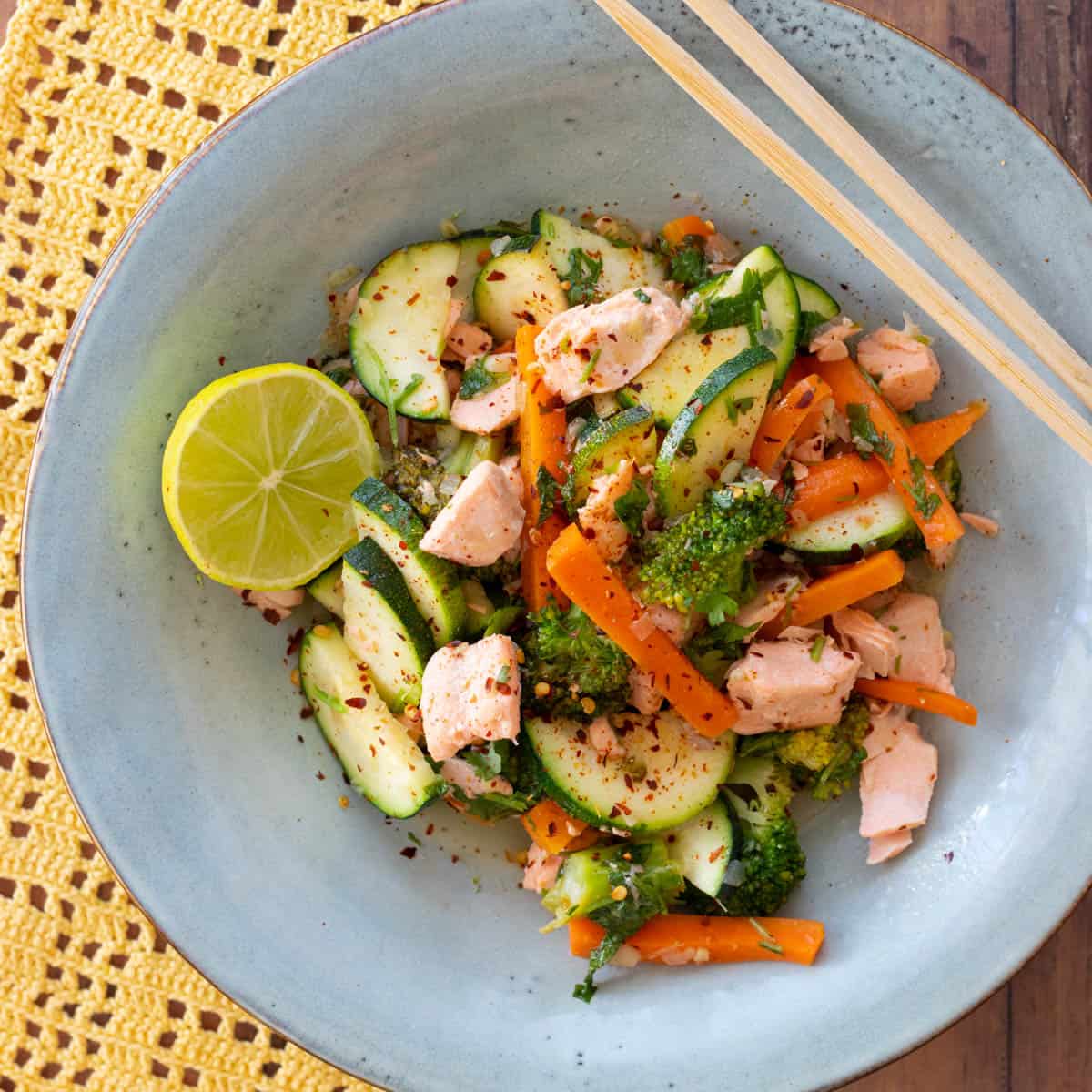 If you're looking for a quick salmon recipe, try this healthy salmon stir fry that's all done in just 20 minutes. Made with lots of veggies for a lighter stir fry with subtle flavors and a fresh touch from lime juice & fresh cilantro. A complete meal on its own, or serve with a side of rice or noodles.
Garlic Butter Pasta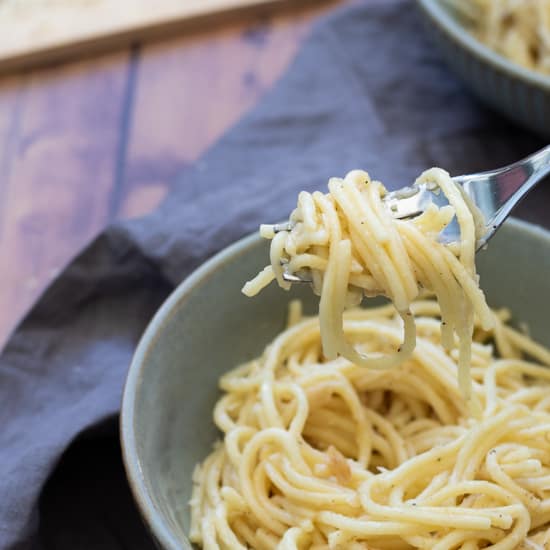 Make this easy Garlic Butter Pasta with Parmesan Cheese in just 15 minutes, with just a few common ingredients. Creamy, cheesy, garlicky with a touch of peppery heat.
Crispy Furikake Salmon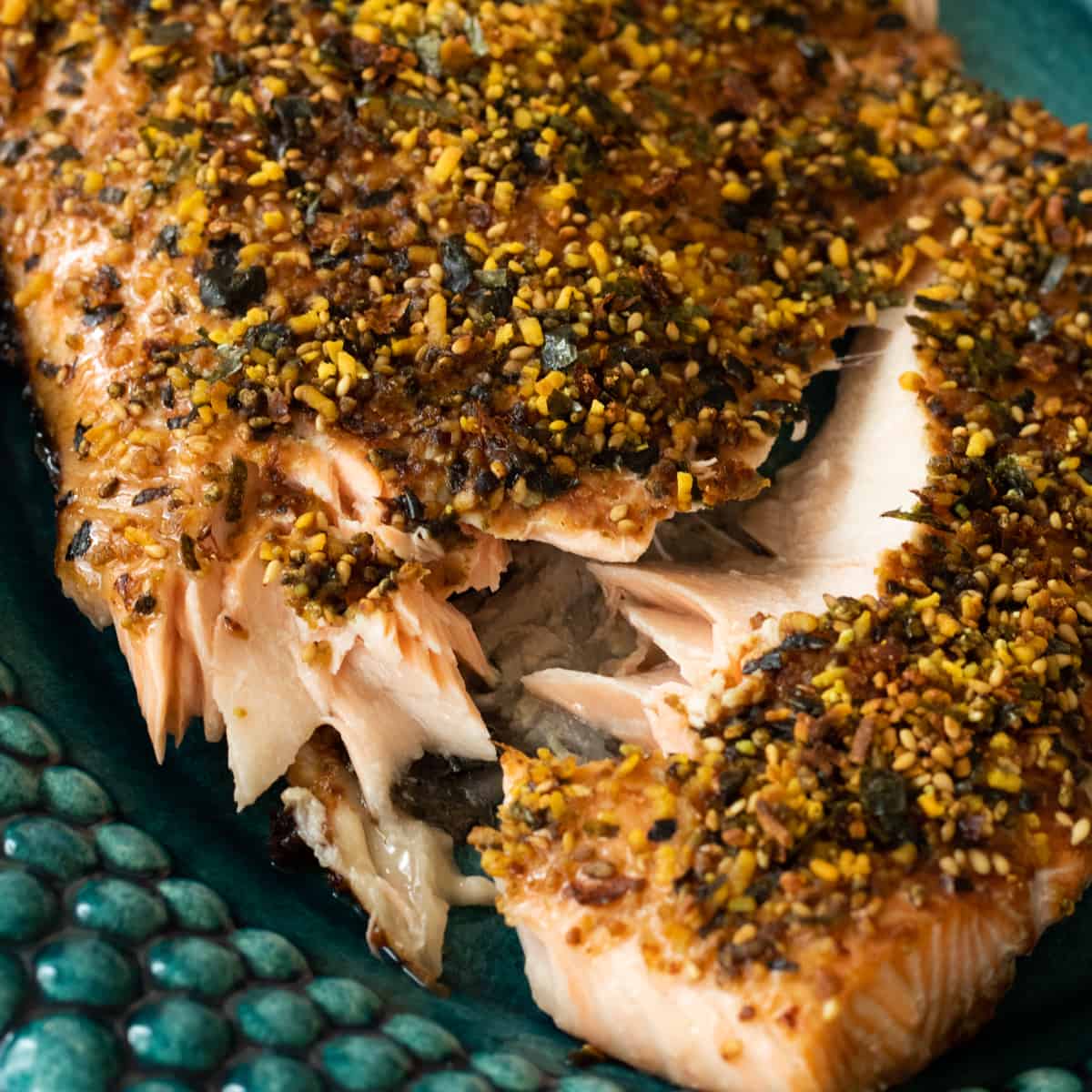 This Furikake Salmon is crispy and delicious, and easy to make in just 22 minutes. With salty Japanese soy sauce and delicious Furikake seasoning this is a flavor packed Asian style meal. A simple recipe that's great for busy weeknights, and perfect paired with rice or veggies.