This post may contain affiliate links, which are always marked with *. Please read my disclosure for more information.
Salmon is such a great, healthy & versatile protein. Easy to make in so many different ways - no wonder it's a staple for many of us. Here you'll find over 35 ideas for what to serve with salmon - no matter how you cook it.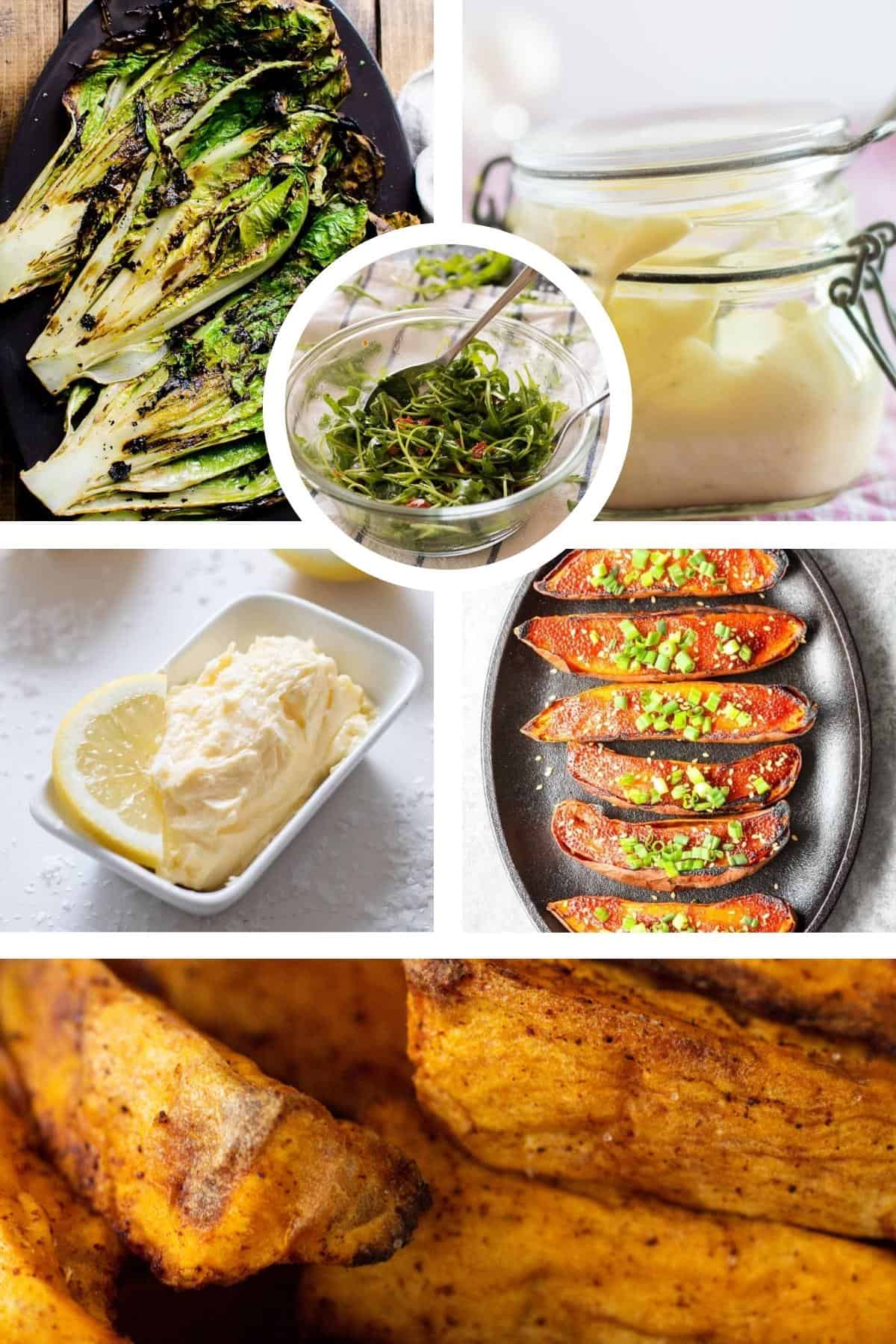 Jump to:
I love salmon for any occasion: be it a quick weeknight meal or fancy dinner party. And you can probably tell... from Smoked Salmon Pasta to Salmon Risotto, Salmon Tartare and Salmon Pâté - this blog is loaded with salmon recipes!
Salmon can both carry its own with heavier, more flavorful sides and allow lighter, more delicate flavors to shine. I recommend going one of 3 routes:
The Steak Route: Creamy sauces and starchy sides
The Veggie Route: Grilled or roasted veggies, or a salad, and maybe a salsa on the side
The Asian Route: Salty, umami rich flavors, perhaps punctuated by something pickled & high in acidity
Below you will find the best sides for all three.
What to serve with grilled salmon
Grilled salmon loves summery flavors like asparagus, lemon and roasted potatoes. But really it all comes down to how you're seasoning your salmon.
Matching the flavors of the seasoning with the sides is always a good idea, but especially important if you are using a very flavorful seasoning.
What to serve with Pan Seared Salmon
Pan Seared Salmon fillets are a bit heavier than grilled salmon, which you can either play into with heavy "steak type" sides or lighten up with acidic components. Or why not do both at the same time?!
What to serve with Oven Baked Salmon
Just as for grilled and pan seared salmon, what's best to serve with baked salmon depends on the seasoning.
These options go great with most flavors, but I've also included some specific tips for Lemony Salmon like Lemon Pepper Salmon and Asian Style Salmon like Teriyaki Salmon (click link to go straight to those options).
What to serve with Smoked Salmon
Smoked salmon is salty and delicious. You can have it as it is on a bagel or a piece of toast, or serve with one of the options below for a full meal. The saltiness of smoked salmon goes great with acidic flavors.
What to serve with Spicy Salmon
For spicy salmon think creamy flavors to soothe the spiciness, or flavor packed side dishes that can hold their own against the spice. A dose of sweetness and/or acidity is also great to balance the spiciness.
What to serve with Teriyaki & Asian Flavored Salmon
For Asian flavored salmon like Furikake Salmon, think Asian flavored side dishes. If your salmon is seasoned with a lot of salt (for example, if you're making Teriyaki Salmon) a side high in sweetness and/or acidity will pair beautifully.
What to serve with Fresh & Lemony Salmon
Fresh & lemony salmon dishes like Lemon Pepper Salmon love fresh & lemony sides.
What to serve with Salmon Tacos
Salmon Tacos can be made in a million different ways - I recommend always having one salad or slaw type component and one sauce or salsa. Below are a few great additions for your next taco night!
What to serve with Salmon Burgers
Salmon burgers are a great way to mix it up, and delicious when served with classic burger toppings and sides or sauces and sides you'd more commonly see with fish.
More guides like this